"Sporta pils" sāk jaunu rubriku ar nosaukumu "Kas notiek basketbolā?" – jaunumi un analīze par šī sporta veida aktuālāko.
Šoreiz varēsiet lasīt par vīriešu izlases turnīru Tallinā, LBS paveikto vasaras mēnešos, kā arī klubu sastāva komplektēšanu.
"Baltijas ceļa" turnīrs Igaunijā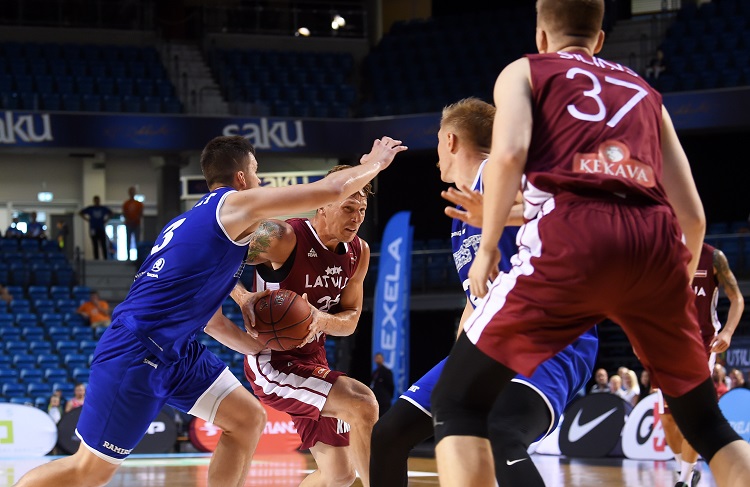 Turnīrs, kas norisinājās par godu Igaunijas basketbola 100. gadadienai ar trīs Baltijas valstu komandām. Latvija abos mačos piedzīvoja pārliecinošus zaudējumus, tiesa, sastāvs bija tālu no optimālā, kamēr igauņi spēja sapulcēt teju spēcīgāko sastāvu un arī Lietuvai bija vairāki Eirolīgas un Eirokausa komandu vīri. Un uzvaru šajā turnīrā izcīnīja igauņi, kas pirmajā dienā pagarinājumā pirmo reizi oficiālā spēlē prata uzveikt lietuviešus. Skaidrs, ka Latvijai Eirolīgas un NBA spēlētājus piesaistīt uz šo turnīru cerības nebija, tomēr vairākus Eiropas līgu leģionārus gan. Kā izteicās izlases galvenais treneris Roberts Štelmahers, tad daudzi atteicās no dalības turnīrā pēdējā brīdī un iemesli bija dažādi – savainojumi, kā arī situācijas ar jaunu līgumu slēgšanu.
Publiskajā telpā jau izskanēja viedokļi, ka tā ir Latvijas Basketbola savienības (LBS) neizdarība. Arī vairāki spēlētāji šo rindu autoram norādīja, ka viss esot noticis nelielā steigā, proti, bijušas daudz neskaidrības – kas, ko, kā. Vienlaikus gan jāsaprot, ka šis turnīrs nav tik svarīgs, lai varētu objektīvi spriest par to, cik ļoti kāds grib vai negrib pārstāvēt izlasi. Piedevām Eiropas čempionāta kvalifikācijas spēles norisināsies vien ziemā un arī no saspēlētības viedokļa diez vai kopā sanākšana diži ko mainītu, jo nav zināms kādu sastāvu spēsim sapulcēt uz oficiālajiem mačiem.
Daudz tiek runāts par to, ka spēlētājiem uz izlases mačiem braukt neļauj aģenti. Arī Štelmahers izteicies, ka mūsdienu tendences ir tādas, ka spēlētāji pārāk daudz rēķina – kāds man no tā būs labums, vai negūšu traumu, u.t.t. "Tagad jau visiem apkārt ir ļoti daudz padomdevēju. Gan aģenti, gan vecāki – visi zina, kā labāk jāspēlē basketbols!" Tāpat viņš norādīja, ka aizvien vairāk spēlētāju pie viņa nāk un prasa – kāda būs mana loma komandā? "Ja tu spēlēsi labi, lūdzu, tev būs vislielākā loma komandā. Nav problēmu! Pierādi sevi, palīdzi komandai uzvarēt un parādi, kādu lomu tu vari spēlēt," stāsta treneris, kas iezīmē spēlētāju noskaņojumu. Proti, ja nebūs liela loma, kāda jēga spēlēt. Bet visam divpadsmitniekam vienādas lomas neiedalīsi… Vienlaikus treneris piebilda, ka uz oficiālajiem mačiem visi ir apstiprinājuši, ka ierindā būs. Cerēsim, jo aizvadītajā logā vairāki atteica un viņu trūkums bija stipri jūtams.
Skaidrs ir viens – traģēdija ar šiem diviem zaudējumiem un vairāku spēlētāju neierašanos nav notikusi. Tomēr izlases vadībai jābūt modrai. EČ kvalifikāciju esam iesākuši ar diviem zaudējumiem un nākamās spēles būs vitāli svarīgas, kas nozīmē, ka uz tām ir jāsapulcē maksimāli labākais iespējamais sastāvs. Ja netiksim uz EČ, lūk, tā jau būs traģēdija, bet kurš par to nesīs atbildību?
LBS darbības
Pirms kāda laika LBS vēlējās mainīt jaunatnes līgas (LJBL) izspēles kārtību, atgriežoties pie tā, ka spēles jāaizvada pēc ģeogrāfiskā principa, nevis "labākais pret labāko". Kā viens no argumentiem tika minēts dārgās braukšanas izmaksas, taču tieši reģionu skolu vadītāji stingri iestājās par to, ka sistēmu mainīt nevajag. Tāpat arī publiski parādījās ziņas, ka šis lēmums sākotnēji virzīts bez lielām diskusijām – proti, izsūtītas vēstules, kur tas kā fakts nolikts vienkārši priekšā.
Pēc vairākām diskusijām gan LBS vadība nolēma palikt pie esošās kārtības, kas ir uzteicami. Vienlaikus izstrādāti meistarības un fiziskie testi, kuri visiem LJBL dalībniekiem ir jānoliek. Rodas jautājums – ja kādā reģiona komandā, kur jauniešiem ir vāja tehniskā meistarība un ir ļoti maz bērnu kādā vecuma grupā, testi netiek nolikti, ko ar šiem bērniem darīt? Nepielaist treniņiem?
Tiesa, runājot ar vairākiem nozares pārzinātājiem, šo rindu autoram tika atklāts, ka LBS šos testus uztaisījuši tādus, lai visi varētu tos nolikt. Ja tā, tad kāpēc vispār tas bija nepieciešams? Ķeksīša pēc? Tas drīzāk atgādina darba imitāciju, nevis reālu iesaisti jaunatnes basketbola attīstībā. Tomēr doma pati par sevi apsveicama, jo sporta skolu treneriem būs vismaz zināmas vadlīnijas, pēc kā strādāt.
Ilgu laiku arī bijis klusums jautājumā par vīriešu izlases ģenerālmenedžeri un pagaidām nav zināms, kad plānots vētīt kandidātus šai pozīcijai. Jo daudz kas atkarīgs no tā, kā pasaulē attīstīsies situācija ar pandēmiju. "Sporta pils" sarunā ar LBS ģenerālsekretāru Kasparu Ciprusu noskaidroja, ka sarunā ar FIBA pārstāvjiem tie apliecinājuši – ja kaut viena no EČ kvalifikācijas turnīra dalībniecēm nespēs nodrošināt drošu iebraukšanu un izbraukšanu no valsts, proti, ja pēc mačiem būs nepieciešams ievērot divu nedēļu karantīnu, tad novembra logs tiks pārcelts. Tāpat, ņemot vērā, ka LBS pastāv vienošanās ar sponsoriem par viņu atspoguļošanu spēlēs, bet tās nenotiek, arī finansējums ievērojami samazinās. Pie šādiem apstākļiem ģenerālmenedžera algošana nav rentabla. "Šobrīd LBS neko nevar ietekmēt. Gala lēmums piederēs FIBA. Ceram, ka pandēmija rimsies, tomēr redzam, ka Bosnija un Hercegovina ir viena no Covid-19 vismagāk skartajām valstīm Eiropā, bet mums nākamajā logā ir izbraukums pie viņiem un Grieķijas. Protams, no sportiskā viedokļa mums pat būtu izdevīgi, ja nākamo logu pārceltu uz vasaru, jo tad pastāvētu lielāka iespēja piesaistīt labākos spēkos. Taču pagaidām ko prognozēt ir grūti," tā Cipruss.
Tāpat atdzīvojusies ideja par jaunas basketbola halles celtniecību. Saimes sporta apakškomisijas priekšsēdētājs Sandis Riekstiņš jau izteicies, ka virzīs šo projektu tālāk. Kā zināms, LBS kasē stāv pusmiljons eiro, kas nopelnīts no 2013. gada EČ rīkošanas Rīgā. Šī nauda tiekot taupīta, lai varētu izveidot halles projektu. Kas gan negarantē, ka halle būs…
Daudz tiek runāts par iespējamo politisko spiedienu, proti, ka šo projektu varētu nobremzēt vieni no koalīcijas partneriem ar Jaunupu priekšgalā aiz greizsirdības, jo savos laikos tieši viņš centās kūrēt šo ideju. Tā izteicies Valdis Valters, tomēr Riekstiņš bija lakonisks: "Lai pamēģina nobalsot pret! Gribēšu redzēt kā viņi to paskaidros sabiedrībai." Un tik tiešām – Rīgā katastrofāli trūkst basketbola zāļu. Šobrīd ir izveidojusies situācija, ka teju katrā reģionu centrā ir jauna halle un jauniešiem tā ir pieejama 24/7, savukārt Rīgā, lai papildus trenētos, tas ir jādara no rītiem pirms skolas. Zīmīgi, ka pēdējā primāri basketbola vajadzībām celtā bāze ir "Daugavas" sporta nams, kuru uzcēla 1962. gadā.
LBS ar šo ideju pie Rīgas domes vērsās jau pāris gadus atpakaļ, bet 2017. gada martā dome pieņēma lēmumu rezervēt Rīgas pilsētas pašvaldībai piederošo zemes gabalu Krišjāņa Barona ielā 99 (blakus DSN) un 99c 8800 kvadrātmetru platībā. Zemes gabala vērtība mērāma apmēram 2 miljonos eiro, bet pašas halles celtniecības izmaksas vēl nav zināmas. Toties skaidrs ir tas, ka tajā būs trīs tukstošu, iespējams, nedaudz vairāk, skatītāju vietas. Ledus ir iekustējies un pirmie soļi projekta attīstībā ir veikti, tomēr skaidrs arī tas, ka viena halle visas problēmas neatrisinās. Virziens ir pareizais, jo tā nav normāla situācija, ka nacionālajai un jauniešu izlasēm nav savām vajadzībām nepieciešamā zāle. Situācija arī nav patīkama jaunatnes komandām, jo Rīgā katru gadu notiek aptuveni 20 starptautiska mēroga turnīri, kuri nereti jāaizvada FIBA prasībām neatbilstošās sporta zālēs.
Tikmēr Rēzeknē jaunas multifunkcionālas halles būvniecība ir jau noslēguma stadijā un LBS vadītājs Raimonds Vējonis izteicies, ka LBS ir ieinteresēta sadarboties un, iespējams, pat pilsētā izveidot Latgales basketbola centru, kur varētu darboties talantīgākie reģiona treneri un jaunieši. Pozitīvs solis.
Klubu darbības starpsezonā
Pirms neilga laika patīkamas ziņas pienāca no Latvijas sieviešu basketbola flagmaņa "TTT Rīga" nometnes. Proti, pēc ilgākas klusēšanas tika paziņots, ka budžets ir savākts un arī nākamajā sezonā klubs spēlēs Eirolīgā. Kuluāros runā, ka budžets būšot ap 800 tūkstošiem eiro un nosegti arī pagājušās sezonas parādi, bet par naudu parūpējies Edgars Jaunups, bet iegūtā nauda no Rīgas domes ir uz partejiskās piederības rēķina. Tāpat naudu dos "Rīgas Satiksme". Daudziem rodas jautājums, kā tas iespējams, jo valsts un pašvaldību iestādes pēc likumdošanas nedrīkst slēgt sponsoru līgumu. Te gan ir viens juridisks aspekts, kuru var apiet. Proti, pa taisno dot naudu un sponsorēt tik tiešām nevar, taču ja tiek slēgts reklāmas līgums, tad drīkst. Un tā tas ir arī šajā gadījumā. Pēc četru gadu darba Mārtiņu Zībartu galvenā trenera amatā nomainīs Mārtiņš Gulbis, bet par ģenerālmenedžeri iecelts Artūrs Štālbergs.
Savukārt vīriešu klubi šobrīd par sastāva papildinājumiem ziņo gausi, izņemot čempionus "VEF Rīga" un vicečempionus "Ogri", kas sastāvā paturējusi Rihardu Zēbergu, Lauri Mizi, Rinaldu Sirsniņu, Kristapu Dārgo un Renāru Magoni, kā arī vairākus jauniešus, piesaistot arī ilggadējo Jūrmalas kluba, kurš gan pārstājis eksistēt, spēlētāju Uģi Pineti un amerikāni Džordanu Laionsu, kurš iepriekš spēlēja NCAA (studentu līgas) pirmajā divīzijā un dala rekordu iemestajos trīspunktu metienos vienā spēlē – 15.
Savukārt vefiņš pārsteidza ar līguma noslēgšanu ar izlases spēlētāju Aigaru Šķēli, ierindā palikuši Arnolds Helmanis un Veners Kohs un somu leģionārs Aleksandrs Madsens, piesaistīti vēl vairāki jaunie spēlētāji, tostarp talantīgais saspēles vadītājs Kristers Zoriks, Mārcis Vītols, Artis Ate, kā arī divi leģionāri, no kuriem viens (Maikls Kaizers) aizvadītajā sezonā spēlēja NBA attīstības jeb G-līgā. Mazliet negaidīti klubu pameta Jānis Blūms, kurš ticis pie līguma Itālijas A Sērijā. Kā izteicās vefiešu galvenais treneris Jānis Gailītis, tad "visticamāk, Itālijā bija vairāk naudiņas…"
Tikmēr "Liepājas" kluba "skaļākie" papildinājumi bija trenera postenī Artūrs Visockis – Rubenis, un spēlētāji Dāvis Geks un Iļja Gromovs, uz kuru acis meta arī "VEF Rīga", bet "Valmiera Glass/ViA" kā nopietnākais papildinājums uzskatāms Ervīns Jonāts.
Pagaidām par sastāva aprisēm klusē pēdējo gadu Latvijas grands "Ventspils", kas nav ziņojis ne par vienu jaunu papildinājumu. Kā zināms, klubs nepiedzīvo tos labākos laikus, jo pēc ostu pārņemšanas valdības kontrolē (iepriekš vadīja pašvaldība) tai, visticamāk, netiks piešķirts finansējums no brīvostas, kas nozīmē, ka uzsvars tiks likts uz jaunatni un eirokausos klubs nepiedalīsies.
Tendence ir nepatīkama. Ja pirmajā gadā Latvijas – Igaunijas apvienotajā līgā startēja astoņas komandas, tad trešo sezonu uzsāks vien seši. Skaidrs, ka ekonomiskā situācija valstī iet roku rokā arī ar basketbola klubu rocību un skaidrs, ka budžeti klubiem sarūk. Jau tagad liela daļa klubu īsti profesionāli neskaitās, tāpēc jāpriecājās par katru, kas nepazūd no basketbola skatuves. Šogad arī pirmo reizi norisināsies Latvijas kausa izcīņa, kurai kopumā pieteikušies 22 klubi. Iespējams, tas varētu iedot kādu pozitīvu grūdienu kādai komandai no reģiona, lai tā pievienotos augstākajai līgai. Dzīvosim – redzēsim.