Jau apritējuši 11 gadi, kopš "Real Madrid" sāka būvēt vēl vienu "Galácticos" versiju un par pasaules rekordsummu 94 miljoniem eiro no Mančestras "United" iegādājās Krištianu Ronaldu, pārsitot pašu 2001. gada rekordu – 12,8 miljardus pesetu jeb 150 miljardus liru, jeb 77,5 miljonus eiro par Zinedinu Zidānu. Šā Ronaldu transfēra vairs nav pat futbola vēstures labāko desmitniekā – 2013. gadā rekordu atkal laboja madridieši, par 100 miljoniem nopērkot Geretu Beilu, bet iepriekšējo četru gadu laikā bijuši pat deviņi vismaz 100 miljonus vērti transfēri. Vai futbola tirgus ir sajucis prātā?
Ja agrāk mediju virsrakstā vārdu salikums "kluba transfēru rekords" nozīmēja kaut ko īpašu, tagad ar to piesaistīt uzmanību ir diezgan grūti, jo ik vasaru šādu rekordu pasaules vadošajās līgās ir ārkārtīgi daudz – pat Premjerlīgas vidusmēra un apakšgala klubi, acis nepamirkšķinot, liek galdā 30, 40 un 50 miljonus eiro. Kad tādi talantīgi, bet nebūt ne labākie spēlētāji pasaulē kā, piemēram, Usmans Dembelē tiek pirkti par deviņciparu skaitļiem, futbola līdzjutēji ar stāžu neviļus atceras, ka vēl pavisam nesen par tādām summām varēja nopirkt pat divas vai trīs lielas zvaigznes. Bet futbola līdzjutēji ar vēl lielāku stāžu veldzējas nostaļģijā par 20. gadsimta beigām, kad brazīliešu supertalanta Ronaldo iegūšanai pietika ar aptuveni 16 un 29 miljoniem eiro – abas pārejas uz attiecīgi uz "Barcelona" un Milānas "Inter", starp citu, tolaik laboja pasaules rekordu.
Pasaules transfēru rekordi kopš 1996. gada. Summas norādītas miljonos eiro, taču jāņem vērā, ka izmantotā eiro kursa dēļ summas informācijas avotos var atšķirties. Resursi: http://news.bbc.co.uk/sport2/hi/football/europe/8080228.stm
https://www.bbc.com/sport/football/23903470
Atbildot uz ievadā uzdoto jautājumu – drīzāk jau retorisko -, nē, futbola tirgus nebūt nav sajucis prātā. Transfēru summas ik vasaru tik zibenīgi aug pavisam vienkārša iemesla dēļ – milzīgos apjomos aug arī klubu budžeti. Ņemsim par piemēru "Real Madrid", kas 20 gadu laikā izcēlās ar četriem pasaules transfēru rekorda labojumiem pēc kārtas (vai pat pieciem, ja sarakstu veidotu pēc summām sterliņu mārciņās, nevis eiro – klāt nāktu arī Kakā) un kam šajā periodā piecreiz piederējis sezonas dārgākais transfērs – tas ir lielākais rādītājs, apsteidzot Londonas "Chelsea" (4) un PSG (3). No 2000./01. līdz 2018./19. finansiālajam gadam (par 2019./20. finansiālo gadu, kas beidzās tikai pirms mēneša, atskaites vēl nav) Madrides kluba pamatienākumu budžets (jeb visi ienākumi, izņemot transfērus) no 138,2 miljoniem pieauga līdz 757,3 miljoniem eiro. Par 619,1 miljonu! Un tas pat nav iespaidīgākais – "Real Madrid" budžets šajā periodā auga katru gadu. 2018./19. g. pieaugums gan bija tikai par 0,9%, taču pieaugums bija tik un tā.

No 2000./01. g. līdz 2009./10.g. madridiešu pamatienākumu budžets palielinājās par 300,4 miljoniem (jeb 217,4%), bet no 2009./10. g. līdz 2018./19. g. tas atkal kļuva lielāks par vairāk nekā 300 miljoniem – 318,7 miljoniem jeb 72,7%. No komercienākumiem vien "Real Madrid" iekasēja 354,6 miljonus eiro, kas ir vairāk nekā viss kluba pamatienākumu budžets 2006./07. g. sezonā. Kurā "Real Madrid", starp citu, bija bagātākais klubs pasaulē. No raidtiesībām Spānijas milzis saņēma 257,9 miljonus eiro, ar ko pirmajai vietai pasaulē būtu pieticis vēl 2002./03.g., bet par spēles dienas ienākumiem, kas mūsdienās ierasti ir vispieticīgākais ienākumu avots, "Real Madrid" konts tika papildināts ar 144,8 miljoniem eiro.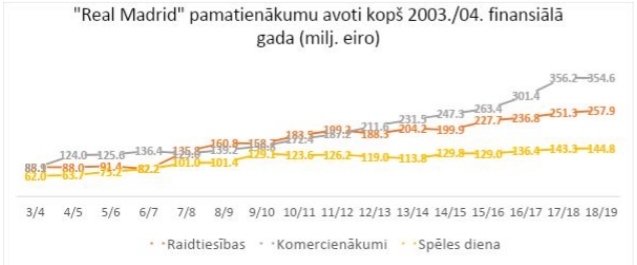 Informācijas avots – auditorkompānijas "Deloitte" ikgadējais pētījums "Naudas līga" par bagātākajiem futbola klubiem pasaulē, ņemot vērā tieši pamatienākumus jeb ienākumus bez spēlētāju pārdošanas.
Un galu budžetu nemitīgajai augšanai arvien neredz, jo sponsorlīgumu rekordi tiek laboti vēl biežāk nekā transfēru rekordi, bet raidtiesību līgumi gan par vietējiem čempionātiem, gan Eirokausiem turpina kāpt. Vai, precīzāk, neredzēja galu līdz pandēmijai. Turklāt ienākumi milzu apjomos neaug tikai elites klubos – rocība pieaug arī krietni zemāka statusa klubiem. Īpaši Anglijas Premjerlīgā, kas no 2007. līdz 2016. gadam pašmāju raidtiesību vērtību palielināja vairāk nekā piecas reizes (no 1,024 līdz 5,136 miljardiem sterliņu mārciņu trīs gadu periodā jeb vidēji no 0,341 līdz 1,712 miljardiem mārciņu sezonā). Premjerlīgas raidtiesību vērtība ir tik milzīga, ka pat līgas vājākā komanda "Huddersfield" pērnajā sezonā par TV tiesībām saņēma 96,6 miljonus sterliņu mārciņu jeb 106,8 miljonus eiro – gandrīz tikpat, cik "Liverpool" no UEFA ieguva par triumfu Čempionu līgā (111,1 miljonu eiro, tiesa, lielākā summa tajā sezonā tika liverpūliešu uzvarētajai pusfinālistei "Barcelona" – 117,7 miljoni). Tādēļ, ja kādreiz brīnāties, kā ne pārāk zināmi angļu klubi var tērēt summas, kādas joprojām pat sapņos nerādās vairumam Spānijas, Vācijas, Itālijas un Francijas klubu, vienkārši paskatieties šo "Statista.com" vēsturisko salīdzinājumu, kā attīstījusies līgas pašmāju raidtiesību vērtība. Un tad vēl atcerieties, ka Premjerlīga milzīgas summas saņem arī par raidtiesību pārdošanu ārzemēs – no 2016. līdz 2019. gadam tie bija 3,2 miljardi mārciņu jeb vairāk nekā viens miljards gadā.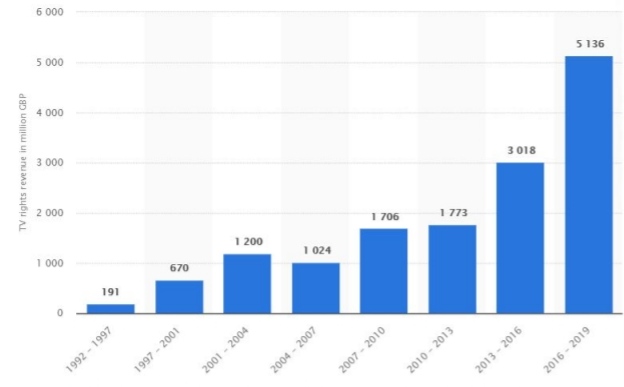 Summas norādītas miljonos sterliņu mārciņu par pilnu līguma periodu, nevis vidēji gadā. Avots: https://www.statista.com/statistics/385002/premier-league-tv-rights-revenue/
Transfēra summu, protams, veido ļoti daudz dažādu faktoru – spēlētāja unikalitāte tirgū, atlikušais līguma ilgums, aģentu komisijas, pircēja nepieciešamība pēc pastiprinājuma (piemēram, Dembelē noteikti nebūtu maksājis 105+40 miljonus, ja "Barcelona" tikko nebūtu Neimāru pārdevusi par 222 miljoniem, kas nozīmēja, ka "Barcelona" bija gan līdzekļi, gan arī pārāk liela vajadzība meklēt malējo uzbrucēju) u.t.t. Šī raksta mērķis nav izvērtēt šo summu objektivitāti tā brīža tirgū, bet gan mēģināt salīdzināt spēlētāja transfēra dārdzību dažādos laika periodos, tādēļ viens no visobjektīvākajiem rīkiem, kā to darīt, būtu transfēra summu salīdzināšana pret pircējkluba pamatienākumu budžetu tajā konkrētajā sezonā. Un te nu paveras interesanta aina – lai arī pārejas summas it kā liecina pretējo, tirgus sajucis prātā drīzāk bija pirms 20 gadiem, nevis tagad.
Tikai daži piemēri. 1997. gadā Ronaldo atkal labotais pasaules rekords bija nosacītu 40,5% vērtībā no Milānas "Inter" pamatbudžeta gaidāmajā sezonā. 2000. gadā Romas "Lazio", nopērkot Ernanu Krespo, pasaules rekordu laboja ar summu, kas bija 45,3% vērtībā no kluba pamatbudžeta, bet Luiša Figu un Zinedina Zidāna, ar kuriem Florentino Peress 20. un 21. gadsimtu mijā uzsāka savas superkomandas būvniecību, transfēri bija attiecīgi 43,4% un 50,9% vērtībā no "Real Madrid" pamatienākumiem tajās sezonās. Turpretī mūsdienās vairums lielāko transfēru veido tikai 15-25%. Ar dažiem izņēmumiem gan, un spilgtākais izņēmums, protams, ir Neimārs – 222 miljonu transfēru PSG atļāvās sezonā, kurā kluba pamatienākumu budžets pat ar visu pieaugumu bija 541,7 miljoni eiro. Tātad Neimāra transfērs bija diezgan iespaidīgu 41,0% apmērā, taču tas tik un tā bija mazāk nekā jau pieminētajiem rekordiem Ronaldu, Figu un Zidāna gadījumā.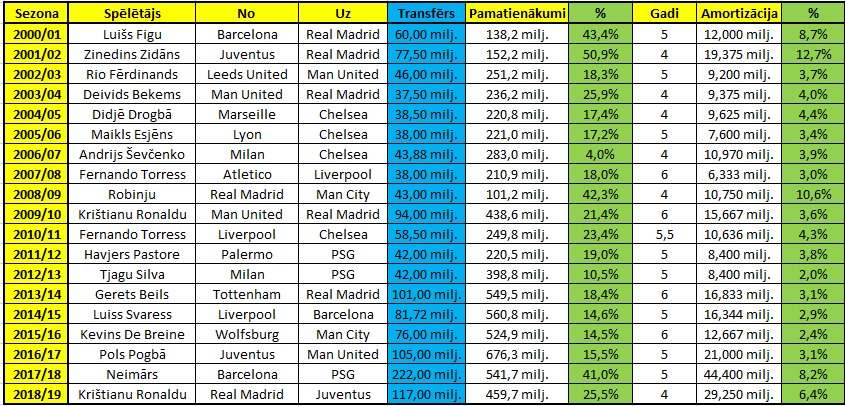 Konsekvences dēļ visām transfēra summām kā avots izmantots portāls Transfermarkt.de, tādēļ tās nav uzskatāmas par oficiālām. Norādītas tikai pamatsummas, nevis pamatsummas ar iespējamajām prēmijām. Tāpat jāņem vērā iespējamā atšķirība klubu paziņojumos – Turīnas "Juventus" vēstīja, ka Ronaldu ar "Real Madrid" vienojās par 100+12 miljonu eiro pāreju, taču darījuma kopējā pamatsumma tiek uzskatīta par 117 miljoniem, jo vēl "nelielas" piemaksas pienācās arī Ronaldu iepriekšējiem klubiem Mančestras "United" un Lisabonas "Sporting". Visas summas norādītas miljonos eiro.
Iepriekš minēju, ka šāds aprēķins varētu būt viens no objektīvākajiem salīdzināšanas rīkiem, taču jāpiebilst gan, ka tas tik un tā nav pārāk objektīvs. Tādēļ, ka šo dārdzību vislabāk būtu vērtēt ilgākā termiņā (spēlētāja pavadītajā laikā klubā), nevis vienas sezonas griezumā. Lai arī medijiem un līdzjutējiem patīk rēķināt konkrētos transfēra periodos it kā iegūto peļņu vai iztērēto naudu, vienkārši no pārdoto spēlētāju summas atņemot nopirkto spēlētāju summu, futbola grāmatvedība tā nestrādā. Spēlētāja transfērs netiek pilnā apmērā ierēķināts viena finansiālā gada izdevumos, bet gan tiek amortizēts visa perioda laikā, ko spēlētājs pavada klubā. Piemēram, ja PSG Neimāru iegādājās par 222 miljoniem eiro un līgumu parakstīja uz pieciem gadiem, tas nozīmē, ka katrā no šiem pieciem gadiem kluba izdevumu budžetā ailītē "amortizācija" tiks ieskaitīti 44,000 miljoni. Tātad 5×44,4 miljoni, nevis 1×222 miljoni. Tādēļ, vērtējot nopirktā spēlētāja transfēru, ļoti svarīgi ņemt vērā arī līguma apjomu.
Trāpīgs piemērs – 2015. gada vasarā "Manchester City" par 76 miljoniem eiro nopirka Kevinu De Breini un par 63,7 miljoniem iegādājās Rahīmu Stērlingu. Pirmais transfērs bija krietni dārgāks, vai ne? Nekā. Tā kā ar beļģi tika parakstīts sešu gadu līgums, bet ar Stērlingu – piecu, ikgadējā amortizācijas maksa lielāka ir tieši Stērlingam – 12,740 pret 12,667 miljoniem eiro. Līdz ar to transfēru vēsturisko dārdzību varam salīdzināt arī nevis pēc transfēra summas un pamatienākumu proporcijas, bet gan pēc ikgadējās amortizācijas maksas un pamatienākumu proporcijas. Te Zidāna transfērs vēl vairāk nostiprina savu līderpozīciju kā dārgākais transfērs futbola vēsturē, jo ar 29 gadus veco franču pussargu tika parakstīts tikai četru gadu līgums, bet 19,375 miljonu amortizācijas maksa tajā sezonā bija 12,7% apmērā no pamatienākumiem. Kamēr Neimārs savā pirmajā sezonā Parīzē maksāja 8,2% – mazāk arī par Figu (8,7%), Krespo (9,1%) un arī Gabrielu Batistutu (9,7%), kurš 2000. gadā no Florences "Fiorentina" uz "Roma" pārgāja par aptuveni 36,15 miljoniem eiro un parakstīja tikai trīs gadu līgumu, un nemaz ne tik tālu priekšā Krištianu Ronaldu 117 miljonu eiro pārejai uz Turīnas "Juventus", portugālim (6,4%) parakstot tikai četru gadu līgumu. Tā kā mūsdienās arvien izteiktāka ir līgumu termiņu pieaugšana (lai nemulsina Krištianu Ronaldu piemērs – četru gadu līgums 33 gadu vecumā ir pat ļoti pieklājīgs termiņš), tas ir vēl viens plusiņš mūsdienu tirgus blociņā.