ASV šobrīd ir saspringta situācija rasisma izpausmju dēļ. Visai pasaulei vēl svaigā atmiņā ir protesti, kas pārauga vardarbīgās sadursmēs ar policijas spēkiem melnādainā vīrieša Džordža Floida nogalināšanas dēļ. Pirms pāris dienām ASV notika jauns incidents, kad, pielietojot pārmērīgu spēku, septiņas reizes mugurā tika sašauts cits afroamerikānis Džeikobs Bleiks, kurš šobrīd atrodas slimnīcā smagā stāvoklī. Nemaz nerunāsim par vairākiem citiem gadījumiem, kad policisti pielietojuši nepamatotu spēku.
Tas novedis pie vairāku sporta veidu Ziemeļamerikas vadošo līgu boikotu (NHL gan par šādu soli vēl nav izšķīrusies) – pirmā soli spēli Nacionālās basketbola asociācijas (NBA) komanda Milvoki "Bucks", kas nolēma neierasties uz "play-off" maču pret Orlando "Magic". Vēlāk viņiem pievienojās vairākas citas komandas, kas lika līgas vadībai atcelt piecas gaidāmās "play-off" cīņas. Radās jautājums – vai NBA čempiona noskaidrošana ir apdraudēta?
Problēma ir ieilgusi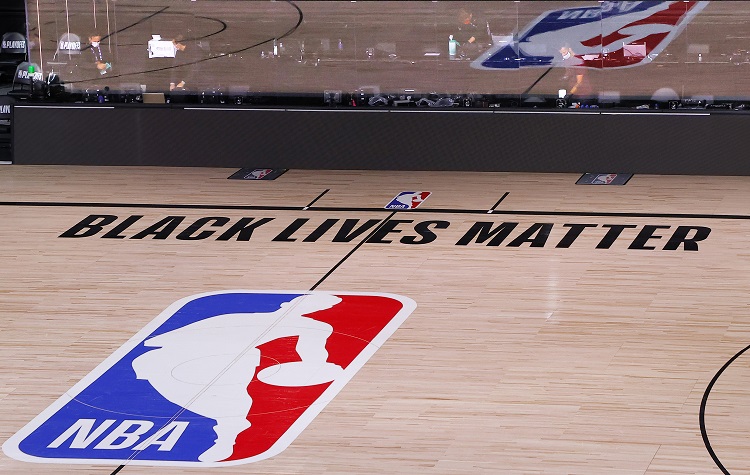 Sākotnēji NBA lielākās galvassāpes sagādāja straujā koronavīrusa izplatība, taču savu darbu "burbulī" līgas vadība padarīja godam – šobrīd no aptuveni pusotra tūkstoša Orlando Disnejlendā dzīvojošajiem iemītniekiem nevienam nav konstatēta saslimšana. Tomēr bija parādījušies jauni ar vīrusu nesaistīti draudi. "Bucks" bija celmlauži, kas pirmie paziņoja, ka nepiedalīsies gaidāmajā mačā pret "Magic". Tā vietā komanda sazinājās ar Viskonsīnas štata ģenerālprokuru, lai pārrunātu notikušo ar Bleiku, kuru nežēlīgi sašāva policists viņa trīs bērnu priekšā. Zīmīgi, ka "Bucks" pieteiktais mača boikots norisinājās tieši četrus gadus pēc tam (un vienā dienā – 26. augustā), kad NFL spēlētājs Kolins Kaperniks ASV himnas laikā nometās uz ceļa, lai demonstrētu savu attieksmi pret rasisma izpausmēm valstī. Vēlāk viņš par to dārgi samaksāja, jo neviena līgas komanda viņu neuzņēma savās rindās līdz pat šim gadam. Atgādināsim, ka NBA spēlētāji, sākoties "burbulim", vairākums un vienoti pie himnas nometās ceļos, bet sankcijas par to vairāk nesekoja. Tāpat spēļu arēnas rotāja "Black Lives Matter" uzraksti, kā arī vairāki lozungi ar sociālās vienlīdzības tēmu, kā piemēram, "Equality", "Justice", "I can't breathe", "Say her name" un citi.
Divi "Bucks" spēlētaji Džordžs Hils un Stērlings Brauns sarunā ar medijiem atklāja, ka abi vēl pavisam nesen saskārušies ar rasisma izpausmēm. Taču NBA vēsturē ir bijuši vēl kliedzošāki notikumi daudz senākā pagātnē, 20. gs. 60. gados, piedevām ar līgas superzvaigznēm.
Bila Rasela mājās reiz ielauzās vandāļi un nokārtoja savas dabiskās vajadzības viņa gultā. Karims Abduls – Džabars kļuva par tautas ienaidnieku, kad viņš boikotēja 1968. gada olimpiskās spēles un sacīja, ka neuzskata par savu valsti rasisma naida dēļ, savukārt Oskars Robertsons joprojām atgādina, kā viņa skolas komandai netika atļauts piedalīties tradicionālajā čempionāta parādē, jo tā sastāvēja no melnādainajiem sportistiem. Tieši šajā laika posmā ASV rasisms piedzīvoja "uzplaukumu". Sabiedriskajā transportā bija iedalītas vietas baltajiem un melnādainajiem cilvēkiem, bija nodalītu bērnu spēļu laukumi un baseini. Bija virkne diskriminējošu lietu.
Tiesa, runājot par rasismu pret afroamerikāņiem, savadabīga epizode pašā "burbulī" norisinājās Kristapa Porziņģa pārstāvētās Dalasas "Mavericks" mačā pret Losandželosas "Clippers". Vienā no spēles situācijām Porziņģa komandas biedram Lukam Dončičam iznāca saķeršanās ar Montrezu Harelu, kurš vēlāk pēc gūta groza Dončičam veltīja šadu tekstu: "B%@# a&# white boy!" Proti, pirmie divi vārdi ir cenzēti, bet nobeigumā izceļot "balto, puis!" Šī Harela vokālā izpausme palika bez ievērības no līgas vadības, bet rodas jautājums – ja tas būtu noticis uz otru pusi, proti, tiktu piesauktu rase, kādas darbības tad sekotu?
Kādas sekas tas var radīt?
Turpmākā NBA sezonas norise uz mirkli bija zem lielas jautājumu zīmes un netika izslēgts, ka tā tiks pārtraukta. Ko līgai nozīmētu boikots un kādas būs tā sekas? Viedokļi dalījās.
Neilgi pēc piecu spēļu atcelšanas NBA "burbulī" norisinājās spēlētāju tikšanās, kurā tika apspriesta nokaitētā situācija – turpināt sezonu vai nē. Pret to iestājās abi Losandželosas klubi – "Lakers" un "Clippers", kas uzskatāmi par galvenajiem favorītiem cīņā par titulu. Spēlētāju tikšanās bijusi ļoti emocionāla. Vienā brīdī to pameta līgas lielākā zvaigzne un skaļākā sociālās nevienlīdzības aizstāvības balss Lebrons Džeimss. Kopumā sanāksme norisinājās trīs stundas, bet, kā Ziemeļamerikas medijam "The Athletic" ziņo situācijai tuvu stāvošs avots, tā noslēdzās "neglīti", kamēr cits vēstīja – balsojums par sezonas turpināšanu drīzāk bija kā pirmais priekš-balsojums pirms daudz nopietnākām apspriedēm, kuru laikā situācija var krasi mainīties.
Ko tas var nozīmēt 8 miljardu (ASV dolāru) industrijai? Ņemot vērā, ka šī sezona tā jau nesusi vienus mīnusus – Kavai Lenarda "load management" nacionālās televīzijas spēlēs (un ticiet, tā ir liela nauda), pēc kā kritās TV reitingi, Hjūstonas "Rockets" ģenerālmenedžera Derila Morija tvītošana par atbalstu Honkongas neatkarībai, kas saniknoja Ķīnu un radīja zaudējumus, un, protams, Covid-19 izraisītā pandēmija. Ja klubi atteiktos turpināt sezonu, zaudējumi tikai pieaugtu.
Atbilde uz šo jautājumu nebija arī NBA pārstāvjiem, jo līgai ir 1 miljarda vērts TV translāciju līgums, pats "burbulis" izmaksājis 180 miljonus, un kas notiks, ja netiks kronēts čempionāts? Jāatgādina, ka NBA spēlētāji ir pasaulē apmaksātākie sportisti – vidēji uz "galviņu" sanāk 7,4 miljoni ASV dolāru.
"Cilvēki ir dusmīgi un vīlušies par to, kas notiek mūsu valstī, tāpēc mēs esam sanākuši kopā, lai izdomātu, kā mēs varam ko darīt lietas labā. Cilvēki noteikti sacīs – ko spēļu boikotēšana palīdzēs? Vai tādēļ mirs mazāk cilvēku? Ja mēs to izdarām, mēs zinām, cik lielu iespaidu tas atstās! Mēs neesam tikai basketbola spēlētāji, mēs esam cilvēki ar jūtām. Nevēlamies turpināt spēlēt un izlikties, ka ārpusē viss ir kārtībā. Mēs vēlamies pārmaiņas," tā izteicies Bostonas "Celtics" zvaigzne Džeisons Teitums.
Atbalstu NBA spēlētāju nostājai paudis arī ietekmīgais ESPN apskatnieks Stīvens Smits: "Esmu ļoti lepns, lai neteiktu vairāk! Tas ir tieši tas, kas jādara – upurēties. Jūs zināt, ka līga zaudēs naudu, uzņēmumi zaudēs naudu, klubu īpašnieki zaudēs naudu, kuri parūpēsies, ka līdz ar to arī spēlētāji zaudēs naudu, bet tam nav nozīme! Šī ir vienīgā pareizā rīcība!"
View this post on Instagram
Sanāksmes laikā tapa zināms, ka spēlētāji sagaida aktīvāku rīcību no klubu īpašniekiem, kas ir sabiedrībā labi pazīstami cilvēki un nereti ar politisko ietekmi. Tieši pēc šādas frāzes sarunu telpu pameta Džeimss. Tāpat spēlētāji vērsuši uzmanību par nepieciešamību piedalīties gaidāmajās ASV prezidenta vēlēšanās un vajadzību reformēt policijas struktūras.
Tikmēr vairāki apskatnieki ziņo, ka NBA Spēlētāju arodbiedrības (NBAPA) izpilddirektore Mišela Robertsa centusies spēlētājus atrunāt no boikota. "Šādās situācijās tu jūties bezspēcīgs, bet to nevar izmainīt vienā dienā. Šeit var būt tikai viens risinājums – atrast visus tos ķēmus, kuri nesoda policiju par viņu zvērīgajām izdarībām un balsot pret viņiem. Lai mūsu valstī būtu mēri un policijas priekšnieki, kuri šādus vilkačus formās sodītu un ieliktu cietumā," sacījusi Robertsa.
Viņa turpināja: "Spēlētāji var boikotēt izslēgšanas spēles, bet problēmas risinājums ir formulēt kādu konstruktīvu pārmaiņu programmu. Stāstu viņiem visu, kā tas ir. Ja esmu satraukta un vīlusies, es arī varētu sev teikt – es vairāk nevēlos būt advokāte. Un pie kā tas novedīs? Vēlaties nodarboties ar to, ko dara Maia Mūra [melnādaino tiesību aizstāve]? Ja izlemsiet to darīt, es jūs atbalstīšu. Taču padomājiet – ja aizbrauksiet mājās un nespēlēsiet, kurš ar jums runās? Kurš prasīs intervijas, kur varēsiet izteikties par sociālajām netaisnībām? Visa pasaule seko līdzi tam, kas notiek NBA "burbulī". Tad, lūdzu, izmantojiet šo sasodīto platformu! Vienlaikus gribu teikt, ka ar varu es nevienu laukumā nedzīšu. Esmu šeit, lai jūs aizstāvētu un palīdzētu."
Un Robertsai nevar nepiekrist – "burbulī" jau tā ir radīta augsne, lai pievērstu uzmanību rasisma problēmām – uzraksti uz laukuma un formām, komandu autobusiem, teju katrā intervijā kāds spēlētājs par to runā un to tiešsaistē skatās simtiem tūkstoši cilvēku, kā arī nomešanās uz ceļiem himnas laikā. Ja "burbulis" nebūs, vai spēlētāji spēs efektīvāk paust savu nostaju un izdarīt spiedienu?
Kā pateica "Lakers" aizsargs Dž. R. Smits: "Jūs mūs nedzirdat, bet tagad arī neredzat!" Vien jautājums – cik ļoti tam pievērš uzmanību attiecīgās institūcijas, kas reāli var ko izmainīt, un cik vienkārši basketbola fani? ASV prezidenta Donalda Trampa nostāja visiem ir skaidra un ir, maigi izsakoties, grūti saprotama… Vienā no nesenajām intervijām viņš izteicies, ka, viņaprāt, NBA spēlētāji ir nožēlojami un stulbi, jo neciena savas valsts karogu un himnu…
Jebkurā gadījumā, skatoties no biznesa viedokļa, piecu "play-off" spēļu boikots jau ir radījis finansiālus zaudējumus, kā arī iedragājis līgas reputāciju sadarbības jomā. Arī klubu īpašnieki nav apmierināti ar notiekošo, jo ar katru nenotikušo spēli viņi zaudē naudu. Ja spēlētāji patiešām izlemtu boikotēt atlikušo "play-off" turnīru, vairāki situācijai tuvu stāvoši avoti Ziemeļamerikā vēsta, ka klubu īpašnieki nopietni apsver iespēju lauzt kolektīvo līgumu un var iestāties lokauts… Var saprast spēlētāju sašutumu par nežēlīgo policijas attieksmi, vienlaikus ir jāatcerās, ka spēlētāji ir darba ņēmēji, nevis devēji. Un situācijas, kad darba ņēmējs grib sākt diktēt noteikumus darba devējam, parasti nebeidzas labi… Kā būtu šoreiz?
Jau tā pārtrauktās sezonas atkārtota pārtraukšana nozīmētu, ka finansiāli ieguvējs nav neviens.  Bet vai šie pieņemtie mēri (boikots) attaisnostu uz sevi liktās cerības un palīdzētu pārmaiņām valstī?
Tiesa, jaunākā informācija liecina, ka spēlētāji ir piekrituši turpināt sezonu. Domas ir mainījuši un atzinuši, ka bijuši pārāk emocionāli. Jebkurā gadījuma šī "flirta", kas beigās nerealizējās, sekas varēja būt ļoti tālejošas…