"Sporta pils" turpina rubriku "Skatuve" – tie būs sportistu stāsti pirmajā personā par sev nozīmīgu vai interesantu karjeras posmu.
Kaspara Daugaviņa stāsts par laiku Ziemeļamerikā – otrā daļa. Ja pirmajā daļā Kaspars stāsta par juniora hokeja līgu un dzīvi Amerikas hokeja līgā (AHL), tad šajā materiālā varēsiet lasīt kā viņš nokļuva Nacionālajā hokeja līgā (NHL) un aizvadīja pirmo pilnvērtīgo sezonu, par slaveno "bullīti", par nokļūšanu Bostonas "Bruins", par Jaromīru Jāgru, kurš neklausījās trenera norādījumos un Stenlija kausa finālu.
Pirmo daļu varat lasīt ŠEIT.

Kaspars Daugaviņš
Ko es varēju darīt? Ne jau es pieņemu lēmumus. Aizbraucu uz AHL, kur ļoti labi iesāku un jau pēc septiņām spēlēm saņēmu izsaukumu uz NHL. Kopš tā brīža uz AHL vairāk mani nesūtīja. Iespējams, nostrādāja tas, ka konkrēti pateicu – līdz novembrim, lūdzu, 10 spēles, lai varu sevi pierādīt. Ja nepierādīšu – nav problēmu, sūtiet mani, kur gribat. Bet iepriekš nebiju jutis, ka man pietiekami tiek dota iespēja. Šoreiz gan viss ļoti veiksmīgi salikās. Ieguvu iespēju ne tikai vienkārši uzspēlēt, bet man bija konkrēta loma – spēlēju pirmajā mazākuma brigādē. Vienlaikus biju ielikts trešajā uzbrucēju maiņā un arī punkti solīdi krājās. Kad pēc traumām ierindā atgriezās vairāki veterāni, mani ielika ceturtajā maiņā, bet tur punktus savākt ir daudz grūtāk. Tomēr man galvenais tobrīd bija būt tur [NHL], noķert to sajūtu un iekrāt pieredzi. Vienu brīdi jau šķita, ka viss varētu tā skaisti aiziet.
Atceros savus pirmo vārtus. Diezgan ātri tos iemetu, ja nemaldos, ceturtajā vai piektajā spēlē un diezgan svarīgā spēlē Ontario reģiona derbijā pret Toronto "Maple Leafs", kas bija uzvaru nesošie. Nekāds tehnikas meistarības paraugdemonstrējums tas nebija, bet vārti ir vārti. Iegāju pretinieku zonā un vienkārši metu! Jā, varbūt vārtsargs kaut kur nedaudz nokļūdījās, bet katrs metiens ir iespēja.
Biju labi iejuties NHL līmenī un noteikumi ir tādi – pirmās trīs nedēļas klubs atmaksā dzīvošanu viesnīcā, bet kad paiet šis laiks, tad viņiem ir jāizlemj vai palikšu komandā vai sūtīt atpakaļ uz AHL. Bet diezgan ātri sapratu, ka esmu Otavā uz palikšanu. Nostiprinājos un ieguvu savu lomu, kas bija spēle mazākumā.
"Senators" padevās salīdzinoši veiksmīga sezona un iekļuvām "play-off". Sanāca, ka debija "play-off" bija pret to pašu komandu, kad debitēju NHL regulārajā čempionātā – pret Ņujorkas "Rangers". 99% no laika, ko pavadīju uz ledus, spēlēju mazākumā. Sanāca arī būt uz ledus, kad ielaidām golu. Mazākumu izturējām un mūsējais jau skrēja no noraidīto soliņa, bet viņu uzbrukuma vilnis turpinājās un ielaidām. Tā es dabūju arī negatīvu lietderību, bet tas ir hokejs.
Tā gan bija mana vienīgā spēle, jo pretinieki baigi medīja vienu no mūsu līderim, aizsargu Ēriku Karlsonu. Treneris pienāca klāt un pateica, ka sastāvā liks tafgajus, lai tad viņi arī dauzās un tiek ar to galā. Noslēgumā zaudējām septiņās spēlēs. Pēc sērijas beigām treneris pienāca pie manis un atzina, ka laikam tā bija kļūda, ka izvēlējās tafgajus manā vietā. Bet es par to nepārdzīvoju, jo tāpat ieguvu pieredzi spēlēt Stenlija kausa izcīņā un pirmā pilnvērtīgā NHL sezona noslēgta ar plus zīmi.
Šķita, ka tagad  man noteikti piedāvās vienvirziena līgumu un būšu sastāvā jau no pirmās dienas, bet beigās viņi saka: "Atvaino, esam gatavi tev piedāvāt divvirzienu līgumu." Aģentam uzreiz pateicu, ka uz tādiem nosacījumiem atpakaļ nebraukšu, jo noteikti atkal tiks atrasta iespēja mani nosūtīt uz AHL, ko es vairāk nevēlējos. Viņš man saka, ka tādā gadījumā ejam uz arbitrāžas tiesu un tur es noteikti "izsitīšu" sev vienvirziena līgumu.
Paziņojām to "Senators" kluba vadībai un viņa saka – nav problēmu, ejam šo ceļu. Bet arbitrāžas tiesa pati par sevi diezgan pretīga procedūra. Proti, komanda iet pret tevi, meklējot video visas sliktās lietas, ko uz ledus esi izdarījis vai kļūdījies, savukārt es pretējo – aģentam bija cilvēks, kurš meklēja un izcēla manas pozitīvās darbības uz ledus un salīdzināja ar citiem līgas spēlētājiem, kuriem bija vienvirziena līgums. Atceros, ka arbitrāžas tiesas sēde bija paredzēta jūlija beigās un pašam bija jāierodas uz to klātienē, jālido uz Toronto. Viss uz to gāja, nopirku biļeti un sēdos lidmašīnā. Kā es nolaidos Toronto, skatos, ka man ir divi neatbildēti zvani no aģenta. Zvanu atpakaļ un viņš man saka: "Arbitrāžas nebūs. Otava piekrita un iedeva tev vienvirziena līgumu." Tas arī likās dīvaini – lika lidot no Rīgas uz Toronto, lai uzreiz lidotu atpakaļ… Galvenais, ka beigās piešķīra lielāku summu, nekā mēs prasījām. Man noteicošais bija, lai ir vienvirziena līgums, kaut par minimālo algu.
Saprotams, ka pēc arbitrāžas tiesas vienmēr nedaudz pabojājas attiecības ar darba devēju, bet tev nav izvēles – ir jācīnās par sevi. Bet teikšu tā – ar Otavas vadību man nekad nebija īpaši labas attiecības, jo cilvēks [Džons Maklers], kurš mani nodraftēja un parakstīja ar mani pirmo NHL līgumu, tika atlaists pēc 10 dienām… Līgumu parakstīju pēc tam, kad "Senators" bija tikuši Stenlija kausa finālā, kur zaudēja Anaheimas "Ducks". Makleram bija spēkā vēl līgums un likās, ka viņš turpinās strādāt par ģenerālmenedžeri, jo bija laba komanda un tikts finālā, bet pēkšņi viņu atlaiž, jo neizcīnīja kausu. Tas likās dīvaini. Vietā nāk cits cilvēks ar citiem asistentiem un laika gaitā biju palicis teju vienīgais visā organizācijā, kuru nebija parakstījis jaunais GM. Varbūt tāpēc mani neuzskatīja par labu spēlētāju, jo nebija mani draftējuši. Tāpēc viņiem bija vienalga par mani. Savus spēlētājus sauca augšā, bet es malos pa AHL.
Līgums bija kabatā, bet tajā sezonā bija lokauts un spēlēju Rīgas "Dinamo". Ar lielu pārliecību, lai uzturētu sevi formā un pēc tam atgrieztos gatavs sezonai no pirmās dienas. Bet 90% no "Senators" spēlētājiem nekur nespēlēja un īpaši neko nedarīja. Atbraucu uz nometni un jutu, ka esmu labākā formā kā lielākā daļa, bet man tāpat nedeva spēlēt. Pārsvarā dzīvojos pa tribīnēm, un kad arī mani ielika spēlēt, tad pa trīs minūtēm, kuru laikā nevar sevi pierādīt.
Neilgi pirms mani ielika neaizsargāto spēlētāju sarakstā, spēles laikā izpildīju to slaveno "bullīti". Motivācija tam bija pavisam vienkārša – treniņos strādājām uz dažādiem variantiem, bet vārtsargi parasti zina, ko tu darīsi, tāpēc izdomāju, ka jāpamēģina kaut kas neordinārs, ko diez vai vārtsargs sapratīs. Vienmēr, kad treniņos atbrauca kāds jauns vārtsargs, tad pamēģināju uz viņu un gāja cauri. Tad arī komandas biedri sāk teikt: "Kaspar, pamēģini šito spēlē!" Es arī pamēģināju. Kādam varbūt tā likās necieņa pret vārtsargu, citam patika. Tas atkarīgs no cilvēka. Arī spēles laikā man kāds pieslidoja klāt un kaut ko pateica, bet kopumā vairāk bija pozitīvas atsauksmes, nevis negatīvas.
Bet pie spēles laika aizvien netiku. Atkal zvanīju aģentam un teicu, lai mani aizsūta kaut vai uz AHL, lai iegūstu spēļu praksi, vai mēģina sarunāt maiņu. Ļoti gribēju spēlēt. Tā mani ielika neaizsargāto spēlētāju sarakstā, ko pats nemaz nezināju, kas nozīmēja, ka jebkura cita komanda var pārņemt manu līgumu un to izdarīja Bostonas "Bruins". Atceros, ka biju treniņā Otavā un ĢM asistents mani pasauc maliņā un saka: "Mēs tevi ielikām veiveros [no angļu valodas "waiwer" – red.] un tu esi paņemts. Nāc malā un ej ģērbties." Jo pēc noteikumiem vairāk nevaru ar "Senators" trenēties kopā.
Redzēju viņa sejā tādu kā smīnu, jo viņš neticēja, ka kāds mani paņems pie sevis. Bet arī tur ir stāsts apakšā. Izrādās, ka "Bruins" ĢM Pīters Čirelli iepriekš strādāja "Senators" kā ĢM asistents, kad mani draftēja. Viņš bija viens no tiem cilvēkiem, kas mani izvēlējās, tāpēc nolēma pamēģināt, ko es varu izdarīt. Tā kā nekas nenotiek tāpat vien tajā līgā (iesmejas).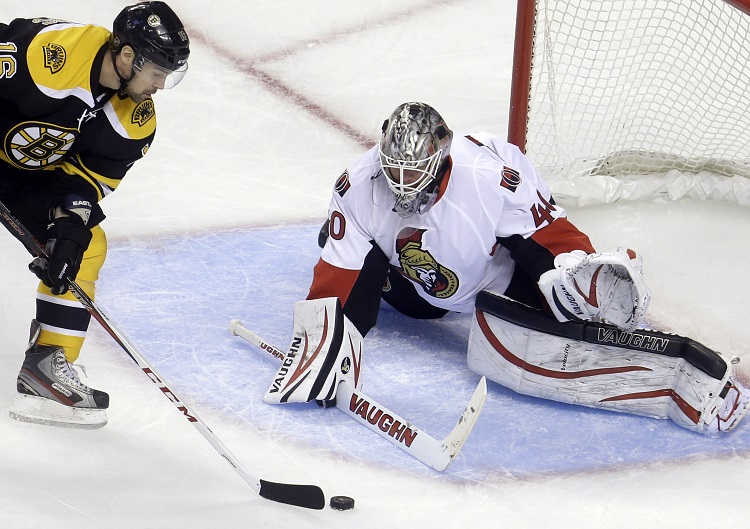 Līdz regulārās sezonas beigām nebija atlikušas daudz spēles un piedevām tam vēl ilgi nevarēju iegūt darba atļauju, vēl nedēļu nosēdēju Otavā, jo nevarēju doties uz ASV. Atbraucu uz Bostonu un sanāca aizvadīt sešas spēles. Ja godīgi, pats nemaz neticēju, ka tikšu daudz spēlēt, jo "Bruins" tobrīd bija viena no spēcīgākajām komandām līgā. Neskatoties uz to, savu vietu izcīnīju un uz pirmo "play-off" maču mani ielika sastāvā. Biju nedaudz pārsteigts, jo malā atstāji čali, kurš iepriekš divus Stenlija kausus bija pacēlis. Mani ielika trešajā maiņā kopā ar Jaromiru Jāgru.
Kopumā kolektīvs bija labs, kā jau tas ir visur Ziemeļamerikā. Bija vairāki mani vienaudži, daudzi eiropieši kā Zdeno Čara un Dāvids Krejčī, kas man palīdzēja iejusties, un arī tāds Kriss Kellijs, kurš mani atcerējās no Otavas laikiem. Čaļi, kas spēlē NHL, liela daļa jau naudu ir nopelnījuši un spēlē prieka pēc, gluži kā bērnībā, tāpēc viņi izbauda atmosfēru gan uz laukuma, gan ārpus tā.
Runājot par Jāgru, viņš nav no tiem cilvēkiem, kas daudz kontaktējās ar citiem. Viņš ir diezgan liels vienpatis, ļoti noslēgts. Arī dzīves uzskati ir savādāki. Likās, ka viņš dzīvo otrādāk – naktīs neguļ un pa dienu guļ. Viņš gan ļoti daudz trenējās – viens pats gāja uz halli pat naktīs. Ar padomiem arī nemētājas un pirms kāpj uz ledus stundu tin nūju – īpatnējs cilvēks, bet, protams, pasaules hokeja leģenda, kurš daudz ko ir sasniedzis.
Atceros pirmo "play-off" spēli. Bija sapulce, pēc kuras treneris pasauc mūsu maiņu aprunāties. Viņš teica: "Džeki, jums nav jātaisa rezultāts, pirmās divas maiņas par to parūpēsies. Cenšaties pieturēt ripu un uz priekšu neskriet. Ja sanāk, tad sanāk, bet spēlējat droši. Jāgrs jums palīdzēs, bet jūs abi vairāk kapājat." Pēc sapulces treneris iziet no ģērbtuvēm un pienāk Jāgrs, kurš saka: "Iedodiet man ripu un cenšaties visu laiku atbrīvoties uz zilās līnijas. Es jums piespēli iedošu." Bet tas taču ir pilnīgi pretēji, ko mums teica treneris! Laicīgi sapratu, ka vienalga kā mēs nospēlēsim, mani no tās maiņas izņems ārā, jo es nevaru iet pret treneri. Ja viņš man pateica, kas man ir jāizdara, tad es to darīju. Bet te Jāgrs man saka ko citu un bija skaidrs – vai nu viņš vai treneris mani noņems no sastāva. Nebija īsti izvēles.
Pirmo spēli uzvarējām ar 4:1 un mūsu maiņa spēlēja labi. Izveidojām vairākus momentus un trīsreiz trāpījām pa vārtu stabu. Bet nākamajā dienā atnācu uz halli un redzēju, ka sastāvā vairāk neesmu. Īpaši nepārdzīvoju, sapratu, ka jāturpina trenēties un gan jau man parādīsies vēl kāda iespēja. Hokejs ir traumatisks un visādi var būt. Protams, ne jau es cerēju, ka kāds satraumēsies vai kļūdīsies, bet tomēr apzinājos savā galvā, ka "play-off" maratons ir garš un tajā viss var notikt. Ar vēsu galvu darīju, kas ir jādara. Biju pirmais aiz strīpas un tāpēc treniņos biju kopā ar komandu, ja nu kaut kas notiek, tad zinu, ka man ir jāiet vietā. Dienās, kad 100% zināju, ka man nebūs jāspēlē, papildus minu riteni un strādāju trenažieru zālē, kur "ņēma priekšā" diezgan nopietni. Un tādā režīmā es pavadīju aptuveni divus mēnešus, jo nākamā spēle, kad tiku sastāvā, bija konferences fināls pret Pitsburgu ["Penguins"]. Viens uzbrucējs bija lauzis kāju… To spēli uzvarējām un tikām finālā.

Tur pirmās četras spēles tiku laukumā un sērijā rezultāts bija 2-2. Pirmajā spēlē man bija lieliska iespēja gūt vārtus, ko neizmantoju. Vēl aizvien tas moments sēž galvā, bet šobrīd labs laiks ir pagājis, tāpēc nav ko pārdzīvot. Būtu iemetis, sanāktu izvilkt uzvaru komandai, bet kā sportā notiek – neiemet tu, iemet tev. Tobrīd tas bija psiholoģiski smags trieciens, bet spēles notika cauri dienai, tāpēc nebija laika par to pārdzīvot. Aizmirsti un ej laukumā un cīnies tālāk.
Pēc tam abos mačos zaudējām un sapnis par kausu tika izsapņots… Ja atskatos uz visu ceļu uz finālu, tad, manuprāt, pati grūtākā ir pirmā "play-off" spēle. Atceros, kā pirmajā mačā pret Toronto brīnījos – visi lidoja kā būtu kaut ko salietojušies (iesmejas). Visiem acis dega, visi skrēja, domāju, kas notiek? Nevienam neinteresēja ripa, bet ka tik kādu nosist. Ja tu pirmo raundu izdzīvo un spēlē tādā manierē, tad puse no komandas būs traumēta. Taču ar otro spēli varēja redzēt, ka bija pilnīgi cits hokejs, jo visi saprot, ka tādā tempā nenospēlēsi ilgākā laika periodā. Un pirmā fināla spēle bija ļoti līdzīga kā ar Toronto – jāspēlē pretinieku laukumā, kur pret tevi ir 20 tūkstoši skatītāju, emocijas sit augstu vilnu un visi grib viens otram kaut ko pierādīt. Tas bija kosmoss, savukārt nākamajās palika vieglāk. Godīgi sakot, pusi no tās spēles neatceros, jo laiks paskrēja tik ātri un adrenalīns organismā bija pāri normai (iesmejas). Tikmēr pret Pitsburgu [izšķirošā konferences fināla spēle – red.] likās viegla, kā regulārajā sezonā. Varbūt tāpēc, ka visiem spēks sāk iet uz beigām un atkal jauns uzplūdums atnāk finālā.
Diemžēl zaudējām sestajā spēlē ar 1:3 un kauss aizgāja gar degunu. Sēdēju tribīnes, preses ložā un lejā uz ģērbtuvi jāiet bez garastāvokļa, jo tāds darbs tika izdarīts, lai tiktu tik tuvu Stenlija kausam… Zinot, cik "daudziem" hokejistiem vispār ir lemts to izdarīt, no latviešiem tikai Sandis [Ozoliņš] to ir paveicis. Šķita jau, ka tas ir liktenis – ka man negāja, netiku spēlēt, bet pēkšņi parādās iespēja pacelt Stenlija kausu un domāju, varbūt tiešām viss tā saliksies, ka beidzot atdos atpakaļ? No tādām domām man viss iekšā un visa pasaule otrādāk apgriezās…
Ģērbtuvēs atmosfēra kā kapos – neviens nerunā, katrs zem sava dvieļa paslēpies un nevēlas nevienu satikt. Protams, par nekādām komandas sezonas noslēguma vakariņām nevarēja būt ne runas. Tās uztaisīja dienu vēlāk. Pats aizgāju uz viesnīcas numuru un izdzēru vīna pudeli, jo, protams, ka nevarēju aizmigt. Sazvanījos ar draugiem "skype".
Pēc visiem oficiālajiem pasākumiem "Bruins" vadība laicīgi mani pabrīdināja, ka nevarēs man piešķirt vienvirziena līgumu, jo tikko bija parakstījuši ilgtermiņa līgumu ar vārtsargu Tūku Rasku, tāpat arī ar Patrisu Beržeronu, bet vēl bija jānoslēdz jauns līgums ar Bredu Māršandu. Teica, ka labprāt redzētu mani sastāvā un nosauca arī aptuveno "ciparu", cik varētu man iedot, ja viņiem būtu iespējas piešķirt man vienvirziena, bet divvirzienu līgumu par to summu man var piešķirt kaut tagad.  Es sapratu, ka to nevēlos, laicīgi paziņoju to aģentam un "Bruins" mani arī "nečakarēja", jo es skaitījos ierobežoti brīvais aģents, bet viņi ļāva man kļūt par brīvo un runāt ar citām komandām. Pateica visu kā ir.
Bija divas komandas no NHL uz robežas – it kā dos vienvirziena, tūlīt būs. Vienu tiešām neatceros, bet otra bija Floridas "Panthers", kas bija reāls kandidāts. Arī sastāvs neizskatījās, ka veidojas īpaši spēcīgs, tāpēc domāju – aizbraukšu un pierādīšu sevi. Bet viņi teica, ka grasās pārbūvi taisīt, pieredzējušos no komandas atlaist vai aizmainīt un koncentrēties uz jaunajiem. Sapratu, ka var gadīties tā, ka aizbraukšu ar mazāko vienvirziena līgumu un būšu ceturtās maiņas spēlētājs. Paralēli atnāca piedāvājums no Šveices līgas un nolēmu, ka došos tur, lai atgūtos un atkal sajustu līdera lomu un gūtu baudu no hokeja. Tāpat arī pastāvēja iespēja, ja aizvadi labu sezonu Šveicē, uz tevi var paskatīties kāds NHL klubs, jo to līgu ļoti vēro NHL komandu ĢM un skauti. Tur hokejs ir ļoti tuvu Ziemeļamerikā piekoptajam.
Pēc sezonas Šveicē atkal bija piedāvājums no Floridas, bet sapratu, ka man tas nav vajadzīgs. Kam? Braukt un censties sevi pierādīt ar mazu spēles laiku, kamēr Eiropā spēlējot es gūstu no tā baudu, esmu līderis un pelnu pat lielāku naudu nekā NHL. Tas bija brīdis, kad uzliku treknu punktu centieniem tur nokļūt un sev pateicu, ka jābeidz, tā saucamā, NHL karjera un jāpierāda sevi Eiropā.
FOTO: SCANPIX/AP