"Sporta pils" turpina rubriku "Skatuve" – tie būs sportistu stāsti pirmajā personā par sev nozīmīgu vai interesantu karjeras posmu.
Šoreiz piedāvājam basketbolista Kristapa Valtera atmiņas par viņa pavadīto laiku Malagas "Unicaja" sastāvā. Tur viņš piedzīvoja debiju Eirolīgā, kas gan izrādījās viņa vienīgā tāda veida pieredze, taču tā padevās diezgan krāsaina – no veiksmīga sezonas sākuma līdz teju katastrofai. Saspīlētas attiecības ar kluba faniem un vadību un traumu gūzma un vēl daudz citu notikumu – tas viss vienā sezonā.
Kristaps Valters
Pastāstīšu, kas notika divus gadus iepriekš, kas principā bija kā prelūdija manai nonākšanai Malagā. Aizvadīju ļoti veiksmīgu pirmo sezonas pusi Badalonas "Joventut", savukārt turpinājumā negāja tik labi. Toreiz "noņēmām" treneri no vadības grožiem, jo viņš mūs sāka "čakarēt". Uzlikām "mīksto" – ne spēlējām, ne trenējāmies kārtīgi.
Nebija tā, ka no zila gaisa izdomājām – tagad "sačkosim", bet visi apstākļi salikās kopā. Attieksme, treniņu process, attiecības, fiziskā forma, u.t.t., līdz nolēmām, ka – ai, nav ko ņemties. Piedevām Sito Alonso mentalitāte mums nederēja. Treniņos bija ļoti daudz vingrinājumu trīs pret nulli, divi pret nulli bez aizsarga, vienkārši bezjēgā skraidi. Bet tā kā mēs esam spēlētāji, mums vajadzētu darboties ar maksimālu atdevi, bet ja tu redzi, ka profesionālā klubā tev paralēli ikdienas treniņiem, kuros reizēm pat neiesvīsti, ir jāiet strādāt individuāli, lai uzņemtu pieklājīgu formu… Tas nav normāli. Rezultāts jau visu parādīja.
Parakstīju līgumu ar "Fuenlabrada", bet tajā vasarā praktiski vispār netrenējos. Varētu teikt, ka biju uz kaut ko apvainojies, tikai nesaprotami uz ko. Bet biju morāli noguris no visām tām peripetijām, kas bija apkārt klubam Badalonā. Uz "Fuenlabrada" nometni aizbraucu bumbu rokās nepaņēmis. Biju tikai skrējis, peldējis, braucis ar riteni un svaru zālē strādājis. Beigās sanāca tā, ka nospēlēju savu labāko karjeras sezonu, bet arī sastāvs komandai bija ļoti labs. Mums bija Bismarks Bijombo, kurš pievienojās sezonas otrajā pusē, Gustavo Ajons, Čavi Rabaseda, Davors Kušs un citi – ļoti laba blice.
Tam visam klāt sanāca diametrāli pretēji kā iepriekšējā sezonā – labāko formu uzņēmu tās otrajā pusē, nevis izšāvu sākumā. Sezonu noslēdzu kā ceturtais labākais piespēlētājs ACB. Nedaudz nepaveicās, ka Bijombo aizbrauca uz NBA pirms drafta nometni, bet treneris pateica īsi un konkrēti – ja aizbrauksi, atpakaļ vari nebraukt. Tā mēs, iespējams, varētu pacīnīties par ko vairāk. Bet vismaz viņa likme uz NBA atmaksājās, jo vēlāk noslēdza daudzmiljonu līgumu. Neslikti.
Sezona noslēdzās, bet "Fuenlabrada" saskārās ar lielām finansiālām problēmām, tāpēc bija skaidrs, ka tur nepalikšu, bet individuāli biju parādījis sevi ļoti labi. Arī komanda tika "play-off", kur pirmajā kārtā diezgan pārliecinoši piekāpāmies Madrides "Real". Nevarējām tikt galā ar Serhio Ļuļu un arī groza apakšā nebija kas īsti pacīnās, jo Bijombo bija prom. Teju uzreiz kā sezona bija galā man zvanīja Malagas galvenais treneris Čuss Mateo, kurš pirms tam kā asistents strādāja Fuenlabradā, bet sezonas vidū aizgāja uz "Unicaja" par galveno.
Viņš zināja, ko es varu izdarīt, tāpēc nebiju viņam "kaķis maisā". Teica, ka redz man vietu sastāvā, bet atliek vienoties komandām, jo Spānijā tolaik pāreja uz citu klubu bija diezgan sarežģīta. Proti, pēc sezonas spēlētāji paliek kā ierobežotie brīvie aģenti. "Unicaja" izteica piedāvājumu un ja "Fuenlabrada" varētu tam pielīdzināties, tad man būtu jāpaliek tur. Bet viņi man bija parādā četras algas, bet izgāja uz to, ka saprata, ka man līgums ar "Unicaja" jāparaksta pēc iespējas ātrāk un līdz augustam negaidīšu. Paziņoja – dosim tev brīvlaišanas vēstuli, bet paraksties, ka tev nav finansiālu pretenziju pret mums. Reāli teju pusi nopelnīto palaidu pa pieskari, bet toties tiku pie laba līguma Malagā jau jūlija sākumā un varēju mierīgi gatavoties jaunajai sezonai. Ja sportiski "Fuenlabrada" man vienmēr bijusi veiksmīga vieta, tad par naudas lietām to nevarētu teikt. Lai gan tolaik biju jauns un ambiciozs, tomēr Malagā tāpat piedāvāja lielu naudu, tāpēc biju ar mieru atteikties no diezgan lielas summas.
Ar savu bijušo sievu bijām ieplānojuši, ka brauksim uz Malagu, vairāk Marbelu, kas ir tajā reģionā, atpūsties nedēļu ātrāk pirms oficiāli jāparaksta līgums. Nošāvām divus zaķus ar vienu šāvienu – labi sanāca abi. Uzņemšana bija līmenī – iepazinos ar kluba vadību, uzreiz bija manis prezentēšana, intervijas, foto sesijas, u.t.t., palikām labā viesnīcā – viss kā Eirolīgas klubā pienākas. "Unicaja" ir kā brends, jo ir iespēja spēlēt un dzīvot skaistā pilsētā, algas vienmēr laikā. Ja zini, ka jābūt mēneša pirmajā datumā, tad būs. Ja tā iekrīt brīvdiena, tev ieskaita divas dienas iepriekš, nevis gaida jaunās nedēļas sākumu. Par tādām lietām tur vispār nebija jāuztraucas.
Pirms sezonas ļoti nopietni tai biju sagatavojies. Kopā ar draugu Kasparu Vecpuisi kārtīgu fizisko bāzi ielikām, trenējos arī individuāli, biju arī ASV, Maiami uz sešām nedēļām. Latvijā tomēr ir ļoti daudz lietas, it īpaši gada siltākajā laikā, kas novērš uzmanību no galvenā fokusa. Viss notika par maniem līdzekļiem, nekāds aģents vai klubs man to neatmaksāja. Vienmēr esmu uzsvēris – kā parādās nauda, jāieguldās sevī. Pārsvarā bija jāmaksā fiziskās sagatavotības treneriem.
Malagā ierados augusta sākumā ātrāk par pārējiem leģionāriem, bet uz vietas bija spāņu spēlētāji. Mani ielika dzīvot kluba bāzē, kur viss bija kā NBA. Manā ieskatā viena no labākajām vietām Eiropā. Bet tā atradās kalnos un tur bieži bija daudz mākoņu, sauli sajūti tikai caur tiem un tas man ne līdz galam patika, tāpēc pārvācāmies dzīvot pie pludmales. Klubs deva 20 tūkstošus sezonā par dzīvošanu, bet man sanāca piemaksāt katru mēnesi 700 eiro par dzīvokli, jo tas bija diezgan iespaidīgs – 330 kvadrātmetri un pie paša jūras krasta, kas pieejams tikai tā dzīvokļu kompleksa iedzīvotājiem. Modos no rītiem ar peldi jūrā.
Jau no pirmās treniņu nometnes dienu sajutu, ka esmu nonācis pavisam citā līmenī, kur man gadījies būt iepriekš. Sastāvs bija gana iespaidīgs – Garbahosa, Zoričs un citi, kā arī Roulends, kurš sākotnēji tika ņemts kā pirmais saspēles vadītājs, bet es viņa aizstājējs. Sezonas gaitā izkonkurēju, jo viņš nebija radīts Spānijas basketbolam, bet es to ļoti labi sapratu. Nebija apveltīts ar stabilu metienu, tāpēc izkoda ātri – sedza pa distanci. Arī trenera faktors noteikti palīdzēja, jo viņš mani zināja. Spēlēju daudz, kaut gan komandā pēc algas čeka lieluma biju labi ja astotais.
Jāatzīst, treniņnometne bija ļoti smaga. Bija jādara tas, kas man visvairāk nepatīk – jāiet stadionā, jāskrien visādi sprinti, jālec pāri barjerām un citi vingrinājumi. Svaru zālē gan man vienmēr ir paticis "šansēt". Bet sešu nedēļu laikā bāze bija pamatīga un tas viss nāca ārā sezonas sākumā. Varbūt pirmajās trīs spēlēs vēl viss gāja pēc plānotā, kad Roulends ir pirmais, bet es otrais, spēlēju pa 15-17 minūtēm. Kaut kas ar viņu notika un pārņēmu iniciatīvu.
Teikšu tā, zāle Malagā bija lielāka kā citur, kur biju spēlējis, ar apmēram ar 10 tūkstošiem vietu un pret grandiem tā bija pilna, bet uz vidusmēra komandām skatītāju nāc uz pusi mazāk. Ja man jāsalīdzina Fuenlabradas fani ar Malagas, tas ir kā salīdzināt zaporožetsu ar poršu. Tur bija divreiz labāki fani. Malagā, ja gadās kāds neveiksmīgāks mačs vai, nedod dievs, vairāki pēc kārtas, tevi varēja izsvilpt un spēles laikā demonstratīvi iet prom. Bija auksti un iedomīgi fani, kuriem likās, ka viņi visu par basketbolu zina labāk. Protams, ka man patīk, ja līdzjutējs saprot basketbolu, bet tur aizgāja tik tālu, ka sāka mācīt, kā jāspēlē.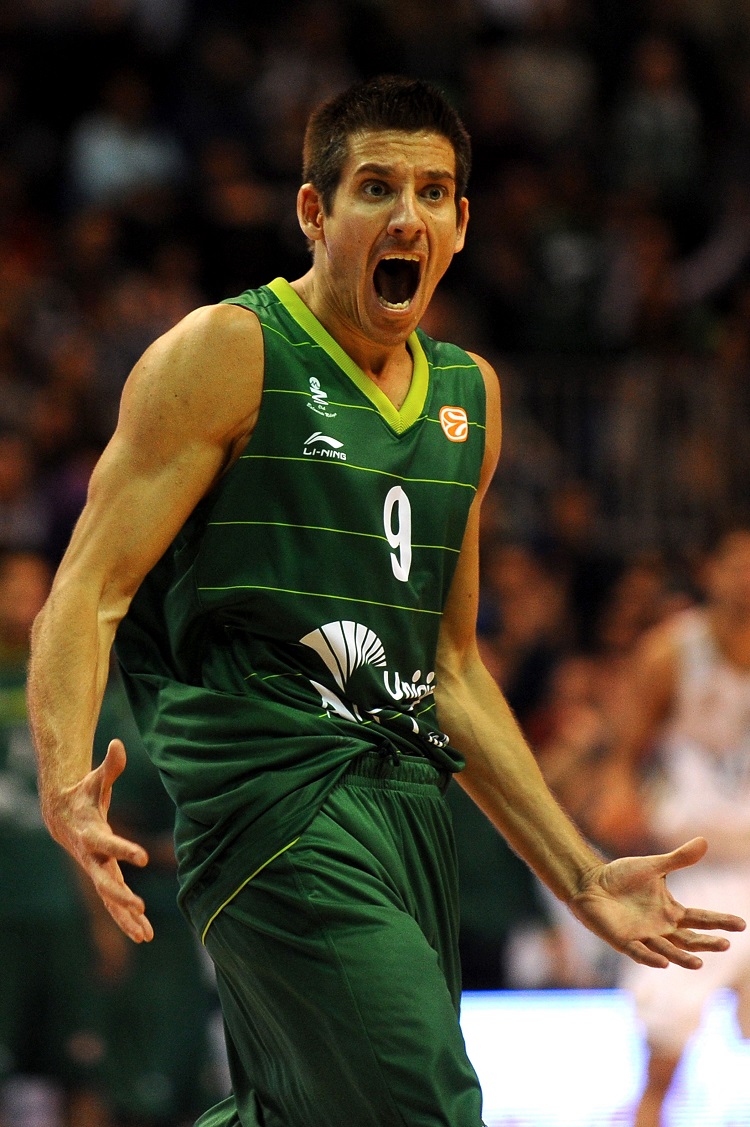 Runājot par pārvietošanos uz spēlēm, uz vietējiem mačiem arī lidojām, bet ne tik bieži. Tur, kur bija vislabākais transporta mezgla savienojums, varēja ar vilcienu un bija ērti. Nepatika ceļš uz Bilbao, jo tur bija jālido ar mazu lidmašīnu ar tikpat mazu propellerīti, kad krusti jāmet pāri.
Bija cilvēki, kas atpazina uz ielas un pienāca klāt parunāt vai nofotografēties, bet noteikti nevar salīdzināt. Malaga ir liela pilsēta, savukārt Fuenlabrada ir maza piepilsēta, kur uz ielām visi tevi pazīst un, kā ieej restorānos vai bāros, piedāvā kaut ko uzsaukt un ir ļoti labsirdīgi. No faniem jutu atbalstu un siltumu, savukārt Malagā tieši pretēji – aukstumu. Nezinu, varbūt visi gaidīja, ka tūlīt un uzreiz visus rausim uz pusēm un izcīnīsim vienu kausu pēc otra. Kaut gan sezonas pirmā puse bija veiksmīga – ACB pēc pirmā apļa bijām trešie un iekļuvām Eirolīgas top16.
Debiju Eirolīgā piedzīvoju izbraukumā pret [Atēnu] "Panathinaikos", kuru tobrīd vadīja leģendārais treneris Zeļko Obradovičs. Lai arī visi zina, ka tur fani ir nenormāli, bet uz mūsu spēli arēna nebija pārpildīta. Noteikti, ka nenovērtēja līdz galam. Turējāmies labi, arī pašam bija 13 punkti un labi novadīju komandas spēli, bet beigās zaudējām. Zīmīgi, ka Eirolīgā debitēju vienā dienā ar Dāvi Bertānu. Tā sezona vispār latviešiem bija īpaša, jo Eirolīgā debiju piedzīvoja arī Jānis Blūms. Tas bija tas brīdis, kad sāku lēnām pieteikties uz Roulenda vietu. Viņš bija sakarīgs džeks, it īpaši ārpus laukuma, bet treniņos mēs baigi "kapājāmies". Viņš mēģināja trenerim parādīt, ka viņš par mani ir daudz labāks un sezonas laikā mums bija daudz saķeršanās, vilka pat uz grūstīšanos jau. Ko var saprast, jo viņš tika ņemts kā galvenais spēles veidotājs, bet viņam daudz kas neizdevās.
Pie visa tā, ka viņš slikti spēlēja, dabūja vēl traumu. Vienu brīdi gribēja pat atlaist, bet līdz ar viņa traumu, bija spēles, kur man bija jālaiž pa 30 minūtēm. Bet mums arī citās pozīcijās bija daudz traumēto, ka nācās vienā brīdī no otrās līgas saukt čaļus. Tas man sezonas otrajā pusē atmaksājās, jo nebija plānots, ka jau no paša tās sākuma uz maniem pleciem gulsies tāda atbildība un būs tik liels spēles laiks. Domāju, ka būs pakāpeniski – 15, 17, kādā mačā 20, un tad kā sevi parādīšu. Bet te pēkšņi tāds lēciens un ķermenis neizturēja.
Pirmās problēmas sākās neilgi pirms jaunā gada, kad spēlējām pret [Vitorijas] "Caja Laboral", kas bija parakstījusi Goranu Dragiču [tagas spēlē NBA, Maiami "Heat" un kļuva par Eiropas čempionu 2017. gadā ar Slovēnijas izlasi], no kura dabūju neveiksmīgu sitienu. Par to daudz nedomāju, jo tā mums bija ļoti svarīga spēle, kuru mājās uzvarējām un pats labi nospēlēju. Nopietnākas problēmas sākās neilgi pēc tam vienā treniņā, kad ieplīsa kājai aizmugurējais muskulis. Uzskatu, tas viss notika tāpēc, ka tobrīd vēl reāli nebiju gatavs spēlēt divus mačus nedēļā pa 30 minūtēm katrā viens pats. Vienīgais, kurš varēja man palīdzēt saspēles vadītāja postenī bija Berni Rodrigess, kurš vispār bija otrais numurs. Tam klāt nāk pārlidojumi ik pēc divām dienām, kas ir ļoti nogurdinoši un tā viss sakrājās.
Paralēli arī komanda sāka zaudēt. Lazarete mazāka nepalika, un lai arī ierindā atgriezās Roulends, viņš nebija vilcējs. Komanda sāka spēlēt galīgi garām… Biju ārā nepilnas divas nedēļas, atgriezos pret Seviļu, kur atkal labs mačs, komanda uzvar, es priecīgs, komanda priecīga, fani priecīgi, bet janvāra vidū atkal trauma – šoreiz jau kvadriceps ieplīsa. Un atkal divas nedēļas bez spēlēšanas. Mani vispār visu laiku sāka vajāt kādas problēmas. Tad kāds iesit ne tur, tad uzkāpju kādam uz kājas, u.t.t. Citiem negāja labāk un no uzvarošas komandas kļuvām par peramajiem zēniem. Ieskaitot Eirolīgu, zaudējām kādus astoņus mačus pēc kārtas…
Treneri vēl neatlaida, jo februārī vinnējām svarīgu spēli. Tā laikam arī bija vienīgā, ko uzvarējām. Bet jutu, ka sākās viļņveidīgs sniegums. Vilku paralēles ar sevi, jo biju uzņēmies galvenā spēles organizētāja lomu, bet pats regulāri izkritu no ierindas uz vairākiem īsiem periodiem, bet tas nenāk par labu, jo pazūd ritms.
Pirms viņu paspēja atlaist, februārī man bija tā iespēja piedzīvot Karaļa kausa izcīņas atmosfēru, kas togad notika Barselonā. Tas tiešām ir liels notikums. Visas komandas dzīvo vienā viesnīcā, liela mediju uzmanība un fanu ažiotāža. Visu pabojāja, protams, zaudēta spēle. Pretī bija Seviļja, visu maču bijām vadībām, bet beigas ļoti neveiksmīgas – no rokām izlaista uzvara. Bet tas nebija trakākais, jo pēc tam uzreiz saslimu ar angīnu. Neskatoties uz to, mani laida laukumā vēl neveselu, jo vienkārši nebija variantu. Izveseļojos un neilgi pēc tam atkal tas pats – angīna… Divas reizes īsā periodā.
Kluba vadība redzēja, ka nekas nevirzās uz labo pusi, zaudējumi turpināja nākt viens pēc otra un marta vidū jau atlaida treneri, jo Eirolīgas otrajā kārtā mums bija bilance 0-6. Un to mēs iesākām ar zaudējumu [Madrides] "Real", kad pie +2 pēdējā sekundē [Nikolā] Mirotičs iemeta "zilo trīni" un viss… Kopš tā mirkļa sākām konkrēti grimt, bet pēdējais piliens bija, kad otrajā aplī ACB zaudējām tam pašam "Caja Laboral" un diezgan pamatīgi. Viņi redzēja, ka Mateo netiek galā ar situāciju un viss brūk.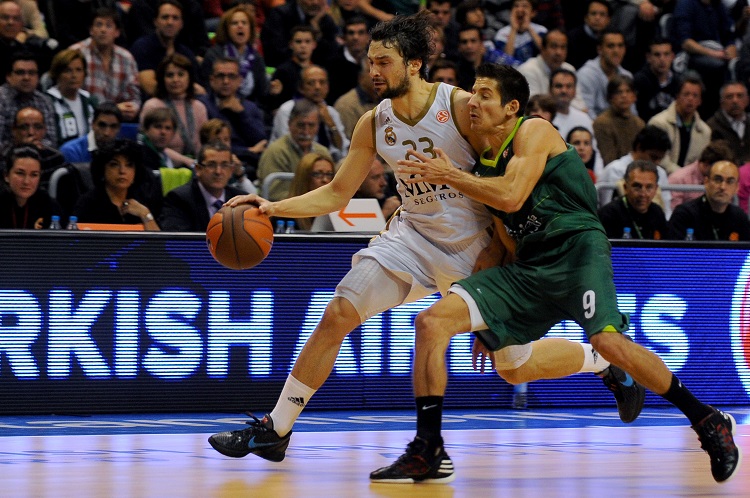 Attiecības starp spēlētājiem arī varēja būt labākas. Bija trīs grupas – spāņi draudzējās savā starpā, serbs ar horvātu savā, bet es tam visam kaut kur pa vidu ar amerikāņiem, kas savējā. Man vislabākās attiecības bija ar Džeraldu Fiču, kurš dzīvoja man stāvu zemāk. Viņu arī pirmo no visiem atlaida no sastāva vēl pirms trenera. Arī ar Roulendu, kaut gan treniņā viens otru gribējām "apēst", nebija problēmu aiziet kopīgās pusdienās.
Jaunais treneris jau pirmajā treniņā pateica: "Es vēroju un redzu, ka jums nav kolektīva. Esat katrs par sevi uz laukuma un ārpus tā sadalījušies bariņos." Personīgi arī nevarēju neko tur līdzēt, kaut gan iepriekšējās komandās tieši es centos kolektīvu saliedēt. Mūs vajāja traumas, spēle negāja, nebiju arī tik bieži ar komandu, kad ārstējos. Visi apstākļi sakrita tik neveiksmīgi, bet tu pret tiem esi bezspēcīgs – nu, kā tu vari cīnīties pret traumām? Nekā.
Lai arī kā viņš centās ko mainīt, bija bezcerīga situācija. Treniņos sākās strīdi, viens uz otru lamājās, nevietā ko aizrādīja, notika lieka enerģijas tērēšana nevajadzīgā virzienā. Tomēr pirmo spēli viņa vadībā vinnējām uz jaunām emocijām, bet tālāk viss gāja ierastajās sliedēs – vienkārši negāja. Kluba vadība mūs izsauca uz pārrunām un piedraudēja nogriezt 10% no algām, ja tā viss turpināsies. Vēlāk arī nogrieza. Un nāca spēle aprīlī pret Barselonu. Zaudējam, pats arī nospēlēju vāji, bet to apzinājos. Kā es varu spēlēt labi, ja vispār neesmu formā? Noslimojis, zālē neesmu bijis, pa ceļam vēl atkal problēmas ar muskuļiem, bet komandas biedri viens uz otru rāda ar pirkstu? Un pēc tās spēles mani sodīja. Vienkārši mēnesi izņēma no sastāva un nolika malā no komandas treniņiem. Pateica: "Tu izskaties drausmīgi, ej uz uzņem fizisko formu!" Treneris paskaidroja, ka izvēlējās mani, jo redzēja, ka tobrīd nevelku.
Es viņam piekritu un sāku kārtīgi maukt! Kā pārējie kaut kur brauc, es eju ar fiziskās sagatavotības treneri darboties. Tikai fiziskie vingrinājumi un metieni. Tā pagāja mans aprīlis, bet komandā nekas nebija mainījies – uzvaras kā nenāca, tā nenāca. Maijā atgriezos sastāvā, kad bija palikušas divas spēles, kuras obligāti bija jāuzvar, lai mēs tiktu "play-of". Ar visu to, ka no jaunā gada praktiski neuzvarējām nevienā mačā, mums bija iespējas iekļūt astotniekā! Atlika uzvarēt pēdējos divus savus mačus un cerēt, ka vieni konkurenti vienā no saviem zaudēs. Bet viņi, protams, nezaudēja…
Visai šai situācijai, kas saucas "Unicaja" sezonas otrā puse, noteikti nepalīdzēja konfliktēšana ar faniem. Viņi mūs iepriekš bija redzējuši kā bijām izgājuši atpūsties uz restorānu. Un bez balagāna. Viņi rakstīja vēstules gan privāti, gan kluba vadībai, kā arī izteica savas domas tviterī. Bet es nevarēju paciest, ja cilvēki kādu nepatiesi apmelo. Es saprotu, situācija nebija viegla, bet mēs arī esam cilvēki. Bijām nospēlējuši maču, nākamajā dienā ir brīvdiena un neviens ar biksēm vaļā nestaigāja. Man tagad jāsēž tikai baznīcā, vai? Un es atbildēju tikpat spēcīgi.
Tagad jau saprotu, ka es arī kļūdu izdarīju, ka tomēr parādījāmies publikā. Tagad es noteikti paliktu mājās un nekur neietu. Tāpat arī neielaistos verbālās konfrontācijās ar faniem tviterī. Atskatoties, varu droši teikt, ka tie bija mani tvitera karjeras pirmsākumi (iesmejas).
Bet tas turpinājās. Pēc diviem gadiem atgriezos Fuenlabradā un turpināju rakstīt, ka, lūk, šeit ir īsti fani, kas atbalsta un ciena, nevis kā Malagā. Protams, kad bija jābrauc uz turieni un jāspēlē izbraukumā, kā saņēmu bumbu, visa zāle sāka ūjināt un bļaut, apsaukāties. Pietrūka ļoti maz, lai vēl to spēli uzvarētu. Ja tas izdotos, domāju ka skatītājos būtu iemetis savu kreklu (iesmejas).
Vārdos nevienu nesauca, bet bija skaidrs, par kuriem bija runa. Bruka virsū visiem pēc kārtas, jo bijām visi kopā. Fani bija apvainojušies, ka slikti spēlējam un nolēma izlādēties. Te arī parādījās tas viņu stils, kad patīk iedurt kādam mugurā, pārmest un zākāt. Bet es devu atpakaļ. Vajadzēja būt mierīgākam.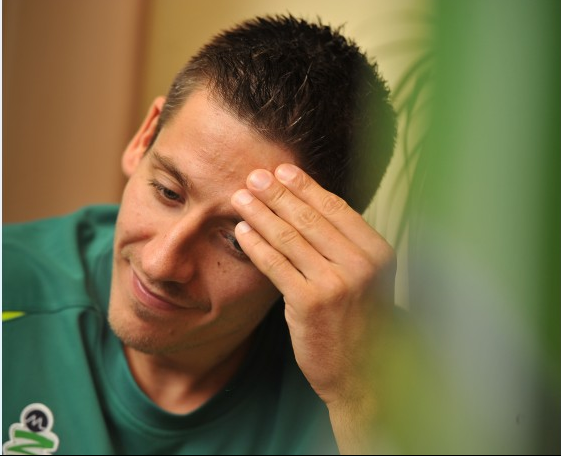 Starp citu, štrunts par to, ka neiekļuvām ACB "play-off", bet arī devītā vieta bija svarīga. Neatminos precīzi kam bija jāsaliekas, bet, ja nebūtu šī devītā vieta, klubs nākamajā sezonā nedabūtu Eirolīgas licenci. Man bija līgums 1+1 ar otrā gada kluba opciju. Tā kā devīto vietu nosargājām, klusībā cerēju, ka varbūt atstās. Bet apstākļu kopums man nebija labvēlīgs. Neveiksmīga sezonas otrā puse, konfliktēšana ar faniem un es tur nodzīvoju vēl līdz jūnijam, jo biju iepriekš samaksājis par dzīvokli. Man ciemos atbrauca draugi, bet Malaga ir Malaga – silts laiks, liela pilsēta, u.t.t. Cilvēki jau redzēja, ka mēs atpūšamies un noteikti padomāja – tas ir tāds un šitāds, ko tad viņu ņemt. Viens labums gan bija – līgumā bija iestrādāts punkts, ja ar mani to nepagarina, tad man pienākas 50 tūkstošu eiro kompensācija.
Parasti klubi sezonas noslēgumā rīko kopīgas vakariņas vai pasākumu, bet lieki piebilst, ka Malagā tāds nebija. Vēl jo labāk – netikām "play-off", bet kluba vadība bija tik dusmīga, ka nedēļu vēl lika iet uz sporta zāli. Mēs smējāmies un treneris arī. Viņš visu saprata un mēs principā gājām uz zāli, lai stundu parunātos. Kas gribēja, tas pamētāja. "Unicaja" ir viena no lielākajām bankām Spānijā, tāpēc naudu klubam deva organizācija kā tāda, nevis turīgs indivīds, kurš skrēja ģērbtuvēs un lamāja pēc sliktiem mačiem. Protams, kluba prezidents skaitījās pārstāvis no bankas, bet no basketbola daudz nesajēdza. Visu kontrolēja ģenerālmenedžeris.
Atskatoties uz šo sezonu, tā bija jaunas pieredzes pilna. Bija labi mirkļi, bija ne tik labi un kļūdas. Protams, ka šodien daudzviet būtu rīkojies citādāk, bet tas ir cilvēcīgi. Ja mēs katrā situācijā zinātu, ko darīt, visiem viss pasaulē būtu kārtībā.
FOTO: DIARIOSUR.ES