Tenisa sezona jau kādu laiku atsākusies un Latvijas vārdu tūrē nes ne tikai mūsu tenisisti/es, bet arī vairāki treneri. Viens no tiem ir Artūrs Kazijevs, kurš šobrīd strādā ar ranga pirmā simtnieka spēlētāju no Baltkrievijas Jegoru Gerasimovu. Iepriekš arī uz īsu darbojies Aļonas Ostapenko komandā, bet trenera karjeru uzsāka pie nesenā "US Open" finālista Aleksandra (jeb Sašas) Zvereva vecākā brāļa Mišas.
"Sporta pils" Kazijevu aicināja uz sarunu, kurā viņš pastāstīja par ASV universitāšu sniegtajām iespējām, par darbu ar pirmā simtnieka spēlētājiem, ārpus korta apstākļiem, trenēšanos Huana Karlosa Ferero akadēmijā un daudzām aktualitātēm tenisa pasaulē.
Kā Tu iesāki tenisa gaitas?
Tenisā trenēties sāku sešu ar pusi gadu vecumā pie trenera Sergeja Vasiļjeva, vēlāk pie Ilmāra Solima sporta skolā "Rīdze". "Rīdzē" biju līdz 14 gadiem, kad aizgāju pie Jeļenas Jakovļevas. Pa vidu tam uz trīs mēnešiem biju Huana Karlosa Ferero akadēmijā Spānijā [Alikantē]. Nevarētu teikt, ka treneri man tur nepievērsa uzmanību. Redzēja, ka varu spēlēt, bet apstākļi nesakrita, lai tur paliktu. Kopā ar Jeļenu trenējos nepilnus divus gadus un tad aizbraucu uz Vāciju, Niki Piliča akadēmiju [Minhenē] uz pārbaudes laiku vienu nedēļu. It kā patika, bet nesanāca aizkavēties tur uz ilgāku laiku. Iepriekš tur pabijis arī Ernests Gulbis un citi pasaulē zināmi tenisisti, bet kad es braucu, šī akadēmija vairs nebija tik populāra kā agrāk. Nolēmu uz neilgu brīdi atgriezties Latvijā, bet tad atpakaļ uz Vāciju – "First-Line Tennis Academy" [Štutgartē]. Tur man bija pavisam cita līmeņa pieredze. Pazīstamākais spēlētājs ar ko trenējos kopā bija Martons Fuksovičs [šobrīd ATP rangā 66. vieta, bet rekords – 31.].
Kādi ir apstākļi un sportiskie režīmi akadēmijās ārzemēs?
Ja salīdzinām disciplīnu, tad pie Ferero ir diezgan stingri. Ja nokavē kaut piecas minūtes treniņu, par to būs nopietna saruna. Tevi aizsūtīs atpakaļ uz savu istabu un var liegt trenēties, reizēm pat divas dienas. Štutgartē bija līdzīgi. Ja treneri redzēja, ka neesi motivēts, tad vienkārši aizsūta uz istabu. Par Piliču nemāku teikt, jo nebiju pietiekami ilgi. Kopumā spēlētāji ir sadalīti grupās un izstrādāts konkrēts treniņu plāns, režīms, kad jāceļas, jāguļ un jāēd. Tiesa, uztura plānu katram individuāli nesastādīja un analīzes, lai dziļāk pētītu ķermeņa fizioloģiju, netaisīja, bet uzturs un medicīna bija labā līmenī. Gan Spānijā, gan Vācijā uz pilsētas centru aizbraukt un atpūsties, piemēram, aiziet uz kino vai uz restorānu, varēja tikai reizi nedēļā. Visu pārējo laiku bija jāuzturas akadēmijā. Man tā nebija problēma, jo paralēli vajadzēja atrast laiku mācībām, kuras man bija jāpabeidz Latvijā.
Runājot par segumiem, loģiski, ka Spānijā tas pārsvarā bija māls, jo Alikantē teju cauru gadu ir vasara. Bija divi "hard" seguma korti iekštelpās un viens ārā. Savukārt Vācijā ir gandrīz tāds klimats kā pie mums, līdz ar to treniņprocess notiek ļoti līdzīgi.
Kad sāki spēlēt pieaugušo tūrē?
Varētu teikt 17 gados. Agrāk nevarēju, jo man bija grūti spēlēt pret pieaugušajiem. Nebiju pietiekami nobriedis. Tagad redzu, ka ir vairāki puiši, kuri 16-17 gados var spēlēt "Future" un pat "Challenger" līmenī, bet man tas prasīja daudz ilgāku laiku, lai pielāgotos tādiem apstākļiem un attīstītos. 18 gados uzspēlēju padsmit "Future" turnīros, kur dabūju tikai vienu reitinga punktu, kas principā nav nekas, līdz ar to nolēmu doties uz ASV un studēt koledžā.
Kāda ir dzīve "Future" līmeņa turnīros?
Gāja grūti, jo uz turnīriem braucu bez trenera, bet pats līdz galam visu no tenisa nesapratu un cīnījos, kā pratu. Zaudē, dodies uz nākamo turnīru. Un tā no vienas vietas uz otru. Ja tev nav labs treneris vai cilvēks, kurš tevi ved uz priekšu un dod pareizos padomus, tad grūti kaut ko sasniegt. Bet "Future" ir sava specifika. Piemēram, aizbraucu uz Turciju un tur vienā kompleksā notiek četri turnīri pēc kārtas, tāpēc nav jābraukā apkārt. Tāpat ir arī dažās citās valstīs. Bet, ja turnīri notiek Eiropā, tad ir jāceļo. Cits brauc ar auto, cits lido. Skatoties pēc iespējām un attāluma.
Nebūs melots, ja teikšu, ka junioru vecumā biji viens no talantīgākajiem latviešu tenisistiem. Kāds bija atbalsts no Latvijas Tenisa savienības (LTS)?
Atbalsts bija, bet to saņemt bija ļoti grūti. Ilmāram Solimam vajadzēja iet pie Jura Savicka [LTS prezidents] un prasīt. Vienreiz arī sanāca, pēc tam caur "Lukoil" starpniecību saņēmu kādu palīdzību, kur savu roku pielika arī Savickis. Atbalsts bija, bet nebija tāds, lai pietiktu visam, kas nepieciešams. Piemēram – dabūju kādu naudu, bet ar to pilnvērtīgam treniņprocesam pietiek uz četriem vai pieciem mēnešiem, neieskaitot labu treneri. Un kad šī nauda beigusies, papildus nepiešķir, un tad viss – nezini, ko darīt. Bija dilemma – vai nu braukt uz turnīriem vai noalgot labu speciālistu un trenēties Rīgā. Bet bez kvalitatīva trenera nekur. Pašam 17-18 gados loģiski, ka nebija nekādu zināšanu. Labi, ka jau no 12 gadu vecuma bija sadarbības ar vairākām sporta preču firmām kā "Asics", kas deva drēbes, bet raketes dabūju no "Fisher" un vēlāk "Head". Ekipējums bija labs.
Cik naudas nepieciešams spēlētājam no Latvijas, lai startētu kaut "Future" tūrē?
Principā būtu jāspēlē 30 nedēļas gadā. Ja to dara bez trenera, tad 30-40 tūkstoši eiro. Kas interesanti, ka "Challenger" šī summa varētu būt pat mazāka, jo šajā līmenī jau apmaksā viesnīcu. Ja gribi ņemt līdzi treneri, tad jāskatās, no kuras valsts viņš ir. Ja vietējais, tad mēnesī tie būtu ap papildus diviem tūkstošiem, ja, pieņemsim, no ASV vai kādas bagātās Eiropas valsts, tad būs vairāk. ASV treneri vidēji pelna sešus līdz septiņus tūkstošus mēnesī, viņiem ir cits dzīves līmenis, tāpēc cenu nenolaidīs. Eiropā gan jau tā ir mazāka, bet tāpat pieklājīga.
Parunāsim par tavu pieredzi ASV. Kāds tur ir līmenis un dzīve kopumā?
Studēju ekonomiku Dalasā, "Southern Methodist University" (SMU). Kad braucu, jau biju nolēmis, ka profesionāli ar tenisu nenodarbošos. Uztvēru to kā iespēju iegūt labu izglītību un izbaudīt dzīvi. Viens no veicinošajiem faktoriem bija trauma plaukstas kreisajā locītavā – no tās puses praktiski vispār nevarēju spēlēt. Viņiem to teicu, bet man atbildēja – nekas, brauc tāpat un spēlē mūsu komandā. Paveicās, ka treneris bija ļoti labs cilvēks. Pēc pirmā gada vasarā man veica injekciju, kas uzlaboja situāciju. Un neilgi pēc tam manējais treneris sarunāja treniņu ar Mišu Zvereru [ATP rangā 260. vieta, bet rekords – 25.], kurš tobrīd bija stabils pirmā simtnieka spēlētājs. Nedaudz patrenējos ar viņu un atkal parādījās motivācija spēlēt. Otro mācību gadu jau vairāk veltīju tenisa spēlēšanai, nevis, teiksim tā, "tusiņiem".
Nenopietnai atkāpei varu pateikt, ka tā kā filmās atspoguļo to trako studentu dzīvi ar visām brālībām un korporācijām – tā tiešām ir. Notiek visādi trakumi. Pats gan tur neiesaistījos (iesmejas). Man citas prioritātes.
Runājot par sportisko līmeni, pirmajā gadā, atklāti sakot, bijām vāja komanda. Palikām konkurētspējīgi manā trešajā un ceturtajā gadā, un kad jau biju aizgājis, viņi tika NCAA čempionātā [augstākais līmenis studentu sacensībās]. Pazīstamākie pretinieki, pret kuriem pašam sanāca spēlēt, bija Dominiks Kopfers [ATP rangā 91. vieta, bet rekords 83.] un Džo Selisburijs, kuram lielākie panākumi bijuši dubultspēlēs [šobrīd dubultspēļu rangā 5. vieta] – viņš uzvarējis "Australian Open". Tur tiešām spēlēja labi tenisisti, teiktu, ka to līmeni var pielīdzināt tuvu "Future".
Bet teniss amerikāņu studentiem nav lielā cieņā. Uz mūsu spēlēm nāca ap 50, varbūt 100 cilvēkiem. Mūs apsteidza pat "parastais" futbols [angliski – soccer]. Pēdējā gadā beidzot uzbūvēja tenisa kompleksu un atklāšanas dienā tribīnes bija pilnas – ieradās 1500 cilvēki.
Zināms, ka studijas ASV Latvijas apmēriem ir astronomiski dārgas. Ja nav noslēpums, cik dārga bija tava studiju programma?
Viens mācību gads izmaksāja 60 tūkstošus dolāru [50,8 tūkstoši eiro], bet paveicās, ka tās apmaksāja pilnā apmērā. Pastāv vairāki finansēšanas veidi. Ir tāda "booster" programma, kur turīgi cilvēki ziedo naudu universitātēm un šīs naudas dēļ tās var piesaistīt talantīgus sportistus, pārsvarā basketbolistus un amerikāņu futbolistus. Godīgi sakot, viss uzsvars ASV ir uz šiem diviem sporta veidiem, bet tas nevienam nav noslēpums. Atliek paskatīties, kuras ir divas pelnošākās līgas pasaulē! Tenisa programma ir kā caurums budžetā. Ja godīgi, nesaprotu, kāpēc vairāk latviešu tenisistu neizmanto šo iespēju doties uz ASV. Skaidrs, ka lielākajai daļai talantīgo junioru līdz profesionālajam līmenim aizsniegties būs ļoti grūti – gan konkurences, gan finansiālu apsvērumu dēļ, tāpēc ASV ir lieliska iespēja, ka pavērst sev dzīvē plašākas iespējas.
Kā tava dzīve attīstījās pēc studiju beigām?
Paliku Dalasā. Arī iepriekš vasarās uz Latviju nebraucu, bet paliku trenēt. Trenēju gan jauniešus, gan amatierus un paveicās, ka Miša Zverevs dzīvoja Dalasā, tāpēc bija iespēja laiku pa laikam ar viņu kopā patrenēties. Kad noslēdzu studijas, Miša man piedāvāja ar viņu kopā braukt uz turnīriem, bet es pieteicos "zaļajai kartei" [no angļu valodas green card, kas ir kā apliecinājums pastāvīgam rezidentam ASV], un kamēr gaidīju, kad to iegūšu, nevarēju izbraukt no valsts. Vienlaikus sāku strādāt investīciju bankā "Merrill Lynch", kur mani iekārtoja viens klients – amatieris, kuru trenēju. Viņš tur bija reģionālais direktors. Strādāju uz pusslodzi un nedaudz trenēju. Bet darbs ofisā nebija mans aicinājums. Pēc sešiem mēnešiem piezvanīju Mišam un pavaicāju vai viņš nezina, vai kāds WTA vai ATP tūrē nemeklē sparinga partneri. Viņš solījās uzprasīt un pēc nedēļas piedāvāja iet ar viņu. Tajā pašā dienā aizgāju prom no bankas uz visiem laikiem. Devos uz Eiropu kopā ar Mišu un jau pēc divām nedēļām viņš man piedāvāja pilnvērtīgu sparinga partnera pozīciju viņa komandā.
Tā gan nebija pirmā reize, jo iepriekš jau sanāca pāris turnīros būt ar viņu. Tiesa, tikai tajos, kas bija ASV teritorijā. Tie bija kādi seši turnīri pusotra gada laikā. Mums izveidojās labas attiecības un, esot tik daudz kopā, arī es no malas varu pateikt savas domas – kā spēlē pretinieks, vājās un stiprās puses, u.t.t. Tā arī sākās pāreja uz trenera amatu. Sākumā viņš man piedāvāja braukt līdzi uz trim nedēļām, bet beigās sanāca uz trīs ar pusi gadiem (iesmejas).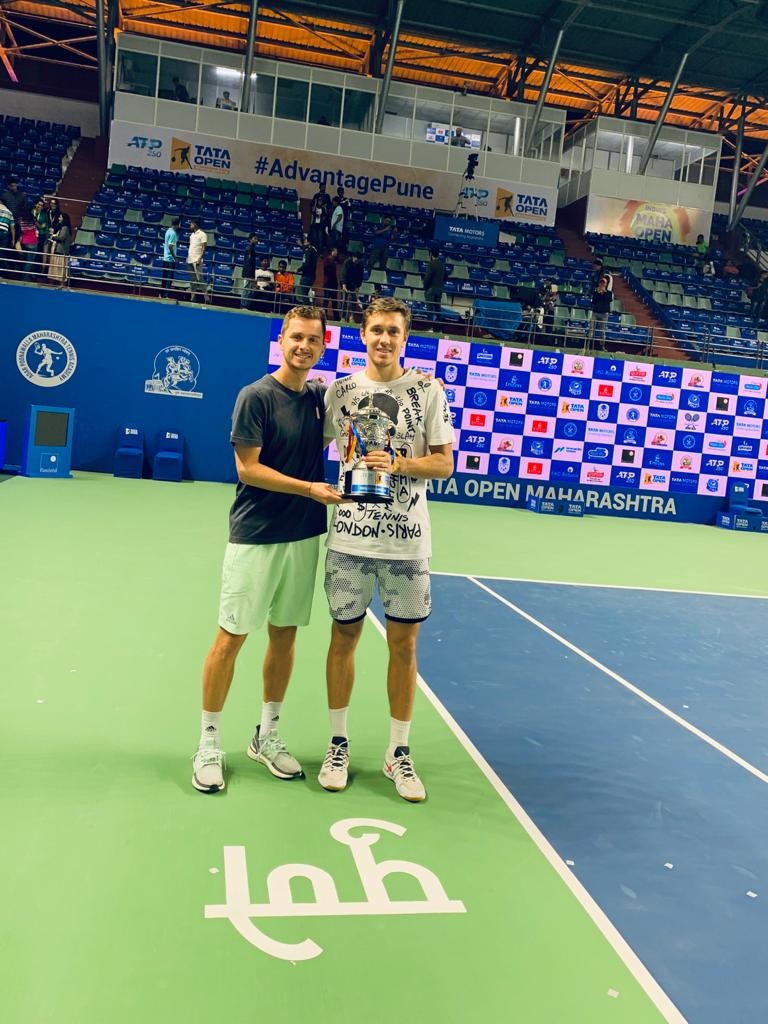 Kādi bija darba apstākļi ar Mišu – lidojāt biznesa klasēs, viesnīcās dzīvojāt kopā vai kā un citas nianses? Jautājums tāds, jo Miša bija stabils pirmā simtnieka spēlētājs.
(Smaga nopūta) Tam būs nepieciešama atsevišķa intervija, lai visu izstāstītu (iesmejas). Ir tā – viņš ir nopelnījis kādu naudu, bet ne tik daudz, lai arī man katru reizi pirktu aviobiļeti biznesa klasē. Viņš pats, lidojot pa Eiropu "īsajos" reisos, sev ņem vietu ekonomiskajā klasē. Tālākos pārlidojumos, piemēram, uz ASV vai Ķīnu no Eiropas, biznesa klasē. Bet to dara, teiksim, gandrīz visi top 200 tenisisti, jo viņiem kā sportistiem ir nepieciešams komforts, lai varētu atpūsties un nebūtu savilktu muskuļu un citu problēmu. Tā kā viņa brālis Saša [ šobrīd ranga 7. numurs] ir elites līmeņa spēlētājs, mums reizēm sanāca lidot ar privāto lidmašīnu – tur jau komforts ir pavisam cits, bet tā arī nav bezizmēra.
Treneri ir dažādi. Ja esi pasaules līmeņa un iepriekš pats bijis top klases spēlētājs, protams, prasības būs citas. Ir pat fiziskās sagatavotības treneri, kuriem viena no prasībām, lai strādātu, ir pārvietošanās biznesa klasē.
Runājot par dzīvošanu, es ar Mišu esam arī ļoti labi draugi, tāpēc dzīvojām vienā numurā. Nav jēgas lieki tērēt naudu. Reizēm brauc līdzi fizioterapeits un nav tā, ka tikai es ar viņu dzīvotu kopā – reizēm arī Miša. Normālas un cilvēcīgas attiecības valdīja mūsu komandā.
Regulāri apgrozoties tūrē Mišas komandā, tev ir bijusi iespēja redzēt to no pavisam citādāka skatupunkta nekā tas ir skatītājiem. Kādas ir lielās tenisa zvaigznes ārpus TV ekrāniem?
Ja runājam par top spēlētājiem visi ir forši džeki. Nav tā, ka kāds staigātu ar degunu gaisā. Citiem ir labākas attiecības, citiem mērenākas. Protams, ir arī tādi, kuri viens otram nepatīk, bet nevarēšu iedot šoreiz piemēru (iesmejas). Ierastais iedalījums – pārsvarā pa nacionalitātēm. Krievi "tusēsies" (nejaukt ar kluba apmeklējumu – redaktora piezīme) ar krieviem, spāņi ar spāņiem, u.t.t. Klasika. Arī no grandiem neviens nav iedomīgs. Pats esmu sēdējis vakariņās pie viena galda ar Rodžeru Federeru. Normāls džeks. Tas pats ar Rafaelu Nadalu.
Kā notiek treniņu sarunāšana turnīros?
Arī tur nav nekādas maģijas (iesmejas). Visa pamatā komunikācija. Vai nu pats uzraksti spēlētājam vai trenerim un sarunā. Man nav problēmu pa taisno uzrakstīt spēlētājam. Vai nu pats pieraksties treniņu grafikā un, kurš pēc tam pierakstās nākamais, ar to trenējies.
Cik bieži sanāca būt kopā ar Sašu un viņa komandu?
Bieži. Ja spēlējām vienā turnīrā, tad ārpus korta bijām kopā gandrīz visu laiku. Treniņu kopā gan daudz nebija, jo Sašas un Mišas stili krasi atšķiras. Sašam vajag vairāk spēlēt no gala līnijas, bet Mišam pie tīkla.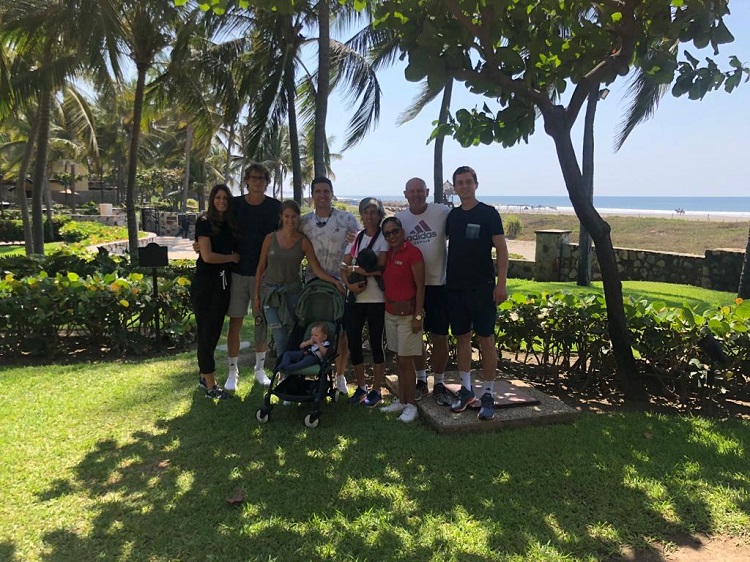 Kas Sašam ir tāds īpašs, kas padara viņu par reālu pirmās raketes pretendentu jau tuvākajā nākotnē?
Viņš ir viens no atlētiskākajiem un fiziski spēcīgākajiem tenisistiem tūrē. Esmu redzējis un zinu kā viņš strādā un kāda ir viņa forma. Plus raksturs – nepatīk zaudēt. Vienalga vai tas būtu kortā, vai spēlējot "Play-Station".
Tāpat Sašam ir sadarbība ar dakteri no Vācijas, kura trīs – četras reizes gadā atbrauc viņus pārbaudīt. Paņem asins analīzes, veic dažādus testus, lai noskaidrotu fizisko gatavību, kas pietrūkst, un kas būtu jāuzlabo. Piemēram – kādos daudzumos un kuros brīžos Sašam nepieciešami proteīni organismā, u.t.t. Viss ir ļoti profesionāli. Un ne visiem elites spēlētājiem tādas sadarbības ir. Amerikāņi vispār dzer "Gatorade" vai "Powerade", kas pati par sevi ir ķīmija, kur ir daudz cukura, kas darbojas divas minūtes un pēc tam slikti paliek. Profesionāls sportists pēc idejas tādus nedrīkst dzert.
Pēdējos gados ļoti izplatīta prakse ir kad atlēti piesaista sporta psihologus. Vai Mišam ar Sašu tādi ir?
Mišam noteikti tas nav nepieciešams, jo viņš pēc rakstura ir ļoti noturīgs un spēcīgs cilvēks. Bet zinu, ka Saša šobrīd ar vienu strādā. Ne visiem sportistiem tādi ir, tas ir ļoti individuāli. Manuprāt, sievietēm sporta psihologus noteikti vajag. Viņas pēc dabas ir emocionālākas un viņas ļoti ietekmē ārējie faktori, tāpēc tāda veida speciālisti palīdz ar to tikt galā.
Kāpēc pārtraucāt sadarbību ar Mišu?
Viņš guva plaukstas locītavas traumu, kas atstāja sekas. Pēc atlabšanas rezultātu nebija un viņam zuda motivācija. Māla sezonas sākumā viņš pateica, ka paņems pauzi no tenisa uz aptuveni mēnesi. Es aizbraucu uz Rīgu un tad man uzrakstīja Aļona Ostapenko, kura piedāvāja aizbraukt līdzi uz pāris turnīriem kā sparinga partnerim. Nedaudz pastrādāju un beidzām sadarbību pēc pagājušā gada "French Open". Pagāja divas nedēļas un vienojos ar Jegoru Gerasimovu, ka pamēģināsim sadarboties. Viņu pazīstu jau kopš junioru laikiem. Patrēnējamies pāris dienas un aizbraucām uz "Challenger" turnīru Itālijā. Paskatījos, kā viņš spēlē, pieslīpējām nianses un viņš to turnīru uzvarēja. Un pēc tā viņš man piedāvāja kļūt par viņa treneri.
Sanāca, ka divu mēnešu laikā Jegors nospēlēja tikai četrus "Challenger" līmeņa turnīrus plus "US Open" un iekļuva ranga simtniekā un ATP apritē. Zinu, jau ko prasīsi – kā ir no ATP pārlēkt uz "Challenger" (iesmejas). Bet nav tik traki. Ir visi līnijtiesneši un līmenis nav tik zems. Jā, varbūt turnīri notiek mazākās pilsētās, ir zemāks organizācijas līmenis, savādāka ēdināšana un transports nav BMW vai "Mercedes", bet parasti mikroautobusi, vai viesnīcas ir citādākas, bet neteiktu, ka ir galvas tiesu sliktāk. Kortu kvalitāte arī ne visur vienmēr ir sliktāka, bet ir vietas, kur tas jūtams.
Paspējāt nospēlēt Sinsinati turnīrā Ņujorkā pie "jaunajiem Covid-19 noteikumiem". Cik stingri tie ir un ar kādiem ierobežojumiem jāsaskaras turnīru norises vietās?
Diezgan stingras prasības, bet bija arī savi caurumi. Vienā viesnīcā dzīvoja tikai spēlētāji un pat ēdienam nedrīkstēja pats iet pakaļ. To darīja turnīra darbinieki, lai nepastāvētu risks inficēties. Varēja iziet ārpus viesnīcas noteiktā attālumā. Vienlaikus bija arī cita viesnīca, kurā dzīvoja ne tikai spēlētāji, bet arī tūristi. Tas liekas dīvaini. Atliek vienam tenisistam neapdomīgi rīkoties un, aizbraucot uz kortiem, inficēt pārējos. Tāpat arī treniņu kortos bija nepilnības. Tie atradās parkā, divu minūšu gājienā no spēles kortiem. Un starp tiem ir celiņš, kurā neierobežoti var pārvietoties jebkurš cilvēks. Rodas jautājums – kas tas par "burbuli", ja jebkurš tur tā vienkārši var iet cauri?
Kopumā it kā bija pārdomāti organizēta turnīra norise, ar to domāju ārpus spēlēm, vienlaikus ar vairākām nepilnībām. Katru dienu uz viesnīcu brauca kāds restorāns un ēdiens tika gatavots uz vietas. Tāpat tur bija atpūtas telpas un speciāli izveidots skvērs turnīra dalībniekiem ar lielajiem ekrāniem, kur varēja skatīties spēles. Ņujorkā bijām trīs nedēļas, bet iepriekš trenējāmies Floridā vienā akadēmijā kopā ar Kei Nišikori [rangā 35.]  un Mihailu Kukuškinu [rangā  90. vieta].
Aizvadījāt arī turnīru Itālijā, Romā. Kāda ir situācija tur?
Pirms Romas vēl bijām Kicbīlē [Austrija], kur atmosfēra bija pavisam mierīga. Kortu kompleksā jāstaigā maskās un ik pēc trīs dienām jāveic testi, bet varēja brīvi pārvietoties un doties apmeklēt pilsētu. Bija arī skatītāji. Dīvaini likās, ka spēlētājiem un apkalpojošajam personālam jāstaigā maskās, bet skatītāji tribīnēs varēja sēdēt bez tām. Savukārt Romā bija tā, ka ielidojām un uzreiz nodevām testu un devāmies uz numuriņu, kur gaidījām testa atbildes. Kortos bija stingra kārtība – nekādu nepiederošu personu tur neatradās un visiem jāstaigā sejas maskās. Katru ceturto dienu jāveic tests.
Vai skatītāju neesamības dēļ zūd arī tenisa kvalitāte?
Domāju, ka īpaši nē. Var redzēt, ka spēlētāji ir vairāk koncentrējušies. Apkārt nebija lieku cilvēku, tikai sportists ar komandu. Varēja vairāk pievērst uzmanību savām domām un spēlēm. Šķiet, ka lielākajai daļai tas palīdzēja. Ja kvalitāte bija kritusies, tad ne uz skatītāju rēķina, bet lielās pauzes dēļ. Tā katram bija laba pieredze.
Personīgi mani uzrunāja elektroniskā tiesāšanas sistēma. Ja agrāk, ka bumbiņa ir iekšā vai ārā no laukuma signalizēja līnijtiesneši, tad tagad to fiksēja tehnoloģija. Manuprāt, tas ir labi, jo tad vairāk nav diskusiju – trāpīja bumbiņa laukumā vai nē. It īpaši, kad notiek svarīgas izspēles, tiesnesis kļūdās, tiek ņemts "challenge" un notiek diskusijas, nevajadzīgi tērēta enerģija, u.t.t. Te viss ir skaidrs uzreiz. Sinsinati turnīrā bija tikai divi laukumi ar līnijtiesnešiem, kur bija iespējams paņemt "challenge".
Bet tieši skatītāji nes turnīru rīkotājiem milzu peļņu. Šobrīd spēlētāji ir sanākuši kopā un apsvēruši ideju par savu arodbiedrību. Pastāsti, lūdzu, vairāk – kāds ir tās mērķis, un kāpēc līdz tādai situācijai ir nonākts?
Spēlētāji ir neapmierināti, ka visi "Grand Slam" sērijas turnīri un vairāki "Masters" no visiem saviem ienākumiem par turnīra organizēšanu spēlētājiem balvu fondā atvēl vien 10%. Viņi nav ar to mierā, jo ATP vairāk strādā turnīra rīkotāju labā, nevis spēlētāju. Un arī nesen tika pieņemti vairāki svarīgi lēmumi, nekonsultējoties ar spēlētājiem. Tāpēc radās ideja izveidot savu arodbiedrību, kas varētu aizstāvēt sportistu intereses. Līdzīgi kā tas ir NBA un NHL. Par šādu soli parakstījušies ap 80 spēlētājiem.
Te gan jāatzīmē, ka šeit ir iesaistīta liela politika. Federers un Nadals tam nepiekrīt. Endijs Marejs paziņojis, ka nepiedalīsies šajā projektā, ja vīrieši neapvienosies ar sievietēm. Federeram ir liela ietekme uz ATP. Viņš savu sponsoru rīkotu turnīru bez problēmām var iedabūt ATP kalendārā un viss kārtībā. Bet realitātē tie ir paraugmači. Bet kad tie, kuri tajos piedalījušies, brauc uz turnīriem, kur notiek cīņa par ranga punktiem, viņu pretiniekiem ir jāgaida līdz trešdienai, bet spēlēm būtu jāsākas jau pirmdienā. Kāpēc uz viņiem būtu jāgaida?
Galveno lomu šajā procesā uzņēmies Novāks Džokovičs. Daudzi runā, ka aiz tā slēpjas kaut kādas viņa intereses, bet es tā nedomāju. Viņš vienkārši grib palīdzēt citiem. Šāda arodbiedrība patiešām palīdzētu rangā zemāk esošiem spēlētājiem.
Pēdējā desmitgadē notikusi "lielā trijnieka" – Federera, Nadala un Džokoviča – absolūta dominance. Ar ko tas izskaidrojams?
Nesen pats skaitīju, ka pēdējos 10 gados "Grand Slam" uzvarējuši tikai septiņi cilvēki [Federers, Nadals, Džokovičs, Mario Ciličs, Stens Vavrinka, Huans Martins Del Potro un Endijs Marejs]. Tagad pēc Džokoviča izgājiena "US Open" [nesavaldījās un aizmeta raketi, trāpot līnijtiesnesim] pavērās iespēja citiem, ko, diemžēl, Saša Zverevs neizmantoja [bija vadībā setos 2:0 un trešajā ar breiku], bet ticu, ka nākotnē viņš noteikti uzvarēs kādā no "Grand Slam" turnīriem. Man izskatās, ka tuvākajos gados mainīsies "lielā trijnieka" dominance un būs vairāk "Grand Slam" čempionu. Domāju, ka vēl pēc pieciem gadiem vīriešu tenisā būs kā sieviešu – skaitīju, ka šobrīd aktīvas vēl ir kādas 20 spēlētājas, kuras uzvarējušas kādā no "Grand Slam".
Kas atšķir "lielo trijnieku" no visiem, ka viņi tā dominē? Viņi tiešām ir tik galvas tiesu pārāki par pārējiem?
Tas tiešām tā ir. Līmenis ir daudz augstāks nekā pārējiem, turklāt, viņi zina vislabāk kā spēlēt uz saviem iecienītākajiem segumiem. Varbūt viņi zina to, ko citi vēl nezina. Katram ir sava lieta, kas nav nevienam citam. Nadalam ir nereāla fiziskā sagatavotība, plus kā viņš prot iegriezt bumbiņu. Federeram spēles izpratne, tehnika, savukārt Džokovičam ir stabilitātes, izturības un tenisa domāšanas apvienojums. Protams, arī psiholoģiskā noturība. Viņi visi ir kā no citas planētas. Esmu to redzējis dzīvē (iesmejas).
Ir dzirdēts, ka turnīra organizatori pēdējā laikā centušies samazināt kortu "ātrumu". Lai būtu garākas izspēles, kas skatītājiem būtu interesantāk. Vai šāda tendence turpinās?
Pagātnē korti bija ļoti "ātri" un garas izspēles bija mazāk. Tad tika strādāts pie tā, lai šo "ātrumu" samazinātu. Bet tad jau iznāca citas paaudzes raketes, ar kurām var sist spēcīgāk un bumbiņa lido ātrāk. Sinsinati turnīrā jau korti atkal bija ļoti "ātri". Tas darīts ar nodomu, lai samazinātu spēļu ilgumu un tas izpaužas arī noteikumu izmaiņās. Ir samazināts iesildīšanās laiks, pauzes starp izspēlēm un geimiem, lai skatītājiem būtu interesantāk.