Jaunā klubu basketbola sezona vairs nav aiz kalniem – tā startēs 3. oktobrī ar vairākiem Latvijas mērogam intriģējošiem dueļiem. Pandēmijas dēļ tika pārtraukta iepriekšējā sezona un arī šī nesusi savas korekcijas, jo līdz decembra mēnesim Latvijas klubi aizvadīs tikai divus apļus savā starpā, kas nozīmē vien 10 mačus divos mēnešos, pieskaitot pāris vēl atjaunotajā kausa izcīņā. Ja vien neesi "VEF Rīga", kas startē FIBA Čempionu līgā, un par kuras norisi un kādā formātā tā būs pilnīgas skaidrības arī vēl neesot.
Runājot par Latvijas kausa prestižu, jāatzīmē, ka "VEF Rīga" tajā iesaistīsies vien no pusfināla, kas nozīmē, lai izcīnītu trofeju, pietiks ar divām uzvarām… Saprotams, ka vefieši ir vienīgie Latvijas pārstāvji starptautiskajā arēnā, tomēr par šādu kārtību domas dalās. Latvijas Basketbola savienības (LBS) prezidents Raimonds Vējonis  vienā no intervijām izteicies, ka jebkuram ir iespēja tikt līdz "VEF Rīga", izejot cauri turnīra sietam. Nav melots, tomēr nākotnē pie izspēles kārtības, iespējams, vajadzētu piedomāt vairāk.
Turpinot VEF tematiku, nesen kā notikušajā pirmssezonas preses konferencē ilggadējs kluba prezidents Edgars Jaunups paziņoja, ka vairs šo amatu neieņems un nodeva stafetes kociņu Gatim Jahovičam. It kā loģisks solis – vietā iecelts cilvēks, kurš klubā bijis teju visos līmeņos. Gan kā spēlētājs, gan kā treneris jauniešiem, "VEF Skola" un "VEF Rīga" direktors. Atsaukmes par Jahoviča darbu esot pozitīvas. Bet Jaunups savu lēmumu pamatoja, ka vairāk laiku veltīs savam pamatdarbam – politikai. Formāli viņa ietekme klubā notiekošajos procesos mazinās, taču vai tā ir praksē? To zina vien klubam pietuvināti cilvēki.
"Lai arī šosezon gaidāms 20-25% budžeta samazinājums, kluba finansiālā situācija ir stabila," tā preses konferencē izteicās Jaunups, minot, ka mērķis ir savākt šosezon ap miljonu. Viņš arī pieminēja, ka neizslēdz, ka Čempionu līgas turnīrs varētu norisināties vairākos mazos "burbuļos". Jāpiezīmē, ka ČL vēl nav noskaidrots pagājušās sezonas uzvarētājs, jo turnīru pārtrauca, nevis atcēla pavisam. Bet jau šobrīd ir klubi, kas uz iespēju to izspēlēt raugās skeptiski. Piemēram, Atēnu AEK no FIBA prasa stingras garantijas par drošības pasākumiem, citādi draud šo pasākumu boikotēt.
Ja paskatās uz "VEF Rīga" grupu un pretiniekiem, lielas cerības uz daudzām uzvarām nerodas. Sastāvs vietējiem mērogiem interesants, bet ko tas iespēs uz starptautiskās skatuves? Pagaidām pārbaudes spēlēs sevi lieliski apliecinājis Kristers Zoriks. Neviļus nākas vilkt paralēles ar Artūru Kurucu pērn, kura sniegumu ievēroja arī FIBA, nominējot viņu dažādām balvām. Proti, pirms sezonas liela neskaidrība, uz ko viņš ir spējīgs, bet tās gaitā "atvērās" un tika pie savas lomas arī nacionālajā izlasē EČ kvalifikācijas mačos.
Starp citu, arī valstsvienības spēļu nākamais "logs" (novembra beigas, decembra sākums) ir uz stipras jautājuma zīmes. Iespējams, ka no sportiskā viedokļa Latvijai būtu pat izdevīgi, ja tas tiktu pārcelts uz vasaru. Priekšā divas smagas izbraukuma spēles pret Grieķiju un Bosniju un Hercegovinu. Vasarā pastāv daudz lielāka iespēja piesaistīt labākos spēkus, bet mēs šobrīd grupā ar diviem zaudējumiem ieņemam pēdējo vietu. Ja pēc ziemas "loga" bilance būtu 0-4, Latvija būtu ļoti tuvu sporta katastrofai…
Paturpinot Covid-19 un starptautisko turnīru stāstu, izmaiņas notikušas "TTT Rīga" Eirolīgas spēļu kalendārā. Jaunā kartība paredz četras grupas pa četrām komandām, un ka pirmajā turnīra fāzē būs jāaizvada vien trīs spēles. Divas grupas spēlēs vienā pilsētā, bet otras divas citā, mačiem notiekot vienā arēnā.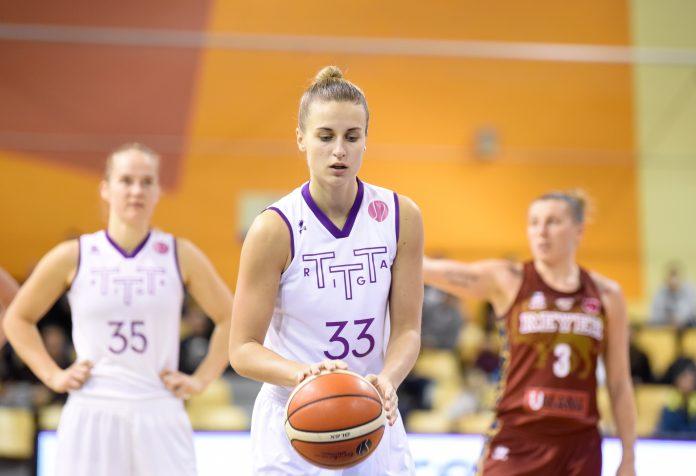 Tikmēr Latvijā čempionāts sāksies laicīgi, tomēr ne bez ierobežojumiem. Klubi uz mājas spēlēm drīkst ielaist tikai 50% no kopējās halles skatītāju ietilpības, tribīnēs jānodrošina divu metru distance, kā arī jāievēro virkne citu drošības pasākumu. Spēlētāji ar tiesnešiem un pretinieku komandu pirms spēles sākuma sarokoties nedrīkst…
Lai arī Lietuvā epidemioloģiskā situācija ir gaužām sliktāka nekā Latvijā, tas Kauņas "Žalgiris" faniem netraucēja kuplā skaitā (trīs tūkstoši – maksimālais pieļaujamais skatītāju skaits) vērot savas komandas pārbaudes spēli. Biļetes tika izķertas ļoti ātri.
Neskatoties tik daudz kaimiņu virzienā, bet raugoties uz pārējo piecu Latvijas augstākās līgas klubu darbībām, patīkami pārsteigusi "Ventspils", kas, piedzīvojot ievērojamu budžeta samazinājumu, vismaz "uz papīra" spējusi pulcēt solīdu sastāvu (vasarā pievienojās  Artūrs Ausējs, Andrejs Šeļakovs un leģionāri). Runā, ka šī gada budžets BKV esot 440 tūkstošu apmērā un "liels paldies" par to jāsaka Brīvostas valdei. Kā zināms, tad pirms kāda laika valdība mainīja likumu, pārņemot Rīgas un Ventspils ostu pārvaldību. Ja iepriekš valdes sastāvs bija 50 pret 50, proti, 50% pašvaldību pārstāvji, un otri valsts, tad tagad galvenie lēmēji ir valsts iecelti ierēdņi, bet pašvaldību pārstāvji no valdes izstumti. Skumji, bet interese palīdzēt Ventspils klubam nav…
Ja ņemam vērā, ka klubs pēc ilgāka pārtraukuma nestartē nevienā no eirokausiem, tad vietējam mērogam 440 tūkstoši ir cienījami. Pērn ventspilnieki startēja pēc hierarhijas ceturtajā līmenī FIBA kausā, taču tur bija vieni izdevumi – FIBA neko neapmaksāja. Kā izteicās kluba pārstāvis Ralfs Pleinics, tad vienas spēles cena izmaksā ap 12-16 tūkstošiem. Tagad ceļošanai būs jātērē vien benzīnam.
Arī "Liepāja" piesaistījusi dažus pazīstamākus vārdus Latvijas platuma grādiem kā Dāvi Geku un Iļju Gromovu, bet trenera postenī darbosies Artūrs Visockis – Rubenis. "Ogre" noturēja "sudraba" kodolu (pērn LBS "Ogrei" piešķīra vicečempiones statusu), Valmierā turpina iesākto kursu, tāpat kā LU.
Savukārt viskarstākās diskusijas publiskajā telpā raisījās par ko citu. Jaunatnes līgā (LJBL) nolemts, ka visas spēles notiks bez skatītāju, proti, vecāku un radinieku klātbūtnes. Rodas jautājums, cik tas ir efektīvi? Ja bērns pēc spēles tāpat satiks savu mammu vai tēti un dosies kopā mājup. Infekciju var arī "noķert" skolā, veikalā vai kino.
Aprunājoties ar vairākiem jaunatnes treneriem, varēja nonākt pie secinājuma – ja notiktu kāds saslimstības gadījums, kurš par to uzņemtos atbildību? Vecāki, sporta skolas, LBS? Tā arī ir sava veida problēma, jo ne visi vecāki, kā arī ne visas sporta skolas, vienmēr ar rūpīgāko vērību seko līdzi noteikumiem. Vecākiem mierinājums ir tāds, ka visas spēles translēs internetā.
Nobeidzot uz pozitīvākas nots, jāizceļ kāds notikums Vidzemē. Proti, dibināta "Bertānu Valmieras basketbola skola". Tas noticis brāļu Dāvja un Daira sadarbībā ar Valmieras pilsētas domi.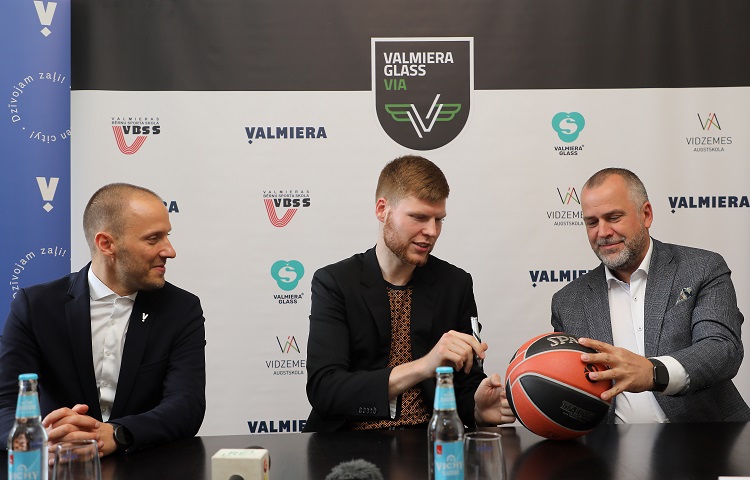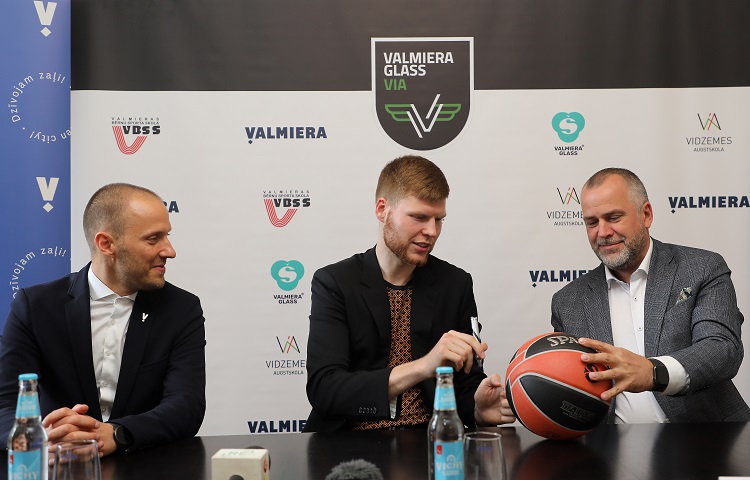 "Ideja par basketbola skolas veidošanu kādu laiku mums jau bija. Tā kā radās šāda iespēja skolu veidot kopā ar Valmieras pilsētas pašvaldību un basketbola klubu vietā, kur jau pašlaik jaunatnes basketbola sistēma ir augstā līmenī, turklāt ņemot vērā mūsu ģimenes vēsturi gan Valmieras, gan Rūjienas basketbolā, šī ir lieliska iespēja to sākt jau tagad. Ceru, ka šis notikums būs ar pozitīvu zīmi vēstures grāmatās rakstīts. Tiešām liels prieks par atbalstu!" – tā Dāvis Bertāns.
Dāvim šis rudens būs ļoti izšķirīgs, jo viņam būt jāparaksta (droši var teikt) dzīves lielākais līgums. Lai izdodas!