Naktī uz svētdienu Latvijas labākais bokseris Mairis Briedis triumfēja Pasaules boksa supersērijas otrajā sezonā savā īpašumā iegūstot Muhameda Ali vārdā nosaukto trofeju, IBF un respektablā žurnāla "The Ring" čempionu jostas. Uzvara tika piešķirta ar vairākuma tiesnešu lēmumu (117:111, 114:114:, 117:111).
"Sporta pils" uzrunāja cīņu sporta veidu ekspertu un podkāsta "Spēkapodcast" vadītāju Jāni Eisaku, boksa treneri Sandi Kleinu, kurš iepriekš vairākus gadus strādāja kopā ar Briedi, kā arī sabiedrībā pazīstamo hip-hop mākslinieku Gacho (saukts arī par Mesa) jeb Gati Irbi. Gacho pats nodarbojas ar boksu amatieru līmenī, kā arī iepriekš ar Maira komandu vairākkārt devies kopā iznācienā uz ringu. Starp citu, Briedis izmanto vienu no viņa dziesmām kā pavadošo pirms cīņas.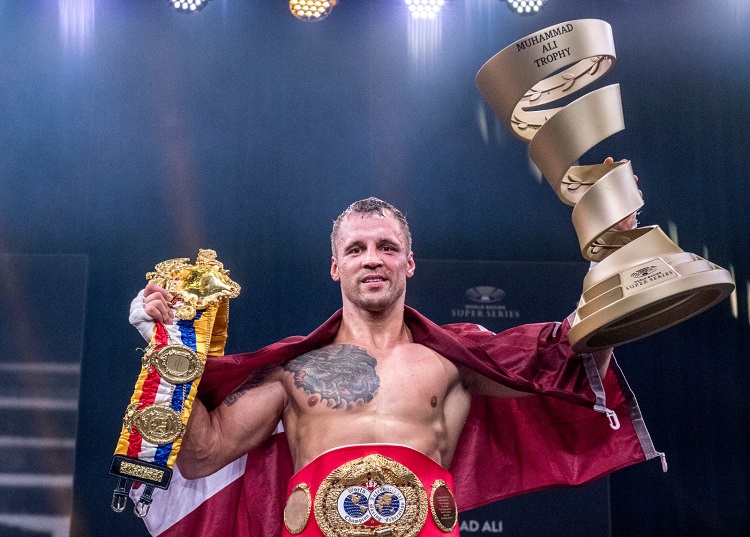 Jānis Eisaks

Par cīņu
Pirms cīņas man bija diezgan nepopulāra prognoze, ka, visticamāk, būs visi 12 raundi, bet pēdējie trīs noteikti aizies Briedim par labu. Abu bokseru izpildījumā varēja just, ka kādu laiku nebija boksēts oficiālā cīņā un uz tā rēķina nevarēja parādīt visus savus trumpjus. Noteikti pietrūka arī skatītāju klātbūtne, kas dotu citu efektu.
Varbūt kādos brīžos bija iespējas Dortikosu noķert uz kādu asāku sitienu, bet tas arī ir tas prakses trūkums. Tomēr 15 mēneši bez cīņām, emocionālie pārdzīvojumi, cīņu pārcelšana – tas viss atstāj iespaidu. Briedim nekad tik ilga pauze nav bijusi. Protams, arī Dortikoss bija tādā pašā situācijā, bet viņš ikdienā dzīvo Maiami. ASV atrast sparinga partnerus ir pavisam cits stāsts – viņi bija pirms pandēmijas, bija tās laikā un būs arī pēc pandēmijas. Es, protams, nezinu kā viss bija, bet pieļauju, ka uz Latviju atvest kārtīgus sparinga partnerus ir vismaz 90 reizes sarežģītāk. Varēja just, ka, ņemot vērā visus objektīvos apstākļus, viņu šajā cīņā neredzējām uz visiem 100%. Mairis bija labāks un pieskarties dziļākām detaļām īsti nav jēgas, ņemot vērā iepriekš minēto.
Labi, viens tiesnesis saskatīja neizšķirtu. Tik krasi atšķirīgas domas no pārējiem abiem, kuri Mairim atdeva uzvaru sešos raundos… Būtu interesanti uzzināt viņa viedokli, kāpēc viņš tā lēma.
Mairis bija salīdzinoši piesardzīgs, vairākos brīžos varbūt mazāk riskēja turpināt garāku sitienu sēriju. Iespējams, ka tas bija viņa plāns – tas ir jautājums pašam sportistam un treneriem. Briedim kā parasti ir īpaši individuāla izstrādāta taktika uz katru cīņu. Manuprāt, katru reizi ringā viņš izskatās citādāk nekā iepriekš. Katram pretiniekam viņš pieiet individuāli. Interneta dzīlēs lasīju, ka bija cilvēki, kas "piesējās" Maira varēšanai un spējām – bet viņš taču uzvarēja. Viss ir kārtībā. Par ko mēs runājam? Trešo reizi karjerā kļuvis par pasaules čempionu, tas taču ir lieliski!
Ko darīt tālāk?
Būsim atklāti, šobrīd apvienot visas četras jostas ir finansiāli neiespējami un diez vai tuvāko 10 gadu laikā šajā svara kategorijā kādam tas vispār izdosies. Pēc Usika, kurš to paveica, domāju, tādas iespējas vairāk nevienam nebūs. Pārskatāmā nākotnē noteikti nē. Un tam ir vairāki iemesli. Protams, komercija, bet Briedis nevienam tādā ziņā nav interesants. Pirmkārt, aiz viņa nav liels fanu pulks. Cik tad mēs esam Latvijā? Nepilni divi miljoni. Otrkārt, viņš ir ļoti bīstams. Ar viņu iesaistīties cīņā, piemēram, kādas lielvalsts bokserim, kuru mērķtiecīgi grib uztaisīt par zvaigzni vai leģendu, nav izdevīgi. Tas ir liels risks, jo viņš jebkuru var nogāzt. Ja viņš nebūtu tik super-talantīgs, šaubos vai viņam vieta boksa elitē atrastos šo iemeslu dēļ. Viņš kā kaķis ir ieķēries kokā un nelaiž vaļā – iet uz priekšu uz savu mērķi un to pilda. Viņš ir tik labs, ka viņu vienkārši nevar atstāt malā. Viņš ir spēcīgs, viņa komanda tāpat un pēc formulas tas, ko viņš ir izdarījis ar Latvijas pasi, ir kaut kas unikāls! Viņš sev līdzi pavilcis arī citus bokserus, kas kļūst starptautiski aizvien atpazīstamāki un ir kompānijas, kā piemēram, "LNNK Boxing", kas iegulda līdzekļus perspektīvajos bokseros. Manuprāt, cilvēki to nenovērtē.
Vai būtu interesanta cīņa ar Kšištofu Glovacki? Sportiskajā ziņā – kas tur interesants? Briedis viņu nolika uz dēļiem trīs raundos. Par ko tur vēl diskutēt? Ja arī Glovackis iegūst WBO jostu, vai Mairim tā josta ir vajadzīga? Ja es būtu Brieža komandā, skatītos no tā aspekta – ja poļu fani tik ļoti grib redzēt šo revanša cīņu, tas ir naudas un motivācijas jautājums.
Manuprāt, viņam ir divas iespējas: uzrīkot, tā saucamās, "money fight" (naudas cīņas) – vai tas būtu Glovackis, ja ir gatavi maksāt, vai pāriet uz supersmago svaru. Viņš savā svarā ir neapstrīdams pirmais numurs. Ko viņam vēl pierādīt? Lūk, Usiks aizgāja uz smagsvariem, Gasijevs arī, un iepriekš arī Tonijs Beljū, visticamāk, arī Dortikoss ies. Kāpēc viņi to dara? Jo šajā svara kategorijā jau ir sevi realizējuši un tāpēc vajag jaunus izaicinājumus un tur apgrozās pavisam citas naudas summas. Vienīgais, kas Mairim varētu būt interesanti – iegūt WBA jostu, kas nekad nav bijusi, un atstāt savu vārdu vēstures grāmatās ar treknākiem burtiem.
Vai Supersērijai ir nākotne?

Grūti teikt. Nevar salīdzināt pirmo ar otro sezonu. Tie ir divi dažādi turnīri. Pirmajā sezonā piedalījās visu jostu īpašnieki ar skaļiem vārdiem, bet šī tik lielu ažiotāžu neizraisīja, kas ir saprotams. Protams, savas korekcijas ieviesa pandēmija, bet bija arī daudz citu neskaidrību, kā piemēram, vai būs čempionu jostas uz spēles vai nē. Beigās bija tikai viena. Tāpēc grūti spriest. Formāts ir labs, jo svara kategoriju un čempionu ir tik daudz, ka es pat nevaru saskaitīt. Noskaidrot vienu čempionu – tā ir ļoti laba ideja!  Bet vai kādam būs interese šo projektu turpināt attīstīt vai tajā piedalīties? Visiem apakšā ir savi cilvēki, organizācijas, kurām ir savas intereses, tāpēc ir grūti ko tādu veidot. Paskatāmies kaut vai no Brieža perspektīvas – viņš jau reizi ir uzvarējis šajā turnīrā un ieguvis Ali trofeju. Kāda viņam ir jēga no divām tādām? Tikai tad, ja uz spēles papildus būs visas prestižākās jostas kā pirmajā gadā.
Sandis Kleins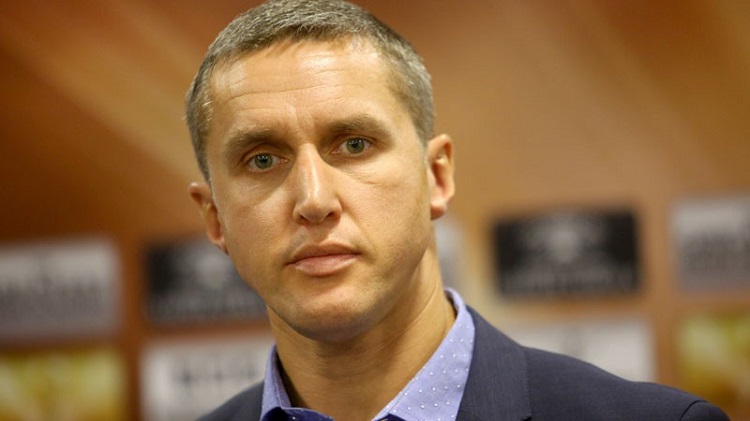 Par cīņu
Principā, Mairis ringā darbojās kā iepriekš. Neko jaunu nebija pielicis, ja nu vienīgi redzēju vienu jaunu kombināciju. Kopumā viņš cīņai bija gatavs – gan fiziski, gan tehniski. Pats neizlaida nevienu nopietnu sitienu. Dortikosam vispār nebija izredžu un nebija ar ko atbildēt – Briedis viņu "deklasēja". Viņš bija daudz kustīgāks un daudzpusīgāks un noveda cīņu līdz loģiskam iznākumam. Ja cīņa notiktu, kad bija plānots, visticamāk, viņš uzvarētu ar nokautu. Manā ieskatā laikam ceturtajā raundā viņš izdarīja labu sitienu no apakšas un varēja mēģināt nokautēt, tāpat, neskatoties uz to, ka pārliecinoši veda cīņu, 11 raundā kāpināja tempu. Zinot viņa raksturu, viņš noteikti arī kādā brīdī domāja par nokautu, bet bija redzams, ka darbojās piesardzīgi, kas ir pareizi – tika izcīnīta uzvara.
Nesaprotu tā tiesneša motivāciju, kurš iedeva neizšķirtu. Pēc tāda gājiena viņam principā būtu jābeidz strādāt. Manā ieskatā Dortikoss nepaņēma nevienu raundu.
Ko darīt tālāk?

Domāju, ka Mairim tagad priekšā ir naudīgās cīņas – Vācijā vai Anglijā. Runā, ka Glovackis varētu būt variants, bet viņš tūlīt cīnīsies ar britu Lorensu Okolī un esmu drošs, ka Okolī uzvarēs. Ja viņam ir josta, kā iespēju redzu, ka var noorganizēt kā "undercard" cīņu pirms Džošua – manuprāt, tas vēl varētu būt reāli. Bet, ja kāds domā, ka aiz Glovacka, kurš grib atriebties, ir tik liela nauda, es nedomāju. Viņa menedžerim nemaz nav tik lielas iespējas to piesaistīt.
Mairis augstākajā līmenī var cīnīties vismaz vēl divus gadus un tad jāskatās. Tagad, manuprāt, viņam jāatpūšas. Viņa statuss šobrīd atļauj boksēt vienu reizi gadā – mierīgi. Atrast izdevīgāko piedāvājumu un nopelnīt. Vienīgais, ko viņš līdz šim nav izcīnījis šajā svarā, ir WBA josta, kas šobrīd ir francūzim Arsēnam Gulamirjanam. Bet ar frančiem vienmēr ir bijis grūti vienoties, tāpēc nezinu, cik tas ir reāli. Protams, tas būtu skaisti – uzvarēt WBO titulu. Tad Mairim mājās pie sienas būtu visas četras jostas [arī pēc tam, kad tās nonāk cita īpašnieka rokās, bokseriem, kuri tās izcīnījuši, paliek viņu eksemplārs] plus "The Ring" josta, kas Latvijā nevienam nekad nav bijusi.
Kad vēl strādāju ar Mairi, teicu – pāriet uz smagsvariem nevajag, jo tā nav viņa svara kategorija. Domāju, ka viņam tur nav ko darīt. Nav runa par to, ka pieliekot svaru, viņš zaudēs kādas īpašības, bet viņa ķermenis atbilst "krūzeru" (no angļu valodas cruiserweight) parametriem. Ar ko tad viņš tur varētu cīnīties? Kamēr tiktu līdz kādam "lielajam" vārdam, paietu vairāki gadi, bet viņam šobrīd ir jau 35. Vai, piemēram, 38 viņš vēl varēs kādu top veci nogāzt? Nesaku, ka nevarēs, bet ir jāsakrīt daudziem apstākļiem – lai nav traumas, kādas cīņas varēs sarunāt, u.t.t. To nevar paredzēt.
Gatis Irbe
Principā prognozēju divus scenārijus – Maira uzvaru pēc punktiem vai ar nokautu. Nepieņēmu domu, ka viņš zaudēs šo cīņu un tam bija vairāki iemesli. Piemēram, Mairis nekad nav nolikts uz dēļiem nokdaunā vai nokautā. Biju pārliecināts, ja cīņā būs visi 12 raundi, tad viņš noteikti uzvarēs pēc tiesnešu lēmuma vai cīņas gaitā "noķers" Dortikosu uz kādu asu pretuzbrukumu. Saliekot visus plusus un mīnusus kopā, Mairis bija favorīts. Sākot ar to, kā viņš uz kājām strādā un tehnisko arsenālu, beidzot ar to, ka viņš tur sitienus un neviens nekad viņu nav nogāzis.
Vienīgi nedaudz uztrauca tas, vai Mairim izturēs "baterija", ņemot vērā, ka izieti vairāki pilni sagatavošanās posmi pirms cīņas, bet tā visu laiku tika pārcelta. Visu laiku sevi uzlādējot, tad piespiedu kārtā atlaižot, ir sarežģīti sakoncentrēties un dabūt sevi labākajā formā. Varbūt pēdējais raunds izskatījās tāds, ka nedaudz atlaida, bet kopumā – skaisti. Noboksēja kā vajag, lai izcīnītu uzvaru.
Šis bija tas gadījums, kad abi viņi ir ar spēcīgu sitienu un ja sanāk viens, tā saucamais, "lucky punch", tad pretinieks var gulēt uz dēļiem. Pieļauju, ka viņš to apzinājās un tāpēc bija piesardzīgs, neskatoties uz to, ka pats spēj izturēt spēcīgus sitienus. Ja pirmajā cīņas pusē varbūt izskatījās mazāk aktīvs kā Dortikoss, tad sākot ar piekto raundu viņš aktivizējās un sāka kāpināt tempu. Izskatījās līdzīgs plāns kāds bija [Oleksandram] Usikam pret Briedi – pirmajā pusē izlūkot un turēt līdzīgu ātrumu un cīņu, bet pēc tam palielināt tempu un uzspiest savu spēles plānu. Pats neesmu runājis ar Maira komandu, bet man liekas, ka šoreiz viņiem varētu būt bijis tieši tāds plāns.  Skaidrs, ka sākumā varbūt likās – kas notiek, kāpēc tik mierīgi? Bet arī, nebija jau tik traki un kubietis nedominēja. Vienkārši bija nedaudz aktīvāks.
No Dortikosa nekā jauna nebija. Nedaudz izbrīnīja viņa fiziskā forma, likās, ka būs izturīgāks. Parasti jau kubieši ir ar labu fizisko bāzi apakšā – tā ir viņu skolas firmas zīme. Te izskatījās, ka viņš jau ātri sagura. Gan jau tam palīdzēja arī Maira sitieni, kuri varbūt parastam skatītājam ekrānā neliekas nekas īpašs, bet tomēr 12 raundu garumā tevi sit un loģiski, ka tas arī tērē enerģiju, jo ir jāsavācas un jādomā kā uzbrukt pretī. Neko jaunu nepateikšu – kāds viņš iepriekš bija, tāds arī palicis. Iepriekšējās cīņās viņš centās vairāk, tā teikt, kauties, bet šoreiz Briedis uzspieda savu cīņas ritmu un tāpēc viņam nekas neizdevās. Noteikti gaidīja savu iespēju, ko Mairis viņam tā arī nedeva. Teorētiski viņš jau varēja ātrāk un agresīvāk iet uz savu "lucky punch".
No vienas puses, cīņa bija līdzīga. Nebija vienos vārtos, daudzos aspektos notika līdzvērtīga cīņa, kas varbūt parastam līdzjutējam no malas tā neizskatījās. Neskatoties uz Dortikosa "džebiem", ka viņš tos izpildīja vairāk, tad kopumā Briedis nodemonstrēja skaistu un kvalitatīvu boksu! Bet skaidrs, ka viegli nebija.
Jāatceras, ka arī Dortikoss nav no vājajiem puišiem. Kad tad viņš ir kritis? Tikai pret Gasijevu un arī – viņam ļoti "veiksmīgi" trāpīja pa aknu. Tā ir tā vieta, ja tur tik precīzi trāpa, tu nevari atgūties. No nokdauna, kad atskaita sekundes un esi "aizpeldējis", vēl ir iespēja savākties un piecelties, bet ja aizsit elpu – nav variantu. Tas tikai norāda uz to, ka galva viņam arī tur spēcīgus sitienus. Lai kā mums visiem un pašam Mairim noteikti gribētos uzvaru ar nokautu, pretī stāvēja nopietns pretinieks ar izturīgu žokli. Ja cīņa notiktu Rīgā, tas varbūt nedzītu viņu vairāk iet uz nokautu, bet noteikti iedotu vairāk enerģijas, tieši elpai. Cilvēku masas un līdzi jušana, bļaušana dotu viņam papildus adrenalīnu un neļautu nogurt, piešķirtu trešo, ceturto un piekto elpu.
Piekrītu cīņas komentētājam, kad Dortikoss izdarīja sitienu ar kreiso roku, viņš uzreiz to nolaida lejā un tā notika visas cīņas garumā. Ja būtu pareizs "taimings", Briedis varētu pāri tai rokai ar savu labo pārsist pāri. It kā tas varētu būt tas brīdis, kad varētu mēģināt "noķert", bet tas ir tikai ko es redzu. Skaidrs, ka mēs visi esam gudri un katram ir ko teikt (iesmejas), un varbūt arī man brīžiem likās, ka varēja sist vairāk, bet Mairim ir savi treneri, kas veido cīņas plānu un taktiku. Viens ir ko tu redzi caur ekrānu, bet cits, kad esi uz vietas, sēdi stūrī apakšā un ir cits leņķis. Redzi, ka izsit ar kreiso, bet neredzi, ka tā roka noiet lejā. Bet jebkurā gadījumā uzvara ir izcīnīta un tas nozīmē, ka viss ir izdarīts pareizi.
FOTO: World Boxing Super Series