Rafeals Nadals ir "māla" karalis un "Roland Garros" karalis! Un nav svarīgi, kad šis turnīrs tiek rīkots – pavasara un vasaras vai aukstā un lietainā rudens krustojumā. Izcīnot uzvaru šī gada finālā (trijos setos 6:0, 6:2, 7:5) pār Novāku Džokoviču, viņš kļuva par 13-kārtējo "French Open" čempionu, kā arī izcīnīja savu 20. "Grand Slam" raudzes titulu, šajā rādītājā panākot Rodžeru Federeru. Starp citu, Džokovičs neatpaliek pārāk tālu, jo viņam ir 17 šada veida kausu.
Just look at how much it means to him! 😍

🎥: @rolandgarros | @RafaelNadal pic.twitter.com/GPSmfSpX5F

— ATP Tour (@atptour) October 11, 2020
Ja sieviešu vienspēļu turnīrā netrūka pārsteigumu, tad vīriešiem viss kā ierasts, jo finālā tikās attiecīgi pasaules pirmā rakete (Džokovičs) un otrā, bet jau pirms mača bija skaidrs, ka Nadals būs drošs favorīts. Abiem tā bija 56. tikšanās reizes, kas ir absolūts rekords atvērtajā ērā. No šiem 56 mačiem šī gada fināls viņiem bija 25 spēle kopumā uz māla segumiem un astotā "Roland Garros" ietvaros.
Nadals Parīzē uzvarēja pirmos sešus dueļus, un tikai pēdējā tikšanās, 2015. gadā, beidzās par labu Džokovičam. Ir svarīgi atzīmēt, ka tieši Novāks spēlē vislabāk kā jebkurš cits tenisists pasaulē pret Nadalu uz māla, jo spējis viņu uz šī seguma septiņas reizes uzveikt. Tiesa, ne reizi "French Open" finālā (bilance 0-3).
Fināla dienā Parīzē lija lietus, bija ļoti auksts. Virs centrālā "Roland Garros" laukuma – Filipa Šartje vārdā nosauktajā kortā – tika aizvērts jumts, taču mitrums nekur nebija pazudis. Pulcēties ļauts bija vien tūkstotim skatītāju (Covid-19!). Bumbiņas šādos apstākļos kļuva arvien smagākas, un, pēc daudzu ekspertu, tostarp Džona Makinroja un Nadala trenera Karlosa Moijas domām, tas spēlēja par labu Džokovičam.
Jāņem vērā, ka līdz fināla spēlei Novaks iepriekšējos sešos mačos kopumā kortā pavadīja 14 stundas un 36 minūtes (kopumā zaudēti trīs seti), savukārt Nadalam šis rādītājs bija 13 stundas un 13 minūtes, nezaudējot nevienā setā. Finālā Nadals dominēja, savu pretinieku atstājot "sausā" jau pirmajā setā un savu dominanci nepārtraucot arī turpinājumā. Tiesa, Džokovičs daudz kļūdījās, bet pret Nadalu uz māla tas ir nāvējoši… Spānis ar šo panākumu arī sasniedzis 100 uzvaru robežu šī turnīra ietvaros.
Papildus trofejai čempions saņēma čeku par 1,6 miljoniem eiro – tas ir par 700 tūkstošiem eiro mazāk nekā pērn (2,3 miljoni eiro). Kopumā naudas balva par uzvaru 2020. gada "Roland Garros" ir ievērojami zemāka nekā pārējiem "Grand Sland" turnīriem. "Australian Open" Džokovičs vēl pirms koronavīrusa izraisītā haosa saņēma 2,39 miljonus, bet Dominiks Tīms "US Open" – 2,54 miljonus eiro.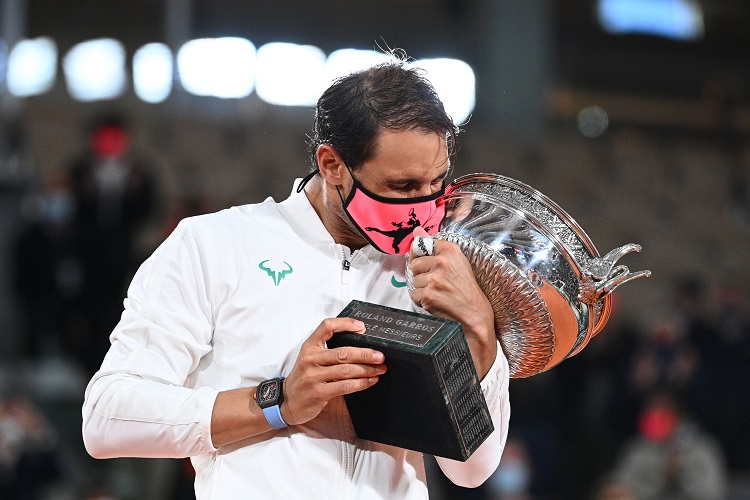 Starp citu, 2020. gada sezonā "Grand Slam" turnīros bija trīs dažādi čempioni, un tie bijuši tā brīža ATP ranga 1., 2. un 3. numurs, bet Vimbldonu atcēla.
Ja salīdzinām ar Federera panākumiem, tad ir pāris, ko Nadals nav sasniedzis (un otrādi). Piemēram – tikai Federers ir spējis trīs reizes iekļūt visu četru sezonas "Grand Slam" turnīru finālos! Tāpat viņam pieder vairākas rekorda sērijas – 10 fināli, 23 pusfināli un 36 ceturtdaļfināli pēc kārtas.
Tāpat šveicietis ir bijis 237 nedēļas pēc kārtas pasaules pirmā rakete un vecākais, kurš to ir paveicis – 36 gadu un 320 dienu vecumā.
Tikmēr spānim ir ko likt pretī. Lielākais atstatums gadu izteiksmē starp pirmo un (aktīvo) pēdējo "Grand Slam" titulu – 15 gadi. Tāpat viņš vismaz 10 reizes ir uzvarējis trīs turnīros – "French Open" (13), Montekarlo (11) un Barselonā (11).
Nadalam ir arī visvairāk uzvaru pret tā brīža ranga līderiem – 21, bet uz māla viņš ir uzvarējis 92% savu karjeras maču…
Lai vai kā, vīriešu konkurence tenisā pēdējā desmitgadē, it īpaši "Grand Slam" turnīros, ir maza. Runa nav par konkurētspējīgiem tenisistiem, bet gan to, ka "lielais trio" + pāris izņēmuma gadījumu, nosmeļ visu krējumu. Statistika ir nepielūdzama – pēdējos 10 gados bez nosauktā trio vēl to kādu no "Grand Slam" uzvarējis Stans Vavrinka (2x), Endijs Murejs (3x), Marians Ciličs (1x) un šogad Tīms.
Un ja atgriežamies vēl tālākā pagātnē, tad Federera dominance datējama ar 2004. gadu, kur jau pa vidu "Roland Garros" titulus smēla Nadals. Jāatzīmē, ka kopš 2010. gada Federers izcīnījis "vien" piecus "Grand Slam".
Jebkurā gadījumā sportisti pielāgojas jaunajai kārtībai, kas gan no turnīra uz turnīru ievērojami atšķiras. Tas arī raisīja vairākas nesaprašanās, kas tiks risinātas jau ar tiesas starpniecību (lasīt rakstu zemāk).
Saprotams, ka pieredzējušākie tenisisti, it īpaši no "lielā trio", aizvien mērķtiecīgāk visu sezonas plānu pakārto tikai "Grand Slam" turnīriem, un Nadals to kārtējo reizi apliecināja. Cik ilgi vēl sagaidāma "veco" dominēšana sezonas nozīmīgākajos turnīros?
TITULBILDE: SCANPIX/SIPA
Skandāliem apvītais "French Open" – sliktas bumbiņas, maldinoši Covid-19 testi un sarunāta spēle(?)