Sezonas pēdējais "Grand Slam" sērijas turnīrs "French Open" noslēdzies ar divējādām sajūtām tenisa līdzjutējiem. Ja vīru vienspēles neko jaunu nenesa, finālā tiekoties ierastajiem favorītiem, tostarp "māla" karalim Rafaelam Nadalam izcīnot savu 13to (!) "Roland Garros" kausu, tad sievietēm par pārsteigumu parūpējās 19 gadus jaunā poliete Iga Švanteka, kura finālā uzveica amerikānieti Sofiju Keninu. Kādas ir mūsdienu tenisa tendences?
Sieviešu tenisā globālā konkurence pēdējās sezonās ir izteikti pieaugoša un jāizceļ aizvien jaunāku spēlētāju ienākšana elitē.
WTA ranga top 100 iedalījums pēc vecuma:
20 un jaunākas: 8
21-25: 37
26-29: 35
30 un vairāk: 20
Salīdzinājumam – vīriešu konkurencē šie skaitļi ir sekojoši:
20 un jaunāki: 2
21-25: 32
26-29: 27
30 un vecāki – 39
Līdz ar to vidējais vecums labāko simtniekā sievietēm ir 25,9, bet vīriešiem – 27,8 gadi.
Kontrasts ir atšķirīgs jau ranga ietvaros, taču svarīgāko turnīru uzvarētāju vecuma rādītājos sievietes jaunības ziņā ir tālu priekšā vīriešiem.
Ja runājam par "Grand Slam" čempioniem/ēm, sievietēm pēdējo astoņu šādas raudzes turnīru uzvarētāju vidējais vecums ir bijis 21,5 gadi, savukārt vēl iepriekš tikpat gadījumos jeb divu sezonu nogrieznī tas bija krietni lielāks – 27,4 gadi.
Tikmēr vīriešu konkurencē dominē briedums – pēdējo astoņu "Grand Slam" čempionu vecums ir 31,9 gadi, bet vēl iepriekšējo astoņu – 33! Ja paņemam pēdējo 22 turnīru šķērsgriezumu, tad jaunākais bijis šī gada "US Open" uzvarētājs Dominiks Tīms (27), kurš triumfēja arī veiksmīgu apstākļu sakritības dēļ, jo turnīra agrīnā stadijā nesavaldīšanās dēļ tika diskvalificēts Novāks Džokovičs.
Vīriešu kontekstā visu izšķir "lielai trijnieks" – Džokovičs, Nadals un Rodžers Federers (šobrīd arī attiecīgi 1.,2. un 4. vieta rangā), kuri pēdējo 10 gadu laikā kādam citam "Grand Slam" ļāvuši uzvarēt septiņos gadījumos: Stanam Vavrinkam (2x), Endijam Murejam (3x), Marianam Ciličam (1x) un šogad Tīmam.
Ja paskatāmies vēl tālākā pagātnē, atskaites punktu datējot ar 2004. gadu, kad sākās Federera dominance, tad šo papildus sešu gadu laikā bijuši tikai vēl trīs citi čempioni kādos no "Grand Slam" sērijas turnīriem, izņemot "lielo trijnieku"! 16 gadu dominance pāris vīru izpildījumā…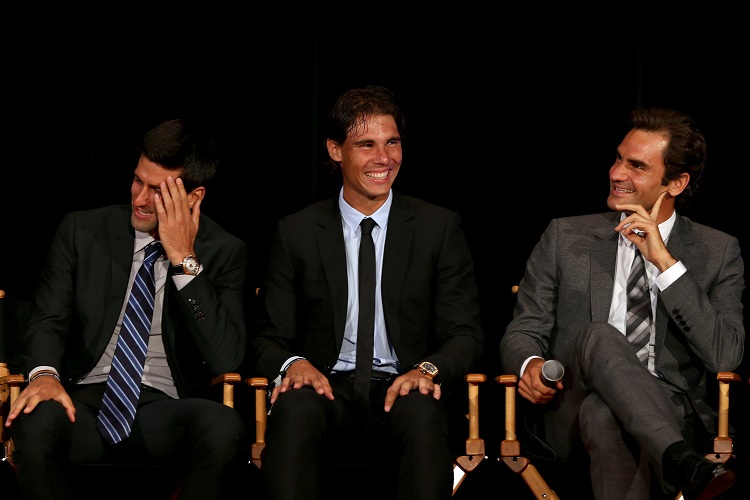 Ja pie vīriešiem ir viss skaidrs un liela daļa tenisa pasaules burtiski gaida, kad nosauktais trijnieks vienreiz beigs spēlēt, tad starp sievietēm katrs turnīrs var nest ko negaidītu, arī "Grand Slam". Piemēram – Ostapenko un Švanteka GS tituls bija pirmais karjerā, iepriekš neizcīnot uzvaras pat zemāka līmeņa turnīros, tikmēr tobrīd 18 gadīgā kanādiete Bjanka Andresku Indianvelsā ("Masters" līmenis – nākamais aiz GS) uzvarēja kā 60. pasaules rakete, bet tā paša gada "US Open", kad vasarā bija aizvadījusi tikai vienu turnīru. Bet šī brīža ranga līdere Eštona Bārtija pirmo GS triumfu ("Roland Garros" ietvaros) izjuta tad, kad tikai reizi bija iekļuvusi kāda GS līmeņa ceturtdaļfinālā, savukārt Kenina šosezon "Australian Open" uzvarēja, kaut gan iepriekš ne reizi nebija spēlējusi GS ceturtdaļfinālā.
Un ar kuru spēlētāju tas "sākās" jeb pareizāk teikt – atgriezās "tīņu" triumfs? Protams, ar Aļonu Ostapenko, kad viņa 2017. gadā kā neizsētā tenisiste un tikko sasniegusi 20 gadu slieksni uzvarēja Parīzē! Latviete bija pirmā tīne kopš 2006. gada, kura uzvarējusi kādā no "Grand Slam" (toreiz "US Open" triumfēja 19 gadīgā Marija Šarapova). Tiesa, Svanteka latvietes "jaunuma" rādītājus pārspēja vēl vairāk, būdama jaunākā RG fināliste kopš 2001. gada!
Gadu vēlāk "US Open" uzvaru izcīnīja japāniete Naomi Osaka, kura vienā no intervijām pēc tam norādīja, ka iedvesmojusies no sieviešu tenisa ikonas Serēnas Viljamsas, kā arī… Ostapenko! "Ostapenko bija pirmā no jaunās paaudzes, kura uzvarēja "Grand Slam"! Viņas piemērs mani ļoti motivēja. Patiesību sakot, es domāju, ka viņa motivēja mūs visas jaunās spēlētājas, ka ir jātic sev un ir iespējams izcīnīt lielas uzvaras jau tagad! Viņa deva nepieciešamo grūdienu," tā uzskata Osaka, kura šobrīd kopā jau izcīnījusi trīs GS titulus.
Sieviešu tenisa paaudžu maiņa ir notikusi diezgan pēkšņi un ir devusi jaunu nozīmi parastajam formulējumam, ka ikviena spēlētāja jebkurā turnīrā var izcīnīt titulu un tam par labu runā fakti. Pēdējās pāris sezonas (un pandēmijai ar to nav nekāda sakara!) apzīmējums "jebkura" nav hiperbola. 2019. gadā WTA turnīru vidējais čempionu vecums samazinājās ceturto reizi piecu gadu laikā, sasniedzot 23,2 gadu atzīmi!
Vairāki eksperti to sauc par "Ostapenko efektu" un, šķiet, ka daudzām jaunajām sportistēm viņa kalpoja kā piemērs, kamēr pati ar spriedzi netika galā, jo Parīzē pirmo kārtu kopš triumfa izdevās pārvarēt vien šogad…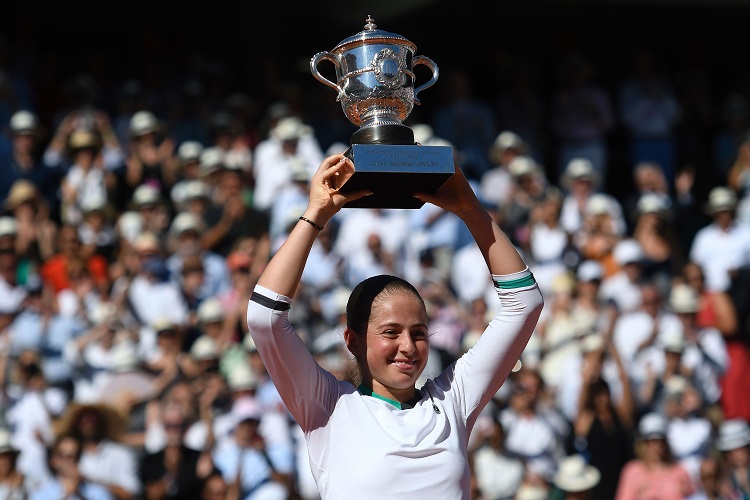 "Spiediens pēc uzvaras bija ļoti grūts. Biju pirmā no 1997. gada paaudzes, kura uzvarēja "Grand Slam", bet pēc tam man likās, ka visas uzreiz sāka spēlēt labāk. Var jau būt, ka es viņas iedvesmoju un parādīju, ka tas ir iespējams. Vienlaikus Naomi uzvaras šobrīd iedvesmo mani – esam vienaudzes, bet viņai jau ir trīs "Grand Slam" tituli," atklāj Ostapenko.
Tāpēc "norakstīt" Ostapenko vien 23 gadu vecumā… Stipri pāragri!
TITULBILDE: SCANPIX/AFP