Pols Malvejs. Pat pašiem cītīgākajiem hokeja sekotājiem viņa vārds neizteiks neko. Ja nu vienīgi no viena līdz otram vākam izlasīta un iegaumēta hokeja skandālu enciklopēdija. Jo viņa pēdējā spēle Nacionālajā hokeja līgā beidzās ar tiesāšanos. Tāpēc ka Malvejs atteicās paklausīt trenera pavēlei – iet izkauties.
1982. gada 24. janvārī Losandželosas "Kings" aizvadīja izbraukuma spēli pret Vankūveras "Canucks". Brīdī, kad pie vārtiem aizsākās asumi un tiem laikiem tik pierastās dūru cīņas, viesu galvenais treneris Dons Perijs uzsita uz pleca 23 gadus vecajam kreisās malas uzbrucējam Polam Malvejam un paziņoja, ka jādodas kauties. "Un nekādas dancošanas," strikts bija Perijs. Viņš nevēlējās, lai hokejists ietu un izšķirtu kautiņu, lai kādu aizstāvētu vai vienkārši apķertu pretinieku un noskatītos notiekošajā. Malvejam bija jādodas laukumā, lai sistu. Viņš tobrīd atradās uz rezervistu soliņa, un izlēkšana laukumā neizbēgami novestu pie masu kautiņa, iztīroties abu komandu soliņiem. "Nē" – tāda bija Malveja atbilde. Pēc šī īsā, bet ļoti konkrētā vārda izrunāšanas Malvejs vairs nekad nespēlēja NHL.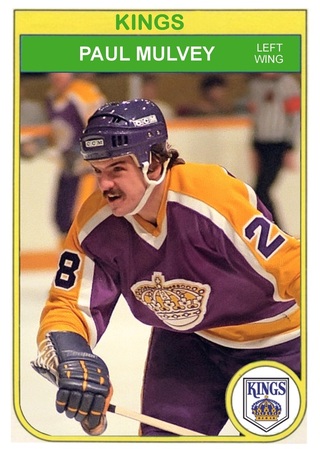 Malvejs nupat bija atgriezies pēc diskvalifikācijas. Viņam vienu spēli nācās izlaist tieši kautiņu dēļ – uzbrucējs bija savācis pārāk daudz lielos sodus. Izlēkšana laukumā no rezervistu soliņa viņam nozīmētu vēl vismaz trīs spēļu diskvalifikāciju. Taču hokejists negribēja atgriezties tribīnēs. Negribēja, lai viņu nokristī tikai par kausli. "Negāju laukumā, jo negribu naudu pelnīt ar kaušanos. Es gribu spēlēt hokeju, tāpēc nepakļaušos šādām muļķībām," pēc notikušā skaidroja hokejists. Viņš gan pameta soliņu, bet tas notika brīdī, kad laukumā bija devušies jau vairāki komandas biedri. Ar dūru vicināšanu viņš nenodarbojās, tikai saķēra pretinieku.
Malvejam piedalīšanās kautiņos bija ikdiena. Iepriekšējā sezonā viņš 55 mačos bija sakrājis 166 soda minūtes. 11 "Kings" rindās aizvadītajās spēlēs spēka uzbrucēja kontā bija 50 soda minūtes. Un arī septiņi punkti. Ne gluži pirmās maiņas uzbrucējs, taču arī ne boksa cimdu pāris uz slidām. Atskatoties uz notikušo, viņš uzsvēra – cimdu nomešana un pretinieka pārmācīšana viņam nesagādājot nekādas problēmas. Tomēr jābūt piemērotam brīdim. Kad nepieciešams lauzt cīņas gaitu. Kad pretinieks rupji nospēlējis pret komandas biedru. Iet un kauties tikai tāpēc, ka treneris tā teica? "Jau pirms laba laika tēvam teicu – ja mana galvenā loma laukumā būs kaušanās, tad netaisos turpināt. Saprotiet – neklausīt trenerim nav pareizi. Bet – visam ir robežas! Nirnbergas tribunālā apsūdzētie arī apgalvoja, ka Hitlers viņiem lika darīt. Taču viņus tāpat notiesāja."
Malveja pusē nostājās divi vīri ar vārdu. Spēlētāju asociācijas prezidents Tonijs Espozito – viens no izcilākajiem vārtsargiem vēsturē, uzņemts Slavas zālē – paziņoja, ka Perija pavēle Malvejam ir kā neglīts zilums uz NHL acs. Vēl tālāk gāja Deivs Šulcs. Laikā, kad agresīvais hokejs palīdzēja Filadelfijas "Flyers" izcīnīt divus titulus pēc kārtas (1974. un 1975. gadā), Šulcs bija viena no komandas lielākajām zvaigznēm. Uzbrucējs, kura iesauka bija "Āmurs". Šulcam joprojām pieder vienas sezonas soda minūšu rekords – 472. Tobrīd viņš bija arī karjeras rekordists – 2294 soda minūtes. Tagad Šulcs ir apsteigts, taču – viņš aizvadīja tikai 535 spēles. Divreiz mazāk nekā ranga līderi.

"Kā cilvēks es nebiju tik stiprs, cik Malvejs," par iebilšanu treneriem teica Šulcs. Viņš norādīja, ka nekad skaidrā tekstā nav saņēmis pavēli piekaut kādu pretinieku, taču mājieni bijuši. Un viņš tiem sekojis. "Rādīju, ka esmu gatavs šādam upurim. Un viņi to izmantoja. Pēc pilnas programmas. Tagad man cilvēki prasa – kāpēc tu neko neteici karjeras laikā? Varbūt mani piemeklētu Malveja liktenis. Es nezinu…"
Tūdaļ pēc atteikšanās doties uz ledus un kauties Perijs nolasīja Malvejam spriedumu. Bez tiesas. Bez apelācijas. Uzbrucējam tika paziņots, ka viņš vairs nekad mūžā nevilks mugurā "Kings" kreklu. Pat uz treniņu ne. Kamēr Losandželosas komanda aizvadīja nākamo spēli, ar 3:6 zaudējot Ņujorkas "Rangers", Malvejs tika ievietots neaizsargāto spēlētāju sarakstā. Jebkurai komandai tika dota iespēja iegūt Malveju savā īpašumā. Ja nevienai vienībai viņš nebūtu vajadzīgs, uzbrucējs nonāktu fārmklubā. Tieši tas arī sekoja.
Perijs, kurš par "Kings" treneri bija kļuvis divas nedēļas pirms incidenta un kura bilance NHL tobrīd bija viena uzvara, seši zaudējumi un divi neizšķirti, iepriekš atradās tieši pie fārmkluba stūres. Viņam par aicinājumu Malvejam pamest soliņu un aizsākt masu kautiņu tika piespriesta sešu spēļu diskvalifikācija, kamēr "Kings" tika sodīta ar piecu tūkstošu dolāru soda naudu. "Mans lēmums un viedoklis – Losandželosas trenera rīcība bija kaunpilna un radījusi aizspriedumus par mūsu līgu un hokeju," teica toreizējais NHL prezidents Džons Zīglers.
Taču Ņūhevenas "Nighthawks" – fārmklubs, kurā nonāca Malvejs – atbalstītāji Periju dievināja. Kā tobrīd rakstīja mediji – iespējams, tā bija vienīgā pilsēta visā Amerikā, kur par varoni tika uzskatīts Perijs, nevis Malvejs. Taču – fani neredz aizkulises, nedzird sarunas ģērbtuvēs un nebrauc vienā autobusā ar komandu. To skaidri lika noprast arī "Nighthawks" aizsargs Robs Pālmers. "Jā, Perijs šeit ir populārs. Bet es apbrīnoju Polu, un man šķiet, ka daudzi viņu apbrīno. Viņš sekoja savām sajūtām. Viņš nav vienīgais spēlētājs mūsu ģērbtuvēs, kurš NHL neatrodas tāpēc, ka tur neiederētos savu prasmju dēļ… Citi gan nevēlas, lai viņu stāsti kļūtu publiski."
"Nekad nebūšu spēlētājs, kurš sezonā gūst 50 vārtus. Tos sapņus jau sen atstāju mājās. Taču varu būt noderīgs spēlētājs," pēc nonākšanas fārmklubā teica Malvejs. Līdz incidentam viņam bija izdevies nostiprināties NHL – iepriekšējo divu ar pusi sezonu laikā viņš 170 no 189 spēlēm bija aizvadījis tieši NHL. Ar nesliktu statistiku. Piemēram, Vašingtonas "Capitals" komandā Malvejs bija piektais rezultatīvākais uzbrucējs un piektais labākais vārtu guvējs. Papildus 240 soda minūtēm. Šajā kategorijā tuvākajam sekotājam bija divreiz mazāk.
Savukārt "Kings" argumentēja, ka nosūtīšanai uz fārmklubu nav nekāda sakara ar incidentu – viņš gluži vienkārši neesot gana labs. Valsts lielākajos laikrakstos gandrīz katru dienu sporta sadaļā bija atrodams kāds raksts par Malveja situāciju, un pagalam neapmierināts bija "Kings" ģenerālmenedžeris Džordžs Makgvairs. "No mušas tiek izpūsts zilonis! Jūs runājat par vidusmēra spēlētāju. Taču pēc tā, kā viņš tiek aprakstīts avīzēs, varētu padomāt, ka viņš ir Marsels Dions," ironizēja Makgvairs. Dions ir viens no izcilākajiem spēlētājiem, kurš nekad nav izcīnījis Stenlija kausu, karjeru pabeidzot ar 1771 punktu. "Lēmums atskaitīt no komandas – tam nav nekāda sakara ar notikušo. Droši vien tas paātrināja procesu, bet to neaizsāka."
Malvejs sezonas atlikušo daļu aizvadīja fārmklubā, turpinot vākt soda minūtes. "Ja kāds mani pagrūdīs vai nodarīs pāri maniem komandas biedriem, es būšu pirmais, kurš izdarīs sitienu. Taču nekad neiešu laukumā un nedarīšu pāri cilvēkam, kurš nav nodarījis pāri man." Neskatoties uz tikai 18 aizvadītām spēlēm, viņš bija piektais komandā pēc sakrātajām soda minūtēm. Vasarā Malvejs pārcēlās uz Edmontonas "Oilers" organizāciju, taču NHL komandā netika – atkal bija jāspēlē fārmklubā. 80 spēles un 349 soda minūtes fārmklubos vēlāk Malvejs paziņoja par karjeras beigām. Apzinoties, ka NHL vairs netiks, jo komandas zem galda bija noslēgušas vienošanos, ka uzbrucējam iespēju nedos. Sekoja tiesas process un konfidenciāls izlīgums. Malvejs saņēma kompensāciju par atvadīšanos no sapņa.
"Nebūšu pasūtījuma slepkava, kurš iziet laukumā un tikai kaujas. Ja tas ir vienīgais, ko NHL varu darīt, tad varbūt mana karjera ir beigusies. Varbūt ir laiks beigt," neilgi pēc notikušā Vankūverā teica Malvejs.