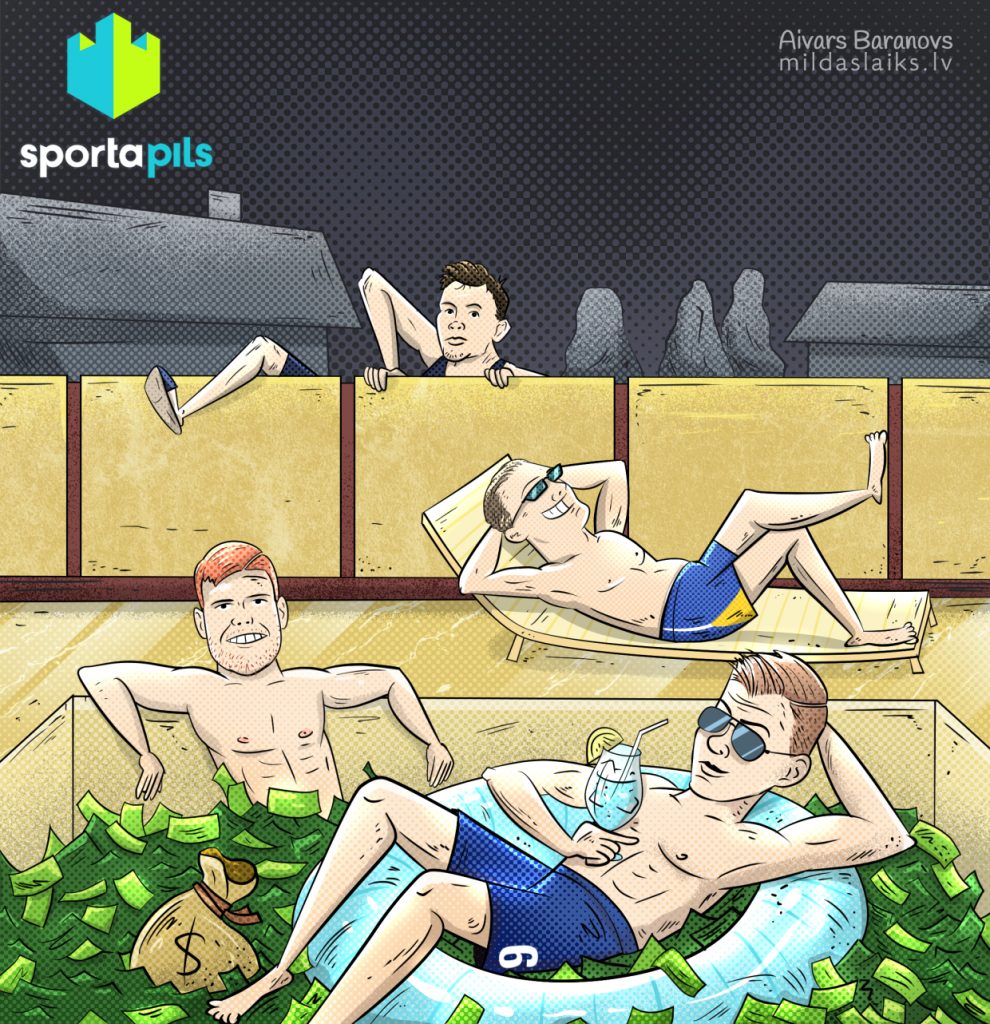 Dāvis Bertāns pirms dažām dienām kļuva par otra bagātākā sporta līguma īpašnieku Latvijas vēsturē – viņš ar NBA klubu Vašingtonas "Wizards" vienojās par sadarbību uz pieciem gadiem par 80 miljoniem ASV dolāru, no kuriem garantēti ir 69 miljoni. Lielākus skaitļus savā līgumā Latvijas sporta vēsturē ieraudzījis tikai Kristaps Porziņģis, kuram ar Dalasas "Mavericks" noslēgts līgums par 158 miljoniem dolāru.
Latvijā minimālā alga ir 430 eiro, līdz ar to labi saprotams, ka skaitļi ar astoņām nullēm ir grūti aptverami. Ko tie vispār nozīmē? NBA mērogā tas nozīmē to, ka Porziņģim ir dalīts 12. lielākais līgums pasaules basketbolā, kamēr Bertānam šajā līgā ir dalīts 54. lielākais līgums. Ko šie līgumi nozīmē ikdienā? Tas nozīmē to, ka nākamajā sezonā Bertāns par vienu NBA regulārās sezonas spēli saņems 200 tūkstošus dolāru. Savukārt Porziņģis sava līguma pēdējā, vislielākajā sezonā, tiks pie gandrīz pusmiljona (440 tūkstošiem) par katru regulārās sezonas spēli. Protams, līguma pienākumos spēlētājiem ietilpst vēl daudzas citas lietas, ieskaitot darbu treniņos un citās komandas aktivitātēs.
Tāpat skaidrs, ka tā summa, kas rakstīta līgumā, un tā, kas patiesībā ienāk Porziņģa un Bertāna bankas kontos, ir atšķirīga, galvenokārt, jau nodokļu dēļ. Papildus federālajam ienākuma nodoklim jāmaksā arī štata ienākuma nodoklis, ko šeit nerēķināsim – kaut vai tāpēc, ka tas ir sasodīti sarežģīti. NBA spēlētājiem štata nodoklis jāmaksā tur, kur viņi aizvada spēli. Piemēram, Porziņģis spēlē Teksasas klubā un par savām spēlēm Teksasā nodokli var nemaksāt, taču, kad viņš aizbrauc spēlēt pret "Lakers" Losandželosā, alga skaitās nopelnīta Kalifornijā un par šo spēli jāmaksā Kalifornijas nodoklis. 
Šī sistēma finansiālajās aprindās un medijos plaši kritizēta kā negodīga pret augsta līmeņa sportistiem, kuriem puse sezonas sastāv no izbraukumiem uz citiem štatiem, turklāt viņiem tad arī rodas grāmatvedības murgs, to visu uzskaitīt un aprēķināt. Šis ASV štatu likums (kas katrā štatā ir atšķirīgs) parasti tiek ievērots tieši sporta slavenību ziņā, jo, protams, realitātē varas iestādēm nav iespējams izsekot, kur kurā dienā parasts cilvēks veic savu darbu. Savukārt NBA spēlētājiem viss skaidrs – līgas kalendārs ir publiskis, un tur Kalifornijas nodokļu iestādēm ir labi redzams, kad Porziņģis un Bertāns brauc atpelnīt savu algu "Staples Center" arēnā.
Doma tāda, ka no sava līguma NBA spēlētāji pēc nodokļiem un pārējiem norēķiniem saņem apmēram pusi summas. Turklāt pandēmijas laikā jārēķinās ar līgas ienākumu krišanos, kas nozīmē, ka līgai būs tiesības noteiktus procentus no spēlētāju algām sākumā nodot trešās puses rīcībā un pēc tam daļu algas saņemt atpakaļ. Arī Porziņģim un Bertānam beigās saņemtā summa nebūs tieši 50%, taču lai savu naudu viņi skaita paši, šobrīd ņemsim lielu aptuveno vērtību, proti, ka Porziņģis tuvāko četru gadu laikā algā iegūs 80 miljonus, bet Bertāns – 40 miljonus.
Joprojām grūti aptverami skaitļi jebkuram, kurš saņem Latvijas vidējo algu. Ko tad īsti nozīmē tas, ka tev kabatā ir 40 miljoni dolāru jeb (pēc pašreizējā kursa) 33.5 miljoni eiro? Tas nozīmē, ka, ja būtu vēlme, varētu nopirkt visu Latvijas profesionālo komandu sportu – futbola Virslīgas desmit komandu kopējais gada budžets ir apmēram 6-8 miljoni eiro, bet Virslīgas ģenerālsponsora nosaukumam pietiek ar nieka 100 tūkstošiem eiro par gadu. Hokeja Virslīgā vadošajām komandām parasti budžets ir ap 200 tūkstošiem par sezonu, attiecīgi kopējais gada apgrozījums nesasniedz miljonu, kamēr basketbola līgā spēcīgākajiem klubiem budžets bijis ap vienu miljonu, kamēr kopējais klubu budžets basketbolā lēšams uz 3-4 miljoniem eiro. LFF gada budžets ir astoņi miljoni eiro, LBS gada budžets – četri miljoni eiro, LHF – nedaudz virs trīs miljoniem. Savukārt LOK gada budžets šogad ir astoņi miljoni eiro. Protams, tie visi ir aptuveni lielumi, kurus praksē tā rēķināt nedrīkst, taču principā visu šo piesaukto klubu un Latvijas sporta institūciju izmaksas viena gada garumā varētu nosegt ar 30-35 miljoniem eiro. Attiecīgi, ja Bertāns patiešām ļoti to vēlētos un neko citu, viņš no sava jaunā līguma to varētu paveikt. Kamēr Porziņģis to varētu paveikt divu gadu garumā.
Tā gan ir tikai spēlēšanās ar skaitļiem, taču secinājums nezūd – Porziņģis un Bertāns ar savām prasmēm laukumā ieguvuši līgumus, ar kuriem pārējais Latvijas profesionālais sports konkurēt ne tikai nespēj, bet pat netuvojas. Latvijas hokeja izlase visa kopā nākamajā sezonā saņems krietni mazāku algu nekā viens pats Bertāns – visu Latvijas NHL vīru kopējā līguma summa par 2021. gadu ir "tikai" septiņi miljoni dolāru. Rīgas "Dinamo" sastāvā latviešu hokejistu vidējo gada algu var lēst ap 50 tūkstošiem, šosezon arī pamatīgi samazinātas citos KHL klubos spēlējošo vīru (Daugaviņa, Bukarta) algas. Latvijas futbola izlases spēlētāju kopējā vērtība transfēru tirgū (nevis algas) ir astoņi miljoni eiro (pēc "Transfermarkt" datiem, kas, protams, ir tikai aptuveni), kamēr pilnīgi visu šīs sezonas futbola Virslīgas apmēram 250 spēlētāju kopējā transfēra vērtība ir 29.4 miljoni eiro.
Vai tas ir godīgi, ka viena sportista rokās nonāk tik liela Latvijas sporta "budžeta" daļa? Sens jautājums, taču ne jau Porziņģis un Bertāns vainīgi, ka Ziemeļamerikas sporta sistēmā viņiem tiek multimiljonu algas. Turklāt NBA uz ko līdzīgu tēmē arī citi latviešu jaunie basketbolisti, un ērtā pozīcijā izskatās iekārtojies Rodions Kurucs.  Nav gluži tā, ka NBA klubi miljonu līgumus iedod katram, kurš vien laipni pasmaida, taču šajā industrijā bieži vien dzīves nodrošināšanai pietiek ar vienu ļoti labu sezonu parocīgā brīdī.
Arī Bertāns ne druskas nevar sūdzēties, ka "Wizards" rindās divkārši uzlaboja savu rezultativitāti tieši pirms tam, kad kļuva par neierobežoti brīvo aģentu. Bertāns turklāt zināja, ka "Wizards" vēlas viņu paturēt sastāvā, kā arī zināja, ka kārtīgas summas gatavas maksāt arī citas spēcīgas komandas, tāpēc nav jābrīnās, ka Ziemeļamerikas mediji slavē Bertāna aģenta sarunāto līgumu kā ļoti izdevīgu. Galu galā, Dāvis pats sev bija radījis lieliskas izejas pozīcijas, kamēr Porziņģim sarunāt maksimālo līgumu nepatraucēja arī iepriekš gūtā smagā trauma – "Mavericks" jau bija maiņas darījumā pret Porziņģi atdevusi daudz un izvēli par lielo līgumu būtībā izdarīja jau tobrīd. Kurucam ir viens aģents ar Bertānu, un viņa līgums beigsies pēc šīs sezonas, taču klubam būs iespēja to pagarināt par 1.9 miljoniem. "Nets" ar Kevinu Durentu un Kairiju Ērvingu sastāvā solās būt nopietns pretendents uz titulu, apkārt klīst runas par masīvu maiņas darījumu, kas centrēts ap Džeimsa Hārdena nonākšanu Bruklinā, un izteikt kaut kādas prognozes par Kuruca nākotni pēc gada vai diviem šobrīd nebūtu prātīgi. Taču savu tautiešu paraugs viņam ir priekšā.