21. novembra vakarā Kristaps Sotnieks kļuva par tikai trešo aizsargu Kontinentālās hokeja līgas vēsturē, kurš karjerā aizvadīs 600 spēles regulārā čempionāta ietvaros. Vai 33 gadus vecais hokejists var kļūt par spēlēm bagātāko aizsargu?
Jauniņais starp Latvijas veterāniem
Kristaps Sotnieks debiju Kontinentālajā hokeja līgā piedzīvoja 2008. gada 2. septembrī – dienā, kad pirmo maču savā pastāvēšanas vēsturē aizvadīja arī Rīgas "Dinamo". Izbraukumā izdevās ar 4:2 pieveikt Habarovskas "Amur". Sotnieks laukumā pavadīja 18 minūtes un 36 sekundes, izdarīja vienu metienu un atradās uz ledus, kad rīdzinieki guva gan pirmos, gan arī uzvaras vārtus.
Tobrīd Sotnieks bija pārliecinoši jaunākais "Dinamo" aizsargs sastāvā. Čehs Filips Novāks bija piecus gadus vecāks, kanādietis Dūvijs Vestkots – desmit, Atvars Tribuncovs – 11, bet Oļegs Sorokins un Rodrigo Laviņš – 13 gadus vecāki.
Pirmo 21 spēli Sotnieks aizvadīja bez punktiem, līdz tika pie vārtiem "Dinamo" kreklā. Savā laukumā ar 5:0 tika sagrauts Čeļabinskas "Traktor", un aizsargs pirmās trešdaļas beigās realizēja vairākumu un panāca rīdziniekiem divu vārtu pārsvaru. Sezonā viņš guva vēl vienus vārtus. Mājās ar 5:4 pagarinājumā tika pieveikts Omskas "Avangard", un Sotnieks divas minūtes līdz beigām izrāva neizšķirtu.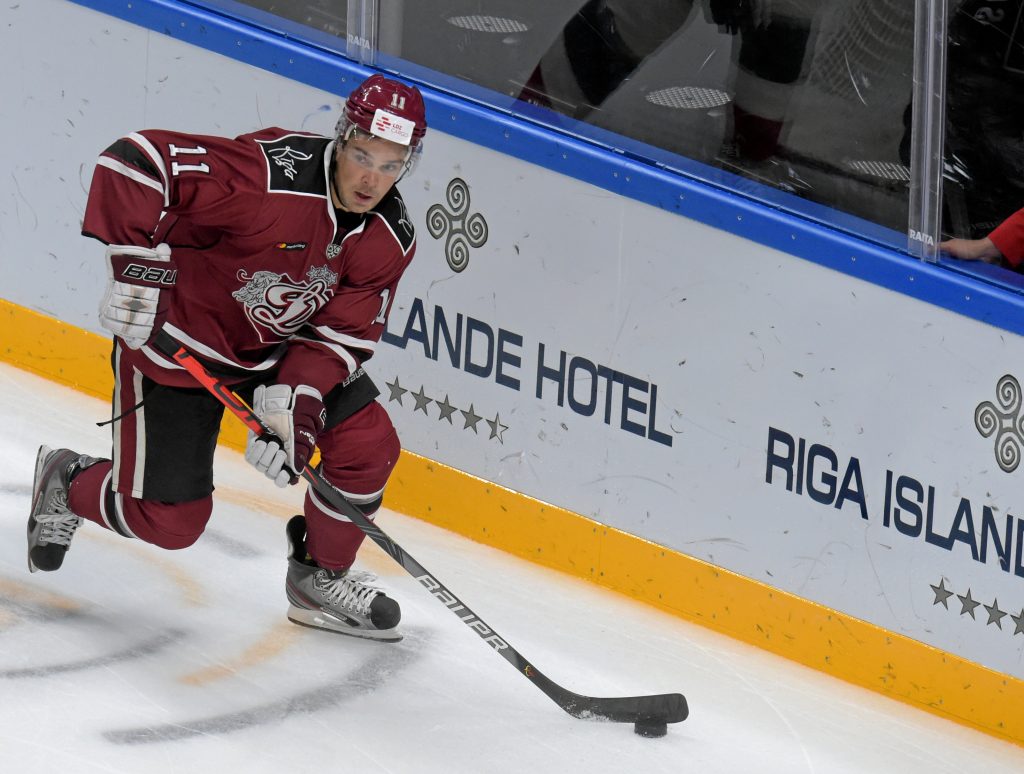 Kā skaitīt rekordus
Tādi bija Sotnieka pirmie soļi Kontinentālajā hokeja līgā, bet tagad viņš ir viens no spēlēm bagātākajiem hokejistiem. Jubilejas 600. maču viņam neizdevās atzīmēt ar uzvaru, jo viesos ar 1:3 tika zaudēts Jaroslavļas "Lokomotiv". Tovakar Sotnieks atgriezās laukumā pēc turpat trīs nedēļu izlaišanas. Viņš kļuva par pirmo Rīgas "Dinamo" aizsargu un trešo aizsargu visā līgā, kurš aizsniedzies līdz sešiem simtiem.
Tās ir spēles regulārajā čempionātā, jo rekordu grāmatās vienmēr tiek ierakstīta tieši regulārās sezonas statistika, neņemot vērā play-off iespēto. Kādēļ tā? Lai nesniegtu citiem priekšrocības. Regulārajā čempionātā visām komandām jāaizvada vienāds spēļu skaits, tātad hokejistiem ir vienādas iespējas krāt mačus, punktus, soda minūtes vai jebkuru citu rādītāju. Izslēgšanas mačos kāds hokejists var doties laukumā 20 spēlēs, bet kāds – vispār neiekļūt play-off. Pareizinām to ar, piemēram, desmit sezonām, un tas jau ir 200 spēļu pārsvars.
Veins Greckis ir Nacionālās hokeja līgas rekordists ar 2857 punktiem, ne ar 3239 punktiem, kā tas būtu gadījumā, ja tiktu pieskaitīta arī Stenlija kausa izcīņas statistika. Greckim pieder arī gūto vārtu rekords – 894. Pēdējos gados par populāru diskusiju tematu kļuvis jautājums: vai Aleksandram Ovečkinam ir pa spēkam gāzt šo rekordu. Šobrīd krievu mašīnai pietrūkst 188 vārti. Ja mēs pieskaitītu vēl 53 vārtus no play-off (Greckim 122, Ovečkinam 69), tad rekorda krišana kļūtu apšaubāmāka.
Tieši tāpat tiek atzīmētas spēles – tikai regulārajā čempionātā sasniegtais. Slavens stāsts, kā Maiks Modano netika pie karjeras 1500. spēles – Detroitas "Red Wings" galvenais treneris Maiks Bebkoks bija sadusmojies uz uzbrucēju un nolēma viņam ieriebt, sezonas beigās Modano allaž atstājot rezervē. Bebkoks labi zināja, ka Modano pēc sezonas grasās beigt karjeru. Tādējādi Modano palika ar 1499 spēlēm. Un neviens viņa karjerai neskaita klāt 176 mačus Stenlija kausā.
Konkurenti – "Metallurg" un "Sibir" leģendas
Sotnieks kļuva par trešo aizsargu, kura karjera sasniegusi 600 spēļu robežu. Pirmais to paveica Jevgeņijs Birjukovs, kurš kopā ar Magņitogorskas "Metallurg" divas reizes izcīnījis Gagarina kausu, bet šovasar izrādījās savai visas karjeras komandai nevajadzīgs un pārcēlās uz Ufas "Salavat Yulaev". Viņš 600 spēļu robežu sasniedza jau pagājušās sezonas vidū. Lai gan Birjukovam ir tikai trīs sezonas, kurās viņš nav izlaidis nevienu spēli, aizsargs spējis demonstrēt apbrīnojamu stabilitāti.
Par otro aizsargu, kurš ticis pāri 600 spēļu robežai, nule kļuva Konstantīns Aleksejevs – ilggadēja Novosibirskas "Sibir" vērtība. Viņš komandu bija pametis tikai uz pusgadu, pārstāvot Maskavas CSKA, bet sezonas vidū "Sibir" vienojās par maiņas darījumu, lai Aleksejevs atgrieztos Novosibirskā. Viņa kontā pēc pagājušās sezonas bija par deviņām spēlēm mazāk nekā Sotniekam (591 pret 582), taču Aleksejevs šosezon spēlējis regulārāk, tāpēc 600 slieksni pārkāpa pirmais.
Otrdien klubiņam pievienojās jau ceturtais dalībnieks – 600. spēli karjerā aizvadīja Maskavas "Spartak" pārstāvošais Jakovs Rilovs. Ja Birjukovs, Aleksejevs un Sotnieks katrs pārstāvējuši divas komandas, tad Rilovs koferus krāmējis biežāk – viņš pielāgojis sešu komandu kreklus. Sagaidāms, ka tuvākajā laikā pulkam pievienosies Kirils Ļamins – Maskavas "Dynamo" aizsargam pietrūkst tikai trīs spēles. Nākamie sekotāji meklējami tālāk.
Starp Latvijas aizsargiem otrajā vietā atrodas Krišjānis Rēdlihs – 425 spēles. Līgas aizsargu kopvērtējumā tas viņam ļauj atrasties 63. vietā. Četri tuvākie sekotāji viņa pozīcijas neapdraudēs, jo beiguši karjeru vai vairs nespēlē KHL, bet jāuzmanās no piektā – Sergejs Tereščenko iepaliek 14 spēles un turpina karjeru. Gunta Galviņa kontā ir precīzi 400 spēles, Georgijs Pujacs aizvadījis 393, labāko simtniekā atrodams arī Artūrs Kulda ar 356 mačiem.
Vai Sotnieks apsteigs Miķeli?
Tomēr Sotnieks nav spēlēm bagātākais latviešu hokejists. Viņam priekšā atrodas Miķelis Rēdlihs, kura kontā ir 637 spēles un trešā vieta absolūtajā kopvērtējumā. Otro pozīciju ieņem Birjukovs, bet pirmais ir cita Magņitogorskas "Metallurg" leģenda – Sergejs Mozjakins. Viņa kontā ir 665 spēles. Jāpiebilst, ka Mozjakins ir arī Kontinentālās hokeja līgas vēsturē rezultatīvākais spēlētājs.
Vairāk par 600 spēlēm ir vēl 11 uzbrucējiem – Aleksandram Čerņikovam (633 spēles), Mihailam Varnakovam (628), Denisam Paršinam, kurš pārstāv Rīgas "Dinamo" (621), Vadimam Šipačovam (618), Denisam Kokarevam (614), Jegoram Milovzorovam (613), Igoram Poligalovam (609), Antonam Gļinkinam (606), Andrejam Stasam (606), Romānam Starčenko (605) un Danisam Zaripovam (604). Tikai divi no viņiem šajā sezonā nespēlē KHL.
Jāpiezīmē, ka spēlēm bagātāko hokejistu Top20 ir sastopami 16 krievi, pa vienam baltkrievam un kazaham, kā arī divi latvieši. Augstākais ziemeļamerikānis atrodams 28. pozīcijā – kanādietis ar Baltkrievijas pasi Džefs Plets. Divas spēles no viņa atpaliek kanādietis ar Kazahstānas pasi Kevins Dalmens.
No latviešiem nākamais 600 spēļu klubiņam var pievienoties Lauris Dārziņš – viņa kontā ir 558 spēles. Šajā sezonā tas vairs nebūs iespējams, bet nākamajā gan. Trešajā vietā ir Gints Meija ar 529 spēlēm. Viņš ir vienīgais hokejists, kurš pārstāvējis Rīgas "Dinamo" visās kluba pastāvēšanas sezonās.
Mārtiņam Karsumam nepieciešamas piecas spēles, lai viņš karjerā būtu aizvadījis 500 mačus KHL. Kasparu Daugaviņu no 400 spēļu robežas šķir astoņi mači.
Foto: LETA