Hokejā laukuma spēlētājiem iespējas atšķirties no komandas biedriem ir minimālas – citas krāsas šņores vai nūjas tinums, varbūt tonēts aizsargstikliņš. Savukārt vārtsargi var izpausties daudz plašāk. Ja īpašs kājsargu dizains popularitāti ieguvis vien pēdējo sezonu laikā, tad ķiveres tiek rotātas jau gadu desmitiem. Sportapils uzrunāja trīs latviešu vārtsargus – Matīsu Kivlenieku, Gustavu Grigalu un Uldi Čalpu.
Džokers izjauca Ņujorkas "Rangers" plānus
Matīss Kivlenieks pagājušajā sezonā īstenoja sapni un debitēja Nacionālajā hokeja līgā. Viņš Kolumbusas "Blue Jackets" vārtos aizvadīja sešus mačus. Pašu pirmo viņš nospēlēja uz pasaulē slavenākās arēnas "Madison Square Garden" ledus, atvairot 31 no 32 metieniem un izcīnot uzvaru pret Ņujorkas "Rangers". Latvieša ķiveri aizvadītajā sezonā rotāja filmas tēls – Hīta Ledžera atveidotais Džokers no "The Dark Knight".
"Pirms tam tā nav bijis, bet par šo ķiveri komandas biedri nāca klāt un teica, ka ļoti patīk. Cik sapratu, arī faniem patika. Kopumā bija ļoti labas atsauksmes, un tas bija ļoti iepriecinoši. Domāju, šī bija labākā ķivere, ko esmu uztaisījis," stāstīja 24 gadus vecais vārtsargs. Viņš norādīja, ka ķiveres izcelsme meklējama vairākus gadus senā pagātnē.
Pie pirmās personalizētās ķiveres Kivlenieks tika brīdī, kad vēl nebija sasniedzis pat desmit gadu vecumu. Par to parūpējušies vārtsarga vecāki. Taču līdz nākamajai nokrāsotajai ķiverei bija jāpagaida. 2016./17. gada sezonā Kivlenieks debitēja ASV labākajā junioru līgā, un komanda piešķīrusi nepieciešamos līdzekļus, lai varētu meklēt mākslinieku.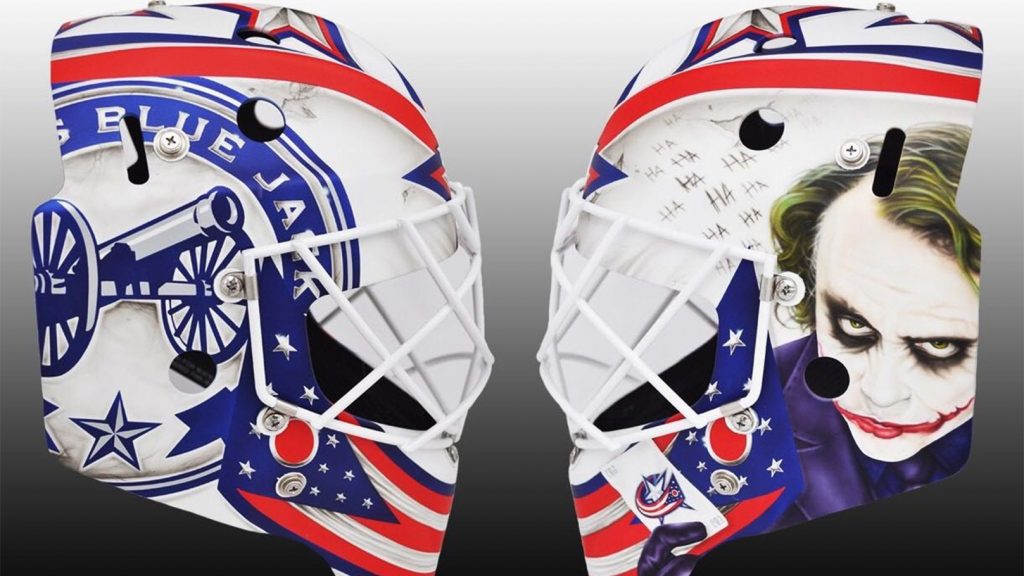 "Komanda nosponsorēja, un varēju uzlikt, ko vien gribēju. Ienāca prātā, ka varētu uzlikt kādu multenes tēlu – vienmēr paticis, vienmēr gribējies ko tādu. Izdomāju, ka tas būs Pīters Grifins no "Family Guy". Atcerējos to, kad domāju par pašreizējo ķiveri, un ienāca prātā Džokers. Ļoti patika filma, īpaši pats tēls. Nodevu savu ideju māksliniecei, lai paskatītos, kā tas varētu izskatīties uz ķiveres. Ļoti patika," teica Kivlenieks.
Viņš sadarbojas ar Silviju Marsolē – mākslinieci, kura apstrādājusi arī abu aizvadītās sezonas Stenlija kausa fināla vārtsargu Andreja Vasiļevska (Tampabejas "Lightning") un Antona Hudobina (Dalasas "Stars") ķiveres. Starp viņas klientiem atrodami vēl vairāki NHL vārtsargi, ieskaitot "Blue Jackets" somu Jonasu Korpisalo. Arī Elvja Merzļikina Latvijas izlases ķivere tapusi Marsolē rokās.
Marsolē mākslas darbs uz ķiveres maksā līdz 1500 dolāriem, un izmaksas sedz klubs. Vadošie mākslinieki esot zināmi visiem vārtsargiem, teica Kivlenieks. Atliek pašam izpētīt, kurš patīk labāk. Augstākajā līmenī spēlējošajiem vārtsargiem process neaizņem pārāk ilgu laiku. "Tiklīdz pasaki, ko vēlies, un, ja ķivere ir pie mākslinieka, tad pēc mēneša dabū gala rezultātu," teica Kivlenieks.
Domas par jauno ķiveri sākas tūdaļ pēc iepriekšējās sezonas beigām. "Paskaties uz citām ķiverēm – varbūt rodas kāda ideja. Parunā ar mākslinieku, kā tu redzi savu jauno ķiveri. Tad atsūta dizaina uzmetumu. Varbūt gribas ko pamainīt, varbūt pasaki, kas ļoti patīk. Tā sarunu procesā nonākam pie gala iznākuma," teica Kivlenieks.
Tiesa, pandēmijas apstākļi ietekmējuši arī jaunas ķiveres tapšanu. "Godīgi sakot, vēl nekas nav sācies. No sākuma jādabū jaunā ķivere. Tiklīdz dabūšu, tā sākšu lēnām izpausties un izdomāt. Domāju, ka šosezon būs vienkāršāk, nebūs nekas traks. Cik sapratu, Džokeru vai tādus tēlus vairs īsti nevarēs likt. Nekas tāds vēl nav noticis, bet kompānija, kam pieder filma, var sākt sūdzēties par tēla izmantošanu. Vispirms dizains jāaizsūta ekipējuma menedžerim, viņš padod tālāk, un tad tiek izlemts, vai drīkst šādu," jaunos sarežģījumus komentēja Kivlenieks, kurš nule ieradies Kolumbusā, lai sāktu gatavošanos sezonai.
Kur ir mana lidmašīna
Kivlenieks bija Latvijas izlases trešais vārtsargs 2018. gada pasaules čempionātā, bet 2019. gadā stafetes kociņu pārņēma Gustavs Grigals. Viņam arī pieder valstsvienības rekords – viņš izlasē debitēja 18 gadu un 105 dienu vecumā, būdams pats jaunākais vārtsargs, kurš vilcis mugurā Latvijas izlases kreklu. Tagad viņš trešo sezonu pēc kārtas pārstāv NCAA spēlējošo Aļaskas-Fērbenskas Universitāti.
Došanās uz Ameriku un viena sapņa īstenošana ļāvusi reizē piepildīt vēl vienu sapni – tikt pie savas personalizētās ķiveres. "Pati pirmā tapa visvieglāk – mājās jau biju sazīmējis uz lapas, ko vēlētos," teica Grigals. "Tagad idejas vairs nepierakstu, bet – ja Instagram ieraugu ko Aļaskai raksturīgu, tad pieglabāju. Tieši nupat runāju ar mūsu ekipējuma menedžeri, viņam arī ir labas idejas, man patika. Pateicu, ka viņš palīdzēs ar nākamās ķiveres dizainu, ka viņš būs galvenais mākslinieks."
Grigals nule saņēmis jaunās sezonas ķiveri. Pats skices sācis zīmēt jūnija sākumā, pēc tam tās aizsūtījis māksliniekam. Jūlija beigās saņemta grafika, kā ķivere varētu izskatīties gala versijā. Kopumā process no pirmās paša skices līdz apgleznotas ķiveres saņemšanai aizņēmis pusgadu. Vārtsargs gan atzīst, ka profesionāliem spēlētājiem ķiveres izdodas saņemt ātrāk, kamēr viņam kā studentam jāuzgaida.
View this post on Instagram
"Centos atrast ko jaunu, kas vēl nav bijis uz neviens ķiveres," par jauno ķiveri teica Grigals. "Visvairāk, protams, patīk Latvijas karogs. Šogad esmu uzlicis lidmašīnas, kas paceļas un nolaižas ūdenī – ļoti raksturīgas Aļaskai. Patīk, kā mākslinieks paveicis darbu. Lāči arī ir forši."
Grigalam katra no trim ķiverēm tapusi pie cita mākslinieka. Izmaksas sedz skola, tāpēc vārtsargs nezina precīzu cenu. Ja iepriekš uz ķiveres katrs vārtsargs varējis likt, ko vien vēlas, tad šosezon ieslēgta hierarhija. "Šis mākslinieks piedāvāja trīs dažādus cenu līmeņus. Es kā vecākais vārtsargs varēju taisīt augstākajā līmenī, otrajam vārtsargam bija zemāks līmenis, trešajam – pats zemākais."
Grigals arī atzīst, ka viņam ir svarīgi pašam izveidot savas skices un tās atrādīt māksliniekam, nevis paļauties, ka viņa idejas tiks saprastas. "Pagājušajā gadā otrs komandas vārtsargs izstāstīja, ko vēlas, bet tur sanāca maza aizķeršanās – vārtsargs bija iedomājies mazliet citādi. Tāpēc viss process bija ilgāks. Es tā nevaru. Man gribas secīgi pašam salikt un aizsūtīt. Tad mākslinieks pieliek idejas no sevis. Nejustos labi un pārliecināts, ja pateiktu, lai izdara pēc sava prāta," teica Grigals.
Sadarboties ar pasaules līderi
Uldis Čalpa kopā ar "Kurbadu" divas reizes kļuvis par Latvijas čempionu un vēl četras reizes izcīnījis sudraba medaļu. Tāpat viņa kontā ir četras spēles Latvijas izlases rindās, debiju piedzīvojot 2018. gada pavasarī. Pastāvēja iespēja, ka viņš aizbrauks uz pasaules čempionātu, taču tad sezona beidzās Kivleniekam, un priekšroka trešā numura izvēlē tika dota Amerikā spēlējošajam vārtsargam.
Pēdējos gados arī Latvijas čempionāta vārtsargiem arvien biežāk parādās apgleznotas ķiveres, un Čalpa savas pēdējās ķiveres tapšanā sastrādājies ar zviedru Dāvidu Gunnašonu jeb DaveArt, kurš šobrīd tiek uzskatīts par pasaulē vadošo savā jomā. Viņa klientu lokā atrodas Henriks Lundkvists, kā arī divi pasaulē vislabāk atalgotie vārtsargi – Kerijs Praiss (Monreālas "Canadiens") un Sergejs Bobrovskis (Floridas "Panthers").
View this post on Instagram
"Viņš vispirms izvērtē, vai vispār piekrist. Nepieciešams aizsūtīt savu biogrāfiju. Tad nu rakstīju, ka pārstāvu vienu no Latvijas labākajiem klubiem un ka mūsu vārtsargu treneris ir Artūrs Irbe. Mēģināju piesaukt visu, kas varētu ieinteresēt," stāstīja Čalpa. "Izstāstīju savas idejas, bet viņam bija savas idejas, pārāk nepakļāvās. Uz "Kurbada" formām ir Ūsiņa zīme, gribējām, lai tā būtu arī uz ķiveres. Mana interpretācija – uz ķiveres ir spainis, kurā zīmes ir samestas iekšā. Bet – kā nu kurš interpretē. Vēl no abām pusēm ir kluba logo. Ķiveri taisījām uz Latvijas simtgadi, gribēju uz pakauša ozolu ar saknēm, balstoties pēc Līvu dziesmas "Ozolam". Vēl uz pakauša ir sievas un bērnu vārdi."
"Kurbadam" šosezon vairs nespēlējot Latvijas čempionātā, Čalpa bija pagājis malā no hokeja, bet nesen atsaucās Daugavpils "Dinaburgas" uzaicinājumam. Karjeras mērķi kļuvuši piezemētāki, formas uzturēšana vairs nav pirmā prioritāte, tāpēc jaunās komandas sastāvā Čalpa redzams ar iepriekšējo ķiveri. Viņš pieļauj, ka pašreizējā ķivere kalpos vēl vismaz divus gadus. Par faktu, ka vietējā līgā arvien vārtsargu spēlē krāsotās ķiverēs, Čalpa saka: "Domāju, tas saistīts ar to, ka pakalpojums kļuvis pieejamāks. Nav jau gluži reizi mēnesī tas jādara. Ir vairāk cilvēku, kuri ar to nodarbojas. Tas saistīts arī ar līmeni. Piemēram, "Liepājai" ir Māris Jučers – ar KHL un pasaules čempionāta pieredzi. Vārtsargu līnija mums kļūst spēcīgāka."
Pie savas pirmās apgleznotās ķiveres Čalpa ticis 16 gadu vecumā. Patikusi Eda Belfūra ķivere, kurai virsū bijuši divi ērgļi. Nolēmis izveidot savu interpretāciju ar diviem pūķiem, atradis mākslinieku, samaksājis 150 latus un ticis pie pirmās personalizētās ķiveres. Otrā bijusi jau "Kurbada" rindās. "Gāju pie kluba un teicu, ka nepieciešama ķivere. Sekoja pretjautājums: vai ir vēlme nokrāsot? Protams, kāpēc ne!"
"Vairākas nedēļas apdomājos, ko likt virsū. Sīko ideju bija daudz, bet tad iedomājos, ka jāliek virsū pats Kurbads – mitoloģiskais varonis. Bez viņa virsū ir arī Lielvārdes josta. Ja nemaldos, tajā laikā bobslejistiem uz kamanām parādījās. Un tad arī Ūsiņa zīme. Gāju cauri un skatījos, ko varētu. Ūsiņš ir zirgu aizstāvis, Kurbads – ķēves dēls. Savilku kopā. Ideja bija mana, bet to, kā tas izskatīsies dzīvē, kur kas atradīsies un cik lielā izmērā – to realizēja mākslinieks," teica Čalpa.
To apgleznojis kāds no vietējiem māksliniekiem, kurš nav speciālizējies darbā ar ķiverēm. Ķivere laika gaitā nolietojusies un tai izjucis režģis, gadu nācies spēlēt ar baltu ķiveri, līdz saņemts DaveArt galadarbs. Tas pasūtīts vasarā, bet Čalpu sasniedzis februārī – brīdī, kad sezona jau iet uz beigām. Skaidru cenu vārtsargs nezina: "Zīmējums maksāja apmēram tikpat, cik maksā jauna ķivere." Jeb tuvu tūkstoš eiro.
Kā sākās ķiveru apgleznošana
Pirmais ķiveri – vai drīzāk sejas aizsargu – sāka lietot Monreālas "Canadiens" vārtsargs Žaks Plānts, kurš Stenlija kausu izcīnījis piecas sezonas pēc kārtas un kurš iekļauts Slavas zālē. Taču viņš nav pirmais, kurš nolēmis apzīmēt savu ķiveri. Tas tiek piedēvēts Gerijam Čīversam, Sentluisas "Blues" vārtsargam.
60. gados viņam treniņā pa galvu trāpījis īpaši nepatīkams metiens. Čīverss devies taisnā ceļā uz ģērbtuvēm, bet nedaudz vēlāk atgriezies uz ledus. Viņš uz sejas aizsarga bija uzzīmējis šuvi – ja nebūtu ķiveres, seja būtu asinīs. Čīverss nolēma pieturēties pie šīs tradīcijas, un visnotaļ drīz ķivere bija klāta šuvēs. Tā viņš aizsāka jaunu tradīciju. Mūsdienās ir ļoti, ļoti maz visaugstākajā līmenī spēlējošu vārtsargu, kuriem nebūtu apgleznotas ķiveres.