Daniela Vismane ir viena no talantīgākajām jaunās paaudzes latviešu tenisistēm, bet WTA pasaules rangā un Federāciju kausa izlasē debitēja jau attiecīgi 16 un 17 gadu vecumā. Šobrīd viņa atrodas labāko 500 vidū (#496), kas ir solīds rādītājs, ņemot vērā, ka pasaulē ar tenisu nopietnākā vai mazāk nopietnā līmenī nodarbojas miljoniem, bet mērķi ir augstāki, kuru dēļ viņa pirms aptuveni gada pieņēma svarīgu lēmumu – pārcelties uz dzīvi Itālijā, lai turpinātu attīstīt karjeru Bari tenisa akadēmijā.  "Sporta pils" Vismani aicināja uz sarunu, lai parunātu par viņas pirmajiem soļiem tenisā, Latvijas Tenisa savienības (LTS) pienesumu profesionālajā izaugsmē, piedāvājumiem no ASV universitātēm, kā arī dzīvi zemāku līmeņu turnīros, kas nav WTA elites klases, un daudz ko citu.
Cik gados un pie kā sāki nodarboties ar tenisu?
Sāku nodarboties ar tenisu septiņu gadu vecumā un mani pirmie treneri bija Jušku ģimene. Strādāju ar viņiem līdz pat pagājušā gada septembrim, trenējos ikdienā Lielupes Tenisa centrā, tomēr tad nolēmu savā dzīvē ko pamainīt un pārcēlos dzīvot un trenēties uz akadēmiju Itālijā, Bari. Vēlos izteikt lielu pateicību Jušku ģimenei par visu ieguldīto darbu. Bez viņiem nebūtu tur, kur šobrīd esmu.
Kā Tu tur nokļuvi?
Man atnāca piedāvājums un es piekritu. Šeit trenējas sākot no bērnu vecuma, beidzot ar ATP līmeņa spēlētājiem. Nesen vēl brauca arī Itālijas izlases pārstāvji, jo šī bāze skaitās kā viena no federācijas pārziņā esošajām. Kopumā šeit trenējas sportisti no dažādām valstīm, nav tikai itāļi. No plašākai publikai zināmiem šeit trenējas itālis Andrea Pelegrīni (ATP #274) un vairāki junioru ranga augšgala spēlētāji. Līmenis ir ļoti labs. Domāju, ka arī tas norāda uz to, cik nopietni šeit viss notiek.
Kāpēc nolēmi pārcelties?
Tie bija vairāki aspekti. Gan treniņu apstākļi, kas gan nebija slikti arī Latvijā. Latvijā tiešām ir attīstīta infrastruktūra un labākās iespējas trenēties, tomēr nolēmu, ka man kaut kas ir jāpamaina. Bari ir daudz sparinga partneru, no kā izvēlēties, tiek nodrošināts nepieciešamais treniņu stundu daudzums, kas ir vajadzīgs tenisā, un visu laiku esmu tur uz vietas un viss ir blakus.
Kādi ir sadarbības nosacījumi?
Man ir līgums, kas balstīts uz individuāliem nosacījumiem, un uz noteiktu laiku. Tas nav no sērijas, kad mani sponsorē, bet man jāsāk atdot manī ieguldītie līdzekļi, kad sasniedzu noteiktu vietu rangā. Sadarbības ar akadēmiju ir individuālas un varu vien pateikt, ka esmu ļoti apmierināta ar nosacījumiem. Šī sadarbība man daudz palīdz.
Kāds akadēmijā ir dienas režīms?
Tāds, kā kārtīgā akadēmijā pienākas. Jāceļas agri, jo pirmais treniņš ir jau pusdeviņos no rīta, parsvarā tenisa, kurš ilgt divas stundas, tad atpūta, vēlāk fiziskās sagatavotības treniņš, atkal tenisa, fiziskie un tā katru dienu. Disciplīna ir jāievēro. Tomēr man ar to nav problēmu. Kad devos uz šejieni, zināju, uz ko esmu parakstījusies, un kur braucu. Mani šeit viss apmierina – ir vairāki treneri, kuri ar mani strādā, fizioterapeiti, masieri, sparinga partneri un viss nepieciešamais, lai varētu domāt tikai par tenisu.
Cik viegli vai grūti bija pierast pie jaunajiem apstākļiem?
Pēc pāris mēnešiem pieradu. Tomēr daudz kas manā dzīvē pamainījās. Cita valsts, citi treneri un treniņu process, ikdienas režīms un pārējais. Kamēr vēl ar visiem iepazinos, pagāja nedaudz laiks. Tomēr šobrīd viss ir burvīgi – jūtos te jau kā otrajās mājās.
Uz turnīriem Tu brauc viena vai ir līdzi treneris no akadēmijas?
Tas notiek kā, kurā turnīrā – vienmēr izrunājam, kā būtu labāk, un tad pieņemam lēmumu. Ir turnīri, kur esmu ar treneri, ir, kur braucu pati. Un arī turnīru plānu mēs domājam kopā. Nav tā, ka es pasaku: "Būs tā un viss!" Vai tieši otrādi – kad no akadēmijas man ko noliek vienkārši priekšā. Kopā izlemjam par to, kurš varētu būt optimālākais variants. Uz turnīriem ir tā, ka ir, tā saucamais, "travel coach" un "main coach", un attiecīgi, ja situācija prasa, man līdzi ir viens no viņiem. Ir reizes, kad atbrauc arī fitnesa treneris. Daudz kas atkarīgs arī no tā, cik, kurš treneris ir noslogots un var palīdzēt.
Kādu iespaidu uz Tavu dzīvi atstāja pandēmija?
Bija interesanti. Marta vidū biju vienā turnīrā, gatavojos otrās kārtas mačam, bet atnāca vēstule no ITF, kurā bija teikts, ka visi gaidāmie turnīri ir atcelti. Domāju, ka varēšu doties atpakaļ uz Itāliju, lai vismaz varētu tur visu laiku trenēties, bet paralēli tam Itālijas valdība bija pieņēmusi lēmumu slēgt valsts robežas un man nekas cits neatlika kā lidot uz Rīgu. Tur paliku trīs mēnešus, trenējos, cik varēju, aizbraucu arī uz pāris turnīriem, kas vēl bija pieejami, bet kopumā to bija maz. Ja normālā situācijā nedēļā ir aptuveni astoņi ITF turnīri, kur varu piedalīties, tad tagad sanāca, ka bija divi vai trīs. Diezgan samocīts gads iznāca.
Bet arī šobrīd turnīru nav – janvārī, man šķiet, būs tikai viens vai divi. Tā kā tas arī būs "tukšais" mēnesis. Kopš septembra, kad biju Spānijā, bija spēles Igaunijā, biju Ēģiptē, Grieķijā, pāris turnīrus aizvadīju Itālijā. Nav viegli un to var redzēt arī spēlēs, jo kondīcijas visiem atšķiras. Kāda ierodas uz turnīru pēc liela pārlidojuma, cita pēc vairākiem mačiem pēc kārtas aiz muguras, cita ir mazāk trenējusies, u.t.t. Nav skatītāju, nav nekā.
Kā Tev ir ar lidošanas iespējām? Kādām procedūrām jāiziet cauri, lai varētu piedalīties turnīros?
Principā vienīgie sarežģījumu ar pašizolācijas prasībām ir Rīgā, kad ir noteikts konkrēts dienu skaits, cik jāpavada vienam pēc ielidošanas no citurienes. Citur ir tā – uztaisi testu gan valstī, no kuras tu izbrauc, un pēc tam, kurā iebrauc, un ja ir negatīvs, tad viss ir kārtībā un vari brīvi pārvietoties un piedalīties sacensībās. Un ir valstis, kur pat neprasa obligāti veikt testu. ITF gan nepiekopj "burbuļu" veidošanu metodiku – ja esi pielaists turnīram, tad esi, un viss. Runāju ar savu komandu un nonācu pie secinājuma, ka "burbuļi" būtu pat labāk. Tas nozīmētu, ka vienā vietā uzreiz var uzrīkot vairākus turnīrus pēc kārtas, nevis tikai vienu, bet situācijā, kad ir ļoti liels oficiālo sacensību deficīts, tas ļoti palīdzētu.
Ar ko atšķiras ITF no WTA?
Sievietēm iedalās tā, ka ir "ITF W15 000", tālāk iet "W25", "W60", "W80" un "W100" kas ir kā vīriešiem "future" līmeņa turnīri, bet pēc "W100" nāk WTA – tā ir elites klase sievietēm. Ir arī atšķirīgi rangi abām organizācijām, bet ITF punkti iet arī pie WTA reitinga, kurš ir galvenais.
Vai atceries, kad Tev bija pirmais mačs pieaugušo konkurencē?
Manuprāt, tas bija 2016. gadā. Sāku ITF līmeņa spēles aizvadīt, kad vēl pamatā sacentos junioru konkurencē, kur sezonu noslēdzu 17. vietā pasaulē. Tobrīd man bija 16 gadi.
Junioru vecumā tavs labākais sasniegums "Australian Open", kas ir "Grand Slam" raudzes, ceturtdaļfināls.
Uz Austrāliju aizbraucu kopā ar "ITF Development team", ar kuriem iepriekš vairākus gadus biju sadarbojusies – viņi paņēma mani savā paspārnē un atbalstīja. Runājot par pašu turnīru, varētu teikt, ka viss sakrita tā, kā vajag. Bija laba izloze, arī pati labi spēlēju un tiku līdz ceturtdaļfinālam. Apstākļi gan bija grūti – karstums brīžiem sasniedza pat 45 grādus… Un spēles notika uz "hard" korta, kas nozīmē reālajai temperatūrai klāt papildus vēl piecus grādus.
Kas ir "ITF Development team", un ko dod dalība tajā?
Pavisam vienkārši – tā ir ITF izveidota sistēma, precīzāk komanda, kurā iekļauj spēlētājas/us no dažādām valstīm, lai viņiem palīdzētu attīstīties. Esmu bijusi visās šāda veida komandās. Kad pirmo reizi saņēmu piedāvājumu braukt, sapratu, ka tāda iespēja jāizmanto. Tā ir jauna pieredze, jo komandā ir treneri no ITF, tātad jābrauc ar citiem treneriem un komandā vēl citām spēlētājām no dažādām valstīm. Tiek atmaksāti turnīri, kuros esi ar viņiem kopā.
Ņemot vērā, cik karsts ir Austrālijā, un tas tomēr bija junioru "Grand Slam", vai nebija sūdzības no vecākiem un treneriem, ka jāspēlē tik augstā temperatūra? Jo tajā brīdī tur visi tomēr ir vēl bērni.
Saprotams, ka tie ir jauni organismi un tik liels karstums var likties kas ārkārtējs, proti, ka turnīra organizētāji maziem bērniem liek spēlēt tādā karstumā. Tomēr nav tik traki, kā no malas varētu šķist. Runājot par sevi, biju pieradusi. Pati ikdienā trenējos Bari, kas ir pilsēta pie jūras, un tur gandrīz cauru gadu ir silti vai karsti laika apstākļi. Jau treniņos akadēmijā sanāca būt uz korta dienas karstākajos laikos un pirms junioru "Australian Open" mums bija arī viens "iesildošais" turnīrs, tā kā tur bijām vairāk nekā nedēļu un kopumā biju jau pieradusi pie lielā karstuma.
Pieaugušo un jauniešu konkurencē spēles atceļ pie noteikta grādu skaita un cenšas mačus izspēlēt vairāk vakarā, kad ir vēsāks, tomēr mums tā nebija. Spēlējām visu laiku. Jācīnās bija ar parastajām metodēm – ar ledu, cik var atveldzēties slapjā dvielī vai ēnā, vai padzeroties sālsūdeņus vai uzņemot papildus vitamīnus. Pēc mača atjaunošanās, ledus vannas un masāžas. Nav problēmu. Kā jau teicu – nav nemaz tik traki, ja ikdienā trenējies un tomēr gatavojies tādiem brīžiem.
Kāda ir dzīve zemāko līmeņa turnīros?
Sievietēm ir daži turnīri, kur apmaksā dzīvošanu un ēšanu, tomēr tas ir ļoti reti un ar izņēmumiem. Pārsvarā tā nav, ka turnīrs kaut ko atmaksā. Pirms mačiem ar treneri vienojamies, uz kurieni braukšu viena, un tad sākās plānošana – jārunā ar aviosabiedrībām par reisu rezervēšanu, jāmeklē viesnīca un uz vietas arī treniņu partneri. Sanāk, ka pašai vienkārši jādara vairākas lietas, tomēr man tas nekādu lielu iespaidu uz sniegumu neatstāj un enerģiju daudz nezaudēju. Protams, ir patīkamāk, kad pašai viss nav jādara, bet esmu jau pieradusi, tāpēc man tas neliekas nekas ārkārtējs.
Vismaz vēl pirms pāris gadiem daudz tika runāts par zemāka līmeņa turnīru organizēšanas kvalitātēm. Ka daudzviet korti ir briesmīgā stāvoklī, valda haoss un ir jāsaskaras ar citām neērtībām. Kāda ir situācija sieviešu ITF tūrē?
Nevarētu, teikt, ka kortu kvalitāte ir slikta. Jā, varbūt pāris gadus atpakaļ situācija vēl bija citādāka. Atceros savu pieredzi ar Latvijas U16 izlasi, kad mums bija turnīrs Turcijā – tur tiešām bija ļoti slikti korti… Citādi tiešām nav iemesla sūdzēties, neatminos, kad kādā no ITF turnīriem bijis par ko.
ITF rīkotajās sacensībās dalībnieku sarakstā pārsvarā ir gados jaunas spēlētājas. Ar ko tie tādā gadījumā atšķiras no junioru turnīriem?
Pirmās kategorijas junioru turnīros tiek apmaksāta dzīvošana un ēšana, arī treneriem. Tikmēr ITF par visu maksā pats, ar dažiem izņēmumiem, ko jau minēju. Runājot par sportisko pusi, tad ievērojamākā atšķirība ir spēles stabilitāte – ITF tomēr spēlē pieredzējušākas spēlētājas un viņas demonstrē daudz vienmērīgāku sniegumu. Jau teicu, ka sieviešu teniss ir ļoti specifisks, un ja vēl paskatāmies uz to junioru konkurencē, tad tur var notikt jebkas. Arī psiholoģiski ir citādāk, jo juniora vecumā tik daudz par lietām nedomā. Bet ITF jau ir profesionāls līmenis.
View this post on Instagram
Minēji psiholoģiju. Zināms, ka pasaules vadošie tenisisti/es nemaz neslēpj, ka izmanto sporta psihologa pakalpojumus. Vai Bari akadēmijā Tev arī tāds ir?
Jā. Bet tas nav obligāti. Ja jūtu, ka man pašai to vajag, tad izmantoju, vai arī pēc trenera ieskatiem.
2018. gadā pārstāvēji Latviju jauniešu olimpiādē Buenosairesā. Kā Tu atceries šo pasākumu?
Pieredze bija lieliska – gan no sportiskās puses, gan kopumā. Tur man pirmajā kārtā izdevās uzvarēt vienu no vadošajām junioru tenisistēm pasaulē. Likās, ka bija iespēja uzvarēt arī visā turnīrā un tad bija neveiksmīga iesildīšanās pirms ceturtdaļfināla. Viss gāja kā ierasts, jutos labi un sūdzību par veselību nebija. Bet iesildīšanās laikā aizķēros aiz korta stūra apmales un izmežģīju potīti. Arī tā dzīvē gadās… Pasākumu kopumā uztvēru ļoti pozitīvi, jo tas bija liels forums, labi organizēts, atmosfēra kā nopietnās un svarīgās sacensībās. Es kā tenisiste un arī kā cilvēks ļoti daudz ieguvu tur piedaloties.
Spēlētājām, kas atrodas WTA rangā, noteikti ir iespējas doties uz ASV un iegūt kādas universitātes stipendiju. Neesi domājusi par tādu variantu?
Interese par mani ir liela – teju katru nedēļu saņemu kādu piedāvājumu doties uz ASV, studēt un spēlēt kādā universitātes komandā. Tomēr es par to neesmu domājusi, jo vienmēr esmu sev izvirzījusi kā mērķi profesionālo sportu. Vēlos iet tajā virzienā, tāpēc ASV man neliekas šobrīd saistošas. Protams, ir iespēja iegūt labu izglītību, tomēr ar "lielo" tenisu gan, šķiet, pēc tam visas durvis ir aiztaisītas ciet. Ir arī piemēri, kas vēlāk nostiprinās pieaugušo tūrē, tomēr to ir mazākumā, tāpēc esmu izvēlējusies šo ceļu neiet.
Šobrīd sieviešu tenisā ir novērojams, ka ranga labāko simtniekā iekļūst aizvien vairāk jaunas tenisistes. Pati noteikti esi pret lielu daļu spēlējusi. Ar ko, Tavuprāt, skaidrojama šī tendence?
Esmu par to domājusi, bet izskaidrojuma man nav. Ja vīriešiem ir pāris favorīti, par kuriem jau zini, ka tieši viņi uzvarēs lielākā turnīrā, tad sievietēm ir pavisam pretēji – to var izdarīt gandrīz jebkura. Sieviešu teniss pats par sevi ir pavisam savādāks nekā vīriešu – var noteikt jebkas. Un tam ir daudzi faktori, bet vissvarīgākais, manuprāt, ir psiholoģija. Sievietēm breika iespējas var būt pie katras serves, pēc uzvarēta seta ar 6:0 vari nākamajā ar tādu pašu rezultātu zaudēt, u.t.t. Personīgi mani motivē tas, ka redzu, ka elitē vai kaut vai ranga labāko simtniekam pietuvojas manas vienaudzes.
Kādā vecumā Tev parādījās pirmie sponsori un atbalstītāji?
Ekipējuma sponsori man parādījās ļoti agri, ja nemaldos tad, kad spēlēju jau U12 izlasē. Kopš U12 izlases esmu bijusi visās Latvijas izlasēs. Tāpat man ļoti lielu paldies jāsaka LTS un tās prezidentam Jurim Savickim par sniegto atbalstu manas karjeras attīstībā. Man palīdzēja dažādi – sākot ar medicīnas pakalpojumu nodrošināšanu, kortu pieejamību Lielupē, kā arī finansiālu atbalstu, lai varētu piedalīties ārzemju turnīros. Šī palīdzība man noderēja, kad sāku apzināties, ka tenisā varu kaut ko sasniegt. Ja tā nebūtu, nezinu vai šobrīd vēl spēlētu profesionāli. Visticamāk, tādā gadījumā būtu jau izvēlējusies iet ASV universitātes ceļu.
Esi regulāra Latvijas izlases dalībniece Federāciju kausā, bet pie spēlēšanas oficiālos mačos tur tiec reti. Ko Tev dalība izlasē tādā gadījumā dod?
Tā ir papildus pieredze. Redzēt pasaules vadošās spēlētājas darbībā, kopā ar tādām arī trenēties, kādas ir gan Aļona, gan Anastasija, arī palīdz attīstīties. Būt tajā atmosfērā un to visu izjust. Arī treniņi ir kvalitatīvi, kas dod papildus emocijas. Dalībai izlasē ir tikai plusi, nav mīnusu, ja arī nespēlēju visus mačus.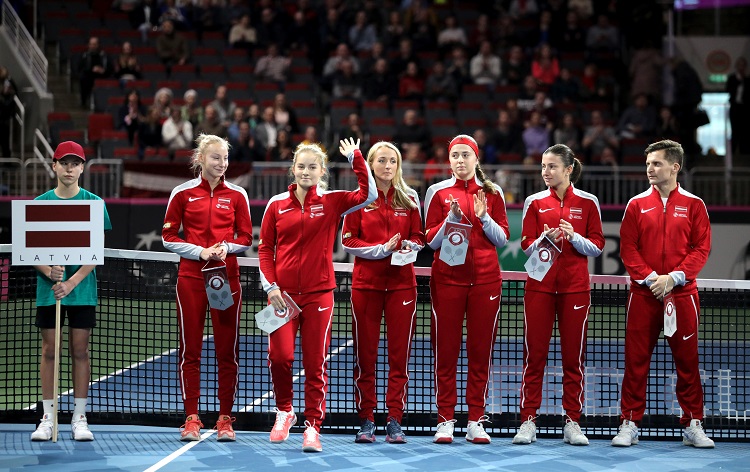 Atceries savu pirmo maču, pārstāvot Latvijas izlasi?
Jā, tas notika Igaunijā, Pērnavā pret Ungāriju. Komentāri laikam lieki – vienmēr ir ļoti saviļņojoši aizstāvēt savas valsts krāsas. Īpaši nekā to maču neizceļu, atceros tikai, ka ir tāda tradīcija, kad pirmo maču izlasē aizvadījušajām spēlētājām komandas vakariņās ir jāpilda kāds uzdevums – jāuzdejo vai jādzied. Man sanāca uzdziedāt (iesmejas).
Kādi ir tavi ilgtermiņa plāni?
Janvārī īsti turnīri nav paredzēti, tāpēc plānoju aizvadīt kārtīgu pirms sezonas sagatavošanās posmu kopā ar akadēmijas treneriem un viņu izstrādātu plānu. Tad ir plānots atsākt piedalīties turnīros no februāra.