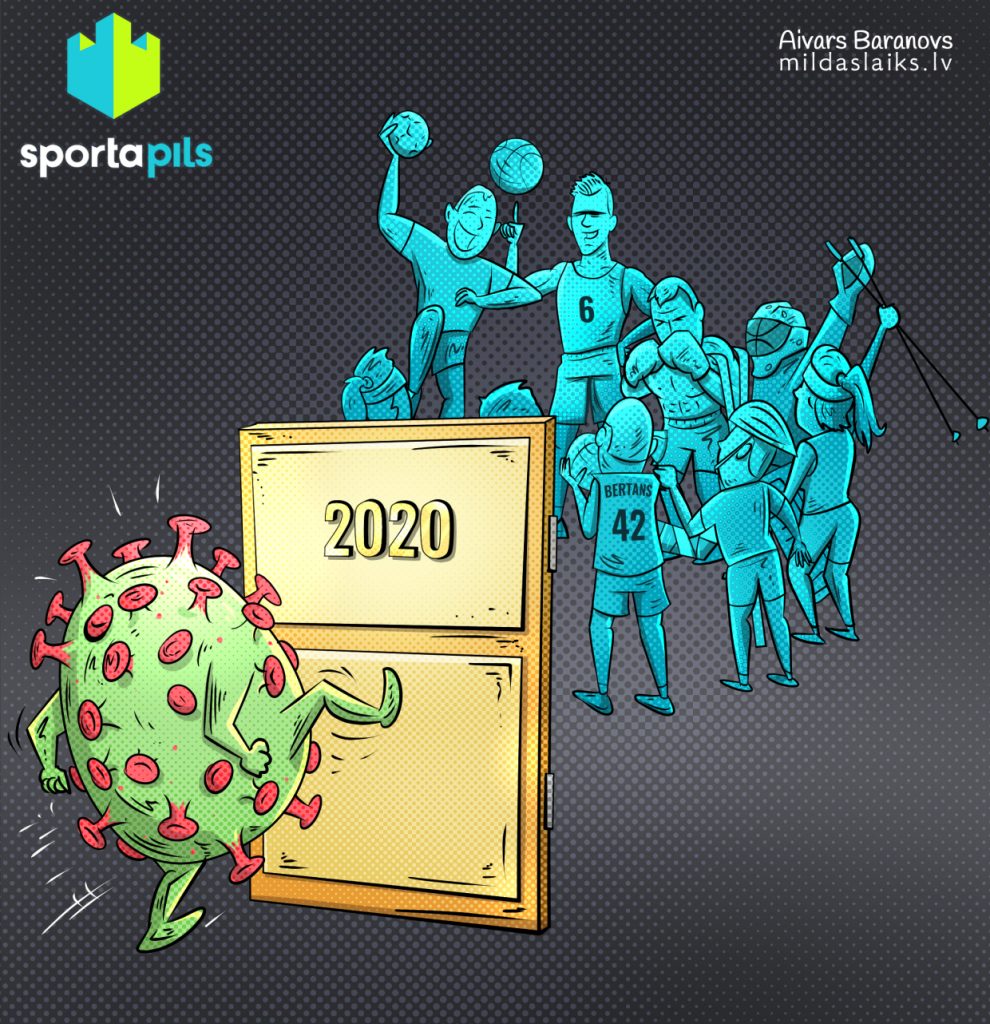 2020. gads pasaules mūsdienu vēsturē ieies kā unikāls laika posms, kurš piespieda savus ierastos ceļus izmainīt gandrīz visiem pasaules iedzīvotājiem. Cik daudz vai maz, cik nopietni vai skeptiski, cik dusmīgi un cik traģiski – tas ir katra atsevišķs stāsts, un šoreiz ne par to runa. Konkrēta pievēršanās šoreiz ir apgalvojumam, ka pandēmijas gadā sports Latvijā bijis iedragāts tik pamatīgi, ka jāatgūstas būs ilgi un dikti. Kādu iespaidu pandēmijas ierobežojumi, kuri tieši rudenī un ziemas sākumā nākuši ar jaunu spēku, ilgtermiņā atstās iespaidu uz vietējo sportu, izvērtēt nav viegli, tāpat skaidrs, ka šogad daudziem Latvijas sportistiem gluži vienkārši zuda iespējas sevi apliecināt. Nenotika olimpiskās spēles un hokeja čempionāts, daudziem profesionāļiem sezonas tika aprautas priekšlaicīgi vai, vēl sliktāk, nācās ar Covid-19 saskarties uz savas ādas. Taču saliekot visu pa plauktiņiem, secinājums tomēr rodas cits un pilnīgi pretējs – Latvijas sportam sen nav bijis tik iespaidīgs gads kā pandēmijas gads!
Kad martā tika aizklapēts ciet teju pilnīgi viss profesionālais sports, nākotnes skatieni tieši sporta sakarā nelikās labi. It īpaši tie tādi nelikās Mairim Briedim, kurš tieši tobrīd gatavojās savas boksera karjeras triumfam – Arēnā Rīga līdzjutēju tūkstošu priekšā iziet ringā un Supersērijas finālā sakaut Junielu Dortikosu. To visu nācās pārcelt, kas bokserim ir īpaši grūti, tomēr gatavošanās notiek vairākus mēnešus vienam konkrētam datumam. Taču lielā vilšanās ar pacietību un apņēmību tika pārvērsta lielā triumfā, Mairis septembrī kļuva par Supersērijas čempionu un savas svara kategorijas lineālo čempionu, par ko vēl pirms dažiem gadiem Latvijā neviens tā īsti pat nesapņoja. Par pieteikšanos boksa elitē pirms dažiem gadiem arī tikai sapņoja Ričards Bolotņiks, kurš, skatoties uz Maira panākumiem ringā, arī nolēma pamēģināt uz dūrēm uzlikt cimdus. Decembrī Bolotņiks jau svinēja uzvaru augsta mēroga turnīrā un lepojās ar WBO Eiropas čempiona titulu. Lai kā tiktu slavēts Briedis, Latvijas sportā mūsu bokseru izsišanās tā pa īstam vēl joprojām nav novērtēta.
2020. gads arī bija laiks, kad Parīzes "Saint-Germain" sastāvā ieradās Latvijas handbolists Dainis Krištopāns. Un ne jau kā šestoks un tālākais rezervists, nē, Krištopāns vienā no handbola spēcīgākajiem klubiem tika sagaidīts ar ažiotāžu un plašu uzmanību. Personīgi ļoti žēl, ka Krištopāns pagājušajā gadā tomēr neieguva Latvijas gada sportista balvu, jo šogad titulu un izlases panākumu ziņā tik skaļi izceļamu lietu nav… taču droši vien ļoti tālā nākotnē ir laiks, kad PSG klubā ar aizrautu elpu sačukstēsies, sak, kad tad mūsu jaunais latvietis būs klāt sastāvā?
Dāvis Bertāns NBA pasaulei par sevi lika runāt jau pirms pandēmijas, kas tagad varbūt liekas tālā pagātnē, taču patiesībā tas joprojām bija 2020. gada sākums. Savukārt gada beigās Bertāns jau lika parakstu uz otra visu laiku vērtīgākā sporta līguma Latvijā. Jā, Dāvis nav spēlējis kopš marta, taču kurš gan viņam, acīs skatoties, pēc 80 miljonu vērta līguma parakstīšanas pateiks, vecīt, šis tev bija tukšs gads? Savukārt Kristapam Porziņģim šovasar izdevās piepildīt vienu no saviem NBA mērķiem un beidzot debitēt izslēgšanas spēlēs. Iepriekšējos četros gados līdz tam tikt neizdevās, un arī šogad tas beidzās ar zaudējumu un turklāt vēl traumu, taču robeža tika pārkāpta tieši šogad.
2020.gads ir laiks, kas iegājis arī Latvijas hokeja vēsturē. Kamēr izlase piespiedu kārtā ievilka elpu, Elvis Merzļikins ar košu krāsu rakstīja savu vārdu pretim vairākām jaunām atzīmēm Latvijas hokeja grāmatā. Viņš ir pirmais latvietis NHL nedēļas pirmās zvaigznes godā, viņš kandidēja uz mēneša debitanta titulu un kļuva par pirmo latvieti NHL sezonas simboliskajā debitantu izlasē.
Uz slaveno kungu fona varbūt nedaudz ēnā paliek mūsu dāmas, kur tenisa lielākās zvaigznes saraustītajā kalendārā netika pie tik lieliem panākumiem kā iepriekš, bet šeit arī jāņem vērā, ka tenisa līdzjutēji Latvijā tomēr bija nedaudz izlutināti. Galu galā, divas Latvijas tenisistes pasaules ranga Top-20 lokā ir greznība teju jebkurai valstij. Biatlonā bez lielām uzvarām, toties ar stabilu sniegumu startē Baiba Bendika, kurai tieši pasaules čempionātā vēl pirms pandēmijas izdevās tikt pie augstām vietām, tāpat pēc ilgas gaidīšanas ar cerībām varam skatīties distanču slēpošanas virzienā – Patrīcija Eiduka šogad izcīnīja ceturto vietu Eiropas junioru čempionātā un tika labāko desmitniekā Pasaules kausa posmā. Vēl pirms pāris gadiem Latvijas slēpošanas saimē tie bija tikai sapņi…
Sapņot var un vajag, taču Latvijas sportā šogad individuālos panākumus var uzskatīt vēl un vēl. Notiek strīdi par renes sporta veidu vērtību un prestižu, taču brāļi Dukuri, bobslejisti ar Oskaru Ķibermani priekšgalā un kamaniņu braucēji tik parausta plecus un turpina regulāri braukt pēc medaļām gan PK posms – dažs biežāk, dažs retāk. Augstākā līmenī sevi turpina apliecināt riteņbraucējs Toms Skujiņš, kurš augustā ieguva otro vietu "Tour de France" posmā, Latvijas volejbola izlase parūpējās par iemeslu priekiem un atrada sev vietu Eiropas čempionāta finālturnīrā, par savām sacensībām papildu interesi radīja šautriņmetējs Madars Razma un esportisti Helvijs Saukants un Mareks Gaļinskis, visi šajās sacensībās sasniedzot augstu līmeni, kas varbūt daļai liek pasmīnēt par to, kas tad tādu sportu skatās, bet dažiem liek sajūsmā sist plaukstas.
Protams, netrūka arī zaudējumu un negatīvā, taču vislielākais negatīvais tik un tā bija Covid-19 vīruss, ko profesionālie sportisti pārsvarā tomēr nevarēja nolikt malā. Visi šī gada panākumi nāca ar papildu domu galvā, ka pilnīgi droši jau šis viss tomēr nav un nelaime var piemeklēt katru jebkurā mirklī. Iespējams, tādēļ vēl jo iespaidīgāk, ka pandēmijas tukšajā sporta gadā Latvijas sportā saskaitāmas tik daudzas neierastas uzvaras un sasniegumi.