Nacionālajā basketbola asociācijā (NBA) startējusi jaunā sezona un ierindā, tāpat kā pērn, ir četri latvieši – Kristaps Porziņģis (Dalasas "Mavericks"), Rodions Kurucs (Bruklinas "Nets") un Dāvis Bertāns ar Anžeju Pasečņiku (abi Vašingtonas "Wizards"). Ko mums nesīs gaidāmā sezona, kā klāsies mūsu spēlētājiem individuāli, un viņu pārstāvētajām komandām kopumā?
Pandēmijas noteikumi
Cilvēki, kuri ir pie pilnas apziņas, nav palaiduši garām faktu, ka pasaulē aizvien plosās koronavīrusa pandēmija. Savu sitienu tā nesaudzēja arī NBA, kā rezultātā sezona tika noslēgta Disnejlendas "burbulī", bet šī iesāksies bez skatītājiem tribīnēs, tādējādi klubiem gar degunu iet liela nauda – biļešu un VIP ložu pārdošana, hotdogi un šķidrie ali (ASV un Kanādā tie nav tik labi kā pie mums!), kreklu pārdošana arēnā un citas ienākumu pozīcijas. Tas, savukārt, nozīmē, ka varētu samazināt algu griestu apjomu. Tiesa, šajā sezonā tas vēl netika darīts un tie palika iepriekš plānotajā līmenī – 109 miljoni ASV dolāru (89,5 miljoni eiro) + greznības nodokļa piedāvātās iespējas, kas atkarīgas no klubu īpašnieku dāsnuma un rocības.
Neskaitot ekonomisko čē-pē, svarīgi ir arī rūpēties spēlētāju veselību. Atcerēsimies pagājušā gada Rūdija Gobēra izlēcienu, kad pandēmija tikai uzņēma apgriezienus un neviens vēl to pārāk nopietni neuztvēra, bet francūzis preses konferencē, pametot telpas, demonstratīvi un ar humoru apzināti apgramstīja visus mikrofonus. Vēlāk viņš izrādījās pirmais spēlētājs, kurš bija Covid-19 pozitīvs un varētu teikt, ka tieši viņš bija pirmais iemesls, kāpēc sezona tika pārtraukta. Protams, vēlāk jau notika domino efekts.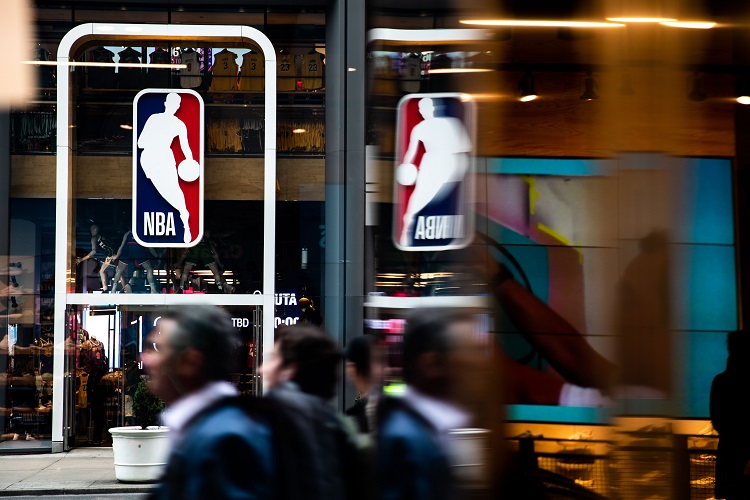 Līdz ar to līgas vadība ir izstrādājusi speciālu protokolu, pēc kura klubiem būs jāvadās. Viena no lielākajām izmaiņām ir tā, ka netiks aizvadīta Visu zvaigžņu spēles nedēļas nogale, tā vietā spēlētājiem dodot papildus divu nedēļu atpūtu. Tāpat NBA asi vērsusies pret, tā saukto, "load management" piekopšanu (sveiciens Kavai Lenardam!). Ir izstrādāti noteikumi, kas paredz, ka līga var sodīt klubus, ja tie nepamatoti nepiesaka spēlei veselu spēlētāju. Un kāzuss tam ir – pērn Lenards nolēma izlaist divus mačus, kurus pārraidīja nacionālajā televīzijā. Un viens no mačiem bija pret Milvoki "Bucks" un Janni Adetokunbo. Fani gaidīja par tobrīd uzskatīto divu līgas labāko spēlētāju dueli, bet Lenards uzlika "mīksto". Rezultātā daudzi fani nemaz neaizgāja līdz arēnai, bet TV reitingi bija zemākie pēdējos 20 gados šiem attiecīgajiem mačiem…
Tāpat ir citi noteikumi. Spēlētājiem un komandas personālam aizliegt doties uz publiskām vietām – SPA, bāriem, restorāniem un naktsklubiem, vai vienkārši pulcēties pasākumā, tostarp domātas arī mājas ballītes (vienīgi – kā to izkontrolēs?), kur kopējais personu skaits pārsniedz 15. Ja šie noteikumi tiek pārkāpti, protokols paredz stingru rīcību – 10 dienu pašizloāciju, bet lai atgrieztos darbībā, jāveic vairāki testi ar negatīvu rezultātu.
Un visinteresantākais jaunievedums – spēlētāji tiks testēti vai viņu organismā neatrodas aizliegtās vielas – marihuānas – daudzums organismā netiks mērīts. Varēs pīpēt uz nebēdu! Kas NBA subkultūrā jau šobrīd ir ierasta prakse, vienam pēc otra bijušajiem spēlētājiem publiski izsakoties, ka uz treniņiem un spēlēm regulāri devušies "akmenī" (lasi – "appīpējušies"). Vienlaikus gan kaislīgiem marihuānas noliedzējiem der atgādināt, ka ASV šī viela ir legāla gandrīz visos štatos, bet vairākas fārmācijas kompānijas ir veikušas eksperimentus, kuros pierādīts, ka marihuāna palīdz atbrīvoties muskuļiem, uzlabo miega kvalitāti un sasprindzinājumu. Protams, ja visu dara ar mēru.
Kurucam reālākā iespēja kļūt par čempionu
Turpinājumā apskatīsim latviešu basketbolistu potenciālās lomas savās komandās un sekmes.
Rodions Kurucs aizvada jau trešo sezonu pasaules spēcīgākajā basketbola līgā. Ja pirmā NBA kampaņa viņam padevās veiksmīgāka nekā plānots (vidēji mačā 20 minūtes, 8,5 punkti un 3,9 atlēkušās bumbas, tostap no 63 mačiem 46 uzsākti sākumsastāvā un izsaukums uz Uzlecošo zvaigžņu spēli), tad pērn latvieša loma un statistikas rādītāji ievērojami saruka.
Skatoties no šīs sezonas perspektīvām, tikt pie jēgpilna spēles laika, spoža aina neiezīmējas. Komandu papildinājis Kevins Durants, kurš ir Kuruca pozīcijas spēlētājs. Tāpat sastāvā ir daudzpusīgais Kariss Leverts, Torians Prinss un pieredzējušais Džefs Grīns. Minūtes iegūt būs ļoti grūti. Par to liecina arī sezonas sākums, jo, lai arī pirmajos divos mačos izcīnītas vairāk kā pārliecinošas uzvaras, Kurucs laukumā pavadīja vien deviņas minūtes.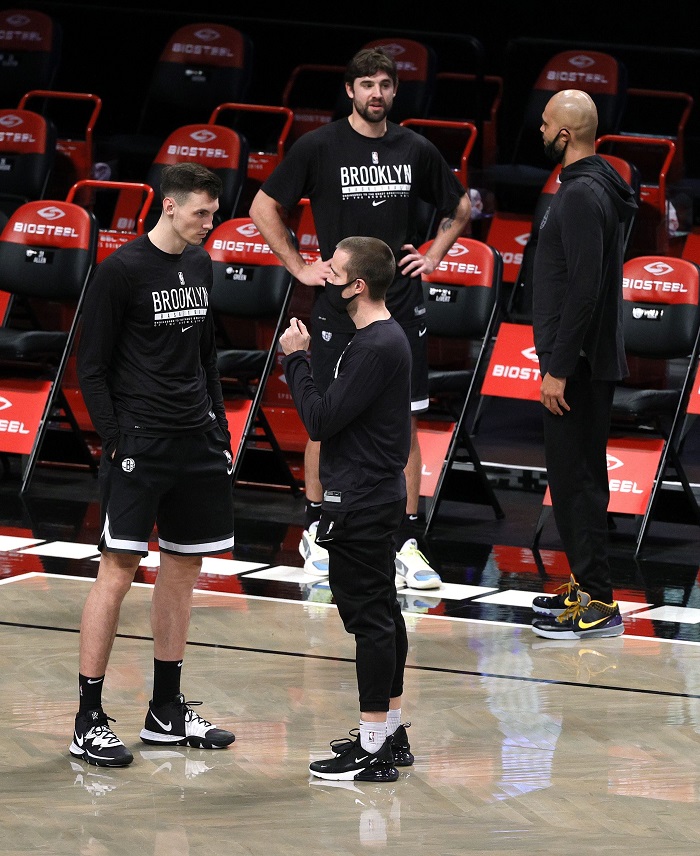 Kā izteicies "Nets" galvenais treneris Stīvs Nešs, tad "Kurucs aizvien ir attīstības stadijā un mēs vēl neesam redzējuši viņa labāko versiju." Šāds apzīmējums noteikti signalizē – puis', trenējies un sagaidi savu iespēju. Bet te ir cita problēma. Kurucs nav stabils spēlētājs. Vienu dienu viņš var realizēt visus metienus, labi strādāt aizsardzībā, citā – uzreiz aizsardzībā "iekrist" un aizmest garām brīvos metienus, kas nozīmē uzaicinājumu doties uz komandas soliņu.
Tāpat nevar izslēgt, ka Kurucs būs viens no puzles gabaliņiem, kuru "Nets" vadība varētu aizmainīt pirms maiņas darījumu termiņa beigām. Jāatzīmē, ka ir arī pozitīvi signāli. Sezonai vēl nesākoties, tika aizmainīts Kuruca konkurents Džanans Musa, kuru draftēja tajā pašā gadā, kad Kurucu, bet pirmajā kārtā. Tas varētu liecināt par to, ka latvietim vēl tic un iespējas dos.
Vesels Porziņģis – Dalasas iespēja sacelt troksni
Pagājušajā sezonā Kristaps Porziņģis atgriezās laukumā pēc vairāk nekā 18 mēnešu ilgas pauzes, ko radīja krustenisko saišu plīsums. Kā jau tas bija gaidāms, slaidais latvietis sniegumā "pielika" pakāpeniski – ja sākumā ne īpaši labi sekmējās ar metienu precizitāti no spēles, tad otrajā pusē Porziņģis jau vairākos mačos "uguņoja", kas duetā ar Luku Dončiču ļāva aizsniegties līdz "play-off", kur gan atzīts Losandželosas "Clippers" pārākums. Jāatzīmē, ka Porziņģis iedzīvojās savainojumā, kas no sešiem mačiem ļāva piedalīties tikai pusē, bet pirmajā viņš apšaubāmi tika izraidīts no spēles. Nākamajā kārtā "Clippers" izlaida vadību sērijā no 3-1, kas lika domāt, ka Losandželosiešiem (uzsvars uz "losiešiem", ja izlaiž tādu vadību) krietni paveicies, jo ar KP ierindā "Mavs" izskatījās pēc pavisam cita zvēra.
Runājot par Porziņģa savainojumu, tad tas viņam liedza ne tikai aizvadīt "play-off", bet vēlāk noskaidrojās, ka nepieciešams veikt ceļgala meniska operāciju, kas liks izlaist sezonas pirmās pāris nedēļas. Starp citu, vēlāk publiskajā telpā parādījās informācija, ka Porziņģis un kluba vadība bijusi pārliecināta, ka sezona sāksies vien 2021. gadā, tāpēc arī tika pieņemts lēmums taisīt operāciju oktobrī. Bet atkal un atkal mēs esam spiesti ielūkoties Porziņģa traumu vēsturē – pirmajās piecās sezonās latvietis devies laukumā 243 spēlēs, bet izlaidis 160. Saprotams, ka lauvas tiesu paņem krustenisko saišu plīsums un izlaistā sezona, vēl atrodoties Ņujorkas "Knicks" (un tad aizmainot) rindās, bet tomēr…
"Mavericks" starpsezonā piedzīvoja izmaiņas sastāvā, aizmainot Setu Kariju un drafta izvēli, pretī saņemot daudzpusīgo ārējās līnijas spēlētāju Džošu Ričardsonu, kas noteikti ir vērtējams kā uzlabojums aizsardzībā. Jo Karijs augumā ir mazs, kas noveda pie tā, ka nereti viņš aizsardzībā funkcionēja kā "caurstaigājama sēta". Tāpat ir nodraftēti vairāki jaunie spēlētāji un dažu labākās kvalitātes ir meklējamas tieši aizsardzības elementos.
Un ja "Mavericks" tiešām vēlas sevi skaļi pieteikt "play-off" turnīrā, komandai krietni jāuzlabo aizsargāšanās spējas, jo pērn pēc vidēji ielaistajiem pretinieku komandas punktiem "Mavs" līgā bija 16. vietā. Vēl viens aspekts, kas norāda uz problēmām šajā spēles komponentā, ir tas, ka Dalasa aizvadītajā sezonā bija komanda, kas vismazāk piespieda pretiniekus kļūdīties.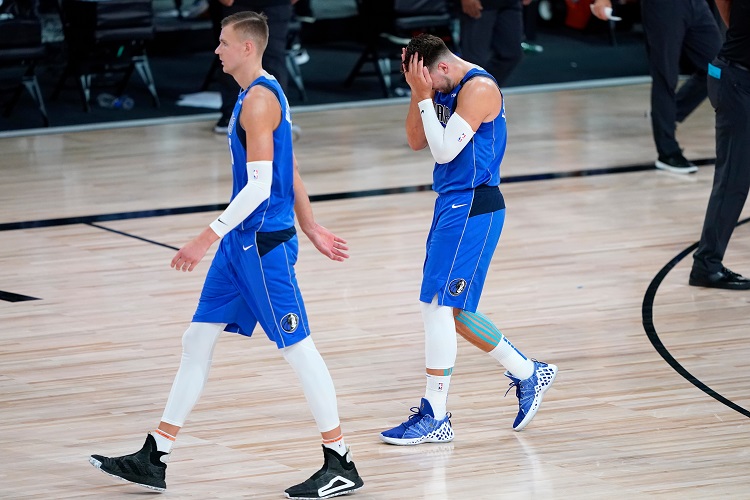 Viens no iemesliem vājai spēlei aizsardzībā – Luka Dočičs. Saprotams, ka visu vainu uz viņu novelt nevar, bet ikvienam, kurš ir redzējis vairāk par vienu Lukas spēli, uz aci ir redzams, ka savā laukuma galā slovēnis vairumā gadījumu nav glābējs. Savukārt, lai varētu veiksmīgi darboties aizsargājoties, ir nepieciešama laba fiziskā kondīcija, kas Dončičam šobrīd nav un vēl tik drīz nebūs. Vairāki Ziemeļamerikas mediji jau paspējuši iesmiet par Lukas liekajiem kilogramiem, uz ko viņš gan atbildēja mierīgi: "Pats apzinos, ka neesmu labākajā formā. Bet jūs jau zināt – nekad neesmu bijis no muskuļotākajiem puišiem." Kas rada potenciālās briesmas? Tas, ka paies laiks, kamēr atgūsies Luka un atveseļosies KP. Līdz tam būtu svarīgi pārāk daudz neattālināties no pirmā četrinieka, ja "Mavericks" mērķis ir uzrīkot rokkoncertu "play-off".
Toties trūkumus spēlē bez bumbas Dončičs kompensē uzbrukumā un ar ievērojamu uzviju. Pērn viņš vidēja guva 28,8 punktus un atdeva 8,8 rezultatīvas piespēles. Lai izprastu Dončiča nozīmīgumu Dalasas uzbrukumā, tad konvērtēsim to tā – 2019./20. gada sezonā "Mavericks" vidēji mačā guva tieši 117 punktus, līgā esot otrajā vietā vien aiz "Bucks". "Rupji" rēķinot, pieskaitot punktus un piespēles, Luka ik maču piedalās aptuveni 50 punktu no 117 gūšanā. Vairāk nekā trešdaļa. Un ja vēl pievienojam klāt Porziņģa daily 20,4 – paši saprotiet, par ko ir runa. Galvenais – Porziņģim jābūt veselam uz vismaz 70 regulārās sezonas spēlēm un katrā mačā "play-off". Lai arī cik labs būtu Dončičs, "Mavericks" panākumi ir tikpat atkarīgi no Porziņģa kā no Lukas.
Divi latvieši ASV galvaspilsētā – vai tā būs arī pēc februāra?
Svarīgākie starpsezonas notikumi organizācijai bija Bertāna līguma parakstīšana un Rasela Vestbruka iegūšana apmaiņā pret Džonu Volu. Vestbruks jau no pirmā treniņa uzņēmās vokālā līdera lomu, bet pirmajā oficiālajā sezonas mačā iekrāja "triple – double". Neesam vēl darbībā redzējuši Volu, kurš izlaidis teju pilnas divas sezonas, tomēr vairāki eksperti lūko norādīt – "Wizards" no šīs maiņas ieguva.
We mic'd up Russ for the final day of #WizCamp! 😂😂😂@russwest44 | @MedStarHealth pic.twitter.com/DPyU4VWd4H

— Washington Wizards (@WashWizards) December 13, 2020
Ja aizvadītajā gadā "burvji" tā nopietni iesaistīties cīņā par vienu no astoņām biļetēm uz izslēgšanas mačiem nespēja, tiesa, "burbulī" Orlando gan piedaloties, bet bez sekmēm un Bertāna un Bredlija Bīla, tad šosezon aina ir diametrāli pretēja. Ar Vestbruku ierindā cerības ir labas. Neaizmirsīsim, ka nekur nav pazudis Bīls, kurš pērn vidēji meta 30 punktus, bet ar to bija par maz, lai izpelnītos izsaukumu uz Zvaigžņu spēli. Ierindā ir Rui Hačimura (šobrīd gan traumēts), par maz novērtēts ir vieglais uzbrucējs Trojs Brauns, centrs Patriks Obraeins un citi. Un šai kompānijai klāt pieliekam Bertānu, kuram aiz muguras karjeras sezona – vidēji 29 minūtes, 15,4 punkti, trejačus realizējot ar 42,7% precizitāti. Un jā – Dāvi beidzot uzaicināja piedalīties uz "All Star" trīspunktu metienu konkursu, kur gan viņam nācās samierināties ar trešo vietu.
Dāvis, regulāri dedzinot pretinieku komandu grozu tīkliņus, tika dāsni atalgots – 80 miljoni uz pieciem gadiem. Tiesa, kopējais čekos izmaksātais dolāru apjoms ievērojami var samazināties noslēdzošajā sezonā, ja viņš tajā aizvadīs mazāk nekā 75% spēļu. Cena ir augsta – nenospēlēsi, nedabūsi 11 miljonus, tas nozīmē, ka kopējā summa būs 69.
Pērn Bertāns spēlēs vairumā gadījumu (50 no 54) iesaistījās no rezervistu soliņa, bet darīja to ļoti solīdi. Un arī pa grozu mest viņš nekautrējās, ik maču vidēji izmetot 8,7 trīņus. Ja iepriekš daudzi metieni bija "jāpiedzemdē" pašam, skrienot caur entajiem blokiem, tad līdz ar Vestbruka iesaisti Dāvim noteikti katru maču parādīsies pāris ekstra vieglās iespējas. Atliek vien tās realizēt. Eksperti prognozē, ka Dāvis piedzīvos nelielu kritumu gūtajos punktos, bet viņa loma aizvien būs ļoti svarīga. Piedevām ir spiediens par piešķirto "lielo kāpostu". Bet Bertāns pagaidām nav demonstrējis kādas pazīmes, ka viņš nav gatavs šim izaicinājumam.
Savukārt otra latvieši Anžeja Pasečņika esamība komandā nav akmenī iekalta. Precīzāk sakot – viņam ir doti pāris mēneši, lai pierādītu savu lietderību. Jau tad, kad tika paziņots par Pasečņika piesaistīšanu, bija zināms, ka viņa līgums ir daļēji garantēts. Šobrīd viņam būs garantēts līgums vismaz līdz 2021. gada 1. februārim ar atalgojumu 350 000 ASV dolāru. Vairāki eksperti norādījuši, ka centrs un viņa aģents pieņēmuši labu lēmumu, kas dod iespējas.
Jāatzīmē, ka debijas sezonā, kad Anžejs tika pie minūtēm, viņš kaunā nekrita – 27 spēlēs vidēji 16 minūtes,  5,8 punkti un četras atlēkušās bumbas. Tiesa, nedaudz acīs krita viņa "lēnīgums" un fiziskais – vēl aizvien liela daļa līgas centru ir miesās druknāki. Bet Anžejs vasarā ir krietni piestrādājis pie fiziskās sagatavotības, skrienot augšā un lejā pa Sidulgas kalniem. Zināma naudas summa līdz februārim arī ir kabatā, tagad atliek tikai "kapāt". Bet ar to var arī nepietikt, jo konkurence ir liela – Tomass Braients, Robins Lopess un Morics Vāgners. Lai arī tie nav pirmās "šķiras" centri, pēc kuru pakalpojumiem veidojas rindas līdzīgi kā alkohola veikalos neilgi pirms desmitiem vakarā, mēs tomēr par Anžeju runājam kā par 14 minūšu un piecu punktu džeku ACB (pirms došanās uz NBA).
Skaidrs ir viens – Bertāna un Porziņģa galvenie uzdevumi šosezon krietni atšķiras no Kuruca un Pasečņika. Pirmajiem ir jādod rezultāts, otrajiem jānokļūst līdz tam, lai iegūtu iespēju to dot. Ja Kuruca sakarā situācija ir nedaudz labāka tieši citu klubu acīs, jo tie redz, kādā komandā viņš spēlē (ja nu aizmaina?), tad Pasečņiks nav vienā līmenī ar sev priekšā esošajiem puišiem. Saprotams, ka viņu daudz redzēsim arī G-līgas spēlēs. Ja Anžejs līdz februārim netiks pie teikšanas, šo rindu autoru māc stipras šaubas, vai viņa aģents Artūrs Kalnītis vēlreiz spēs vinam sagādāt NBA līgumu. Tikmēr ar Kurucu situācija ir labāka, jo viņš sevi jau vienā sezonā pieteica pietiekami skaļi, kas atsevišķu klubu GM pierakstu blociņos brīdī, kad sāksies maiņu sarunas, noteikti vēl ir saglabājies. Anžejs ar tādiem ierakstiem, visticamāk, īpaši lepoties nevar…
Savukārt par KP un "latviešu lāzeri" viss skaidrs – top spēlētāji savās komandās (DB mazāk, protams) un ar mērķiem – vienam tie būtu "play-off", citiem tur uzkavēties pēc iespējas ilgāk. Bet vislielākās iespējas ir Kuruca "Nets". Nevar izslēgt arī iespēju, ka Latvijai šosezon varētu parādīties arī pirmais NBA čempions – eksperti Bruklinas vienības izredzes vērtē augstu. Kā būs dzīvē? Uzzināsim 2021. gada pavasarī. Cerams, bez pandēmijas un ar četriem latviešu puikām pasaules spēcīgākajā basketbola līgā!