2020. gads pasaulē nav bijis viegls un tāds nesolās būt arī nākamais. Kā jau ierasts, gadumija ir tas brīdis, kad var atskatīties uz paveikto un nostādīt jaunus mērķus un uzdevumus nākotnē. "Sporta pils" piedāvā atskatīties uz aizvadīto gadu Latvijas basketbola saimniecībā – ko tas mums nesa, un cik liels (vai mazs) ir bijis pandēmijas iedotais pliķis?
LBS kongress, janvāris
2020. gads Latvijas basketbolā iesākās ar ilggadējā (2011. – 2020.) Latvijas Basketbola savienības (LBS) prezidenta Valda Voina nomaiņu pret bijušo Latvijas Republikas Valsts prezidentu un divu ministriju vadītāju Raimondu Vējoni. Jāatsauc atmiņā kaislīgā priekšvēlēšanu gaisotne, kas atgādināja cīņu par vietām valsts līmeņa parlamentā. Sākotnēji uz LBS vadītāja amatu bija trīs kandidāti – neskaitot Vējoni, Anete Jēkabsone – Žogota un Kaspars Cipruss, kurš gan "negaidīti" kongresa dienā savu kandidatūru atsauca, aizbildinoties ar politiskajām spēlēm, ar kurām viņš nav spējīgs cīnīties. Starp citu, dienu iepriekš ar citu "negaidītu" paziņojumu klajā nāca Edgars Šneps, un tā saturs bija pildīts ar to, ka viņš vairāk nepretendēs uz nevienu no amatiem LBS struktūrās.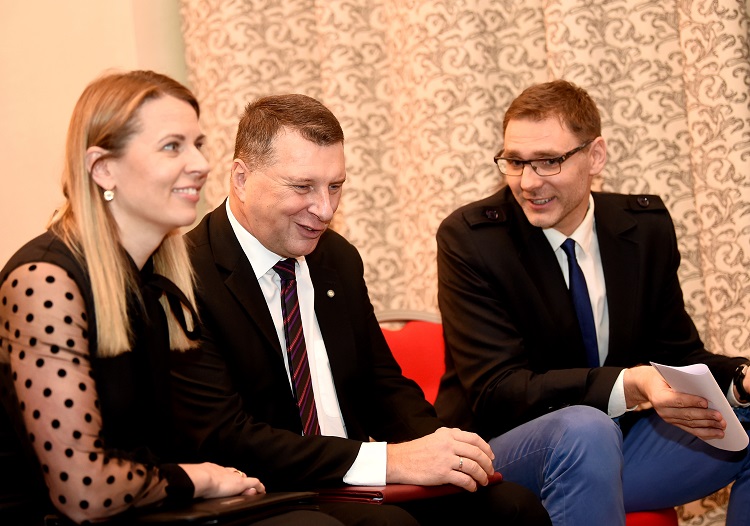 Kā nosapņoja šo rindu autors, tad Ciprusam tika apsolīts Šnepa "iesildītais" (un pārsēdētais) ģenerālsekretāra amats, ja viņš sevi atsauks. Tas darīts ar domu, lai gūtu lielāku atbalstu Vējonim, kurš savukārt bija pretnostatīts AJŽ, aiz kuras stāvēja Edgars Jaunups. Un, kad es pamodos, izlasīju, ka Vējonis uzvarējis LBS vēlēšanās ar pārliecinošu biedru atbalstu, bet sešus mēnešus vēlāk Cipruss veiksmīgi ierotēja Šnepa vietā. Tajā paša sapnī redzēju, ka Ciprusam šo vietu "atvēlēja" ar kavēšanos, kas vienā brīdī jau radīja stresu. Proti – uzmetāt mani, puiši, vai?
Roberta Štelmahera debija izlasē – neveiksmīga, februāris
Par Štelmahera piesaisti vīriešu valstsvienībai LBS "viedie" vienojās jau 2019. gada vasarā, un uz to brīdi šķita visloģiskākā kandidatūra. Oficiālu debiju viņš piedzīvoja teju pilnā "Arēnā Rīga" pret Bosniju un Hercegovinu. Neskatoties uz to, ka trešās ceturtdaļas beigās mūsējie bija vadībā ar 12 punktu pārsvaru, noslēdzošais ceturksnis tika izgāzts, gūstot vien astoņus punktus uz komandu. Un dienu vēlāk pagarinājumā izbraukumā atzīts Bulgārijas pārākums.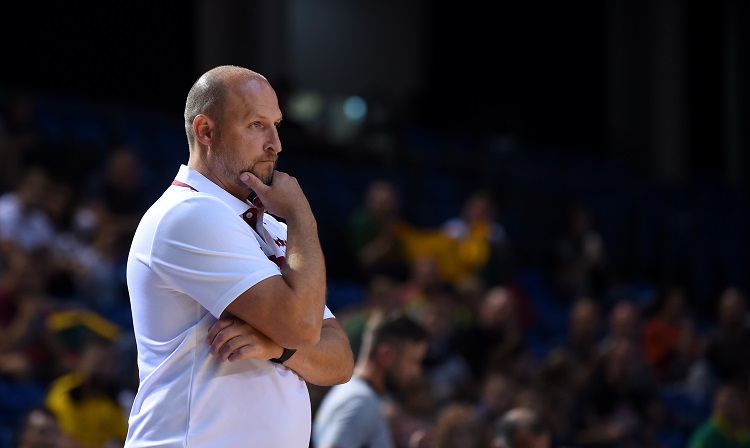 Divi zaudējumi pirmajās divās "Euro 2022" kvalifikācijas spēlēs, piedevām ar tik pateicīgu kalendāru, šķiet, nebija tas, ko visi gaidīja. Viens no iemesliem bija, ka vadība nespēja piesaistīt visus uz to brīdi labākos un pieejamos spēlētājus, par ko daudz jautājumi tika uzdoti tā brīža ģenerālmenedžerim Artūram Štālbergam. Situācija pārauga mazā konfliktā starp pāris personām – ĢM apgalvoja, ka Ingus Jakovičs un Andrejs Gražulis paši atteikušies braukt, savukārt par vainīgajiem nosauktie runāja ko citu.
Un te jāatzīmē LBS kongresa sekas – Štālbergs atklāti gāja pret Vējoņa kandidatūru, būdams "AJŽ komandas" izvirzītais potenciālais ģenerālsekretārs, bet vēlēšanās AJŽ atbalstu neguva, taču strādāt turpināt vajadzēja… Varam tikai iedomāties, kāda bija gaisotne Ieriķu ielas ofisos.
Čempions bez nevienas spēles, marts
Brīdī, kad notika tikai lemšana par jauno LBS vadītāju, reti kurš domāja, ka pēc diviem mēnešiem būs jālemj vai turpināt vai neturpināt klubu sezonu. Tika lemts par turnīru pārtraukšanu, vienlaikus ar brīvu roku izdalot arī medaļas.
Kā viņi to raksturo, tad "LBS valde nolēma veikt Latvijas vīriešu čempionāta dalībnieku klasifikāciju, saskaņā ar komandu ieņemtajām vietām Latvijas – Igaunijas līgas čempionātā uz tā pārtraukšanas brīdi 2020. gada 13. martā, un Latvijas sieviešu čempionāta dalībnieku klasifikāciju, saskaņā ar komandu ieņemtajām vietām "Douglas" Baltijas Basketbola līgas noslēguma tabulā uz 2020. gada 1. martu." Tā rezultātā vīriem zelts "VEF Rīga", "Ogrei" sudrabs, bet bronza "Ventspilij". Sievietēm, protams, kauss "TTT Rīga".
Respektīvi, par Latvijas čempionu varēja kļūt spēlējot ne-Latvijas čempionātā. Starp klubiem emocijas bija dalītas – "Ogre" sociālajos tīklos nekautrējās izcelt, ka tas ir augstākais sasniegums kluba pastāvēšanas vēsturē, tikmēr ventspilnieku pārstāvis Ralfs Pleinics mēli aiz zobiem neturēja, un publiski pauda neizpratni par šādu LBS lēmumu. Un viņam var piekrist.
Neiedziļinoties reglamenta "atgremošanā", īsumā – labākās sešas Latvijas komandas apvienotajā līgā vēlāk kvalificējās LBL "play-off". Kas arī, šķiet, neloģiski, jo to, vai būs iespēja cīnīties par Latvijas titulu, jānoskaidro ar igauņu palīdzību. Un pēc šāda principa arī vefiņš kļuva par čempioniem, bet ogrēnieši, kā uzskata, pie visu laiku labākā panākuma sev.
Siltie mēneši
Nevarētu teikt, ka pēc marta basketbola saimniecībā iestājās kapa klusums. Tomēr pāris mēnešus tāds bija gan. Un to var skaidrot ar pandēmijas radītajiem apstākļiem. Iespējams, pieminēšanas vērts ir LBS "palaistais" projekts "e-Basketbola līga" (kaut gan šo rindu autora ieskatā e-sports nav sports, bet gan atkarība), lai karantīnas apstākļos vismaz kaut kādā veidā atgādinātu par savu esību. Tāpat varam runāt par LBS iniciatīvu vasaras mēnešos tuvākos un tālākos izlases kandidātus nodrošināt ar brīvprātīgajiem treniņiem Rīgā, "Elektrum" Olimpiskajā centrā. Daudzi to izmantoji, daudzi cīnījās ar dažādu savainojumu sekām.
Jūlijā norisinājās "Baltijas ceļa" turnīrs Igaunijā, kurā piedalījās trīs "brāļu" tautas. Mājinieki bija novākuši labāko sastāvu, leiši solīdu (vairāki Kauņas "Žalgiris" spēlētāji un zināmi veterāni), bet mēs – tālu no optimālā. Tiesa, šis turnīrs nopietni interesēja tikai igauņiem, jo viņi to rīkoja un svinēja sava basketbola simtgadi, bet Lietuvai tas sāka interesēt brīdī, kad mačā ar igauņiem sākās sīva cīņa. Bet tiem, kuri aizbrauca, bija iespēja aizvadīt labu treniņa procesu un izjust oficiālu spēļu garšu. Jāpiemin, ka LBS gan pieļāva domu igauņiem svētkus sabojāt un apsvēra variantu varbūt nedoties, tomēr beigās visas formalitātes tika nokārtotas.
Neilgi pirms iepriekš minētā turnīra "TTT Rīga" nāca klajā ar nopietnu paziņojumu. Proti, Mārtiņu Zībartu galvenā trenera amatā nomainīs Mārtiņš Gulbis. Identiska rokāde iepriekš bija notikusi jau pie nacionālās sieviešu izlases stūres. Arī šo notikumu kontekstā, ja pieskaitām klāt vēl faktu, ka par kluba ĢM iecelts Štālbergs, kuluāros domas dalās. Svarīgi gan atzīmēt, ka "TTT Rīga" pērn bija nonākusi sarežģītā finansiālā situācijā, tomēr šobrīd tā ir stabilizējusies.
Un vēl jūlijs bija zīmīgs ar to, ka atdzīvojusies ideja par jaunas basketbola halles celtniecību. Zīmīgi, ka pēdējā primāri basketbola vajadzībām celtā bāze Latvijā ir "Daugavas" sporta nams, kuru uzcēla 1962. gadā… Un arī šī nebūs primāri basketbolam, jo kaut kā ir jāatpelna un sevi jāuztur…
Un ja runājam par Latvijas mērogā sauktajiem "lielajiem" klubiem, tad septembrī no "VEF Rīga" kluba prezidenta krēsla oficiāli aizgāja Edgars Jaunups, kurš šajā pozīcijā bija teju visu tā pastāvēšanas mūžu, ar vienu izņēmumu, kad šos pienākumus pildīja uzņēmējs Māris Martinsons. Tagad to pārņēma Gatis Jahovičs, kuram arī ir jau vairāku gadu pieredze kluba struktūrās. Jaunups gan norādīja, ka padomu neliegs, bet "pretējām pusēm" radās jautājums – cik tālu viņš aizgāja? Viņam jau nevar ticēt!
Tāpat vasarā tika nolemts atjaunot kausa izcīņu un tajā uz pāris spēlēm ierindā bija arī Kaspars Kambala, kura maču klātienē apmeklēja pat LBS prezidents. Labs veids, kā veicināt interesi par turnīru!
Jaunās sezonas sākums – ar "Covid-19" protokola neievērošanu, oktobris
Sezona Latvijā sākās laicīgi, bet ar Igaunijas pusi bija panākta vienošanās, ka apvienotā čempionāta pirmās divu spēļu kārtas tiek aizvadītas vienas valsts komandu starpā. Skatītājus hallēs vēl laida, tomēr ar ierobežojumiem – tajā drīkst būt aizpildīti tikai 50% no kopējā sēdvietu skaita, vienlaikus nodrošinot starp cilvēkiem divu metru distanci, kā arī tika noteikti cita veida obligāti ievērojamie drošības pasākumi.
Kā atklāšanas mačs tika nozīmēts "Ogre" pret "VEF Rīga", pirmajiem esot mājiniekiem. To klātienē apmeklēja arī Vējonis, kurš savā uzrunā izteicās par vīrusu, un ka, cerams, tas netraucēs basketbolam. Bet vizuāli bija redzams, ka "Ogres" komandas vadība līdz galam nebija tikusi galā ar visiem organizēšanas pasākumiem, jo cilvēki daudzviet sēdējā viens otram blakus, neievēroja distanci, un bija citi lielāki vai mazāki epidemioloģisku drošības noteikumu pārkāpumi.
LBS rīkojās ātri, sasauca ar klubiem konferenci, un deva jaunas norādes un izmainīja esošo kārtību, paredzot lielāku bardzību par tāda veida pārkāpumiem.
Svarīgas spēles cīņā par biļetēm uz finālturnīriem, novembris
Pirmās startēja sievietes, bet "burbulis" tika rīkots Rīgā. Paņemts revanšs pret Horvātiju, bet zaudēts vācietēm, kas dod kopējo bilanci 2-2, kas dod trešo vietu grupā. bet finālturnīrā "ierakstās" grupu uzvarētājas un piecas otro vietu īpašnieces. Vācietēm un Horvātijas pārstāvēm šobrīd ir pa trīs uzvarām. Matemātika ir sekojoša – jāuzvar abas atlikušās spēles, kur jātiekas ar Ziemeļmaķedoniju un Vāciju. Pirmās būtu labi uzvarēt jebkā, savukārt otrās – ieteicams ar septiņu punktu starpību, lai pie vienādas bilances mēs pretiniecēm būtu priekšā. Ja tiek zaudēts kaut vienā mačā, izredzes ievērojami sarūk. Abos – protams, izdeg. Likmes ir augstas.
Tikmēr vīru izlase pēc pirmā loga bija nonākusi daudz neapskaužamākā situācijā. Bilance 0-2, bet pretī bosnieši un grieķi, kuri gan bija tālu no optimālā sasaukuma. To veiksmīgi izdevās izmantot (77:66), ko gan nevarētu teikt par otru maču, kur atzīta sakāve (73:39).  Svarīgi atzīmēt, ka paralēli bulgāri nebija tālu (zaudējums pagarinājumā), lai pārsteigtu Grieķiju, tādējādi cīņa par finālturnīru nedaudz sarežģītos, bet ne kritiski. Aizvien ir jāuzveic Bulgārija savstarpējā mačā un viss būs nokārtots. Veiksmīgu apstākļu sakritībā ir iespējams pat izcīnīt otro vietu grupā. Kvalificējas trīs labākās.
LBS uzvara FIBA gaiteņos, decembris
Iepriekšējā nodaļā jau minēts, ka abām valsts vadošajām basketbola izlasēm gaidāmas sīvas cīņas par iekļūšanu EČ finālturnīros. Lai arī skatītāji aizvien, visticamāk, 2021. gada sākumā, kad norisināsies šie mači, nevarēs klātienē atbalstīt, mājas faktors arī var spēlēt savu lomu, un LBS ir izdevies panākt, ka abu izlašu noslēdzošie mači notiks tieši Rīgā.
Jāatzīmē, ka sieviešu izlases gadījumā no sešiem kvalifikācijas turnīra mačiem pieci būs aizvadīti Rīgā. Neslikti. Kamēr vīriešiem, kā izmantot savas zāles priekšrocības bez skatītāju palīdzības, parādīja bosnieši.
3×3 izlases triumfs Pasaules tūres finālposmā un Mieža MVP
Latvijas labākā 3×3 basketbola komanda "Rīga" (Agnis Čavars, Edgars Krūmiņš, Kārlis Lasmanis un Nauris Miezis) Saūda Arābijas pilsētā Džidā izcīnīja dramatisku uzvaru, fināla cīņā ar 22:21 pieveicot serbu vienību "Liman". Iepriekš latvieši šadu titulu izcīnījuši nebija.
Jāatzīmē arī, ka 2020. gada Pasaules tūres 108 dalībnieku balsojumā Nauris Miezis tika atzīts par sezonas vērtīgāko spēlētāju. Viņš ieguva 37% balsu, savukārt otrajā vietā bija Lasmanis ar 22%. Ielu basketbolisti rullē! Novēlam piepildīt arī olimpisko sapni, par kuru gan vēl būs jāpacīnās!
Pēcvārds
Saprotams, ka pandēmijas apstākļos lielas reformas neveiksi. Jo nekas gluži vienkārši īsti nenotiek. Ir vienkārši jāpārziemo. Var jau daudz runāt par to vai LBS strādā labi vai slikti, jo objektīvi to ir grūti novērtēt. Pirmajā izlašu logā vīriešu frontē bija jūtama "vecās vadības" elpa citā formātā (piemērs ar Štālbergu un spēlētājiem, galvenā trenera spītīgi lēmumi, viens no tiem pirmajā spēlē neizlaižot Artūru Žagaru, u.c..), tad vēlāk bija uzlabojumi, ieskaitot iegūtās tiesības izšķirošos "burbuļus" uzņemt Rīgā. Acīmredzot, naudas tam pietiks. Pat neskatoties uz to, ka 2020. gadā jāstrādā ir īpašā režīmā.
Varam arī priecāties par Kristapa Porziņģa debiju NBA "play-off" spēlēs, Dāvja Bertāna lielo līgumu un to, ka NBA ir četri latviešī. Varam arī priecāties, ka Eirolīgā leģions ir solīds (6) un ir vairāki pārstāvji Eiropas vadošajos čempionātos. Varam kritizēt, ka neesam vēl kvalificējušies uz EČ finālturnīriem, vai, ka aizvien nav īsti sakārtots vietējais čempionāts (klubi aizvien skaidri nezina, cik kārtas būs jāspēlē, kas, ko, kā notiks), un vērst uzmanību uz citām problēmām. Bet ir arī labie darbi, kurus vajadzētu turpināt un to daudzumu audzēt.
Ne velti kalendārais gads ir kā noteikta vienība, pēc kuras izvērtē paveikto darbu efektivitāti. Pandēmija ne tikai "atņem", bet arī "iedod" laiku, kas varbūt nebūtu tik daudz normālos apstākļos. Tas ir jāizmanto, lai novērstu sava darba nepilnības, un nāktu klajā ar progresīviem jaunievedumiem kopējai Latvijas basketbola attīstībai – to arī novēlam basketbola saimniecībai 2021. gadā!