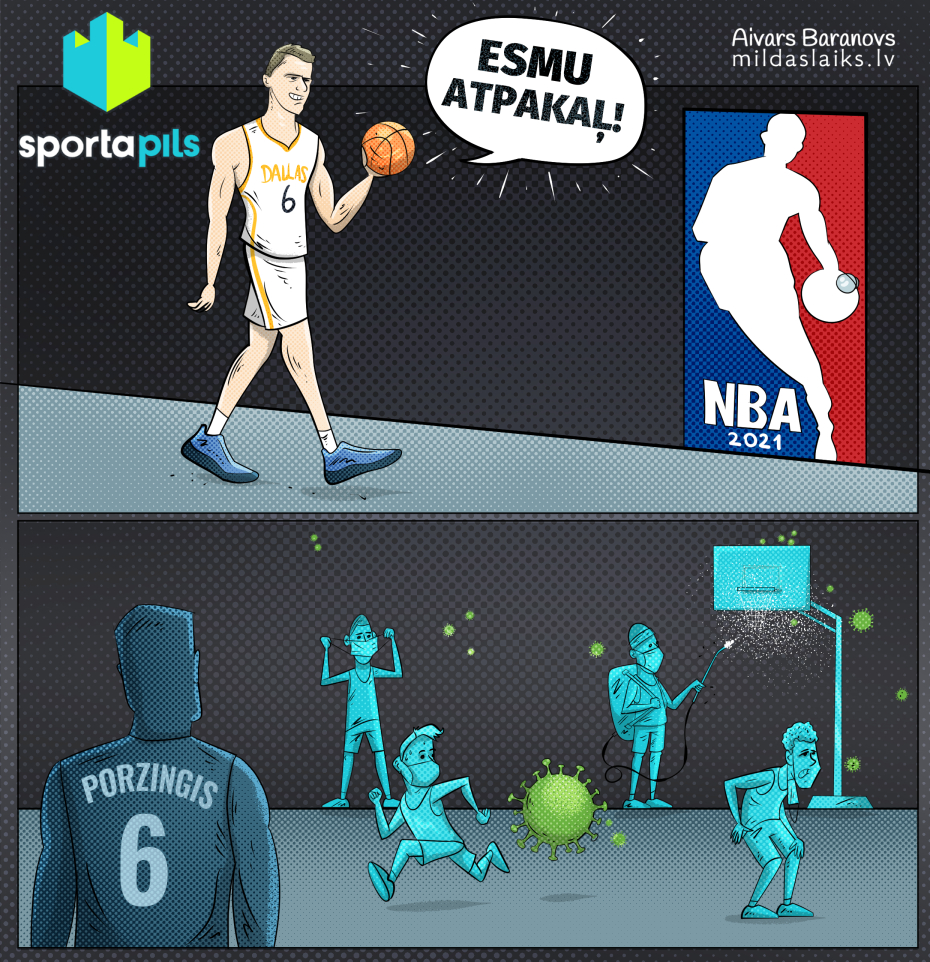 Kristaps Porziņģis jau novembra vidū bija apņēmības pilns drīzumā atgriezties laukumā un sākt NBA sezonu bez īpašas aizkavēšanās, taču jau tobrīd NBA klubs Dalasas "Mavericks" sūtīja skaidrus signālus, ka riskēt netaisās un Porziņģis spēlēs tikai tad, kad nebūs nekādu jautājumu par viņa atveseļošanos pēc meniska operācijas. Kristaps Porziņģis iepriekšējo sezonu pabeidza ar savainojumu, kas vēlāk izrādījās visai nopietns, un atkal nācās runāt par to, vai augumā staltais latvietis ir vai nav pārāk traumatisks Amerikas basketbola režīmam.
Tāpēc nevar noliegt prieku par naktī uz ceturtdienu pieredzēto, kad Kristaps Porziņģis spēra sezonas pirmos soļus NBA laukumā un darīja to ļoti pārliecinoši. Kas svarīgi – ne pēc ceļgala krustenisko saišu traumas, ne tagad pēc meniska operācijas Porziņģis neizskatījās zaudējis savu apņēmību uzbrukumā. Kamēr satrauktāko līdzjutēju sirdis iepukstējās straujāk, redzot nedaudz sasistu potīti un kritienu, Porziņģis ar drošiem soļiem devās caurgājienos. Protams, viņa galvenais ierocis vienmēr bijis tik garam spēlētājam netipiski lielisks tālmetiens, ko Porziņģis nodemonstrēja jau pirmajā mačā, iemetot četrus trejačus.
Piesardzības pasākumi viņa sakarā gan vēl turpinās – neies taču "Mavs" vienkāršās regulārās sezonas spēlēs riskēt ar savu 150 miljonu dolāru ieguldījumu. Būtu jāuzdod nopietni jautājuma par kluba kompetenci, ja tas netiktu darīts. Pirmajā mačā nospēlēta 21 minūte, neskatoties uz to, ka Dalasas sastāvā ir lieli robi, un droši vien neko īpaši vairāk vēl vismaz dažās tuvākajās spēlēs gaidīt nevajag.
Ja, protams, šīs dažas tuvākās spēles vispār notiks. NBA vadībai janvāra sākums nāca ar nepatīkamu pārsteigumu – miljonus pelnošie basketbolisti, ja vien netiek fiziski salikti kopā slēgtā nometnē, savā brīvajā laikā negrib sēdēt mājās un skatīties televizoru. Ne visi un droši vien pat ne vairākums, taču Covid-19 laikos arī ar izņēmumiem pietiek, lai kolektīvā izplatītos infekcija. Ja vasarā NBA burbuli Orlando izdevās aizvadīt ar tikai atsevišķiem karantīnas pārkāpumiem (vienreiz testu nodot aizmirsa arī Porziņģis), tad janvārī par tādiem "sīkumiem" vairs nemaz netiek ziņots – tā vietā līgas vadībai nākas pētīt, kādā stripklubā tieši viesojies Džeimss Hārdens un kur īsti palicis Kairijs Ērvings. Un līgas vadībai arī nākas pārcelt spēles, jo vairākos klubos konstatēti Covid-19 gadījumi.
Visa vīrusa nelaime ir tāda, ka to var konstatēt tikai dažas dienas pēc inficēšanās, attiecīgi inficētie spēlētāji paspēj vēl piedalīties treniņos un spēlēs un tikai tad uzzina par savu pozitīvo testu. Saslimšana konstatēta arī Porziņģa komandā, tādēļ nācās pārcelt nedēļas sākumā paredzēto maču un tādēļ ceturtdienas spēlē Porziņģim iztrūka pat četru ierasto komandas biedru – basketbola komandas rotācijā tā ir puse sastāva. Šonedēļ pārceltas arī divas "Wizards" spēles, kas nozīmē piespiedu brīvdienas Dāvim Bertānam un Anžejam Pasečņikam. Līgas vadība gan sola, ka par sezonas apturēšanu nedomā un šādi gadījumi jau paredzēti iepriekš, bet – negaisa mākoņi savelkas virs galvas. Un NBA, par spīti visiem saviem amerikāņu biznesa grēkiem, laikam tomēr nebūs KHL Krievijas hokejā, kas rudenī vienkārši nogaidīja, kamēr vairums līgas pārstāvju izslimo infekciju.
NBA ieviesusi stingrākus noteikumus tuvākajām nedēļām – spēlētājiem ārpus spēlēm jāuzturas mājās (vai izbraukumā – savā viesnīcā), tāpat notiek centieni ierobežot spēlētāju fiziskos kontaktus pirms un pēc spēlēm. Taču Ņujorkas mediji pēc "Knicks" un "Nets" derbija ziņoja, ka tas īsti nostrādājis nav, jo NBA spēlētājiem tāpat paticis sarokoties, aprunāties un apskauties ar pretinieku komandas spēlētājiem, varbūt nemaz arī neko sliktu nedomājot, taču vīrusam jau tas vairs neinteresē. Daži NBA basketbolisti arī iebilst par savas brīvības ierobežošanu ar šādu nosacījumiem, taču arī vīrusam neinteresē. NBA vadībai gan var ieinteresēt, kāpēc no klubiem miljonus saņemošie basketbolisti iebilst pret klubu noteikumiem, tieši tāpat kā līgas vadība sākusi interesēties par Ērvinga situāciju, esot prom no komandas "personīgu iemeslu" dēļ. Tas viss var novest pie algas ieturēšanas vairāku miljonu vērtībā.
Bet laika tikt ar to visu galā nemaz nav tik daudz, un līgas vadībai atkal var nākties pieņemt ātrus lēmumus. Tagad, kad Porziņģis atgriezies laukumā, laukumi tiek spodrināti ārkārtas režīmā, lai tikai turpināt spēļu kalendāru. Ja vadzis lūzīs, Porziņģim kopā ar pārējiem drīz nāksies soļot pretējā, bez-basketbola virzienā. Un gandrīz gadu pēc pandēmijas sākuma, kad pasaulē jau norisinās tik daudzi liela mēroga sporta pasākumu, arī tikai pāris nedēļu piespiedu pārtraukums NBA būtu liels trieciens.