Čehijas hokeja līga pēdējos gados piedzīvojusi latviešu spēlētāju pieplūdumu. Vispirms sevi tur labi pieteica uzbrucējs Roberts Bukarts, kurš aizvadīja rezultatīvas sezonas Zlīnas komandā, bet vēlāk nomainīja komandu un nākamajos gados pārstāvēja trīs dažādus klubus. Pēc Bukarta nākamie uz Čehiju devās Ralfs Feibergs, Andris Džeriņš, Edgars Kulda, Oskars Cibuļskis un vēl daži latvieši. Kopumā šosezon Čehijas čempionātā spēlē pieci mūsējie – Oskars Cibuļskis, Guntis Galviņs, Māris Bičevskis, Uvis Balinskis un Ralfs Freibergs. Cibuļskis aicinājumu aprunāties pilnībā ignorēja, bet Galviņu Latvijas mediji jau vairākus gadus principā neaiztiek. Ar Freibergu, Balinski un Bičevski "Sportapils" aprunājās par viņu gaitām leģionāru statusā.
Ralfs Freibergs
Aizsargs Ralfs Freibergs Čehijā aizvada savu ceturto sezonu. Pēc trīs gadiem Zlīnas komandā, aizsargs vasarā pievienojās vienai no līgas līdervienībām Brno "Kometa". Sarunā ar "Sportapils.com" spēlētājs norāda, ka pirms jaunās sezonas bija citas ekspektācijas par iespējamiem notikumiem komandā, tomēr sezonas laikā aizsarga pozīcijas vairs nav tik stabilas. Jauno gadu aizsargs vēl pagaidām sāka Brno, taču situācija ap spēlētaju liecina, ka šis var nebūt viņa vienīgais klubs šosezon. 24 spēles viņš guvis divus vārtus un atdevis sešas rezultatīvas piespēles.
Zlīnā Freibergs pirmajā sezonā sakrāja 26 punktus, nākamajā gadā 24, bet pērn par punktu mazāk – 23. Ar cerībām Freibergs raudzījās arī Brno virzienā, kas ir viens no TOP klubiem, taču trenera uzticību nav izdevies pilnībā iekarot.
"Sezona kā pa viļņiem. Pirmsezonā viss bija kārtībā – sešās spēlēs iekrāju sešus punktus, spēlēju pirmajā vairākumā un tā tas tupinājās arī sezonas sākumā, taču Covid-19 situācija atstāja iespaidu. Klubam pievienojās spēlētāji ar NHL pieredzi. Sezonas gaitā divi no viņiem gan devās atpakaļ uz NHL, bet viens palika. Tāpat zināmas korekcijas atstāja Čehijas izlases nesenais sniegums U-20 pasaules čempionātā un vietējie žurnālisti sāka novelt vainu uz klubiem, ka tie sastāvā pārāk maz iespēlē vietējos čehu spēlētājus. Klubi paraksta ārzemniekus, bet pēc tam tiem ir jātaisnojas, kāpēc līgumi nav slēgti ar vietējiem," situāciju raksturo Freibergs.
Freibergs norāda, ka konkurence par vietu sastāvā Brno klubā ir krietni lielāka nekā viņa iepriekšējā komandā Zlīnā. "Brno viss ir citādāk. Šeit galvenais treneris Libors Zabranskis pilda arī ģenerālmenedžera funkcijas un ir kluba vadītājs. Viņam ir savs skatījums uz visu situāciju. Piemēram, rīt mums spēle pret vienu no līderiem Prāgas "Sparta", bet es šovakar nezinu vai mani pieteiks mačam. Šāda situācija ir visu sezonu, kad par vietu sastāvā nevaru būt drošs. Līdz 31. janvārim, kad noslēgsies transfēru laiks, viss var mainīties," teic aizsargs, kurš neizslēdz variantu, ka Brno viņam var nākties atstāt, taču pagaidām viņš joprojām ir kluba rīcībā, neskatoties uz to, ka dažas spēles hokejists atstāts ārpus pieteikuma.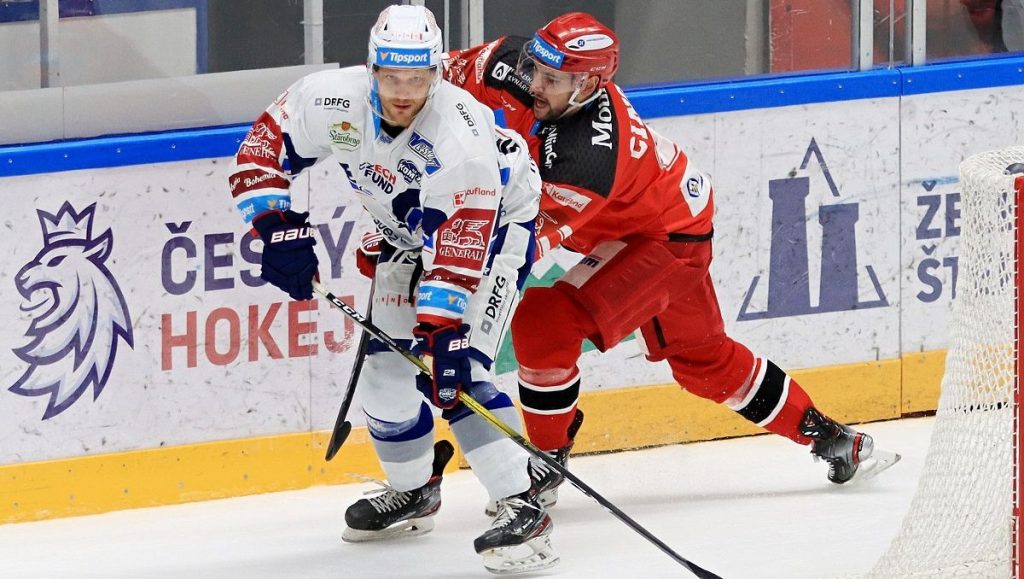 "Čehu hokejs visās komandās ir līdzīgs, bet Brno ir tomēr ausgtāka līmeņa komanda par Zlīnu. Ārpus hokeja šeit viss ir kārtībā. Dzīvoklis ir labs, tāpat man piešķirta automašīna, bērnam ir iespēja iet vietējā bērnudārzā. Man iedeva "Volvo". Sponsori klubam ir daudz, taču tāpat kā citām līgas vienībām, arī mums nogrieza algas. Zinu, ka Zlīnai ir ļoti slikta finansiālā situācija, spēlētājiem ir nogriezti bonusi, un viņiem būs grūti pabeigt sezonu. Domāju, ka viņiem ir sliktākā situācija visā līgā. Jau pērnajā sezonā algas tika samazinātas par 50 procentiem, prēmijas arī tika nogrieztas, un vasarā notika tas pats. Cik saprotu, situācija Zlīnā ir ļoti bēdīga. Domāju, ka arī nākamā sezona klubiem šeit nebūs diez ko spīdoša finansiālajā ziņā.  Arī man šeit Brno tika nogriezta alga, bet tas tika veikts novembra sākumā."
"Sezonu iesākām slikti, bet vēlāk pakāpāmies uz augšu un tagad tabulā esam devītie. Piemēram, Prāga nopirka labus spēlētājus un ir tabulas augšgalā. Pardubicei nomainījās īpašnieks un klubu vada viens no bagātākajiem cilvēkiem Čehijā. Viņš atnāca ar savu naudu, nopirka spēlētājus un joprojām papildina sastāvu ar labiem kadriem. Domāju, ka viņi vēl papildinās sastāvu, jo dedlains vēl nav, un līdzekļi to ļauj. Pardubice vēlas uzvarēt šosezon. Pirms sezonas es noteikti visaugstāk no konkurentiem vērtēju Triņecu, jo viņi laba sāka čempionātu. Ļoti saliedēta komanda, taču pēdējos mačos viņi piedzīvojuši zaudējumus. Daži spēlētāji atstāja klubu, kā rezultātā spēle viņiem pamainījās," situāciju tabulā ieskicē aizsargs.
"Triņeca ir turīgākā komanda līgā, nākamā sarakstā laikam varētu būt Pardubice. Bet viennozīmīgi, ka pandēmijas situācija atstāja ietekmi uz visu čempionātu. Esmu dzirdējis, ka Austrijā klubiem finansiālā situācija ir laba. Austrija ir turīga valsts un līdzekļi klubiem netrūkst."
Rudenī Čehijas čempionāts uz brīdi tik pārtraukts, jo Covid-19 saslimstības rādītāji palielinājās. "Kad čempionāts tika apturēts, mēs praktiski netrenējāmies. Zinu, ka Zlīna negāja uz ledus, arī Olomouca, bet citas komandas brauca uz Poliju aizvadīt treniņus. Daži klubi trenējās āra laukumos. Kad atsākās čempionāts, dažu dienu laikā mums bija jāuzņem forma un jāsāk spēlēt. Šosezon Čehijas līga ir slēgta un neviens no klubiem ārā nekrīt no čempionāta, tāpēc klubi, kuri ir tabulas lejasdaļā un citus gadus pavasarī aizvadīja pārspēles par vietas saglabāšanu līgā, neraujas par katru cenu piesaistīt spēcīgus spēlētājus."
Aizsargs par savu nākotni klubā daudz neprāto, bet pilda līgumā paredzētos nosacījumus un daļēji gaida arī transfēru perioda beigas. "Man ir garantēts līgums līdz sezonas beigām. Kā būs, to redzēsim," teic spēlētājs, kurš līguma laušanas gadījumā neizslēdz iespēju noklūt kādā citā Čehijas klubā vai doties uz citu valsti.
Uvis Balinskis
24 gadus vecajam aizsargam šis ir pirmais gads leģionāra statusā un jāteic, ka pagaidām ar saviem uzdevumiem viņš tiek galā. 29 spēlēs "Verva Litvinov" klubā 3+6, bet viens no lielākajiem spēles laikiem komandā liecina, ka treneru korpuss ar Uvi rēķinās kā ar vienu no vadošajiem aizsargiem.
"Sezonas sākums bija pagrūts, bet tagad jūtos labāk. Komandā iejutos labi. Pirms braucu uz klubu, man sarunu ar galveno treneri Vladimiru Oršžāgu un viņš pastāstīja, kādu lomu man redz sastāvā. Es zināju, ko no manis gaida un es zināju, uz kurieni dodos. Par pašu pilsētu daudz informācijas gan nebija, bet aprunājos ar Ralfu Freibergu un viņš pateica, ka Litvinova nav ļoti liela pilsēta."
"Šeit spēlēju gan vairākumā, gan mazākumā. Spēles laiks atšķiras – ir mači, kad aizvadu daudz minūšu uz ledus, bet citās spēlēs nospēlētais laiks ir mazāks. Noteikti ir bijušas spēles, kurās pavadītais laiks uz ledus ir virs 20 minūtēm. Parasti mēs spēlējam ar sešiem aizsargiem. Ar Oskaru Cibuļski spēlējam kopā. Bija dažas spēles, kurās bijam šķirti, bet pēdējā laikā atkal abi esam vienā aizsargu pārī," stāsta Balinskis.
"Man patika trenera redzējums, šeit viss norit profesionāli un mani šeit viss apmierina. Savu spēles stilu nemēģinu mainīt, bet ir epizodes, kur jāpietur ripa vai tieši pretēji, pēc iespējas ātrāk jāatdod piespēle un no tās jāatbrīvojas. Mēģinu vadīties pēc situācijas."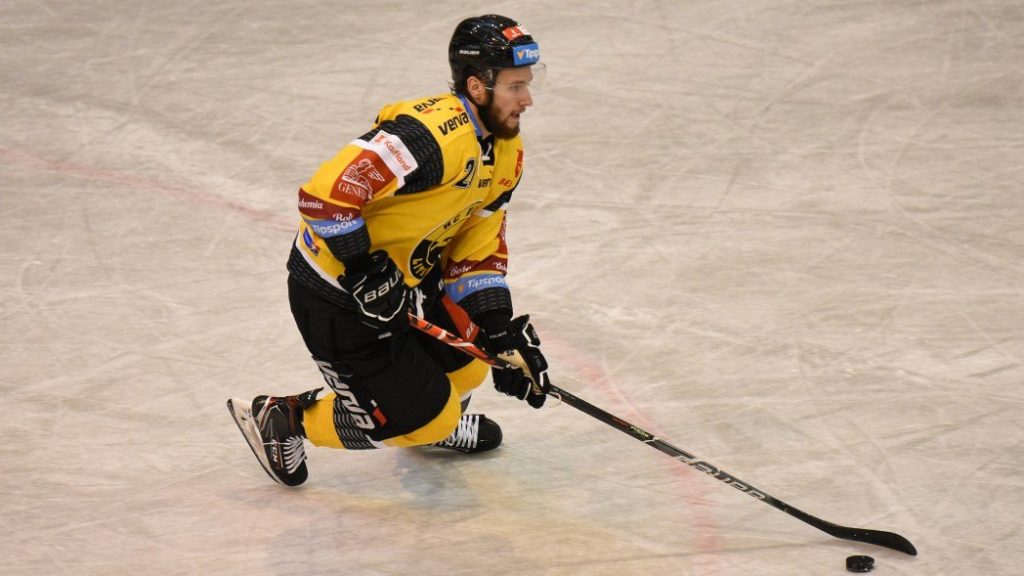 Balinskis arī atzīst, ka Covid-19 atstāja ietekmi uz kluba finasiālo situāciju. "Mums arī nogrieza algas tāpat kā citos klubos. Neesam vienīgais klubs, kuru ietekmēja pandēmija, jo Čehijā uz hokeju nāk ļoti daudz skatītāju. Pandēmija atstāja sekas. Kluba budžeti nav piepildījušies, un komandām šosezon klājas grutāk kā citus gadus. Ģenerālsponsors ir degvielas uzpildes stacija "Benzina" (ietilpst "Unipetrol" un "Orlen Group" sastāvā."
Aizsargs teic, ka kopumā čempionāts ir saspringts un to arī parāda rezultāti. Tabula ir blīva, izteiktu favorītu nav. "Pāris dienas atpakaļ bija spēle ar tabulas pēdējo vietu, kurai zaudējām. Mačs nebija viegls, bet šajā čempionātā katrs var uzvarēt katru. Vieglu spēļu nav. Prāgas "Sparta" un Triņeca ir labas komandas, tāpat arī citas vadošās komandas var izcelt."
Balinskis norāda, ka par savu nākotni vienībā precīzus komentārus patlaban sniegt nevar, bet uzsver, ka neatteiktos arī nākamgad palikt Čehijā. "Grūti atbildēt par nākamo gadu, jo neesmu domājis par to. Sākums bija grūtāks, bet pēdējās spēlēs jūtos labi. Ar sadzīvi esmu apmierināts – klubs piešķīra automašīnu un dzīvokli, arī komandā esmu iejuties labi. Visi runā angliski un nav nekādu problēmu ar komandas biedriem komunicēt. Kluba mērķis ir iekļūt play-off. Jātiek desmitniekā, taču treneris uzskata, ka varam regulārajā sezonā būt arī augstāk. Mums tas ir pa spēkam. Visas komandas ir izslimojušas šo pandēmiju un domāju, ka nekam trakam nevajadzētu būt. Testi notiek katru otro dienu. Man nebūtu iebildumu šeit pavadīt vairākas sezonas, savukārt, kas attiecas par Rīgas "Dinamo" – vasara nekādu sarunu par jauna līguma nosacījumiem nenotika, jo nebija skaidrība, kurš vadīs komandu."
Māris Bičevskis
Uzbrucējam Mārim Bičevskim šī ir trešā sezona Čehijas čempionātā. Pēc vienas pilnas sezonas Hradeckralovas "Mountfield" 29 gadus vecais uzbrucējs arī otro sezonu iesāka šajā pašā klubā, taču oktobra beigās tika aizmainīts uz "Mlada Boleslav" vienību. Nospēlējis tur gandrīz pilnu sezonu (36 spēlēs 5+6), pērn rudenī sākās viņa otrā sezonā šajā klubā.
"Situācija ar Covid-19 un ierobežojumiem ir līdzīga kā Latvijā. Pulcēties nevar, ciemos iet nevar, strādā pārtikas veikali, aptiekas un benzīntanki. Nopirkt var tikai pirmās nepieciešamības preces. Līdzjutēji hallēs nav," situāciju Čehijā ieskicē uzbrucējs.
"Kad sākās sezona, nospēlējām četras spēles un "pandēmijas cipari" sāka iet uz augšu. Atkal tika izsludināts ārkārtas stāvoklis un valstī aizliegti kultūras un sporta pasākumi. Līga tika mēnesi apturēta, kura laikā aizvadījām tikai treniņus. Nosēdējām karantīnā, bet vēlāk slidojām atklātajā slidotavā, kur spēlēm gatavojāmies trīs nedēļas."
"Finansiālajā ziņā komandai ir mazāka rocība kā citus gadus un pieļauju, ka citiem klubiem ir līdzīga situācija. Neviens nezināja, kāds būs sezonas starts. Mums jau no pašas sezonas sākuma visi spēlētāji vienojās par algas samazinājumu, un no pandēmijas ietekmes uz kluba budžetu mēs neizbēgām. Man ar klubu bija līgums jau vasarā un par sevi biju drošs, kamēr citi spēlētāji ilgi bija bez kontrakta un gaidīja, kas notiks spēlētāju tirgū. Mūsu klubam uzdevumi pirms sezonas nebija skaļi pateikti, bet komandas iekšienē runājām, ka jāturpinā spēlēt tāpat kā aizvadītajā sezonā. Es esmu apmierināts ar to, cik daudz man dod spēlēt. Punktus vienmēr var vēlēties vairāk, taču, ja daudz sanāk spēlēt mazākumā, tad spēki aiziet tur un punkti tik viegli nekrājas. Tāpat daudz spēlēju pret citu komandu vadošajām maiņām. Kopumā esmu apmierināts. Nesen skatījos, ka visā līgā esmu pirmais pēc mazakumā aizvadītajām minūtēm. Joprojām spēlēju centra pozīcijā, bet sešas spēles biju kā malējais uzbrucējs," savu lomu komandā skaidro Bičevskis, kurš laukumā devies gan pirmajā, gan arī visos pārējos virknējumos.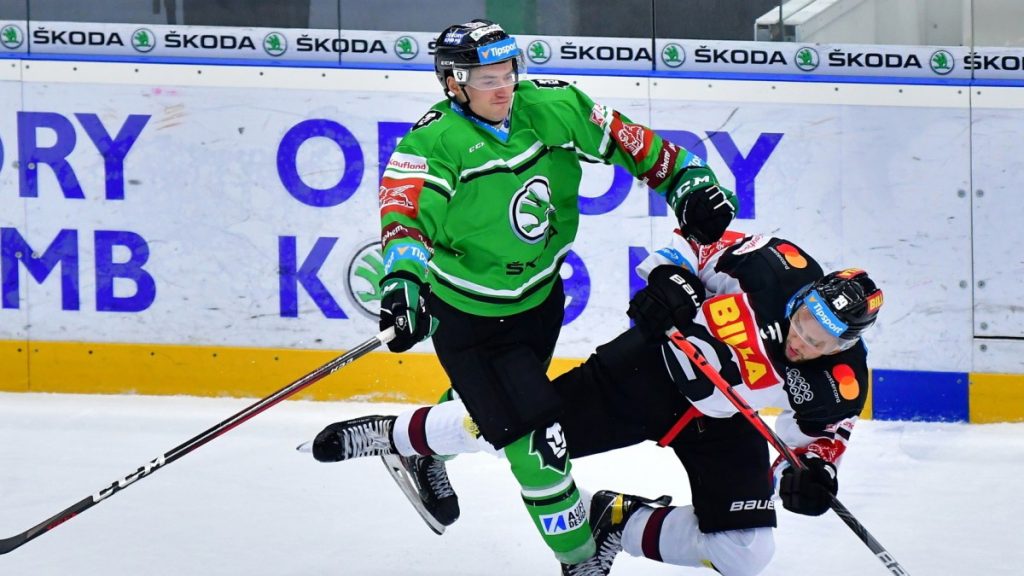 "Skaļu uzvārdu mums nav komandā, bet pērn bija spēlētāji, kuriem bija lielāka pieredze, piemēram Jakubs Klepišs, Mihals Vondrka un Lukašs Kašpars. Tas varētu būs saistīts ar to, ka komandai ir mērķis ilgtermiņā izaudzināt vietējos hokejistus."
"Vieglu spēļu čempionātā nav. Esam izbaudījuši zaudējumus arī pret līgas apakšgalas klubiem, bet tomēr ir vairāki favorīti čempionātā – Prāga, Liberece, Triņeca un Pilzene. Prāgai ir labs budžets, tomēr uzskatu, ka nav neviena komanda, kura būtu galvastiesu pārāka. Komandas noķer uzvaru vilni un tad iet uz augšu. Mums arī tā bija, kad vairākas spēles pēc kārtas tikām pie panākuma un tad bija vieglāk spēlēt."
"Kluba galvenais sponsors ir "Škoda", un šeit ir arī šīs autobūbes galvenā rūpnīca. Ar sadzīvi Mlada Boleslav esmu apmierināts un nav par ko sūdzēties. Sarunvalodas līmenī pārvaldu čehu valodu, lai varētu ne tikai komandā pārrunāt aktuālās lietas, bet arī ārpus halles sadzīvē. Bērni iet vietējā bērnudārzā un par sadzīvi es nevaru sūdzēties."
Bičevskis saka, ka par nākamo sezonu ir pāragri runāt, taču esošais līgums un pavadītās sezonas Čehijā var veicināt vieglāk tikt pie jauna līguma nekā tiem spēlētājiem, kuriem šī līga ir jāiekaro no paša sākuma.
"Līgā spēlē pieci latvieši, bet es noteikti priecātos, ja vēl kāds atbrauktu no mūsējiem. Līgums uz nākamo gadu man ir ar komandu, taču ar piebildi, ka klubs var izmantot savu opciju attiecībā uz manis paturēšanu vai līguma laušanu. Sezonas beigās aģents runās ar kluba badību, lai noskaidrotu, ko klubs plāno darīt un vai rēķinās ar mani. Galavārds piederēs klubam. Par Gunta Galviņa situāciju un viņa došanos prom no Triņecas gadu mijā un pievienošanos "Verva Litvinov" es nevaru spriest, taču uzskatu, ka tiem, kuri šeit pavadījuši vairākas sezonas, ir vieglāk parakstīt jaunu līgumu. Klubi tevi ir redzējuši un ir vieglāk pāriet uz citu šī čempionāta komandu," secina hokejists.