Kā saka – jauns gads, jaunas cerības aizsniegties līdz saviem mērķiem. Tā tas ir arī Latvijas basketbolā, kam tas iesācies ar dažādām sajūtām. Labā ziņa ir tā, ka "VEF Rīga" noturēja uzņemto tempu un kvalificējās FIBA Čempionu līgas top16 kārtai. Kopš šāds turnīrs izveidots 2016. gadā, neviens latviešu klubs to nebija paveicis, kaut gan arī spēlējuši tajā bez rīdziniekiem bija tikai "Ventspils".
Mērenā ziņa – nacionālajai sieviešu valstsvienībai nākamajā nedēļā priekšā "būt vai nebūt" spēles EČ kvalifikācijas turnīrā, bet sliktā ziņa ir tā, ka savilkušies pelēki mākoņi ar topošo "Basketbola mājas" ideju. Par visu pēc kārtas turpinājumā rubrikā "Kas notiek basketbolā".
Labā ziņa – "VEF Rīga" rullē!
Pēdējo divu gadu Latvijas čempioni (pērn gan nosacīti, jo medaļas sadalīja LBS kabinetos) FIBA ČL sezonu gaidīja, rēķinoties ar vismaz 14 starptautiska līmeņa mačiem. Proti, komandas bija sadalītas četrās grupās pa astoņām komandām. Pandēmijas pirksts gan visu mainīja, jo nolikums tika mainīts, pārejot uz astoņām grupām pa četrām komandām, kur pretiniekos bija Francijas "Strasbourg", Viļņas "Rytas" un grieķu "Peristeri".
Runājot par komandām, kas rīdziniekiem atkrita, tad tās bija Stambulas "Galatasaray", Tenerifes "Iberostar", itāļu "Dinamo Sassari" un Orhūsas "Bakken Bears" no Dānijas. "Galatasaray" apakšgrupu turnīru noslēdza ar vienu uzvaru, savukārt "Iberostar" un "Sassari" ar četrām, bet dāņu komanda ar trīs. Visas spēlēja vienā grupā. Kāpēc tāda piebilde? Lai līdzjutēji var pafantazēt – kā būtu bijis labāk, un vai astoņu komandu kokurencē iespējas nebūtu stipri ierobežotākas.
Brīdī, kad tika paziņots četru komandu grupas sastāvs cerības par "VEF Rīga" soļošanu tālāk bija mazas un kā reālākā komanda "uz papīra", ar kuru varētu cīnīties par uzvarām, likās "Strasbourg". Realitātē abi mači pret viņiem tika zaudēti izcilās (no skatītāju, un ne no laviešu skatu punkta) galotnēs – ar pēdējo metienu un otrajā pagarinājumā, bet pārējos četros mačos vefiešiem uzvaras. Tostarp drāma mājās ar "Peristeri", kur uzvaru ar fantastisku tālmetienu izvilka Kristers Zoriks!
KRISTERS. ZORIKS. UZVARA. 🔒 pic.twitter.com/AOPTwQ7D7Q

— VEF Rīga (@vefriga) January 26, 2021
Kas bija vefiešu panākumu atslēga? Ja skatāmies skaitļos, tad uzbrukums uz pārējo komandu fona bija viduvējs, jo ar vidēji mača gūtiem 80,3 punktiem tas deva 18. vietu, savukārt galvenais ierocis bija aizsardzība, kur ar ielaistiem 76,2 rīdzinieki ir sestajā vietā. Tāpat cīņa par atlēkušajām bumbām, kur otrā vieta. Visos pārējos nozīmīgajos statistikas rādītājos komanda neatrodas labāko 10 starpā. Bet kā izrādās – visu nemaz nevajadzēja izdarīt, un praksē pierādījās basketbola klasika – aizsargā savu grozu un savāc bumbas, un uzvara būs rokā!
Tāpat noteikti var minēt savu iespēju izmantošanu. Piemēram, pirmā apļa mačā ar "Rytas" pretiniekiem ierindā nebija pāris vadošie spēlētāji, bet viens no tiem zālē ieradās pa taisno no padsmit stundu lidojumiem ar pārsēšanos no izlases mačiem, un kādu stundu tikai pirms mača sākuma. Tāpat arī "Peristeri" bija savas problēmas un laikā starp pirmo un otro savstarpējo maču komandā bija nomainījusies virkne spēlētāju, kā arī galvenais treneris.
Pats galvenais gan ir tas, ka komandas vadība spēja nokomplektēt sastāvu tā, ka šaubas nemaz neradās – "uzspīdēja" Zoriks, trāpīts ar leģionāriem, bet, tā saucamais, otrais ešalons no vietējiem savas funkcijas pildīja veiksmīgi. Te gan bija nelielas šaubas, jo pirms sezonas vadība sastāvā nepaņēma vienu latviešu spēlētāju, tiesa, kurš tāpat nebūtu spēlējis pirmās vijoles, mēnešalgas atšķirību dēļ. Proti, viņš prasīja par nepilnu tūkstoti vairāk nekā viens no tiem, kurš šobrīd sastāvā ir. Radās jautājums – zinot, ka uz pārējo Eiropas klubu fona, kas tur piedalās, klubs, kura sastāva komplektācija notiek pēc šādiem scenārijiem, starptautiskajā līmenī uz kaut ko var cerēt? Bet tā jau ir vēsture…
Noteikti arī komandas iekšējā "ķīmija" – visi puiši esot viens ar otru labās attiecības, nav izlecēju kā, piemēram, pērn, kad viens leģionārs ar vairāku tūkstošu algu bija pieejams saziņai vien tad, kad viņš varēja "noķert" "wi-fi" un maz ar citiem runāja, vai cits, kurš bija līderis, pameta komandu sezonas vidū.
Tāpat noteikti arī trenera Jāņa Gailīša faktors, kurš, šķiet, sācis labāk saprasties ar spēlētājiem, ļaujot nedaudz vairāk improvizēt, vienlaikus esot spējīgs īstajā brīdī norādīt uz viņu kļūdām un uz dēlīša uzzīmēt kombinācijas, kas pēc minūtes pārtraukuma pārsteidz pretiniekus!
Klubs ir ieguvējs arī finansiālajā gultnē, jo par piedalīšanos vien tam pienākas 50 tūkstoši, bet par iekļūšanu nākamajā kārtā ap 80. Visa turnīra uzvarētājs iegūs vēl papildus miljonu – lūdzu, risinājums nākotnes finansiālajai stabilitātei. Un izmantojot iespēju, var pieminēt to, ka arī šogad "VEF Rīga" atbalsts no domes nemazināsies – paliks 150 tūkstošu apmērā, kā bija iepriekš. Daudziem lasītājiem tāds jautājums radies, kad vienā no intervijām Rīgas mērs Mārtiņš Staķis izteicās, ka taupīts tiks uz sporta rēķina. Klubs no tā necietīs.
Sieviešu izlase – soli no tradēģijas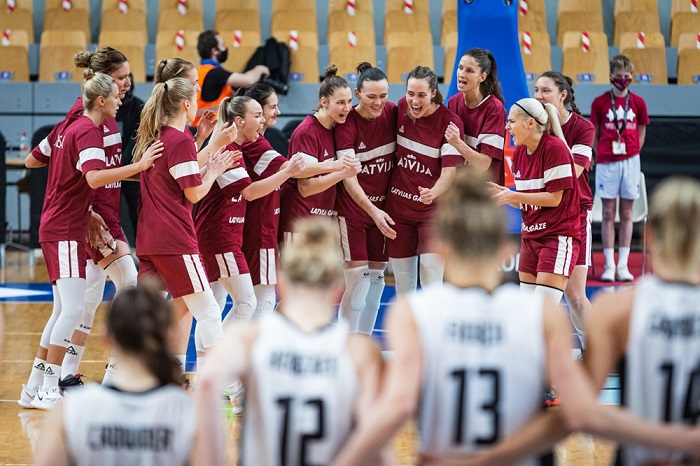 Lai iegūtu biļeti uz finālturnīru, būs ne tikai krietni jāpasvīst, bet ļoti. Nepieciešamas uzvaras abos mačos (pret Ziemeļmaķedoniju un Vāciju), turklāt vācietes vajadzēs pieveikt ar lielu punktu starpību, kura kļūs zināma pēc pirmās spēles. Tā apgalvo LBS preses dienests.
Optimistiski noskaņots gan ir izlases galvenais treneris Mārtiņš Gulbis: "Salīdzinot ar iepriekšējo sabraukumu tagad visām spēlētājām ir bijusi lielāka spēļu prakse. Situācija tabulā ir sarežģīta, taču vairāk jādomā par sniegumu laukumā, nevis aprēķiniem. Jānospēlē ar tādu cīņassparu un pašatdevi, kādu novembrī nodemonstrējām mačā ar Horvātijas izlasi. Ja izdosies, vēlamais rezultāts neizpaliks."
Saprotams, ka primārais ir sniegums laukumā, nevis aprēķini, bet tomēr cits jautājums ir par to – kā vispār nonācām tik tālu? Pirms kvalifikācijas Latvija kotējās kā grupas favorīte, arī abos zaudētajos mačos tā skaitījās kā pārliecinoša attiecīgo dueļu favorīte, bet tagad 100% nokļūšanai EČ nepietiks vien ar "parastām" uzvarām, vajadzēs arī ko rēķināt.
Jautājums – kurš uzņemsies atbildību? Treneris vai vadība? Vai abi kopā? Atgādināsim, ka Mārtiņam Gulbim šī ir pirmā  sezona sieviešu basketbolā, pārņemot vadības grožus gan izlasē, gan "TTT Rīga" no Mārtiņa Zībarta. Ja par viņa nolīgšanu darbam klubā ir mazāk jautājumu, jo tā ir privāta organizācija, un kā saka, lai privātie dara, ko grib, tad LBS lēmums iecelt tik svarīgā postenī treneri bez iepriekšējas pieredzes sieviešu basketbolā, gan rodas jautājums. Un, starp citu, "TTT Rīga" arī Eirolīgā nospēlēja zem savu iespēju līmeņa. Bet klubam vienmēr ir nākamā sezona, savukārt izlašu gadījumos tie ir veseli cikli, kas tiek pazaudēti, piedzīvojot, jā, nebaidos šī vārda, fiasko. Un netikt uz EČ tāds būtu!
No otras puses, ja reiz tāpat zaudēsim un netiksim uz EČ, lielas jēgas Gulbi mainīt nav – talantīgs un vēl aizvien jauns trenera arodam. Žēl būtu tikai par to, ka šis EČ daudzām spēlētājām varētu būt viens no pēdējiem lielajiem izlašu turnīriem, kuros varētu mēģināt sasniegt ko nopietnu. Bet kamēr traģēdija nav notikusi, tikmēr turēsim īkšķus un gaidīsim, ko mums dzīve (Gulbis ar meitenēm) atnesīs 4. un 6. februāra vakaros. LBS no savas puses pastrādāja labi – pēdējie divi "burbuļi" būs notikuši Rīgā, bet kopumā tas sanāktu, ka piecas no sešām spēlēm būtu aizvadītas mājās. Tiesa, vienā tik ar skatītājiem, bet mājas sienās vienmēr ir patīkamāk.
Basketbola mājas projekts briesmās?
Stāsts par šo projektu nav ar nemaz tik ilgu vēsturi, ja runājam par reālām diskusijām augstākajos līmeņos sagatavošanās darbiem. Jā, idejiski var būt basketbola spice šo ideju lolo jau sen, bet patīsim atpakaļ notikumus.
Zemes gabalu 8800 kvadrātmetru platībā Krišjāņa Barona ielā 99c Rīgas dome LBS rezervēja 2017. gadā, kam par pamatu kalpoja no 2015. gada Rīgā rīkotā vīriešu Eiropas čempionāta ienākumi, proti, nedaudz vairāk kā 500 tūkstoši eiro, kurus plānots novirzīt projekta izstrādei, kas ir skices un plānojumi. No šīs naudas iztērēta jau aptuveni trešdaļa, bet šobrīd kopējās halles būvniecības izmaksas tiek lēstas ap 15 miljoniem eiro. Kur dabūt naudu?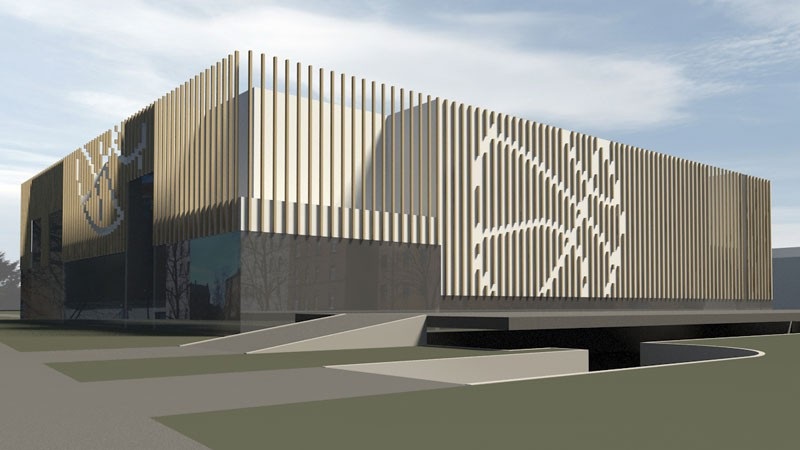 Vasaras mēnešos LBS vadība fotogrāfējās kopā ar Rīgas mēra kandidāti Lindu Ozolu un Saeimas Izglītības, zinātnes un kultūras komisijas Sporta apakškomisijas vadītāju Sandi Riekstiņu (abi no JKP), "it kā" sūtot signālus – mēs esam tuvu, mums viss notiek, politiķi mūs atbalsta. Kāpēc "it kā"? Skaidroju.
Kā sacīja Riekstiņš, tad: "Tuvākajos divos līdz trīs gados Latvijai būs pieejami aptuveni 2,5 miljardi eiro no Eiropas ekonomikas atveseļošanās fonda, ko var izmantot infrastruktūras attīstībai, tai skaitā sporta infrastruktūrai. Šīs basketbola halles projekts jau ir tādā gatavības stadijā, lai to šajā īsajā laika posmā varētu realizēt." Viss izskatījās ļoti jauki un skaisti, taču, kā tagad izrādās, "basketbola mājas" projekts nemaz neierakstās šajā kategorijā, bet tuvāko divu valsts budžetu ietvaros nav paredzēti līdzekļi sporta infrastruktūras attīstībai.
Ko nu? Sanāk, ka vasarā pirmsvēlēšanu farsā Riekstiņa kungs visu līdz galam nav sapratis, kas gan nav traucējis viņam pafočēties kā sporta glābējām un solīt neapsolāmo. Jo naudu sporta infrastruktūras attīstībai izcīnījis viņš arī nav…
Kā publiski izteicies Rīgas mērs Mārtiņš Staķis, tad šobrīd pastāv arī alternatīvas kā izmantot šo zemes gabalu, tur ceļot bērnudārzu. Vienlaikus, viņš sacīja, ka basketbola halles projekts arī vēl aizvien var tikt realizēts, ja domei tiks nolikts priekš reāls rīcības plāns un kā tas tiks izpildīts. No šīs retorikas izriet, ka pagaidām tāda nav, bet zemes gabals LBS vajadzībām ir rezervēts vien līdz maijam… Tas nozīmē, ka nauda jāatrod līdz tam laikam.
Viedokli savos sociālajos tīklos izteica arī Anete Jēkabsone – Žogota, kura pērn kandidēja uz LBS prezidentes amatu, bet šobrīd aizvien ir Rīgas domes deputāte, kura darbojas par sportu atbildīgajā departamentā: "Piekrītu, ka ir pagājis gana ilgs laiks un no LBS puses, darbs joprojām turpinās tikai "uz papīra", nav piesaistīti privātie investori, ir problēmas ar Eiropas fondu apguvi, bet fotogrāfēšanās ar mēra amata kandidātu priekšvēlēšanu laikā vēl pati par sevi neko neatrisina, savukārt vieta nevar būt rezervēta mūžīgi. Acīmredzami bijušas arī kļūdas komunikācijā. Šādos projektos tai jābūt ļoti aktīvai, jo pilsētai ir arī citas prioritātes, un šis ir klasisks piemērs, kad laba ideja kļūst apdraudēta"
Savukārt LBS ģenerālsekretārs Kaspars Cipruss atkal izteicās, ka šobrīd notiek aktīvs darbs pie finansējuma piesaistes. Bet šī retorika laikam jaunajai LBS vadībai ir galvenais sauklis – notiek aktīvs darbs! Redzam, ka bez rezultāta, ja reiz skaidrības, kur iegūt naudu, nav… Un te nāk prātā arī Ciprusa teksts pirms kāda laika, kad viņam jautāju par skatītāju vietām, kuras plānotas "vien" trīs tūkstoši – "Arī mēs gribētu vairāk skatītāju vietu, bet jāskatās reālās iespējas." Ko nozīmē reālās iespējas, ja šobrīd naudas vispār nav? Kā vienu no iespējām Cipruss redz lūgt Rīgas domei pagarināt rezervēšanas līgumu, un tajā laikā strādāt ar finansējuma piesaisti. Bet būsim atklāti – ja reiz valsts budžetā nav vietas sporta infrastruktūras attīstības vajadzībām, Rīgā plānots aizvadīt arī pasaules čempionātu hokejā (vismaz pagaidām), cik "dzirdīgas" ausis būs valdībā? Un Rīgas budžetā arī ir ievērojams deficīts. Un kāpēc tad nav piesaistīti privātie jau šobrīd? No gaisa visi nokrituši tajā LBS?
Un par ko kārtējo reizi arī vajadzētu atgādināt, tad LBS prezidents Raimonds Vējonis, kad vēl tikai cerēja uz šo krēslu, sacīja, ka viņa lielā politiskā pieredze būs kā pluss, lai palīdzētu basketbolam arī šajā lauciņā. Retoriski vaicāju – kur tā ir?
Pastāv arī iespēja, ka halli varētu celt citā Rīgas rajonā, piemēram, Ziepniekkalnā, kur sporta infrastruktūra ir katastrofālā līmenī jeb tās vienkārši nav. Cits jautājums – nauda jau tiek tērēta esošā projekta ietvaros, proti, Barona ielā, bet vai arhitekti un citi speciālisti būtu gatavi to pārveidot, lai pielāgotos citas teritorijas apbūvei? Un vai to vispār atļauj līdz šim noslēgtie līgumi. Kā vēl viens no mīnusiem tiek minēts, ka apkārtējā infrastruktūra, kas būtu satiksmes regulācija, autostāvvietas , u.t.t., konkrētajā vietā ir ļoti "švakā" līmenī, un izskan pat idejas, ka varbūt tur vispār nevajadzēja plānot ko būvēt?
Armēņu radio līmenī dzirdēts, ka projekta būvniecību tieši Barona ielā varētu lobēt "Daugavas" sporta nama vadītājs Guntis Šēnhofs, kurš ar laiku to vēlētos apvienot ar pašu DSN kā vienotu organizāciju. No otras puses, Edgars Jaunups, kurš gan oficiāli vairs nav "VEF Rīga" prezidents, pirmssezonas preses konferencē izteicās, ka patiesais basketbola līdzjutējs neatrodas Rīgas centrā, bet gan guļamrajonos un Pārdaugavā. Ej, nu saproti, kurš un uz kuri pusi velk deķi, un vai tajā visā ir kaut kāda veida taisnība. To, ka kaut kas nav "tīrs", gan var skaidri pateikt. Vai tās būtu atsevišķu personu ambīcijas, vēlme ieriebt, vai vienkārši velti solījumi no politiķu puses, vai LBS neizdarība, jo viņiem likās, ka viss jau ir "kā bankā".
Sāpīgi būtu, ja "basketbola māja" piedzīvotu potenciālās "futbola mājas" likteni, kuru gribēja celt vien pārdesmit metrus no plānotās vietas basketbola hallei. Toreiz projekta izstrādē tika iztērēts aptuveni miljons, bet tajā vietā šobrīd futbola stadions neatrodas, un arī atbildīgo par naudas izšķērdēšanu nav…
Pats skumjākais visā šajā ir tas, ka pēdējā primāri basketbola vajadzībām celtā bāze ir  "Daugavas" sporta nams, kuru uzcēla 1962. gadā, bet šobrīd tā jau kādu laiku neatbilst starptautiskajiem standartiem… 2023. gada 26. novembrī Latvijas basketbola sabiedrība svinēs savu 100. gadadienu un uzbūvēt halli līdz tam laikam būtu ne tikai vitāla nepieciešamība, jo daudzas jauniešu izlases treniņprocesu aizvada vidusskolu sporta zālēs, bet arī goda lieta. Citādi, kā sanāk – Eiropas piektā izlase (pēc pēdējā EČ taču visi uzsvēra to!), bez savas zāles, izlases spēlē īrētās hallēs, pakalpojumu sniegšana izmētāta pa visu Rīgu… Puiši un meitenes – jāsāk strādāt!