Nacionālajā futbola līgā (NFL), vai kā Eiropā to pieņemts saukt par amerikāņu futbolu, tuvojas gada svarīgākais notikums "Super Bowl" mačs jeb fināls, kurā 10. reizi piedalīsies leģendārais saspēles vadītājs (quarterback) Toms Breidijs, kuram pretējā nometnē stāsies par vienu no labākajiem līgas spēlētājiem uzskatītais Patriks Mahomess (arī quarterback's).
Par čempionu godu sacentīsies Breidija pārstāvētā Tampabejas "Bucaneers" un Kanzassitijas "Chiefs" un "Betsafe" bukmeikeru ieskatā par nelieliem favorītiem uzskatāma "Chiefs" komanda. Runājot par sniegumu regulārajā sezonā, tad "Chiefs" 16 mačos piedzīvoja vien divus zaudējumus un savā konferencē uzvarēja, kas ļāva izlaist pirmo "play-off" kārtu, kamēr "Bucaneers" nācās samierināties ar pieciem un piekto vietu. Breidija komanda pirmajā kārtā tikās ar Vašingtonas vienību un bija dueļa favorīte, savukārt pret Ņūorleānas "Saints" un Grīnbejas "Packers" bukmeikeru ieskatā priekšroka jau bija pretiniekiem. Tikmēr "Chiefs" tika galā ar Klīvlendas "Browns" un Bufalo "Bills".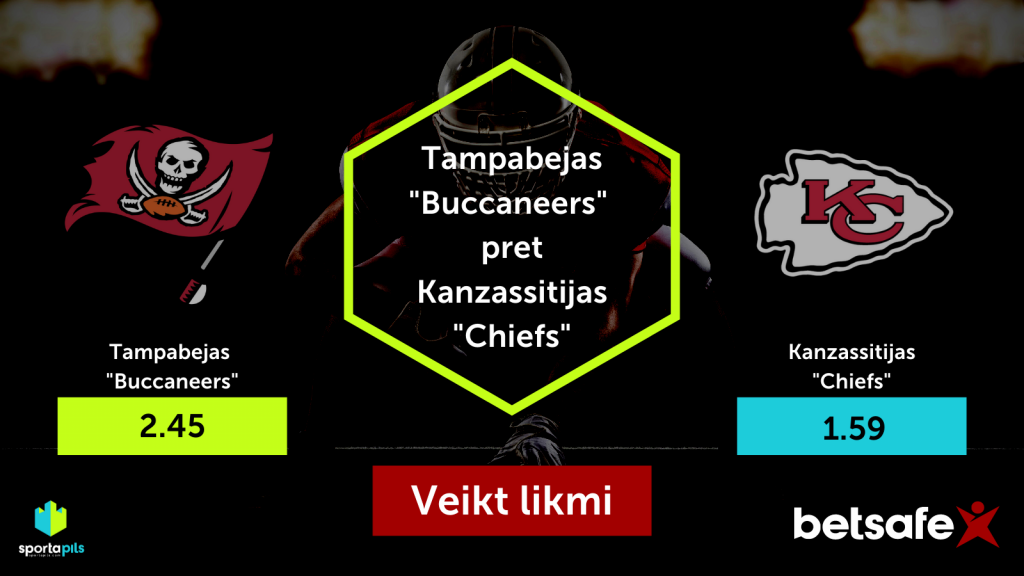 Ar ko šis fināls būs īpašs, un kādu nospiedumu NFL vēstures grāmatās jau ir atstājis šobrīd 43 gadus vecais Breidijs?
"Super Bowl" ierasti pulcē lielāko auditoriju Ziemeļamerikā gan pie televīzijas ekrāniem, gan klātienē. Piemēram, sākot kopš 2010. gada, fināla maču TV ekrānos tikai vienu reizi noskatījušies mazāk par 100 miljoniem skatītāju. Tas notika pērn, kad auditorija bija mērāma 98 miljonos. Interesants ir arī fakts, cik uzņēmumiem, kuri vēlas mača laikā sevi pareklamēt, izmaksā 30 sekundes ēterā – pēdējos četrus gadus šī summa pārsniegusi 5 miljonus ASV dolāru, savu "pīķi" sasniedzot pērn, kad par 30 sekundēm raidlaika bija jāšķirās no 5,6 miljoniem.
Tāpat šis pasākums ir svarīgs arī mūzikas pasaules pārstāvjiem, jo iegūt ielūgumu pirms spēles izpildīt ASV nacionālo himnu vai uzstāties spēles pārtraukumā varētu nodēvēt par neoficiālo sava veida "Grammy" balvu. Šoreiz himnu dziedāt uzticēts duetam Džesmīnei Salivanai un Ērikam Čērčam (Jazmine Sullivan and Eric Church), bet puslaikā pie mikrofona savas vokālās dotības demonstrēs izpildītājs "The Weeknd".
Šogad gan stadionā nebūs gaidāma ierastā atmosfēra, jo pasaulē vēl aizvien plosās koronavīrusa izraisītā pandēmija, tāpēc finālmaču klātienē varēs vērot ierobežots skatītāju daudzums, proti, 22 tūkstoši. Zīmīgi, ka 7,5 tūkstoši skatītāju būs vakcinētie veselības aprūpes darbinieki, kuriem tiks apmaksāti arī ceļa un uzturēšanās izdevumi. Cēls žests no līgas vadības! Mačs norisināsies "Bucaneers" mājas spēļu stadionā (kopējā ietilpība 65 tūkstoši), kas to padara par pirmo komandu NFL vēsturē, kura "Super Bowl" aizvadīs savā laukumā.
Zīmīgs arī ir fakts, ka Breidijs "Bucaneers" pievienojās vien šajā vasarā, kad pēc 19 sezonām negaidīti atstāja Jaunanglijas "Patriots" vienību. Un uzreiz jauno komandu ieveda finālā!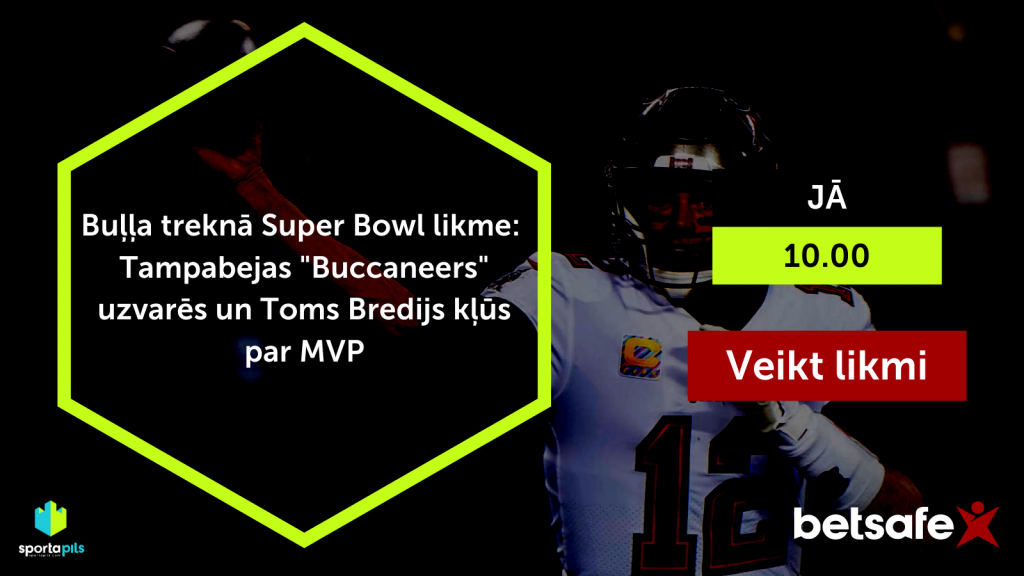 10 individuālie fināla piegājieni ir absolūts NFL rekords. Otrajā vietā ir bijušais Breidija komandas biedrs Stefans Gostkovskis "Patriots" rindās, kurš kopā ar Breidiju devās laukumā sešos "Super Bowl" mačos. Un, protams, ka Breidijs ir arī ar visvairāk tituliem – līdz šim viņa kontā ir seši un tagad viņš lūko pēc septītā.
Breidija personīgo rekordu klāsts ir tik plašs, ka tam būtu jāvelta vesels studiju programmas kurss, tomēr nozīmīgākie būtu tādi kā visvairāk nospēlēto spēļu (345) un uzvaru (263) starp "quarterback" pozīcijas spēlētājiem. Tāpat viņam pieder labākie rādītāji "touch down" piespēlēs (661) un spēles uzvaru nesošās piespēles (61). Visi šie rekordi sasniegti, ieskaitot regulāro sezonu un "play-off" mačus.
Tāpat viņš ir visvairāk "play-off" spēļu aizvadījušais saspēles vadītājs (44), no kurām visas sācis sākumsastāvā. Kopumā Breidijam pieder 85 (!) dažādi individuālie rekordi! Kāds vēl šaubās, ka viņš ir visu laiku labākais, kurš jelkad spēlējis šo spēli? Cits jautājums – kur viņš kotējās starp citu sporta veidu izcilajiem – Muhamedu Ali, Veinu Grecku, Lebronu Džeimsu un Maiklu Džordanu un citiem? Savā raidījumā "The Heard" atbildes centās meklēt Kolins Koverds.
"Ali viennozīmīgi bija pirmā patiešām globāla līmeņa zvaigzne un aizrāva līdzi cilvēkus teju katrā pasaules nostūrī, bet ja salīdzinām ar Breidiju, tad runa ir par to, kā pagāja viņa karjeras pēdējie gadi, bet tajos Ali piedzīvoja zaudējumus pēdējās trīs no četrām karjeras cīņām. To pašu var teikt par Taigeru Vudsu, kurš 10 gadus no vietas dominēja absolūti visās galvenajās sacensībās, bet pēdējo 11 gadu laikā spējis iegūt "tikai" vienu "Masters" sērijas titulu. Tikmēr Veinam Greckim bija septiņas sezonas, kurās viņa pārstāvētajām komandām bija negatīva uzvaru un zaudējumu bilance. Tāpat, kad viņš pameta Edmontonas "Oilers", Stenlija kausu uzbrucējs vairāk tā arī neizcīnīja. Tiesa, Greckim bija 8 MVP pēc kārtas," sacīja Koverds.
Viņš turpināja: "Breidijs vai Maikls Felpss? Te var apelēt pie tā, ka Felps patiešām ir dabas brīnums. Ne par velti viņu mēdza saukt par "cilvēku – zivi". 23 zelta medaļas runā pašas par sevi. Vēl jo vairāk – Pekinā vien viņš izcīnīja astoņas. Viņš ir dominējušākais olimpietis, kas jebkad ir dzīvojis! Savukārt salīdzinot ar Lionelu Mesi, lai arī Mesi kontā ir neskaitāmi starptautiskie titulu, viņš nav spējis pacelt virs galvas nozīmīgāko trofeju futbolā – FIFA pasaules kausu!"
Un, protams, kā gan nesalīdzināt ar basketbola dižajiem.
"Ja salīdzinām ar Maiklu Džordanu un Lebronu Džeimsu, tad Džordans uzvarēja sešos no sešiem NBA fināliem, visos gadījumos iegūstot MVP balvu, kā arī viņš 10 reizes bija līgas rezultatīvākais spēlētājs. Viņš bija celmlauzis basketbola globalās popularitātes augšanai! Savukārt Džeimsu un Breidiju mēs salīdzinām jau sen. Džeimss ir bijis "all star" 16 no 18 sezonām, 10 no tām esot arī finālā. Es teiktu, ka Džordans un Džeimss ir viņam priekšā," uzskata Koverds.
Un arī pašam Džeimsam ir ko teikt šajā kontekstā: "Mūsu vecumā mēs aizvien spējam dominēt savā sporta veidā. Jo mums ir vienāda mentalitāte un mērķi – uzvarēt un darīt to visaugstākajā līmenī. Tieši tas mūs vieno." Te gan jāpiebilst, ka Breidijs pārcēlās uz citu komandu vien pēc 19 gadiem "Patriots" rindās, kamēr Džeimss vairākkārtīgi ir mainījis komandas, un rekrutējis citas līgas zvaigznes. Tādā ziņā Breidija panākumi izskatās "skaistāk" par Džeimsa.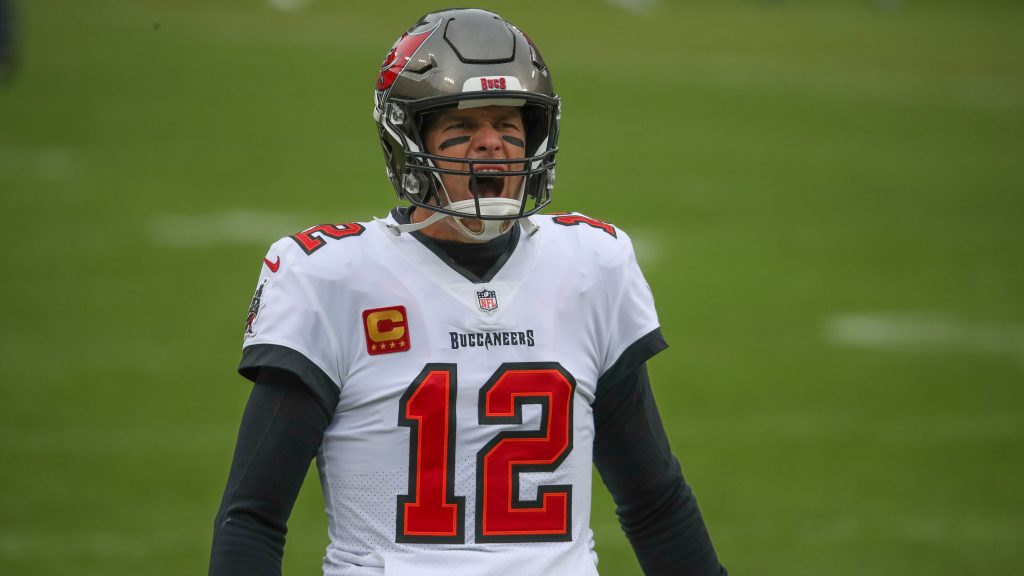 Kas Breidija panākumus padara vēl iespaidīgākus ir tas, ka NFL spēlētāju vidējais karjeras mūžs ir ļoti īss – dažādos avotos un pētījumos tas tiek lēsts no 2,5 līdz trīs, četrām sezonām. Un saprotams, jo tā ir ļoti fiziska spēle, un ne par velti spēles notiek reizi nedēļā, salīdzinājumā ar, piemēram, Nacionālo basketbola asociāciju (NBA) vai Nacionālo hokeja līgu (NHL). Tieši tāpēc NFL sauc par "treniņu", nevis "spēļu" līgu, jo katra komanda šobrīd aizvada pa 16 dueļiem.
Daži interesanti fakti, kas saistāmi ar Breidija ilgo dominanci:
Viņš kļūs tikai par ceturto "quarterback", kurš uzsāks "Super Bowl" maču dažādu komandu sastāvos
Viņa dalību "Super Bowl" būs piedzīvojušas četras ASV prezidentu administrācijas (Džordža Buša, Baraka Obanas, Donalda Trampa un tagad Džo Baidena)
Katrs Lebrona Džeimsa gūtais punkts, visi Aleksandra Ovečkina vārti un Maikla Felpsa olimpiskās zelta medaļas ir notikušas kopš Breidija pirmā "Super Bowl" mača
Kad Breidijs debitēja NFL, esošais "Bucaneers" uzbrukuma koordinators (treneris) aizvadīja "sophmore" (otro) sezonu Māršalas komandā
Viņš ir tikai viens no diviem (ieskaitot Kreigu Mortonu) "quarterback" spēlētājiem, kuri iekļuvuši finālā no abām konferencēm
Un, protams, daudz citu interesantu faktu šajā sakarā netrūkst.
Bet kāds ir Breidija ilgstošās dominances noslēpums? "Pareizs miegs man ir palīdzējis nokļūt tur, kur šodien esmu kā sportists, un uz to es turpinu paļauties katru dienu," tā izteicies pats saspēles vadītājs. Un tam ir zinātnisks pamatojums, jo miegs uzlabo cilvēkā esošos 100 miljardus neironu un apgriež triljonus sinaptisko savienojumu, palīdzot mums apgūt sarežģītas organisma motorikas.
Runājot par Breidija "izaicinātāju" Mahomesu, kurš triumfēja "Super Bowl" izcīņā iepriekšējā sezonā un tiek uzskatīts kā viņa vietas "mantotājs", tad, lai viņš varētu vismaz atkārtot Breidija sasniegumus, analītiķi aprēķinājuši, ka viņam būtu jāaizvada vēl 16 pilnas sezonas (bez traumām un katra spēle), lai pietuvotos Breidija sasniegumiem.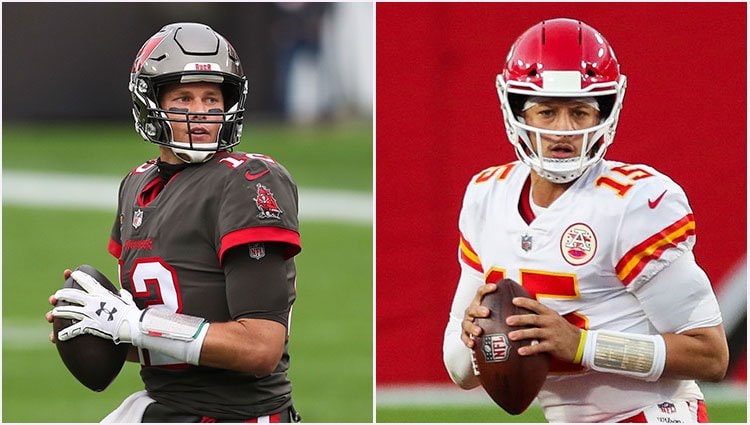 Starp citu, Mahomess, kuram šobrīd ir 25 gadi, šobrīd ir NFL vēsturē vislabāk apmaksātākais spēlētājs, šajā vasarā tiekot pie 10 gadu un 450 miljonu ASV dolāru vērta līguma. Tā ir garantētā nauda, bet ar bonusu palīdzību summa var pārsniegt pusmiljardu un pietuvoties 600 miljoniem. Tiesa, arī Breidija kontā šosezon ieripo solīda summiņa – 25 miljoni, kas līgas apmaksātāko spēlētāju topā dod 15. vietu.
Jāatzīmē, ka savulaik Breidijs bija visu laiku jaunākais saspēles vadītājs, kurš izcīnījis uzvaru "Super Bowl" – tas notika 2004. gadā, kad viņam bija 24. Divus gadus vēlāk gan šo rekordu "pārsita" Bens Rotlisbergers, izdarot to būdams 23 gadus vecs. Tāpat Breidijs šobrīd ir vecākais "quarterback", kurš kļuvis par čempionu (41 gada vecumā) un sacensībā pret līgas nākotnes cerību Mahomesu viņš šo rekorda latiņu vēlas uzstādīt vēl augstāk!
Izredzes to paveikt ir. Vai šoreiz nostrādās "Breidija faktors"? Jo viņš zina, kā uzvarēt, bet arī Mahomess ir izjutis šo garšu. Pieredze pret jaunību – kurš kuru? Atbildes tiks sniegtas svētdien, 7. februārī.