Pirmais pilnais mēnesis NBA ir pagājis. Kā vienmēr, pasaules labākā basketbola līga neliek vilties ar notikumiem gan uz laukuma, gan ārpus tā, lai gan šoreiz lielākā daļa notikumu ārpus arēnām bijuši ar negatīvu pieskaņu, bet par visu pēc kārtas!
Austrumu konferencē apriezienus samazinājusi Ņujorkas "Knicks", kas pēdējā laikā biežāk zaudē nekā uzvar, līdz ar to tabulā noslīdot līdz 9. vietai. Toronto "Raptors" turpina rāpties pēc briesmīgā sākuma, kamēr nepieklājīgi zemu ir Austrumu konferences čempione Maiami "Heat" – tikai 13. vietā. Kopš pārceltās spēles ar Bostonas "Celtics", kad tika konstatēti vairāki COVID-19 inficētie, Maiami izcīnījusi tikai trīs uzvaras, bet piedzīvojusi 10 neveiksmes.
Dāvja Bertāna pārstāvētā Vašingtonas "Wizards" arī pārcieta COVID-19 krīzi – komanda, kura teorētiski noteikti varētu pacīnīties par astotnieku, ar piecām uzvarām un 13 zaudējumiem ir priekšpēdējā visā konferencē. "Latvijas lāzers" sezonu sāka blāvi, janvāra ievadā sāka piešaut grozus, bet pirmie mači pēc COVID pauzes nav tie precīzākie, realizējot vien astoņus tālmetienus no 36. Par rūjienieti nevajadzētu satraukties, jo galveno lietu, mest pa grozu, viņš dara, atliek vien kārtīgāk pieregulēt mērķi!
Pie pozitīvā Austrumos noteikti jāmin trīs komandas, kuras atrodas no 6. līdz 8. vietai jeb Šarlotes "Hornets", Klīvlendas "Cavaliers" un Atlantas "Hawks". Sen tieši Austrumos nav bijusi liela cīņa par pēdējām vietām TOP8, un šis varētu būt izņēmuma gads. Lieku reizi jāatgādina par "play-in" turnīru, kas tiks aizvadīts pēc regulārās sezonas, kurā pat 10. vietas īpašniecei būs iespēja iekļūt "play-off".
Janvārī Rietumos dominēja Jūtas "Jazz". Jau ierasts, ka tieši janvārī "džezmeņi" rāda lielisku basketbolu, un 2021. gada pirmais mēnesis arī nebija izņēmums. 11 uzvaras pēc kārtas, visvairāk iemesto tālmetienu vidēji spēlē, un šobrīd 1. vieta ne tikai konferencē, bet arī visā līgā! Galvenais jautājums ir, vai Jūta arī sezonas svarīgākajās spēlēs demonstrēs janvāra basketbolu vai arī būs kārtējā vilšanās?
Pēdējo trīs gadu statistika ir skaudra. 2017. – 2018. gada sezonā Jūtai bija 9 un 11 uzvaru sērijas, bet izslēgšanas spēlēs tālāk par 2. kārtu neizdevās tikt. Nākamajā sezonā "Jazz" trīs reizes izdevās izcīnīt vismaz piecas uzvaras pēc kārtas, bet sekoja klupiens jau 1. kārtā. Iepriekšējā sezonā nekas labāks – 10 uzvaru sērija janvārī, bet Orlando "burbulī" izstāšanās pēc pirmās kārtas.
Latvijā noteikti galvenais temats NBA sakarā ir Kristaps Porziņģis un Dalasas "Mavericks". KeiPī spēlē visai viļņaini, bet Dalasa zaudējusi pēdējās 10 spēles no 13. Jā, arī "Mavs" bija viena no tām komandām, kurai COVID-19 dēļ nevarēja palīdzēt vairāki spēlētāji, bet šobrīd visi atgriezušies. Tiem, kuri satraucas par latvieša demonstrēto laukumā, jāatceras, ka tikai janvāra vidū Porziņģis atgriezās laukumā un jāpaiet laikam, lai "Vienradzis" sasniegtu labāko formu. Tuvāko spēļu kalendārs Dalasai ir visai parocīgs, kas var kalpot par īsto brīdi neveiksmju sērijas pārtraukšanai un pārliecības stiprināšanai. Turnīra tabulā Dalasa ieņem 14. vietu, taču līdz astotajai vietai šķir tikai trīsarpus spēles, tāpēc komandai viss vēl ir priekšā.
Jāpieskaras arī daudz aprunātajam COVID-19 tematam. Sākot ar 10. janvāri, praktiski katru dienu bija kāda pārcelta spēle, bet kopumā mēneša ietvaros NBA paziņoja par 21 pārceltu maču. Visskarbāk cietusi Memfisas "Grizzlies", kurai sezona turpinājumā būs papildu sešas spēles, tādu pašu daudzumu ar spēlēm izlaida "Wizards", bet Vašingtonas kalendārs jau šobrīd tiek pielāgots. Sešām komandām ir izdevies veiksmīgi izvairīties no spēļu pārcelšanas – "Nets", "Lakers", "Clippers", "Warriors", "Raptors" un "Jazz".
Gan Memfisai, gan Vašingtonai sezonas turpinājums būs īpaši skarbs, un uzreiz aktuāls paliek jautājums par traumu risku. Negribas atzīt, bet, visticamākais, Vašingtonai neizdosies pacīnīties par iekļūšanu izslēgšanas spēlēs, tad Memfisa šobrīd atrodas 9. vietā Rietumos, par vienas uzvaras tiesu atpaliekot no astotnieka.
"Karstākajā brīdī", kad tika pārcelta viena spēle pēc otras, daudzi NBA fani sacīja, ka nepieciešams atgriezties pie burbuļa. Jāsaka gan, ka šāds formāts visas regulārās sezonas izspēlēšanai ir ļoti nereāls, ņemot vērā kaut vai izmaksu faktoru. Maz ticams, ka arī spēlētāji būtu gatavi praktiski uz sešiem mēnešiem pamest ģimenes.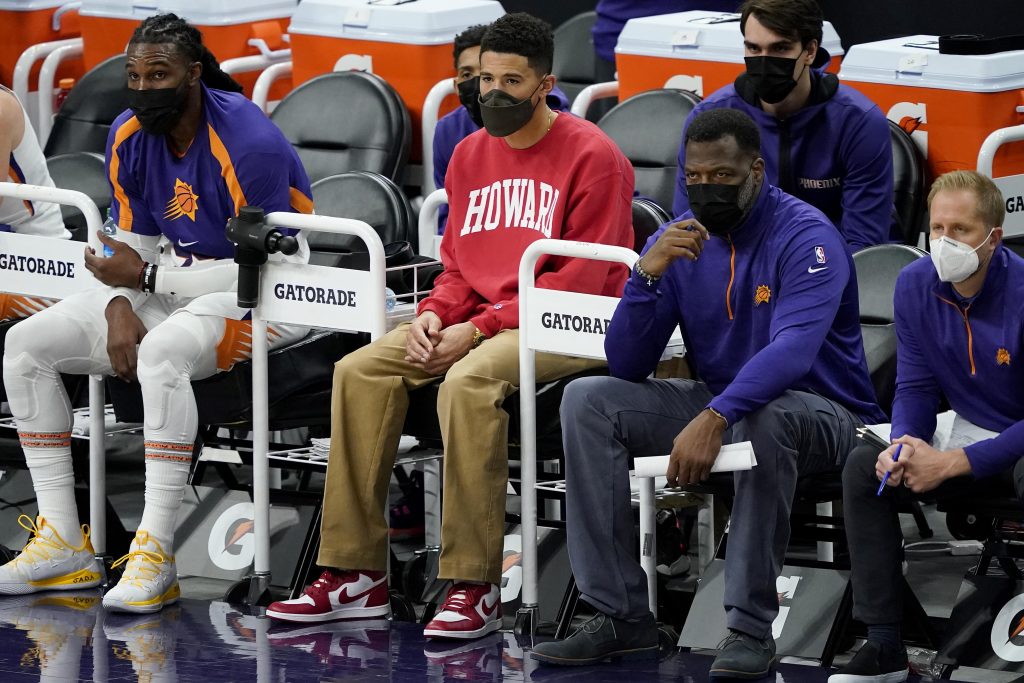 Noteikti, ka "burbuļa" ideju vajadzētu apsvērt uz sezonas izšķirošajiem mačiem, ja vien līga jau nebūs tikusi pie vakcīnas, bet pagaidām izskatās, ka regulārā sezona turpināsies kā plānota ar visiem COVID-19 gadījumiem, nepieciešamības gadījumā veicot korekcijas drošības un veselības protokolā. Iepriekš izskanēja ideja, ka komandu sastāvus varētu palielināt no 17 spēlētājiem līdz 18, kas atvieglotu "savākt" astoņus spēlētājus uz mačiem, ja komandā sācies koronavīrusa uzliesmojums, bet sarunas neievirzījās pareizajā gultnē.
Visa kovidnieka situācija negatīvi ietekmējusi arī "fantasy" spēli, jo prognozēt, kurš kurā dienā spēlēs, kļuvis teju vai neiespējami. Īpaši skarbi tas ir situācijās, kad par mača pārcelšanu tiek paziņots vien pāris stundas pirms centra iemetiena. Realitātē ir situācija, ka uz papīra "fantasy" komanda ir laba, bet pārcelto spēļu dēļ nākas piekāpties pretiniekam. Protams, ka visiem ir vienādi spēles noteikumi, bet šogad vēl vairāk nekā iepriekš ir jāpaļaujas uz veiksmi un jācer, ka tavas komandas spēlētāju mači tiks pārcelti pēc iespējas retāk.
Lai gan jau visai laicīgi tika paziņots, ka Zvaigžņu spēle Indiānā nenotiks, NBA un Spēlētāju asociācija vienojās par Zvaigžņu spēles aizvadīšanu 7. martā Atlantā. Paredzams, ka šis būs vienas dienas pasākums, bez pašas spēles ietverot arī dažādu prasmju konkursus.
No vienas puses ideja ir laba, jo Zvaigžņu spēle ir viens no sezonas populārākajiem notikumiem, īpaši pie jaunā izspēles formāta, kad uzvar komanda, kura pirmā sasniedz noteiktu punktu skaitu. Līga ar šo pasākumu varētu radīt papildu peļņu, bet ir vairāki faktori, kas liek domāt skeptiski. Pirmkārt, periodā starp 5. un 10. martu būs regulārās sezonas pauze – vai šajā brīdī prātīgāk nebūtu aizvadīt kādas pārceltās spēles? Otrkārt, Atlantā būtu pārstāvētas praktiski visas komandas – atliek netīšām kādam no spēlētājiem saslimt, un vīruss var izplatīties pa visu līgu.
Aizvadītā mēneša apskatā neesmu vēl pieminējis, iespējams, skaļāko maiņas darījumu NBA vēsturē. Džeimsa Hārdena nonākšana "Nets" atkal savienojusi viņu ar Kevinu Durentu, bet nevar aizmirst arī par Kairiju Īrvingu, kurš janvārī mistiski bija devies prom. Jau Durents un Īrvings bija iespaidīgs uzbrukuma duo, bet "trīsgalvainā pūķa" izveidošana liek atcerēties Brazīlijas futbola izlases zelta laikus, kad bija teiciens "jūs gūstiet vārtus cik gribat, mēs iesitīsim vairāk".
Šo teicienu var attiecināt arī uz "Nets" komandu, jo kopš Hārdena pievienošanās tikai divos mačos gūts mazāk par 120 punktiem. Bruklinai pēc vidēji gūtajiem punktiem ir labākais uzbrukums līgā, bet arī 3. sliktākā aizsardzība. Ja vēl regulārajā sezonā ar labu uzbrukumu varēs izbraukt cauri, tad izslēgšanas spēlēs varētu būt jau pavisam cits stāsts.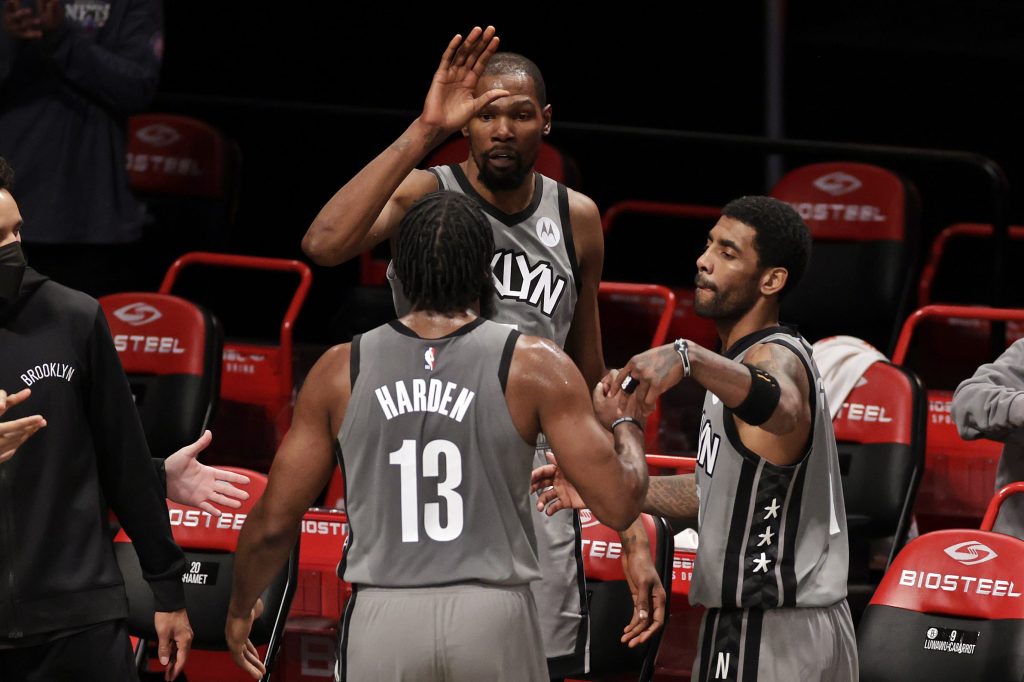 Komandas varēs laicīgi sagatavoties "trīsgalvainajiem pūķim", tiesa, ja parasti jāpievērš uzmanība vienam vai diviem līderiem, tad šajā gadījumā to ir veseli trīs, un pretiniekiem var vienkārši nepietikt spēlētāju, kas būs "pielipuši kā pie mušpapīra" Durentam, Hārdenam un Īrvingam. Pēdējais pēc zaudējuma "Wizards" atzina, ka mačā nevarētu nosegt pat kociņu, tāpēc sastāva papildināšana ar labiem aizsardzības "kapļiem" būtu ļoti vēlama.
Žēl, ka "Rockets" komandā pie lielas teikšanas netiek Rodions Kurucs, kuram tieši šodien ir dzimšanas diena, tomēr Hjūstona šobrīd demonstrē labu basketbolu. "Raķetes" uzvarējušas pēdējās septiņās spēlēs no astoņām un Rietumos ieņem 10. vietu, taču, lai sasniegtu astotnieku, nepieciešama viena uzvara. Sezonas turpinājumā daudz kas būs atkarīgs no Džona Vola un Viktora Oladipo veselības – abiem spēlētājiem esot veseliem, "Rockets" varētu parūpēties par troksni, ko neviens iepriekš negaidīja. Aizvadītajā naktī arēnu ratiņkrēslā pameta viens no līderiem Kristians Vuds. Šobrīd nav zināma savainojuma nopietnība, taču ļoti iespējams, ka viņš būs ārā uz ilgāku laiku. Demarkuss Kazinss laikā, kad nespēlēja Kristians Vuds, atgādināja, ka pirms vairākiem gadiem bija viens no līgas labākajiem spēlētājiem. Var teikt, ka "Rockets" rindās apvienojušies spēlētāji, kuri ir motivēti pierādīt, ka ir nepelnīti aizmirsti.