Izcila hokejista karjera negarantē, ka kļūšana par hokeja komandas treneri būs viegla un panākumi atnāks līdz ar pirmajiem mačiem. To uz savas ādas pārbaudījis Latvijas hokeja leģenda Sandis Ozoliņš – viņa hokejista CV ir izcīnītais Stenlija kauss, gandrīz 1000 spēļu Nacionālajā hokeja līgā (NHL), triumfāla atgriešanās hokejā pēc gada pauzes, darbs par ģenerālmenedžeri valstsvienība un dalība ar Latvijas izlasi Soču olimpiskajās spēlēs. Pagaidām vienīgā galvenā trenera pieredze bija visai neveiksmīga, jo vien piecas nedēļas pēc sezonas sākuma Ozoliņš atstāja amatu…
Sākotnēji šķita, ka pieredzes bagāto cilvēku uz soliņa vairs nekad neredzēsim, arī pats Ozoliņš pievērsās citām lietām, kļūstot par LIDO darbinieku. Vēl negaidītāka bija viņa atgriešanās Kontinentālajā hokeja līgā (KHL) 2019. gada sākumā – Ņižņijnovgorodas "Torpedo" treneris Deivids Nemirovski latvieti uzaicināja par savu palīgu. Kā atzina pats Ozoliņš, vienā brīdī viņš domāja, ka hokejā vairs nestrādās, tomēr mīlestība pret spēli darīja savu, un jau trešo sezonu latvietis ar savu pieredzi dalās vienā no Krievijas hokeja centriem.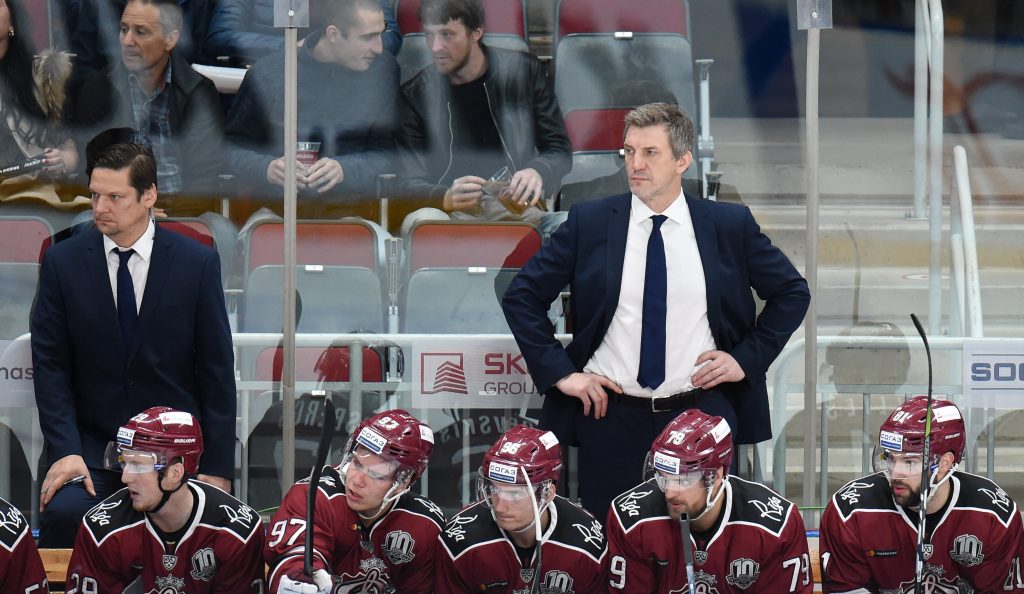 "Cerēju, ka līdz ar Ozo atnākšanu "Dinamo" spēle mainīsies"
2016./2017. gada sezona bija ierasti neveiksmīga Rīgas "Dinamo" vienībai – kārtējo reizi čempionāts tika uzsākts slikti un jau krietnu laiku pirms tā beigām kļuva skaidrs, ka arī šoreiz "play-off" spēles būs jāskatās pa televizoru. Oktobra beigās šādas nolemtības vēl nebija, un, meklējot komandas pastiprināšanas veidus, tika pieņemts lēmums par Normunda Sējēja palīgu uzaicināt Ozoliņu, kurš 2014. gada noslēdza savu karjeru un viņa vārds hokeja sakarā jau kādu laiku nebija dzirdēts.
Leģendas pievienošanās komandai nepalīdzēja uzlabot rezultātus, "Dinamo" ierindojoties pēdējā vietā Rietumu konferencē. Kā vēlāk atklāja viens no tās vienības spēlētājiem Tims Sestito, kuram tā bija karjeras noslēdzošā sezona, pārējie treneri nemaz neklausījās un nevēlējās dzirdēt Ozoliņa padomus. Amerikānis atklāja, ka pēc Ozo ierašanās komandā bija patīkams satraukums, tomēr drīz kļuva skaidrs, ka īsti nekas nemainīsies.
Kad 2017. gada maijā tika locīti kandidātu uzvārdi uz "Dinamo" galvenā trenera amatu, tur bija atrodami visdažādākie speciālisti, gan vietējie, gan ārzemju. Un tad sekoja visai negaidīts lēmums par stūrmani nozīmēt Ozoliņu, kuram, no vienas puses, bija liels respekts no spēlētājiem, bet no citas puses – nebija pieredzes šajā līmenī. Eksperiments izrādījās neveiksmīgs – preses konferencēs pēc spēlēm treneris aicināja nekritizēt spēlētājus un uzņēmās vainu par zaudējumiem uz sevi, tomēr neveiksmju sērija izrādījās pārāk gara. Vēl 2017. gada septembra vidū "Dinamo" padomes priekšsēdētājs Juris Savickis stāstīja, ka Ozoliņam ir liels uzticības kredīts. Tomēr sākumā atlaida viņa palīgus – Rodrigo Laviņu un Aleksandru Ņiživiju, bet mēneša "Dinamo" atstāja arī pats Ozo.
"Sandis pats vēlējās aiziet, bet noslēgumā tas bija mūsu visu kopīgs lēmums," sarunā ar LETU sacīja Savickis. "Pret Ozoliņa darbu mums nebija pretenziju, bet pret rezultātu gan. Viņš bija guvis secinājumus par paveikto, bet to, kādi tie bija, jājautā pašam Sandim. Šķīrāmies draudzīgi un domāsim par Sanda turpmāko likteni. Viņš ir liela personība, tāpēc nekur nepazudīs. Kaut ko izdomāsim," teica Saviskis, tādējādi norādot, ka Ozoliņš varētu turpināt darbu organizācijā, bet citā amatā. Realitātē izrādījās, ka leģenda uz pusotru gadu pazuda no hokeja, pievēršoties citām lietām.
"Domāju, ka man tas hokejs vairs nav vajadzīgs"
2018. gada februārī parādījās vēl viena negaidīta ziņa par Ozoliņu – proti, viņš kardināli mainīja darbības sfēru, kļūstot par ēdināšanas uzņēmuma LIDO mārketinga nodaļas darbinieku. Pats hokejists sarunās ar Latvijas medijiem par šo tēmu nevēlējās runāt, noradot, ka ar viņu viss ir kārtībā un no šī darba viņš gūst prieku. Tiesa, jau mazāk nekā pēc gada Ozoliņš nomainīja uzvalku pret slidām un svilpi, no Latvijas galvaspilsētas pārceļoties uz Ņižņijnovgorodu.
"Teikšu tā – manos plānos noteikti nebija atkal kļūt par treneri. Bet sanāca tā, kā sanāca. Rīgas "Dinamo"? Jā vēlēšos, tad viegli atradīšu attaisnojumus, ja vēlēšos, tikpat viegli samaisīšu sevi ar dubļiem. Tā bija noderīga dzīves pieredze, esmu izdarījis dažus secinājumus. Laiks parādīs, vai man bija taisnība. Par laiku LIDO varu pateikt, ka man tas ļoti patika – nonācu citā vidē, kur viss bija jauns. Bija grūti pierast pie cita dzīves ritma," pārmaiņas savā dzīvē sarunā ar "R-Sport" vienā no retām intervijām komentēja Ozoliņš.
"Bija brīdis, kad es domāju – viss, tas hokejs man vairs nav vajadzīgs. Bet ar laiku par negatīvu doma arvien mazāk un vienā brīdī tu saproti, ka tava vieta ir citur, tur, kur tu visu zini. Un tad ar visu dvēseli jūti, ka hokejs ļoti velk atpakaļ. Kad saņēmu piedāvājumu no "Torpedo", sapratu, ka esmu noilgojies pēc hokeja. Tikos ar kluba ģenerālmenedžeri Janu Golubovski, aprunājāmies, pēc divām dienām biju atpakaļ Ņižņijnovgorodā un jau sāku strādāt. Man tas ir jauns izaicinājums, izdarīt kaut ko par labu "Torpedo". Un komandas filozofija sakrita ar manu hokeja redzējumu," ar entuziasmu stāstīja Ozoliņš.

Latvietis nonāca "Torpedo" tad, kad komandu trenēja viens no līgas perspektīvākajiem treneriem. Kanādietis Nemirovskis saņēma milzīgu kritiku no tā sauktajiem hokeja veterāniem par neierastām darba metodēm, piemēram, viņa komandā pirmssezonas nometne nebija tik skarba, ja salīdzina ar citiem klubiem. Tomēr tas deva rezultātu – ar visai ierobežotu budžetu komanda ne tikai regulāri iekļūst "play-off", bet arī demonstrē skatāmu un baudāmu hokeju. Ozoliņš ar savu pieredzi palīdzējis šai vienībai kļūt vēl labākai, ko atzīmējis ar pats Nemirovskis.
"Sandis daudz deva šai komandai, viņam ir milzīga pieredze, bet viņa autoritāte ir labi redzama. Daudz esam runājuši, mums praktiski sakrīt spēles redzējums, domas par darba procesa organizēšanu un komunikāciju ar spēlētājiem, tas ir svarīgi. Bet ir arī lietas, par kurām esam aktīvi diskutējuši, kas arī ir pluss. Ozoliņš ir pozitīvs cilvēks, viņš daudz strādājis ar jaunajiem spēlētājiem. Viņa atnākšana uz "Torpedo" nākusi mums par labu," Ozoliņa pievienošanos komandai novērtēja Nemirovskis.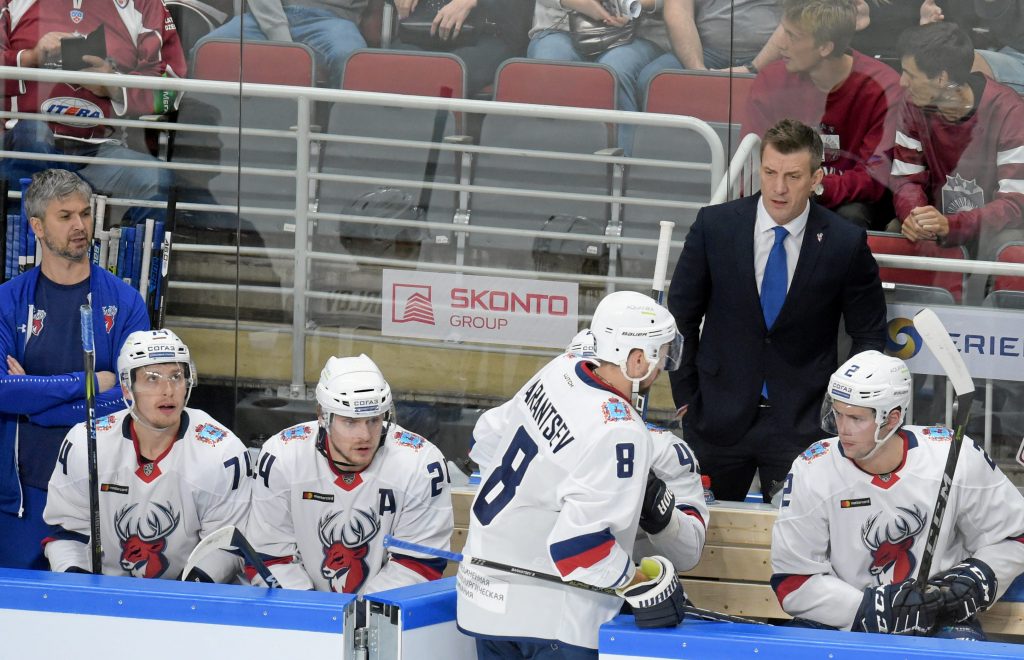 "Būtu muļķīgi neklausīties, ko saka Ozoliņš"
Jāatzīmē, ka hokeja leģendas klātbūtne treneru kolektīvā nāc par labu komandai arī no tāda viedokļa, ka tas ir papildus arguments spēlētāju piesaistīšanai. Tas ir svarīgi, jo Ņižņijnovgorodas budžets nav tas lielākais, bet Austrumu konference, kurā tagad spēlē "Torpedo", ir vairāk tā saukto oligarhu klubu. Pret "Ak Bars", "Avtomobilist", "Metallurg" un "Salavat Yulaev" nav iespējams cīnīties ar naudas resursu palīdzību, taču šīs komandas ir iespējams apspēlēt laukumā. Ik pa laikam tas izdodas arī "Torpedo", turklāt, vienība to dara skaisti.
Hokejista karjeras laikā aizsargs Ozoliņš labprāt pieslēdzās uzbrukumiem. Arī Ņižņijnovgorodā tas tiek atbalstīts, nevis sodīts, kā tas ir dažās citās komandās. Nemirovska hokeja stilā uzbrukums ir svarīgāks pār aizsardzību, kas rezultējas ar lielu skaitu gan gūto, gan zaudēto vārtu – abos statistikas rādītājos "Torpedo" parasti ir starp līgas līderēm. Šajā stilā uzbrūkošie aizsargi jūtas kā zivis ūdenī, savukārt Ozoliņš palīdz viņiem noslīpēt savu meistarību.
"Labi spēlēt palīdz tas, ka mūsu aizsargu treneris ir Sandis Ozoliņš. Viņš palīdz ne tikai laukumā, bet arī ārpus tā. Sandim ir plašas zināšanas un būtu muļķīgi neklausīties to, ar ko viņš ir gatavs dalīties," šī gada janvārī teica "Torpedo" aizsargs Kriss Vaidmens sarunā ar KHL preses dienestu. Amerikānis joprojām ir KHL rezultatīvākais aizsargs, kurš 53 mačos guvis deviņus vārtus un atdevis 29 piespēles, kopā sakrājot 38 punktus. Tas ir vairāk nekā "Dinamo" rezultatīvākajam uzbrucējam Mikam Indrašim
Šī sezona ir īpaša, jo tā notiek Covid-19 apstākļos. Pasaule jau samierinājusies ar koronavīrusa klātbūtni mūsu dzīvē, taču jaunā parādība ik pa laikam koriģē sporta klubu plānus. Izņēmums nav arī KHL turnīrs, kurā vairākas komandas saskarās ar to, ka saslimšanas dēļ nav iespējams savākt pilnu sastāvu dalībai kārtējā spēlē. Šādā situācijā nonāca arī "Torpedo", kurai vienā brīdī izkrita vesela virkne spēlētāju un steidzami bija jāmeklē rezerves.
2020. gada septembrī Ņižņijnovorodas kluba ģenerāldirektors Aleksandrs Harlamovs sarunā ar medijiem atklāja, ka situācija ir tuvu katastrofai. "Slimo visi – spēlētāji, apkalpes personāls, treneri un ofisa darbinieki. Ir izveidojusies situācija, kad nav cilvēka, kurš varētu uzasināt slidas spēlētājiem. Ja arī turpmāk tas viss attīstīsies, ka neizslēdzu variantu, pie kura laukumā būs jādodas man, Nemirovskim un Ozoliņam."
Ozoliņš ir visai interesants sarunas biedrs, taču intervijas viņš sniedz ne visiem un ne vienmēr. Strādājot Rīgas "Dinamo" galvenā trenera amatā, tas ietilpa viņa pienākumos, taču varēja redzēt, ka viņš labprāt iztiktu bez šādas runāšanas, kaut arī viņa preses konferences bija ļoti saturīgas. Šo gadu laikā Ņižņijnovgorodā Sanda intervijas un komentārus var saskaitīt uz vienas rokas pirkstiem. Sandis negrib būt stārmešu gaismā, norādot, ka tur jabūt komandai, hokejistiem. Šķiet, latvietis dažreiz gribētu būt neredzams.
Izskatās, ka Latvijas hokeja leģenda atradusi ideālu veidu, kā nodot savas hokeja zināšanas maksimāli lietderīgi – tā, lai būtu jārunā tikai ar sevis trenētās komandas pārstāvjiem.