Kāds jums var mēģināt stāstīt, ka šobrīd boksā nekas nenotiek. Ka Covid-19 krīzes dēļ neko nevar sarīkot, ka lielo zvaigžņu cīņas ir palikušas garlaicīgas un ka lielajām zvaigznēm lielu cīņu nemaz nav. Arī Latvijas boksa šobrīd lielākajiem brendiem Mairim Briedim un Ričardam Bolotņikam nākamās cīņas šobrīd noteiktas nav. Taču tas nenozīmē, ka šajā sporta veidā neko interesantu tuvākajā laikā atrast nevarēs, pavisam pretēji – gaidāmas ļoti interesantas cīņas, par kurām varbūt pilnīgi visi plašsaziņas mediji neziņos, taču iepazīties ar tām noteikti vērts. Palīdzēt plašākai publikai novērtēt gaidāmās cīņas bija gatavi arī Latvijas elites līmeņa cīņu sporta pārstāvji – WKN "International" čempions kikboksā Zaurs Džavadovs un WBO Eiropas čempions boksā Ričards Bolotņiks.
13.02. (Pārcelta) Smits – Vlasovs
Lasvegasa, pussmagais svars, par WBO čempiona titulu
Džo Smits (26-3) ir 31 gadu vecs amerikāņu bokseris, kura karjeras pagaidām lielākā uzvara ir tobrīd 40 gadus vecā Bernārda Hopkinsa pieveikšana. Slavenajam Hopkinsam tā bija karjeras pēdējā cīņa, attiecīgi kronēt Smitu par viņa pēcteci varētu būt priekšlaicīgi. Savukārt Maksims Vlasovs, 34 gadus vecais Krievijas bokseris, vēl nesen cīnījās vienu svara kategoriju augstāk, kur piedalījās Supersērijas otrajā sezonā un ceturtdaļfinālā stājās pretī Latvijā nu jau labi iepazītajam Kšištofam Glovackim.
Smits un Vlasovs ir šobrīd divi pirmie numuri WBO rangā un šobrīd pieteikuši savas ambīcijas uz titulu šajā organizācijā, ko brīvu atstāja Meksikas sporta superzvaigzne Kanelo Alvaress. Šajā organizācijā savas ambīcijas izvirzījis arī Latvijas bokseris Ričards Bolotņiks, kurš ir WBO Eiropas čempions jeb sekundārā titula īpašnieks un šīs organizācijas rangā ieņem septīto vietu. Tas principā ļauj Bolotņikam domāt par salīdzinošu drīzu pieteikšanos uz titulcīņu, un Smita un Vlasova cīņu Ričards gatavojās vērot jau ar domu par nākotni.

Taču liktenis lēmis citādi – nieka divas dienas pirms cīņas Lasvegasā Vlasovam konstatēta inficēšanās ar Covid-19, un cīņu nācies atcelt. Tas ir slikti gan Vlasovam (protams), gan Smitam, kuram iespēja iegūt pasaules čempiona jostu atkal atliekas. Turklāt kārtējo reizi jāuzsver, ka boksā cīņas pārcelšana nav nekāda joka lieta, jo gatavošanās tai notiek vairāku mēnešu garumā, piemērojoties konkrētam pretiniekam un, galu galā, gaidot konkrētu honorāru par cīņu. Lai gan bokseriem arī treniņus var nosaukt par darbu, maksāts tomēr tiek tikai par cīņām.
Smita-Vlasova cīņas atcelšana ir slikta ziņa vispār šim sportam, jo turpina iezīmēt problēmu, ka pašreizējos apstākļos ilgtermiņa plānus nevar kalt. Plānu kalšanā nepieciešams plāns B un C, taču turēt pieklājīga līmeņa rezerves pretinieku ir sarežģīti un nāk ar pavisam jaunām problēmām. Turklāt titulcīņas parasti tiek nozīmētas starp konkrētiem bokseriem, un, ja viens izkrīt slimības dēļ, tad otram nekas neatliek kā gaidīt. Un boksa mačus šobrīd tomēr var atļauties rīkot tikai lielie promouteri, tie, kuriem ir savi TV līgumi un skaļi vārdi, kurus var pasniegt arī tukšās arēnās. Savukārt Maira Brieža un Ričarda Bolotņika nākamo cīņu sakarā šobrīd skaidrības nav tieši Covid-19 dēļ – kā gan noorganizēt cīņu, par kuru neviens nevar sniegt garantijas, ka pēc diviem mēnešiem tā patiešām notiks?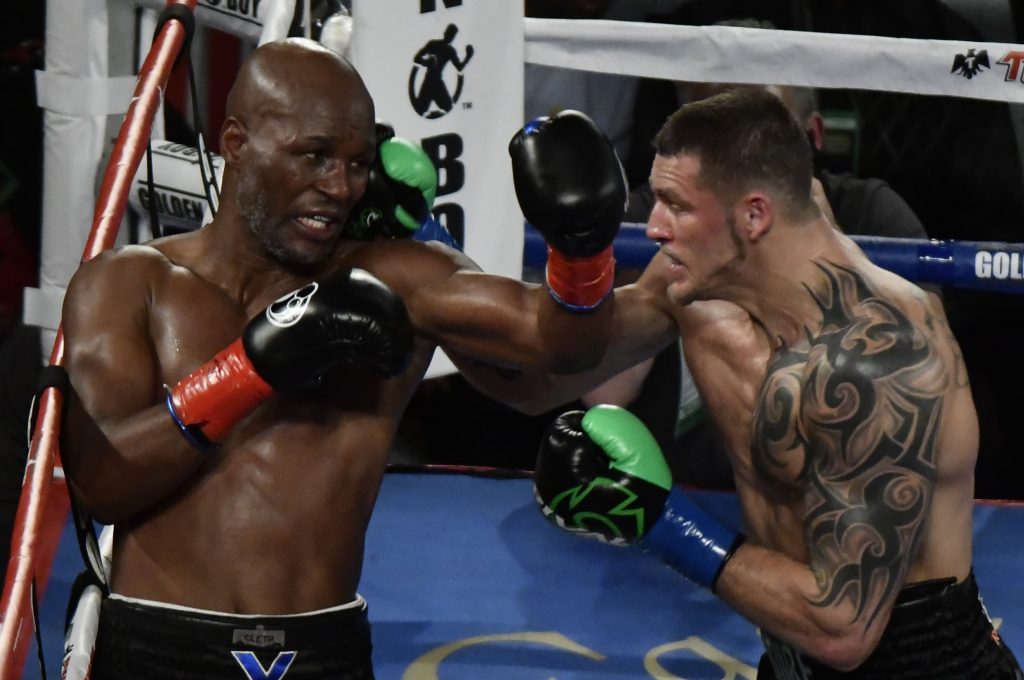 "ŠĪ man būtu bijusi ļoti interesanta cīņa, kurai sekot līdzi, jo tā ir tieši manā svara kategorijā," pastāstīja Ričards Bolotņiks. "Man pašam personīgi Vlasova cīņas tehnika ne īpaši patīk, kamēr Smits ir uzbrūkošāks bokseris, tāds, kurš iet uz priekš ringā. Viņam arī ir ļoti spēcīgs sitiens, un uzskatu, ka viņš būtu uzvarējis pret Vlasovu, cīņas otrajā pusē pavisam noteikti. Bet jā, es biju ļoti gaidījis šo cīņu un tās iznākumu, jo varbūt pēc tās man pašam rastos iespēja tikties ar uzvarētāju un pieteikties uz WBO čempiona jostu."
Arī Zaurs Džavadovs pirms ziņām par cīņas pārcelšanu atzīmēja Smitu kā savu favorītu, norādot, ka Vlasovs tomēr tik pārliecinošu iespaidu par sevi nav atstājis, turklāt nesen arī cīnījies vienu svara kategoriju augstāk, kas šajās augstākajās divīzijās tomēr nozīmē krietni vairāk nekā, piemēram, pacelšanās no 57.2 kg divīzijas uz 59.0 kg divīziju. Atšķirība starp krūzeriem un pussmago svaru tomēr ir 11 kilogrami.
Arī Zaurs izteica prieku, ka Bolotņika sakarā varam runāt par šīs divīzijas eliti, taču pieredzējušais Džavadovs arī brīdināja, ka tieši tagad sekos grūtākais posms, kāpjot uz augšu: "Ja iepriekš Ričardam vajadzēja tikai uzvarēt savas cīņas, tad tagad klāt nāks biznesa puse – kā šīs vispār sarunāt? Bolotņiks tagad "BoxRec" rangā ir 11. vietā un nākamais solis būtu iekāpšana pirmajā desmitniekā. Taču boksā labi zināms, ka tieši šī robeža ir ļoti grūta, jo labākais desmitnieks ir tālu priekšā. It īpaši šajā divīzijā, kur ir tādi vārdi kā Smits, Vlasovs, Beterbijevs, Bivols, Kovaļovs vēl tur… Tā ka būs grūti arī fiziskajā ziņā, tajā "Golden Contract" turnīrā Ričardam tomēr bija cita līmeņa pretinieki. Nu, un nākamais apstāklis ir tas, ka Bolotņikam vispirms šī cīņa jāsarunā. Te var salīdzināt, kā bija Mairim Briedim, kad viņš kļuva par WBC titula pretendentu – ne Beljū, ne kāds cits "Top" bokseris ar viņu negribēja cīnīties. Un loģiski, ka negribēja, kāpēc lai viņi cīnītos ar spēcīgu latvieti, pret kuru ir risks zaudēt, ja finansiāli neko īpašu iegūt nevar? Man gan ir ticība, ka Bolotņikam izdosies ceļš uz augšu, viņam ir laba komanda, aiz viņa stāv "LNK Boxing", ar ko sadarbojos arī es, un tur ir cilvēki, kas gatavi palīdzēt izsisties uz augšu. Bet tā savā ziņā var salīdzināt situāciju, kādā Mairis bija pirms 3-4 gadiem, ar to, kas tagad būs Bolotņikam. Tagad ir ne tikai bokss, bet arī bizness."
27.02 Kanelo – Jildirims
Maiami, otrais vidējais svars, par WBA un WBC čempionu titulu
Par to, ka bokss augstākajā līmenī vispirms tomēr ir bizness, kārtējo atgādinājumu saņēmis arī pasaules šobrīd pieprasītākais bokseris Sauls "Kanelo" Alvaress (54-1-2). Kanelo Latvijā varbūt vēl nav sasniedzis tādu Meivezera, Taisona un Ali slavu, taču Amerikā viņš ir neapšaubāma superzvaigzne (ar Ameriku tiek domāts visa pasaules daļa). Kanelo nesen aizvadīja cīņu pret Supersērijas uzvarētāju Kallumu Smitu, dominēja un kļuva par WBC un WBA pasaules čempionu savā svara kategorijā. Lai gan Kanelo sakarā jostas un čempionu tituli jau sen vairs nav definējošais faktors, viņš no tiem atvadās nelabprāt, un tas savukārt noveda pie tā, ka WBC pieprasīja, lai viņš aizstāv titulu pret obligāto pretendentu Avni Jildirimu (21-2).
Turcijas bokseris ar neko patiešām iespaidīgu savā karjerā nevar lepoties – pirms četriem gadiem viņš zaudēja Krisam Jūbenkam, bet savā iepriekšējā cīņā pirms diviem gadiem palika ar zaudējumu pret Entoniju Direlu, kuram mača gaitā tika pārsista galva un viņš nevarēja cīņu turpināt. Tā ka savainojums netika gūts no dūrēm, bet gan sasitoties ar galvām, cīņas uzvarētājs tika noteikts pēc punktiem, un tur divi no trim tiesnešiem  uzvaru deva Direlam. Jildirims pēc tam apelācijā šo lēmumu apstrīdēja, viņa pusē nostājās arī WBC prezidents, un sausais atlikums ir tāds, ka pēc gandrīz divu gadu pauzes Jildirims tagad ir ticis pie WBC titulcīņas iespējas. Vai tam ir sportisks pamatojums? Īsti nē, taču profesionālajā boksā tas ne vienmēr ir vajadzīgs.
Kanelo un Jildirima cīņa būs starp divu dažādu līmeņu bokseriem – ja Kanelo ir svara kategorijas neapšaubāms pirmais numurs, tad Jildirims nemaz nav atrodams "The Ring" ranga desmitniekā, un neviens arī nesūdzās, ka "The Ring" šajā ziņā būtu kaut ko pārskatījušies. Tāpēc sportiskajā ziņā cīņa Kanelo-Jildirims īsti cilvēkus neiekārdinās, jo Alvaresam grūti iztēloties nopietnu problēmu rašanos. Viņš pats gan saņēma pārmetumus, ka piekritis šādai cīņai, nevis meklējis nopietnāku pretinieku, tāpēc Kanelo komanda nolēma iziet uz kompromisu – negaidīt WBC titula aizstāvēšanu līdz pavasarim, bet pieveikt Jilidirimu jau tagad un tad maijā jau rīkot tādu cīņu, kādu viņi paši grib.
"Gribat zināt, cik droši Kanelo jūtas par savu uzvaru 27. februāra cīņā? Tik droši, ka viņš jau publiski plāno savu nākamo cīņu maijā," sacīja Džavadovs. Kanelo patiešām jau ir plāni par cīņu maijā, kad viņš tiksies ar britu Billiju Džo Saundersu, vienu no saviem potenciāli spēcīgākajiem izaicinātājiem šajā divīzijā. Taču Džavadovs uzskata, ka Kanelo ir jātēmē vēl augstāk un jāatgriežas pussmagā svara kategorijā, kur viņš iepriekš vienu cīņu jau aizvadīja, pārspējot krievu bokseri Sergeju Kovaļovu un atņēma viņam čempiona titulu. "Kanelo šobrīd ir lielisks, skaisti boksē un visspēcīgākais, jā," teica Džavadovs. "Taču viņš vēl nav boksa leģenda. Ja viņš vēlas par tādu kļūt, tad, vismaz es tā uzskatu, ir jāiet uz augšu. Pussmagā svara kategorijā ir vairāki patiešām super pretinieki ar Beterbijevu priekšgalā, tur tiešām Kanelo var aizvadīt ļoti intriģējošas cīņas un apliecināt, cik spēcīgs viņš ir."
Savukārt Bolotņiks Kanelo nosauca kā vienu no saviem iecienītākajiem bokseriem vispār un norādīja, ka cīņa nebūs ilga: "Kanelo kādā ceturtajā vai piektajā raundā jau visu pabeigs. Neredzu tur nekādu intrigu."
6.03 Povetkins – Vaits
Lielbritānija, smagsvari, par WBC pagaidu titulu
41 gadu veco Aleksandru Povetkinu (36-2-1) daži jau bija norakstījuši – vecs, lēns, neinteresants un kāds tik vēl ne. Iespējams, šo norakstītāju vidū bija arī brits Dilians Vaits (27-2), kurš jau vairākus gadus tēmēja uz pasaules čempiona titulu un plānoja, ka iepriekšējā augustā aizvadītā cīņa pret Povetkinu vēl vairāk nostiprinās viņa pieteikumu. Sanāca pavisam pretēji… Povetkins gan tika divreiz nosūtīts nokdaunā ceturtajā raundā, taču piektajā raundā trāpīja tādu kreiso sitienu no apakšas, ka par lielu favorītu uzskatītais Vaits nokrita kā zibens ķerts. Povetkins mierīgi aizsoļoja uz savu ringa stūri, kamēr viņa komanda līksmoja, un varam tikai iztēloties, kāds būtu bijis šāda neticama nokauta efekts pārpildītā arēnā.
Vaits uzreiz pieprasīja revanšu, panāca, ka revanša cīņa tiek ieplānota jau pēc diviem mēnešiem, taču šos plānus izjauca Povetkina saslimšana ar Covid-19. Povetkinam šī slimība lika arī nonākt slimnīcā un pamatīgi pārvērtēt savu treniņu režīmu, taču tagad abiem nosprausta revanša cīņa sestajā martā, kas būs Vaita iespēja atgūt savu WBC pagaidu titulu un nākotnē tēmēt uz cīņu pret Taisonu Fjūriju vai Entoniju Džošua.

"Es nesaprotu, kādēļ Vaits domā, ka viņam šis revanšs ir vajadzīgs," atklāti sacīja Džavadovs. "Proti, saprotu, kāpēc revanša cīņa notiek, taču kāpēc Vaita komandā cilvēki ir tik pārliecināti, ka viņš uzvarēs? Es noteikti tā nedomāju. Jā, Povetkins ir veterāns, taču augustā redzējām, kāds viņš ir veterāns. Povetkinam ir izcils taimings. Parasti cīkstoņiem ar vecumu tieši šī lieta pazūd pirmā. Jā, arī ātrums, spēks un izturība ar gadiem iet mazumā, taču taimings  parasti ir pati pirmā lieta, kas paliek arvien sliktāka, proti, prasme uztrāpīt brīdi, kad izdarīt izšķirošo sitienu. Tāpēc arī šoreiz es prognozēšu Povetkina uzvaru cīņas otrajā pusē – vai nu pēc punktiem vai ar nokautu kādā 8.-10. raundā."
Atrast to pavisam mazo brītiņu pretinieka aizsardzībā, kad veikt izšķirošo sitienu, sajust to brīdi, kad doties uz priekšu un pielikt punktu cīņai – tās ir instinktīvas lietas, ko tā iemācīt nemaz nevar un kuras notiek gandrīz vai refleksīvi. Protams, pieredze šeit nāk talkā, taču Povetkina spēja likt no sevis baidīties citiem "Top" smagsvariem arī tad, kad viņš pats jau pārsniedzis 40 gadu slieksni, ir ievērojama lieta. Un šeit patiešām jāatzīmē, ka Vaits savos publiskajos izteikumos ir bijis daudz bravurīgāks nekā varētu gaidīt no iepriekšējā cīņā nokautēta boksera. Vaits pat pacentās apvainot Povetkinu, ka viņš simulējot Covid-19 simptomus, lai varētu izvairīties no cīņas, jo jūtot, ka revanša cīņā zaudēs.
"Vaitam patīk izrunāties, tad nu lai runā," janvāra sākumā krievu medijiem teica Povetkins. "Ko es varu pateikt? Te viss ir bizness. Man nav iebildumu, ka viņš runā apkārt, lai dara, ko vēlas. Vaits domā, ka es simulēju slimību? Viņam pašam taču labāk, ka pēc tāda nokauta ir ilgāks laiks atgūties. Kā gan es varētu viltot savu slimības vēsturi un slimnīcas dokumentus. Lai nu kā, mums ir līgums par revanša cīņu, turklāt es pats arī vēlos tikties ar viņu ringā."
20.03 Beterbijevs – Deinss
Maskava, pussmagais svars, par WBC un IBF čempionu titulu
Arturs Beterbijevs (15-0), Krievijas bokseris, kurš nevienu profesionālo cīņu Krievijā vēl nav aizvadījis. Beterbijevs pussmagajā svarā 15 cīņu laikā paspējis kļūt par ļoti draudīgu spēku, un neviens viņa pretinieks līdz šim nav izturējis līdz cīņas beigām. 15 cīņas un 15 nokauti, tāda ir Beterbijeva statistika, un to nespēja mainīt arī viņa līdz šim nopietnākais pretinieks Oleksandrs Gvozdiks, kurš līdz ar to zaudēja savu čempiona titulu. Beterbijevs tagad gan nav aizvadījis cīņu pusotru gadu, patraucēja gan pandēmija, gan traumas. Titula aizstāvēšana viņam bija plānota janvārī, taču Covid-19 ieviesa savas korekcijas.
Taču šobrīd plāns ir nosprausts uz 20. martu, kad Beterbijevs Maskavā dosies ringā, pirmoreiz profesionālā boksa cīņā to darot Krievijas teritorijā. Viņam pretim stāsies Vāciju pārstāvošais Adams Deinss (19-1-1), kurš, starp citu, IBF rangā ir tikai vienu vietu augstāk nekā Bolotņiks.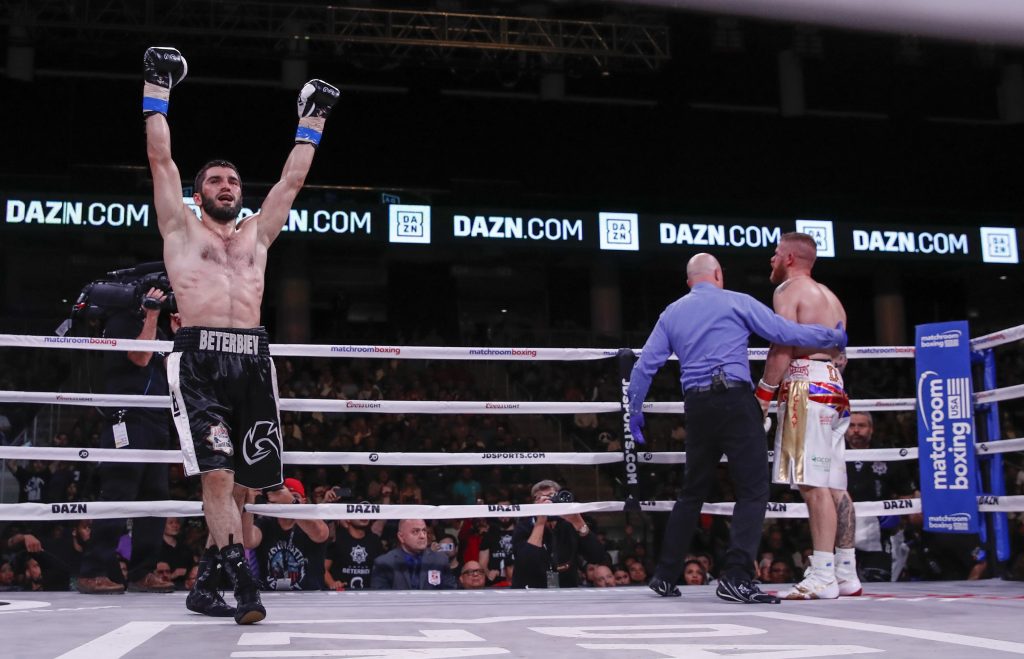 "Smita un Beterbijeva cīņās noteikti domāšu arī par to, ka kaut kad tuvākajā nākotnē man pašam var sanākt cīņa ar kādu no viņiem," teica Bolotņiks. "Skaidrs, ka Beterbijevs šeit būs favorīts, taču Deiness varēs atrast savas iespējas. Deiness ir kreilis, un šādi bokseri vienmēr ir nedaudz nestandarta pretinieki. Prognozēt vajadzētu Beterbijeva uzvaru, kamēr Deinesam, lai tiktu pie panākuma, droši vien būs vajadzīgs tā sauktais "lucky shot" jeb laimīgs sitiens īstajā brīdī un vietā."
Savukārt Džavadovs nosauca Beterbijevu par savu iecienītāko bokseri vispār, norādot uz viņa "no nonsense" attieksmi un izturēšanos, profesionālo nostāju un iespaidīgo spēku: "Jūs paskatieties, kādus video no treniņiem viņa komanda publicē! Viņš veic nenormāli sarežģītus vingrinājumus, kuros normālam cilvēkam sen būtu roka salūzusi, bet Beterbijevam tā ir norma. Viņš ir drausmīgi spēcīgs, nu patiešām, tur var tikai apbrīnot, kāda enerģija ir paslēpta viņam rokās. "
"Šobrīd pussmagajā svarā es teiktu, ka ir četri vadošie bokseri," turpināja Zaurs. "Beterbijevs, Bivols, Smits un Vlasovs, un arī šajā četriniekā Beterbijevs ir galvas tiesu pārāks pār visiem pārējiem. Ne druskas nepārspīlēju, to sakot. Tāpēc šajā cīņā pret Deinsu uzskatu, ka Beterbijeva uzvara ir 99% droša lieta, un tai vajadzētu pienākt jau cīņas vidū, ap 6.-8. raundu."
20.03 Okolijs – Glovackis
Lielbritānija (?), pirmais smagais svars, par WBO čempiona titulu
Uz lielā boksa fona krūzeru svara kategorija nekad bijusi lieta, kas mirdzētu īpaši spoži, un ar šo reāliju jāsaskaras arī Mairim Briedim – smagsvaru čempioni un pussmagā svara čempioni tiek vērtēti ļoti augstu un gozējas dažādos pasaules rangos, tiekot pieskaitīti pie visspēcīgākajiem bokseriem, kamēr Briedis kā krūzeru divīzijas šobrīd neapšaubītais čempions šādu novērtējumu saņem krietni retāk. Un jābūt godīgiem, ka bez Brieža neviens Latvijā tā arī īpaši nepievērstu uzmanību tādu bokseru kā Dortikoss, Gasijevs un Glovackis gaitām. Briedis tēmē uz savu ierašanos smagsvaru divīzijā, kur tomēr apgrozās lielākas naudas un var mērķēt uz lielākām cīņām, taču, kamēr tas vēl nav noticis, jāpatur prātā, ka martā vismaz vienu ļoti interesantu cīņu krūzeru divīzija piedāvās.
Brits Lorenss Okolijs (15-0) ir proumoutera Edija Hērna paspārnē, kas viņam garantēja dažus īsceļus karjeras attīstībā. Taču grūti arī apgalvot, ka viņš kaut ko saņēmis nepelnīti, un savu avansu viņš apņēmies piepildīt pēc pilnas programmas, iegūstot pasaules čempiona titulu. Viņš cerēja, ka varēs to izdarīt jau decembrī, taču tieši pirms došanās uz Angliju ar Covid-19 saslima viņa pretinieks Kšištofs Glovackis.
Poļu bokseris (31-2) Latvijas publikai labā atmiņā palicis ar savu cīņu Rīgā pret Briedi, kas beidzās ar skandālu, juridiskiem strīdiem, apelācijām un beigu beigās arī WBO titula atņemšanu Briedim. Brieža fani pārmeta Glovackim sitienu pa pakausi, Glovackis nesaprata, kā Briedis varēja nonākt pie secinājuma pavisam cita cīņu stila ietvaros iesist viņam ar elkoni, un promouteri sāka domāt, kā ar šo visu nopelnīt. Glovacka revanšs pret Briedi būtu bijis saistošs, it sevišķi, ja Glovackim tagad jau būtu WBO čempiona josta, ko Briedim atgūt savā kolekcijā. Taču… Covid-19 dēļ šis tituls ir vakants, Glovackim ir sava cīņa, un Briedis tēmē uz smagsvariem.
Glovacka sakarā uzreiz jāuzsver, ka viņš ringā nav kāpis gandrīz divus gadus, turklāt toreiz pret Briedi cīņa ilga tikai pusotru raundu (visu to, kas notika pēc Brieža sitiena ar elkoni, pie normāla boksa nepieskaitīsim). Pēc tituliem, pieredzes un iepriekš ringā parādītā Glovackim vajadzētu būt favorītam. Taču kā viss notikušais, ilgā pauze un vilšanās pēc vilšanās būs ietekmējusi Glovacka situāciju? Vai apziņa, ka šī ir pēdējā lielā iespēja, tomēr nerādīs pārāk lielu spiedienu cīņā pret Okoliju. Okolijs decembrī savā cīņā izskatījās neapturams, tiesa, tur pret pēdējās dienās vietā pieaicināto poli Nikodemu Ježevski palika jautājums, vai Okolijs tiešām ir tāds zvērs vai arī Ježevskis tiešām bija tik negatavs. Cīņa pret Glovacki, kurai vieta vēl nav noteikta, to varētu parādīt. Taču jau atkal jāpatur prātā pandēmijas klātbūtne, un arī šobrīd neviens nevar justies pilnīgi drošs, ka Okolijs-Glovackis cīņa 20. martā patiešām notiks.