Palikusi mazāk par nedēļu līdz UEFA Čempionu līgas astotdaļfināla pirmajiem mačiem. Futbola līdzjutējus sagaida vairākas saistošas spēles ar aizraujošiem spēlēm un intrigām – lielais futbols iegriezīsies Budapeštā un Bukarestē, "Barcelona" un PSG mačam ir īpašs zemteksts, ņemot vērā Lionela Mesi iespējamo pāreju.
Futbola leģenda nosauc savus favorītus
Par vienu no pasaules futbola visu laiku leģendārākajiem spēlētājiem sauc brazīlieti Ronaldo. Viņa trofeju plauktā ir daudz kas atrodams, tomēr tur nav Čempionu līgas kausa, ar kuru tiek apbalvota Eiropas labākā futbola komanda, un Libertadores kausa, kuru pasniedz Dienvidamerikas spēcīgākajai vienībai. "Es atdotu divus pirkstus, lai iegūtu abus šos kausus," teica Ronaldo.
Leģenda uzskata, ka pašlaik ir izceļami trīs favorīti – Minhenes "Bayern", "Barcelona" un Madrides "Real". Vācijas superkluba vieta šajā sarakstā nav apšaubama – tomēr "Bayern" ir trofejas esošā īpašniece, par pārējiem gan varētu būt jautājumi. Ronaldu piebilst, ka labas komandas ir arī Mančestras "City" un PSG. Interesanta izvēle, ņemot vērā to, ka Gvardiolam ar "City" ne pārāk veicas tieši Čempionu līgā.
Būs interesanti pavērot, vai Ronaldo prognoze piepildīsies?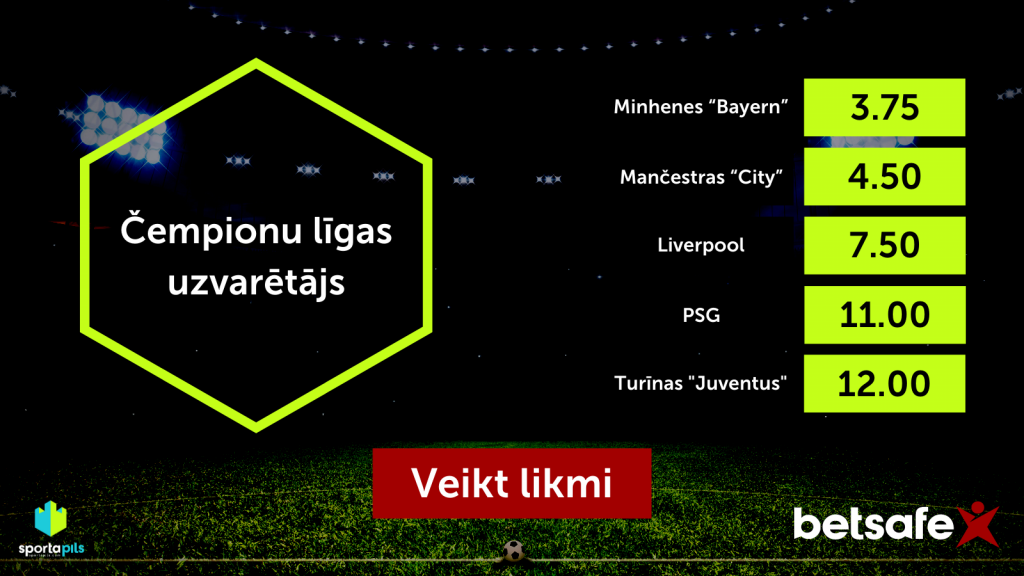 Mesi pret savu nākamo klubu?
Viens astotdaļfināla pāris ir īpaši interesants – "Barcelona" un "Saint-Germain". Daži jau to nosaukuši par Lionela Mesi spēli pret savu nākamo klubu. Nav noslēpums, ka argentīniešu superzvaigznei pēc sezonas beigām noslēgsies līgums ar Barselonas klubu un ir liela varbūtība, ka savu karjeru viņš turpinās kādā citā vietā.
Arī pirms sezonas ka viens no Mesi galamērķiem tika minēta Francijas galvaspilsēta. PSG ir viens no nedaudziem klubiem, kas varētu pavilkt uzbrucēja līgumu, bet tas noteikti nav galvenais un vienīgais iemesls. Parīzē spēlē Mesi draugs Neimars, kurš savulaik tika pārdots no "Barcelona" uz PSG par tobrīd rekordlielu transfērsummu – 222 miljoniem eiro. Tiesa, pats Neimars pirmajā spēlē laukumā nedosies.
Pagājušajā sezonā "Saint-Germain" bija viena soļa attālumā no Eiropas klubu futbola galvenās trofejas, tomēr kausu paņēma Minhenes "Bayern". Mesi ir uzvarētāja pieredze – viņš Čempionu līgas kausu virs galvas celis četras reizes. PSG bosu vēlme iegūt argentīnieti ir visai liela, taču iepriekš tas nebija iespējams dēļ milzīgas transfērmaksas. Pēc šīs sezonas Mesi kļūs par neierobežoti brīvo aģentu un viņam ir lieliska iespēja pārliecināt PSG, ka viņš tiešām ir vajadzīgs šim klubam.
Vai Mesi faktors kļūs par izšķirošo šajā pārī?

Budapešta kļuvusi par Eiropas futbola galvaspilsētu?
Starp Čempionu līgas astotdaļfinālā iekļuvušajām 16 komandām ir pa četrām Spānijas un Vācijas pārstāvēm, pa trīs Anglijas un Itālijas, kā arī atrodams viens klubs no Francijas un vēl viens no Portugāles. Tomēr divas no astoņām spēlēm norisināsies Ungārijas galvaspilsētā Budapeštā. Par iemeslu kļuvusi Vācija stingra politika Covid-19 apkarošanā, kuras ietvaros netika pieļauti izņēmumi tik augsta līmeņa sacensību kā Čempionu līga dalībniekiem.
"RB Leipzig" un Menhengladbahas "Borussia", kurām pirmie mači bija paredzēti mājās, dosies uz Ungāriju. Ar to gan UEFA problēmas nav beigušas, jo organizācija bija spiesta pārcelt vēl vienu spēli – Madrides "Atletico" un Londonas "Chelsea" tiksies nevis Spānijas galvaspilsētā, bet Bukarestē. Ņemot vērā Covid-19 jauna paveida izplatību Lielbritānijā, vairākas Eiropas valstis ierobežojušas ieceļošanu Anglijas klubiem.
Pagaidām grūti paredzēt, vai ar to viss beigsies – situācija strauji mainās katru dienu. Tikmēr klubiem, kuri spēļu pārcelšanās dēļ zaudēja mājas laukuma priekšrocību, būs jārēķinās ar noteiktām neērtībām. Turklāt, ja šie klubi tiks tālāk un Covid-19 izplatība netiks piebremzēta, tad arī turpmāk par spēlēšanu savā arēnā varētu nākties aizmirst.
Nav zināms, kā piespiedu došanās uz Budapeštu un Bukaresti ietekmēs "RB Leipzig", "Atletico" un "Borussia" rezultātus pirmajā mačā. Tomēr tas ir svarīgs faktors, kuru nedrīkst nenovērtēt.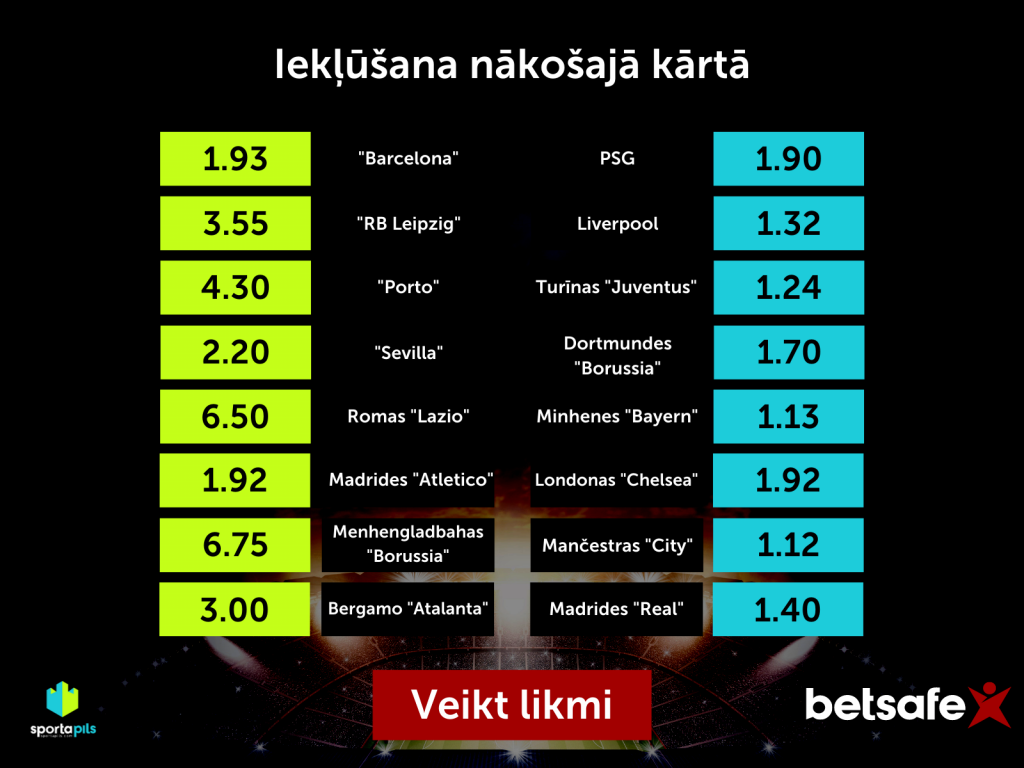 Draudi par Superlīgas izveidošanu
Iespējams, jau drīz šāda formāta Čempionu līgu mēs vairs neredzēsim. Pēdējā laikā medijos parādās arvien vairāk informācijas par Eiropas lielāko futbola klubu vēlmi izveidot savu turnīru – Superlīgu, kas darbotos līdzīgi kā basketbola Eirolīga – ar pastāvīgo dalībnieku sastāvu un mazāku komandu skaitu. Ideja par Superlīgas izveidošanu nav jauna, taču neapmierinātība ar UEFA politiku likusi klubiem arvien vairāk aizdomāties par šādu scenāriju.
Sākotnēji UEFA piedraudējusi ar sankcijām gadījumā, ja šāda Superlīga tiešām tiks izveidota, turklāt, tiks sodīti gan klubi, gan futbolisti, kuriem tiks liegta dalība visās UEFA un FIFA sacensībās, tajā skaitā izlašu mačos. Vēlāk Eiropas futbola federāciju asociācija nomierinājās un piedāvāja kompromisu – jaunu ČL variantu, kurā nebūtu sadalījuma pa grupām, bet komandas vienkārši spēlētu savā starpā. Astoņas labākās komandas uzreiz kvalificētos astotdaļfinālam, bet pārējās vietas izspēlētu vienības, kuras ieņems vietas no 9. līdz 24.
Plānots, ka šāds formāts varētu tikt ieviests 2024. gadā un tas ļaus izvairīties no gadījumiem, kad vienā mačā tiekas dažāda līmeņa komandas. Tiesa, tas viss vēl ir sarunu līmenī, bet jau tuvākajā laikā jauns formāts varētu kļūt par realitāti.
Čempionu līgas astotdaļfināli