Koba Jass daudziem palicis atmiņā kā viens no enerģiskākajiem Latvijas izlases hokejistiem pēdējo gadu laikā. 22 gadu vecumā viņš debitēja pasaules čempionātā Teda Nolana vadībā, savā debijas turnīrā izceļoties arī ar kautiņu, izaicinot zviedru aizsargu Ēriku Karlsonu. Protams, ši ir tikai viena no epizodēm, kas raksturo kolorīto hokeja personību. Patiesībā Koba savā būtībā ir piezemēts. Vismaz tāds iespaids rodas, aprunājoties ar viņu ārpus ledus laukuma.
Pēdējo spēli (pagaidām) uzbrucējs aizvadīja 2019./2020. gada sezonā, kad vienā no mačiem "Kurbada" rindās savainojuma dēļ bija spiests atstāt laukumu. Kā vēlāk izradījās, savainojums bija nopietns – nācās veikt pat divas operācijas (menisks un krusteniskās saites). Taču Koba ir enerģijas pilns atgriezties uz ledus. Bet kamēr spēlētājs atkopjas no veselības likstām, ar viņu izgājām cauri nelielam karjeras ceļojumam.
"Tagad laiku pavadu savās mājās Priedainē. Neviens no ģimenes un radiem neslimo, visi tuvinieki ir veseli. Sētā esmu iekārtojis gan futbola laukumu, gan trenažieru zāli. Pievēršos tam, kam iepriekš nepietika laika. Pusgadu nostaigāju ar kruķiem. Man bija divas operācijas, bet augustā sāku realizēt savu projektu –"Hockey Planet Riga", pievēršot uzmanību katram sportistam individuāli. Strādājam ar katru hokejistu individuāli. Tā ir pilna profesionāla fiziskā un mentālā sagatavošana hokejistiem. To var dēvēt par hokeja trenažieri, treniņi notiek uz speciāla hokeja trenažiera un speciāli izveidotā sporta zālē. Zālē ir četras kameras, mums ir iespēja analizēt katru kustību slidošanas laikā, kā arī attsīstīt slidošanas, metienu un piespēļu tehniku. Trenažieris piemērots gan bērniem, gan pieaugušajiem. Daudzi jaunībā nemaz nav piestrādājuši pie slidotprasmes un tagad šīs nianses ir iespējams novērst un pieslīpēt ar šī trenažiera palīdzību.
Sadarbojamies ar vienu laboratoriju, un vēlos sākt testēt hokejistus slidojuma laikā, jo līdz šim spēlētāji parasti tiek testēti skrējiena laikā vai braucot ar velotrenažieri. Slidošanā strādā citi muskuļi. Slidojuma laikā no pirksta tiek paņemtas asinis, kas vēlāk uzrāda konkrētus rezultātus. Treneri Latvijā joprojām izmanto daudz vecās treniņu metodes, bet tagad ir citi laiki. Es jau vispār sevi saucu par baigo hokeja fanātu, jo jaunībā trenējos pa sešām stundām dienā. Ja man būtu bijusi iespēja izmantot tās metodes, kuras tiek pielietotas mūsdienās, es varētu sasniegt citus rezultātus – daudz labākus. Tagad viss ir pieejams internetā. Treniņos palīdz arī fizioterapeits.
Ideja radās pirms četriem gadiem. Kad spēlēju Žilinā, Slovākijā, iepazinos ar tādu personu kā Miroslavs Lažo. Vispirms gan biju Nitrā, mēnesi pavadīju trenējoties un gaidīju, kad slovāku leģenda Jozefs Štumpels brauks prom no kluba, lai es varētu ieņemt viņa vietu. Tomēr viņš palika, bet Lažo uzreiz piedāvāja pievienoties Žilinas klubam. Iepazināmies, sadraudzējāmies, mūsu dzīves uztvere bija ļoti līdzīga. Atceros vienu stāstu no Žilinas kluba laikiem. Komandā ierados novembra vidū, man toreiz bija nedaudz pāri 20 gadiem. Man bija try-out līgums. Treneris treniņā komandu sadalīja divās grupās un savā starpā aizvadījām treniņspēli. Vienā no epizodēm aiz vārtiem man pretī nāca ražens pretinieks, es biju gatavs kādam noraut kāju, lai tikai tiktu sastāvā. Es viņam kārtīgi iedevu iekšā, bet viņam kājas uzlidoja gaisā. Viņš apmēram četras minūtes pagulēja uz ledus, bet pēc brīža pie manis pieslidoja komandas biedrs un saka: "Tu nevarēji atrast laukumā kādu citu? Viņš ir kluba prezidenta dēls." (Smejas). Sastāvā tiku, lai gan sākumā spēlēju ceturtajā maiņā. Janvārī mani jau paaicināja uz Čehijas ekstralīgu, kur pievienojos "Kladno" klubam. Biju laimīgs, ka tiku komandā. No manis tur prasīja spēka spēli un komandas biedru uzmundrināšanu.
Vēlāk viens no komandas biedriem dabūja traumu, un mani pirmajā maiņā salika kopā ar Pāvelu Pateru, kurš ir arī ļoti cienījams Čehijā. Galvenais treneris mani zināja, jo iepriekš viņš strādāja arī "ASK/Ogre" rindās. Vietu sastāvā nosargāju. Iekļuvām pirmo reizi 16 gadu laikā play-off izcīņā, bet pirmajā kārtā pretī nāca iepriekšējās sezonas valsts čempioni "Pardubice". Sērijā rezultāts bija 2-2, mājas spēlē izcīnījām panākumu un uzvarējām sērijā ar 3-2. Otrajā kārtā pretī nāca Prāgas "Slavia", kurai piekāpāmies. Viņu rindās toreiz spēlēja Tomašs Hertls, kurš tagad pārstāv Sanhosē "Sharks". Čehijas laiku atceros ļoti pozitīvi.
Pēc tās sezonas man bija apmēram pieci piedāvājumi no Vācijas, Čehijas, kā arī Somijas līgas klubiem. Arī Kladno vēlējās mani, bet man līgas konkurenti no Liberecas izteica ļoti labu piedāvājumu, no kura es nespēju atteikties. Libereca bija augšgala komanda un viņu ambīcijas bija čempiontitula izcīnīšana. Arī apstākļi bija ļoti labi – līgumu noslēdzu uz divām sezonām, lai gan klubs vēlējās, lai parakstu to uz trīs gadiem. Liberecā satraumēju plecu, vēlāk arī celi, un tas mani izsita no ierindas. Sastāvs mums bija lielisks – Petrs Nedveds, Petrs Vampola, Branko Radivojevičs un citi. Pēc divām sezonām, kurās biju klubā, nākamajā Libereca kļuva par Čehijas čempioniem.
Pēc Čehijas devos uz Rīgas "Dinamo", kur pievienojos uz pārbaudes laiku. Toreiz klubu vadīja soms Kari Heikila. Un tieši tajā gadā Slovākijā man pirmo reizi parādīja hokeja trenažieri, kurš ir tagad arī Latvijā. Mans draugs, par kuru stāstīju, mani iedrošināja, ka arī Latvijā tādam jābūt. Atgriežoties pie Heikilas, treneris vēlējās, lai palieku "Dinamo", taču kluba vadība mani nevēlējās redzēt sastāvā. Nepaņēma "Dinamo, un sezonu iesāku Skalicā, bet janvārī pārgāju uz citu Slovākijas klubu Martinu.
Jāatzīst, ka tur bija pavisam bēdīgi. Esmu spēlējis vairākās Slovākijas komandās, un visur man ir palikuši parādā, taču vienā no pēdējiem klubiem "Nove Zamky" es pēc vienas no šādām reizēm aizgāju pie kluba prezidenta un pateicu, ka šoreiz mani neapčakarēsiet. Solīju, ka paņemšu spilvenu un gulēšu ofisā, kamēr man izmaksās visu algu. Teicu, ka esmu vienīgais komandā, kurš bloķē metienus un cīnās. Beigās sanāca tā, ka viņš kļūdījās un izmaksāja man pat vairāk nekā pienācās. Par šo pastāstīju komandas biedriem, kuri bija izbrīnīti. Gan Martinas, gan Skalicas klubs piedzīvoja vēlāk bankrotu.
Runājot par Heikilu, atcerējos, ka "Dinamo" sezonas laikā viņu atbrīvoja, bet viņš pievienojās Somijas komandai un mani aicināja uz turieni, taču slovāki mani nepalaida.
Pēc Slovākijas sekoja Latvijas periods. Vispirms pievienojos "Prizma" vienībai, bet jau pirmajā mačā par kautiņu saņēmu diskvalifikāciju. Dažas dienas vēlāk jau atradu jaunu komandu un pārgāju uz "Kurbads", ar kuru kopā izcīnījām čempiontitulu. Pēc "Kurbada nākamajā sezonā sekoja vairākas spēles jau minētajā "Nove Zamky" rindās, bet pēc tam devos uz ASV, kur pievienojos dienvidu profesionālās hokeja līgas klubam Misisipi "Riverkings". Tajā līgā spēlēja agresīvu, ātru hokeju, katrā komandā spēlei tika pieteikti trīs piecinieki. Tā bija profesionāla līga un līmenis bija labs. Tā bija laba pieredze, bet uz turieni es nedevos naudu pelnīt, lai gan biju apmaksātākais spēlētājs līgā ar 400 dolāriem nedēļā. Arī ārpus hokeja viss bija ļoti labi noorganizēts.

Atcerējos vēl vienu stāstu. Sezonā, kad ar "Kurbadu" uzvarējām Latvijā, uz spēlēm nāca arī Latvijas izlases galvenais treneris Bobs Hārtlijs. Viņš vēroja izlases kandidātus un februārī man zvanīja, sakot, ka izlases sakarā par mani izrāda interesi. Viņam patīkot mans spēles stils un viņš bija gatavs mani ņemt izlasē, bet ar norunu, ka es būšu labā fiziskajā formā. Taču tomēr es izlasē netiku, lai gan tur bija citi iemesli, kurus es nevēlos iztirzāt. Viņš solīja mani izlasē paņemt nākamajā gadā, un ieteica doties spēlēt uz Ameriku. Lai es braucu un sevi pierādu Amerikā, aizvadu labu sezonu, aprodu ar ziemeļamerikāņu stilu. Taču arī pēc īsā perioda Amerikā man vieta valstsvienības rindās neatradās. Bet kopumā man bija četri pasaules čempionāti un vienas olimpiskās spēles. Ar pozitīvām domām atceros visu izlases laiku. Man vienmēr galvenais mērķis bija tikt izlasē, taču pēc federācijas vadības maiņas man vairs vieta tajā neatradās.
Labā atmiņā palicis laiks, kad nokļuvu izlasē pie Teda Nolana. Spēlēju Kazahstānas komandā Ustjkamenogroskas "Kazzinc – Torpedo", kas bija ļoti bagāts klubs no Krievijas Augstākās līgas, tam bija trīs fārmklubi. No turienes arī tiku uz pirmo pasaules čempionātu pie Nolana. Līdz tam mani nevienā izlasē neviens neņēma, iespējams, kaut kādu stereotipu dēļ. Tā bija mana iespēja, jo sezonas laikā vairāki ārzemnieki tika izsaukti uz izlasi, tajā skaitā arī no manas komandas – Aleksejs Širokovs un Sergejs Pečura. Pēc sezonas aprīlī mani neizsauca, atbraucu uz Latviju. Togad Rīgas "Dinamo" bija laba sezona, bet kluba vadība spēlētājiem iedeva nedēļu atpūtu, savukārt izlasē vajadzēja aizpildīt brīvās vietas. Man teica, ka ir iespēja aiziet uz treniņu un atrādīties.
Pievienojos izlasei un pirmajā treniņā jau Nolanam parādīju, ka esmu gatavs cīnīties par vietu valstsvienībā. Teds to novērtēja, ielika mani sastāvā pārbaudes spēlē pret čehiem. Sākumā biju rezervē, bet Roberts Jekimovs mačā dabūja traumu un mani vēlāk izlaida laukumā. Es izkāvos jau pirmajā maiņā. Pēc mača Nolans arēnas kafejnīcā pienāca un pateica: "Well done". Atceros, ka toreiz mani sauca par Nolana ļubimčiku, taču es ļoti labi atminos, kā cīnījos pie viņa par vietu sastāvā.
Pēc vairākiem gadiem izlasē sākās kritums. Paliku Latvijā, vairs neskatījās uz mani kā reālu kandidātu. Atvēru savu kafejnīcu, veltīju laiku savam biznesam. Jau toreiz vēlējos atvērt savu hokeja trenažieru zāli. Man bija gatavs biznesa plāns un telpas bija paredzētas esošajā Hokeja federācijā Imantā, taču beigās man tās neiedeva. Dienā, kad bija jāparaksta līgums par hokeja treniņu telpu īrēšanu, man paziņoja, ka tajās turpmāk būs federācija.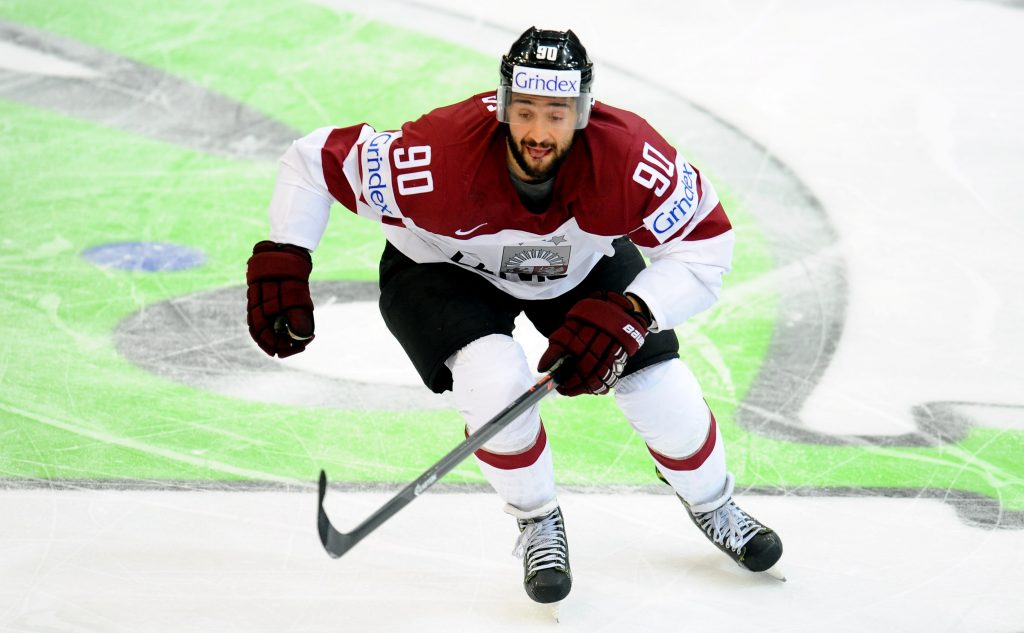 Neesmu atmetis domu vēl kādreiz uzvilkt izlases kreklu, taču jāatzīst, ka patlaban pēc divām operācijām šis nav viegls posms manā dzīvē. Vēlos spēlēt Latvijā un hokeju apvienot ar savu darbu hokeja trenažieru zālē. Šis trenažieris man pašam ļoti palīdz atgūties pēc gūtā savainojuma. Vai varētu doties spēlēt uz ārzemēm? Tad ir jābūt ļoti labam piedāvājumam. Katram ir savs ceļš un karjera, taču uzskatu, ka arī Latvijā ir iespēja spēlēt kvalitatīvu hokeju. Piemēram, mans brālis Māris Jass, kurš spēlē Polijā, paralēli veic aģenta pienākumus. Šogad viņš palīdzēja ļoti daudziem latviešu spēlētājiem tikt pie līguma. Viens no viņiem ir Mārtiņš Karsums, kurš pārstāv Krēfeldes "Pinguine" klubu. Māris strādā labā aģentūrā, kurā ir arī krievu uzbrucējs Artemijs Panarins no Ņujorkas "Rangers". Hokejs ir mūsu ģimenes sirdslieta."