"Clubhouse" ir aplikācija, kas izveidota pagājušā gada pavasarī, bet lielāko popularitāte tā ieguva tikai šī gada sākumā. Arī Latvijā šī lietotne pamazām ienāk cilvēku ikdienā, un tā centīsies konkurēt ar lielajiem sociālo tīku "vaļiem" – Facebook, Instagram un Twitter.
Kas ir "Clubhouse" un kā tajā var nokļūt?
"Clubhouse" ir sociāla platforma, kas balstīta uz sazināšanos ar audio palīdzību. Tajā nav ne iespējas sazināties rakstiski, ne runāt video formātā vai nosūtīt fotogrāfiju, jo saziņas veids ir audio. Pamatā tiek veidotas dažādas istabas, kur tiek apspriestas konkrētas tēmas. Lai izveidotu istabu, nav nepieciešamas nekādas īpašas prasības un to var izdarīt jebkurš. Ir iespēja sarunas istabu sākt uzreiz, bet ir opcija arī to ieplānot, lai tavi sekotāji un arī citi cilvēki par gaidāmo diskusiju uzzinātu laicīgi.
Izveidojot istabu, ir iespējams jau uzreiz noteikt un uzaicināt vēlamos runātājus, kas parādīsies sekotājiem arī, ja istaba būs ieplānota uz vēlāku laiku. Istabā visbiežāk tiek pieaicināti vairāki runātāji, vismaz divi, kuri runā un diskutē par noteikto tematu. Ja istaba ir publiska, tad konkrētā cilvēka sekotāji redz, kurā grupā viņš šobrīd atrodas un var tai brīvi pievienoties. Ja cilvēks, kurš pievienojas, nav jau pirms tam noteikts kā runātājs, tad viņš ir klausītājs, kurš var jebkurā brīdī "pacelt roku", ko sarunas moderators redzēs un varēs pievienot viņu pie runātājiem. Tāpat arī paši moderatori var uzaicināt jebkuru klausītāju kļūt par runātāju.
Viens no šī brīža "Clubhouse" mīnusiem ir tas, ka šobrīd aplikācija ir pieejama tikai un vienīgi iOS jeb iPhone un iPad lietotājiem. Arī viņiem pēc reģistrēšanās ir jāiegūst uzaicinājums (invite) no kādas personas, kas jau lieto "Clubhouse". Uzreiz pēc reģistrācijas iespējams norādīt savas intereses, lai lietotne varētu piedāvāt konkrētajam lietotājam interesējošās istabas. Piesekošanu var veikt arī manuāli, bet kam varētu sekot Latvijas sporta fani?
Kam sekot Latvijas sporta līdzjutējam?
Viens no aktīvākajiem "Clubhouse" lietotājiem Latvijas sporta vidē ir labi zināmais Valdis Valters. Viņš organizē dažādas diskusijas tieši par un ap basketbolu. Tāpat viņš veido "Ģenerālštāba" istabas, kur tiek izveidots noteikts temats un uzaicināti viesi. Valters šajā aplikācijā turpina būt aktīvs un veicina arī sporta sabiedrībā labi zināmu cilvēku iesaistīšanos. Tāpat viņš jau vairākas reizes kopā ar saviem laika biedriem atskatījies uz PSRS laika "VEF" komandas notikumiem. Lielu ažiotāžu pēc intervijas raidījumā "Sporta Studija" ieguva basketbolā zināmās personas Mārtiņa Lauvas izteikumi. Pēc šīs intervijas Valters aicināja Lauvu uz stundu garu dueli tieši "Clubhouse" lietotnē, lai izdiskutētu visus jautājumus aci pret aci.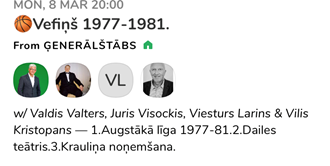 Arī Latvijā šobrīd zināmais sporta komentētājs Niks Gaigalietis bieži izmanto "Clubhouse" platformu, lai faniem veidotu interesantas diskusijas par dažādiem sporta veidiem. Sākumā tika veidotas eksperimentālas istabas "watching party" veidā, kur viņš kopā ar jau pieminēto Valdi Valteru, skatoties "Australian Open" tenisa turnīra maču, paralēli komentēja notikumus laukumā un citus notikumus tenisā tieši "Clubhouse" izveidotajā istabā. Gaigalietis organizē arī dažādus citas sporta istabas, piemēram, viena no tām ir "Sporta vakars", kur katru reizi tiek izdomāts temats un uzaicināti dažādi iesaistītie viesi. Kā piemēru var minēt pēdējo šī "Sporta vakara" epizodi, kur tika apspriesta basketbola tiesnešu, spēlētāju un treneru savstarpējā sadarbība. Uz šo istabu piedalīties bija uzaicināti Latvijas labākie tiesneši Oļegs Latiševs un Kristaps Konstantinovs. Tāpat no spēlētāju skata punkta par sadarbību ar tiesnešiem izteicās Rinalds Sirsniņš, Kaspars Vecvagars, kā arī no vairākām pusēm savu viedokli varēja izteikt Artūrs Štālbergs.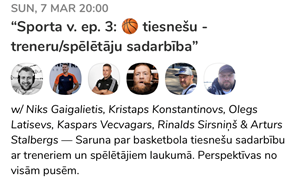 Gaigalietis veido ne tikai sarunas par basketbolu, bet arī par "Ultimate Fighting Championship" (UFC), kur tiek apspriestas galvenās cīņas un izteiktas turpmākās prognozes kopā ar dažādiem sportā zināmiem cilvēkiem, kā Raimondu Zepu, Guntaru Jonānu, Jāni Pakalnu. Tāpat pievienojas grupas "Singapūras Satīns" dalībnieks Kristaps Strūbergs, nereti arī pats Kristaps Porziņģis.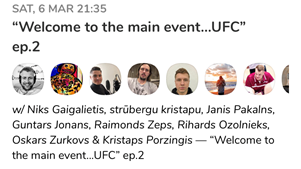 Ar ko atšķiras "Clubhouse" no ierastajiem podkāstiem?
Iepriekš minētie "Clubhouse" pasākumi vairāk vai mazāk ir ieplānoti un tiem apakšā ir noteikts plāns, kā būtu jāvirzās sarunai. Tikmēr bieži notiek arī iepriekš neieplānotas diskusijas, kurās nav noteiktu runātāju. Tad izdevību izteikt savu viedokli vai uzdot jautājumu kādai Latvijas sporta personībai var izmantot jebkurš.
Pirms bēdīgi slavenās Latvijas vīriešu valstvienības spēles pret Bulgāriju tieši "Clubhouse" lietotnē vairāku basketbolistu aģents Artūrs Kalnītis bija izveidojis istabu, kurā bija piesaistīts arī Dairis Bertāns. Šajā sarunā bija iespēja piedalīties jebkuram cilvēkam, jo, ja kāds vēlējās uzdot jautājumu Kalnītim vai Bertānam, tad viņam tika dota šāda iespēja. Arī pēc šī sāpīgā zaudējuma Latvijas līdzjutēji bija izveidojuši "Clubhouse" grupu, kurā pieslēdzās pats Valdis Valters, kas deva iespēju ierindas faniem iztaujāt un vaicāt viedokli tieši Valteram.
Arī nākamajā dienā pēc valstsvienības kapitulēšanas Bulgārijai "Clubhouse" aplikācija Latvijas sporta pasaules sakarā bija "karsta". Diskusijās par notikušo iesaistījās gan jau iepriekš minētie basketbola personāži, gan Latvijas basketbola savienības (LBS) ģenerālsekretārs Kaspars Cipruss, gan Latvijas basketbola līgas (LBL) direktors Kristaps Janičenoks. Tāpat dažādām istabām bieži pieslēdzas Saeimas deputāts un Sporta apakškomisijas priekšsēdētājs Sandis Riekstiņš, dažādi sporta žurnālisti, kā Reinis Ošenieks un Kaspars Dvinskis. Šajā aplikācijā manīts arī Anžejs Pasečņiks, kā arī futbola cilvēki Māris Verpakovskis un Kaspars Gorkšs.
Sporta draugi var atrast arī sev interesējošu ārzemju saturu. Piemēram, piesekojot "NBA FAN CLUB" grupai, varēs redzēt visu šīs grupas apstiprināto dalībnieku izveidotās diskusijas, kurām var brīvi pievienoties, tomēr arī šeit galvenais ir sekot konkrētiem cilvēkiem, kas izmanto šo aplikāciju. Nesen viens no Eirolīgas basketbola spīdekļiem Maiks Džeimss bija izveidojis istabu kopā ar Maskavas CSKA pārstāvjiem un vairākiem faniem. "Clubhouse" lieto arī Dalasas "Mavericks" īpašnieks Marks Kjūbans, arī sekošana viņam varētu ieinteresēt Latvijas sporta līdzjutējus.
Kopuma galvenā "Clubhouse" priekšrocība ir tā, ka jebkurā mirklī līdzjutējiem ir iespēja satikt, klausīties un dažos gadījumos pat uzdot jautājumu sporta pasaulē zināmiem cilvēkiem un sportistiem. Latvijas fani jau ir izmantojuši iespējas "Clubhouse" istabās būt kopā ar Kristapu Porziņģi, Dairi Bertānu un Anžeju Pasečņiku. Aplikācijai noteikti ir potenciāls nākotnē kļūt par vienu no populārākajām lietotnēm pasaulē. Nākamais lielais solis būtu aptvert arī Android lietotāju bāzi.