Viena no Latvijas hokeja uzlecošajām zvaigznēm ir 23 gadus vecais uzbrucējs Mārtiņš Dzierkals. Aizvadījis individuāli veiksmīgu sezonu Rīgas "Dinamo" rindās (10 vārti, 14 rezultatīvas piespēles), hokejists šajā pavasarī klauvē pie Latvijas izlases durvīm. Jāatzīst, ka viņš nav vienīgais, kurš šogad vēlas savās mājās uzvilkt valstsvienības kreklu, bet ir viens no tiem, kurš to noteikti būtu pelnījis.
Par šādu notikumu attīstību priecātos arī viņa vecāki, brāļi un māsas, jo Mārtiņš nāk no kuplas latviešu ģimenes, kurā ir deviņi bērni un vairāki audžubērni. Ar savu gādību un mīlestību Dzierkalu ģimene izpelnījās "Latvijas lepnuma" atzinību. Tagad ar savu ceļu hokejā tai pretī iet arī Mārtiņš.
Tev sezona ir beigusies. Tu aizmirsti par hokeju vai tomēr turpini sekot līdzi? Varbūt skaties NHL spēles vai KHL play-off izcīņu?
Hokejs nekur nepazūd. Tas ir visu laiku, arī vasarā. Arī tagad – sezona klubam un man ir beigusies, taču turpinās KHL izslēgšanas spēles un ir interesanti tās paskatīties. Tāpat turpinās NHL sezona, kurai var pasekot līdzi. Neuzskatu, ka sezona man ir beigusies, jo priekšā ir pasaules čempionāts, taču atpūta ir nepieciešama, īpaši pēc šādas smagas sezonas, kurā piedzīvoti daudzi zaudējumi. Tik daudz zaudējumus es laikam nekad nebiju piedzīvojis. Par hokeju tagad mazāk domāju un varu mierīgi atpūsties, varu vairāk laika veltīt lietām, kurām nevarēju sezonas laikā.
Kurš ir tavs favorīts KHL izslēgšanas spēlēs?
Interesantāk būtu, ja kausu iegūtu kāds no klubiem, kuru mēs šogad uzvarējām, piemēram, Kazaņas "Ak Bars", Maskavas CSKA vai Sanktpēterbuegas SKA. Bet ļoti intensīvi es nesekoju līdzi.
Tavs komandas biedrs Miks Indrašis intervijā medijiem teica, ka nevar nosaukt vienu konkrētu iemeslu, kāpēc sezona izgāzta. Neveiksmes esot vairākas, un tās aizsākās jau pirms sezonas, kad klubs vēlu sāka gatavošanos regulārajam čempionātam. Kādas ir Tavas atziņas par aizvadīto sezonu?
Katram ir savs viedoklis. Piekrītu Mikam, ka sezonas sniegumu ietekmēja vairāki faktori. Protams, ka rezultātu ietekmēja arī Covid-19 situācija, bet, piemēram, daudzas Krievijas komandas pandēmiju izslimoja jau pirms sezonas. Kad mums komandā saslima pirmie spēlētāji, tad pusi komandas iesēdināja karantīnā. Tie, kuri nebija kontaktpersonas, varēja spēlēt ar kopā ar jaunajiem. Kad daļa spēlētāju izveseļojās, tad saslima nākamie. Optimālā sastāvā nebijām nevienā spēlē. Bet šis nav vienīgais faktors neveiksmīgajam sniegumam. Komandas rindās kopumā bija daudz hokejistu, iespējams, arī selekcijas darbā meklējamas kļūdas.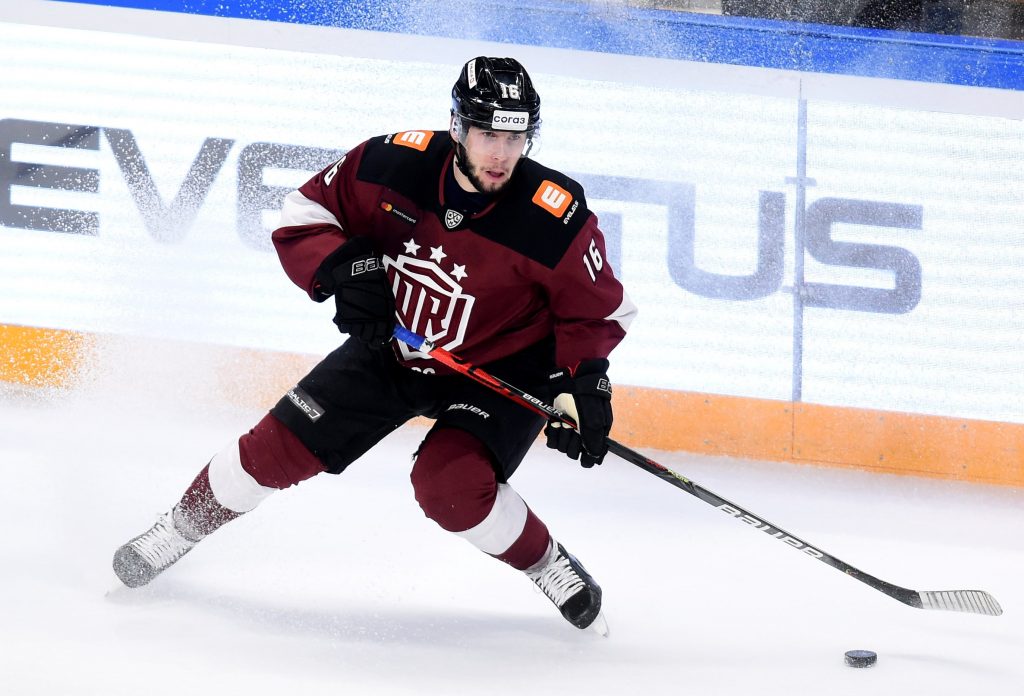 Salīdzini, lūdzu, savu pirmo sezonu Rīgas "Dinamo", kad komandu vadīja Ģirts Ankipāns un aizvadīto, kad pie stūres bija Pēteris Skudra.   
Šīs sezona man bija labāka. Skatos uz situācijām neitrāli. Pirms diviem gadiem man arī bija laba sezona, pēc kuras man veltīja atzīnīgus vārdus, ka es esmu labs, bet, manuprāt, "Dinamo" problēma ir tā, ka jaunos spēlētājus nenovērtē. Šogad pie Skudras jaunajiem tika dota iespēja un jāsaka viņam paldies. "Dinamo" vēsturē nav daudz jauno hokejistu, kuriem treneri uzticējās un deva lielu spēles laiku. Pie Ankipāna es arī spēlēju, bet tajā sezonā gāja uz augšu, uz leju. Vienu dienu biju pirmajā maiņā, bet nākamajā jau nebiju sastāvā.  Šogad jutu stabilitāti. Man uzticējās un deva iespēju, tas arī nesa augļus un deva pārliecību par sevi. Jāatgādina, ka tajā sezonā mums līdz play-off pietrūka viena punkta, bet šogad viss izvērtās mazliet citādāk. Aizvadīto sezonu ir grūti salīdzināt ar citām sezonām.
Ankipāns ar Skudru kopā strādāja Ņižņijnovgorodas "Torpedo". Kāds bija viņu abu piedāvātais spēles stils "Dinamo"? Kurš no viņiem tev atļāva vairāk improvizēt jeb "zīmēt" laukumā?
Ja man šī sezona bija rezultatīva, tad skaidrs, ka pie Skudras es jutos labāk. Bet abi treneri ir ļoti līdzīgi, abi nospēlētājiem vēlējās redzēt principā vienu un to pašu spēles stilu.
Kad bija skaidrs, ka play-off izcīņa netiks sasniegta, sākāt spēlēt brīvāk un atraisītāk?
Grūti teikt par visiem spēlētājiem, bet man hokejs ir darbs un es katrā spēlē vēlos uzvarēt, neatkarīgi no tā vai tiekam play-off vai nē. Man katra diena ir kā jauna, un vēlos uz ledus būt labāks par savu pretinieku. Neuzskatu, ka sezonas izskaņā demonstrētais sniegums saistīts ar to, ka nevarējām iekļūt play-off, tadēļ spēlējām atraisīti.
Kurus maiņas partnerus tu vari izcelt?
Vairāki cilvēki izteicās, ka sezonas atklājums ir mūsu trio – Jānis Švanenbergs, Rihards Bukarts un es. Bija brīdis, kad mums spēle gāja no rokas un jutām viens otru, taču viss apstājās, kad maiņas biedrs saslima. Pazaudējām savu spēli, bet vēlāk netikām atpakaļ tur, kur bijām. Bet kā jau teicu, bija periods, kad sakrājām vairākus punktus.
Rihards Bukarts komandai pievienojās novembra vidū un labi iekļāvās sastāvā.
Tā tiešām bija. Vienā treniņā mūs visus trīs salika kopā un vairākus mačus pēc kārtas sakrājām punktus. Kad spēle izdodas, tad arī pieaug pārliecība.
Vai savā karjerā esi bijis vēl kādā komandā, kurā tik daudz vārtsargu sezonas laikā parādās pieteikumā?
Nē, šī bija pirmā tāda sezona. Komandā visi par šo situāciju jokoja. Pieteikumā kopā bija astoņi vai deviņi vārtsargi.
Iespējams, ka pamatoti, jo, acīmredzot, Skudra vēlējās atrast vienu, kurš būs pirmais un to apliecinās laukumā.
Slikti, ka šādi meklējumi jāveic sezonas laikā. Arī šī bija viena no problēmām, kas noveda pie negatīva iznākuma. Vēlu sākām gatavoties sezonai, un līdz ar to nepietika laika, lai nokomplektētu sastāvu.
Pērn spēlēji Somijas augstākajā līgā Mikeli "Jukurit" rindās. Kāds iespaids palika par somu hokeju un Tavu pārstāvēto klubu? Manuprāt, gads Somijā Tev nāca par labu, Tu progresēji un tikai ieguvi, pārceļoties uz Somiju.
Jā, es tam piekrītu. Somijā ir citādāks hokejs, un es viennozīmīgi pēc viena pavadīta gada tur kļuvu stiprāks. Jāatzīst, ka arī Somijā nebija viss tik gludi, bet tā bija pirmā sezona, kurā man treneri deva iespēju sevi apliecināt. Sākumā gan bija jāpacīnās par tikšanu pie lielāka spēles laika, bet kopmā gads bija labs.
Vai bija iespēja palikt vēl vienu sezonu?
Es parasti vasarās neko neplānoju. Arī pēc pirmās sezonas "Dinamo" Somijas variants parādījās pēdējā brīdī. Man bija jāizlemj 24 stundās – doties vai nē. Es jau biju ceļā uz ofisu parakstīt līgumu ar "Dinamo", bet sanāca, ka…
Domāju, ka arī šovasar būs līdzīgi. Gads Somijā beidzās dīvaini, jo mani palaida uz mājām pavasarī divas spēles pirms regulārās sezonas beigām. Viņi jau juta, ka sekos robežu slēgšana, tāpēc man laicīgi ieteica doties mājās. Play-off turnīrs netika izspēlēts. Vasarā uzzvanīja Skudra un diezgan ātri par visu vienojāmies. Vasarā nevarēja zināt, kāda situācija Eiropā būs, tāpēc biju priecīgs pieņemt "Dinamo" piedāvājumu.

Spēlēt mājas ir patīkami, tā saka gandrīz visi, bet Tu biji komandā, kura līgā pēdējos gadus ir pastarītis. Kā tu uztver to?
Pēdējās trīs sezonas sanāca pavadīt divās komandās un abas bija underdogi. Arī "Jukurit" ar vismazāko budžetu līgā bija lejasgala komanda. Protams, ka mājās ir forši spēlēt – šeit ir tava ģimene un draugi apkārt, bet ārzemēs tā nav. Taču, esot prom, var novērtēt, ko nozīmē spēlēt mājās, īpaši, kad esi ASV. Kad piedāvā līgumu, es izvērtēju visus apstākļus. Daudz aspektu – komanda, finansiālie nosacījumi, pilsēta un vēl citi.
Tev ir svarīga šī mājas sajūta? Ja ir piedāvājums no "Dinamo", tad priekšroka Rīgai, bet, ja nav, tad skaties citā virzienā?
Kā jau minēju – svarīgi ir daudzi faktori. Ja esi jauns un ir iespēja spēlēt KHL, to vajag izmantot!
Kad domāsi par nākamo sezonu? Saprotu, ka tev līguma uz nākamo sezonu nav?
Jāgaida pasaules čempionāts maijā. Līguma man nav, esošais beigsies aprīlī.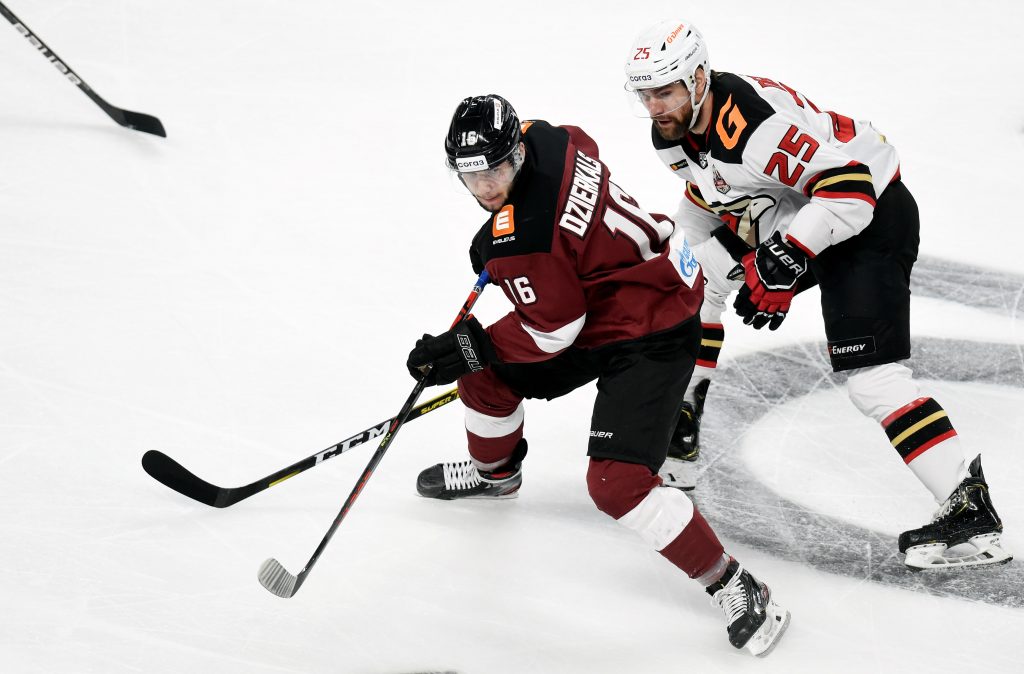 Es Tev saredzu vietu Latvijas izlasē šī gada sastāvā pasaules čempionātā. Esi gatavs cīnīties par vietu izlasē?
Esmu jauns, niknums ir katru pavasari. Es neesmu bijis izlasē tik ilgi, lai domātu citādāk. Katrs vēlētos spēlēt savās mājās pasaules čempionātā. Žēl, ka nav atrisināts jautājums par skatītājiem, taču čempionāts mājās ir lielisks notikums.
Šo valstsvienības nometni gaidi vairāk kā citas?
Čempis ir čempis. Tā ir patīkama sajūta, kā svētki. Atceros, kā agrāk visi par to jūsmoja līdzi pavasarī. Atceros 2006. gadu, kad turnīrs notika Rīgā.
Kuri spēlētāji Tev palikuši atmiņā no laikiem, kad Tu tikai sāki sekot līdzi valstsvienībai?
Mans favorīts bija Lauris Dārziņš. Viņš spēlēja ar desmito numuru, un arī es esmu ar šo pašu numuru spēlējis. Mēs abi jau pajokojām vai viņš man "Dinamo"atstās desmito numuru. Viņš ir super čalis, prieks, ka ir iespēja ar viņu kopā uzspēlēt. Arī Kārlis Skrastiņš un Sandis Ozoliņš ir palicis atmiņā no spēlēm izlasē.
Aptuveni pirms gada Ziemeļamerikā trīs klubu starpā notika maiņas darījums, kurā arī Tu tiki iesaistīts. Toronto "Maple Leafs", kas Tevi 2015. gadā draftēja Nacionālajā hokeja līgā, aizmainīja Tevi uz Vegasas "Golden Knights" komandu. Cik daudz esi informēts par šo darījumu?
Kad spēlēju Mikeli komandā, man vienā dienā sāka rakstīt ziņas, ka noticis darījums un es esmu aizmainīts prom uz Vegasu. Es pat nenojautu, ka šāds darījums varētu notikt un joprojām neesmu iedziļinājies, kā tas mani varētu ietekmēt, ja izlemtu doties uz Ameriku. Es ļoti smalki nepārzinu visus drafta noteikumus, bet brīdī, kad Toronto mani nodraftēja, sapratu – ja turpināšu spēlēt Eiropā, tad "Maple Leafs" īpašumā būšu līdz 26 gadiem. Vai tas attiecas arī Vegasas situācijā, to nemāku teikt.
Pērn vasarā runāju ar vārtsargu Kristeru Gudļevski, kurš teica, ka būtu gatavs tagad vēlreiz doties uz ASV un iet cauri AHL, lai nokļūtu NHL. Viņam pirmais piegājiens, manuprāt, nebija īsti veiksmīgs. Tu tuvākajā nākotnē pieļauj iespēju doties spēlēt pāri okeānam, lai cīnītos par vietu NHL?
Man būtu jāizvertē situācija un piedāvājums. Ja aicinātu uz ECHL, kur jau spēlēju, tad uz turieni noteikti nedotos.
Kurš hokejs Tev labāk patīk – Eiropas vai Ziemeļamerikas?
Es izceltu precīzāk – KHL. Esmu spēlējis Amerikā, Somijā un KHL, bet tieši šo līgu es izjūtu vislabāk. Bērnībā daudz sanāca spēlēt Krievijā un Baltkrievijā.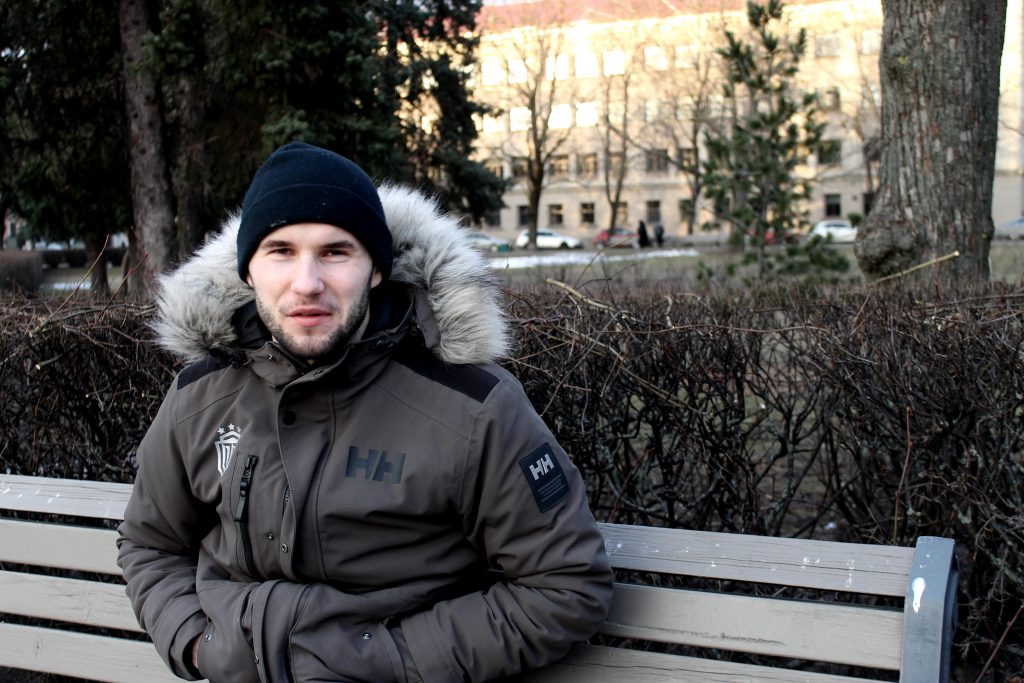 Tev ir divi brāļi un sešas māsas, kopā esat deviņi bērni. Kupla ģimene. Pastāsti, lūdzu, nedaudz vairāk par to!
No brāļiem es esmu jaunākais ģimenē. Trīs māsas ir vecākas par mani, bet trīs – jaunākas. Vecākais brālis dzimis 1989. gadā, bet vecākā māsa 1992. gadā. Es brāļiem un māsām nezinu vecumu, bet vienmēr atceros, kurā gadā katrs no viņiem ir dzimis (smejas). Visi dzīvojam Latvijā, bet katrs savā malā. Viens no brāļiem ar tēti strādā būvniecībās firmā, bet vecākā māsa dzīvo laukos Latgalē pie pašas robežas un viņai ir divi bērni. Tā man ir ļoti mīļa vieta. Viena no māsām spēlē volejbolu Latvijas izlasē, savukārt cita apgūst nepieciešamās iemaņas suņu skološanā. Saraksts ir garš. Taču vēlos piebilst, ka manā ģimenē vēl ir arī audžumāsas un audžubrāļi. Dzīves laikā viņi bijuši kopā ar mūsu ģimeni un arī tagad daži dzīvo pie mums.
Vai ir kāda reize, kad jūs visi satiekaties un sanākat kopā?
Jā, ir. Visbiežāk tas notiek Ziemassvētkos un šie svētki ir obligāts pasākums visiem. Šos svētkus ģimenē nelaižam garām.
Ģimene ir liela vērtība, bet Tavā stāstā tas ir kaut kas unikāls un apbrīnojams. Es zinu, ka Tava ģimene pirms pāris gadiem saņēma "Latvijas lepnuma" balvu. Tev un Tavai ģimenei noteikti ir, ar ko lepoties.
Es visu dzīvi esmu domājis par to, ka tas ir netipiski. Grūti teikt, kā tas ir sanācis, bet tas ir labākais, kas ir bijis manā bērnībā. Mani draugi principā ir mana ģimene. Bērnībā visi dzīvojām kopā, mums nebija katram sava istaba. Agrāk es to varbūt nenovērtēju, bet tagad, atceroties bērnības gadus, es to ļoti novērtēju. Žēl, ka nevarēju piedalīties "Latvijas lepnuma" ceremonijā, jo biju aizsūtīts spēlēt uz Liepāju, taču man bija iespēja paciemoties pie Latvijas Valsts prezidenta pilī.
Vai Latvijā ir vēl tikpat bagātīgas ģimenes ar bērniem?
Ir. Manuprāt, pat vairākas. Es precīzi gan to nevaru pateikt, bet esmu dzirdējis, ka mēs neesam vienīgā tik kuplā ģimene.