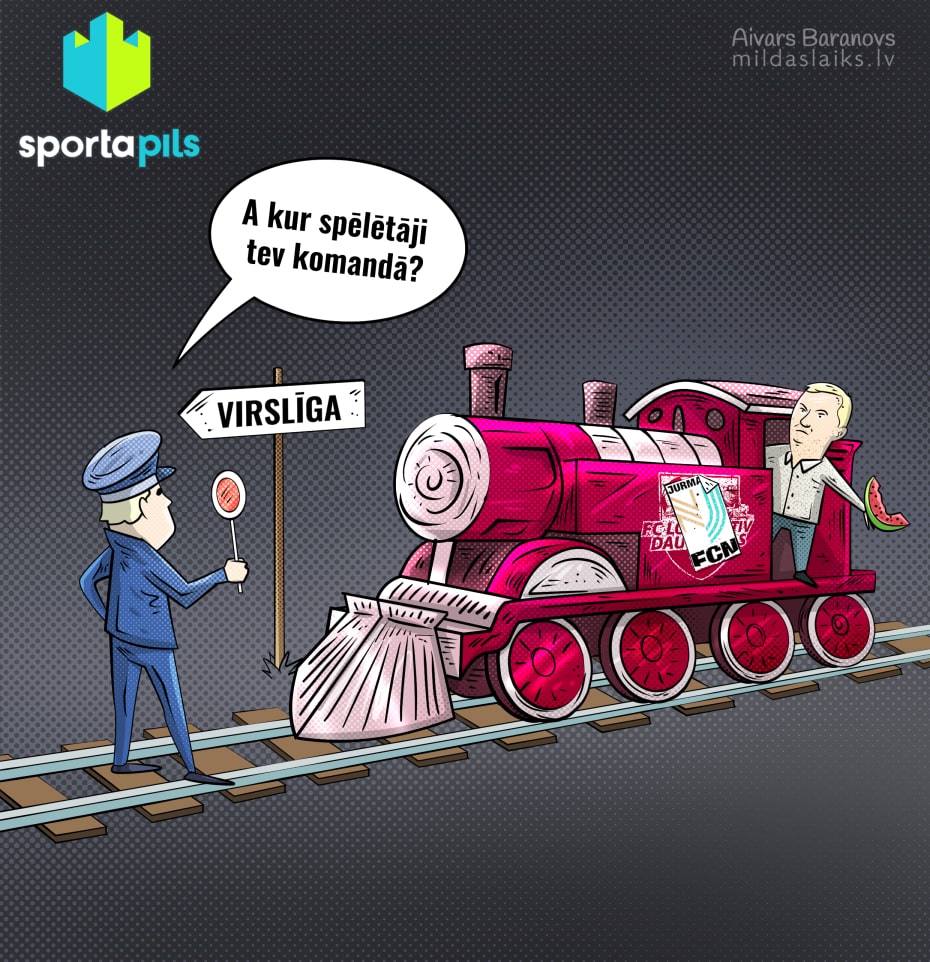 Futbola Virslīga jau nebūtu futbola Virslīga, ja neliktu runāt par to, kas notiek ārpus laukumiem. Teorētiski joprojām arbitrāžas tiesā tiek uzturēta RFS prasība, kuras apmierināšana nozīmētu čempiones titula atņemšanu "Riga" vienībai, bet aizkulišu cīņās un notikumos tas šobrīd kvalificējas kā trešā un ceturtā plāna stāsts. Intrigu uz laiciņu uzturēja "Jelgavas" un "Audas" netikšana cauri Virslīgas licencēšanas procesam, taču pirmssezonas kulminācija tika sasniegta tieši pirms spēļu sākuma.
Par to, ka "Noah Jurmala" dzīve kopā ar armēņu investoriem nekrāsojas rožaina, publiski sāka runāt astoņas dienas pirms sezonas sākuma. Piecas dienas pirms sezonas sākuma jau tika pārliecinoši ziņots, ka "Noah" holdings no "Noah" komandas ir prom, bet kluba pārstāvji medijiem atrunājās, ka pagaidām komentārus nesniegs, jo komplektē komandu. Divas dienas pirms sezonas sākuma parādījās pirmie oficiālie rezultāti komandas komplektācijai – LFF pieteikumā "Noah" bija ierakstījusi piecus spēlētājus…
Ar pieciem spēlētājiem var mēģināt izvilkt futzāla maču, kamēr klasiskajā futbolā nedaudz par īsu. Jā, ziemā ar komandu tika saistīti vairāki citi spēlētāji, ieskaitot Latvijas futbola līmenī tīri zināmus uzvārdus, Turcijas treniņnometnē pārbaudes spēlēs tika izlikts tīri nopietns sastāvs, un komandas pārstāvji tagad saka, ka bijuši noslēgti 20-25 profesionālie līgumi ar spēlētājiem. Kas tie par līgumiem īsti saslēgti un kāpēc tie neparādījās sākotnējā LFF pieteikumā, tie ir labi jautājumi, taču tik tālu nemaz netikām – dienu pirms Virslīgas sākuma LFF disciplinārlietu komiteja izanalizēja jauno informāciju, publicēja četrus secinājumus ar "Noah" neizdarīto un atsauca licenci dalībai Virslīgā.
Protams, par ideālu šo situāciju saukt nevar arī no LFF puses, galu galā, vai tad tiešām federācijai nebija sajūtami zemūdens akmeņi "Noah" projektā un ka to akmeņu saradies tik daudz, ka upe aizdambējusies? Attiecīgi var saprast, ka "Noah" menedžeris Dmitrijs Jakubovskis (šādi bijušais "Lokomotiv" prezidents bija ierakstīts LFF pieteikumā) pēc federācijas lēmuma vairs no publiskiem komentāriem nevairījās un spļāva uguni LFF virzienā. "Dažos federācijas dokumentos sarakstītais vispār bija neprāts, kādam vajadzētu doties uz klīniku – tā arī uzrakstiet. Izdomā lietas no zila gaisa. Tās ir paaugstinātas un korumpētas prasības," Jakubovskis teica portālam Sportacentrs.com.
Šajā sarunā Jakubovskis arī lika galdā skaitļus. "Noah" bija klubam solījuši budžetu 600 tūkstošu eiro apmērā, bet armēņu aiziešana vispār bijusi pozitīva lieta, jo ātri pieteikušies jauni investori no Latvijas, kuri kluba kasē bijuši gatavi sniegt 900 tūkstošus eiro. Par Armēnijas cilvēku solītajiem skaitļiem, godīgi sakot, nekāds pārsteigums nebūtu, neies jau Eiropas Savienības dalībvalsts līgā ar sviestmaizi rokās. Vai galdā liktie Latvijas investoru skaitļi ir kaut kas realitātei tuvs? Tas jau daudz mazāk ticams. Kaut vai tā elementārā iemesla dēļ, ka "Noah"/Jakubovskis visa pavasara garumā tā arī neprata tikt galā ar parādiem, kuros rakstītas daudz mazāk nulles.
Norādīt, ka LFF ir korumpēta iestāde, kas nelaiž klubu pie spēlēšanas pirmajā līgā un Virslīgā, ir vienkārši. Iepriekšējo gadu garumā LFF gan ir nomainījušās veselas trīs vadības un prezidenti, attiecīgi loģiskāk būtu vaicāt, kāpēc tad tieši Jakubovska komandu federācija īsti nevēlas redzēt lielā futbola tuvumā? Parādu izmaksa un neizmaksa ir tikai viena no atbildēm, bet vēl viena atbilde var atrasties paša Jakubovska vārdos, kad par saviem investoriem Latvijā, kurus viņš, vārdus nepiesaucot, raksturo kā "cilvēku, kurš mīl futbolu". Nu ko, Latvijas futbolā jau bijusi tik liela futbola mīlestība, ka ar parastu spēles skatīšanos nepietiek, bet rodas arī vēlme šo to iestudēt pašiem, piemēram, ielaisto vārtu skaitu.
"Noah", kurai vairs nav nekādas finansiālas saiknes ar holdingu "Noah", ir iesniegusi apelāciju LFF un solījusi pēc tam vērsties arī starptautiskajā arbitrāžas tiesā. Šveicē tiesnešiem jau vairs nevarēs stāstīt par nekādām cilvēcīgām aizdomām un veselo saprātu, bet federācijai var nākties aizstāvēties ar konkrētiem dokumentiem. Tīri teorētiski iespējams, ka "Noah" atrod kādus nepilnīgi izpildītus likuma punktus un caurumus Disciplinārlietu komisijas argumentācijā, varbūt tiek pie kādas kompensācijas un iemin jaunu taku ceļā uz Virslīgu. Tikpat teorētiski gan arī iespējams, ka vēršanās tiesā Šveicē noved pie kluba finansiālās plūsmas dziļākas izpētes un spēlētāju parakstu viltošanas apsūdzību pārbaudīšanas, un šajā izpētē Jakubovskis varētu nebūt pārāk ieinteresēts.
Taču "Noah" sāgā, protams, sliktākajā pozīcijā ir paši futbolisti, kuri bija vai nu jau noslēguši līgumus ar komandu vai ieguldījuši savu laiku treniņprocesā, kas reizē nozīmē netēmēšanu uz tikšanu citas komandas sastāvā. Jūrmalas "Spartaks" arī izīrēja trīs spēlētājus "Noah" sastāvam, un tas vispār bija pats interesantākais paziņojums šajā sakarā.
"Priecājamies informēt, ka mūsu spēlētāji Klāvs Krāmēns, Abdulrahims Ali un Mirakls Nvaorisa ar īres līgumu spēlēs "Lokomotiv Daugavpils" sastāvā (iepriekš kļūdaini pazīstama kā "Noah Jurmala" bez saistības ar Jūrmalu," šādi bija rakstīts "Spartaka" tvītā. Kas tieši tur bija kļūdains – Jūrmalas vārda ielikšana nosaukumā, pārtapšana no "Lokomotiv" par "Noah" vai visa "Noah Jurmala" izveidošana – to "Spartaks" varbūt pastāstīs sezonas gaitā.
Happy to inform that our players Klavs Kramens 🇱🇻, Abdulrahim Ahli 🇦🇪 and Miracle Nwaorisa 🇳🇬 will play @FutbolaVirsliga 2021 on loan with Lokomotiv Daugavpils (previously mistakenly known as «Noah Jurmala with no connection to Jurmala»).

Good luck, guys! pic.twitter.com/U3lNdoXKdr

— FK Spartaks Jūrmala (@fkspartaks) March 9, 2021