Pēdējos gados Rīgas 'Dinamo" kļuvusi par KHL pastarīti. Komanda, kuras vieta "play-off" turnīrā savulaik netika apšaubīta, jau septiņas sezonas pēc kārtas nevar kvalificēties Gagarina kausa izcīņai. Acīmredzami, ka kaut kas netiek darīts pareizi un šķiet, ka pirmais mazais solītis ir veikts – pēc vairāku gadu pārtraukuma "Dinamo" būs ģenerālmenedžeris, šos pienākumus pildot Edgaram Buncim.
Ar to gan komandas problēmas nebeigsies, jo klubam nepieciešamas kardinālas pārmaiņas. Nepamet sajūta, ka "Dinamo" jau ilgi stagnē kā organizācija un kā hokeja klubs. Rīgas vienība izskatās pēc siltumnīcas, kurā hokejisti pelna naudu gandrīz bez jebkāda spiediena par rezultātu. KHL piemērs rāda – arī ar vienu sezonu pietiek, lai kardināli mainītu situāciju, kā to izdarīja, piemēram, Minskas "Dinamo", kura pirms tam trīs sezonas palika ārpus "play-off" un Čerepovecas "Severstal", kura izlaida divas Gagarina kausa izspēles. Gan Baltkrievijas, gan Krievijas klubam ir līdzīgi budžeti, kuri tikai nedaudz lielāki par Rīgas "Dinamo" budžetu. Abu klubu panākumu receptes nedaudz atšķiras, tomēr ir arī dažas līdzīgas pazīmes. Ģenerālmenedžera nozīmēšana izskatās pēc kosmētiska remonta ēkā, kurai nepieciešama pilnīga komunikāciju nomaiņa.
Skaidra filozofija
Grūti pateikt, vai Skanstes ielā vispār domā par tādām kategorijām, kā komandas filozofija. Organizācijas pirmssākumos bija pieņemts teikt, ka "Dinamo" ir Latvijas izlases bāzes klubs un agrāk tam arī varēja piekrist, ar to vien izņēmumu, ka valstsvienības un kluba treneris nebija viens un tas pats cilvēks. Gadu gaitā formulējums "izlases bāzes klubs" arvien vairāk izplūda un katru gadu "Dinamo" sastāvs krietni mainījās. To ietekmēja arī komandas līgumu noslēgšanas politika – kontrakti tika parakstīti uz vienu gadu, un šajos apstākļos grūti runāt par kaut kādu stabilitāti.
2020./2021. gada sezona "Dinamo" izpildījumā sanāca ļoti haotiska. Ne tikai dēļ Covid-19 un no koronavīrusa izrietošajām sekām, bet arī dēļ tā, ka sezonas laikā pēkšņi mainījās komandas kurss. Ja sākotnēji tika savākts sastāvs ar vairāk nekā desmit ārzemniekiem, tad vēlāk tika pieņemts lēmums dot spēļu praksi jaunajiem spēlētājiem. Laba lieta, taču šīm procesam jānotiek pakāpeniski, nevis piespiedu kārtā sezonas vidū. "Bijām spiesti aizdomāties par ekonomiju, komandas pārbūvi un paaudžu maiņu. Līdz ar ko ar to sastāvu, ar kādu plānojām aizvadīt mačus vasarā, mēs tā arī īsti neuzspēlējām," sarunā ar KHL preses dienestu atzina Skudra.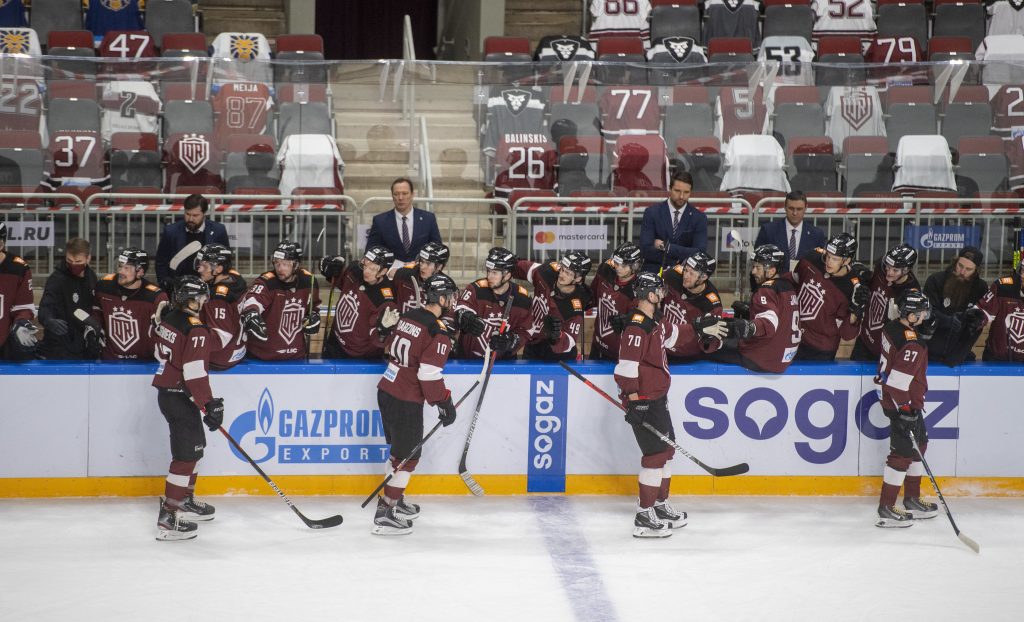 Gan Minskas "Dinamo", gan "Severstal" pēc vairākām sezonām ārpus "play-off" skaidri saprata, ka tās nevar konkurēt ar KHL grandiem un jāmeklē citi veidi, kā panākt sev vēlamo rezultātu. 2020./2021. gada sezonā abas vienības iegāja ar jauktiem sastāviem – gan kvalitatīviem ārzemniekiem, gan talantīgiem vietējiem spēlētājiem. Minskas klubam pieci rezultatīvākie hokejisti ir leģionāri, savukārt "Severstal" TOP3 rezultatīvākie hokejisti bija jaunie spēlētāji vecumā līdz 24 gadiem. Ja komandu komplektē ar iepriekš pārdomātu filozofiju, tad var sanākt labas lietas.
Treneris, kurš apzinās nianses
Savulaik vienā no intervijām Harijs Vītoliņš pateica, ka katram trenerim, kurš plāno strādāt ar Rīgas "Dinamo", būtu labi jāsaprot šī kluba specifika. Tieši tā – nevis klubam jāpielāgojas trenera prasībām, bet trenerim jāprot strādāt apstākļos, kādi tiek piedāvāti Rīgā. Vēl joprojām atmiņā ir Pekas Rautakalio uzaicināšana par "Dinamo" galveno treneri. Joprojām šķiet, ka tas bija dīvainākais trenera nozīmējums kopš kluba atjaunošanas 2008. gadā. Somu speciālists neko negribēja dzirdēt par vietējā hokeja un organizācijas īpatnībām. Rautakalio bija nepiekāpīgs un vēlējās, lai "Dinamo" spēlē tā saukto "forcheck" jeb spēka hokeju. Pirmajā sezona viņa vadībā komanda pat iekļuva "play-off", tomēr otrajā sezonā viņš tika atlaists – bieži negadījās, kad treneri Rīgā darbu zaudēja sezonas laikā.
Izskatās, ka arī Skudra līdz galam nesaprata, kādā vietā viņš bija nonācis. Jā, runāja, ka treneris kļuvis mierīgāks, tomēr viņš nevarēja tikt vaļā no sava ieraduma ātri vilties spēlētājos un ar pirkstu klikšķi atlaist viņus. Rīgā tā rīkoties nedrīkst – pirmkārt jau tādēļ, ka spēlētāju izvēle nav tik liela, kāda tā bija, piemēram, Ņižņijnovgorodā. Otrkārt, "Dinamo" ir svarīgs katrs cents, un jau no sezonas sākuma tērēt naudu "nederīgo" hokejistu atalgošanai ir vējā izmestie līdzekļi, kuru jau tāpat nav īpaši daudz. Pašlaik grūti piedāvāt kādu kandidatūru, bet diez vai tas varētu būt, piemēram, medijos pieminētais Sergejs Zubovs, kurš, strādājot ar Soču klubu, neparādīja nekādus rezultātus.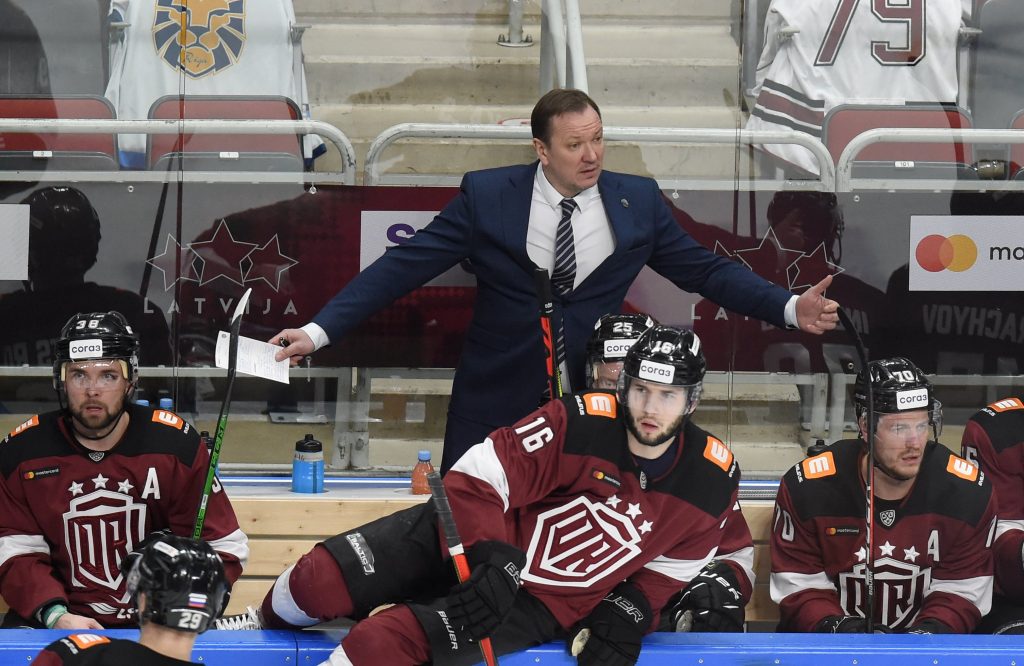 Minskas "Dinamo" vadījuši daudzi treneri – gan vietēji, gan ārzemnieki. Taču Kreigs Vudkrofts jau pirmajā parādīšanas reizē 2016./2017. gada sezonā pierādīja, ka viņš saprot Baltkrievijas kluba specifiku un prot strādāt šajos apstākļos. Pēc veiksmīgas sezonas viņš devās uz Šveici, tad vienu gadu izlaida, savukārt 2019. gadā atgriezās Baltkrievijā. Atgriešanās sanāca neveiksmīga, tomēr kluba vadība turpināja uzticēties kanādietim, jo redzēja – viņš skaidri apzinās nianses. Rezultāts nelika vilties. Tas pats sakāms arī par "Severstal" stūrmani Andreju Razinu – viņš prot labi strādāt ar jaunajiem hokejistiem un tas bija tieši tas, ko vajadzēja Čerepovecas klubam.
Līdzekļi jātērē maksimāli efektīvi
"Dinamo" nekad nav bijis turīgais klubs. Tajā pašā laikā mierīgi varam atcerēties sezonas, kad par līdzekļu izmantošanu nebija jautājumu. Jā, bieži vien nesanāca noturēt līderus, bet tā bija nevis kluba problēma, bet situācija spēlētāju tirgū, kad hokejistus vienkārši pārpirka. Arī Latvijas hokejisti saņēma labu atalgojumu, kas atbilda viņu pienesumam komandai. Ja pirmajā sezonās ar leģionāriem biežāk trāpīja, tad pēdējos čempionātos ārzemnieku kvalitāte bieži vien izraisīja jautājumus. Dažos gadījumos tā bija treneru nespēja pareizi izmantot hokejistus, bet dažos – hokejisti vienkārši neatbilda KHL līmenim.
Tādi līgas grandi kā Sanktpēterburgas SKA, Kazaņas "Ak Bars" un citi var atļauties kļūdīties, jo viņu budžeti praktiski ir neierobežoti. No vienas puses, tas daļēji atvieglo ģenerālmenedžera darbu, jo kļūdu ir iespējams izlabot. No citas – ja būs pārāk daudz kļūdu, tad var arī pazaudēt darbu. "Dinamo" gadījumā cilvēkam, kurš atbild par komandas komplektāciju, praktiski nav tiesību kļūdīties. Katrs nepareizs lēmums maksā naudu tiešā nozīmē, jo tādējādi tiek zaudēta iespēja piesaistīt kādu hokejistu, kurš tiešām būtu noderīgs. Un nepareizo lēmumu bija ļoti daudz.

Uz "Severstal" piemēra var redzēt komandu, kad katrs rublis tiek iztērēts maksimāli efektīvi. Čerepovecas kluba budžets ir nedaudz virs algu griestiem, bet pat šajos apstākļos izdevies izveidot kaujiniecisku komandu, kurai bija visas iespējas, lai "play-off" pirmajā kārtā pret Maskavas "Dynamo" parādītu kaut ko lielāku nekā 1-4. Arī Minskas "Dinamo" saprot, ka līderiem jāmaksā līderu cienīga nauda, savukārt pārējiem hokejistiem nevajadzētu pārmaksāt. Protams, arī šīm vienībām viss nav tik perfekti un ik pa laiku notiek pa kļūdai. Daži par tādu uzskata, piemēram, "Severstal" lēmumu parakstīt līgumu ar Robertu Bukurta, tomēr pieredzējušā uzbrucēja sniegumu ietekmēja saslimšana ar Covid-19, kuras dēļ viņš Čerepovecā tā arī nespēja parādīt savu labāko sniegumu.
Patriotismam nav vietas profesionālajā sportā
Dažiem līdzjutējiem par šoku kļuva divu "Dinamo" ilgdzīvotāju atlaišana oktobrī. Sarunā ar KHL preses dienestu Pēteris Skudra norādīja, ka šķiršanās no Miķeļa Rēdliha un Ginta Meijas bija viņa lēmums. Jāatzīst, ka šāds gājies brieda jau sen, un, ja par atlaišanas veidu rodas daudz jautājumu, tad par tā būtību pretenziju nemaz nevar būt.
Latvijā nav palicis daudz hokejistu, kuri atbilstu KHL līmenim, proti, kuri varētu atrast darbu arī ārpus "Dinamo". Diemžēl, Artūrs Kulda komandai izrādījās nevajadzīgs, bet ar Mārtiņu Karsumu nespēja vienoties par atalgojumu. Jau iepriekš tika minēts, ka pēdējos gados "Dinamo" kļuvusi par siltumnīcu. Skaidrs, ka "Dinamo" ir Latvijas klubs, kurā vajadzētu spēlēt vietējiem hokejistiem. Taču, tam jābūt par privilēģiju, nevis par normu, un šī vieta ir jāizcīna ar ikdienas darbu un atdevi katrā epizodē. To vienā no pēcspēles intervijām pieminēja arī Roberts Bukarts. "Puišiem jāsaprot, ka viņiem paveicies – spēlēt savās mājās un saņemt par to labu naudu," apmēram tā izskatījās latvieša teiktais, kurš, iespējams, pēc vairākiem gadiem ārzemes jau aizmirsa, kas notiek komandas nometnē.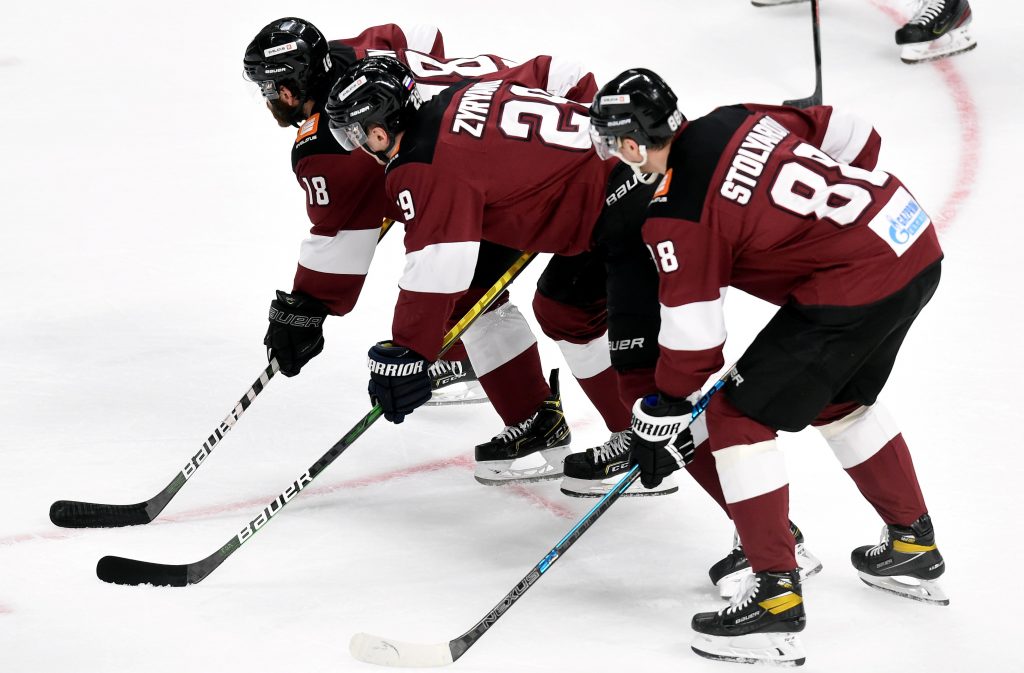 Arī šeit par piemēru varam ņemt Minskas "Dinamo". Proti, pēc pagājušās sezonas, kad komanda palika ārpus "play-off", tika pieņemts lēmums nepagarināt līgumu ar pieredzējušo Andreju Kosticinu pat par spīti tam, ka viņš ar 17+17 kļuva par otro rezultatīvāko komandas hokejistu. Un tas, ka viņš šo sezonu noslēdza Čehijā, parāda, ka tas bija pareizais lēmums. Lai cik sāpīgi tas izklausītos, bet Lauris Dārziņš 36 gadu vecumā vairs nav tas spēlētājs, kurš prot savākt 40+ punktus un vilkt komandu uz priekšu.
Bail iedomāties, kā izskatītos "Dinamo" sastāvs, ja arī uz rīdziniekiem attiektos leģionāru limits un pieteikumā uz spēli varētu būt tikai pieci ārzemnieki. Latvijas pase nekādā gadījumā nedrīkst kļūt par galveno argumentu līguma parakstīšanai. Viena lieta, kad "Dinamo" tiek izmantots kā starta laukums jaunajiem hokejistiem. Bet cita – kad pieredzējušie spēlētāji vairs neattīstās, bet turpina ieņemt kāda cita spēlētāja vietu. Proti, ja ir izvēle starp nosacīti 36 gadus veco vietējo spēlētāju un kādu 25 gadus veco talantīgo ārzemnieku, tad arī no komandas ilgtermiņa stratēģijas viedokļa pareizāk būtu izdarīt izvēli par labu otrajam variantam.
Ko darīt Rīgas "Dinamo"?
Rīgas kluba ģenerālmenedžera priekšā ir vairāki izaicinājumi un nepatīkami lēmumi. "Dinamo" ilgtermiņa plānošanu apgrūtina situācija, ka parasti finansējums tiek piešķirts vienai sezonai un pirms katras sezonas jautājums ir nevis par līdzekļu apjomu, bet par to, vai komanda vispār eksistēs.
Tas viss neatceļ faktu, ka "Dinamo" ĢM jau tagad skaidri jānoformulē filozofija, kāds ir komandas ilgtermiņa mērķis? Likt uzsvaru uz jaunajiem spēlētājiem, pieliekot klāt dažus laba līmeņa leģionārus? Iespējams, pienācis laiks izmēģināt šādu modeli – pamati ir ielikti jau aizvadītajā sezonā, savukārt Minskas un Čerepovecas piemēri rāda, ka šāds modelis darbojas. Un nav jau tā, ka abi klubi vienkārši "izšāva". Gan Minskā, gan Čerepovecā tika ņemts kurss uz paaudžu maiņu, bet savukārt pieredzējušie spēlētāji tika ņemti tajās pozīcijās, kurās jaunie pagaidām nevarēja spēlēt.
No malas izskatas, ka pats grūtākais šajos apstākļos būs atrast galveno treneri, kurš varētu sasniegt rezultātu ar šādu sastāvu. Nebūs viegli atrast ārzemnieku, kurš varētu ne tikai produktīvi strādāt ar komandu, bet arī cīnīties ar kluba iekšējām intrigām. Iespējams, labs variants būtu Arta Ābola piesaistīšana – gudrs speciālists, kurš saprot visu specifiku un kurš uztaisījis "Zemgali/LLU" par OHL grandu, kaut gan komandas iespējas nebija tik lielas kā, piemēram, Rīgas "Olimp".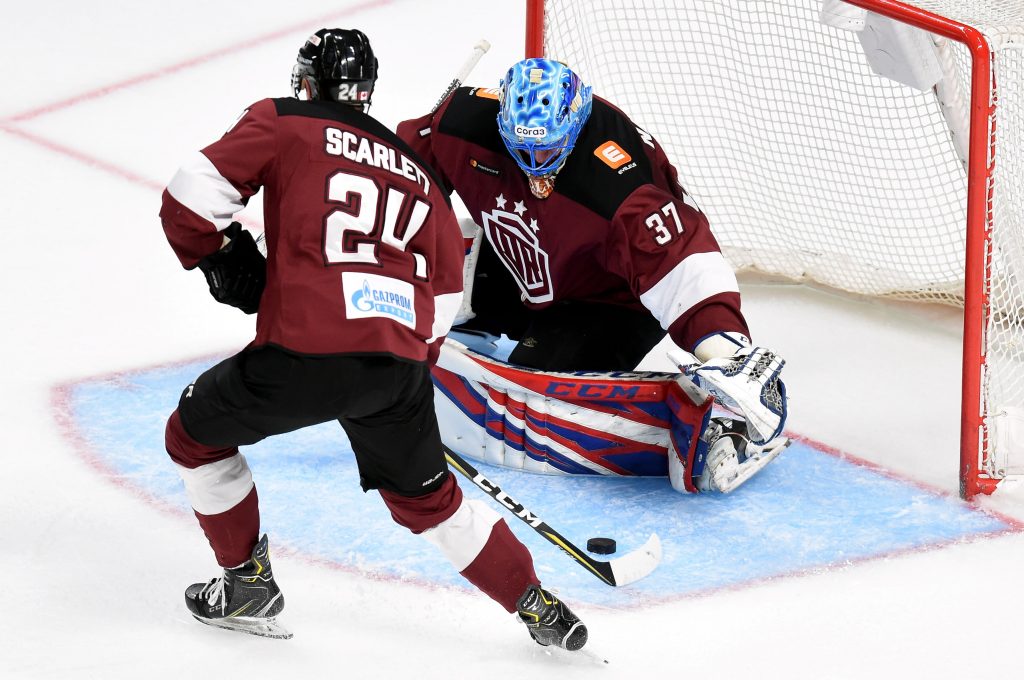 Svarīgi, lai treneris saprot arī komandas filozofiju, tajā pašā laikā lai ĢM komplektē komandu, ņemot vērā stūrmaņa ieteikumus. Andrejam Razinam "Severstal" izdevies maksimāli lietderīgi izmantot līdzekļus un savākt tādu komandu, kādu viņš vēlējās, ņemot vērā pieejamos līdzekļus. Arī Kreigs Vudkrofts savā rīcībā saņēma maksimumu, kāds bija iespējams ar "Dinamo" budžetu – labi ārzemnieki, piemēram, Šeins Prinss, kurš strauji progresēja, kā arī daudz jauno baltkrievu.
Tāpat, par piemēru ņemot "Severstal" vienību, komandai vajadzētu piesaistīt kādu speciālistu, kuram ir veiksmīga pieredze darbā ar jaunajiem spēlētājiem. Pirmais, kurš nāk prātā, ir Oļegs Sorokins, bet droši vien ir arī citi. Tāpat ir vērts aizdomāties par spēlētāju attīstības trenera piesaistīšanu, kurš palīdzētu tieši jaunajiem hokejistiem uzlabot tehniku, slidošanu un citas lietas, lai sagatavotu hokejistus pēkšņai pārejai KHL līmenī. Ja "Dinamo" vēlas izmantot "Severstal" ceļu, tad jāatceras viens svarīgs moments – vidējais Krievijas hokejists ir labāk sagatavots, nekā vidējais Latvijas hokejists, līdz ar ko jaunajos hokejistos jāiegulda papildus darbs, lai būtu rezultāts.
Tāpat "Dinamo" vajadzētu atteikties no ieskatīšanās hokejistu pasē, ja spēlētājs pārsniedzis 30 gadu vecumu, kā to izdarīja Minskā. Nav runa par jaunajiem hokejistiem, viņu jābūt pēc iespējas vairāk, lai būtu reāla cīņa par vietu trešajā – ceturtajā maiņā. "Severstal" piemērs rāda, ka arī ar par konkurētspējīgu vienību ir iespējams kļūt arī ar sastāvu, kurā 11 hokejisti ir jaunāki par 25 gadiem. Savukārt pozīcijas TOP6 jārezervē laba līmeņa leģionāŗiem un tiem Latvijas hokejistiem, kuri jau tagad bez iešūpošanas gatavi spēlēt KHL līmenī. Tā tas ir Minskai, kuras TOP ir četri laba līmeņa ārzemnieki, 27 gadus vecais Kirils Voroņins un talantīgais Aleksejs Protass. Kopā Minskai bija tikai trīs baltkrievi, vecāki par 30 gadiem. Rīgai sezonas beigās bija seši – tas ir par daudz. Paaudžu maiņa ir iespējama tikai tad, kad komandā nebūs tik daudz veterānu, kuriem pienākusi kārta nokāpt no šīs skatuves. To pieminēja arī Skudra, kurš nebija apmierināts ar Meijas un Rēdliha atdevi treniņos un laukumā, pieminot, ka sava vieta komandā jāpierāda katru dienu, tā netiek dota par iepriekšējiem nopelniem. Nostaļģija ir laba lieta sarunās ar vecvecākiem, nevis komandas komplektācijas procesā,
Būs grūti iekāpt "Dinamo" purvā, un katrs, kurš to uzņemas, nelielā mērā ir avantūrists. Taču iespējas izvilkt komandu no bedres, citu komandu piemērs ir priekšā. Viss atkarīgs no tā, kāda būs pareizo/nepareizo lēmumu proporcija.