Taisons Fjūrijs pret Entoniju Džošua ir cīņa, kas gaidīta jau vairākus gadus. Ne tikai konkrēti starp šiem diviem britu bokseriem, bet vispār starp divām spēku pilnbriedā esošām smagsvaru superzvaigznēm. Boksā nekas tik augstvērtīgs nav pieredzēts kopš 2002. gada Lenoksa Lūisa un Maika Taisona grāvēja. Vai tiks pieredzēts 2021. gadā? Nesen izziņotā vienošanās mudina domāt, ka jā. Reāli apstākļi liek nedaudz piebremzēt.
Entonijs Džošua sevi ir pieteicies kā perfektu boksa superzvaigzni. Viņa fiziskie parametri, vizuāli iespaidīgais ķermenis un profesionālā attieksme – tās ir perfektas sastāvdaļas, no kurām izveidot ideālu boksa čempionu, un Džošua tas viss ir. Viņa karjeras pagaidām lielākā uzvara ir pār Vladimiru Kļičko 2017. gadā, tiesa, tas jau bija brīdis, kad Kļičko bija 41 gads un viņš nesen jau bija pēc zaudējuma Fjūrijam. Galīgi gan nav tā, ka Džošua ir izvairījies no augstas klases pretiniekiem (Pārkers, Povetkins, pirms pieciem gadiem arī Vaits), taču nav arī tā, ka viņš pie pirmās iespējas būtu atsaucies Fjūrija un Deonteja Vaildera izaicinājumiem.
Promouteri varēja atrunāties, ka tas tomēr ir naudas jautājums un ka ir vērts titulu apvienošanas cīņas pietaupīt, kad publikas interese uzkurināta līdz baltkvēlei. Sak, kāpēc iet un uzreiz riskēt ar 50:50 cīņu, ja var vēl pāris gadus veltīt intrigām un runām ap šo cīņu? Līdzīgi notika jau ar iepriekšējo WBC pasaules čempionu Deonteju Vailderu, kurš ar Džošua it kā runāja par cīņas aizvadīšanu, it kā bija jau vienojušies, taču kaut ko nesadalīja, sāka apvienot viens otru norunu pārkāpšanā, un viss beidzās ar to, ka Vailders uz cīņu aicināja Fjūriju.

Fjūrijs savu personīgo problēmu dēļ bija uz laiku aizgājis no lielā boksa. Viņa otrā cīņa pret Vladimiru Kļičko, kurai vajadzēja iecementēt Fjūrija vietu pie boksa debesīm, tā arī nenotika. Tika piesauktas problēmas ar narkotikām, dopingu un depresiju, Fjūrijam tika konstatētas mentālās veselības problēmas, kuras noveda arī pie domām par pašnāvību. Fjūrijs publiski neslēpj, ka tas viņam bija ļoti smags periods, neskatoties uz to, ka tobrīd viņam piederēja gandrīz visi pasaules čempiona tituli, no kuriem viņš vienkārši atteicās.
Taču Fjūrijs pierādīja savu spēku ne tikai ringā, bet arī ārpus tā un spēja sakārtot savu dzīvi. 2018. gadā viņš atgriezās boksā ar cīņu pret tobrīd mežonīgi spēcīga boksera slavu ieguvušo Vailderu. Vailders, protams, arī par šo cīņu nopelnīja desmitiem miljonu dolāru, taču tas tomēr bija risks, kuru Džošua neuzņēmās. Vailders to darīja un gandrīz arī izvilka lielo lozi – 12. raundā viņš nosūtīja Fjūriju tādā nokdaunā, no kura normāls cilvēks varbūt vispār nepieceltos. Visiem likās, ka Vailders ir uzvarējis. Komentētājiem, skatītājiem, arī pašam Vailderam. Taču ne Fjūrijam, kurš paspēja tikt kājās un atkal varēja boksēt.
Būtu Fjūrijs uz dēļiem acis pamirkšķinājis pāris sekundes ilgāk, visa boksa vēsture pagrieztos citā virzienā. Taču liktenis bija lēmis, ka Fjūrijs pieceļas, sagaida tiesnešu vērtējumā neizšķirtu, noorganizē vēl vienu cīņu pret Vailderu un tajā dominē tik iespaidīgi, ka par triloģijas noslēgumu šobrīd neviens, izņemot Vailderu pašu, nemaz nerunā. Viss ir skaidrs, un uzreiz pēc uzvaras Fjūrijs varēja Vaildera žēlabas, sūdzības un revanša pieprasījumus atstāt sev aiz muguras, tā vietā pievēršot skatienu Džošua.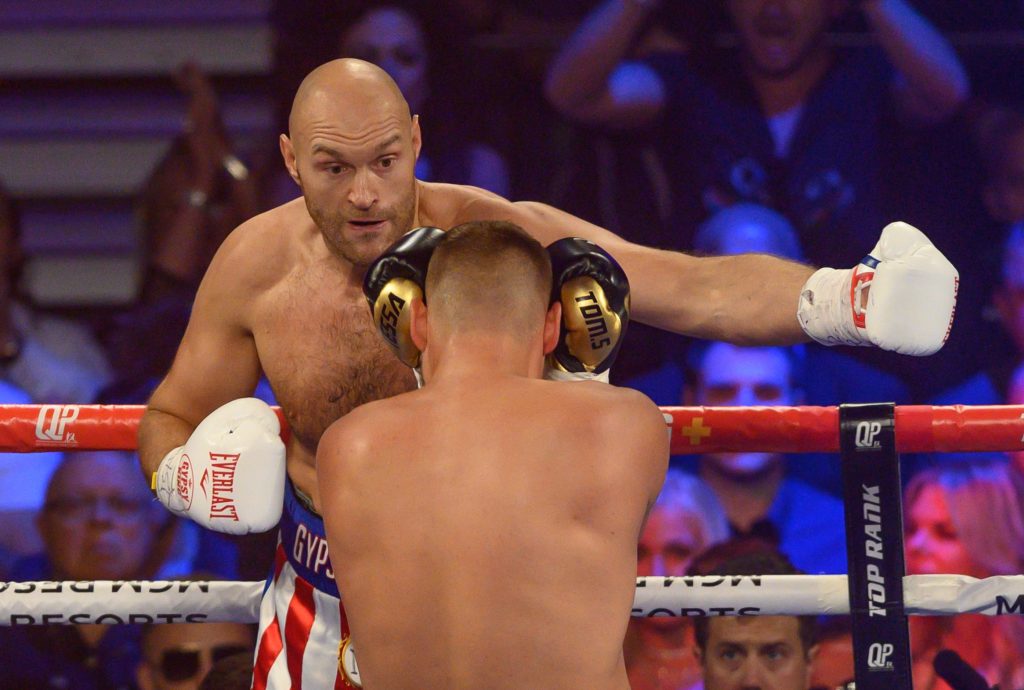 Tobrīd arī Džošua nometnei bija skaidrs, ka daudz ilgāk kavēties vairs nevar un neko lielāku noorganizēt vairs nevarēs. Džošua-Fjūrijs ir viņu abu karjeras kulminācija, viss, kas bija iepriekš, un viss, kas sekos pēc tam, būs tikai papildus nodaļas boksa grāmatā. Fjūrijs tagad nav aizvadījis cīņu kopš 2020. gada februāra, kas, protams, saistīts ar pandēmijas apstākļiem. Savukārt Džošua nācās parūpēties par saviem čempiona tituliem, kuru viņam ir vairāk nekā Fjūrijam, un attiecīgi vairāk arī problēmu. Decembrī Džošua aizstāvēja savu IBF titulu, visnotaļ droši pārspēju bulgāru Kubratu Pulevu, bet vēl rindā palika WBO obligātais pretendents Oleksandrs Usiks.
Taču šis šķērslis tika nobīdīts malā ar vienkāršiem draudiem – ja WBO kaut kas nepatīk, tad Džošua no jostas atteiksies un pret Fjūriju cīnīsies bez WBO iesaistīšanās. Pandēmijas laikā, kad boksa organizācijām ienākumi ir drausmīgi kritušies, iespēja palikt bez Fjūrijs-Džošua cīņas komisijas maksas WBO acīmredzami sajūsmu neiedvesa, un tā Usiku aizsūtīja uz pagaidu titula cīņa pret Džo Džoisu, kas, protams, nav tas, ko ukraiņu bokseris bija gribējis. Taču viņš pagaidām vēl nav galvenais spēlētājs šajā šaha spēlē, un, godīgi sakot, arī pret Džoisu viņam tik viegli gan jau nemaz neies.
Nokārtojot šo šķērsli, Fjūrijs un Džošua varēja likt parakstus uz principiālās vienošanās līguma par divu cīņu aizvadīšanu. Vienošanās paredz, ka pirmajā cīņā abi dala honorāru uz pusēm, bet revanša cīņā uzvarētājam pienāksies 60%, kamēr zaudētājam – 40%. Šī vienošanās tika izziņota, tika publicēti virsraksti ar skaļiem pieteikumiem, diskusijas uzvirmoja ar jauniem viļņiem, taču kas tad bija noticis patiesībā? Principā šī vienošanās starp abu bokseru nometnēm bija panākta jau iepriekšējā vasarā, tagad vienkārši tā tika noformēta arī dokumentāli, kam nemaz tik lielas nozīmes, jo tas nav līgums par cīņu.
Līdz līgumam par cīņu vēl nedaudz jāpagaida, jo vēl nav nosprausts ne cīņas datums, ne tās vietas, ne arī pieejamās finanses. Kā jau ierasts, visi jautājumi lokās kā čūskas, lai savienotos vienā, uz kuru atbilde ir nauda. Kāpēc tad Fjūrijs un Džošua vēl nevar izvēlēties cīņas vietu un laiku? Jo vēlas saņemt lielākus honorārus.
Kā ziņo "The Athletic", visticamākā, ir cīņas norise Saūda Arābijā. Vietējie šeihi bijuši ļoti apmierināti ar Džošua un Ruisa cīņas organizēšanu 2019. gada izskaņā, kad no savas puses ielika apmēram 60 miljonus dolāru. Fjūrijs-Džošua, protams, viegli pārsit Džošua-Ruiss cīņu un attiecīgi arī tiek runāts par krietni lielākām naudām. No Saūda Arābijas puses tiek prasīta summa vairāk nekā 100 miljonu apmērā, un normālos apstākļos tā varētu sasniegt pat vairāk nekā 120 miljonus.
Taču šie nav normāli apstākļi, un arī Saūda Arābijas karaliste par savu naudu grib konkrētu atdevi. Covid-19 pandēmija šobrīd nepieļauj cīņas rīkošanu pie pilnām tribīnēm, un nav skaidrs, cik drīz tas varētu notikt. Pagaidām neko nevar garantēt arī par daļēji aizpildītām tribīnēm, kas teorētiski būtu visas puses apmierinošs variants, taču, ja reiz to šobrīd nevar garantēt, tad promouteri arī šobrīd nevar noteikt datumu un sākt reklamēt cīņu. Jo cīņas galvenais mērķis tomēr nav noteikt uzvarētāju, tas profesionālajā boksā jāuzsver atkal un atkal. Tas nav pasaules čempionāts futbolā vai basketbolā, tas ir bokss, kura primārais mērķis ir nopelnīt. Lai krīzes apstākļos sarīkotu Pasaules kausu futbolā vai basketbolā, attiecīgā federācija FIBA vai FIFA ver vaļā savas kabatas, jo tieši tāds ir tās uzdevums. Savukārt boksa promouteriem ir vienkāršāka loģika – ja šī cīņa nenes peļņu, tad kāda velna pēc mums to rīkot? Starp citu, tieši šāda šobrīd ir arī situācija Latvijas boksa čempionam Mairim Briedim. Ne jau viņš neaizvada cīņu tāpēc, ka nevar atrast kādu viduvēja līmeņa smagsvaru, pret kuru "iesildīties" kaut kam lielākam, bet gan tāpēc, ka šobrīd ar šādu cīņu nevar nopelnīt.
Saūda Arābija esot gatava uzņemt Fjūriju un Džošua arī bez skatītājiem un pamatīgā karantīnas režīmā, kas varētu notikt jau vasarā, taču tad samaksa būtu krietni mazāka. Tam savukārt jāvārds jādod abiem bokseriem, viņu promouteriem un iesaistītajām televīzijām, kurām pieder raidtiesības, un attiecīgi tas nav vienkāršs process. Tāpat vēl pastāv iespēja, ka pie cīņas tiek kāda cita Tuvo Austrumu valsts, kurai prasību ir mazāk, bet naudas vairāk, taču arī par to spēkā ir iepriekš teiktais – tam jāpiekrīt visām pusēm. Katara un AAE arī izrādot interesi par boksa gardākā kumosa nocelšanu un izmantošanu saviem mērķiem, un pārrunas vēl turpinās.
Tāpēc var apsveikt Fjūriju un Džošua par savas vienošanās atzīmēšanu ar parakstiem, taču, ja viņiem būtu gatavs cīņas līgums un skaidri cīņas sponsori, tad var loģiski argumentēt, ka tie slēpti netiktu. Pagaidām viss vēl ir procesā, turklāt gaidāma arī personīgo interešu sadursme, proti, viss liecina, ka pastāvēs divas iespējas – vai nu sarīkot pirmo cīņu vasarā, ko it kā vēloties abi bokseri, negribot lieki nogaidīt, vai arī ar lielākām finansiālajām garantijām to darīt rudenī vai pat gada noslēgumā. Arī šeit būs jāskatās, vai abu bokseru atbildes sakritīs, un šomēnes noslēgtais līgums šajā sakarā neko daudz nenozīmē.
Vismaz ar TV kompāniju radītiem šķēršļiem nevajadzētu rēķināties, jo šajā ziņā esot viss sarunāts. ESPN piedāvās "pay-per-view" tiešraidi Amerikas Savienotajās Valstīs, kamēr DAZN pārraidīs cīņu pārējā pasaulē, neskaitot Lielbritāniju, kur tas arī būs "pay-per-view" pasākums. Vaildera un Fjūrija mačs februārī Amerikā vien no "pay-per-view" ienākumiem ienesa 70 miljonus dolāru, un var īpaši nešaubīties, ka cīņa pret Džošua būs vēl pelnošāka. Taču par tās norisi joprojām ir aktuāls jautājums, un principā Fjūrijs pats visu ir labi sasummējis savā intervijā ESPN.

"Kamēr man nav datuma, vietas un pamatīga naudas žūkšņa kabatā, tikmēr cīņas nav," teica Fjūrijs. "Nekas nav pilnībā skaidrs līdz brīdim, kad es iziešu ringā, un šobrīd mēs tam neesam pat tuvumā. Vai es domāju, ka cīnīšos pret Džošua jau nākamajās dienās? Pie velna, ne. Vai es domāju, ka cīņa kaut kad notiks? Jā. Nav gan tā, ka es tagad naktīs negulēšu, to gaidot. Netaisos likt visas savas olas vienā ligzdā, jo esmu tā darījis iepriekš un apdedzinājies, kas mani noveda pamatīgā depresijā. Tāpēc arī es tagad netaisos skaļi solīt, ka cīņa noteikti būs maijā, jūnijā vai augustā vai vienalga kad."