Cīņas sporta veidos netrūkst cilvēku, kuri izsitušies no pašas lejas. Viens no viņiem ir Kamerūnā dzimušais Frensiss Nganu. Svētdien viņš 34 gadu vecumā kļuva par "Ultimate Fighting Championship" (UFC) čempionu smagajā svarā, revanšējoties Stipe Miočičam par pirms trīs gadiem piedzīvoto zaudējumu. Diez vai kāds varēja paredzēt, ka nevienam nezināms jaunietis no Āfrikas kontinenta kādreiz kļūs par vienu no spilgtākajiem cīkstoņiem pasaulē.
Grūti iedomāties skaistāku stāstu, pēc kura varētu uzņemt filmu. Viņš sapņoja par boksera karjeru un gribēja izrauties no neliela ciematiņa Kamerūnā, kur Nganu bija spiests smagi strādāt, lai vienkārši nenomirtu no bada. Neviens īsti neticēja, ka no Frensisa sanāks kaut kas labs, it īpaši ņemot vērā viņa tēva reputāciju. 26 gadu vecumā viņš izvēlējās riskantu ceļu uz Eiropu un beigās tika atalgots par savu apņēmību.
Mērķis – izrauties no Āfrikas
Kā jau daudzi bērni Āfrikā, arī Nganu piedzima nabadzīgā ģimenē un jau kopš bērnības bija spiest strādāt, lai nopirktu skolai nepieciešamas lietas. Sešu gadu vecumā viņa vecāki šķirās un bērns tika aizsūtīts Kamerūnas otrajā galā pie radinieces. Tur puisis saskarās ar grūtībām, jo vietējie bērni negribēja viņu pieņemt savā kompānijā un daudz laika Nganu pavadīja vienatnē. "Savā galvā izveidoju virtuālo pasauli, kur man bija normāla bērnība ar ģimeni, tēvu un māju. Tā es ieguvu mieru," par dzīves pirmajiem gadiem stāstīja pats cīkstonis.
Kad Nganu palika desmit gadi, viņš atgriezās dzimtajā pusē un sāka strādāt smilšu karjerā. Ņemot vērā uz vietas pieejamo aprīkojumu un darba drošības protokola neievērošanu, tas bija visai bīstams darbs pat pieaugušajiem, nemaz nerunājot par bērniem. Skatoties uz saviem krietni vecākiem kolēģiem, topošais cīkstonis saprata, ka ir pienācis laiks pārmaiņām. Nganu ļoti patika Maiks Taisons un viņš vēlējās nodarboties ar boksu. Taču viņa ciematiņā tas nebija iespējams, savukārt apkārtējie cilvēki vien iesmējās, izdzirdot par Nganu vēlmi. 22 gadu vecumā viņš devās uz Kamerūnas lielāko pilsētu Dualu, kur krāvēja darbu bija iespējams apvienot ar boksa treniņiem.
#ThrowbackThursday – I may be top ufc heavyweight, but when I go home to my village, every time I always stop to the sandmine to work with my friends like when we grew up. Today, it's enjoyable and fun to do, but as a kid forced to do it, it was a stone on my throat .. (1/2) pic.twitter.com/Qh9OdX39MX

— Francis Ngannou (@francis_ngannou) June 25, 2020
Dzīve Kamerūnas ekonomiskajā galvaspilsētā atnesa Nganu ne tikai iespēju nodarboties ar boksu, bet arī inficēšanos ar B hepatītu. Uz laiku viņš atkal bija spiests atgriezties savā dzimtajā pilsētā, kur, kārtējo reizi ieraugot šausmīgus dzīves apstākļus, topošais UFC čempions nobrieda liktenīgajām pārmaiņām savā dzīvē. Proti, vienā dienā viņš paņēma mugursomu un, nevienam neko nepasakot, devās nezināmā virzienā. Mērķis bija skaidrs – tikt līdz Eiropai un kļūt par cīkstoni, kurš ar došanos ringā pelna naudu ne tikai sev, bet arī savai ģimenei.
Labākā dāvana dzimšanas dienā
Bēgļu transportēšana uz Eiropu ir liels bizness, kurā "uzņēmējus" nemaz neinteresē, vai cilvēki beigās tiks līdz galamērķim, vai arī noslīks kaut kur vidusceļā – galvenais ir saņemt naudu par saviem pakalpojumiem. Pārpildītas laivas starp Āfriku un Eiropu kursē bieži, un vienā no tām iesēdās arī Nganu. Mēģinājums šķērsot ūdeņus gandrīz izdzisa jaunieša dzīvību, arī vēlāk viņa bija vairākas "iespējas" nomirt, līdz brīdim, kad Sarkanā krusta pārstāvji atrada bēgļu grupu. Divus mēnešus viņš pavadīja cietumā Spānijā, tad bēgļu nometnē, līdz beidzot tika līdz Parīzei.
"Francijā man nebija paziņu. Gulēju uz ielas, bet tā bija liela iespēja. Beidzot saņēmu iespēju, par kuru sapņoju. Katru dienu gāju pa sporta zālēm un prasīju, lai iedod man vietu treniņiem, jo es plānoju kļūt par pasaules čempionu," atceras Nganu. Bija daudz atteikumu, tomēr sīkstums un milzīga vēlme pierādīt sevi deva rezultātu – vīrietis vārdā Didjē Karmons atļāva kamerūnietim trenēties zālē, kā arī iedeva naudu, lai Nganu sev nopirktu mugursomu, formu un dvieļus. Pats cīkstonis sapņoja par karjeru boksā, savukārt cilvēki zālē viņam ieteica pievērst uzmanību MMA, jo bokss bija slēgts bizness un "ielauzties" jauktās cīņas mākslas "tirgū" būtu krietni vienkāršāk.

Meklējot vietu, kur varētu trenēties brīvdienās un svētku dienās, Frensiss atrada citu zāli, kas piederēja kamerūnietim Fernando Lopesam. Viņš bija tik pārsteigts ar Nganu stāstu, ka ļāva viņam dzīvot zālē. Cīkstonis trenējās un debitēja MMA, savukārt dienā, kad Frensisam palika 29 gadi, viņš saņēma labāko no iespējamām dāvanām – kontraktu ar UFC. Tā paša gada decembrī viņš debitēja ar nokautu pret Luisu Enrike, svinot uzvaras arī nākamajās piecās cīņās.
Pieci nokauti pēc kārtas
Interneta enciklopēdijā "Wikipedia" Nganu tiek raksturots kā cīkstonis ar spēcīgāko sitienu UFC vēsturē. Kā jau pienākas cīkstonim smagajā kategorijā, viņa gabarīti ir visai iespaidīgi – augums 193 centimetri un svars 119 kilogrami. Kamerūnietis ir zināms ka visai brutāls cīkstonis, no kura jāsāk baidīties jau pirms cīņas, vien ieraugot Nganu.
Karjeras laikā MMA un UFC Kamerunā dzimušais cīkstonis aizvadījis 19 cīņas, svinot 16 panākumus. No tiem 12 tika panākti ar nokautu, kas nemaz neizbrīna, ņemot vērā Nganu spēcīgo sitienu. 2017. gada decembrī Detroitā norisinājās cīņa starp Nganu un Alistaru Overimu. Tā ilga vien minūti un 42 sekundes, pēc kurām kamerūnieša pretiniekam mačs bija noslēdzies. Overims pat nepaspēja saprast, kas īsti ir noticis, un jau gulēja uz dēļiem. Savukārt "Essentialy Sports" Nganu sitienu šajā cīņa iekļāva starp desmit labākajiem nokautiem UFC vēsturē. Lielisks panākums cilvēkam, kurš dažus gadus pirms tam varēja noslīkt vai nomirt no slāpēm.
Pašlaik Nganu izskatās pēc mašīnas. Piedzīvojot divus zaudējumus pēc kārtas 2018. gadā, tagad viņam ir piecu nokautu sērija. Tikai vienā no cīņām – revanšā pret Miočiču, viņam bija nepieciešams nevis viens, bet divi raundi. Tikšanos ar Nganu ilgi atcerēsies Surinamas pārstāvis Žairzinju Rozenstruiks, kuram UFC249 pasākums 2020. gada maijā noslēdzās jau pēc… 20 sekundēm.
No diviem līdz piecsimt tūkstošiem par cīņu
Pagaidām publiski nekur nav izskanējuši nedz Nganu, nedz Miočiča honorāri par aizvadīto cīņu. 2018. gadā, kad abi tikās pirmo reizi, kamerūnietis nopelnīja ap 500 tūkstošiem dolāru, savukārt viņa pretinieks – ap 600 tūkstošiem. Pieļaujams, ka šoreiz abi cīkstoņi nopelnījuši līdzīgas summas vai, iespējams, pat nedaudz lielākas. Šie cipari, protams, ir tālu no tā, ko par katru cīņu saņem UFC sejas. Jāatzīmē, ka šajā summā nav iekļauti ienākumi no sponsoriem, procents no maksas translāciju pārdošanas un citi bonusi.
"Thesportsdaily.com" aprēķini liecina, ka Nganu karjeras laikā nopelnījis ap 2,16 miljoniem dolāru. Savukārt "Mmasalaries.com" vērtējumā šī summa ir lielāka – no trīs līdz pieciem miljoniem dolāru. Lai kā būtu, šis ir milzīgs sasniegums cīkstonim, kuram ilgu laiku bija jādomā nevis par to, kurš būs viņa nākamais pretinieks, bet gan par to, kur nopelnīt naudu un nopirkt sev, ko paēst.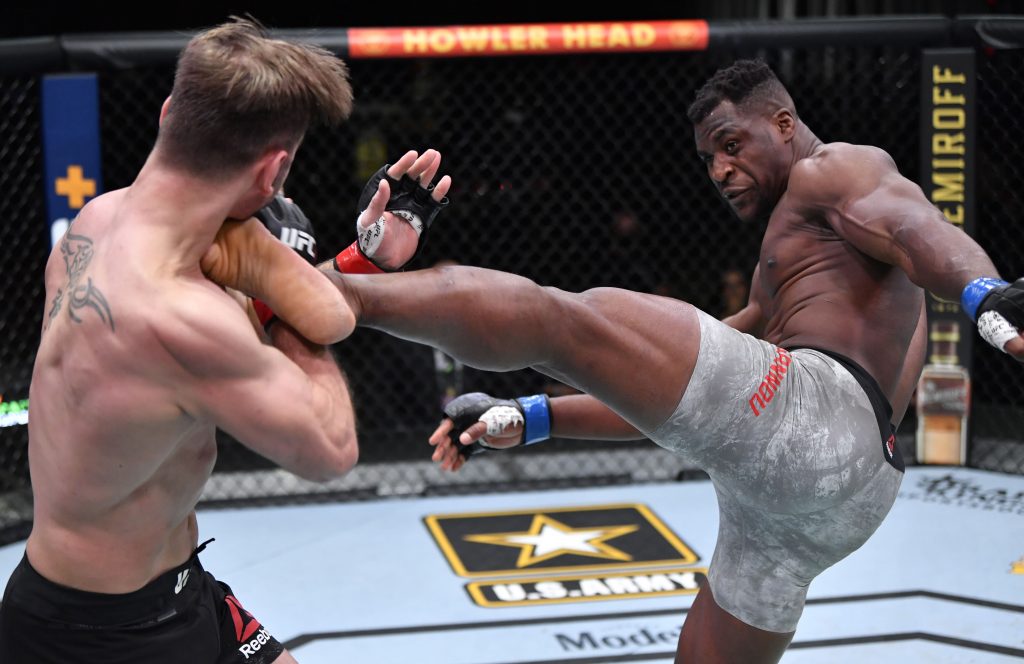 Nganu ir kļuvis par kārtējā panākuma stāsta autoru. Saskaroties ar apkārtējo neticību un objektīvi ļoti sliktiem dzīves apstākļiem, viņš palika uzticīgs savam sāpnim un atrada veidu, kā to realizēt. Karjeras sākumā kamerūnietis pelnīja divus tūkstošus eiro par cīņu – tā ir visai neliela summa, ņemot vērā veselības riskus, ar kādiem saskaras cīkstonis. Pats Nganu gan nešaubījās, ka tas ir tikai starpposms pirms lielākiem posmiem. 2021. gada marta pēdējā svētdienā viņš beidzot piepildīja sapni – ne tikai sevis, bet arī mātes dēļ, kura var būt lepna par savu dēlu.