Nacionālā basketbola asociācija (NBA) ir pasaules basketbola augstākais punkts, bet aizvien biežāk ir vērojama tendence, kad regulārās sezonas (un aizvien biežāk arī "play-off") mači noslēdzās ar kādas komandas graujošu uzvaru un intriga spēlē sākot teju ar finālsvilpi tā arī nevienā brīdī nav parādījusies. Aizvadītajā nedēļā vien katrā spēles dienā vismaz viens mačs noslēdzās ar 20 punktu starpību un tādu nedēļu paliek aizvien vairāk. Ja tas notiktu vien ar tabulas lejasgala komandām, iespējams, tas tik ļoti acīs nelektu, bet realitāte ir tāda, ka arī vidusmēra un arī vadošās komandas laiku pa laikam piedzīvo šādas "tukšās" spēles.
Šosezon 18,6% spēļu noslēgušās ar kādas komandas pārliecinošu uzvaru, ko NBA ir noteikusi kā 20 vai vairāk punktu, kas ir viens no augstākajiem rādītājiem līgas pastāvēšanas vēsturē. Situācija ir vēl dramatiskāka, ja par atskaites punktu ņem mačus, kas norisinājušies pēc Zvaigžņu spēles – graujošu spēļu skaits sastāda 19,9% no visām aizvadītajām. Ņemot vērā šo tendenci, šis rādītājs varētu uzkāpt līdz visu augstākai atzīmei kāda jebkad ir bijusi, proti, 20,5%, kas sasniegts 1968. gada sezonā.
Ja runājam par komandām, kuras vismaz 10 mačus ir zaudējušas ar 20 vai vairāk punktiem, tad līderos ir Oklahomsitijas "Thunder" (18), kam seko Klīvlendas "Cavaliers" (14), Orlando "Magic" (12), Hjūstonas "Rockets" un Minesotas "Timberwolves" (abām pa 11) un vēl nesen līgā dominējošā Goldensteitas "Warriors" (10). Neviena no šīm komandām, izņemot "Warriors", šobrīd reāli necīnās pat par "play-in" zonu (labāko desmitnieku konferencē un pārspēlēm par "play-off" astotnieku), bet kopumā tās piedalījušās 44% no visiem 20+ punktu starpību mačiem šosezon.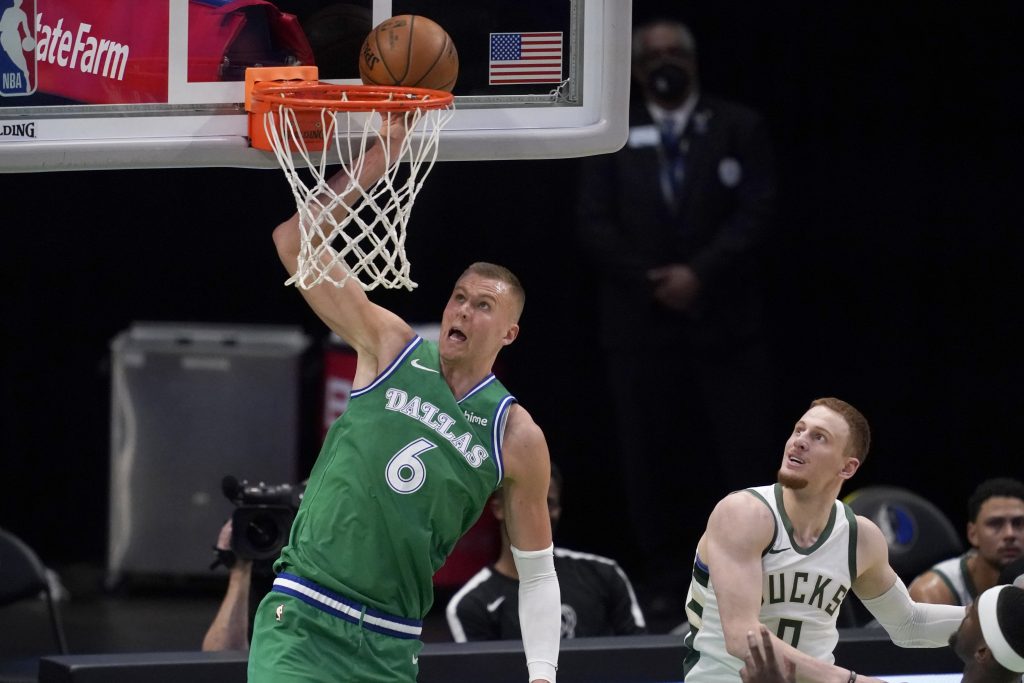 Ņemot vērā, ka pandēmijas apstākļos šī sezona saīsināta no 82 uz 72 spēlēm, uzvaru un zaudējumu vērtība pieaug. Tieši tā – arī zaudējumu, jo ir komandas kā "Thunder", kuras jau no sezonas pirmā mača nekautrējās demonstrēt, ka uzsvars tiks likts uz jauno talantu attīstīšanu un klusībā tiek cerēts par pēc iespējas augstāku izvēli draftā, kas šovasar solās būt viens no pēdējo gadu talantīgākajiem sasaukumiem. Bet kādi faktori ietekmē graujošo rezultātu pieaugumu?
Vai pie vainas ir saīsinātais un daudz blīvākais spēļu kalendārs? Salīdzināsim šo sezonu ar citām, kad lokauta dēļ spēļu skaits ir bijis mazāks par ierastajām 82 spēlēm. 1998./1999. gada sezonā tika aizvadītas 50, 2011./2012.gadā 66, bet pērn spēļu skaits komandām vietām bija pat atšķirīgs, jo Austrumu konferences uzvarētāji Milvoki "Bucks" aizvadīja 73, bet Rietumu līderi Losandželosas "Lakers" 71 spēli. Ja skatāmies procentuāli, tad 50 spēļu sezonā 20+ punktu spēļu īpatsvars bija 10,8%, 66 spēļu gadījumā 15,1%, bet pērn 17,8% gadījumu. Zīmīgi, ka 50 spēļu sezonā bija uzreiz divas komandas, kuras izcīnīja mazāk par 10 uzvarām, taču vismaz zaudējumi bija ar cienīgāku starpību.
Vēl viens apstāklis koncentrēšanās zudumam mačos varētu būt skatītāju neesamība. 60% šīs sezonas spēļu aizvadītas bez skatītājiem tribīnēs, bet 40% ar ierobežotu daudzumu, jo pilnas arēnas vietējo štatu vadības vēl nav atļāvušas. Kas interesanti – pērn pirms pandēmijas izraisītās piespiedu pauzes komandas piedzīvoja 20+ punktu zaudējumus 18,3% gadījumu, kas tuvojas esošajai situācijai. Savukārt, kad līga atsāka savu darbību Disnejlendas "burbulī", šis rādītājs bija vien 10,2%. Tiesa, te jāņem vērā fakts, ka uz "burbuli" devās 22 no 30 komandām, kas jau bija iekļuvušas vai cīnījās par iekļūšanu "play-off" un/vai "play-in", tāpēc salīdzinoši zemais procents, kad tikai viena no desmit spēlēm noslēdzas ar sagrāvi, ir viegli izskaidrojams.

Protams, ka liela nozīme ir motivācijai sasniegt rezultātus vai cīnīties vismaz par kaut ko, nevis pēc iespējas augstāku vietu draftā, taču situāciju neuzlaboja nedz NBA drafta kārtības izlozes sistēmas maiņa, kas atņēma iespējas visvairāk zaudējušām komandām automātiski iegūt top3 izvēles, kā arī "play-in" turnīra saglabāšana nav nesusi kārotos augļus, jo aizvien ir vienības, kuras par to pārstāja domāt jau pusceļā uz sezonas beigām. Rezultātā "play-in" ir tikai sabiezinājis "play-off" kārotāju pulku un to psiholoģisko stāvokli, bet uz kopējā fona abu konferenču lejasdaļas komandas tāpat nereti nespēj turēties līdzi spēcīgākiem pretiniekiem un situāciju tas nav uzlabojis. Kā 82 spēļu sezonā jau pēc aizvadītiem 30-35 mačiem bija skaidri izkristalizējies outsaideru bariņš, tā tas noticis arī šobrīd, reāli lielam skaitam komandu esot labāko desmitniekam tuvumā vien nakts tumšajās stundās esot miega stāvoklī.
Bet varbūt pie vainas ir spēles manieres krasās izmaiņas? Proti, komandas izpilda aizvien vairāk tālmetienu un spēle pati par sevi kļuvusi daudz atlētiskāka un dinamiskāka, kā arī audzis spēles temps, kam arī ir sava formula – to rēķina pēc veiktajiem uzbrukumiem 48 minūšu laikā. Ja skatāmies pēdējo 10 gadu šķērsgriezumā, tad sākot no 2011./12. g. septiņās sezonās sagrāvju īpatsvars pret visiem aizvadītajiem mačiem bija robežās no 14 līdz 16 procentiem, bet lielu lēcienu šī statistika piedzīvoja 2018./19. g. sezonā, kad rādītājs uzleca līdz 18,3%.
Un te varam vilkt likumsakarības ar statistikas datiem. Ja pirms 2018./19. g. temps bija 97,3, tad jau attiecīgajā sezonā tas pieauga līdz 100, bet vidēji vienas komandas gūtie punkti attiecīgi uzlēca no 106,3 uz 111,2 ik maču. Šobrīd komandu vidēji mača iespētais ir 111,8 punkti, bet sezonas pirmajās nedēļās šīs rādītājs pārsniedza 112 punktu atzīmi. Ja tā būs arī sezonas noslēgumā, tā būs pirmā reize kopš… 1970./71. g. sezonas, kad NBA vēl startēja zem nosaukuma ABA un komandas ik maču grozā lādēja 112,4 punktus katra. Interesants fakts.
NBA šobrīd tiek saukta par trīspunktu metienu līgu un uz to norāda arī fakti – vēl 2011./12. g. sezonā vidēji katra komanda izpildīja mazāk par 20 tālmetieniem, tad 2018./19. g. šis rādītājs jau pārsniedza 30 trejačus ik maču, bet šosezon vien četras vienības izpilda mazāk par 30 tālmetieniem. "Run & gun" jeb "skrien un met" stils, kas šobrīd dominē NBA, ļauj īsā brīdī iedzinēju komandai atspēlēt rezultāta starpību, taču tikpat bieži tas darbojas pretējā virzienā, kad pretinieks noķer spēles pavedienu un vienkārši salādē grozā visu pēc kārtas, kā rezultātā arī redzam tik daudz nevienlīdzīgu spēļu.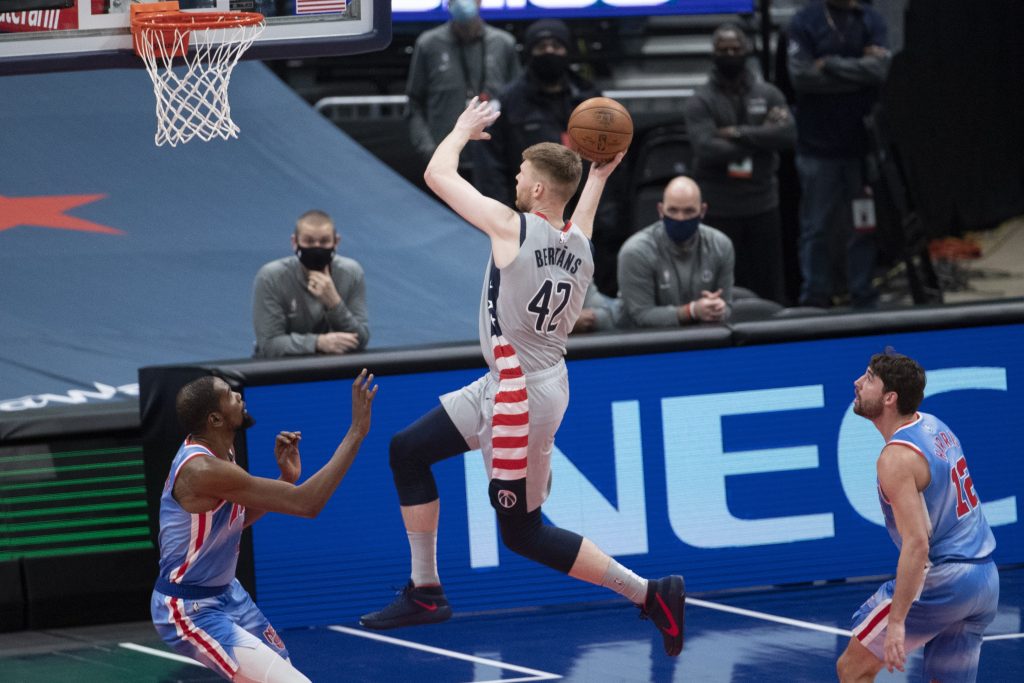 Turpinot pieturēties pie šī pavediena, kā domino efekta iespaidā mēs nonākam tālāk, proti, no 30 līgā startējošām komandām pozitīva vidēji gūto un ielaisto punktu starpība ir tikai nedaudz vairāk nekā pusei – 16. Tas arī liecina par to, ka līga strauji tuvojas situācijai, kad teju katrs piektais mačs noslēgsies ar kādas vienības graujošu uzvaru. Vai tas nākotnes perspektīvā nāks par labu līgai un tās tēlam? Jo redzam, ka jau šobrīd NBA ir problēmas ar TV reitingiem. Saprotams, ka īslaicīgs uzrāviens, raugoties no līdzjutēju intereses puses, noteikti tiks sasniegts, kad arēnās varēs piepildīt pilnu sēdvietu skaitu, bet cik ilgi vidējais NBA fans ir gatavs skatīties kā bariņš miljonāru metā trīņus…
Protams, nevajadzētu aizmirst arī to, ka šajā sezonā liela daļa spēlētāju izlaiž mačus ne tikai savainojumu un diskvalifikāciju dēļ, bet arī saskaņā ar COVID-19 protokoliem, arī ja konkrētais indivīds pats nav inficējies, ievērojot pašizolācijas noteikumus un citus. Un lielākajā daļā komandu, kuras ir līderes zaudētājos sagrāves mačos, ir bijušas arī lielākās problēmas ar traumām, kā arī tām visvairāk mačus ir izlaiduši vislabākie, lasi – vislabāk apmaksātie spēlētāji. Tātad viss ir likumsakarīgi.
Analizējot iepriekš minētos statistikas rādītājus, top skaidra tendence – jo augstāks spēles temps un vairāk izdarītu tālmetienu, jo lielāka rezultativitāte (un sliktāka aizsardzība), jo vairāk maču ar graujošiem rezultātiem. Un kā norāda fakti, tad papildus motivācijas ieviešana "play-in" turnīra izskatā nav devusi gaidīto efektu – neinteresantu spēļu paliek aizvien vairāk… Tas tikai kārtējo reizi norāda uz to, ka līgas vadībai par risinājumiem jāsāk domāt jau tagad, jo šis, tā saucamais "highlights basketball" jeb spēlēšana vien uz skaitām epizodēm un statistiku vai nopietnu "pieslēgšanos" mačam vien spēles otrajā pusē, kad ir līdzīgs rezultāts, ilgtermiņā var arī neizdzīvot un tad NBA var piedzīvot jaunu krīzi. Un to līgas vadība noteikti nevēlas, jo satricinājumu pēdējos gados ir bijis par daudz – konflikts ar Ķīnu, spēlētāju patvaļīgā apvienošanās super-komandās, "load management" piekopšana, nevēlēšanās spēlēt aizsardzībā, bet dubulta vēlme izmest tālmetienus – tie visi ir faktori, kas ietekmē basketbola spēli kā tādu. Laiks "lielajiem vīriem" padomāt!