Gaidāmajā Pasaules hokeja čempionātā Rīgā Latviju pārstāvēs ne tikai nacionālā izlase, bet arī viens no mūsu labākajiem galvenajiem tiesnešiem – Andris Ansons. Kā atzīst tiesnesis, tiesāšana viņam vairs nav hobijs, bet jau pamatdarbs, kurš prasa simtrpcentīgu atdevi ne tikai uz ledus, bet arī ārpus tā. Andrim aiz muguras ir vairāki junioru un jauniešu pasaules čempionāti, kā arī pieaugušo turnīri, taču šī būs debija Elites divīzijā. Ikdienā viņš tiesā Kontinentālās hokeja līgas spēles, kā arī Latvijas čempionātu. Tieši par pēdējo mēs arī sākām sarunu.
Kādas sajūtas Tev pašam ir par aizvadīto Latvijas virslīgas finālsēriju? Ko Tu pamanīji jaunu?
Es finālsērijā ielēcu pašas beigās. Kolēģi man teica, ka "Zemgale/LLU" un "Liepāja" viennozīmīgi būs favorīti, bet beigās sanāca citādāk. Domāju, ka robi jelgavnieku sastāvā atstāja ietekmi uz spēli. Fināls vareja būt citādāks. Gaidīju, ka cīņas finālā būs sīvākas. Redzot regulārās sezonas dažus mačus, jāsaka, ka komandas tur izskatījās interesantāk. Protams, ka sezonu ietekmēja Covid-19 pandēmija. Vairāki spēlētāji nemaz neaizbrauca uz ārzemēm un palika Latvijā. "Olimp"/"Venta 2002" bija pieredzējis sastāvs, savukārt Liepājā atgriezās vairāki bijušie spēlētāji. Tas, ka "Olimp"/"Venta 2002" izcīnīja čempiontitulu, bija likumsakarīgi. Pieredzējuši spēlētāji, no kuriem daudzi spēlējuši augstā līmenī.
Tev kā tiesnesim ir svarīgi zināt, kuras divas komandas spēlēs finālā? Un kā tas var ietekmēt Tavu gatavošanos konkrētai spēlei?
Tiesneši koncentrējas konkrētam mačam, tieši tāpat dara arī spēlētāji, kuri gatavojas nākamajai spēlei un veic analīzi par pretinieku. Ja es jau laicīgi pievērsīšu uzmanību un domāšu, kuras komandas tiksies finālā, tad varu pazaudēt koncentrēšanos spēlei, kura man jātiesā. Protams, ka tiesneši savā starpā pārrunā provizoriskos fināla pārus, tā dara arī līdzjutēji, bet pašai finālsērijai liela uzmanība netiek pievērsta.  Man bija grūtāk, jo es šeit visu sezonu netiesāju. Man nācās konsultēties ar kolēģiem, lai uzzinātu, kurš spēlētājs varētu spēlēt provokatīvi, agresīvi, kurš varētu simulēt, bet kurš noteikti visu laiku jāpatur redzes lokā. Kolēģi, kuri šeit tiesāja visu sezonu, man palīdzēja.
Vai grūti pārslēgties no tiesāšanas KHL uz Latvijas čempionātu? KHL tomēr ir cits līmenis, spriedze, atbildība.
KHL ir mazāk brāķu, lielāki ātrumi, bet sports daudz kur ir vienāds. Uzskatu, ka jāmāk pielāgoties jebkuram līmenim.
Ko ir grūtāk tiesāt – KHL vai Latvijas čempionātu? Saka, ka augstākā līmenī tiesneša darbu respektē vairāk nekā zemā. Iespējams, ka arī spēles noteikumus augstākajās līgās pārzina labāk. Uzskatu, ka augstākajā līmenī spēlētājs reti atļausies pret tiesnesi veikt rupjības, taču zemākā līmenī vai amatieru sportā šādu gadījumu ir ļoti bieži.
Ir tāds teiciens: jo zemāks līmenis, jo grūtāk tiesāt. Tā ir taisnība. Augstāka līmeņa spēlēs noraidījumi ir saprotamāki, maz ir tādu noraidījumu, kurus tu nekad neesi redzējis karjerā. Amatieru mačos pēc katras spēles bija jāatver noteikumu grāmatiņa un jāskatās, kurš punkts ir pārkāpts.  Kad sāku tiesāt KHL, amatieros mani jau piefiksēja, bija mierīgāk. Hokejs zemākā līmenī ir nesaprotamāks.
Raksturo, lūdzu, Latvijas virslīgas spēlētājus!
Pret tiesnešiem attieksme ir laba, jo lielākā daļa hokejā iesaistīto viens otru zina un ir pieraduši pie mums, taču citreiz tas ir mīnuss. Tiesnešu un komandu Latvijā nav tik daudz, visu laiku sanāk tiesāt vienas un tās pašas komandas, un gan spēlētājiem, gan tiesnešiem paliek grūtāk. Ja būtu vismaz 12 komandas un čempionāts tiktu izspēlēts vairākos apļos, komandas sanāktu sastapt dažas reizes mēnesī, un tad būtu citādāk. KHL bieži sanāk nemaz netiesāt kāda kluba spēles, savukārt citus klubus atkal biežāk redzēt. Jāpiemin, ka ne vienmēr ir veiksmīgas spēles.
Bieži novērots, ka spēles laikā spēlētāji līnijtiesnesim pamet ripu, lai viņam nav jāslido pāri visam laukumam pēc tās, pārmij kādus vārdus ar tiesnešiem vai kā citādi izrāda pretimnākšanu, taču ne visi tā dara.
Tas ir atkarīgs no katra spēlētāja individuāli, no viņa audzināšanas. Ir hokejisti, kuri ir lielas zvaigznes, bet izturas vienādi pret tiesnešiem. Bet ir tādi, kuri ripu nekad nepados. Kāds uzskries tiesnesim virsū un atvainosies, bet cits atkal teiks: "Ko tu maisies pa kājām." Tādiem es vienmēr atbildu: "Man pazust? Es varu aiziet, tieciet paši galā."
Redzēju video Facebook, kur Tev virs ķiveres bija piestiprināta kamera un Tu pirms pirmā iemetiena saki: "Trīs, divi, viens, aiziet! Pirmo iemetienu uztaisām smuku!" Tā ir tevis paša izvēlēta komunikācija vai arī to lūdz pielietot IIHF?
Tas neattiecas tikai uz iemetieniem. Katram ir jāatrod sava pieeja spēlētājiem. Kāds ir laipnāks, cits – asāks, nav viena pareizā vadlīnija. Galvenais, lai spēles laikā ir komunikācija un tevi klausītu. Galvenie laukumā ir spēlētāji, bet mums atliek novākt netīrās lietas un novadīt spēli.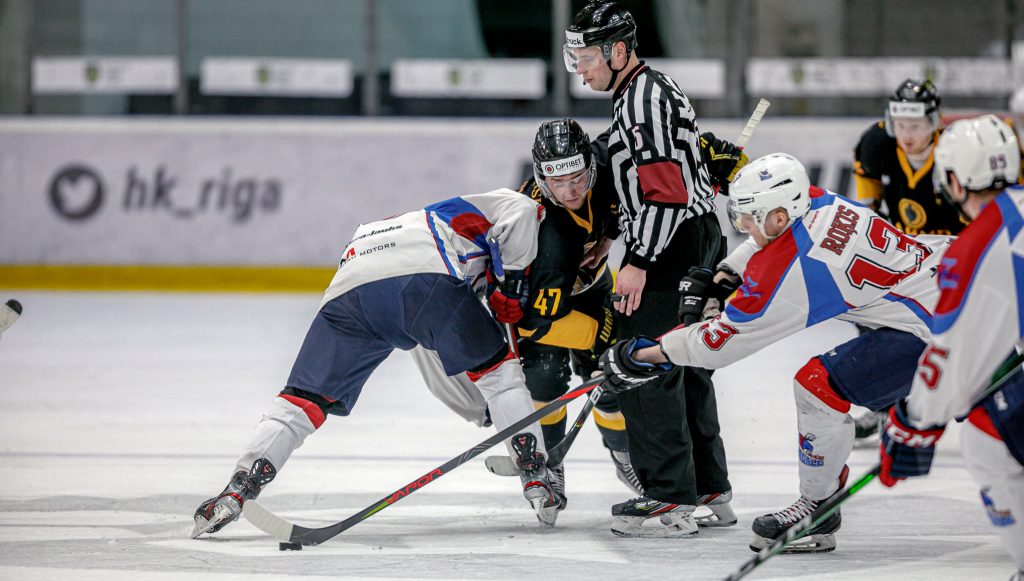 Bet šāda komunikācija nāk tikai par labu pašiem spēlētājiem.
Jā, piekrītu. Ar spēlētājiem ir jārunā. Arī momentos, kad spēle notiek pie borta, ir jārunā un jāsaka, lai turpina spēlēt. Viņi mūs dzird. Tas pats attiecas arī uz bakstīšanu ar nūju mugurā. Par to ir jāaizrāda. Mēs varam klusēt un tikai dot noraidījumus, tas nav nekas slikts, bet kāda būs spēle? Nepieciešams, lai spēle rit raitāk, būtu mazāk svilpju un paužu.
Vēl viena lieta, kas pēdējos gados pamanīta – kad ripa cīņā pie borta ir piespiesta, tiesneši ļauj spēlēt un nekad neaptur spēli. Agrāk, kad ripa šādās divcīņās tika piespiesta, sekoja svilpe. Kas ir mainījies noteikumos?
Kamēr ripa ir redzama un viņi var spēlēt, spēlētājiem jāturpina spēlēt. Ja kāds ar kāju piespiež, tur vai bīda to, svilpe nebūs. Savukārt, ja visi apstāsies un neko šadā situācijā nedarīs, tad vienkārši sekos svilpe un būs iemetiens. Atceros gadījumu nesen Latvijas čempionātā, kur viens no brāļiem Širokoviem uzkāpa uz ripas, taču ripa bija labi redzama. Pat, ja spēlēsi pie borta ripā un ar nūju trāpīsi pa slidu un spēlētājs nokritīs, soda nebūs, jo pretinieks zina, ka ripa ir pie vai zem viņa.
Vai pēdējo sezonu laikā daudz ir mainījušies spēles noteikumi? Kas ir zīmīgākais punkts, kuru vari minēt?
Ik pēc četriem gadiem notiek lielākās pārmaiņas IIHF noteikumos, bet KHL ir savi noteikumi. Bāze sastāv no IIHF noteikumiem, bet ir savi papildinājumi. Piemēram, NHL aiz vārtiem uztaisīja trapeci vārtsargiem, savukārt kautiņos katram iedod pa piecām soda minūtem, bet IIHF spēlēs tā nav. Grūdiens uz apmali – pēc IIHF noteikumiem tās ir 2+10 minūtes, bet KHL atstāja spēkā divu minūšu sodu. Čempionu līgā par šādu noteikumu pārkāpumu deva 2+2. Noteikumu bāze ir viena, bet jebkura līga un turnīra organzatori var veikt savus traktējumus. Ja dalībnieki piekrīt, tad viss ir kārtībā. Pēdējā laikā liela uzmanība pievērsta spēlētāju drosībai. Ļoti daudzi uzbrukumi pēdējā laikā ir galvas un kakla rajonā. No tā ir jātiek vaļā.
Vai joprojām viens no diskutablākajiem momentiem ir spēlētāja darbība vārtsarga laukumā un traucēšana vārtsargam?
Šis spēles aspekts ir mainījies. Ja kādreiz šis moments bija tikai tiesnešu pārziņā, tad tagad talkā nāk video vērošana, kā arī treneri var paņemt "coaching challenge". Latvijā var izmantot gan "coaching challenge", gan tiesneši paši skatīties video. Ja KHL tiesnesis parāda, ka vārti netiks ieskaitīti, jo vārtsargs tika bloķēts, tad treneris var apstrīdēt un palūgt paskatīties video. Arī aizmugures stāvokli var lūgt paskatīties. Hokejs ir kļuvis ātrāks.

Kā ir ar epizodēm, kad kļūda ir atklāta tad, kad jau ir noticis jauns iemetiens un ripa ir ievadīta spēlē? Vai tiesneši drīkst šajā brīdī mainīt savu lēmumu?
Hokejā līdz jaunam iemetienam drīkst mainīt pieņemtos lēmumus, bet pēc tā vairs nē. Līdz nākamajam iemetienam tiesneši var aprunāties savā starpā, pieņemt pareizo lēmumu par jebkādiem jautājumiem. Piemēram, spēlētājs nospēlējis ar augsti paceltu nūju, kā rezultātā pretinieks guvis traumu. Ja galvenais tiesnesis šo epizodi nav pamanījis, līnijtiesneši var izteikt savu viedokli un pēc tam piešķirt attiecīgo sodu. Īpaši tas var būt brīžos, kad spēle norisinās viduszonā, jo galvenie tiesneši ir tālāk no šīm epizodēm.
Pavisam drīz Rīgā sāksies Pasaules čempionāts. Ar kādām sajūtām gaidi šo notikumu? Tev tā būs debija Elitas grupā.
Protams, ka gaidu šo pasākumu. Tas vienmēr bijis man mērķis. Kad sāku tiesāt junioru Pasaules čempionātus, jau tad tiecos uz nākamajiem mērķiem. U-18 Elitē bija pavisam citas sajūtas, tas bija cits līmenis. Tad sekoja U-20 pirmā divīzija un Elites grupa. Biju U-20 čempionātos gan Amerikā, gan Kanādā, kur bija pilnas tribīnes. Kas lēni nāk, tas labi nāk.
Ko pats sagaidi no čempionāta? Varbūt vēlies tiesāt, piemēram, kādu konkrētu izlašu spēli vai kādu no izslēgšanas mačiem?
Kādreiz par to domāju, ka būs iespēja tiesāt labas spēles un labas komandas, bet sapratu – jo vairāk par to domāju, jo vairāk tas man traucē. Katra spēle ir svarīga. Čempionata tienešu kolēģijai ir jāizlemj, kuri tiesās izslēgšanas mačus. Principā visi tieneši, kuri nozīmēti Pasaules čempionātā, tiesā vienlīdz labi un kvalitatīvi. Kāds ir jāatsijā pirms izslēgšanas mačiem. Es varu domāt, ka esmu izdarījis visu ļoti labi, taču beigās es netieku nozīmēts izšķirošajām spēlēm. Turnīra laikā tiek vērtēti vairāki faktori. Tāpat arī atkarīgs, kuras izlases tiks ārā no grupas, jo tiesnesis nedrīkst tiesāt savas valsts spēles. Un jāsaprot, ka hokeja kartē mums tomēr priekšā ir citas, spēcīgākas hokeja federācijas. Jo labāku sniegumu demonstrēs Latvijas izlase, jo labāk būs Latvijas tiesnešiem. Ja Rīgas "Dinamo" nespēlētu KHL, Latvijas tiesneši šajā līgā nebūtu. Ja Latvijas izlase spēlētu, piemēram, pasaules čempionāta trešajā divīzijā, tad diez vai mēs tiesātu Elites turnīru.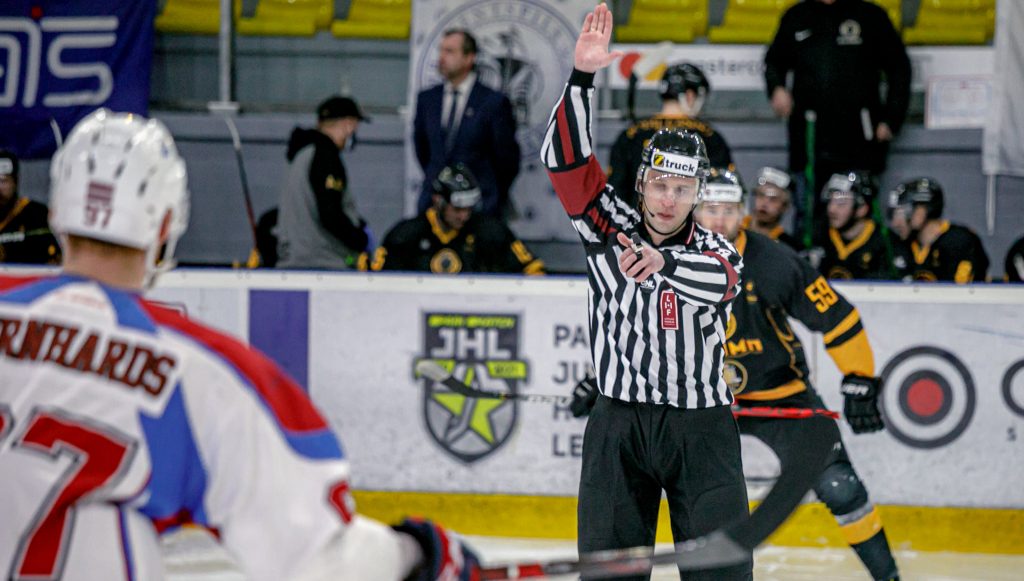 Tiesāšana ir tavs pamatdarbs?
Jā.
Vai ar tiesāšanu Latvijā un KHL ir pietiekami, lai Tev nebūtu jādomā par papildu ienākumiem sev un ģimenes uzturēšanai?
Man ir grēks sūdzēties. Man līgums ar KHL ir pietiekoši labs. Es esmu ar visu apmierināts.
Cik KHL galvenais tiesnesis nopelna par spēli? Ja nemaldos, citos sporta veidos Eiropā tiesnešu atalgojums ir pat publiskots.
Man ir līgums, kurā ir punkts, ka es to nedrīkstu atklāt. Pēdējās divās sezonās katram tiesnesim ir savs līgums ar līgu. Es pat nezinu, cik saņem par spēli mans kolēģis ar kuru tiesāju kopā. Mums ir kontrakts, kurā norādīts minimālo un maksimālo spēļu skaits sezonā. Ja notiesāsi minimālo spēļu skaitu, tad summa būs tāda, ja maksimālo – tad cita.
Vai pareizi būtu visiem galvenajiem tiesnešiem noteikt vienādu atalgojumu par spēli?
Čempionu līgā hokejā ir šāda sistēma. KHL regulārajā sezonā ir atšķirīga samaksa, bet izslēgšanas spēlēs visiem tiesnešiem atalgojums ir vienāds. Ja nekļūdos, uz play-off mačiem tiek nozīmēti 26 galvenie tiesneši, kuri pirmajās trīs kārtās saņem vienādu algu. Ja regulārajā sezonā būtu konkrēta summa par spēli, tad nāktos domāt – cik spēles man iedos, cik es kopā nopelnīšu. Piemēram, Čempionu līgā futbolā kādam tiesnesim iedod vienu spēli, savukārt citam piecas. Līdz ar to es uzskatu, ka KHL šī sistēma ar kontraktu ir godīga, jo tad es zinu, kas man ir jāizdara, lai saņemtu atalgojumu. Līdzīgi kā hokejistiem, kuriem ir līgumi, bet par papildus izpildītiem nosacījumiem, piemēram, gūtiem vārtiem, sakrātiem punktiem vai tikšanu play-off var saņemt bonusu.
Cik mačus KHL tu šosezon notiesāji?
Regulārajā sezonā 34. Sezonas laikā piecas nedēļas netiesāju, jo man bija pozitīvas Covid-19 analīzes. Nedēļu pavadīju arī slimnīcā. Man bija plānota arī 35. spēle, bet es iestrēgu Čeļabinskā, kur bija liels sniegputenis, kā rezultātā aizvēra lidostu. Līga izdomāja citu maršrutu, kā mani nogādāt uz spēli Jekaterinburgā, bet arī šosejas tika slēgtas. Ārā bija lieli mīnusi un pamatīgs vējš. Play-off izcīņā divas spēles notiesāju laukumā, bet vēl divos mačos biju rezervē. Ja nebūtu saslimis, tad spēļu skaits sasniegtu 40.
Vai tavs sapnis ir tiesāt olimpiskās spēles?
Kaut kur jau galvā tas sēž, bet esmu gājis soli pa solim. Tiesāju U-18, tad pieaugušo čempionāta pirmo divīziju, sekoja U-20 Elites grupa, bet vēlāk nokļuvu pasaules čempionāta paplašinātajā sarakstā.  Šogad jau esmu starp tiem, kuri to tiesās Rīgā. Taču es neesmu ieciklējies uz nākotni. Jāsakrīt daudz lietām, lai tiktu tiesāt olimpiskajās spēlēs. Arī KHL es tiku kartīgi strādājot un labi darot savu darbu. Mani pamanīja, novērtēja un uzaicināja. Tā ir katram tiesnesim. Ir jādara un jāizbauda savs darbs.
Vai tiesāšanu var saukt ne tikai par Tavu darbu, bet arī hobiju?
Jā, agrāk tas tā bija, bet tagad tiesāšana kļuvusi profesionāla. Lai arī es gribētu to saukt par hobiju, tas tomēr ir darbs. Kad tiesāju KHL, tad esmu nedēļu prom no mājām, bet uz dažām dienām atlidoju atpakaļ. Tad atkal uz 14 dienām esmu prom un uz desmit dienām atgriežos. Es paralēli nemaz nevaru nekādu citu darbu strādāt. Citi Latvijas tieneši, kuri tiesā mājās, paralēli strādā, bet visi tiesāšanai pieiet ļoti profesionāli. Vakarā, kad ir spēle, viņi paņem brīvdienu darbā. Zinu, ka daudziem vadība nāk pretī.
Tu minēji, ka darbs ir jāizbauda. Tev pašam tiesāšana sagādā kaifu?
Es tiesāšu tik ilgi, kamēr man tas sagādās baudu. Ja tas notiktu tikai dēļ naudas…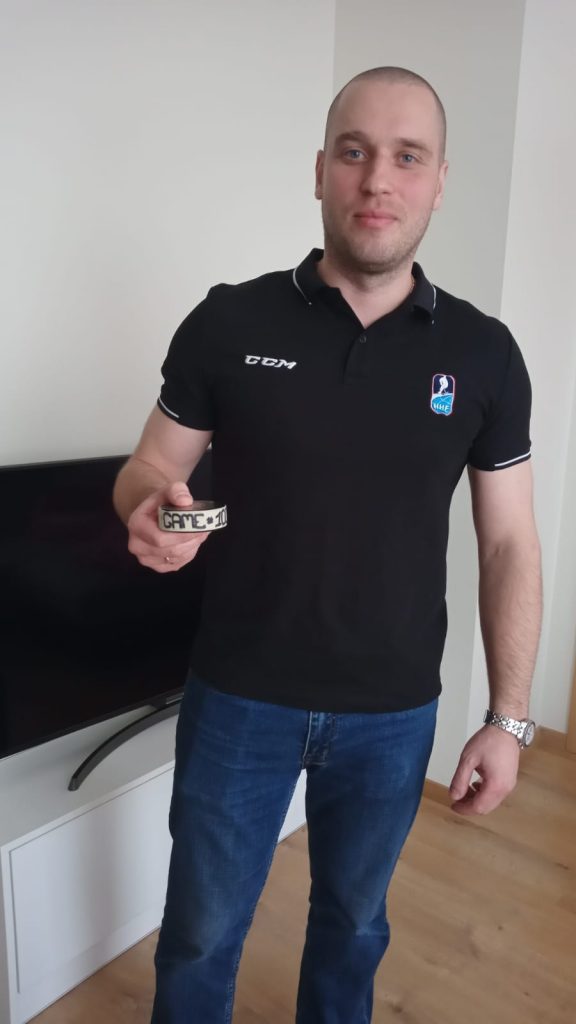 No kā ir lielākais kaifs? No labi notiesātām, saspringtām spēlēm? Varbūt no mačiem, kur tieši pretēji, esi dabūjis kritiku?
Man patīk tādi mači, kuros pieņemti svarīgi lēmumi, un tas ir izdarīts ātri un pamatoti. Ja mans lēmums nav ietekmējis spēli, un tas ir bijis arī pareizs, tad ir labi. Ja kāds pēc mača kaut kur izsakās, ka tiesneši kļūdījās, bet spēles inspektors vai vadība atzīst, ka lēmumi tika pieņemti pareizi, tad šis ir tas kaifs, ko gūstu no spēles. Man patīk saspringtas un asas spēles pie pilnām tribīnēm. Tiesneši parasti vēlas, lai spēlētāji paši tiek galā. Mača sākumā jau redzam, kā spēle noritēs. Ja redzam, ka sākas rupjības, tad mēs "slēdzamies iekšā" un sakam: "Čaļi, ja nevēlaties spēlēt, tad mēs to darīsim." Spēlētājiem jāsaprot, kādu latiņu mēs esam uzlikuši, taču arī pašiem jākontrolē sevi.
Cik spēles šosezon tiesāji Latvijas izlases galvenajam trenerim Bobam Hārtlijam, kurš vada Omskas "Avangard"? Sajūta, ka tiesneši nav viņa labākie draugi. Viņam vienmēr ir ko pateikt tiesnešiem.
Šosezon notiesāju laikam piecas spēles ar Omskas "Avangard" līdzdalību. Tiesāju arī vienu no play-off spēlēm, kur Omska zaudēja Jekaterinburgai. Tas ir Hārtlija stils, bet, ja godīgi, es pat visu nedzirdu, ko man laukumā saka vai bļauj. Ja es klausītos, ko visi mača laikā saka man vai par mani, es sajuktu prātā. Man bieži sieva saka: "Vai tu dzirdēji, kā uz tevi bļāva?" Es saku, ka neko nedzirdēju. Uzlieku klapes uz ausīm un strādāju. Esmu koncentrējies mačam.
Vai ir novērota atsevišķu klubu īpaša laipnība, uzņemot un sagaidot spēles tiesnešus pilsētā? Vai esi jutis šādu slēptu ietekmi? Vai šī virtuve ir tīra?
KHL viss ir rakstīts reglamentā, ko klubs drīkst un nedrīkst izpildīt attiecībā pret tiesnešiem. Mūs pat lidostā nedrīkst sagaidīt kluba pārstāvji, mums jābrauc ar taksi. Agrāk gan sagaidīja kluba pārstāvji. Reglamentā noteikumi paredzēti tā, lai praktiski neviens no klubu pārstāvjiem ar mums nesatiktos. Dzīvojam viesnīcās, kurās nav komandu, kuras konkrētajā dienā spēlēs, paši atbraucam ar taksi un dodamies prom ar to. Mēs esam maksimāli izolēti no spēlētājiem un klubu pārstāvjiem. Neesmu izjutis kaut kādu īpašu attieksmi pret sevi. Arī ģērbtuvē iespējamais ēdienu un dzērienu Menu ir aprakstīts reglamentā. Protams, kāds var atnest vienu picu mums vairāk, bet tas būs tikai pašsaprotami.
Pēc mača alu drīkst iedzert? Hokejisti bieži to dara pēc spēles.
Ja es vēlos, es to varu darīt, bet man tas pašam jānodrošina. No otras puses – vai man to tiešām vajag ģērbtuvē dzert? Varu aiziet uz viesnīcu un tur izdzert, citādāk kāds vēl pateiks, ka viņi aliņus dzer pēc mača. Atgriežos pie jautājuma par hobiju – tiesāšana man ir darbs un no manis prasa profesionālu attieksmi. Tas, ko daru mājās, tā jau ir mana privātā darīšana.