Latvijas hokeja izlase pasaules čempionāta elitē spēlē kopš 1997. gada. Spilgtas uzvaras mijušās ar sāpīgiem zaudējumiem. Lai komanda varētu cīnīties par ceturtdaļfinālu, nepieciešama stabila vārtsarga spēle un pienesums no līderiem laukumā. Laura Dārziņa fenomenālie desmit punkti, Artūra Irbes mačs, par kuru viņš būtu gatavs atdot pusi dzīves, Kārļa Skrastiņa hat-trick un kad Herberts Vasiļjevs rezultatīvāko spēlētāju rangā dalīja vietu ar Jaromīru Jāgru.
Elvis Merzļikins
Latvijas izlase pasaules čempionāta ceturtdaļfinālā ir spēlējusi četras reizes. Pagaidām pēdējā bija 2018. gadā Dānijā, kad sīvā cīņā tika atzīts nākamo čempionu zviedru pārākums (2:3). Galveno lomu spēlēja Elvis Merzļikins, kurš uzvarēja četrās no sešām spēlēm un atvairīja 94,0% metienu. Zaudējumi tika piedzīvoti jau pieminētajā mačā pret zviedriem un pagarinājumā pret amerikāņiem (2:3). Izšķirošajā mačā par tikšanu ceturtdaļfinālā Merzļikins aizvadīja sauso spēli pret mājiniekiem dāņiem. Par turnīra labāko vārtsargu tika atzīts dānis Frederiks Andersens, bet tikpat labi tas varēja būt Elvis.
Sandis Ozoliņš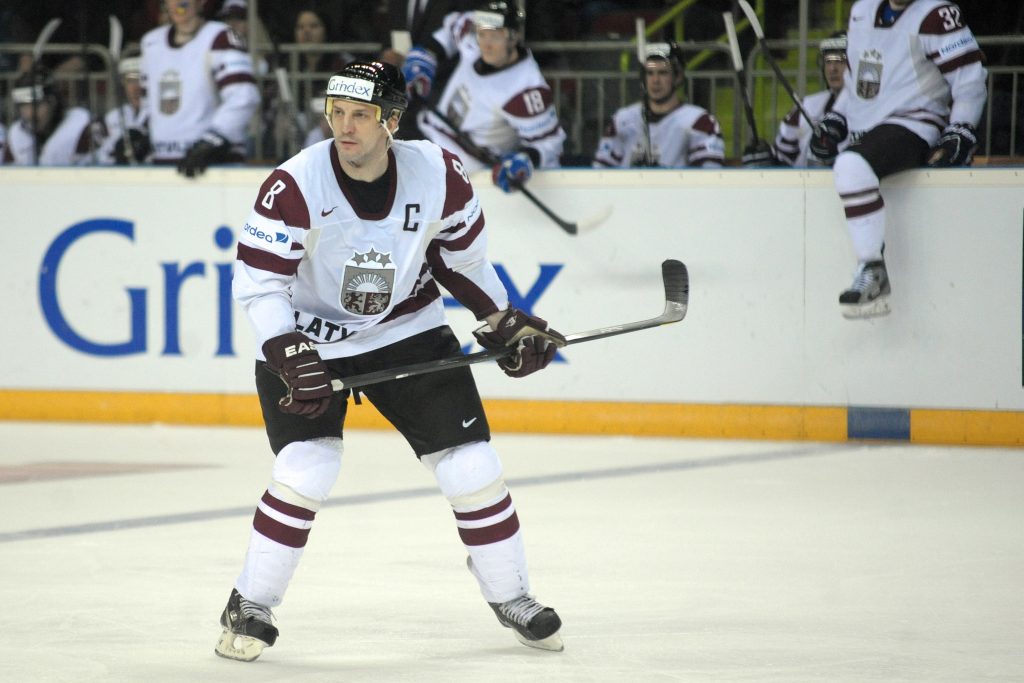 Vienīgais latvietis ar Stenlija kausu Sandis Ozoliņš valstsvienību pārstāvējis tikai trijos pasaules čempionātos, un nevienā no tiem neizdevās uzrāpties augstāk par devīto vietu. Savu individuāli sekmīgāko turnīru zilās līnijas virtuozs aizvadīja 2001. gadā, kad sešos mačos izcēlās ar piecām rezultatīvām piespēlēm. Starp paša rezultativitāti un komandas panākumiem gan nav liekama vienādības zīme, jo apakšgrupas izšķirošajā mačā latvieši zaudēja Ukrainai un nonāca izdzīvošanas grupā.
Sergejs Žoltoks
Valstsvienībai neveiksmīgajā 2001. gada pasaules čempionātā – izdzīvošanas grupā viss izšķīrās pēdējā mačā, kurā ar 3:0 izdevās pārspēt norvēģus – savu lielāko punktu ražu iekrāja arī Sergejs Žoltoks, kurš sešos mačos iemeta piecus vārtus un pievienoja rezultatīvu piespēli. Kopumā viņš pasaules čempionāta ietvaros 30 spēlēs iemetis 15 vārtus. Jāpiezīmē – Latvijas izlase palika 13. vietā, neskatoties uz faktu, ka ierindā bija pat četri NHL spēlētāji (vēl arī Artūrs Irbe un Kārlis Skrastiņš).
Edgars Masaļskis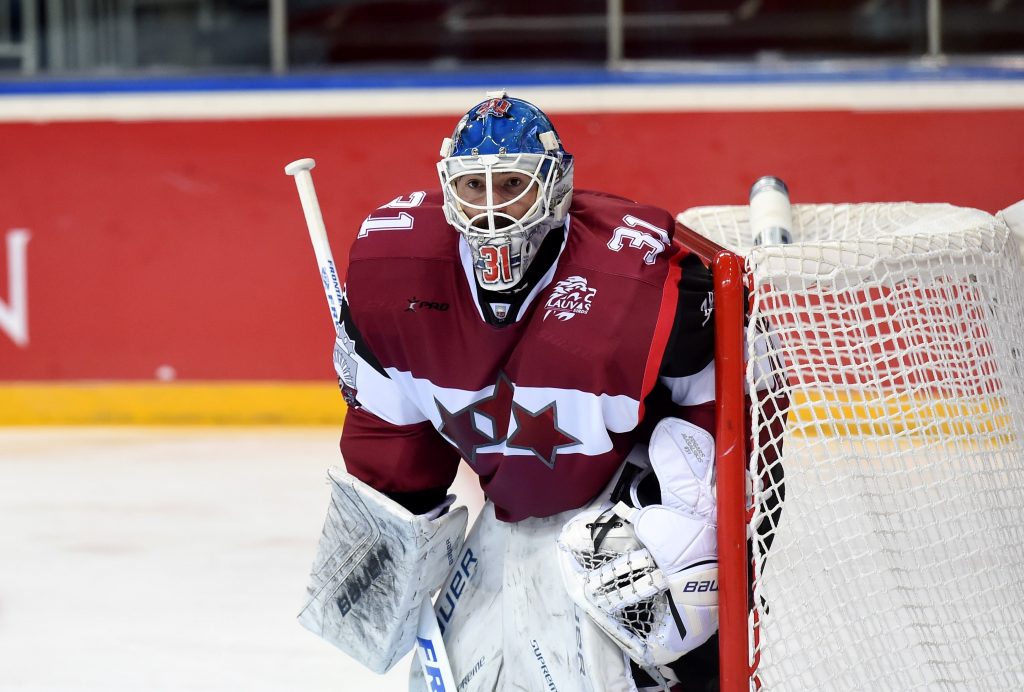 Gadu gaitā pierādījies – lai Latvijas izlase spēlētu ceturtdaļfinālā, vārtsargam jāķer viss un vēl mazliet. 2009. gadā Edgars Masaļskis tika galā ar 92,8% metienu. Zvaigžņu stunda sita bullīšu uzvarā pret zviedriem (atvairīti 38 no 40 metieniem) un bullīšu uzvarā pret mājiniekiem šveiciešiem (38/39 un 3/3 bullīšos), kas nodrošināja ceturtdaļfinālu. Masaļskis valstsvienības godu aizstāvēja 15 pasaules čempionātos.
Lauris Dārziņš + Kaspars Daugaviņš
Masaļskim varētu pieskaitīt arī 2015. gada turnīru, kad viņš glāba pēdējās sekundēs pret Franciju, novēršot Kirova Lipmana atentāta mēģinājumu. Tomēr šis pasaules čempionāts aizritēja divu uzbrucēju zīmē. Latvijas izlase guva 11 vārtus, un Lauris Dārziņš ar rezultativitātes punktu nepiedalījās tikai vienos, bet Kaspars Daugaviņš – divos. Tikt pie punktiem 90,9% no komandas vārtiem (Dārziņš) – diez vai kādam izdosies to atkārtot. Ko vien vērts bija pagarinājumā izspēlētais uzbrukums pret Šveici!
Oļegs Znaroks
Debiju pasaules čempionāta elites divīzijā Latvijas izlase atzīmēja ar 3:3 pret Kanādu, 8:0 pret Vāciju un septīto vietu. Komandas rezultatīvākais spēlētājs ar desmit punktiem bija Oļegs Znaroks – centra uzbrucējs, kurš gadu iepriekš iestūma latviešus elitē. Desmit punkti ir sasniegums, kas ir atkārtots, taču nav pārspēts, savukārt viņa septiņu rezultatīvo piespēļu rekords noturējās vairāk nekā 20 gadus.
Rūdolfs Balcers
Vienīgais Latvijas izlases hokejists, kurš pasaules čempionātā atzīmējies ar astoņām piespēlēm, ir Rūdolfs Balcers, turklāt viņš to paveica nesenākajā turnīrā 2019. gadā. Balcers septiņos mačos kopā savāca deviņus punktus. Bez piespēlēm viņš palika zaudējumos pret Krieviju (1:3) un Zviedriju (4:5). Balcers ir vienīgais Latvijas izlases hokejists, kuram pasaules čempionātos elites divīzijā vidēji spēlē izdevies tikt pie viena punkta – 15 punkti 15 spēlēs.
Herberts Vasiļjevs
2009. gada pasaules čempionātā ceturtdaļfinālu palīdzēja sasniegt gan Masaļska varoņdarbi vārtos, gan Latvijas izlases pirmā maiņa. Pa malām Aleksandrs Ņiživijs un Mārtiņš Cipulis, bet centrā komandas kapteinis Herberts Vasiļjevs, kurš septiņās spēlēs tika pie deviņiem punktiem. Turnīra rezultatīvāko spēlētāju sarakstā viņš dalīja 13. vietu ar NHL uzbrucējiem Mihailu Grabovski un Jaromīru Jāgru.

Kārlis Skrastiņš
Latvijai ir tikai viens aizsargs, kurš pasaules čempionātos guvis vairāk par desmit vārtiem – Kārlis Skrastiņš. Jo īpaši atmiņā palicis 2003. gada turnīrs. Apakšgrupas noslēdzošajā spēlē vajadzēja tikt galā ar baltkrieviem. Skrastiņš parūpējās ne tikai par aizsardzību, bet arī uzbrukumu (4:0). Dzelzs vīrs iemeta hat-trick, turklāt visus trīs vārtus viņš guva astoņu ar pusi minūšu intervālā otrajā periodā. Čempionāta turpinājumā izdevās pieveikt Krieviju (2:1), bet ceturtdaļfinālam ar to nepietika.
Artūrs Irbe
Protams, ka punkts jāpieliek ar Latvijas hokeja Mūri. "Esmu dzīvojis 33 gadus šai Saulē, un visus šos 33 gadus dzīvoju šai dienai, šai spēlei! Es būtu gatavs atdot vienkārši pusdzīvi vienam šādam hokeja mačam!" Lai gan nākamais pasaules čempionāts Irbem no statistikas viedokļa bija labāks, tomēr emocionālais fons pēc mājinieces Krievijas apspēlēšanas Sanktpēterburgā liek dot priekšroku 2000. gadam.
Ar ko Latvijas izlase spēlēs vienā grupā pasaules čempionātā hokejā?