Svētdienas pēcpusdienā startējis otrais šī gada "Grand Slam" raudzes turnīrs tenisā "French Open" (jeb citādi saukts arī par "Roland Garros"). Kā jau pēdējos gados ierasts, aktuāls ir jautājums – vai Rafaels Nadals atkal triumfēs un kādi pārsteigumi gaidāmi dāmu turnīrā?
"French Open" atgriezies tam ierastajā norises laikā, jo pērn, "pateicoties" pandēmijai, tas notika oktobrī un visai bieži ne pārāk patīkamos laika apstākļos. Netrūka arī skandālu – sākot jau ar tenisistu neapmierinātību ar veiktajiem Covid-19 testiem un bumbiņu kvalitāti, beidzot ar iespējamu spēļu sarunāšanas lietu un slikto tiesāšanu un citām sūdzībām par turnīra organizāciju un tā noteikumiem. Šogad pirmās pazīmes liecina, ka viss būs mierīgāk. Kā saka, gan spēlētāji, gan organizatori ir izdarījuši secinājumus, bet nevar izslēgt, ka pa kādai dīvainībai varētu notikt arī šoreiz.
Skandāliem apvītais "French Open" – sliktas bumbiņas, maldinoši Covid-19 testi un sarunāta spēle(?)
Tāpat sacensības norisināsies ar skatītāju klātbūtni, taču ne pilnā apjomā, cik tos var uzņemt "Roland Garros" korti. Paredzams, ka no 30.maija līdz 8. jūnijam stadionos uz vienu spēli maksimums tiks ielaisti pieci tūkstoši skatītāju, bet mači, kas norisināsies vakarā (sākot ar 21:00) tiks aizvadīti pie tukšām tribīnēm. Tādi ir šobrīd Francijā noteikti pulcēšanās ierobežojumi. Un, protams – ieeja arēnās ar apliecinājumu par negatīvu testu vai, ka cilvēks ir vakcinēts.
Turpinot par sportisko pusi, Nadals ir absolūts "French Open" rekordists – viņa kontā ir 13 tituli, ne reizi nezaudējot fināla mačā. Šogad viņš Parīzē ierodas kā pēdējo četru gadu uzvarētājs un pēc daudzu ekspertu domām, tostarp arī "Betsafe" bukmeikeru, arī kā galvenais favorīts, lai pagarinātu aktuālo sēriju līdz pieciem secīgiem tituliem un 14 kopskaitā. Tāpat viņam ir iespēja kļūt par "Grand Slam" tituliem bagātāko tenisistu, izcīnot 21. šādas raudzes trofeju. Šobrīd gan viņam, gan Rodžeram Federeram ir pa 20 augstākās līmeņa tituliem.
Kā nākamais aiz spāņa ir serbs Novāks Džokovičs, kurš finālā spēlējis piecas reizes, uzvarot tikai vienu, un grieķis Stefans Cicipass. Zīmīgi, ka ekspertu skatījumā favorītu pulkam tiek pieskaitīts arī šobrīd sliktā formā esošais austrietis Dominiks Tjēms, bet, iespējams, uz vienu no nozīmīgākiem sezonas turnīriem viņš būs sagatavojies.
Runājot par izlozes zaru, tad tā sauktais "Lielais trijnieks" – Rodžers Federers, Novāks Džokovičs un Rafaels Nadals – pirmo reizi "Grand Slam" vēsturē visi ir vienā zarā, proti, finālā var iekļūt tikai viens. Tiesa, Federers atzinis, ka šobrīd ir diezgan tālu no optimālās formas un Nadala un Džokoviča līmeņa. 39 gadus vecais šveicietis šomēnes aizvadījis tikai vienu maču, kurā atzinis planētas 68. raketes Pablo Anduhara pārākumu. Jāpiezīmē gan, ka vismaz pirmās kārtas izloze pirmšķietami Federeram izskatās veiksmīga, jo pretī stāsies ranga trešā simta pārstāvis, uzbeks Denis Istomins.
Konkurence vīriešu tenisā pēdējā desmitgadē, it īpaši "Grand Slam" turnīros, bijusi maza. Runa nav par konkurētspējīgiem tenisistiem, bet gan to, ka "Lielais trio" + pāris izņēmuma gadījumu, nosmeļ visu krējumu. Statistika ir nepielūdzama – pēdējos 11 gados bez nosauktā trio vēl to kādu no "Grand Slam" uzvarējis Stans Vavrinka (2x), Endijs Murejs (3x), Marians Ciličs (1x) un Dominiks Tīms (1x), bet ja rokamies vēl dziļāk pagātnē sākot no 2004. līdz 2009. gadam, tad no 24 iespējamiem "Grand Slam" tituliem 14 izcīnīja Federers, sešus Nadals, vienu Džokovičs un tikai pie trīs kausiem tika kāds cits. Lūk, cik ilgi vērojama "Lielā trijnieka" dominance!

Turpinot par aktuālo turnīru, Nadals ar Džokoviču var tikties pusfinālā, bet otrajā zarā potenciālais fināls varētu būt Dmitrijs Medvedevs pret Stefanu Cicipasu. "Next Gen" (jaunās paaudzes) tenisisti pēdējos gados laiku pa laikam izcīna pa kādam svarīgam titulam, kas nebija vēl iedomājams piecus, 10, un pat 15 gadus atpakaļ. Vai šogad kas mainīsies? Ne par velti Nadals tiek saukts par "māla karali" un allaž spējis to apliecināt kortos.
Interesants fakts – ja kā pirmā rakete izsēts ir Nadals, tad kā otrais ir Medvedevs, kurš "French Open" pamatturnīrā nav izcīnījis nevienu uzvaru, bilancei esot 0-4. Bet krievu tenisists ir pazīstams ar to, ka māls nav viņa iecienītākais segums.
Runājot par vienīgo Latvijas pārstāvi vīriešu vienspēļu turnīrā, tad pasaules 188. raketei Ernestam Gulbim sacensības noslēdzās kvalifikācijas pirmajā kārtā, kur divos setos viņš piekāpās kolumbietim Galanam Rivjerosam (#106), kurš pēdējā mēneša laikā bija uzņēmis labu tempu un piedzīvojis vien divus zaudējumus.
Tikmēr sieviešu turnīrā par trīs galvenajām favorītēm tiek uzskatītas 2019. gada čempione, Austrālijas pārstāve Ešlija Bārtija, pērnā gada negaidītā uzvarētāja poliete Igi Švjonteka un baltkrieviete Arina Sabaļenka, bet šai kompānijai noteikti var pievienot arī aktuālo "Australian Open" titula turētāju japānieti Naomi Osaku.
Ja vīriešu konkurencē Nadalam ir iespēja apsteigt Federeru "Grand Slam" titulu skaitā, tad leģendārajai amerikānietei Serēnai Viljamsai ir iespēja atkārtot Margaretas Kortas rekordu, kas ir 24 trofejas. Tiesa, 39 gadus vecā tenisiste pie pirmo rindu favorītēm pieskaitīta netiek.
Anastasija Sevastova (#47) pirmo cīņu aizvadīs pret amerikānieti Dženiferu Breidiju (#14) un ekspertu vērtējumā abām tenisistēm ir līdzvērtīgas iespējas uzvarēt. Ieskaitot spēles Latvijas izlases sastāvā "Billie Jean Cup" turnīrā, Sevastovai kopš aprīļa 12 mačos ir izcīnītas deviņas uzvaras, kas ir labs rādītājs. Tikmēr Breidija šosezon iekļuva "Australian Open" finālā, kur piekāpās Osakai, kam sekoja vēl trīs zaudējumi, taču pēdējā mēneša laikā viņa nedaudz atguvusies, taču arī, šķiet, šobrīd nav savā labākajā formā. Tas jāizmanto.
Kāds ir balvu fonds un cik reitinga punktus ir iespējams nopelnīt?
Salīdzinājumā ar pagājušo gadu, balvu fonda kopējais apjoms ir krities par 10,53% un sastāda nepilnus 34,4 miljonus eiro. Prēmiju samazinājums par sasniegtajiem rezultātiem gan sāksies no trešās kārtas, līdz tam visam paliekot pērnā gada līmenī. Gan vīriešu, gan sieviešu turnīra uzvarētāji šoreiz saņems par 12,5% nekā pērn jeb 1,4 miljonus eiro.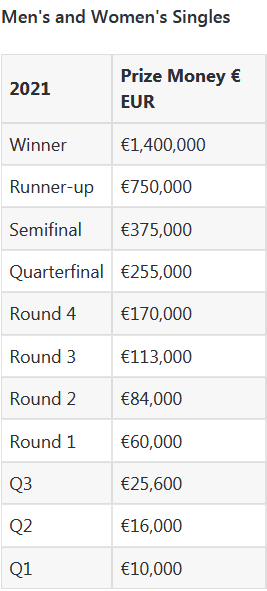 Tikmēr reitinga punktu sadalījumā viss kā ierasts.