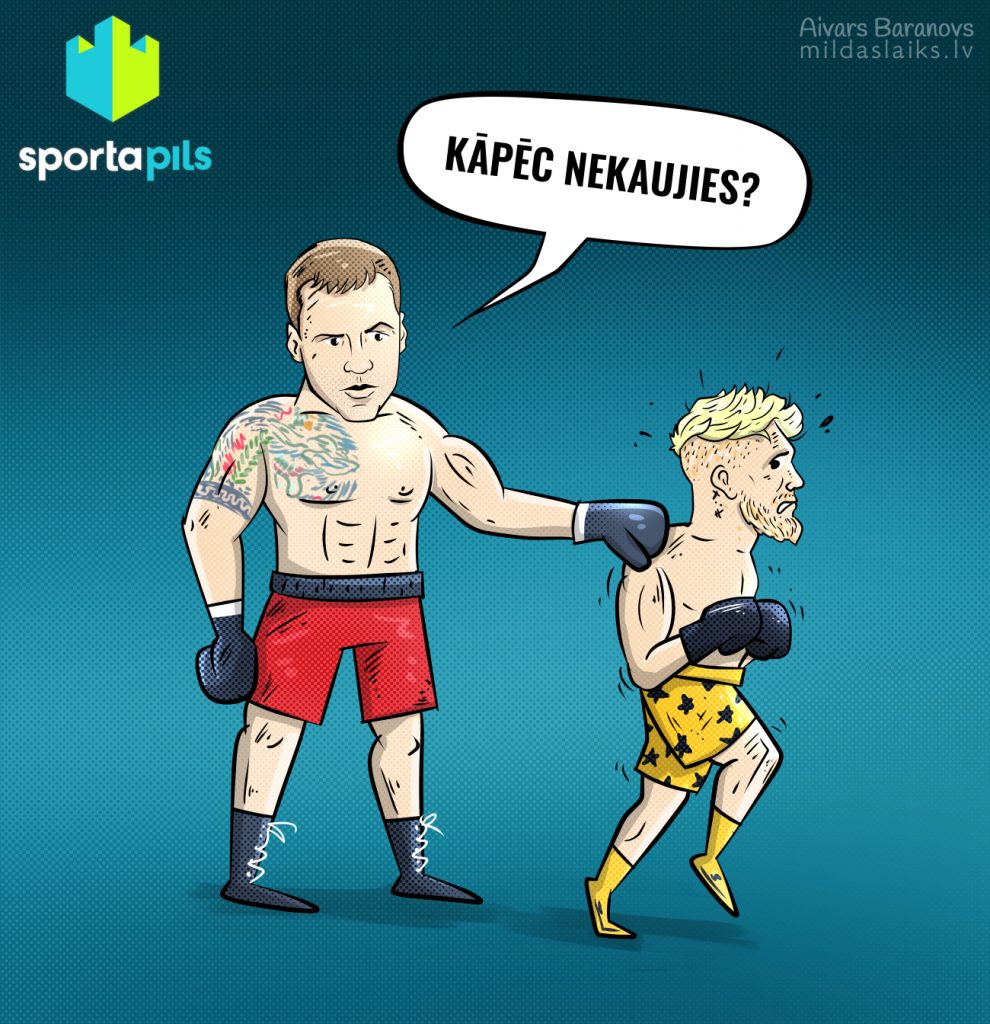 Latvijas boksa zvaigzne Mairis Briedis jau divus gadus ir pasaules ranga pirmais numurs krūzeru svara divīzijā, kas vēl nesen bija neiedomājams sasniegums Latvijas sportā. Šis statuss teorētiski nozīmē ļoti daudz, taču praksē ir tā, ka Briedis kopš 2019. gada jūnija aizvadījis tikai vienu cīņu. Par nākamo cīņu sarunas it kā notikušas, taču šobrīd nekas izziņots nav. Iespējams, neapmierinātībā ar notiekošo, Briedis ķēries pie jaunas taktikas un no boksera, kurš definējams ar profesionālo "runāju ringā, nevis ārpus tā", kļuvis par bokseri, kurš tīri labprāt runā īsos video rullīšos, kas izvietoti internetā.
Galīgi nav tā, ka Briedis sociālos tīklus "TikTok" un "Instagram" atklāja vakar, viņš tajos oriģinālu (sauksim to tā) saturu regulāri izvietoja jau ilgāku laiku. Arī pēc uzvaras pār Glovacki Briedis sociālajos tīklos izvietoja video, kurā piedalās tobrīd populārajā akcijā, oriģinālā veidā noņemot pudeles korķi. Briedis to paveica ar elkoni, spilgti atgādinot, kādā veidā nosūtīja nokdaunā Glovacki. Tādēļ drīzāk būtu nevis jābrīnās, ka Briedis tagad sācis bērnišķīgi kacināt citus bokserus, kurus vispār nekad nav saticis, bet gan, kā viņš tik ilgi bija pamanījies uzturēt sev "runāju ringā, nevis ārpus tā" boksera reputāciju.
Tiem laimīgajiem, kas neizmanto "TikTok", jāpaskaidro, par ko vispār stāsts. Īsā hronoloģija būtu tāda, ka aprīlī Briedis publicēja uzsaukumu Džeikam Polam, ASV interneta personībai, kas izmēģina spēkus boksā. Video, ko varēja uztvert kā parodiju par Pola stilu, Briedis atrādīja savas čempiona jostas, sakot, ka Pols par naudu tādas nevar nopirkt, kas, protams, ir tiesa. Pagāja pāris nedēļas, un nekādu interpretāciju par izsmalcinātu parodiju vairs nevarēja būt – Polam izaicinājumu meta arī Brieža promouters Kalle Zauerlands, kamēr Briedis savos sociālajos tīklos izvietoja vēl trīs Polam adresētus video, kuros Pols tika nosaukts par "mazo puiku" un aicināts nebaidīties, kā arī ar Donalda Trampa līmeņa cienīgu montāžu (gan necieņas, gan līmeņa ziņā) atrādīts, kā Briedis pielieto elektrošoka ieroci pret Polu.
Principā viss šeit ir vienkārši – vienā brīdī Pola komanda esot painteresējusies, kas ar to Briedi īsti ir, un Briedis nolēmis neatstāt iespēju bez uzmanības, cenšoties pievērst sev vēl lielāku Pola uzmanību. Sak, ja reiz ir minimāla iespēja, ka šāda cīņa varētu tikt sarīkota, tad izdarām visu no savas puses par tās piepildīšanos. Ja nesanāks, nekas jau nebūs zaudēts, var argumentēt. Protams, izņemot savu reputāciju un atrādīto vērtību skalu.
Jo viena lieta šeit ir jādara pavisam skaidra – IBF un "The Ring" pasaules čempionam Briedim cīņa pret Džeiku Polu būtu bez mazākās sportiskās vērtības. Ja Briedis neuzvarētu pirmajā raundā, tā viņam būtu izgāšanās. Džeiks Pols ir aizvadījis trīs profesionālās boksa cīņas, taču būtībā ir amatieris. Viņa pretiniekos bija bijušais NBA basketbolists Neits Robinsons un bijušais MMA cīkstonis Bens Askrens. Tādu normālu boksa cīņu Pols nemaz nav aizvadījis, un "BoxRec" pasaules rangā šajā svarā viņš izlikts 652. vietā.

Ja nav sportiskās vērtības, kāda tad šeit ir vērtība? Protams, finansiālā. Džeiks Pols un viņa brālis Logans izrādījušies daudz labāki par daudziem "īstajiem" bokseriem naudas pelnīšanas ziņā, un šeit var argumentēt, ka profesionālā boksa jēga jau ir tieši tāda, proti, pelnīt naudu. Un arī Briedim šeit viss loģiski – gandrīz visi mēs strādājam, lai pelnītu, un viņa vēlme nopelnīt vairāk ir labi saprotama. Protams, kamēr vien publiski netiek runāts pretējais…
Pola honorārs par cīņu pret Askrenu bija 690 tūkstoši dolāru, kamēr Askrens par iesaistīšanos šajā avantūrā saņēma pusmiljonu. Tie turklāt ir tikai oficiālie honorāri, bet vēl jau klāt nāca arī procenti no tiešraižu pārdošanas. Tika vēstīts, ka Pols-Askrens pamanījušies pārdot 1.5 miljonus "pay-per-view" tiešraižu, kas sniegtu kopējos ienākumus 75 miljonu dolāru apmērā. Protams, šie skaitļi līdz galam uzticami nav, taču aptuveno līmeni saprast var. Pols tagad arī ticis pie individuālā TV līguma ar "Showtime", lietas, par ko daudzi bokseri, ieskaitot Briedi, var tikai sapņot. Attiecīgi arī viņa nākamajam pretiniekam noteikti tiks kārtīga summa makā par to, ka piekrīt pāris mēnešus piedalīties šādā publiskā cirkā.
Cīņu Briedis-Pols teorētiski varētu pasniegt, kā Brieža iestāšanos par īstajām boksa vērtībām, sak, ierādīšu tam izlecējam vietu reizi par visām reizēm. Bet šeit ir tik daudzi "bet". Kādas vēl īstās vērtības, ja Briedis ar saviem video izrādās principā tieši tā, kā brāļi Poli? Ar kādu argumentu Brieža promouteri varētu pārliecināt Polu, ka viņam no šādas cīņas ir jēga? Briedis ir krūzeru čempions, taču pasaules boksā joprojām lielu lomu nespēlē (nemaz nerunājot par viņa (ne)atpazīstamību ASV tirgū. Briedis nāktu ar Latvijas tirgu divu miljonu iedzīvotāju apmērā, kas ir septiņas reizes mazāk nekā Polam sekotāju skaits "TikTok" platformā vien. Brieža promouteri teorētiski varētu piedāvāt Polam cīņu, sakot, ka Mairis ar nokautu piebremzēs un uz 100% necīnīsies. Polam būtu vērtīgi nostiprināt savu reputāciju kā leģitīmam bokserim, taču tomēr cerēsim, ka šādi piedāvājumi Brieža komandā nevienam nav pat prātā.
Cīņa Briedis-Pols ir ļoti, ļoti mazticama, attiecīgi visa izrādīšanās un paņirgāšanās sociālajos tīklos tā arī paliks izrādīšanās un paņirgāšanās. Kamēr jūnija sākumā Logans Pols aizvadīs cīņu pret boksa leģendu Floidu Meivezeru, bet Džeiks meklēs citu slavenību, ko pierunāt kāpt ringā, viņiem pašiem nav nekādas vajadzības atbildēt uz daudz spēcīgākā Brieža izaicinājumu.
P.S. Par sociālo tīklu satura menedžēšanas prasmēm runājot, patriotiskā citāta "latvieši ir stipra tauta" autors nesen savā oficiālajā "Facebook" lapā pārpublicēja Baltkrievijas diktatora Aleksandra Lukašenko uzrunu, kritizējot Latvijas politiķu rīcību. Gribētos teikt, ka iestāšanās pret vardarbīgu totalitāro režīmu arī ir tieši tas mūsu spēks, ko vajadzētu slavēt un turēt godā, bet nu ne jau es gribu sarunāt sev pretiniekos piecreiz vājāku bokseri.