Latvijas vīriešu hokeja izlase Rīgā aizvadīja ceturto pasaules čempionātu (PČ) kanādieša speciālista Boba Hārtlija vadībā. Pēc lieliska turnīra sākuma, kad pirmo reizi PČ ietvaros uzvarēta Kanādas izlase, turpinājums nesekoja tik veiksmīgs, jo mačos ar tiešajiem konkurentiem piedzīvoti zaudējumi, kas rezultātā deva 11. vietu un sapnis, lasi – cīņa par medaļām – izpalika. Tas raisa jautājumus – vai Latvija hokeja attīstībā stāv uz vietas?
Par sākuma atskaites punktu ņemsim 1997. gada čempionātu līdz šodienai – 25 gadi elitē. Salīdzināsim sportiskos rezultātus, kā arī spēlētāju migrāciju vadošajās līgās un vietējo čempionātu līmeni (te gan daudz ko nebūs piebilst…) ar tādām valstsvienībām kā Šveice, Vācija, Dānija, Norvēģija, Austrija (vecie pretinieki!) un Baltkrievija, kas tiek uzskatītas vai vismaz agrāk tika par mūsu līmeņa komandām un ar kurām Latvijai ierasti ir bijis jākrusto šķēpus izšķirošos mačos.
Latvijas rezultātu līkne
Kopš Latvija izcīnīja tiesības spēlēt augstākajā divīzijā pagājuši 25 gadi, labāko rezultātu 7. vietu sasniedzot debijā un atkārtot to ir izdevies divas reizes – 2004. gadā Čehijā un 2009. gadā Šveicē. Kopumā 25 gadu laikā ceturtdaļfinālā jeb labāko astotniekā iekļūts piecas reizes, bet vismaz labāko desmitnieks sasniegts 12 reizes. Tātad gandrīz pusē no čempionātiem esam cīnījušies mūsu resursiem un iespējām atbilstoši, ja desmitnieks tiek uzskatīts par kaut kādu mērauklu.
Zīmīgi, ka labu rezultātu stabilitāte labāka bijusi pirmajos 10 gados kopš iekļuvām elitē, jo tajā laikā vien trīs reizes Latvija bija ārpus labāko desmitnieka, savukārt ceturtdaļfināls sasniegts kopā trīs reizes. Pēc čempionāta Rīgā 2006. gadā līkne ievērojami gāja uz leju, jo nākamajos 10 gados pasaules desmit labāko hokeja izlašu pulkā izdevās iekļūt vien divreiz (ar vienu ceturtdaļfināla apmeklējumu), savukārt Boba Hārtlija ērā pirmajos trīs piegājienos allaž sasniegta vismaz 10. vieta (ar vienu ¼ finālu), kas tajā brīdī šķita, ka norāda uz progresu, savukārt aizvadītais PČ par to raisījis jautājumus – vai tiešām?

Tāpat ievērības cienīgs fakts ir tas, ka Latvijas izlase kopš 2002. gada piedalījās četrās olimpiskajās spēlēs pēc kārtas, bet uz pēdējām tikt patraucēja konflikts starp tā brīža izlases galveno treneri Leonīdu Beresņevu un Latvijas Hokeja federācijas bosu Kirovu Lipmanu. It kā nekas jauns, bet strīds izcēlās nedēļu pirms OS kvalifikācijas turnīra sākuma… Un arī tad daudz netrūka, sīvā mača Rīgā piekāpjoties vāciešiem.
Un runājot par startiem olimpiādēs, Latvijas augstākais sasniegums ir 8. vieta Sočos, kur izšķirošajā mačā uzveikta tieši Šveice, bet līdz varoņdarbam pret Kanādu pietrūka pavisam maz – 1:2.
Ja runājam par latviešu varējumu Nacionālajā hokeja līgā, tad kopumā pēc neatkarības atjaunošanas kāda šīs līgas kluba kreklu vismaz uz vienu maču uzvilkuši 25 spēlētāji (iepriekš vienu sezonu tāda iespēja bija Helmutam Balderim), pīķi sasniedzot 1990. – 2000. gadu mijā, kad trīs sezonas pēc kārtas Latvijai bija septiņi NHL spēlētāji. Varam lepoties arī ar Stenlija kausa ieguvēju Sanda Ozoliņa personā, kā arī vairāki citi ir spējuši iekļūt vismaz finālā.
Kā veicies citiem un bilance savstarpējos mačos
Materiāla turpinājumā apskatīsim rezultātu līkni iepriekš piesauktajām izlasēm, kā arī savstarpējo spēļu ar Latviju rezultātu vēsturi.
Vācija
Sāksim ar teritoriāli un pēc iedzīvotāja skaita (83 miljoni!) lielāko valsti. 90. gadu sākumā tā bija regulāra PČ dalībniece, kad turnīrā vēl piedalījās 12 komandas, līdz 1998. gadam, kad izkrita uz divīziju zemāk, bet atgriešanās elitē notika vien 2001. gadā mājās rīkotajā čempionātā. Tajā brīdī Vācijai bija labs četru gadu nogrieznis, jo trīs reizes sasniegts ceturtdaļfināls un vienu reizi komanda palika soli no tā (9. vieta). 2005. gada PČ atkal nesa nepatīkamu pārsteigumu, no augstākās divīzijas izkrītot, bet nākamajā gadā atkal atgūtas tiesības spēlēt elitē un kopš tā laika tas nav mainījies. Kopumā pēdējos 15 čempionātos vairāk nekā pusē gadījumu (astoņi) vācieši spēlējuši mačos par medaļām, ja par tādiem uzskatām arī "play-off" mačus, bet ārpus labāko desmitnieka viņi finišējuši vien četras reizes. Viena no tām bija 2009. gadā, kad Vācija ieņēma priekšpēdējo vietu, bet nākamā gada turnīru rīkoja pati, līdz ar to vieta tika piešķirta automātiski un tur vācieši ieņēma ceturto vietu un valstī visi ātri piedeva iepriekšējā gada čē-pē.
Šī gada čempionātā Vācija diemžēl nostiprināja Latvijas hokeja izlases "kapraču" statusu, jo izšķirošajā cīņā par iekļūšanu ceturtdaļfinālā tikām uzveikti ar 1:2. Panākumu iedvesmoti, vācieši tajā dramatiski izglābās pamatlaikā pret Šveici, kuru "nolauza" "bullīšu" sērijā, tādējādi otro reizi iekļūstot labāko četriniekā. Tiesa, arī šoreiz medaļas izcīnīt neizdevās.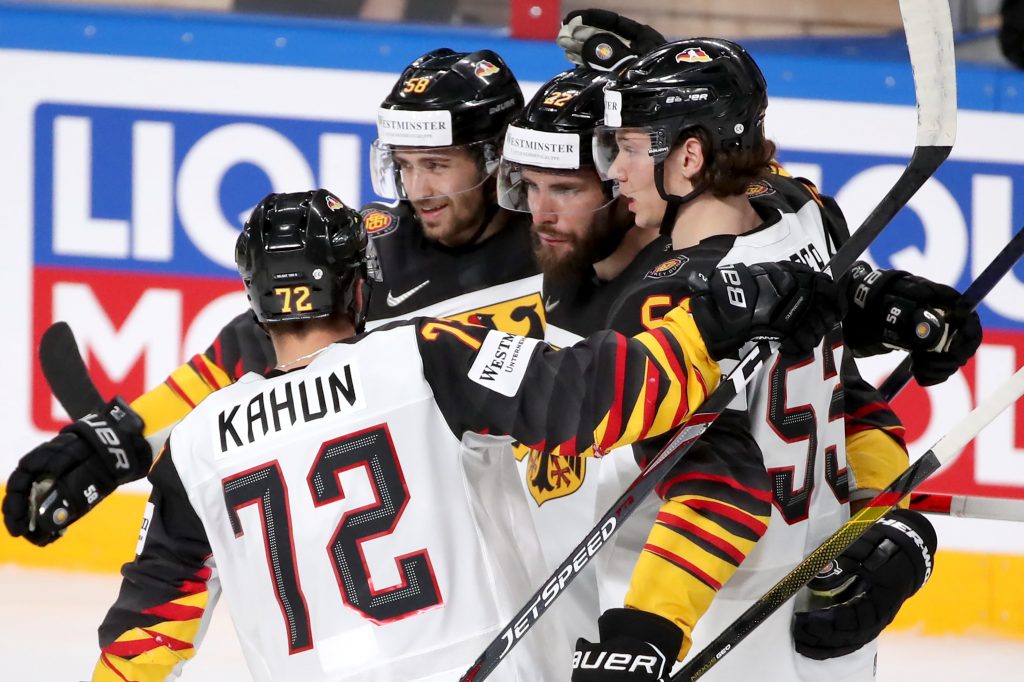 Noteikti būtu jāizceļ Vācijas kontingents pasaules spēcīgākajā līga – NHL. Pēdējo 10 gadu laikā pēc skaita tie bijuši no sešiem līdz 10 spēlētājiem, un arī iepriekš tendence bijusi līdzīga. Protams, no otras puses valstī ar 83 miljoniem iedzīvotāju noteikti vajadzētu "ražot" vairāk talantu, bet tas izlīdzinās uz vietējā čempionāta līmeņa, kas tiek uzskatīts par vienu no vadošajiem Eiropā un arī Vācijas zemākās līgas vēl pirms 20, 30 gadiem bija iecienīta pieturvieta tā brīža izlases līderiem.
Kopsavilkums ir sekojošs – pēdējo 25 čempionātu ietvaros Vācija 10 reizes spējusi iekļūt astotniekā, bet desmitniekā – 14. Zīmīgi, ka mūsdienu laiku (pēc Aukstā kara laikmeta) veiksmīgākais nogrieznis Vācijai bija pēc izkrišanas no elites divīzijas 2005. gadā, kad par galveno treneri tika iecelts vietējais speciālists Uve Krups, kurš pirmajā darba sezonā atgrieza komandu labāko sabiedrībā, bet nākamo piecu gadu laikā trīs reizes sasniedza ceturtdaļfinālu, tostarp pieminēto 4. vietu mājas čempionātā. Arī turpinājums bijis krietni veiksmīgāks nekā Latvijai, jo astoņos gados pusē gadījumu iekļūts ceturtdaļfinālā un izcīnīta arī Olimpiskā sudraba medaļa Phjončanā. Tiesa, šajā turnīrā nevarēja piedalīties NHL spēlētāji, taču ieraksts vēstures grāmatās paliek!
Savstarpējie rezultāti oficiālos mačos: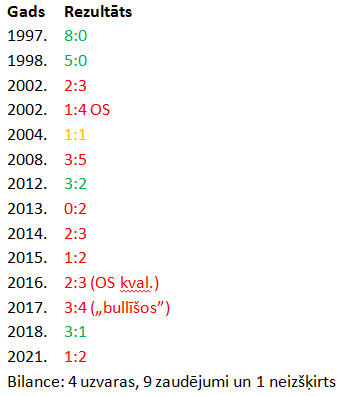 Šveice
Zīmīgi, ka 1996. gada B divīzijas čempionātā izšķirošajā mačā par iekļūšanu elitē, Latvija uzveica tieši šveiciešus, kuri, paplašinoties dalībnieku skaitam uz 16, sākot ar nākamo gadu, kur ieņēma 4. vietu, turpmākajos 14 čempionātos allaž iekļuva labāko desmitniekā, tostarp deviņos gadījumos iekļūstot ceturtdaļfinālā. Šī sērija pārtrūka 2012. gadā, bet kas zīmīgi – uzreiz pēc tam Šveice kļuva par vicečempioni!
Tam sekoja četri PČ ar diviem ceturtdaļfināliem un atkal sudrabs, pēc kura pēdējos čempionātos ieņemta vismaz astotā vieta (šogad sestā). Nav slikti. Runājot par olimpiādēm, tad iepriekš jau minēts, ka 2014. gadā pēc veiksmīga grupu turnīra šveicieši pirmajā kārtā pretī dabūja latviešus un bija spiesti atzīt pārākumu un izsapņot OS medaļu sapni, taču arī tur viņi mums ir priekšā – jo ir piedalījušies visās kopš 2002. gada Soltleiksitijas, augstāko 6. vietu sasniedzot 2006. (Turīnā).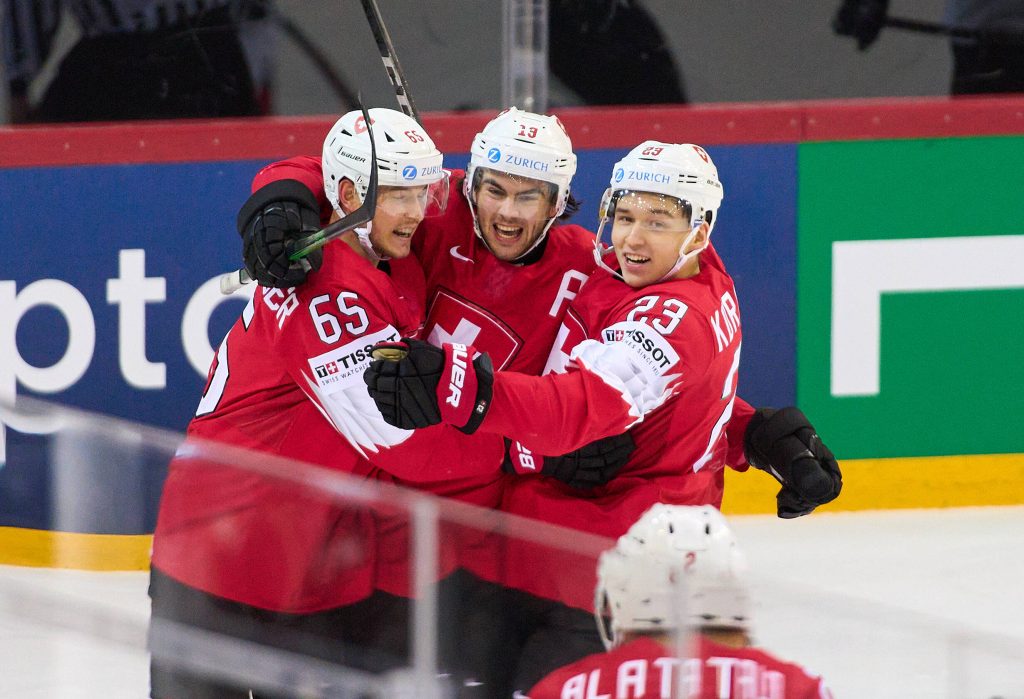 Interesanti, ka šveicieši ar regulāru pārstāvniecību NHL var lepoties jau kopš 90. gadu sākuma. Skaitliski tas gan svārstījās un sākotnēji vairākas sezonas kā viens uz vientuļas salas tur atstāts naudu pelnīja Hnats Dominekelli, bet sākot ar 21. gadsimtu, skaits ar spēlētājiem, kuri vismaz vienu maču aizvada NHL, lēkājis no dažiem līdz septiņiem, astoņiem, kamēr pēdējo nepilnu 10 gadu laikā Šveicei allaž bijusi 10+ vīru pasaules spēcīgākajā līgā. Un, protams, Šveices čempionāts un hokeja sistēma, kurā izauguši arī vairāki latvieši un pat līdz NHL līmenim kā savulaik Ronalds Ķēniņš un Elvis Merzļikins, neskaitot vēl vairākus jauniešus vai profesionāļus, kas šobrīd attīstīta savus talantus kādā no Šveices hokeja skolām vai profesionālajiem klubiem.
Kopsavilkums ir sekojošs – pēdējo 25 čempionātu ietvaros Šveice 15 reizes iekļuvusi labāko astotniekā, izcīnot divas sudraba medaļas, bet ārpus labāko desmitnieka palikusi vien divas reizes.
Savstarpējie rezultāti oficiālajos mačos: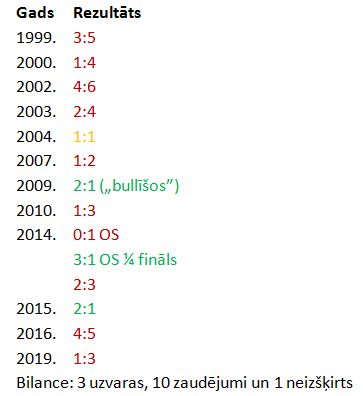 Norvēģija
Šī izlase sākot no 1997. gada, kad tā izkrita no elites, nākamajos deviņos gados piecas reizes spēlēja zemāku divīziju turnīros, līdz atgriešanos starp labākajiem tā atzīmēja 2006. gadā Rīgā, kur ieņēma 11. vietu. Kopš tā laika Norvēģija no augstākās divīzijas nav izkritusi, bet veiksmīgākais posms piedzīvots no 2008.- 2013. gadam, kad sešos PČ trīs reizes sasniegts ceturtdaļfināls, bet tikai vienreiz palikts ārpus labāko desmitnieka. Taisnības labad arī jāpiemin, ka pēdējos sešos PČ norvēģiem tik labi vairs nesokas un augstākā ir 10. vieta 2016. gadā.
Tiesa, paralēli tam Norvēģija spēlējusi pēdējās trīs olimpiādēs, bet uz gaidāmo nav kvalificējusies.
Norvēģija gan nevar lepoties ar lielu pārstāvniecību NHL, vienīgajam stabilajam šīs līgas spēlētājam esot Metam Cukarello, bet tieši Norvēģijas hokeja sistēmai savā ziņā varam pateikties arī mēs, jo tur izauga Rūdolfs Balcers, kurš šobrīd cenšas nostiprināties pasaules spēcīgākajā hokeja līgā. Protams, arī vietējais čempionāts norvēģiem kotējas solīdā līmenī – ap piecpadsmitnieku Eiropā, par ko mūsu Virslīga var pasapņot…
Kopsavilkums – 25 čempionātu ietvaros Norvēģija, ieskaitot vairāku gadu nespēlēšanu elitē, ir trīs reizes iekļuvusi ceturtdaļfinālā, bet desmitniekā kopā sešas reizes, kā arī 2018. gada OS izcīnīta 8. vieta. Jāpiebilst, ka augstākā vieta PČ ietvaros norvēģiem ir sestā. Tātad – augstāk nekā jebkad ir spējusi Latvija.
Savstarpējie rezultāti oficiālajos mačos: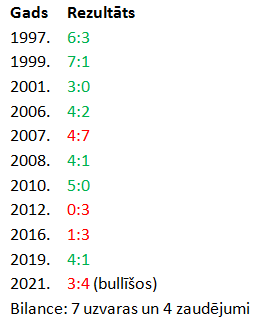 Dānija
Dānija ir spilgts piemērs tam, ka rezultāti pasaules čempionātos acīmredzot nav galvenais hokeja attīstības spogulis. Tiesības spēlēt augstākajā divīzijā tā ieguva vien tad, kad Latvija divas reizes bija spējusi iekļūt pasaules labāko astoņu komandu skaitā – 2002. gadā. Zīmīgi, ka kopš tā laika izkrituši no elites dāņi nav. Līdz pirmajam ceturtdaļfinālam skandināvi gaidīja astoņus gadus, kad 2010. gadā beidzot tas izdevās, bet atkārtot šādu panākumu dāņi spējuši vēl tikai reizi – 2016. gadā.
Neskaitot divas astotās vietas, kas ir Dānijas hokeja augstākais panākums, labāko desmitniekā šī izlase spējusi iekļūt vien tikai divas reizes. Toties kāda dāņiem ir pārstāvniecība NHL – kopš 2006./07. gada sezonas, kad pasaules hokeja mekā ielauzās Frans Nīlsens, spēlētāju skaits ir audzis, un kopš 2010. gada nav bijis gads, kad Dānija būtu mazāk par sešiem NHL vīriem. Lielākais skaits gan līdz 10 vēl nav aizsniedzies, bet tuvākajā laikā – visas iespējas.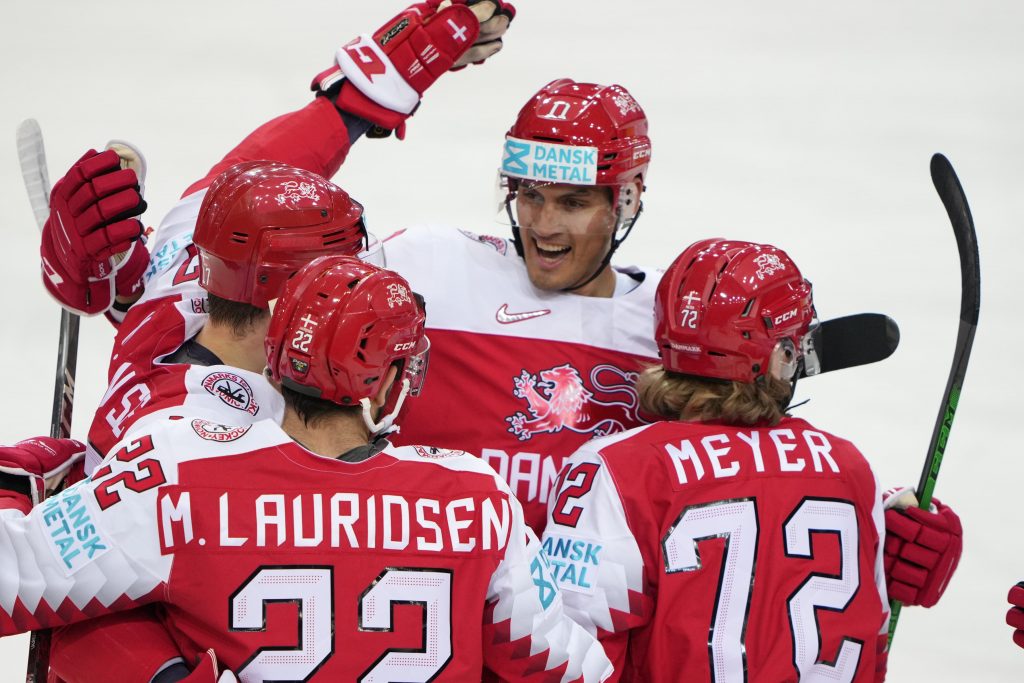 Tāpat Dānijas vietējais hokeja čempionāts atsevišķos reitingos, kā nu kurā, tiek ierindots labāko 15 vidū. Protams, var apelēt pie fakta, ka patiešām nopietnā līmenī ar hokeju nodarbojās ļoti maza daļā Eiropas valstu, bet tomēr – Latvijas čempionāts tomēr uzskatāms par amatieru, savukārt dāņu nē.
Bet ir kāds cits interesants fakts – Dānija tā arī ne reizi nav kvalificējusies olimpiskajām spēlēm! Tā, lūk…
Savstarpējie rezultāti oficiālos mačos: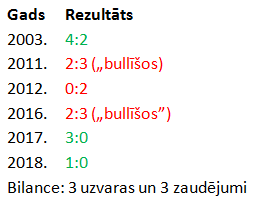 Baltkrievija
Baltkrievija hokeja ziņā Latvijai bijusi tuva. Savulaik ar kaimiņiem rīkoti dažādi turnīri un latviešu komandas arī spēlējušas viņu čempionātā. Baltkrievu hokeja izlase pirmo reizi augstākajā divīzijā iekļuva 1998. gadā, iekļūstot labāko astotniekā un nākamajos divos PČ paliekot devītie līdz pienāca nelaime – izkrišana uz B divīziju. Tad notika četru gadu mīņāšanās starp A un B klases turnīriem, bet kopš 2005. gada komanda vienmēr spēlēja elitē, no kuras atkal izkrita 2018. gadā un šogad atgriezās. Kas interesanti – ja šogad nebūtu situācija, kad neviena izlase no augstākās divīzijas neizkrīt, Baltkrievijai atkal tā būtu jāpamet, jo ieņemta priekšpēdējā vieta.
Zīmīgi, ka Baltkrievija pārsteidza hokeja pasauli Soltleiksitijas OS ceturtdaļfinālā, kad izslēdza Zviedriju un palika ceturtie. Tas notika ne bez veiksmes palīdzības, jo uzvaras vārtu mestā ripa trāpīja vārtsargam pa ķiveri un kaut kā iespurdzās aiz vārtu līnijas. Pēc šī precedenta IIHF mainīja noteikumus, ka pēc šādiem momentiem spēle ir jāaptur.
Varam arī minēt Minskas "Dinamo" līdzīgi kā Rīgas "Dinamo" iesaisti KHL. Minskieši "play-off" turnīrā tālāk par pirmo kārtu tā arī nav tikuši, bet vispār izslēgšanas mačos iekļuvuši piecas reizes, kamēr rīdzinieki tajos nav bijuši jau pēdējos septiņus gadus. Vai tas ir rādītājs? Jo Minskas klubs parasti var lepoties ar augstākas klases leģionāriem, bet kā rezultātu nav, tā nav… Ir vēl trakāk – baltkrievi jau ilgus gadus piekopj naturalizācijas instrumentu un šī gada PČ vien tai bija seši ziemeļamerikāņi ar Baltkrievijas pasēm.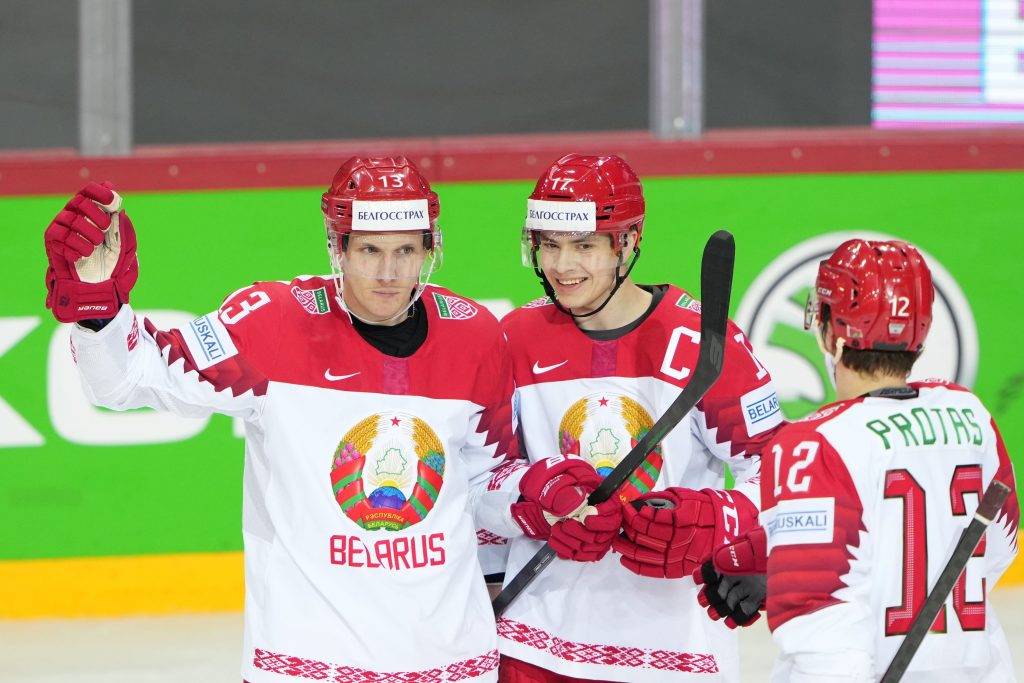 Tas pats ar NHL kontingentu – vismaz vienu maču tur aizvadījuši 16 spēlētāji ar šīs valsts pasēm, bet četri no tiem ir oriģināli kanādieši, kuri laikā, kad tur spēlēja, droši vien sapņos pat neredzēja, ka viņi attapsies PČ, pārstāvot šo valsti. Un vēl no šī bariņa četri "tīrie" (arī nosacīti, jo sajauktas asinis ar Austrumu kaimiņiem krieviem, ukraiņiem, u.t.t.) baltkrievi nospēlējuši trīs vai mazāk mačus.
Vietējais čempionāts gan Baltkrieviem funkcionē un ne par velti savulaik Latvijas klubi rāvās tur spēlēt. Var runāt par to, ka pēdējos gados tas ir ievērojami krities, bet tāpat – labāk nekā mums tas ir.
Kopumā pēdējos 25 gados baltkrievi, skaitot vairākkārtīgas izkrišanas no elites, PČ ietvaros labāko desmitniekā bijuši 10 reizes, ceturtdaļfinālu sasniedzot piecās no tām reizēm. Augstākā vieta tai ir sestā 2006. gadā Rīgā, bet savā mājas čempionātā 2014. gadā Baltkrievija (un kā daudzi uzskata – arī tiesneši) aizlika latviešiem kāju priekšā ceturtdaļfinālam. Atriebts tas vēl nav.
Savstarpējie rezultāti oficiālos mačos: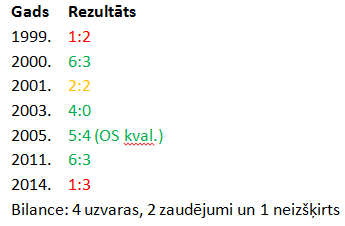 Austrija
Jaunākas paaudzes līdzjutēji noteikti ir piemirsuši par tādu hokeja sāncensi kā Austrija. PČ ietvaros esam tikušies pietiekami daudz, bet pēdējos gados aizvien lielāks mūsējo spēlētāju skaits izvēlas tieši šīs valsts klubus kā vietu, kur pelnīt naudu un attīstīt savas hokeja prasmes.
Jāteic, ka arī vietējā līga uzskatāma par vairākus pakāpienus augstāku pieturas punktu nekā Virslīga. Kas atkal nav nekāds pārsteigums. Daudzi no vietējiem hokejistiem izteikušies, ka, iespējams, ne visu komandu sportiskais līmenis ir tik augsts, bet darbs katrā klubā notiek profesionāli. Pastāv gan Austrijas līga, gan Alpu, kur spēlē dažādu valstu klubi, bet pirmā tiek uzskatīta kā meistarīgāka.
Ar lielu vietējo spēlētāju migrāciju uz NHL tā nevar lepoties, jo (ieskaitot arī 20. gadsimtu) vismaz uz vienu spēli kāda šīs līgas kluba kreklu ir uzvilkuši vien 15 austrieši, pārsvarā esot pa pāris indivīdiem (šobrīd vienam). Protams, skaļākais vārds noteikti ir Tomašs Vaneks, kuram pasaules hokeja mekā 1029 spēles un 789 (373+416) punkti. Neviens latvietis neko tādu nav iespējis, ja runājam par iekrātajiem punktiem.
Tiesa, runāt par kaut kāda veida rezultātiem pēdējo 25 PČ laikā Austrijas kontekstā nevar. Labāko desmitnieks sasniegts tikai divas reizes (1999. un 2003.), bet kopš 2005. gada Austrija tikai vienreiz spējusi noturēties spēcīgāko divīzijā – 2018., kad izkrita un tā arī nav atgriezusies. Kāpēc tad jāpiemin austrieši? Jo tā tika uzskatīta par mūsu līmeņa komandu, kad mēs devāmies iekarot PČ virsotnes pēc iekļūšanas elitē. Un jāteic, ka tieši latvieši, līdzīgi kā mums ir ar vāciešiem, ir austriešu lielākie "kaprači", jo savstarpējie rezultāti ir gandrīz uz vieniem vārtiem. Protams, netrūkst arī pa kādam sāpīgam zaudējumam, bet tāds ir sports.
Savstarpējie rezultāti oficiālos mačos: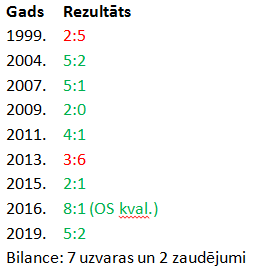 Pēcvārds
Kāds acīgāks līdzjutējs, iespējams, varētu piesaukt kāpēc šajā sarakstā nav, piemēram, Kazahstāna un Slovākija? It kā kaut kur ar abām izlasēm sanāk pacīnīties un šīs komandas arī kaut kur pavīd, bet būsim reāli – Slovākija tomēr ir uzskatāmi priekšā mums un ar atrāvienu, jo kopš debijas elites divīzijā, tā nekad nav izkritusi un zemāk par 10. vietu bijusi tikai divas reizes, 2002. gadā kļūstot arī par pasaules čempioniem. Pēdējie 10 gadi nav bijuši pārāk veiksmīgi, jo ceturtdaļfināls sasniegts vien trīs reizes, toties vienā no tām – atkal tikts finālā (2012.)
Savukārt Kazahstānas izlase pēdējo 25 gadu laikā tikai astoņas reizes bijusi elitē, ne ar ko ievērības cienīgu neizceļoties, bet šogad sasniegtā 10. vieta ir visu laiku augstākais sasniegums. Bet uz kā rēķina? Naturalizācijas. Nevienam, kurš seko līdzi hokejam, nav noslēpums, ka teju visiem ziemeļamerikāņiem pirms līguma slēgšanas ar KHL vienību Nursultanas "Barys" principā tiek izvirzīts arī uzstādījums par spēlēšanu izlasē, par to, protams, saņemot arī attiecīgu samaksu. Runā, ka tie ir ap 100 tūkstošiem dolāru. Un tādu "ne – tīro" (nejaukt ar netīro) kazahu skaits neaprobežojas ar šiem kungiem vien. Sastāvā ir vēl virkne slāvu tautu izcelsmes puišu un vīriešu, kuri laika gaitā pārkvalificējušies par kazahiem.
Katru pavasari līdzjutēji visā Latvijā no hokeja izlases sagaida lielas lietas, kas mūsu gadījumā ir ceturtdaļfināls. Ja skatāmies pavadīto laiku elites divīzijā, tad izaugsme rezultātos nav bijusi un visas cerības pārsvarā tiek atliktas uz nākamo gadu. Protams, neizkrišanu no augstākās divīzijas vien varētu uzskatīt par panākumu, jo no iepriekš minētājām valstīm, tikai Šveice pa šo laiku no tās nav izkritusi, jo ir pat Vācija.
No otras puses izlašu rezultātu ziņā grūti spriest, kas ir labāk – regulāri būt desmitniekā, kas Latvijas gadījumā ir teju pusē no visiem PČ, kuros startēts, vai tomēr pa vairākām padsmitajām vietām, ja kādā ciklā tiek iekļūts četriniekā vai finišēts ap piekto vai sesto vietu, nevajadzētu tā pārdzīvot? Zinām, ka Latvijas gadījumā pārdzīvojumi par to būtu. Tādi esam…
Var izcelt faktu par hokeja pieejamību, salīdzinot visas nosauktās valstis. Vācijā, lai palaistu vienu bērnu trenēties hokejā, gadā nepieciešams ieguldīt līdz 400 eiro, bet Latvijā 150 līdz vietām pāri 200 eiro un tā ir mēneša, nevis gada maksa, neskaitot inventāru, dalību turnīros un nometnes. Arī Dānijā un pārējās valstīs apgūt hokeja zinības ir daudz lētāk un daudzviet ekipējums ir pieejams bez maksas. Saprotams, ka visas nosauktās valstis, izņemot Baltkrieviju, arī pēc iedzīvotāju vidējā labklājības līmeņa ir krietni attīstītākas par Latviju, tāpēc arī valsts un pašvaldības var vairāk ieguldīt jauniešu sportā.
Jāizceļ arī tas, ka līdz 90. gadu beigām Latvijā bija vien divas hokeja halles (ar jumtu, nevis brīvā dabā), bet šobrīd to skaits ir sasniedzis 19. No tāda viedokļa skatoties, progress ir vērojams. Bet pietrūkst paša galvenā – vienotas sistēmas, pēc kuras audzināt jaunos talantus, kuru skaitliski mums nemaz nav daudz – uz šodienu pēc LHF pieejamajiem datiem tie ir tikai nedaudz vairāk nekā divi tūkstoši… Un no šiem diviem tūkstošiem būs jāizaudzina 25 kadri pieaugušo izlasei.

Junioru vecuma spēlētāju kvantitātes ziņā Latvija tikai nedaudz apsteidz dāņus, bet par 3,5 reizēm iepaliek no norvēģiem (6,6 tūkstoši). Tātad – ja ir lielāks kontingents, lielāka iespēja, ka no tā varēs izzvejot pa kādai pērlei, bet to visu bremzē sistēmas neesamība. Jā, kāds apelēs, ka mums ir HK "Rīga" un "Dinamo", kas dod jauniešiem mērķi, uz kuru tiekties. Un ne tikai. Labu spēļu praksi ar saviem vienaudžiem vai profesionāļos labas algas. Tomēr nevienā no šīm valstīm šāda "superkluba" kā "Dinamo" nav, bet ir izveidota saprotama, viegli pieejama jaunatnes sistēma, kura tiek pienācīgā līmenī dotēta, kā arī ir izveidojusies piramīda, kur šiem jauniešiem pēc sporta skolu absolvēšanas iet – spēcīgi vietējie čempionāti.
Ja liela daļa cilvēku uzskata, ka lielākā vaina ir jauniešu sporta dārdzībā – protams, tam var piekrist, bet tas noteikti nav vienīgais aspekts, jo nepievilcīgs vietējais čempionāts nedod nepieciešamo stimulu palikt hokejā. Kāpēc gan jauniešiem atdot visu savu bērnību hokejam, lai vēlāk savus dzīves labākos gadus atstātu Latvijas čempionātā, gadu no gada saņemot (labākajā gadījumā) robežā no tūkstoša līdz diviem? Tāpēc nav jābūt nekādam pārsteigumam, ja aizvien vairāk jauniešu brauks prom vai vienkārši uz hokeju nenāks.
Tieši šī iemesla dēļ šajā rakstā netiek apskatīti junioru izlašu panākumi, jo gluži vienkārši, lai arī cik ciniski tas skanētu, ir "vairāk talantīgi" un "mazāk talantīgi" gada gājumi.
Vienā no intervijām ar "Sporta pili" drūmo situāciju iezīmēja ilggadējais izlases uzbrucējs Jānis Sprukts: "Ja mēs varam nospēlēt kā līdzīgs ar līdzīgu ar pasaules vadošajām izlasēm, tad noteikti var teikt, ka virziens līdz šim izvēlēts pareizs izlases kontekstā, bet hokejs Latvijā nesākas un nebeidzas ar nacionālo izlasi. Ir vairāk uzmanības jāpievērš jauniešu attīstībai, kuri nākotnē pastiprinās izlasi. Galvenais ir nodrošināt, lai ir pēctecība. Jā, šobrīd mums ir individuāli talanti, kuri vēlas hokejā ko sasniegt un pie tā strādā paši – brauc uz dažādām nometnēm, pārvācas uz ārzemēm vai Rīgā esot papildus trenējas, bet svarīgi ir parūpēties par jauniešu vidusslāni, kuri var nākt vietā, kad uz čempionātiem netiek līderi. Jāaudzina dažāda ampluā spēlētāji. Lai ir tā – ja kāds veterāns izkrīt un viņš ir individuāli spēcīgs, lai viņa vietā nāktu tāda paša stila spēlētājs, nevis vietā jāliek tādu, kurš vairāk spēlē aizsardzībā. Ir jābūt puišiem, kas stāv rindā uz izlasi un grib sevi pierādīt. Un ne tikai, ka grib. Lai to atļautu arī meistarība."
Un šajā čempionātā redzējām – vecākā un lēnāka izlase… Vai Hārtlijs kādu palaida garām? Iespējams. Vai Hārtlijam kādu palaist garām būtu grūtāk, ja Latvijā hokeja sistēma strādātu vienoti un kvalitatīvāk? Noteikti. Jo šobrīd katrs "maļ" pa savam un pēc saviem ieskatiem. Un tieši šo lietu sākotnēji LHF vēlējās mainīt, veidojot izglītojošus seminārus Hārtlija vadībā. Bet ar katru gadu to palika aizvien mazāk, jo jau otrajā darba gadā ar izlasi viņš kļūva par Omskas "Avangard" treneri.
Bet atkal – šo rindu autors uzskata, ka, ieguldoties vien jauniešu sportā, var būt par maz. Ir nepieciešams arī solīda līmeņa vietējais čempionāts, kur noturēt gados jaunākos un ne tos lielākos talantus, kā arī kur spēlēt tālākām izlases rezervēm. Taču Latvijas valsts ārējais parāds šobrīd pārsniedz 15 miljardus eiro un tas nākotnē būs jāatdod potenciālo talantu vecākiem, kas, ielūkojoties nedaudz kristāla bumbā, liek uz sporta attīstību valstī raudzīties ar pesimistisku prognozi – nodokļu slogs kļūs lielāks, naudas sportam, ko veltīt, mazāk. Un arī iedzīvotāju Latvijā kļūst mazāk – neesam vairs pat divi miljoni. No kāda tad mums būs jāizvēlas?
Pie tādiem apstākļiem ir tikai viena izeja – spēcīga, kvalitatīva jaunatnes sistēma, kurai obligāti nav jābūt kvantitatīvai. Jo, piemēram, Vācijā ar 83 miljoniem iedzīvotāju reģistrēto hokejistu skaits ir tikai trīs reizes lielāks nekā Latvijā (21,3 tūkstoši pret 7,5 tūkstošiem). Tātad – ar labu darbu visu var! Vai mēs to varēsim?