Nacionālajā basketbola asociācijā (NBA) turpinās izslēgšanas spēles, bet diemžēl bez latviešu līdzdalības. Reālākā iespēja pagarināt sezonu bija Kristapam Porziņģim un Dalasas "Mavericks", kuri septiņu maču trillerī tomēr sērijā ar 3-4 atzina talantiem bagātāko Losandželosas "Clippers" vienības pārākumu. Jautājumu pēc šīs sērijas ir daudz, lielāko daļu no tiem radot tieši latvietim, kura sniegums ir zem kritikas lupas, kamēr gan viņš, gan galvenais treneris uzsver, ka šoreiz slaidajam liepājniekam bija specifiski uzdevumi laukumā. Lomas spēlētājs par 30 miljoniem sezonā? Ļoti neizdevīgi. Vai Porziņģa nākotne Teksasas štata pilsētā ir apdraudēta? Un varbūt tas viņam nav nekāds drauds, bet gan iespēja "atdzimt"?
"Mavericks" un "Clippers" sērija bija interesanta daudzējādā ziņā. Kaut ar to, ka pirmos sešus mačus uzvarēja viesi, tikai izšķirošajā spēlē mājiniekiem izmantojot sava laukuma priekšrocības. Luka Dončičs bija fenomenāls – vidēji 35,7 punkti, 10,3 rezultatīvas piespēles un 7,9 atlēkušas bumbas. Tiesa, piekliboja metienu precizitāte no soda metienu līnijas, jo tie realizēti vien ar 52%.
Runājot par Porziņģa sniegumu, tad statistika ir blāva – vidēji laukumā pavadītajās 33,3 minūtēs, izceļoties "vien" ar 13,1 punktu un 5,4 bumbām zem groziem, kas šajā rādītājā bija vien ceturtais rezultāts komandā. Tas viss esot dalīti garākajam spēlētājam laukumā starp abām komandām (runā, ka ar Bobanu Marjanoviču esot vienāds augums)…
Pēc spēles preses konferencē "Mavs" galvenais treneris Riks Kārlails izteicās: "Pastāv iespēja, ka komandas sastāvā būs daudz pārmaiņu, bet mēs to vēl nezinām." Tiesa, par savu krēslu Kārlailam nav jāuztraucas, jo kluba īpašnieks Marks Kjūbans atklājis, ka viņš neplāno treneri atlaist. "Ļaujiet man jums paskaidrot, kā es redzu trenēšanu. Izmaiņas izmaiņu pēc nav nepieciešamas. Līdz brīdim, kamēr jums neparādās kāds, kurš ir krietni labāks, zāle citā pusē reti kad ir zaļāka," teica Kjūbans. Un var saprast – Kārlails ir sagādājis organizācijai pagaidām vienīgo čempionu gredzenu, bet arī laiks ir pagājis gana daudz – 10 gadi, kuru laikā tālāk par "play-off" pirmo kārtu nav tikts. Bet šobrīd komandas rīcībā ir īpaši vērtīgs aktīvs Dončičs. Kad notika maiņa ar Ņujorkas "Knicks", tika uzskatīts, ka pat divi vērtīgi dimanti, kuriem jādod laiks, lai iespēlētos,un tie vēlāk saceltu troksni garā "play-off" skrējienā.
Dončičs sevi sāka apliecināt no debijas sezonas, kas lika "Mavericks" pārskatīt sastāva aprises un iet daļējā "win now" virzienā, kā rezultātā tā gada četri starta piecinieka spēlētāji tika aizsūtīti prom apmaiņā pret Porziņģi un Timu Hārdeveju un citiem aktīviem. Kopš tā laika īpaši nekā daudz nav mainījies, jo no 10 septītajā mačā laukumā izgājušajiem spēlētājiem tikai divi bija pievienojušies komandai pēc šīs maiņas – Džošs Ričardsons un Marjanovičs (sērijā kopā nospēlēja četrus mačus). Saprotams, ka konkurētspējīga kolektīva veidošana nav viegls uzdevums un nav tā, ka "Mavericks" sēdējuši rokas klēpī salikuši. "Uz papīra" lieliska izskatījās Ričardsona piesaiste, jo komandā prasījās aizsardzības speciālists, kurš vienlaikus ir bīstams no perimetra. Šī iemesla dēļ tika upurēts Sets Karijs, kurš aizvada solīdu sezonu Filadelfijas "76ers" rindās, bet maiņas brīdī šķita, ka viss ir izdarīts pareizi, jo paralēli tika iegūts arī veterāns un trīspunktu metienu speciālists Dž. Dž. Rediks. Viņš uz sevi liktās cerības neattaisnoja un satraumējās.

Būsim godīgi – "Mavericks" nav izdevies jēgpilni uzlabot sastāvu pēdējo divu sezonu laikā kopš maiņas ar "Knicks". Tādam uzskatam par iemeslu kalpo ne pārāk labā Porziņģa vai, iespējams, negaidīti labs Hārdeveja sniegums uz viņa fona. Kā izteicies Hārdeveja tēvs, tad "Mavericks" savām rindām prioritāri vēlējušies pievienot tieši viņa dēlu, nevis Porziņģi, kuram tobrīd bija laba maiņas vērtība, proti, neko daudz neatdodot atpakaļ, jo viņš grasījās atgriezties laukumā pēc pusotra gada pauzes un krustenisko saišu operācijas. Ja neskaita pirmās kārtas drafta izvēles, kuras tika atdotas arī iepriekš, lai iegūtu Dončiču (drafta dienā maiņa ar "Hawks", kur iekļauts Trejs Jangs). Pastāv iespēja, ka šovasar latvieti aizmainīs, bet pretī noteikti netiks iegūta otrā zvaigzne aiz Dončiča, kā sākotnēji domāts, kad tika iegūts Porziņģis. Un ja viņa nākotne komandā ir neskaidra, tad varam nojaust, kā ir ar pārējiem spēlētājiem.
Lai arī cik ļoti būtu žēl, tā ir realitāte. Dončičs septītajā spēlē ar gūtajiem groziem un rezultatīvajām piespēlēm piedalījās 77 komandas punktos, taču arī ar to bija par maz. Atskatoties atpakaļ, noteikti visa "Mavericks" organizācija un tās fani var kost pirkstos, ka pie vadības sērijā ar 2-0 un trešajā mačā savā arēnā pirmajā ceturtdaļā esot priekšā ar +19, spēle un vēlāk sērija tika zaudēta. No vienas puses nekā traģiska, jo "Clippers" katrā mačā bija favorītu statusā, no citas puses veids, kā dalasieši zaudēja, rada rūgtumu.
Sastāva dziļuma problēmas izšķirošajā mača iezīmējās spilgti – no 240 pieejamajām spēles minūtēm, Kārlails rezervistiem atvēlēja vien 38, un ļoti ticami, ka darīja pareizi. Ričardsons, kurš tika uzraudzīts kā starpsezonas papildinājums, sešu minūšu laikā aizmeta garām savu vienīgo metienu un pieļāva divas kļūdas. Maksi Klebers, kurš sāka pirmās sešas sērijas spēles, izšķirošajā pa laukumu skraidīja vien deviņas minūtes, neejot startā, bet neviens no laukumā uzgājušajiem džekiem no soliņa vispār ilgāk 10 minūtēm nespēlēja, bet pārējā komanda bez Dončiča uzmeta 5 no 25 tālmetieniem. Ar tādu "palīdzību" no komandas biedriem uzvarēt "Clippers" nevar.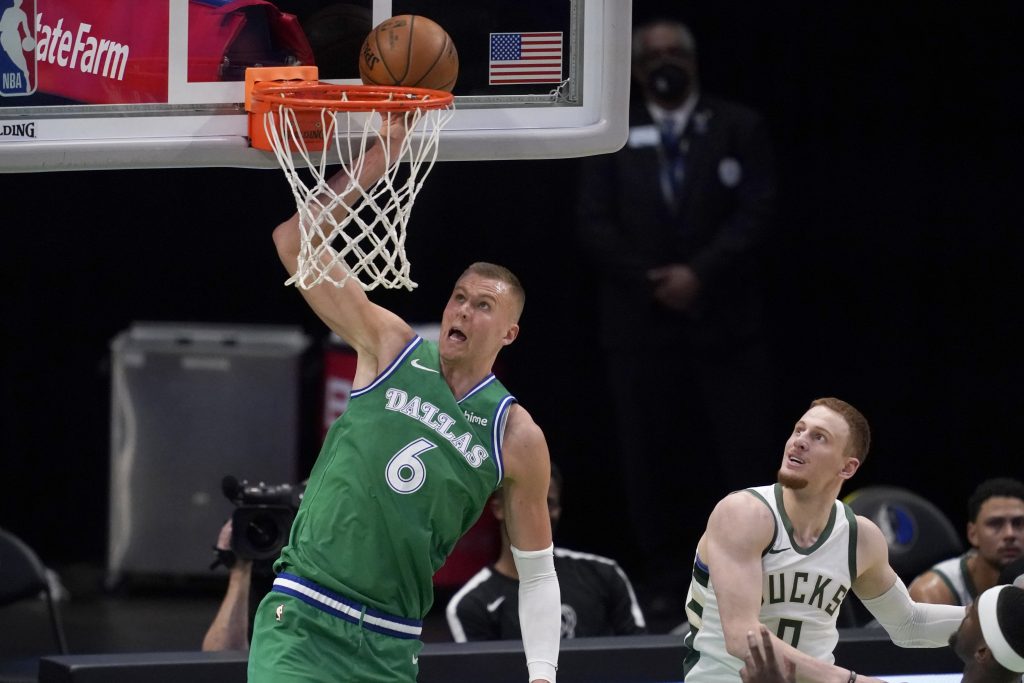 Iemesls komandas veidošanas pašapmierinātībai pēdējās divās sezonās varētu būt iekšējā attīstība. Proti, sevi labi pierādīja Klebers un Dorians Finnijs – Smits, kuri progresēja un šķita, ka tas notiks vēl straujāk, bet beigās ar to bija par maz, lai ievērojami uzlabotu sniegumu. Arī Džeilens Bransons, kurš aizvadīja intriģējošu regulāro sezonu uz "play-off" mačiem to pārnest nevarēja kā abi iepriekš minētie vīri. Beigās iznāca tā – cerētais atsevišķu indivīdu progress nenotika, bet vietā, ko likt, nebija.
Un arī turpinājumā iezīmējas potenciāli sarežģīta aina, jo visi "Mavericks" organizācijā saprot, ka ar Luku ierindā jādara viss, lai uzvarētu tagad. Dalasa viennozīmīgi ir piešķīrusi "pārāk draudzīgus" līgumus vairākiem spēlētājiem, kuru basketbola prasmju attīstība viņu konta satura pieaugumam nav spējusi tikt līdzi. Tiesa, ir arī labi darbi, kā piemēram, atbrīvošanās no Delona Raita un Džastina Džeksona, kuri neiederējās spēles zīmējumā. Taču ar to bijis par maz. Un arī nākotnē neizskatās, ka būs viegli, ko mainīt, jo Dončičam priekšā vairāku gadu 200 miljonu maksimālā līguma parakstīšana, ko viņš un organizācija var izdarīt jau šovasar. Nākamajā sezonā gan vēl slovēņa alga būs "vien" 10 miljoni, bet īstenībā "vien" pēdiņās jāliek nebūtu, jo tāda nauda par superzvaigzni tiešām ir vien… Ja Porziņģa un Dončica algas apmainītu vietām, šķiet neviens nesūdzētos.
Un neskaitot Lukas algas pieaugumu un Porziņģa čeku, klubam vēl būs jāmaksā 11 + 8,7 miljoni Dvaitam Pauelam un Kleberam, tāpat jauns līgums jāparaksta Hārdevejam un nav teikts, ka viņš komandā paliks. Kā izteicies Kārlails, tad "Dončičam blakus nepieciešams nāvīgi labs snaiperis, kurš var realizēt vienkāršas darbības un ir dzelžains aizsardzības speciālists." Tāpat treneris pieminēja, ka kluba vadība monitorē situāciju, vienlaikus paturot prātā, ka komandas rindās jau esot pāris puiši, kas ir savā attīstības posmā. Bet cerēt, ka viņi izšaus? Zinām, kam cerība ir mierinājums. Un iespējas veikt kādu skaļu darījumu "Mavericks" īsti nav, jo, "pateicoties" iepriekšējām maiņām, tā nedrīkst aizmainīt savas drafta pirmās kārtas izvēles vēl līdz 2025. gadam. Manevru varianti ir ļoti ierobežoti.
To fleksibiliāti noteikti pabojāja arī Porziņģa sniegums. Ja komanda uzvarētu un aizspēlētos pāris kārtas tālāk, vēl citiem varētu mēģināt iestāstīt, ka KP loma esot bijusi Kārlaila meistarklase, taču reālijas ir tādas, ka latvieša cena ir ievērojami kritusies un palīdzējuši nav arī savainojumi. Kas gan viņu vājā vienmēr un tam, šķiet, gala nebūs. Kurš gan gribēs maksāt 30 "citronus" traumatiskam "13 punktu džekam?" No otras puses ir vienības, kas vēl viņa talantam tic un vismaz publiskajā retorikā tādi ir arī paši "Mavericks" lēmējvīri.
Ekspertu domas gan dalās, bet interesanti izteicies ESPN analītiķis un NBA čempions Kendriks Pērkins: "Ir laiks trenera maiņai! Nevainojiet Porziņgi. Viņš ir puisis, kurš pērn "burbulī" vidēji meta gandrīz 30 punktus, bet tagad netiek pietiekami iesaistīts uzbrukuma veidošanā, lai būtu veiksmīgs. Bumbai nav jāatrodas 98% laika Dončiča rokās. Pagājušajā gadā viņi bija viens no rezultatīvākajiem duetiem līgā. Dodiet bumbu Kristapa rokās, zīmējiet uz viņu kombinācijas, lieciet viņam justies, ka viņu šeit vēlas. Lūk, tā ir īstā problēma. Tāda pati, kāda bija Hjūstonas "Rockets" ar Džeimsu Hārdenu un Raselu Vestbruku, kad Hārdenam visu laiku bumba bija pielipusi pie plaukstām. Dodiet Porziņģim bumbu un tad jūs varēsiet no viņa prasīt 20+10 katru vakaru."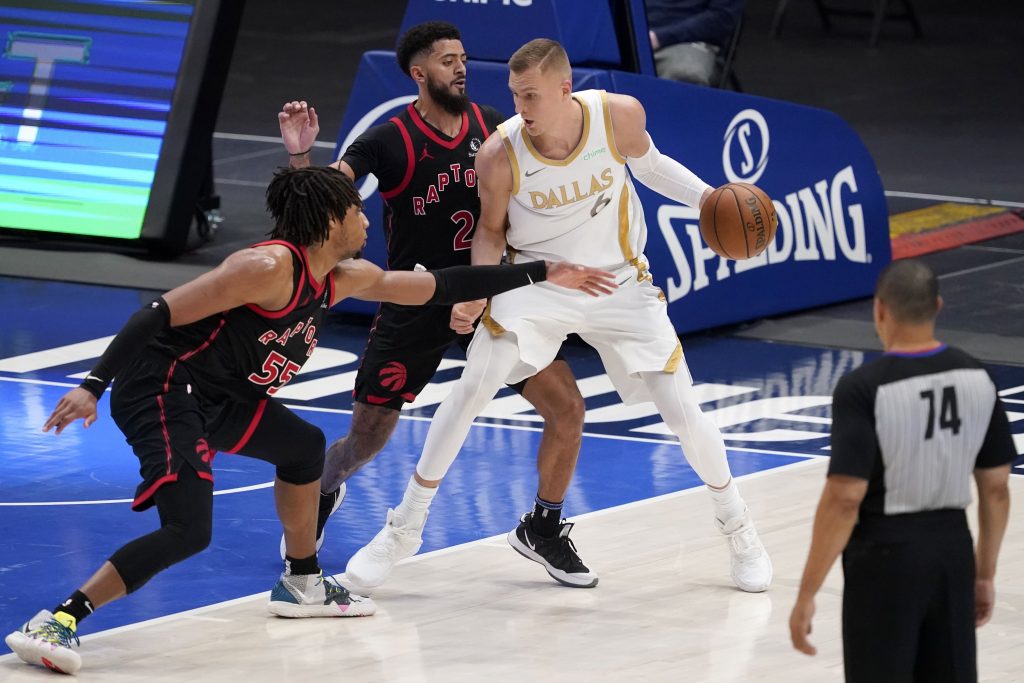 Starp citu, līdzīgu tekstu par KP pateica arī Dončičs, tiesa, nezinām, cik nopietni viņš to domāja: "Nezinu, kas notiks ar mūsu sastāvu, jo mums ir vairāki brīvie aģenti. Bet runājot par Porziņģi, viņš ir lielisks spēlētājs, kurš mums vairāk ir jāizmanto. Tas arī viss." Jā, tas arī viss, bet žēl, ka to atcerējās, kad sērija jau zaudēta. Tikmēr ESPN žurnālists Tims Makhahons, atsaucoties uz "drošiem avotiem" komandas iekšienē, ziņojis, ka latvietis nav bijis apmierināts ar savu lomu komandā jau sezonas laikā. Nav juties kā komandas otrā zvaigzne un ir bijis neapmierināts ar savu mazo iesaisti uzbrukumā un Dončiča bumbas pieturēšanu.
Protams, apstiprinājuma šādai informācijai nav un nekad arī nebūs, arī, ja Porziņģi aizmainītu, viņš pēkšņi neizdomātu izkratīt sirdi un pateikt, ka Dalasā viņam nepatika tas un tas,  bet varam apelēt pie ķermeņa valodas. Piemēram, pēc spēles preses konferencēs. "Porziņģis pēc spēlēm, kurās bija rezultatīvs, mēdz izteikties ar piezīmēm, ka "beidzot bumba esot pietiekami kustējusies", savukārt mačos, kur pienesums uzbrukumā nav bijis tik ražens, latvietis norādījis, ka nav pietiekami daudz ticis iesaistīts," tā Makmahons. Un interesanti, ka pēc spēles aprīļa sākumā pret līgas pastarīti "Rockets", Porziņģis pēdējā ceturtdaļā nav izpildījis nevienu metienu, bet vēlāk, kad mediji uzdeva jautājumu, kāpēc tā noticis, latvietis vien saraustījis plecus un noteicis: "Labs jautājums." Un līdz tam brīdim viņš bija izcēlies ar 23 punktiem…
Kad ir vēlme ko noskaidrot, jāvēršas pie mātes statistikas. Kura saka – Porziņģis regulārajā sezonā vidēji mačā bumbai pieskārās 59,4 reizes. Salīdzinājumā ar "Knicks" laiku, īpaši lielas starpības nav, jo tad viņa pirksti oranžo gumijas formējumu ik maču nogrābstīja 61 vienu reizi. Savukārt šī gada "play-off" aina ir skaudra – kritums uz 35,9 pieskārieniem. Aptuveni tikpat, cik Jūtas "Jazz" noteikti ne pat top 5 opcijai uzbrukumā Roisam Onīlam, kurš vidēji gūst septiņus punktus. Bumbu Kristapam nedod…
Vēl viens apgalvojums ir tāds, ka latvietim to nemaz nedrīkst īsti dot, jo viņš neprot ar to rīkoties, un šobrīd teju 80% viņa gūto punktu nākuši no rezultatīvām partneru piespēlēm. Uz to var paskatīties arī citādi, ka Porziņģis tieši ir labs realizētājs un par to liecina arī procenti – gandrīz 50% no spēles.
Savukārt "Mavericks" basketbola operāciju prezidents Donijs Nelsons par Porziņģa un Dončiča duetu izteicās sekojoši: "Mums ir puisis [domāts – Luka], kurš tic, ka var uzvarēt katru pozīciju katrā spēlē. Viņa statistika ir unikāla. Manuprāt, daļa no nobriešanas procesa ir saprast, kad jāizdara pretiniekiem nāvējošie metieni, un kurā brīdī ar bumbu jādalās ar komandas biedriem. Domāju, ka turpinājumā redzēsiet, cik ļoti viņš izaugs arī šajos spēles komponentos. Es uzskatu, ka potenciālā plaisa, nesapratne vai sauciet kā to gribat, starp viņiem ir ļoti ievērojami pārspīlēta. Abi puiši ļoti vēlas uzvarēt. Pēc manām domām, kad paies nedaudz vairāk laikā, ne tikai Porziņģis, bet arī Timijs [Hārdevejs] un pārējie spēlētāji vairāk pielāgosies un izpratīs Lukas uzbrukuma repertuāru un viņš tāpat. Un domāju, ka redzēsiet, ka Luka priecēs ne tikai ar iespaidīgiem statistikas skaitļiem, bet aizvien vairāk uzbrukumā iesaistīs komandas biedrus un darīs to aizvien kvalitatīvāk. Manā ieskatā tā ir tikai daļa no procesa, kuram jāiziet cauri 22 gadus jaunai līgas superzvaigznei. Ir jāizprot basketbols kā šaha spēle un jāiemācās pareizās kombinācijas, lai uzvarētu."

Atkāpei – šo rindu autors Pērkinsa apgalvojumam varētu piekrist, jo līga vēl ne tik sen redzēja vairākas Hārdena "Rockets" komandas, kas ar tādu stilu neko neizcīnīja. Tāpat arī visu varenais Maikls Džordans sāka krāt titulus tikai tad, kad pietiekami uzbrukumā iesaistīta arī komandas biedrus. Un ir citi piemēri. Vienatnē NBA triumfēt vairāk nevar. Savukārt, runājot par Luku… Ļoti iespējams, ka "viņš nāks pie prāta"! Jo neaizmirsīsim, ka Luka pirms devās uz Ziemeļameriku, Eiropā bija izcīnījis visu. Bet NBA ir cita pasaule un kāpēc lai viņš nepielāgotos? Vainu būs otrs variants – ego uzsprāgs un viss… Bet jāsaprot, ka, neskatoties ne uz ko, bumbai lielāko daļu spēles jābūt pie Lukas.
Zīmīgi, ka situācijai ar Porziņģi (pēc vairāku Ziemeļamerikas avotu apstiprinājuma) pastiprināti seko līdzi cita latvieša Dāvja Bertāna pārstāvēta komanda Vašingtonas "Wizards". Runā, ka viņiem nebūtu nekas pret KP iegūšanu. Bet ko dot pretī? Bīls vai Vestbruks automātiski atkrīt. Porziņģis nav vienā līmenī, bet vai Vašingtona ir gatava šķirties no jaunā talanta Rui Hačimuras? Jo kā minums būtu jāatdod viņš un vēl kāds, lai iekļautos algu griestos un maiņa Dalasai šķistu kaut cik pievilcīga.
Tāpat ir vietas, kur ASV uzskata Porziņģi par dīvu. Būsim atkal godīgi – viņš ir "izcēlies" ar vairākiem ne pārāk veiksmīgiem brīžiem ārpus laukuma. Kaut vai īsi pēc drafta ar frāzi "Nobody knows where is f****g Latvia", vai vēlāk ar apsūdzībām izvarošanas lietā, pēc tam konfliktu ar "Knicks" vadību, kā rezultātā pēc pāris minūšu sarunas birojā tika pieprasīta maiņa. Neaizmirsīsim arī nevajadzīgo dūru vicināšanu, kas tika iemūžināta video formātā kādā no viņa dzimtās pilsētas nakts lokāliem. ASV kultūrā šīs lietas visas ir svarīgas! Un, protams, traumatiskums un lielais algas čeks – tas visu padara daudz sarežģītāku, bet ir arī labā ziņa, ja "Mavericks" tiešām plāno Porziņģi aizmainīt. Katru gadu līgā atrodas pa kādam ģenerālmenedžerim, kurš uzdāvina līgumus, pārvērtējot spēlētāju spējas, vai izdara neloģisku maiņas darījumu. Tā kā Porziņģis uz sezonas beigām parādījis, ka ir vesels un tāds dosies vasaras darbā, tā ir cerība. Ne tikai tam, ka tiks saņemts labs maiņas piedāvājums, bet arī tam, ka latvietis varēs kārtīgi sagatavoties gaidāmajai sezonai, jo šai tas nebija iespējams tādēļ, jo NBA vadība nolēma sezonu sākt par mēnesi ātrāk nekā sākotnēji plānots. Ja sezona tiešām būtu sākusies, kā solīts, Porziņģis būtu paspējis pienācīgi atlabt un sagatavoties.
Lai vai kā, "Mavericks" organizācijai šī būs ļoti svarīga vasara, jo Luka pierādījis, ka ir superzvaigzne, bet visi pārējie puzles gabaliņi pārliecina tikai periodiski. Runājot par Porziņģi, skaidrs, ka viņu norakstīt ir pāragri. Viņam tuvākajos gados jāsasniedz savs pīķis, bet, ja viņš tiks izmantots tā, kā tas notika "play-off", tas var arī nenotikt…