Jaunā basketbola sezona Eiropā vēl ir pāris mēnešu attālumā, taču rosība kā ar spēlētāju, tā treneru pārejām notiek jau šobrīd. 7. jūlijā pienāca daudziem negaidīta ziņa, proti, līgumu ar Eiropā labi zināmo brendu jauno spēlētāju audzināšanā Belgradas "Partizan" uz divām sezonām ar opciju katrā vasarā to lauzt, ja ir piedāvājums no Nacionālās basketbola asociācijas, noslēdzis Rodions Kurucs. Zināms, ka komandu tuvākos trīs gadus trenēs leģendārais Žeļimirs "Žeļko" Obradovičs. Kur nonācis Kurucs, cik ikonisks ir šis klubs Eiropas mērogā un vai tā būs īstā vieta, caur kuru mēģināt atgriezties pasaules basketbola mekā NBA? Vismaz pats basketbolists ar aģentu uzskata, ka tā ir pauze, nevis beigas…
"Partizan" vēsture
Klubs dibināts 1945. gadā neilgi pēc Otrā pasaules kara beigām 4. oktobrī kā daļa no Dienvidslāvijas armijas Centrālās Sporta Asociācijas Basketbola sekcijas. Kopumā 74 gadu laikā ir izcīnījis 48 trofejas (no tiem 21 Serbijas čempionāta titulus un sešus Adrijas līgas kausus, kā arī ir cita līmeņa triumfi). Tiesa, pļaujas laiks bijis 20. gadsimta 80. – 90.tajos gados. Laika posmā no 1985. līdz 1991. gadam to sauca par Eiropas klubu basketbola "Dream Team", ierindā esot tādiem vārdiem kā jau pieminētajam Obradovičam, Aleksandram Džordževičam, Vlade Divacam un citiem.
Tiesa, Eiropas mērogā izcīnīt attiecīgā laika kontinenta augstāko trofeju "Partizan" izdevies vien reizi (1991./92. gada sezonā), kad turnīrs tika saukts par FIBA Eiropas līgu un tas notika ļoti iespaidīgos apstākļos. Obradovičam bija paredzēts 1991. gadā būt par Dienvidslāvijas izlases kapteini Eiropas čempionātā, taču, atgriežoties no izlases treniņnometnes, viņš tika uzaicināts uz tikšanos ar "Partizan" vadību. Sarunas laikā Žeļko tika piedāvāts vien 31 gada vecumā kļūt par treneri, bet viņam debijā palīdzētu tolaik 76 gadus vecais un Dienvidslāvijā labi zināmais basketbola specs' Aca Nikoličs. Vienīgi cena bija liela – Obradovičam bija jāatsakās pārstāvēt izlasi. Viņš piekrita un beigās to nenožēloja. Līdzās kontinenta klubu čempionu titulam "Partizan" arī izcīnīja Dienvidslāvijas kausu un Dienvidslāvijas basketbola asociācijas (YUBA) līgas finālā sērījā līdz trīs uzvarām apspēlēja niknāko un emocionāli lielāko konkurenti "Crvena zvezda" ar 3-0. Un tā iesākās leģendārais Obradoviča ceļš.
Lai arī Eiropas klubu spēcīgākajā turnīrā Belgradas klubs ir spējis uzvarēt tikai vienreiz, toties tā kontā ir arī trīs Korāča kausi, bet 2000. gadu sākums iezīmējās ar dominanci Serbijas līgā, izcīnot 13 secīgus titulus, kā arī sākot piedalīties Adrijas līgā (dibināta 2001. gadā, taču "Partizan" piedalījās tajā no 2004. gada), sasniegti septiņi fināli pēc kārtas, no kuriem pēdējos piecos šajā nogrieznī arī izcīnīts čempionu statuss.
Zīmīgi, ka kopš 2013. gada "Partizan" tā arī nav izdevies vairāk triumfēt ne Serbijas, ne Adrijas līgās, vienīgi ir trīs reizes uzvarēts Serbijas kausa izcīņā, kā arī izcīnīts Adrijas Superkauss (īss un mazāk prestižs turnīrs). Runājot par sasniegumu ULEB Eirolīgas jaunajā ērā, kas sākās 2001. gadā, "Final Four" sasniegts tikai vienreiz (2009./10.g.sez..), bet pārsvarā no 13 sezonām septiņās komanda apstājusies turnīra pirmajā stadijā (agrāk bija 24 komandas un Top16 kārta, pēc kuras sekoja"play-off").
Tas gan saistāms ar kluba finansiālajām problēmām un kopš 2014. gada "Partizan" allaž (ar vienu izņēmuma gadu, kad tā bija FIBA Čempionu līgas dalībniece) spēlējuši ULEB Eirokausā (pēc spēka otrais klubu turnīrs Eiropā). Tieši šī iemesla dēļ klubu tolaik pameta Dāvis Bertāns, līgumu laužot, bet tā laika "Partizan" prezidents Predrags Daņilovičs nemaz neslēpa, cik situācija ir nopietna: "Mums ir milzu parādi spēlētājiem un cilvēkiem, kuri strādā mūsu organizācijā. Ceru, ka spēsim norēķināties. Tomēr, lai parādus nokārtotu, vienīgais risinājums ir pārdot komandas basketbolistus." Šobrīd zināms, ka ne ar visiem no tā laika klubs ir norēķinājies, bet tas jau ir cits stāsts.

Talantu kalve ar trakiem faniem
Tiesa, tradīcijas un fanu atbalsts nekur nav pazudis un pirms pandēmijas laikā 18,3 tūkstošu skatītāju vietu ietilpīgajā "Štark Arena" fani to gāza apkārt aizvien. Par "Partizan" skolu Eiropas līmenī runāts daudz. Vecumā jaunāko fanu dēļ nemaz nerunāsim cik lieli vārdi ir izgājuši tai cauri vairākas dekādes atpakaļ, bet no"modernajos" laikos piedzīvotā pa taisno uz NBA nokļuva čehs Jans Veselijs, agrāk Vlade Divacs un Nenads Krstičs, pirmo nopietno rūdījumu tur saņēma Bogdans Bogdanovičs un Nikola Pekovičs, kurš vienu brīdī pirms pāris gadiem strādājis arī klubā kā funkcionārs un, protams, daudzi citi Eiropā labi zināmi vārdi, kas vēlāk arī nokļuvuši līdz NBA.
Divas sezonas savulaik tur pavadījis arī Dāvis Bertāns (2012. – 2014.) un gadu Žanis Peiners (2019./20.g.sez.), kurš atzina, ka jau pēc oficiālā paziņojuma, ka viņš ir noslēdzis līgumu, sociālo tīklu konti vienkārši uzsprāga ar vēstulēm no faniem. Vēlāk esot gājis vēl trakāk. "Man uz dzīvokļa durvīm pretinieku fani bija atstājušas rupjus uzrakstus serbu valodā. Vismaz reizi nedēļā "Crvena Zvezda" fani man izteica nāves draudus un teica, ka mani sagaidīs pie mājām. Kad notika derbijs, spēles laikā fani dziedāja neglaimojošas dziesmas par mūsu komandas kapteiņa mazo dēlu un arī mūsu atbalstītāji ar ko līdzīgu atbildēja."
Arī Bertāns vairākās intervijās uzsvēris – trakākie fani, pie kuriem nācies spēlēt. Gan spēļu laikā, gan ārpus tā, it īpaši derbijos.
Šī gada perspektīvas – leģendārais Obradovičs un cerība atdzimt. Un Kurucs?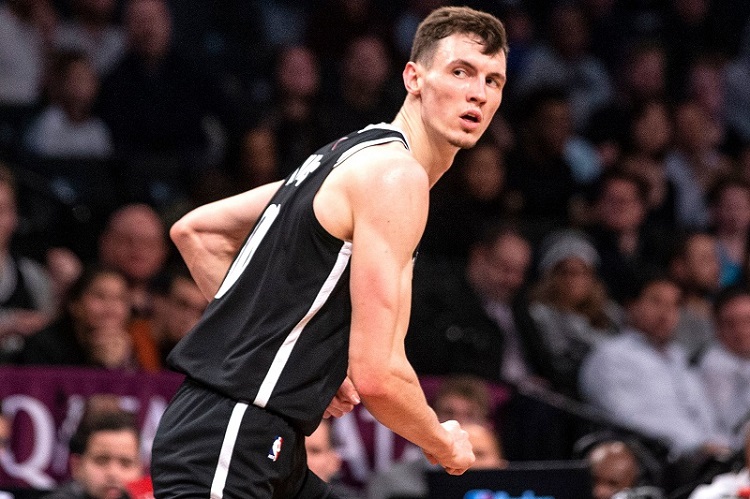 Parunāsim par Rodionu. Kurucs pēc pārsteidzošas debijas sezonas NBA, kur izpelnījās uzaicinājumu uz jauno talantu maču Zvaigžņu spēles nedēļas nogales ietvaros, turpinājumā nav spējis demonstrēt tikpat veiksmīgu sniegumu un šosezon tika aizmainīts pat divreiz. Ja skatāmies "tīri" statistiski, tad Kuruca rādītāji virzījušies lejupejošā ģeometriskajā progresijā:
1) Debija – 63 spēles (46 starta pieciniekā), vidēji 20,5 minūtes, 8,5 punkti un 3,9 atlēkušas bumbas
2) "Sophmore" sezona – 47 spēles (deviņas starta pieciniekā), vidēji 14,6 minūtes, 4,6 punkti un 2,9 atlēkušas bumbas
3) Aizvadītā sezona – 21 spēle, vidēji sešas minūtes un 1,5 punkti un 1,1 atlēkusī bumba
Protams, kaislīgākajiem Latvijas faniem bija cerība, ka caur Vasaras līgu Kurucs varētu atkal nopelnīt līgumu NBA, kā arī sākotnēji tika plānots. Durvis uz NBA gan atstātas pavērtas – līgumā iestrādāta opcija, ka vasarā attiecīga piedāvājuma gadījumā "Partizan" šķēršļus neliks.
Tāpat līdz ar Obradoviča ierašanos mājās vismaz "uz papīra" izskatās, ka komanda ir gatava cīnīties par nopietniem mērķiem. Lai arī aizgājuši pagājušas sezonas līderi, vietā nākuši, šķiet, daudz jaudīgāki spēlētāji – Kevins Punters (divkārtējs FIBA ČL uzvarētājs ar Atēnu AEK un Boloņas "Virtus" 2018. un 2019. gadā, kad kļuva arī par "Final Four" MVP), kā arī Zaks Lidejs (pērn iekļuva Itālijas A Sērijas simboliskajā pieciniekā – vidēji gūti 15,8 punkti), kuri abi pērn pāstāvēja Milānas "Olimpia" un spēlēja Eirolīgā. Iespaidīgi papildinājumi.
Starp citu, Punters pirms diviem gadiem pārstāvēja "Crvena Zvezda", kas nozīmē, ka noteikti starpgadījumi ar faniem būs, zinot līdzjušanas kultūru. Abu komandu starpā derbiji ir īpaši nozīmīgi ne tikai basketbolā, bet arī futbolā.
Ierindā ir palikuši Markuss Peidžs (vidēji 8,7 punkti Adrijas līgā) un Viljamss Moslijs (galvenais balsts aizsardzībā un cīņā par bumbām), kuri abi Belgradā ir aizvadījuši pēdējās trīs sezonas. Vārdu sakot, nezinot vēl kādi papildinājumi sekos, sastāvs vācās ļoti solīds. Ja seko vēl kāds nopietns papildinājums, lai arī kā Latvijā visiem tagad varētu sacelties mati gaisā, Kuruca loma noteikti (vismaz pirmšķietami) neliekas kā akmenī iekalta, ka viņš spēlēs pirmās vijoles. Lidejs un Punters noteikti pieteiksies pie galvenajiem punktu guvējiem, netrūkst arī meistarīgu gan pieredzējušu, gan gados jaunāku un ambiciozu serbu spēlētāju, kuri noteikti grib vai nu sevi apliecināt, vai spert nākamo soli uz lielās basketbola skatuves. Iekšējā konkurence būs nežēlīga arī Kurucam ar visu NBA pierakstu.
Un, protams, treneris… Obradovičs pēc lieliskā sākuma kā trenerim, kad ar "Partizan" tika sasniegtas neiedomājami augstas virsotnes, strādājis ar tādiem grandiem kā Atēnu "Panathinaikos", Madrides "Real", Trevīzo "Benetton", Stambulas "Fenerbahce", kas bija pēdējā pieturvieta ar septiņu gadu darba pieredzi, kā arī ar citiem klubiem. Viņš ir visu laiku titulētākais Eiropas treneris, Eirolīgā triumfējot deviņas reizes! Un, protams, viņa kontā ir neskaitāmi cita līmeņa tituli.
Pēdējos astoņos gados, kā jau iepriekš minēts, "Partizan" nozīmīgus titulus izcīnījuši nav. Arī starts Eirokausā nav uzskatāms par īpaši veiksmīgu, jo septiņas sezonās nākamajā kārtā (top16) iekļūts tikai trīs reizes. Šogad komanda noteikti tēmēs augstāk. Kur tam visam pa vidu ar kluba un Obradoviča ambīcijām atgūt savu spozmi atradīsies vieta un laiks Kurucam? Tas paliek aktuāls jautājums. Katrā ziņā labā kompānijā ir nonācis latvietis, kur neko par velti nedos un viss būs jāpaņem pašam. Bet Kurucs jau reiz ir bijis tādā situācijā. Vai viņš spēs atgūties un restartēt savu karjeru?