Aizvadītajā nedēļas nogalē serbu tenisists Novāks Džokovičs ierakstīja savu vārdu ar biezākiem burtiem vēstures grāmatās, jo pēc triumfa Vimbldonā viņš panāca divus citus tenisa ikonas šveicieti Rodžeru Federeru un spāni Rafaelu Nadalu izcīnīto "Grand Slam" titulu ziņā – 20.
Eksperti un līdzjutēji vairākus gadus lauž šķēpus, kurš no "Lielā trijnieka" ieies vēsturē kā visu laiku izcilākais tenisists? Džokovičs šosezon uz šo statusu ir veicis ļoti spēcīgu pieteikumu. Bet kā to izmērīt? Par atskaites punktu jāņem titulu, kas nav tikai "Grand Slam" sērijas, skaits? Vai cik bieži kāds ir izcīnījis uzvaras pret savas ēras tiešajiem konkurentiem? Nedēļas pirmās pasaules raketes godā vai varbūt ir citas mērauklas? Varbūt visu jāmiksē kopā? Un statistika šiem trim vīriem ir vairāk nekā iespaidīga! Un sportā ir tāds teiciens – ja nevari ko izskaidrot, apskaties statistikā. Tā nemelo.
Konkurence vīriešu tenisā pēdējā desmitgadē, it īpaši "Grand Slam" turnīros, bijusi maza. Runa nav par konkurētspējīgiem tenisistiem, bet gan to, ka "Lielais trijnieks" + pāris izņēmuma gadījumu nosmeļ visu krējumu. Statistika ir nepielūdzama – pēdējos 11 gados bez nosauktā trio vēl to kādu no "Grand Slam" uzvarējis Stans Vavrinka (2x), Endijs Murejs (3x), Marians Ciličs (1x) un Dominiks Tīms (1x), bet, ja rokamies vēl dziļāk pagātnē, sākot no 2004. līdz 2009. gadam, tad no 24 iespējamiem "Grand Slam" tituliem 14 izcīnīja Federers, sešus Nadals, vienu Džokovičs un tikai pie trīs kausiem tika kāds cits. Lūk, cik ilgi vērojama "Lielā trijnieka" dominance!

Ja skatāmies no "lielo" titulu prizmas, kur ietilpst uzvaras "Grand Slam", "ATP Masters" un "ATP Finals" un olimpiāde, tad šeit Džokovičs "ieliek" abiem konkurentiem. Serba kontā ir 61 šāds tituls, savukārt Nadalam ir 57, bet Federeram 54. Džokovičam arī pieder unikāls sasniegums "Masters" līmeņa turnīru kontekstā, jo viņš vienīgais spējis uzvarēt visos deviņos, turklāt katrā no tiem to izdarot vismaz divreiz. Tāpat jāatzīmē, ka Džokovičs ir vienīgais spēlētājs tūres vēsturē, kurš spējis uzvarēt visus "Grand Slam" turnīrus vismaz pa divām reizēm – deviņi "Australian Open", divi "Roland Garros", seši Vimbldonas un trīs "US Open" tituli. Un vienīgais no šīs trijotnes, kurš spējis izcīnīt zeltu vienspēlēs olimpiādē ir Nadals. Bet OS nozīme tenisistu acīs ne vienmēr ir viennozīmīga. Federeram šāds tituls ir dubultspēlēs. Vienlaikus Nadals ne reizi nav triumfējis "ATP Finals" jeb sezonas noslēguma turnīrā, kur piedalās kalendārā gada astoņi labākie tenisisti, un lauvas tiesa viņa "Grand Slam" titulu ir izcīnīti Parīzē – 13. Vai viņš pievienos vēl kādu? Ļoti iespējams.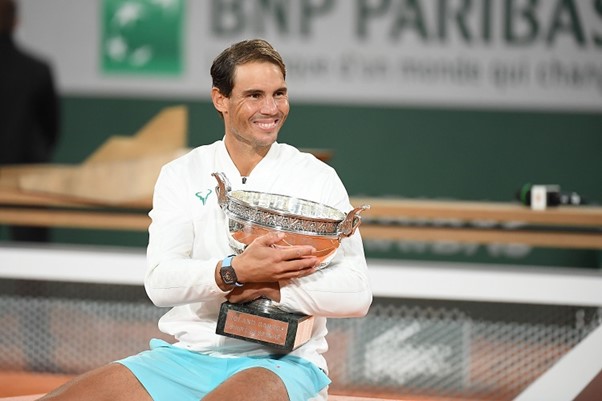 Tiesa, kopējo izcīnīto titulu ziņā kopš "atvērtās ēras" (1968. gada, kad profesionāliem spēlētājiem atļāva sacensties ar amatieriem, visus liekot "vienā katlā", nevis iedalot divīzijās) līderis ir Federers, kuram kopā ir 103 (ieskaitot "ATP 500 & 250" turnīrus), bet Nadalam un Džokovičam attiecīgi 88 un 83. Arī sasniegto finālu skaitā Rodžers ir līderis ar attiecīgi 157, tad seko Nadals ar 125 un Džoko ar 121, kas loģiski arī noved pie tā, ka viņam ir labākais uzvaras procents šajā komponentā – ja Federers tiek līdz turnīra pēdējai spēlei, viņš izcīna uzvaru četrās no piecām reizēm jeb attiecīgi 81,5% gadījumu. Nadalam ar Džokoviču tas ir attiecīgi 75% un 73,1%.
"Aci pret aci" spēlēs arī pārsvars ir serbam. Viņa bilance pret Nadalu ir 30:28, savukārt pret Federeru 27:23. Tomēr spēlēs pret top10 spēlētājiem Federeram ir visvairāk uzvaru – 224 -, kas loģiski, jo viņš ir visvecākais no šī trio (39 gadi), bet labākais uzvaru procents ir Džokovičam – 68,8% – kas noteikti ir objektīvāks rādītājs un piedevām Džokovičam ir tikai par vienu uzvaru mazāk arī kvantitatīvajā ieskaitē – 223.
Interesanta aina paveras pie ailītes pie uzvarētajiem izšķirošajiem setiem (vai nu tas būtu trešais sets līdz divu setu uzvarai vai piektais līdz trīs "Grand Slam" turnīros). Tur Džokovičs ir līderis ar uzvarām 73,4% gadījumu, savukārt ne Nadals, ne Federers nav labāko trijniekā, esot attiecīgi 4. un 10. vietā. Tas tomēr ir svarīgs faktors un norāda uz spēlētāja spēju kā fiziski, tā psiholoģiski saņemties un izraut uzvaru smagās situācijās. Federera gadījumā gan jāsaka, ka lielākā daļa zaudējumu izšķirošajos setos piedzīvoti pēdējos piecos gados, kad viņa sportiskais "pīķis" sācis lēnām iet uz leju. Toties viņš ir trešais eisu skaita ziņā tūres vēsturē, līdz šim spējot izpildīt 11,448 netveramas serves. Federers arī ir līdz šim vecākais spēlētājs, kurš spējis izcīnīt ATP tūres titulu – tas notika 2019. gadā "Swiss Indoors" sacensībās un tobrīd viņš bija 38 gadus un divus mēnešus vecs (jauns).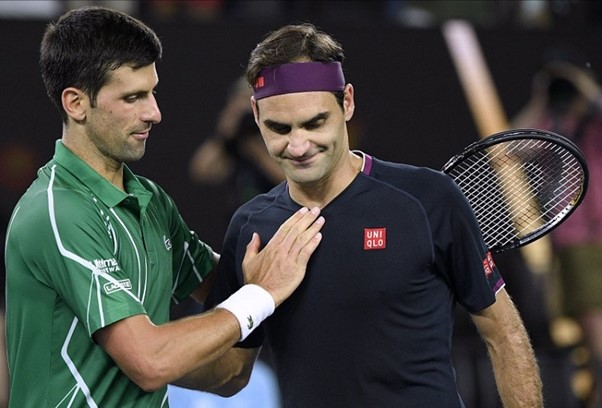 Tāpat noteikti "labs" rādītājs, kā noteikt labāko, ir pasaules rangs. Tajā visilgāk nedēļas kopumā pirmajā vietā atradies Džokovičs (330 nedēļas), otrais ir Federers (310), savukārt Nadals ir ceturtais (209). Un arī gadu ziņā visvairāk to iespējis ir Džoko – kopā sešus pret abu "pretinieku" pieciem. Tātad – dalījuši ir diezgan brālīgi ranga pirmo vietu sezonu noslēgumos.
Apkopojot visu statistiku, uz pirmo acu skatienu un veiktās analīzes var secināt, ka, ja jāizvēlas viens no šiem trīs lieliskajiem sportistiem, tad priekšroka jādod Džokovičam. "Lielie" tituli, uzvarēti izšķirošie seti un gadi, kas noslēgti pasaules ranga pirmajā vietā un tur pavadītās nedēļas par labu runā tieši serbam. Šobrīd viņam ir lieliska iespēja paveikt ko tādu, ko neviens vīrietis tenisā nav spējis izdarīt – uzvarēt visos četros gada "Grand Slam" turnīros. Šogad pirmie trīs jau pagājuši viņa zīmē. Līdz šim ko tādu spējusi paveikt tikai Štefija Grāfija, kura turklāt tajā pašā gadā uzvarēja arī olimpiskajās spēlēs.
Protams, te var apelēt pie tā, ka Džokovičs tā arī nav uzvarējis nevienu "Grand Slam" titulu pret "pīķī" (angļu valodā ir spēcīgāks vārdu salikums "in prime") esošu Federeru, laikos kad viņš dominēja un izcīnīja vienu titulu pēc otra. Tāpat Džoko nekad nebija jāmēro spēki pret Andrē Agasi un Pītu Samprasu, ko darīja Rodžers. Cits var teikt, ka abas reizes, kad tika uzvarēts "Roland Garross", par māla karali sauktais Nadals nekad nebija 100% gatavā formā. Bet tie ir salīdzinoši subjektīvi jēdzieni, vienlaikus tos, protams, jāpatur prātā. Un vēl ir cilvēki, kuriem patīk teikt, ka liela daļa no "lielajiem" tituliem izcīnīti pret "lūzeriem" no "Next Gen" paaudzes (kā tagad moderni sauc jaunos un talantīgos tenisistus).
Tomēr šādas pretenzijas var izteikt jebkuram izcilniekam. Tas tikai novedīs pie visu tenisa izcilo sasniegumu pakāpeniskas vērtības devalvēšanas. Tātad šī nav konstruktīva pieeja, bet gan tāda pati retorika kā runāšana par spēles ideālo tēlu vai skaistumu, kas realitātē nenosaka, kurš ir labākais. Bet daudzas (un pēc šo rindu autora domām – arī svarīgākās) iepriekš nosauktās statistikas ailes tomēr runā par labu Džokovičam.
Protams, vienmēr pastāv teorētiska iespēja, ka kāds viņu pārspēs. Pastāv pat variants, ka vismaz vairākos rekordos Džokoviču vēl apsteigs Nadals vai Federers, jo abi spēlēt vēl nav beiguši. Taču vienam ir 35 un otram 39 gadi. Džokovičam ir 34 un tik daudz savainojumu (ptu, ptu, ptu) viņam vēl nav kā šobrīd redzam, kad Nadals un Federers ar tiem cīnās un aizvien vairāk sāk atgādināt vien ēnas no saviem labākajiem gadiem. Visticamāk, Džokovičs vēl tikai uzlabos savus rekordus un darīs to apsteidzot "Next Gen" spēlētājus, kas nozīmēs to, ka viņš tiešā cīņā aizturēs un nosargās savu rekordu ilgtspējību arī nākotnē. Tūliņ jau sāksies olimpiskās spēles, bet augusta beigās norisinās sezonas pēdējais "Grand Slam" turnīrs "US Open". Ja Džokovičs tajos abos spēs uzvarēt un iegūt, tā saucamo, "Golden Slam", šķiet, pretinieku domai par viņu kā par "visu laiku labāko" paliks aizvien mazāk. Šobrīd mēs piedzīvojam vēsturi un svarīgi ir to izbaudīt. Jo nedz Nadals, nedz Federers vēl nekur nav aizgājuši un mūs noteikti vēl sagaida kāds leģendārs mačs šo trīs lielisko tenisistu izpildījumā! Bet pagaidām, ja jāizvēlas viens, tas ir Džokovičs…