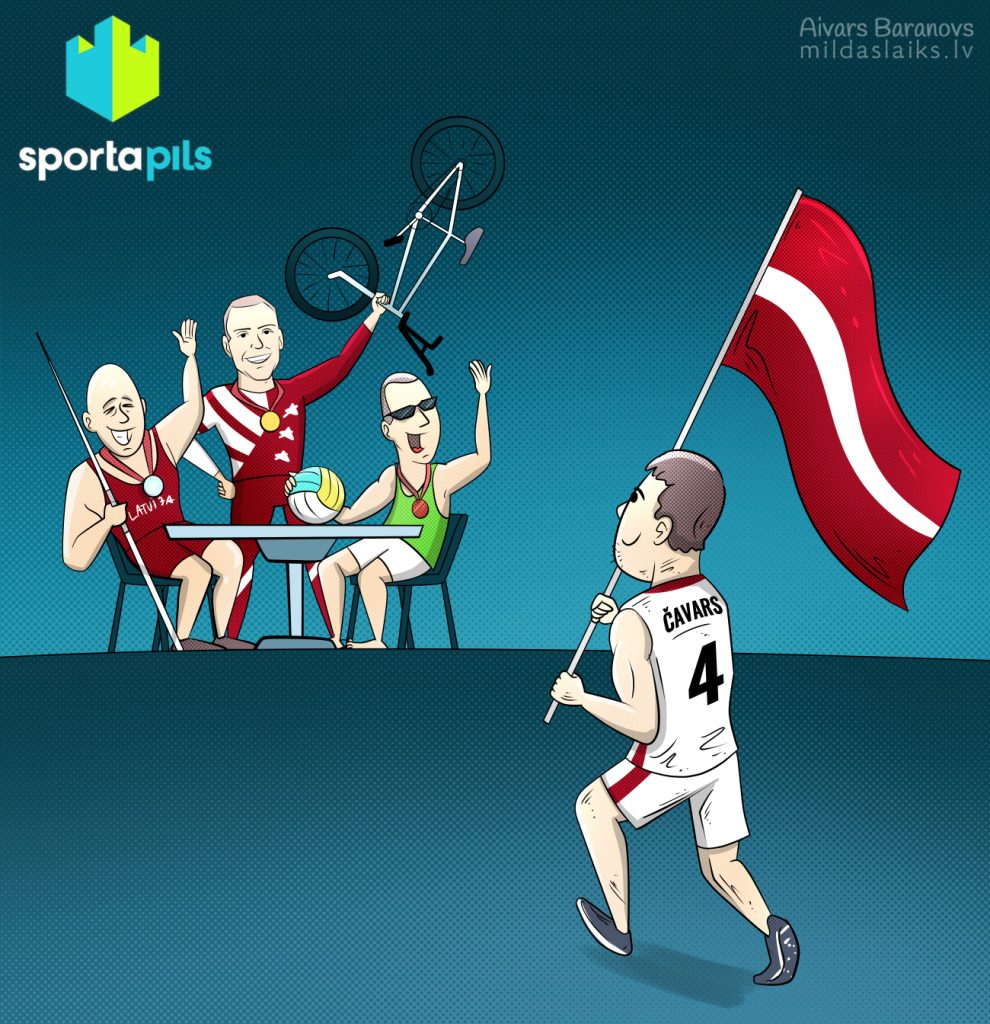 Agņa Čavara izvēle kā Latvijas olimpiskās delegācijas karognesēja bija zīmīga vairāku apstākļu dēļ. Viņam pašam šī būs debija olimpiskajās spēlēs, un, runājot par šo pienākumu, Čavara balsī bija jūtams, ka viņš to uztver ļoti nopietni un novērtē gan kā pagodinājumu, gan kā svarīgu pienākumu. Kā nekā, vairākas stundas garajā atklāšanas ceremonijā, ko skatās teju visā pasaulē, pat visaizrautīgākajiem komentētājiem par katru valsti, kas ienāk stadionā, bieži vien vienīgais sakāmais ir par tās karognesēju.
Čavars stadionā ievedīs Latvijas olimpisko izlasi, kura šoreiz ir tikai 33 sportistu sastāvā, un tieši Čavara pārstāvētā 3×3 basketbola komanda objektīvi uzskatāma par ticamāko medaļu kandidāti Latvijai, kas iepriekšējās vasaras olimpiskajās spēlēs bija spiesta palikt bez medaļām, turklāt jāatzīmē arī fakts, ka Latvijas sastāvā šobrīd nebūs neviena no Rio spēļu labāko sasniegumu autoriem. Laura Ikauniece uz OS nevar braukt traumas dēļ, Aleksejs Rumjancevs šoreiz tām nekvalificējās, kamēr Rebekai Kohai profesionālais sports vairs nav pirmajā un pat ne otrajā vietā.
Čavaram būs arī cits gods – viņš būs pirmais Latvijas basketbola pārstāvis, kurš nesīs Latvijas karogu olimpiskajās spēlēs. Basketbolā esam aizrāvušies ar "sporta veids nr. 1" piesaukšanu, Porziņģa-Bertāna-Kuruca zvaigžņu sastāva sapņošanu un nesasniegtu medaļu skaitīšanu, taču praksē mums ir knapas sešas komandas augstākajā līgā un vīriešu izlase, kas nemaz nepiedalījās OS kvalifikācijas turnīrā. Tobrīd tā likās tik traka netaisnība, sak, kā FIBA var tā sastādīt noteikumus, ka mēs tur nemaz nespēlējam, bet tad pienāca EČ kvalifikācija, kurā izrādījās, ka varbūt nemaz tik negodīgas visas lietas nav.
Ja gribam salīdzināt, tad hokejā Latvijai ir bijuši četri OS karognesēji – Sandis Ozoliņš, Artūrs Irbe, Harijs Vītoliņš un tālajā 1936. gadā Leonīds Vedējs. Tikpat ir arī šķēpmešanai – divreiz Vadims Vasiļevskis, vienreiz Voldemārs Lūsis un 1914. gadā Arvīds Ķibilds, kurš toreiz piedalījās vairākās vieglatlētikas disciplīnās.

Fakts ir tāds, ka vīriešu izlase OS tuvumā tā īsti nemaz netika, tas neizdevās arī dāmu izlasei, bet pārliecinoši izdevās 3×3 basketbola izlasei. Te var uzskaitīt visus argumentus pēc kārtas par to, ka Latvijā atrasts jauns sporta veids, kurā tad varam izmantot iespēju uzvarēt, kamēr pārējā pasaule vēl īsti nepievērš uzmanību. Līdzīgi kā šādi argumenti tiek klāstīti par Māra Štromberga divām olimpiskajām zelta medaļām, taču, pat ja savi patiesības graudi tur saskatāmi, sanāk tāda kā savējo nolikšana bez īsta iemesla.
Jā, 3×3 basketbols ir specifisks basketbola paveids, kurš droši vien nekad nespēs pietuvoties klasiskā basketbola popularitātei un finansiālajai rocībai, kaut vai tā vienkāršā iemesla dēļ, ka klasiskā basketbola vadītāji nav ieinteresēti kaut ko tamlīdzīgu pieļaut. Taču Latvijai kādā basketbola paveidā beidzot ir komanda, kas tēmē uz visaugstākajām vietām, un savu tēmēšanu prot pamatot ar darbiem. Protams, olimpiskajās spēlēs viss sāksies no nosacītas nulles un palikšana bez medaļas Latvijas izlasei, lai arī būs sarūgtinājums, par armagedona sākumu arī nebūs godīgi saukt, taču pamatotas cerības patiešām ir.
Latvijas sieviešu basketbola izlase piedalījās 2008. gada spēlēs, bet toreiz karoga nešana tika uzticēta Vadimam Vasiļevskim, kurš tobrīd bija olimpiskā vicečempiona kārtā, bet Pekinas spēlēs palika devītajā vietā. No Latvijas mūsdienu vēstures karognesējiem vasaras spēlēs medaļas ieguvuši trīs – Vasiļevskis, Mārtiņš Pļaviņš un Māris Štrombergs. Štrombergs gan medaļas ieguva jau iepriekš, kamēr 2016. gadā, kad atklāšanas ceremonijā nesa karogu, viņam sacensības tik veiksmīgas vairs neizdevās. Tikmēr Vasiļevska olimpiskā sudraba medaļa pirms desmit gadiem parādījās izlikta pārdošanā, ko viņš pats gan vēlāk skaidroja, kā rīcību uzmanības vēršanai uz slikto finansiālo situāciju un patiesībā nepārdeva.
Čavaram ir visas iespējas, lai šo karognesēju-medaļnieku kompāniju papildinātu, darot to kopā ar saviem komandas biedriem.