"No sirds lepojamies ar Agni Čavaru, Nauri Miezi, Kārli Paulu Lasmani un Edgaru Krūmiņu, kuri savus vārdus uz visiem laikiem ir ierakstījuši 3×3 basketbola un olimpisko spēļu vēsturē" – teju katrs ziņu portāls ar saturiski līdzīgu (ne vārds vārdā) vēstījumu trešdien ziņoja par Latvijas sportistu izcīnīto zelta medaļu Tokijā, fināla mačā uzveicot Krievijas olimpiskās komitejas komandu (21:18), kļūstot par pirmajiem šī sporta veida olimpiskajiem čempioniem, kā arī atnesot Latvijai pirmo zelta medaļu vasaras OS pēc deviņu gadu pārtraukuma.
Noteikti jāuzteic arī personāls, kas puišiem bija apkārt – treneris Raimonds Feldmanis, fizioterapeits Oskars Urbanovičs un fiziskās sagatavotības treneris Dāvis Feikners Tā bija viena vesela un vienota komanda!
Tikpat neizsīkstoši kā puiši cīnījās laukumos, sociālajos tīklos un mājās pie dažādu elektronisko ierīču ekrāniem kvartetu atbalstīja Latvijas līdzjutēji, no kuriem daudzi, ļoti iespējams, nemaz nezināja, kas tas par "trīs reiz trīs basi" tāds ir. Un šis nav jāuztver kritiski, bet drīzāk skaisti – pavētījot interneta vidi, bija redzams, ka dažāda vecuma un profesiju pārstāvji steidzās paust savu atbalstu basketbolistiem, bet intereses pēc parakņājoties šo cilvēku publisko ierakstu vēsturē, protams, ka viņu domas vai laba vēlējumi par šo 3×3 komandu nebija. Pat neskatoties uz to, ka viņi ir Pasaules vicečempioni (2019), kā arī Eiropas čempioni (2017) un vicečempioni (2018), kā arī Pasaules kausa tūres kopvērtējumā bijuši 2. un 3. vietā, tostarp izcīnot uzvaras vairākos posmos. Secinājums ir viens – olimpiāde vieno, bet ir arī cilvēki, kuri citu panākumus uztver kā kopējus. Bet varbūt tas nav slikti. Jāskatās no situācijas uz situāciju. Jo būs arī tādi, kuri šos panākumus centīsies piesavināties…
Tāpat nevarētu teikt, ka šo panākumu varētu uzskatīt par pārsteigumu, vienlaikus arī pašsaprotamu kā dogmu ne (dogma ir autoritātes noteikts princips, kas tiek pieņemts par neapstrīdamu patiesību). Un nevarētu arī teikt, ka pat tie, kuri ikdienā neslēdza iekšā FIBA 3×3 "Youtube" kanālu, lai sekotu līdzi "Riga Ghetto" komandas sekmēm pasaules tūrē, pa ausu galam kādreiz nebūtu dzirdējuši par šiem puišiem. Kā nekā, šai komandai par godu ir izveidota arī dokumentālā filma. Šobrīd šķiet pat klišejiski runāt par katra atsevišķo dzīves stāstu vai atgādināt nodrāztās frāzes kā "čaļi, kuri nevienam nebija vajadzīgi" un tā tālāk. Un savā ziņā tā arī bija, ja runājam par profesionālo – klasisko basketbolu, nevis dzīvē. Nevajadzētu arī pārlieku dramatizēt – uz ielas vai zem tilta neviens nedzīvoja.
Vēl jo vairāk – summas par uzvarētiem pasaules tūres posmiem vai godalgotām vietām arī bija mērāmas tūkstošos, plus pēc 2017. gada triumfa EČ komandu iekļāva arī Latvijas Olimpiskajā vienībā (LOV) B sastāvā ar atsevišķu lēmumu uz 2018. gadu, savukārt jau gadu vēlāk viņi parakstīja līgumu, ka būs A sastāva dalībnieki. Un LOV atbalsts ir ne tikai valsts stipendijas sportistiem, bet arī labāko Latvijā pieejamo apstākļu nodrošināšanā treniņiem, rehabilitācijai un sporta medicīnā. Summas, cik saņem sportisti, būtu nekorekti tagad minēt, jo tas izklausītos kā panākuma noniecināšana, jo tās ir solīdas, bet jebkurš gribētājs to viegli var iegūglēt. Tāpat džekiem pienāksies prāvas prēmijas – katrs var saņemt līdz 106 716 eiro, savukārt sportistu treneri un apkalpojošais personāls (kopā) līdz 213 432 eiro un tas ir pēc nodokļu nomaksas. Kāpēc tas ir jāpiemin? Jo brīdī, kad puiši savu ceļu sāka, viņiem nekas no tā nebija. Viss atbalsts, nopelnītie līdzekļi un finansējums tika sasniegts ar smagu darbu, regulāriem treniņiem sešos no rīta Turības zālē un upurēšanos. Par to vislielākā cieņa!

Jā, katram puisim ir savs stāsts – Miezis savulaik diskvalificēts no Latvijas Basketbola savienības (LBS) puses bez iespējām laboties, Edgars Krūmiņš spēlējis profesionāli, tad pametis šo nišu un strādājis pilna laiku, tad Vara Krūmiņa pierunāts (tā runā) atgriezies BK "Zemgale" rindās, Lasmanis vēl 2018./19. gada sezonā bijis BK "Jūrmala" spēlētājs, līdz viņam likuši izvēlēties – vai nu klasiskais vai 3×3 basketbols, bet Čavars, kuram arī ir pieredze profesionālos klubos, vispār pēc profesijas ir programmētājs… Un visi tagad ir olimpiskie čempioni!
Latvijas 3×3 basketbola attīstība ir spilgts piemērs FIBA (Starptautiskās Basketbola federācijas) sauklim "No ielām līdz Olimpiādei", jo visam sākums bija Raimonda Elbakjana rīkotie "Ghetto Basket" turnīri Grīziņkalnā, ko "zelta kvartets" nav aizmirsuši. Tieši tur sevi apliecināja Nauris Miezis un Edgars Krūmiņš, bet 2017. gada pavasarī komandas menedžera Jāņa Āres ideālā sastāva meklējumi vainagojās ar vienas no pasaules labākajām šī sporta veida komandām izveidi. Lasmanis un Čavars kļuva par tās dalībniekiem vēlāk, bet diezgan ātri kļuva skaidrs – šis ir īstais četrinieks.
Neiedziļinoties puišu privātajā dzīvē un pārdzīvojumos, skaidrs, ka ceļš nav bijis rozēm kaisīts. It īpaši tas jāizceļ, jo savulaik LBS vadība šim projektam neticēja un spītīgi bijušā LBS ģenerālsekretāra, tagad LBS Padomes locekļa Edgara Šnepa personā gāja pretī Elbakjanam. Abiem bija nenorakts kara cirvis. Kā vienā no intervijām ar šo rindu autoru 2019. gada aprīlī Elbakjans minēja, tad "LBS uzskata, ka tas ir mans biznesa projekts, un ka viņi mums devuši iespēju un tiesības vadīt 3×3 basketbolu, no kā mēs pelnām. Un tad, kad es prasu LBS, no kurienes vispār rodas iespēja jauniešiem spēlēt tādos turnīros, LBS man saka, ka tas ir mans privātais bizness, tāpēc to neatbalstīs." Skarbi, vai ne? Bet tagad LBS kungi, un noteikti arī citi, nekautrēsies sev piešūt uzplečus un kā jau sarunā ar "Latvijas Televīziju" izteicās Elbkajans: "Vispirms kaut kādi šakāļi uzradīsies un mēģinās kaut ko ieraut nāsīs no tā visa." Tiesa, nevienu nenosaucot vārdā.
Un kas ir interesanti, ka LBS kā organizācija var saņemt līdz 35 572 eiro sporta veida attīstībai un jauno sportistu sagatavošanai. Kaut gan realitātē LBS ieguldījums šajā panākumā procentuāli ir vismazākais. Galvenais bija "nemaisīties pa kājām" un neuzspiest atsevišķu personu ambīcijas, lai arī cik skarbi tas skanētu.
Tāpat Elbakjans divus gadus vecajā intervijā norādīja: "Ļoti daudzās valstīs 3×3 basketbolam ir konflikti ar federācijām un reti kur tiešām ir aukstasinīgi uzņēmušies vadību par tā attīstību. Jāņem vērā, ka arī federācijas daudzviet ir izteikti politizētas un tur sēž cilvēki, kas varbūt prot noturēt pozīcijas, bet reālu pienesumu basketbolam nedod." Starp citu, šajā kontekstā netrūka arī iekšēju nesaskaņu ceļā uz Tokijas spēlēm. Kad viens no LBS valdes locekļiem diezgan dīvainā veidā demonstrēja savu mīlestību un vīziju kā, viņaprāt, būtu jāattīstās 3×3 basketbola saimniecībai valstī, aizvien vēl vadot par to atbildīgo LBS komisiju. Lai arī konflikts līdz galam publisks nekļuva, tomēr situācijai tuvu stāvoši avoti apstiprināja – ilgi tā nevar turpināties. Dīvaini lēmumi un izteikumi nāca viens pēc otra. Beigās gan kopsaucējs tika atrasts, bet vienā brīdī netrūka arī attiecību pārbaudījums starp "Riga Ghetto" komandu un Elbakjanu. Un arī tas tika pārvarēts.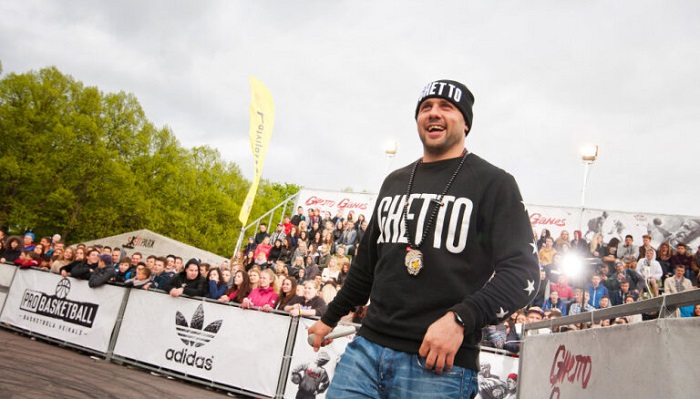 Protams, kā jau allaž dzīvojam, Ķīšezera maliņā jau nu nē, bet, pieminot šo (ne) veiksmīgi ievazājušos anglicismu, latviešu tautai raksturīgi "heitojam" arī cilvēkus ar panākumiem un skeptiķu netrūkst nekad. Vienam arguments ir – sak', šie pat nebija LBL1 līmeņa kārtīgi spēlētāji (kaut gan bija), bet te pasaulē visus "izpuļķē". Vai – šis taču nav basketbols, 14 sekundes uzbrukumā, skriešana ar galvu sienā un daudz prāta un spēju, lai to spēlētu, vispār nevajag. Vēl viens gana populārs "arguments" ir, ka ja reiz jācīnās kā līdzīgam ar līdzīgu ar ķīniešiem un japāņiem, bet sieviešu konkurencē olimpiādei vispār kvalificējusies Mongolija, tad par ko mēs te vispār runājam? Un tad ir otra grupiņa, kas pamostas tikai tad, kad sāk krāt panākumus (sveiciens politiķiem un nedaudz ātrāk LBS vadībai, kad tie redzēja, ka puiši sasniedz pirmos rezultātus un sāka kopēt Elbakjana idejas, pārsaucot tās par savām).
Bet nav ko gausties. Tādā pasaulē dzīvojam. Vienmēr būs kāds, kurš pārvērtēs, cits – kurš nenovērtēs. Suņi ries, bet karavāna ies tālāk un 3×3 basketbola izlases kvartets tāpat pamodīsies kā olimpiskie čempioni. Līdz savu mūžu beigām. Un lai arī cik kādam šis sporta veids liekas nenopietns, tomēr olimpisko spēļu programmā ne par velti tas ir iekļauts. Un tur uz visiem mūžiem paliks Latvijas vārds! Šobrīd galvenais ir nedaudz pasvinēt, bet negulēt uz lauriem. Iegrieztais ritenis jāturpina kustināt. Latvijā jau ir viens piemērs ar jauniem olimpiskajiem sporta veidiem – BMX riteņbraukšana. Pirmās divas OS uzvarēja Māris Štrombergs, bet vēlāk aiz viņa neviens pat nav pietuvojies medaļām, bet šogad olimpiādē palikuši tikai divi pārstāvji – pa vienam sieviešu un vīriešu konkurencē. 3×3 basketbolam rezerves un potenciāls ir, tikai nepieciešams to attīstīt.