Nacionālajā basketbola asociācijā (NBA) sācies viens no gada karstākajiem laikiem – brīvo aģentu tirgus, kurā klubu ģenerālmenedžeri ar īpašnieku svētību tērē simtiem miljonu dolāru, piesaistot sev vēlamos spēlētājus. Ne vienmēr gan izdodas trāpīt mērķi. Nereti kādam tiek pārmaksāts, lai tikai nepaliktu tukšā šajā skrējienā, bet ir arī spēlētāji, kuri piekāpjas titula izcīnīšanas lielākas iespējas priekšā attiecībā pret savām finansiālajām ambīcijām. Tāpat ir tādi līgumi, kuri ātri paliek "toksiski", proti, spēlētājs nepiepilda uz viņa liktās cerības un dolāru kalnus.
Viena no naudas svaidīšanas un "slikto" līgumu ziņā bagātākajām vasarām bija 2016. gadā, kad klubu ģenerālmenedžeri dalīja miljonus pa labi un pa kreisi vārda tiešākajā nozīmē, bet daudzi no piešķirtajiem līgumiem jau to noslēgšanas brīdī likušies, maigi sakot, dīvaini, bet lielākā daļa pārtapa par katastrofām.
Naudas šķērdēšana un spēlētāju līgumu vērtība auga pateicoties NBA un ESPN un "Turner Sports" 2016. gada februārī noslēgtajam līgumam par 24 miljardiem ASV dolāru uz turpmākajiem deviņiem gadiem. Tā rezultātā ievērojami tika pacelti algu griesti (pieļaujamā summa, cik var viena komanda tērēt spēlētāju algās). Ja 2015./16. gada sezonā tie bija 70, tad nākamajā tie uzlēca uz 94,2 miljoniem, ieskaitot maksimālo summu 113,2 miljonus ar greznības nodokli. Tas pavēra pandoras lādi un spēlētāji kļuva aizvien labāk apmaksāta, bet neiztika arī bez force major situācijām, kad klubu ģenerālmenedžeri piešķīra vienu sliktu līgumu pēc otra.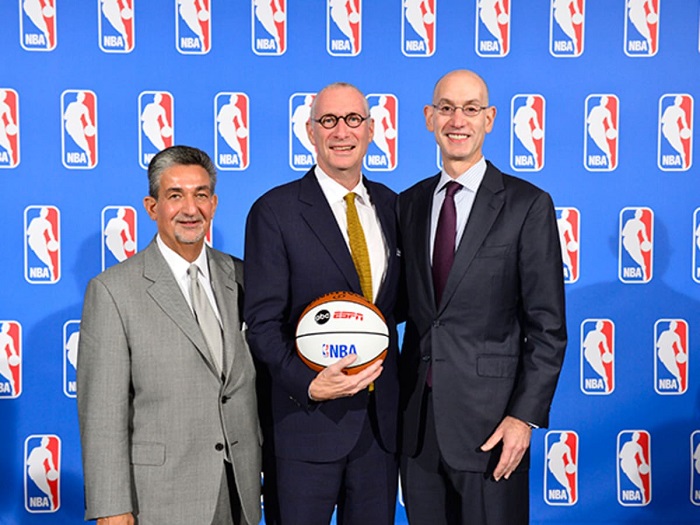 Turpinājumā apskatīsimies skaļākos no gadījumiem. Visas norādītās summas ir ASV dolāros.
Nikola Batums (Šarlotes "Hornets"), 120 miljoni uz piecām sezonām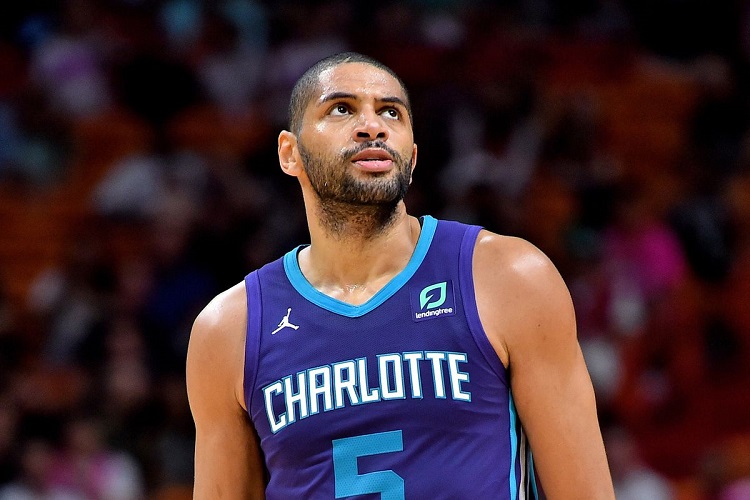 Sāksim ar pēdējos gados visiespaidīgāko (pēc daudzu domām) spēlētāja pārmaksu. 2015./16. gada sezona francūzim padevās solīda – 14,9 punkti, 5,8 rezultatīvas piespēles un 6,1 atlēkusī bumba. Viņš bija sevi pierādījis abos laukuma galos un kā daudzpusīgu spēlētāju. Tad nāca lielais Maikla Džordana (viņam pieder klubs un bez viņa tādu lēmumu pieņemšana nevar būt iedomājama) piedāvājums, no kura neviens saprātīgs cilvēks neatteiktos. Atslēga tajā visā bija iestrādātā spēlētāja opcija pirms piektā gada, kas ļāva Batumam vienpersoniski līgumu pagarināt, tā noslēdzošajā gadā saņemot 27 miljonus.
Sākums bija labs, jo francūzis turēja līmeni, tiesa, tas nepalīdzēja komandai iekļūt izslēgšanas mačos. Tas neizdevās arī turpmākajās divās sezonās, bet Batuma produktivitāte kritās. Loģiski, ka viņš tika uzlūkots kā viens no galvenajiem vaininiekiem, ņemot vērā kontrakta apjomu. 2019./20. gada sezonā viņu mocīja traumas, aizvadot vien 22 spēles, bet spēkā bija iepriekš minētā spēlētāja opcija, kuru viņš nekautrējās akceptēt pirms šīs, tikko aizvadītās sezonas. Tieši tajā pašā brīdī "Hornets" bija noslēguši ne mazāk iespaidīgu līgumu (120 miljoni uz četrām sezonām) ar Gordonu Heivardu, kas, skatoties no algu griestu viedokļa, klubam izmaksātu ļoti daudz, bet Batums jau bija zaudējis savas pozīcijas kā starta piecinieka spēlētājs un kļuvis par dārgāko lomas spēlētāju līgas vēsturē. Beigās "Hornets" viņu atlaida (izpirka) un atlikušo līguma summu sadalīs turpmākajās trīs sezonās algu griestu sarakstos.
Batums ar mierīgu sirdi pievienojās Losandželosas "Clippers" vienībai, kur spēlēja jau par veterāna minimumu (aptuveni 2 miljoni), un pieņēma savu lomu.
Joakims Noā (Ņujorkas "Knicks"), 72 miljoni uz četrām sezonām
Turpināsim ar Ņujorkas "Knicks" un leģendārā Fila Džeksona, kurš tobrīd bija kluba prezidents, naudas izdalīšanas popūriju francūzim Joakimam Noā. Ideja bija laba – komanda bija maiņas darījumā ieguvusi bijušo līgas vērtīgāko spēlētāju Deriku Rouzu un cerēja atjaunot viņa saikni ar Noā no Čikāgas "Bulls" laikiem. Nē, ne Maikla Džordana un Skotija Pipena, bet komandu, kas savulaik (uzsvars uz šo vārdu) sīvi cīnījās ar Lebronu Džeimsu un Klīvlendas "Cavaliers" Austrumu konferences finālā.
Rezultātā Noā tika piešķirts tobrīd skaidri redzami neadekvāts līgums, jo pazīmes, ka viņš atdzims iepriekšējā līmenī (nosaukts par gada aizsardzības spēlētāju), nebija. Centrs pērno sezonu noslēdza priekšlaicīgi pleca traumas dēļ un laukumā bija devies vien 29 mačos, izceļoties ar 4,3 punktiem (metienos no spēles 38%, kas centra pozīcijas spēlētājiem ir šausmīgi). Jā, viņš spēja vidēji izcīnīt 8,8 bumbas zem groziem un atdot 3,8 piespēles, bet viņa noriets bija sācies vēl gadu iepriekš, kad viņš no stabila "double – double" spēlētāja (četrās no piecām sezonām sasniegts) sāka atgādināt ēnu.
Džeksona filozofija nenostrādāja – ne cerētā saikne, ne Noā pienesums neatbilda piešķirtā naudas čeka "risk – reward" attiecībai. Franču centrs pirmajā sezonā ar "Knicks" izcēlās ar pieciem punktiem un 8,8 atlēkušajām bumbām, bet gadu vēlāk ar 1,7 punktiem, laukumā izejot vien septiņos mačos. Viņš arī pazīstams kā kolorīts personāžs, kas tika apliecināts arī dzīvē, izveidojoties konfliktam ar tā brīža galveno treneri Džefu Hornačeku. Vēlāk komanda viņa līgumu izpirka, kas tai izmaksāja tāpat ļoti dārgi.
Bismarks Bijombo (Orlando "Magic"), 72 miljoni uz četrām sezonām
Vēl viens garā gala spēlētājs, kurš attiecīgajā sezonā tika pie "lielā kumosa". Gadu iepriekš viņa statistikas rādītāji bija līdzīgi kā Noā, bet Kongo Demokrātiskās Republikas pārstāvis "uzsita sev cenu" "play-off" skrējienā ar Toronto "Raptors", uz kuru viņš tika aizmainīts sezonas laikā no Šarlotes "Hornets". Statistika izslēgšanas spēlēs tiešām bija solīda – 6,2 punkti, 9,4 atlēkušās bumbas un 1,4 bloki, vienlaikus apliecinot sevi kā drošu aizsardzības balstu. "Magic" ĢM viņam noticēja, kam noteikti palīdzēja arī viņa super – spēle pret "Cavaliers", kur viņš izcēlās ar 26 bumbām zem groziem un četriem blokiem.
Turpinājumā gan iespaidīgo līgumu "atstrādāt" neizdevās, jo diez vai seši punkti un septiņas atlēkušās bumbas bija tas, ko "Magic" gaidīja no teju ceturtdaļas algu kopējā budžeta aizņemoša spēlētāja. Arī nākamajā sezonā snieguma kvalitāte kritās un viņš tika aizmainīts.
Mailzs Plamlijs (Milvoki "Bucks"), 52 miljoni uz četrām sezonām
Nākamais stāsts teju katram NBA apskatniekam un līdzjutējam šķita ērmīgs no pirmā brīža, kad par to izdzirdēja. Pirms tikšanas pie lielā "kāposta" viņš laukumā vidēji pavadīja vien 14,3 minūtes un ģenerēja 5,1 punktu ar 3,8 bumbām zem groziem. Un lai arī šis bija lielais algu griestu pieauguma gads, jau tobrīd šāda apjoma algas čeks likās krietni pārspīlēts. "Bucks" vadība gan savu izvēli pamatoja ar to, ka Plamlijs labāk iederēs blakus Jannim Adetokunbo un Džabari Pārkeram nekā Gregs Monro vai citi garie spēlētāji, kas atradās komandā. Rezultātā viņa spēles laiks krita uz 10 minūtēm un Plamlijs jau pirmajā kontrakta sezonas vidū tika aizmainīts uz Šarloti.
Kas ir pats interesantākais šajā stāstā? Tajā pašā vasarā "Bucks" noslēdza četru gadu līgumu par 44 miljoniem ar Džonu Hensonu, kura statistika gadu iepriekš bija pat labāka nekā Plamlijam – 7,2 punkti, 3,9 atlēkušās bumbas un 1,9 bloki, turklāt arī laukumā Hensons atradās biežāk.
Timofejs Mozgovs (Losandželosas "Lakers"), 64 miljoni uz četrām sezonām
Ja reiz iesākām ar centriem, tad arī noslēgsim. Kurš gan neatceras Mozgova lielo algas dienu? Par statistisku nemaz nerunāsim, vien izceļot, ka pirms tam regulārajā sezonā viņš laukumā vidēji pavadīja 17,4 minūtes, bet "play-off" 5,3. Toties viņš ir pilnvērtīgs NBA čempions, kad "Cavaliers" vēsturiski atspēlējās pret Goldensteitas "Warriors" finālā no 1-3 sērijā, Mozgovs arī bija ierindā. Iespējams, tas nostrādāja tā laika "Lakers" ĢM Miča Kupčaka prātā, kā arī viņš uzticējās un cerēja, bet tas viss noslēdzās ne ar ko. Mozgovs regulāri cīnījās ar savainojumiem, nespējot demonstrēt labāko sniegumu, bet pēc vienas sezonas jau tika aizmainīts uz Bruklinas "Nets", un vēl pēc gada viņš bija prom no NBA. Naudu gan iekasēja.

Luols Dengs (Losandželosas "Lakers"), 72 miljoni uz četrām sezonām
Turpinot par "Lakers", tad šajā pašā vasarā tika pieļauta vēl viena smaga kļūda, parakstot dārgu ilgtermiņa līgumu ar bēgļu gaitās uzaugušo (smaga bērnība un dzīves stāsts) Dengu. Līguma parakstīšanas brīdī Dengam bija 30 gadu un pēdējās divas sezonas Maiami "Heat" rindās divkārtējam Zvaigžņu spēles dalībniekiem nebija pārāk izteiksmīgas. Kopš tiem laikiem bija pagājušas trīs sezonas, bet Kupčaks cerēja, ka Losandželosā Dengs atdzims. Tā gan nenotika, uzbrucējam uzreiz pirmajā kontrakta gadā aizvadot visvājāko (tobrīd) sezonu savā karjerā – 7,6 punkti, metienus no spēles realizējot ar 38% precizitāti.
Viņa lejupejošā līkne sākās tās pašas sezonas vidū, kad par basketbola operāciju prezidentu kļuva Maģiskais Džonsons, kurš lika trenerim Lūkam Voltonam vairāk iespēlēt debitantu Brendomu Ingremu. Tā kā "Lakers" laicīgi atvadījās no izredzēm iekļūt "play-off", tad Voltons uz tās beigām nolēma jaunajiem spēlētājiem dot vairāk spēles laika, kā rezultātā Dengs atlikušajās 22 spēlēs laukumā nedevās. Nākamajā sezonā viņš izgāja laukumā pirmajā mačā starta pieciniekā, kas tā arī palika kā pēdējais "Lakers" uniformā. Viņš panāca ar Voltonu mutisku vienošanos, ka labāk viņam nespēlēt, nekā spēlēt, tā saucamajā, "garbadge time", un ar to viss bija beidzies. Neilgi pirms nākamās sezonas sākuma klubs ar Dengu vienojās par līguma izpirkšanu un, starp citu, vēl līdz šai dienai pieci miljoni no viņa algas tiek ieskaitīti "Lakers" algu griestos.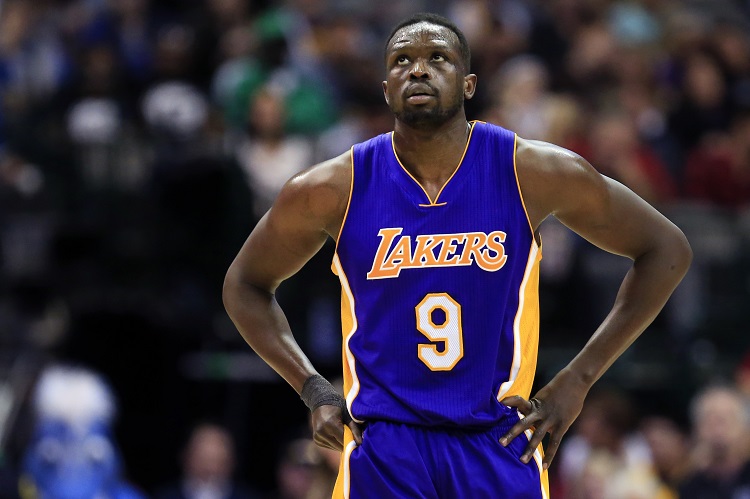 Jau tolaik stājoties amatā Maģiskais, kurš pats vēl nevienu līgumu nebija slēdzis, sacīja: "Mums ir pāris smagi līgumu algu sarakstos, bet jāstrādā ar to, kas ir" Domājot noteikti par Mozgovu un Dengu. Un tas bija tikai sezonas vidus… Jāatzīmē, ka 2016. gada vasara arī bija pirmā, kuru pēc 20 sezonām "Lakers" rindās nesagaidīja Kobe Braients, jo bija noslēdzis karjeru. Vēl līdz šai dienai Kupčakam tiek uzdoti jautājumi – ko viņš domāja, noslēdzot uzreiz divus šādus līgumus? Ka Mozgovs ar Dengu būs tas duets, kas izglābs "Lakers" spozmi?
Čandlers Pārsons, (Memfisas "Grizzlies"), 94 miljoni uz četrām sezonām
Bet pastāv arī lielāki "ieberzieni", kā piemēram, šis. Pirms vienošanās ar Memfisu Pārsons Dalasas "Mavericks" rindās bija aizvadījis solīdu sezonu – 13,7 punkti, tālmetienus realizējot ar 41% precizitāti. Bet arī – gadu iepriekš viņa rādītāji bija vēl labāki. Tobrīd 27 gadus vecais Pārsons "Grizzlies" organizācijai šķita kā trūkstošais posms komandas spēles uzlabošanai. Taču tad notika vissliktākais iespējamais variants – sākās problēmas ar ceļgaliem, kas pārvilkušas melnu strīpu pāri daudzu profesionāļu karjerām.
Turpmākajos trīs gados Pārsons devās laukumā vien 95 no iespējamām 246 spēlēm un produktivitāte arī dramatiski kritās. Daži NBA apskatnieki pat bija izrēķinājuši, ka par vienu aizvadīto spēli Pārsons saņēmis 940 tūkstošus USD. Pirms līguma pēdējā gada viņš tika aizmainīts uz Atlantu, kur pretī tika saņemts viens cits šī materiāla "varonis" Plamlijs, komandām apmainoties ar "sliktiem" līgumiem. Pieci mači "Hawks" rindās un 2019./20. gada sezonā un kopš tā laika Pārsons nav ticis nevienas NBA komandas sastāvā.
Alens Krabs (Portlendas "Trail Blazers"), 75 miljoni uz četrām sezonām
Oriģināli Krabu draftēja "Cavaliers" 2013. gadā otrās kārtas pašā sākumā (31.numurs), uzreiz tiesības uz viņu aizmainot uz "Trail Blazers". Sākumā viņš netika NBA vienības sastāvā, spēlējot G-līgā. Sezonā pirms viņš ieguva apjomīgo kontraktu, viņš izcēlās ar 10,3 punktiem un 39% precizitāti no tālmetiena līnijas, pārsvarā spēlēs iesaistoties no rezervistu soliņa. Pēc debitanta līguma beigām viņš bija ierobežoti brīvā aģenta statusā un 75 miljonus uz četrām sezonām viņam piedāvāja "Nets". Tā kā Portlendai piederēja pirmā roka, viņi šo piedāvājumu novienādoja, pievienojot Krabu savām rindām.
Pirmais lielā līguma gads viņam padevās līdz tam brīdim labākais karjerā, savus individuālos rādītājus pat uzlabojot. Zīmīgi, ka Krabs tika pie šāda līguma pat neskatoties uz to, ka ierindā bija Sīdžejs Makolums, kurš ar katru sezonu palika aizvien labāks un arī pirms 2016. gada vasaras bija krietni produktīvāks, gūstot vidēji 20,3 punktus. Saprotot, ka komandai nepieciešama finansiālā brīvība un fleksibilitāte algu griestos, Krabs pēc pirmā jaunā līguma sezonas tika aizmainīts uz "Nets". Tur viņš kļuva par stabilu starta piecinieka spēlētāju un vidēji guva 13,2 punktus – aizvien karjeras labākā sezona. Tālāk gan sezonā 18,7 miljonus pelnošais aizsargs vairāk par lomas spēlētāja kvalitātēm nespēja no sevis "izspiest", pēc vēl viena gada tiekot aizmainīts uz "Hawks" un vēlāk uz Minesotas "Timberwolves", kas viņa līgumu izpirka. "Wolves" rindās traumu dēļ sezonas izskaņā viņš aizvadīja vien pāris spēles ceļa traumas dēļ. Aizvadītajā sezonā viņš jau vairāk nebija atrodams nevienā NBA komandas sastāvā.
Raiens Andersons (Hjūstonas "Rockets"), 80 miljoni uz četrām sezonām
Klasiskais variants – solīda sezona aiz muguras ar 17 punktiem vidēji, pievienojot sešas atlēkušās bumbas, kas pārtapa gardā kumosā valūtas izpratnē. Spēka uzbrucējs, kurš bija bīstams no distances, bet Hjūstonā bija sākušies īstie Džeimsa Hārdena laiki jeb kārtīgs "run and gun" basketbols vai Hārdena "isolation". Šķita, ka Andersons šādā sistēmā iederēsies kā cimds ar roku, taču nekā. Pirmajā sezonā vēl cīnījās kā mācēja, gūstot 13,6 punktus, bet otrajā jau zem 10 un izslēgšanas spēlēs viņa vietu starta pieciniekā ieņēma Pīdžejs Takers.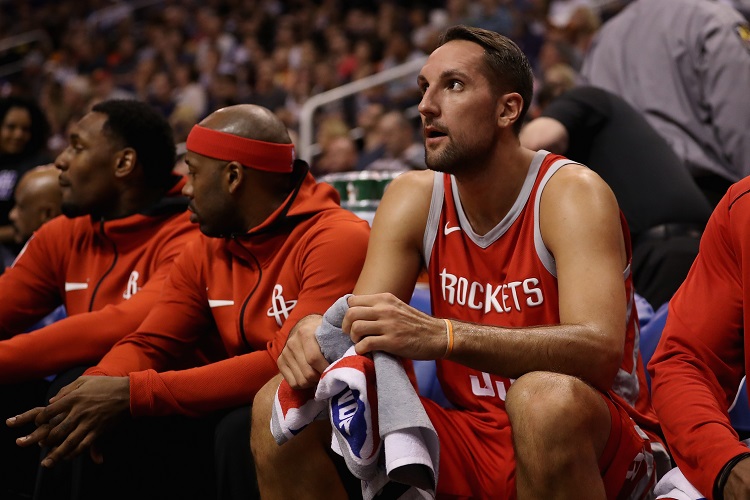 Andersons bija vājš aizsardzībā un nespēja to kompensēt uzbrukumā, kā rezultātā viņa vērtība Marka D'Antoni acīs ievērojami kritās. Pēc sezonas viņš tika aizmainīts uz Fīniksas "Suns", kura pēc 15 spēlēm viņu nosūtīja uz Maiami. 2019./20. gada sezonā viņš atgriezās Hjūstonā uz diviem mačiem un viss. NBA kontekstā par viņu dzirdēts vairs nav. Kā vienā no podkāstiem izteicies Andersons, tad viņš netika galā ar lomu, ko no viņa prasīja: "Visi teica – tev ir 20 miljoni gadā, tev jāspēlē labāk un tādas lietas. Bet es biju pieradis, kad labi nospēlēju un man pasaka – lieliski, mēs no tevis neko tādu negaidījām." Kā saka, nauda nopietni spiež uz nervu sistēmu, it īpaši NBA.
Viņš gan bija izteicies, ka viņa dzimtās pilsētas Sakramento "Kings" komanda esot tajā vasarā piedāvājusi viņam vēl apjomīgāku līgumu, taču te jāatgādina, ka Teksasas štatā nav jāmaksā iedzīvotāja ienākuma nodoklis, kā rezultātā, tas, kas ir ierakstīts līgumā, Teksasā realitātē ir lielāka summa nekā citviet ASV.
Evans Tērners (Portlendas "Trail Blazers"), 70 miljoni uz četrām sezonām
Ja iepriekš tika minēts Alena Kraba lielais līgums, tad daudz interesantāk paliek, kad saproti, ka Tērners ar Krabu noslēdza abi šos līgumus vienā vasarā. Tērneram, kurš pirms līguma slēgšanas spēlēja Bostonā, gan bija arī citas īpašības, izņemot mest bumbu pa grozu kā Krabam, jo līdztekus 10,5 punktiem, viņš pievienoja 4,4 rezultatīvas piespēles un 4,9 atlēkušās bumbas. Apvienojumā ar Krabu Portlenda, šķiet, bija ieveidojusi pārmaksātāko rezervistu – aizsargu duetu līgas vēsturē.
Tērners no četriem līguma gadiem Portlendā "izvilka" trīs, līdz pirms ceturtā tika aizmainīts uz Atlantu, kas vēlāk atzina – šī maiņa viņiem bija ļoti neveiksmīga. Jau "Trail Blazers" rindās ar katru sezonu viņa pienesums kritās, savukārt "Hawks" rindās viņš pildīja mentora lomu jaunajiem talantiem par gandrīz 20 miljoniem sezonā. It kā savu vietu bija atradis, kā palīdzēt, bet ne jau par tādu naudu.