Naktī uz 26. septembri norisināsies viena no šī gada saistošākajām boksa cīņām, kur supersmagā svara divīzijā cīnīsies pasaules čempions brits Entonijs Džošua (24-1, 22 KO) pret ukraini Oleksandru Usiku (18-0, 13 KO). Eksperti šo cīņu tēlaini jau paspējuši nosaukt par dueli, kurā satiksies Usika tehnika un "dejošana ringā" pret Džošua brutalitāti. Vai tas pierādīsies ringā? Te gan uzreiz jāsaka – arī Džošua nav nekāds gaļas bļākis…
Cīņas likme ir augsta – Džošua piederošās WBA (World Boxing Association), IBF (International Boxing Federation), WBO (World Boxing Organization) un IBO (International Boxing Organization) čempionu jostas. Usiks pie iespējas kāpt ringā ar Džošua tika oktobrī, kad pieveica viņa tautieti Dereku Čisoru (32-11, 23 KO), tādējādi kļūstot par WBO starpkontinentālo čempionu un šīs organizācijas obligāto titula pretendentu.
Zīmīgi, ka sākotnēji Džošua – Usika duelis interesēja tikai ukraini, jo bija paredzēts, ka Džošua cīnīsies ar Taisonu Fjūriju (30-0-1, 21 KO) un abas puses jau bija uzsākušas aktīvas sarunas par cīņas norisi. Daudzi eksperti paspēja to nosaukt par Lielbritānijas boksa vēsturē visu laiku vērienīgāko smagsvaru cīņu. Tomēr šķēršļus uzlika Fjūrija pēdējais pretinieks amerikānis Deontejs Vailders (41-1, 41 KO). Proti, Fjūrijs bija atņēmis Vailderam piederošo WBC (World Boxing Council) un žurnāla "The Ring" čempiona jostu. Izrādās, ka abu līgumā bija iestrādāts punkts, ka tā brīža čempionam Vailderam zaudējuma gadījumā būs tiesības uz revanšu.
Fjūrijs gan no tā distancējās, pievēršot savu uzmanību Džošua, bet tad savu vārdu teica šķīrējtiesa, kas lēma – Fjūrijam ar Vailderu jāsamēro spēki ringā trešo reizi. Pretējā gadījumā Fjūrijam būtu jāšķiras no 80 miljoniem ASV dolāru (aptuveni 68 miljoni eiro).
Runājot par aktuālo cīņu, tajā "Betsafe" ekspertu ieskatā par pārliecinošu favorītu tiek uzskatīts Džošua, viņa uzvaras iespēju novērtējot ar koeficientu 1,39, kamēr Usikam piešķirts koeficients 3,05.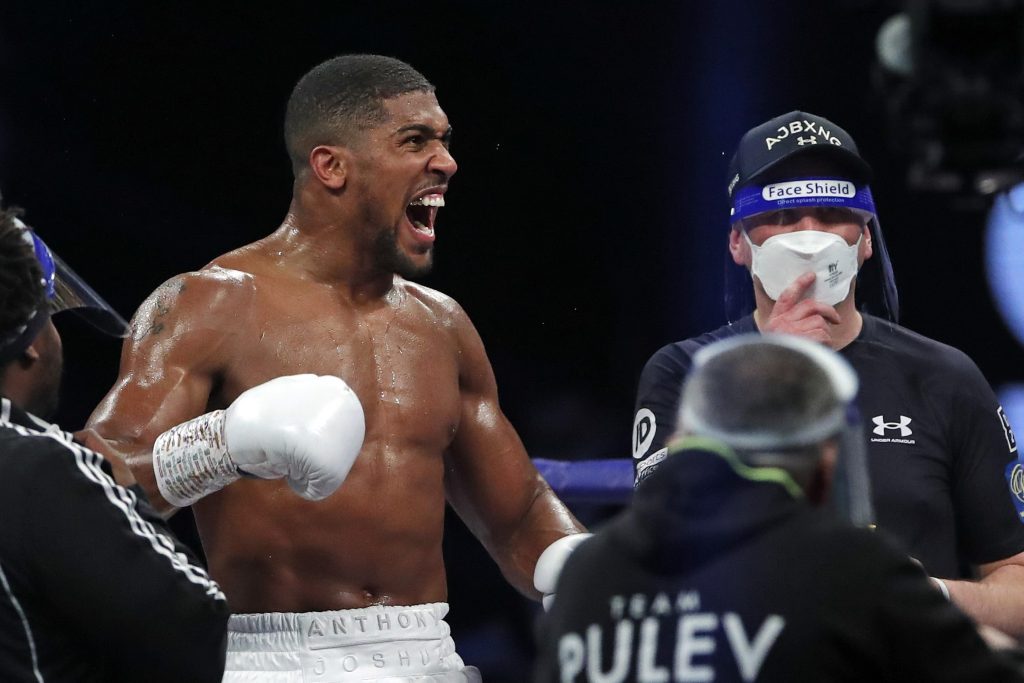 Savā pēdējā cīņā 2020. gada nogalē viņš nokautēja bulgāru Kubratu Puļevu (28-2, 14 KO), bet iepriekš bija aizvadījis divas cīņas pret meksikāņu izcelsmes bokseri Endiju Ruisu (34-2, 22 KO), pirmajā no tām negaidīti zaudējot ar tehnisko nokautu. Arī revanšs britam neizdevās pārliecinošs, jo tika uzvarēts tikai pēc 12 raundiem. Pirms zaudējuma Ruisam Džošua bija uzveicis tādus pazīstamus bokserus kā Aleksandru Povetkinu (36-3, 25 KO), Džosefu Pārkeru (29-3, 21 KO), Karlosu Takamu (39-6-1, 28 KO), kā arī 2017. gadā viņš pieveica leģendāro Vladimiru Kļičko (64-5, 53 KO), kuram tā kļuva par pēdējo cīņu profesionālajā karjerā. Tā cīņa tiek uzskatīta par vienu no labākajām supersmagā svara vēsturē.
Tikmēr Usiks supersmagajā svarā debitēja pirms nepilniem diviem gadiem, kad uz šo kategoriju pārcēlās kā absolūtais pirmā smagā svara čempions. Viņš to apliecināja Pasaules boksa supersērijas turnīrā, kā arī vēlāk aizstāvot visas jostas cīņas pret citu Lielbritānijas pārstāvi Toniju Beljū. Pēdējo divu gadu laikā ukrainis aizvadījis vien divas cīņas, pēdējā pret Čisoru izskatoties ne pārāk pārliecinoši, nereti nonākot ringa stūros un mēģinot vien aizstāvēties. Daudzi eksperti uzskatīja – ja cīņa noslēgtos neizšķirti, to nevarētu uzskatīt kā netaisnīgu tiesnešu lēmumu. Beigās gan tas bija vienbalsīgs, par ko sašutusi bija Čisoras komanda. Šajā duelī bija redzams, ka Usikam sagādā problēmas klasiskais smagsvaru stils – agresīva iešana klinčā un reti, bet spēcīgi sitieni. Tiesa, Džošua par tādu nenosauksi. Viņš prot arī boksēt un izpildīt vairāku sitienu kombinācijas. Vienlaikus britam ir iznīcinošs labās rokas sitiens, par ko liecina arī 22 nokauti.
Savukārt Usika stils ir klasisks – daudz kombināciju, kustība pa ringu un sava pretinieka nokausēšana. Vai tas varētu nostrādāt pret Džošua, kurš nav, tā saucamais, "stīvais" smagsvars? Par labu ukrainim nerunā arī fiziskie parametri. Savā pēdējā cīņa Usiks svēra 98,4 kilogramus, kamēr Džošua – 108,8. Arī auguma parametros Džošua ir pārsvars – 198 cm pret 191 cm, bet roku izvērsumā tas ir vēl lielāks – 208 cm pret 198 cm Usikam, kas nav mazsvarīgi. Ja pirmajā smagajā svarā ukrainis varēja lepoties, ka attiecībā pret saviem pretiniekiem viņam fiziskie parametri kombinācijā ar ātrumu devuši priekšrocības, tad Džošua būs ciets rieksts.
Abiem bokseriem ir arī kas kopīgs – Džošua, gan Usiks ir Londonas olimpisko spēļu (2012. gadā) čempioni, būdami vēl amatieru statusā, tikai katrs savā svara kategorijā, pēc kā viņi sāka savu ceļu profesionālajā boksā. Kas interesanti, abiem ir atšķirīga pieredze amatieros – Džošua bilance ir 33 uzvaras un divi zaudējumi, kamēr Usikam 88 uzvaras un 16 zaudējumi. Tiesa, profesionālajā ringā ukrainis pagaidām zaudējuma rūgtumu nav sajutis.

Nospiedošs vairākums atzītu boksa ekspertu uzskata, ka Usiks nespēs pārvarēt Džošua barjeru, izceļot arī faktu, ka šajā svara kategorijā viņam ir ļoti maza pieredze. Viens no "Sky Sports" komentētajiem pat savos komentāros pieminēja Latvijas labāko bokseri Mairi Briedi, norādot: "Redzējām, kā Usika seju apskādēja un cik lielas problēmas sagādāja Briedis. Tā aizvien bijusi Usika grūtākā cīņa. Un ziniet, ka Džošua sit daudz stiprāk. Turklāt viņš ir tikpat ātrs, bet daudz smagāks. Usiks aizvien neizskatās kā īstens smagsvars."
Kas vēl interesanti – respektablā portāla "boxrec.com" "pound for pound" jeb ņemot vērā visu svaru kategoriju bokserus reitingā Džošua ieņem ceturto vietu, Briedis septīto, bet Usika vārds šobrīd atrodams vien 22. vietā.
Tiesa, novērojot abus bokseru atklāto treniņu, bija redzams, ka Usiks ievērojami "pielicis" masā, pēc ķermeņa uzbūves aizvien vairāk atgādinot supersmagā svara bokseri. Te gan jāatzīmē, ka laikā, kad Usiks vēl cīnījās krūzeru divīzijā, viņa ikdienas svars bija ap 100 kilogramiem, kurus viņš nometa tuvojoties cīņai. Savukārt Džošua ir tīrradnis. Tas nozīmē, ka tik daudz priekšrocību kustībā Usikam nav. Piedevām Usiks nav pazīstams kā labs finišētājs – viņš parasti savus pretiniekus nokausē un tad veic izšķirošo izrāvienu. Ja tas izdodas – seko nokauts vai cīņu apstādina. Ja nē, tad pārliecinoši uzvar pēc punktiem. Džošua ar vienu sitienu var "izslēgt gaismu" jebkuram cilvēkam uz šīs planētas.
"Džošua ir mans labs draugs, bet arī ar Usiku man ir labas attiecības. Viņš ir lielisks bokseris. Tomēr uzskatu, ka Džošua ir labākais smagsvars pasaulē, ko viņš ir pierādījis nokautējot pasaules labākos bokserus. Usiks ir biedējošs, bet Džošu ir brutāls! Saprotu, ka daudzi ir vīlušies, ka neizdevās sarīkot cīņu ar Fjūriju. Arī es esmu. Tomēr ticiet man – arī šī cīņa būs masīva! Būs lieliski "pay per view" rādītāji un pilns [Totenhemas futbola kluba – red.] "Spurs" stadions [ietilpība 63 tūkstoši – red.]. Tas būs liels notikums boksa pasaulē jebkurā gadījumā," sacīja cīņas promouters Edijs Hērns.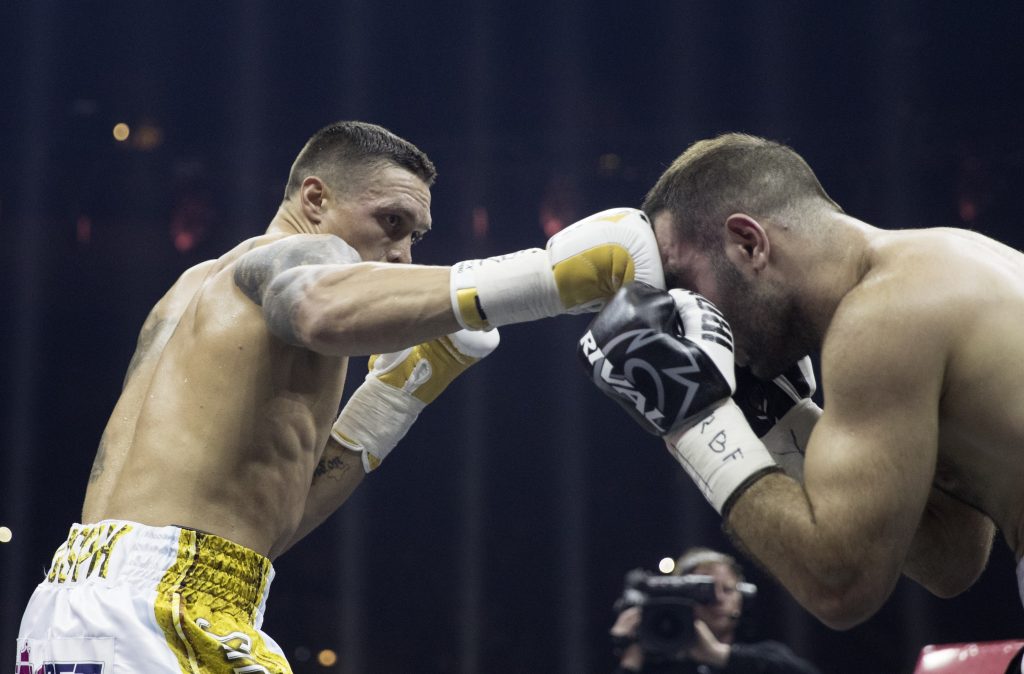 Savukārt pats Usiks pirms cīņas savos komentāros ir izvairīgs, visās intervijās pārsvarā atbildot ar pāris vārdiem un ieturēti. "Es negribu jūs visus nobiedēt, pasakot, kas man šobrīd notiek galvā," sacīja ukrainis.
Runājot par honorāriem, tad plānots, ka Džošua būs garantēts honorārs aptuveni 17,5 miljonu eiro apmērā kopā ar "pay per view" rādītājiem. Savukārt Usiks nopelnīs vismaz 3,5 miljonus eiro, kas būs lielākais honorārs viņa karjerā, taču summa var pieaugt līdz 8,8 miljoniem.
Abu pušu līgumā ir iekļauts punkts, kas regulāri pienākas čempioniem – ja Džošua zaudē, automātiski tiks rīkots revanšs. Taču Usikam zaudējuma gadījumā iespējas tikt pie titula cīņām kādu laiku nebūs. Daudz kas būs atkarīgs ne tikai no šī, bet arī Fjūrija – Vaildera dueļa. Ja Fjūrijs uzvar, un pie nosacījuma, ka uzvar arī Džošua, ir skaidrs – 2022. gadā abi aizvadīs vismaz divas cīņas savā starpā. Ja tajās vēl tiks dalītas uzvaras uz pusēm, ļoti iespējams, ka būs vēl trešā 2023. gada pirmajā pusē.
Kamēr Usikam ir jau 34 gadi, bet pēc diviem būs 36. Vai zaudējuma gadījumā viņš būtu interesants pretinieks Vailderam un ASV auditorijai? Mazs ticams. Jau pirmajā cīņa pret tobrīd 39 gadus veco amerikāni Čazu Viterspūnu Usika honorārs bija mazāks nekā pretiniekam, kaut gan viņš tobrīd jau bija karjeras norietā un kādu laiku pie nopietnām cīņām ticis nebija.
Naktī uz svētdienu pasaules boksa līdzjutēji savām acīm varēs redzēt, kas ņems virsroku – tehniska boksēšana vai smagsvariem ierastā brutalitāte?