Artura Manna vārds Latvijas sporta sabiedrībā vēl pirms pusotra mēneša bija dzirdēts tikai rūdītāko boksa līdzjutēju vidū un arī Maira Brieža sakarā viņš publiski piesaukts netika. Kā nekā, Brieža izvēle tika uzskatīta starp obligāto titula aizstāvēšanu krūzeros pret Mihalu Cešlaku, cīņu Anglijā pret Lorensu Okoliju vai pacelšanos uz smagsvariem.
Taču polim Cešlakam īsti nesanāca savas lietas ar jaunajiem aģentiem, par kuriem visu vasaru čortojās arī Brieža komandā – te viņi nesaprata angliski, te mēģināja boksā pudu sāli apēdušajam Brieža promouteram Zauerlandam iestāstīt, ka ir tikai normāli viesiem maksāt savu daļu par "undercard" cīņām. Un septembra vidū poļu kolēģi sāka čukstēt, ka Cešlaka vietā Briedim pretiniekos nāks Arturs Manns, kas drīz vien arī piepildījās.
Manns septembra beigās intervijā Sportacentrs.com izteicās, ka boksā necieš aizkulišu spēlītes, jo tās līdz šim viņam pabojājušas karjeru. Nu ko, šoreiz aizkulišu sarunas viņam nostrādāja par labu. Viņa menedžeris publiski gan izteicās, ka zvans no Zauerlanda sekojis tikai tieši pēc tam, kad Cešlaks bija oficiāli izslēgts no pārrunām par titulcīņu, taču šie vārdi ir tik baltiem diegiem šūti, ka neiztur ne mazāko kritiku. Arī Manns ir Zauerlanda bokseris, un nevajag šaubīties ne brīdi, ka viņš par gaidāmo cīņu pret Briedi zināja jau labu laiciņu iepriekš un varēja sākt tai gatavoties. Tāpat nekā citādi kā aizkulišu spēlītes nevar izskaidrot Manna pacelšanos IBF rangā par sešām vietām tieši pirms cīņas izziņošanas, neskatoties uz to, ka savu iepriekšējo cīņu viņš aizvadījis pirms gada.
Cīņas likme gan tāpat būs IBF tituls, un Briedis nekādas vaļības tāpat nevar atļauties. Nekādu citu attieksmi no profesionāla boksera arī nemaz nevar sagaidīt, un pilnīgi pareizi, ka viņš publiski izrāda cieņu savam pretiniekam un grasās sagatavoties pēc pilnas programmas. Kā nekā, boksā talants un spējas ir tikai viena no panākumu sastāvdaļām, tavu līmeni nosaka arī tas, cik konsekventi tu sagatavojies cīņai, kādi ir treniņapstākļi un trenera faktors, kā arī psiholoģiskā gatavība, lai nesalūstu iekšēji. Par pēdējo principā zina tikai pats Briedis, taču, lai kas arī tiktu teikts publiski, jādomā, ka Brieža komandā visi labi saprot, ka Brieža uzvara ir vienīgais loģiskais iznākums. Atliek "tikai" parūpēties, lai nenotiek nekas neloģisks.
Kā lai vispār salīdzina Briedi un Mannu? "Betsafe" totalizatorā uz Brieža uzvaru pieejams koeficients 1.01, proti, pats mazākais vispār iespējamais, kamēr Manna uzvara novērtēta ar koeficientu 16.50. Salīdzinājumam – kad Endijs Ruiss šokēja boksa pasauli un 2019. gadā atņēma smagsvaru titulus Entonijam Džošua, uz viņa uzvaru koeficients bija ap 10.00, proti, pat tas tika uzskatīts par ticamāku variantu. Tagad Briedis aizvadīs cīņu savās mājās un sava promoutera organizētā cīņā, kurā visi labi saprot, kurš ir pirmais numurs.
Gan Briedis, gan Manns šobrīd nav atrodami statistikas portāla "BoxRec" rangā, jo nav aizvadījuši cīņu jau vairāk nekā gadu, un portāls to automātiski fiksē kā aktīvās karjeras pārtraukumu, lai gan skaidrs, ka šeit vairāk jāņem vērā Covid-19 klātbūtne pasaulē. Tiesa, nevar arī nepamanīt faktu, ka Zauerlandam ar Brieža cīņu sarīkošanu dikti naski negāja arī pirms tam – cīņa pret Mannu Briedim būs tikai trešā trīs gadu ilgā periodā, kamēr pirms tam 2018. gadā vien viņš aizvadīs trīs cīņas. Savukārt Mannam iepriekšējā cīņa bija 2020. gada jūnijā, kad viņš pieveica Radu Rašīdu (20-9).
Rašīds rangā ir tālu zem Manna un vēl jo vairāk Brieža, un skaidrs, ka Mannam atmiņas par šo uzvaru neko daudz nepalīdzēs. Manns cīņā pret Rašīdu, kurš šobrīd "BoxRec" rangā noslēdz Vācijas "Top10" sarakstu šajā svara kategorijā, dominēja, taču uzvaru guva strīdīgā veidā – pēc klinča Rašīds joprojām bija nedaudz "atslēdzies", bet Manns neko negaidīja un nokautēja pretinieku, kura rokas tobrīd bija nolaistas. Manns pēc uzvaras piegāja paspiest roku pretiniekam un atvainoties, ka tā sanāca, taču arī Rašīds atmeta tik ar roku, sak, uzvarētāju jau šis gadījums nemainīja un pašam vien bija jāsaglabā koncentrēšanās.
Mannam šobrīd "BoxRec" rangā ir reitings 8.35, kas ir apmēram 18.-22. vietā pasaulē. Salīdzinājumam – viņš kotējas nedaudz augstāk nekā Lorensa Okolija nesenais pretinieks Dilans Prasovičs (6.4) un nedaudz augstāk nekā WBO titula jaunais obligātais pretendents Džejs Opetaija (7.4). Taču punktu izteiksmē tas ir daudz mazāk nekā tam pašam Mihalam Cešlakam, ar ko Briedim vajadzēja cīnīties. Cešlakam šobrīd ir 60.6, Okolijam 73.1, kamēr WBC čempionam Ilungam Makabu "BoxRec" reitings ir 85.6.
Tikmēr Mairim šis reitings ir teju trīsreiz lielāks nekā tuvākajam sekotājam Makabu, proti, 248.4. Briedis to nopelnījis ar savām divām sezonām Supersērijā, kad visu laiku pretim nāca spēcīgi pretinieki – Briedis pēdējo trīs gadu laikā ir cīnījies pret pieciem bokseriem, kuriem tobrīd reitings bija virs 40. Manna rēķinā ir tikai viena šāda cīņa – pret Kevinu Lerenu (51.4) pirms diviem gadiem. Attiecīgi noteikti vērts pievērst tai lielāku uzmanību, un, lai arī Manns pats apgalvo, ka tagad ir cits bokseris un ka no šī zaudējuma daudz mācījies, boksā tomēr tādas pēkšņas pārvērtības ir ļoti retas, jo ne jau iepriekšējai cīņai kāds gatavojas uz pusslodzi.
Un Mannam cīņa pret Lerenu principā arī bija būt vai nebūt mirklis. Viņš šo cīņu sagaidīja ar bilanci 15-0, savā iepriekšējā cīņā bija pārliecinoši pēc punktiem pieveicis Alekseju Zubovu (Brieža-Gevora cīņu vakarā Supersērijas ceturtdaļfinālā), sekoja loģisks nākamais solis, cīnoties par kādu sekundāro titulu. Pret Lerenu galdā tika likts IBO čempiona tituls, taču cīņu nācās aizvadīt viesos Dienvidāfrikas Republikā. To gan tāpat organizēja Zauerlandu uzņēmums.
Kas tad šajā cīņā notika? Vērts atzīmēt, ka Manns no paša sākuma ieņēma ringa centru un bija krietni aktīvāks nekā pretinieks. Mannam ir ātrs džebs un viņš nekautrējas izmantot asas sitienu kombinācijas, attaisnojot savu ringa iesauku "Thunder Mann" jeb Zibensvīrs. Taču reizē arī neizskatījās, ka Lerenam tas nesagādā īpašas problēmas un viņš aizsardzībā īpaši neko cauri neizlaida. Otrajā un trešajā raundā Lerena jau centās uzspiest savu iniciatīvu, un to gan Manns nespēja novērst. Vācijas bokseris joprojām izcēlās ar žigliem džebiem un kombinācijām, taču tas viss apstājās Lerenas aizsardzībā.
Cīņā pret Lerenu arī bija novērojams, ka Manna arsenālā iztrūkst vienas svarīgas lietas – pretuzbrukuma. Kad Lerena veica savu sitienu kombināciju, Manns piekļāva rokas pie sevis aizsardzības pozīcijā, taču praktiski ne reizi nemēģināja atbildēt ar pretuzbrukumu. Nu, protams, ja tik spēcīgs bokseris kā Lerena sajūt, ka viņam nav ko satraukties par negaidītu pretuzbrukumu, jo pretinieks tikai ieraujas sevī, tad kāpēc lai Lerena apstātos? DĀR bokseris varēja sitienus veikt ar arvien lielāku vēzienu un apbērt Mannu ar vairāku sitienu kombinācijām, īpaši nesatraucoties, ka kaut kur pa vidu paliek caurumi, ko teorētiski varētu izmantot.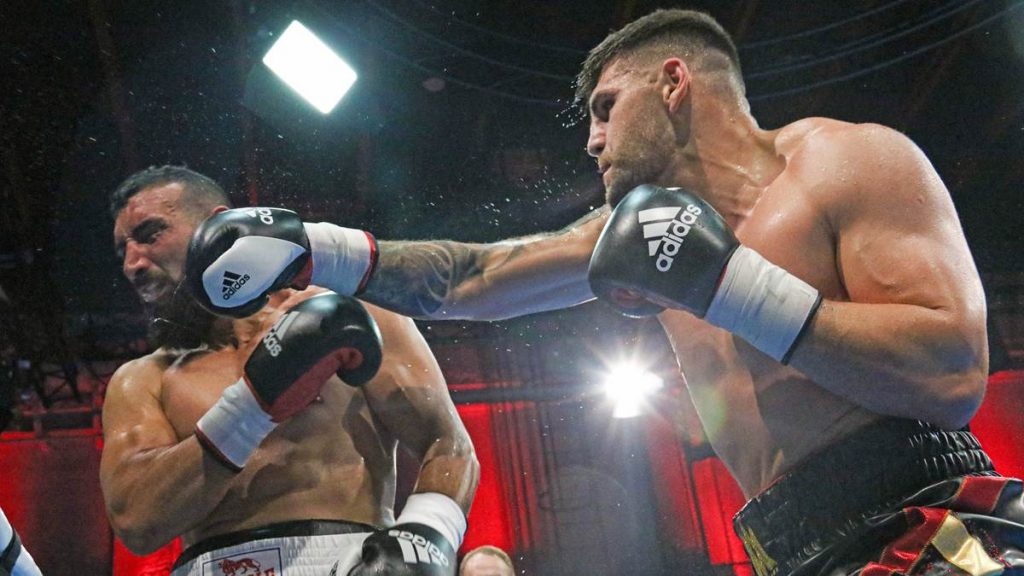 Pavisam nesen Oleksandrs Usiks smagsvaros nodemonstrēja izcilu boksu, kad teju uz katru Entonija Džošua precīzo sitienu uzreiz atbildēja ar savu uzbrukumu. Tas rada pozitīvu efektu daudzejādā ziņā – gan pretinieks nevar tā vienkārši savākt punktus (jo sitienu jau izdarīja abi), gan liek piesargāties nākamajā reizē, sak, cik agresīvi tad es īsti varu iet uz priekšu? Manns šādu satraukumu Lerenam neradīja, un DĀR bokseris ceturtajā raundā jau jutās pavisam ērti un piespieda pretinieku pie virvēm, "apšaudot" viņu ar sitieniem, kurus Manns uzņēma aizsardzībā, jā, taču nekādu prettriecienu pat nemēģināja sniegt, neskaitot atsevišķus pieklājības pēc izmestus džebus.
Tā, protams, nav ilgtermiņa taktika, un ceturtā raunda vidū Manns vienu sitienu pagriezienā izlaida cauri un uz brīdi zaudēja līdzsvaru, un centās paglābties aizsardzības pozīcijā. Kamēr Manns sejai priekšā aizliktās rokas tā arī neizkustināja, Lerena varēja veikt deviņus sitienus pēc kārtas un beidzot nosūtīja Mannu nokdaunā. Manns no tā piecēlās, taču cīņu turpināja, kā izskatījās, bez liela entuziasma. Arī šajā brīdī iespējami dažādi varianti – ir bokseri, kuri pēc nokdauna, ja spēks to atļauj, uzreiz metas uz priekšu, sak, labākā aizsardzība ir uzbrukums un kamēr es situ, tikmēr ir papildus laiciņš savākties. Taču Manns tā arī palika aizsardzības pozīcijā, nākamajās 20 sekundēs veica tikai divus sitienus, un Lerena viņu smagi nokautēja ar taisnu sitienu pa pieri.
Manna karjeras pagaidām lielākā uzvara ir 2017. gadā pār citu Vācijas bokseri Leonu Hārtu, kurš ir pieklājīga līmeņa krūzers un ne pārāk veiksmīgi izmēģināja savus spēkus arī pussmagajā svarā. Par Manna karjeru īsti nevar teikt, ka tas būtu ieskrējiens pirms milzīgām lietām un ka viņš tikai gaidījis savu īsto brīdi, kad iznākt uz elites skatuves. Savu iespēju viņš bija saņēmis un to nebija izmantojis, ciešot zaudējumu pret Lerenu, turklāt tādu, pēc kura nevienam īsti nepalika šaubas, ka kaut kas būtu noticis neloģiski.
Manns žurnālistiem izteicās, ka apsvēris domu par karjeras noslēgšanu. Viņam ir tikai 31 gads, taču šāds solis nemaz nebūtu tik neloģisks. Covid-19 laikos boksā patiešām ir krīze (kas gan nav nekas unikāls), un vēl pirms pusotra mēneša Manns bija situācijā, kad viņš bez cīņām bijis 14 mēnešus, bet par nākotni vēl nekādas skaidrības nav.
Un galīgi nav tā, ka profesionāla boksera statuss nozīmē septiņciparu skaitli bankas kontā, galīgi nav tā. Manns arī Vācijas mērogā par boksa zvaigzni nav nosaucams – atšķirībā no Brieža, viņš vispār reti bijis cīņu vakara galvenajā cīņā, un arī savās divās iepriekšējās cīņās bijis "undercard" sarakstā, un skaidrs, ka tur honorāri vairs nav nemaz tik lieli. Tāpat neviens nav atcēlis komisijas maksas, treniņu izmaksu nosegšanu un pārējos izdevumus, kas bokserim nepieciešami, lai sagatavotos cīņai. Pat Manna līdz šim lielākajā cīņā nekādi miljoni gaisā nelidoja – DĀR mediji vēsta, ka Lerena par savām pēdējo gadu cīņām saņem honorāru apmēram 50-60 tūkstošu eiro apmērā, un tikai loģiski secināt, ka Manna honorārs cīņā pret viņu bija nedaudz mazāks.

Piedaloties titulcīņā, protams, arī samaksa ir lielāka, vismaz vajadzētu būt, un aptuvenas aplēses liecina, ka apmēram 50 tūkstošus Mannam par cīņu Rīgā vajadzētu saņemt. Tas nav slikts iemesls, lai domas par karjeras beigšanu vismaz uz laiku noliktu malā, turklāt Mannam ir pilnīga taisnība, apgalvojot, ka uz viņu nekāda spiediena nebūs. Uzdevums ir Briedim, kurš var zaudēt ļoti daudz, kamēr Manns būs ieguvējs jebkurā gadījumā, jo turpmāk varēs savā boksera pieteikumā rakstīt "bijušais titula kandidāts". Un, ja vēl sanāk kaut kādā veidā uzvarēt Rīgā, tad vispār lieliski.
Brieža cīņas sakarā nelielas bažas varētu būt par to, ka viņa plāns iepriekš tomēr bija pacelties uz smagsvariem, un viņš pats pastāstīja medijiem, ka jau bija uzdzinis svaru un pamainījis treniņprocesu, lai labāk sagatavotos šim solim. Taču arī Manns savu iepriekšējo cīņu vispār aizvadīja virs krūzeru limita svara – "BoxRec" statistika fiksēts, ka viņa svars pirms cīņas pret Rašīdu bija 92.7kg.
Turklāt Briedis īpaši tiek izcelts ar to, ka prot piemēroties pretiniekiem un uztaustīt labāko taktiku, kādu izmantot. Uzvara Supersērijas finālā bija lielisks apliecinājums tam, ļoti spēcīgo Junjelu Dortikosu apspēlējot un īpaši nelaižot sev tuvumā. Jā, Brieža iepriekšējās cīņas pret tā sauktajiem "obligāti uzvaramajiem" pretiniekiem nemaz nesanāca tik lieliskas – 2018. gadā pret Brendonu Delorjē un Noelu Gevoru -, taču tad tomēr Brieža sniegumu krietni ietekmēja rokas trauma.
Vēl viena atzīmējama lieta – kopš sava pirmā pasaules čempiona titula izcīnīšanas 2017. gadā Briedis tikai vienu cīņu pabeidzis ar nokautu, to pašu pret Kšištofu Glovacki, ko par īsti standarta boksa cīņu nevar nosaukt. Manns, objektīvi vērtējot, tomēr ir klasi zemāks bokseris, kuram jāpriecājas jau par to, ka viņš vispār šādā cīņā piedalās, un Briedim tomēr šeit būtu ļoti noderīga dominējoša uzvara ar nokautu. Un tad varēs pievērst skatienus Okolijam titulu apvienošanas cīņā.