Jānis Blūms ir etalons Latvijas basketbolā. Ar savu neatlaidīgumu, smagu darbu un darba ētiku viņš ir sasniedzis visu, ko vēlējies profesionālajā sportā. Tā saka viņš pats, piebilstot, ka nepiepildīts palicis sapnis par kādas godalgas izcīnīšanu starptautiskās sacensībās izlases kreklā.
Blūms, kurš laika posmā no 2005. līdz 2017. gadam piedalījās septiņos Eiropas čempionātu finālturnīros pēc kārtas, nesen kā paziņoja par profesionālā sportista gaitu noslēgšanu. Karjeras laikā viņš pārstāvējis vietējos klubus "Brocēni", "Ventspils" un "VEF Rīga", bet ārzemēs piestājis Polijā, Vloclavekas "Anwil", Viļņas "Rytas", aizvadījis četras sezonas Spānijas ACB līgā, kā arī divas Itālijā, vienu Kazahstānā un Krievijā.
"Sporta pils" aicināja Blūmu izteikties par 12 jēdzieniem un tematiem, šajā domu kokteilī kopā sajaucot sporta pasaules īpatnības, savu pieredzi un atmiņas.
Iepazīšanās ar basketbolu
Mans vecākais brālis spēlēja basketbolu un tā arī es ar to iepazinos. Gribēju būt kā viņš. No 1. līdz 4. klasei mācījos Saldus rajona internātā un vakaros ar citiem bērniem devāmies uz sporta zāli un spēlējām visus sporta veidus pēc kārtas – futbols, basketbols, volejbols, bija pat šaušana un kas tik tur vēl nebija, tomēr basketbols vienmēr bijis man vismīļākais. Kad uz pamatskolu 5. klasē iestājos Saldus 1. vidusskolā, tad pieteicos basketbola treniņu grupā un kopš tā laika var uzskatīt, ka esmu pievērsies tikai šim sporta veidam.
Pirmā alga
Pirmo algu saņēmu par balto dzelzs margu tīrīšanu uz Liepājas šosejas, kad iebrauc Saldū uz apļa un tā apkaimē. Cītīgi strādāju un par pirmo savu algu nopirku kārtīgas basketbola kedas.
Savukārt pirmo algu kā basketbolists es saņēmu, kad vidusskolā biju pārnācis uz Rīgu. Toreiz man maksāja 30 latus mēnesī, tas bija tāds pabalsts, bet pirmais profesionālais līgums bija ar "Brocēniem" – tolaik man maksāja 100 latus vai dolārus mēnesī.
Andrejs Urleps
Kad aizgāju pie viņa, bija tikai divi varianti, kā viss var izvērsties – vai nu es salūzīšu vai izturēšu. Sanāca pa vidu – pa pusei salūzu, pa pusei izturēju. Bet tādu fizisko bāzi, kādu viņš man ielika… uz visu mūžu palika. Es pat atceros vienu sarunu, kurā viņš teica: "Ja tu izturēsi treniņus ar mani, tu varēsi nospēlēt 20 gadus profesionālā līmenī." Un tā arī notika. Noteikti, ka mūsdienās tādas fiziskās slodzes kā tolaik liela daļa čaļu, visticamāk, nevarētu izturēt. Bija tiešām smagi – divi treniņi dienā pa trīs, četrām stundām. Toreiz tas šķita pavisam normāli, bet tagad moderni sāk kļūt, ka ir tikai viens treniņš. Ļoti daudz bija jāskrien, ilgas video sesijas un tā tālāk. Nevienu mirkli nevarēja atslābt. Treneris reti kad pasmaidīja un bija ļoti stingrs, rezultātu vēlējās sasniegt ar drastiskām metodēm. Gads "Anwil" pagāja lielā "kosmosā". Bija ļoti smags laiks, bet no otras puses tas man ļoti palīdzēja dzīvē nākotnē. Un, lai arī Urleps bija stingrs, tomēr viņš bija cilvēcīgs. Kā cilvēkam nebija ne vainas, bet kad pie viņa trenējas, tad tas neliekas cilvēcīgi, ko viņš liek darīt (iesmejas).
*Urleps bija Blūma treneris Vloclavekas "Anwil" rindās, kur savulaik dažādos laikos spēlējuši ļoti daudz latviešu spēlētāji. Urleps pazīstams kā ļoti autoritārs treneris – ar ilgiem un fiziski smagiem treniņiem, kā arī dzelžainu disciplīnu.
Bilbao
Tas noteikti ir mīļākais posms manā profesionāļa karjerā. Pavadītas četras neaizmirstamas sezonas. Tur uzauga arī mans dēls, kurš sāka iet spāņu bērnudārzā, ASV privātskolā, kur apguva valodas. Ģimene visu šo laiku bija man līdzās, kas šo pieredzi padarīja vēl fantastiskāku. Arī meita pieteicās laikā, kad dzīvojām Bilbao. Pilsēta ir ģimeniska – cilvēki ir ļoti atsaucīgi un laipni. Arī klubā bija izveidota tāda kā ģimenes atmosfēra. Ne par velti man bija salauzta sirds, kad bija jādodas projām… Bija grūti, jo biju iemīlējis šo pilsētu. Man vēl aizvien ir palikuši daudzi draugi, ar kuriem uzturu kontaktus.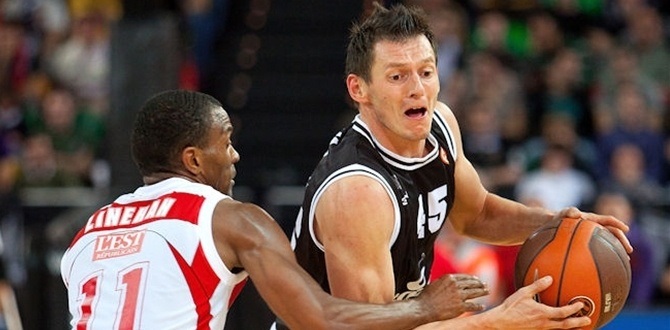 Savukārt sportiskie sasniegumi, šķiet, komentārus neprasa. Mēs no maza, vidēja līmeņa ACB kluba izaugām līdz atpazīstamam Eiropas mērogā. Trīs sezonas spēlējām Karaļa kausa izcīņā (prestižs turnīrs Spānijā sezonas vidū pēc aizvadīta pirmā apļa ACB, kur kvalificējas uz to brīdi astoņas spēcīgākās komandas – red.), ieguvām ACB sudrabu, kad pirms tam pusfinālā un ceturtdaļfinālā bijām uzvarējuši attiecīgi Madrides "Real" un "Valencia". Izcīnījām ceļazīmi uz Eirolīgu, kur iekļuvām ceturtdaļfinālā. Zaudējām spēcīgajam Maskavas CSKA sērijā ar 1-3. Divas reizes tikām ULEB Eirokausa "Final Four".
Uzvara
Noteikti, ka Spānijas līgas pusfināls, kur pieveicām "Real". Emocijas bija fantastiskas! Visa pilsēta juta līdzi, tas bija liels notikums. Svinības bija grandiozas. Tāpat arī iegūtais Grieķijas kauss ar Atēnu "Panathinaikos", kur sākumā jau ceturtdaļfinālā apspēlēti niknākie konkurenti Pireju "Olympiacos". Turklāt, mums savainojumu dēļ nevarēja palīdzēt četri vadošie spēlētāji, un tas notika ar pēdējo sekunžu metienu – Grieķijā šis derbijs ir liels notikums, tāpēc principā jebkura uzvara tajā – vienalga vai Eirolīgā vai Grieķijas līgas regulārajā čempionātā vai finālā – tiek ļoti augstu vērtēta. Jāpiezīmē, ka uzvara pret "Olympiacos" bija mana pirmā spēlē "Panathinaikos" rindās. Un uzreiz tāds mačs…
Vēlos izcelt arī izlasē gūtos panākumus. Līdzīgi kā Grieķijas derbijā, man ļoti svarīgas bija spēles pret Lietuvu. Un arī viena uzvara, tiesa gan pārbaudes spēlē, "Arēnā Rīga" man spilgti palikusi atmiņā. Kad pie -2 speciāli aizmetu garām otro soda metienu, savācu bumbu un iedevu piespēli Kristapam Janičenokam, kurš trāpīja trejaci līdz ar beigu sirēnu. Ar Kristapu man ir vēl viena skaista atmiņa izlases rindās, kad Eiropas čempionātā svarīgā spēlē spēlējām pret Melnkalni. Arī tad bijām abi epicentrā – es devos caurgājienā un atmetu viņam brīvam uz pustālo metienu. Viņš nepievīla, bet mēs nodrošinājām vietu nākamajā kārtā.
Neveiksme
Viens no sāpīgākajiem zaudējumiem manā mūžā bija ar nacionālo izlasi pret Beļģiju 2013. gada EČ, Slovēnijā. Bija pēdējā grupu turnīra spēle un pretiniekiem neko nevajadzēja, kamēr mums uzvara būtu nodrošinājusi iekļūšanu ceturtdaļfinālā un biļeti uz Pasaules kausa izcīņu. Arī 2017. gadā, kad zaudējām slovēņiem. Togad tas bija fināls – būsim reāli. Izlases kontekstā noteikti šie zaudējumi palikuši kā sāpīgākie un noteikti arī neiekļūšana caur kvalifikāciju, kad zaudējām Melnkalnei. Ja šis izlases modelis būtu šajos mačos uzvarējis, tas būtu izcils sasniegums Latvijas basketbolam! Ļoti žēl, ka ar tādu sastāvu, kāds mums bijis pēdējos gados, nav izdevies tikt pie medaļām lielajos turnīros… Nezinu, kad vēl mums vienlaikus būs tik daudz talantīgu džeku.
Klubu kontekstā varētu teikt, ka zaudējums ACB finālā "Barcelona". No otras puses – iekļūšana tajā jau bija kā liela uzvara, bet, kad esi nonācis tik tuvu, neuzvarēt tāpat ir sāpīgi. Jo mērķis visiem ir viens – uzvara! Pietrūka resursu līdz galam paveikt varoņdarbu. Varu pieminēt arī "Panathinaikos" zaudējumu finālā "Olympiacos". Kausu ieguvām, bet līgas titulu nē.

"Panathinaikos"
Sanāca tur nokļūt vien 34 gados – diezgan vēlu. Bet arī interesanti viss izvērtās, jo sākotnēji parakstīju līgumu tikai uz vienu mēnesi, bet pēc tā dabūju līgumu uz divām sezonām. Noturējos gan tur tikai vienu, jo vasarā nomainījās galvenie treneri un Sašam Džordževičam bija sava vīzija un spēlētāji, ar kuriem viņš to vēlējās realizēt. Uzskatu, ka šo iespēju es izmantoju uz maksimumu. Spēlēju labi un to izbaudīju. Pēc pirmā mēneša Eirolīgā biju precīzākais tālmetienu izpildītājs – tā ietvaros no 16 biju iemetis 14. Jutos ļoti labi. It īpaši, kad tu izpildi tālmetienu un jūti, ka tas lido iekšā, un 15 – 20 tūkstoši fanu metas kājās un bļauj un tevi atbalsta. Izbaudīju katru spēli, it īpaši derbijus un mačus ar Eirolīgas grandiem. NBA man bija grūti sasniegt, bet nokļūt Eiropas grandā – tas noteikti bija mans karjeras augstākais punkts.
Arī sadzīviski viss bija lieliski. Teju katru nedēļas nogali pie manis atbrauca kāds draugs vai radinieks, jo Atēnas ir lieliska pilsēta. Noskaties Eirolīgas maču, dodies uz Akropoli, siltā klimatā pavakariņo un baudi pilsētas dzīvi. Vēl tagad ir reizes, kad man pazīstami cilvēki aizbrauc uz Atēnām un taksisti mani atceras. Tieši tik ļoti populārs ir basketbols Grieķijā. Ja tu spēlē Grieķijas grandā, tas nozīmē, ka esi uzmanības centrā visā pilsētā.
Iedzīvotāji arī bija ļoti atbrīvoti. Visi visu laiku dzer kafiju. Saka, ka strādā, bet patiesībā sēž un bauda kafiju (iesmejas). Tas laiks sakrita ar brīdi, kad Grieķijā aizvēra ciet vairākas lielās bankas un bija finansiālā nestabilitāte. Viņiem pat bija radies teiciens – visas bankas nestrādā, bet restorāni ir vaļā un pelna. Grieķiem vispār ir tāda filozofija – naudas var nebūt, bet kafijai vienmēr jāpietiek (iesmejas).
Latvijas izlase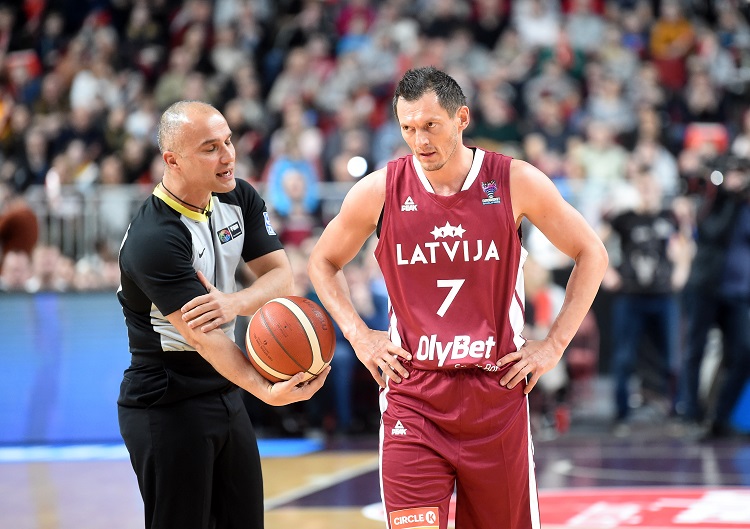 Aptuveni no 14 gadu vecuma esmu spēlējis izlasē dažādās vecuma grupās un principā katru vasaru esmu bijis izlases darbā. Gandrīz katrā treniņā, katru gadu ar īslaicīgām pauzēm treniņu nometnes laikā kāda savainojuma dēļ. Ja biju izlasē, vesels nekad neizlaidu treniņus. Patiesību sakot, jo paliku vecāks, jo vairāk uz izlasi vilka. Gribējās vēl un vēl un vēl. Tā sajūta, kad spēlē izlasē, ir vārdiem neaprakstāma un to pa īstam aptvert var vien tad, kad tur vairs neesi. Ja tagad daudzi izvērtē spēlēt vai nespēlēt, un kāds viņiem no tā būs labums vai kā… man tā nekad nav bijis! Vienmēr esmu bijis klāt. Mīlestība pret izlasi man ir jau no mazotnes, kad skatījos tā laika Latvijas labākos, gribēju viņiem līdzināties un aizstāvēt valsts godu. Pieļauju, ka arī kāds jaunais spēlētājs tagad gribētu līdzināties man. Un tas ir jānodod no paaudzes uz paaudzi. Izlase noteikti ir manas dzīves svarīgākā komanda. Esmu izsvīdis, cīnījies, sities par Latviju ar tīrāko sirdsapziņu. Jā, varbūt ne viss ir sanācis, kā tas varēja, iespējams, būt, bet vienmēr esmu bijis klāt. Daudzus gadus biju izlases kapteinis un ar savu piemēru centos rādīt kā tur būtu jāstrādā, kādai jābūt attieksmei un izveidot ģimenisku atmosfēru ģērbtuvē. Arī ārpus laukuma esmu centies palīdzēt, cik varu. Centos dot padomus un iedrošināt. Lai citi saprot, ko viņi grib un kāpēc viņi ir izlasē. Izlase noteikti ir vairāk nekā ik vasaras komanda.
Ģimene
Kā saka, ģimene manis dēļ ir daudz upurējusi… Sieva ar divām augstākās izglītības diplomiem ir upurējusi savus profesionālos mērķus, lai es varētu izveidot veiksmīgu sportista karjeru. Viņa vienmēr rūpējusies, lai mājās būtu kārtība, lai vienmēr būtu ēdiens un daudz laika pavadījusi ar bērniem, lai man būtu vieglāk. No ģimenes man ir bijis vienmēr milzīgs atbalsts. Gan no maniem vecākiem un māsām un brāļiem, kā arī no sievas puses radiniekiem. Viss vienmēr bija pakārtots man, lai es varētu spēlēt augstā līmenī un sasniegt savus profesionālos mērķus. Es to ļoti novērtēju un esmu centies dzīvē viņu dēļ pateicībā par šo atbalstu. Tas noteikti man ir palīdzējis dzīvē kāpt augstāk.
Nepiepildītais sapnis
Tas, ka nespējām ar izlasi izcīnīt medaļas kādā no lielajiem turnīriem. Viennozīmīgi. It īpaši 2017. gada EČ, kur slovēņi mūs uzveica. Jā, kopš neatkarības atjaunošanas tas ir augstvērtīgākais sasniegums, bet nepamet sajūta, ka pēc sastāva bijām starp medaļniekiem. Mums bija viss nepieciešamais, lai to sasniegtu. Bija NBA veči Bertāns un Porziņģis, pieredzējušie kā es un Janičenoks, un Strēlnieks ar Dairi Bertānu tieši bija nobrieduši. Kā saka, izcila kombinācija starp talantu, pieredzi, jaunību un briedumu. Arī treneru korpuss izcils ar Ainaru Bagatski priekšgalā. Jutu, ka šī ir mūsu laiku tāda kā "sapņu komanda", bet beigās palikām piektie, nevis pirmie, kā 1935. gadā. Klubu līmenī es sasniedzu visu, ko vēlējos, bet ar izlasi paliks nepiepildīts sapnis par neiegūtām medaļām.
Nākotne
Palīdzēt "VEF Rīga" attīstīties, nokļūt Eirolīgā. Kas kalpotu kā izlases bāzes komanda, kur savākti izlases kandidāti. Vēlētos šādu projektu realizēt. Protams, tas šķiet nedaudz utopiski, tomēr runāju ar skatu nākotnē. Gribētu, lai Latvijā ir Eirolīgas līmeņa klubs un būt šī veidojuma sastāvdaļa kādā ampluā. Noteikti palīdzēt, kā spēju, lai Rīgā beidzot tiktu uzbūvēta kārtīga basketbola halle. Kas ir domāta tikai tam un ir kā basketbola mājas. Bez basketbola savu dzīvi iedomāties nevaru nekādi. Un karjeras laikā iegūto pieredzi vēlos nodot tālāk un realizēt lielos projektos!
Padoms sev pirms 25 gadiem
Teiktu sev tā – ka ar darbu visu var sasniegt. Vienmēr. To man arī no pirmajām dienām kopš sevi atceros man centās iemācīt tēvs – ja tu smagi strādāsi, rezultāts vienmēr atnāks. Un visu savu mūžu esmu centies pie tā pieturēties.