Jau sestdienas vakarā Latvijas labākais bokseris Mairis Briedis ar kubieti Junielu Dortikosu cīnīsies par uzvaru Pasaules boksa supersērijā (WBSS), kur uz spēles būs IBF un respektablā žurnāla "The Ring" čempionu jostas, kā arī Muhameda Ali vārdā nosauktā trofeja. Tam par godu "Sporta pils" šo nedēļu neoficiāli pasludināja par boksa nedēļu. Vairāki apraksti, bet šoreiz piedāvāsim ko "vieglāku", bet ļoti noderīgu – sadaļu "Lifestyle".
Boksa leģenda Ali aizsaulē devās 2016. gadā cienījamā 74 gadu vecumā. Kopumā Ali bija tēvs deviņām atvasēm un viena no tām – Leila Ali – gāja tēva pēdās, kļūstot par WIBA (Women's International Boxing Association) čempioni un karjeras laikā ne reizi nepiedzīvojot zaudējumu , uzvarot 24 cīņās (21 KO).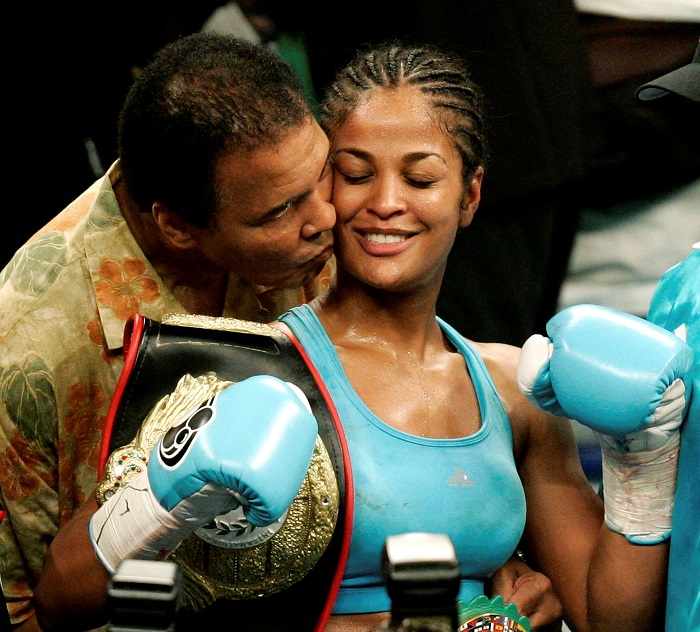 Lai arī Leilai šobrīd ir 43 gadu un profesionāles karjeru viņa noslēdza jau 2007. gadā, viņa aizvien izskatās burvīgi! Kāds ir viņas noslēpums?
Pēc aiziešanas no profesionālā sporta, Leila sportošanu un veselīgu dzīvesveidu malā neatstāja. Viņa ļoti aktīvi izmanto sociālo tīklu platformu "Instagram", kurā dalās ar veselīga dzīves veida padomiem un cenšas iedvesmot cilvēkus visā pasaulē!
Ali cenšas ievērot 10 noteikumus, kas viņai palīdz justies veselīgai un aktīvai.
Smūtiji brokastu vietā. Īsts sportists izvēlas dienu sākt ar olbaltumvielu kokteili – pilns nepieciešamo uzturvielu komplekts nodrošina pietiekami daudz enerģijas, lai diena  iesāktos labi.
Mājās gatavots ēdiens. Leila dod priekšroku pusdienām un vakariņām mājās, nevis restorānu apmeklējumiem. Viņa mīl gatavot un lieliski zina, kuras uzturvielas ir nepieciešamākās organismam. Restorānu ēdienkartēs bieži neatspoguļo to, kas tiek pasniegts uz šķīvja…
Pareiza daudzuma ūdens uzņemšana. Tas nav jauns, bet efektīvs padoms, kā nodrošināt labsajūtu un veselīgu organismu. Jums kādreiz ir riņķi zem acīm? Tādi var rasties ne tikai no miega trūkuma, bet arī nepietiekama ūdens daudzuma jūsu organismā, tāpēc ieteicamā deva dienā ir 2-3 litri.
Regulāra detoksikācija. Reizi trīs mēnešos Leila iziet divu nedēļu organisima attīrīšanās kursu, lai izvadītu toksīnus un citas kaitīgās vielas no sava organisma. Ticiet, arī veselīga dzīvesveida piekopējiem tādi organismā nonāk!
Veselīgs miegs. Lai uzturētu sevi formā un iegūtu pietiekami daudz enerģijas, diennaktī jums ir nepieciešamas 8-9 stundas pienācīga miega, uzskata Leila.
Fiziskās aktivitātes. Regulāra sportošana arī pēc profesionālās karjeras beigām Leilam kļuvusi par ikdienas rutīnu – katru dienu viņa ķermenim piešķir vismaz minimālu slodzi. Ja arī neesat bijis/bijusi kādā savā dzīves posmā sportists/e, tas nekas – minimāla izkustēšanās vienmēr nāks par labu – skriešana, peldēšāna, braukšana ar riteni, vingrošana vai pat soļošana jums nāks par labu, ja darīsiet to regulāri.

Izskaudiet negatīvismu. Leila iesaka novērst vai vismaz samazināt saziņu ar negatīviem cilvēkiem un pievērst lielāku uzmanību ģimenei un draugiem. Tajā pašā laikā nav svarīgi, cik daudz laika jūs pavadāt kopā ar viņiem, bet gan tas, kā jūs to darāt. Starp citu, ir zinātniski pierādīts, ka stress tiešā veidā ietekmē arī cilvēka fizisko veselību!
Vitamīnu uzņemšana. Lai noturētu vajadzīgo uzturvielu  līmeni organismā ar mūsdienu dzīves saspringto ritmu, Ali regulāri lieto vitamīnu uztura bagātinājus. Vienlaikus atcerieties – tie neaizvieto pilnvērtīgu uzturu!
Reliģija. Leilai ticība ir neatņemama dzīves sastāvdaļa, tā palīdz sasniegt dvēseles mieru un harmoniju ar sevi un pasauli. Ja esat pārliecināts ateists/e, dodieties pie pēdējā padoma!
Progess. Leila uzskata – lai arī cik labi, jūsuprāt, jums dzīvē veicas, nekad nevajadzētu apstāties. Jums pastāvīgi jācenšas panākt vairāk – kļūt labākam nekā vakar, stiprākam, veselīgākam. Viņa aicina nestāvēt uz vietas un vienmēr virzīties uz priekšu.