Pirms kāda laika mediju virsrakstos parādījās informācija, ka amerikāņu uzbrucējs Robs Šremps, kurš 2012./13. gada sezonā pārstāvēja Rīgas "Dinamo" ir atgriezies Latvijā, lai pēc divu gadu pauzes atkal spēlētu hokeju. Tiesa, tas nebija "Dinamo", bet gan Latvijas hokeja virslīgas vienības HK "Mogo" rindās.
Jāatzīmē, ka Šremps "Dinamo" nenoturējās pilnu sezonu, jo komandas sniegums bija vājš, bet amerikānis bija viens no apmaksātākajiem spēlētājiem. "Sporta pils" aicināja Šrempu uz sarunu par viņa pieredzi Nacionālajā hokeja līgā (NHL) un jāatzīmē, ka uzbrucējs savulaik draftēts augstu – pirmajā kārtā ar 25. numuru (Edmontonas "Oilers"). Tāpat par laiku ne Rīgas "Dinamo", bet Eiropā kopumā, par Latvijas čempionāta līmeni un daudz ko citu.
Pirmos nopietnos soļus hokejā spēri Ontario junioru hokeja līgā (OHL). Pastāsti, lūdzu, kā tā sagatavo pieaugušo hokejam?
Principā OHL var saukt par jauniešu NHL. Notiek viss tas pats – kautiņi, uzsvars tiek likts uz fizisku spēli, kā arī daudzi citi spēles elementi tiek piekopti tieši kā tas ir NHL. Un tā stādā arī visi līgas treneri. Viņi vēro, kādas ir tendences NHL, un tad tās māca jauniešiem. Jo būsim godīgi – ja esi nokļuvis OHL, tavs mērķis noteikti ir iekļūt NHL vai vismaz kļūt par profesionāli. Jo, uzspēlējot kaut vienu spēli OHL, nedrīkst vairs piedalīties NCAA [studentu čempionātā – red.]. Studēt drīkst, bet pārstāvēt universitātes komandu gan nē. Tādi ir noteikumi.
Un te ir OHL būtība. Ja izvēlies šo ceļu, tevi gatavo, lai tu nokļūtu NHL 19, 20 gados un pie tā sāk strādāt jau no 14. Savukārt, ejot NCAA ceļu, tie, kuri vēlāk tiek uz NHL, ir 21, 22 gadus veci, jo pabeiguši studijas, un pēdējos gados nav fokusējušies tikai uz sportu. Vienlaikus OHL spēles vairumā vietu apmeklē tūkstošiem skatītāju, no kā klubi gūst ienākumus. Tāpat katrai komanda ir sava fanu bāze, kas nozīmē, ka jāizcīna arī uzvaras. Līdz ar to rodas spiediens. Tāpēc OHL ir grūts pārbaudījums, kuru izejot, kļūsti spēcīgāks gan kā spēlētājs, gan kā personība. Teiksim tā, OHL ir tendēta uz progresu īsākā laika posmā, nekā tas ir NCAA. Tāpēc arī tāda dzīve tur. Un tieši tajā sezonā, kad mani izvēlējās NHL draftā, man izdevās ar komandu izcīnīt arī OHL titulu. Patīkami mirkļi.
Esi bijis "USA development program (USDP)" sastāvā. Pastāsti, lūdzu, kas tā ir, un ko dalība tajā dod?

Tā ir valsts izveidota programma, kura savā paspārnē cenšas dabūt talantīgākos hokejistus, lai palīdzētu attīstīties. Tās vajadzībām ir izveidotas divas komandas – U17 un U18. Priekšrocība ir tāda, ka ar tiem, kuri ir iekļauti šajā programmā, individuāli strādā labākie speciālisti, piedevām jauniešiem palīdz arī ārpus hokeja, bet pārsvarā visi spēlē vadošajās ASV junioru līgās. Piemēram, U18 komanda regulāri aizvada spēles ar koledžu vienībām, kas dod pieredzi nākotnē. Jo pāris gadu starpība tajā vecuma posmā ir jūtama, bet, spēlējot pret vecākiem, rodas lielākas iespējas progresēt. Programmas ietvaros jauniešiem tiek ļoti palīdzēts – "spiests" uz to, ka daudz jādarbojas individuāli, tiek mācīta taktika, kā jāuzvedas profesionāliem sportistiem, kā sekmīgi absolvēt skolu, kādai jābūt treniņu ētikai, un daudzām citām lietām. Tiek ieguldīti lieli resursi spēlētāju attīstībā – tie ir fiziskās sagatavotības treneri, medicīniskie pakalpojumi, treniņu bāze, ceļošana notiek tā, lai viņi nekavētu skolu. Esmu pārliecināts, ka tas neizmaksā lēti (iesmejas).
Vai esot šajā programmā, spēlētājiem ir pienākums spēlēt nacionālo izlašu sastāvos?
Tas nav obligāti, bet tā viennozīmīgi ir labāka iespēja tur tikt. Jo vadošie treneri tevi pazīst, zina, ko spēj, un esi bijis viņu uzraudzībā. Ja tevi katru dienu redz, pret to, ka jāņem spēlētājs, ko redzi divas reizes gadā, skaidrs, uz kuru kritīs izvēle.
Pastāsti, lūdzu, par savu pirmo pieredzi, ienākot pieaugušo hokejā, jo profesionāļos Tu ienāci vien divas sezonas pēc drafta.
Uzreiz pēc tam, kad mani draftēja, piedalījos visās pirms sezonas treniņu nometnēs ar Edmontonas "Oilers", tomēr pie savas iespējas netiku. Jā, divus gadus vēlāk iekļuvu AHL komandā, un tās pašas sezonas beigās tiku izsaukts uz NHL. Sajūtas, protams, bija neaprakstāmas. Jau spēlējot AHL, jūti milzīgu atšķirību starp junioru un pieaugušo hokeju, bet pirmā spēle NHL – tas bija pavisam kaut kas cits. Uzvilkt formu NHL spēlē bija kas neaprakstāms! Ņemot vērā, cik daudz biju tam ziedojis. Cik gadus, treniņus no rītiem un vakarā, papildus skrēju un trenējos individuāli. Un tad tu saņem apbalvojumu par ieguldīto darbu – lieliskas emocijas.
Bija grūti kontrolēt emocijas pirmajā mača, jo biju pozitīvi satraukts. Bet komandas to apzinās, tāpēc arī attiecīgi tam sagatavo. Nav nekāda spiediena, vienkārši saka, lai ej un spēlē, un izbaudi brīdi. To es arī darīju.

Kāda bija pāreja no junioriem uz AHL? Zinot, ka tur valda stils "katrs par sevi", jo visi vēlas nopelnīt izsaukumu uz NHL.
Jāsaka, ka lielākās atšķirības ir tādas, ka, pārejot uz profesionāļiem, lai arī hokejs aizvien ir komandu sports, visi, pirmkārt, domā par sevi, savukārt jauniešu vecumā tas ir bariņš bērnu, kuri pavada brīvo laiku, ar dažiem izņēmumiem, kas laicīgi nostādījuši sev mērķi kļūt par profesionālu atlētu. Protams, lielākais pārbaudījums īstenībā ir ārpus laukuma, kad jāsāk dzīvot patstāvīgi. Man bija 20 gadu, kad ierados AHL, un parasti ASV tā nav ierasta kārtība, kad šajā vecumā jādzīvo vienam, jo junioru un koledžu līgās spēlētāji dzīvo ar savām vai audžu ģimenēm, vai kopmītnēs, savukārt AHL viss ir kā profesionālā līgā – par dzīvošanu domā pats. Jācīnās pašam. Tu spēlē ar puišiem, kuriem ir ģimenes, un hokejs ir viņu darbs, ar kuru viņi tām nodrošina dzīvi.
Kad nokļuvi NHL, pirmajās trīs sezonas aizvadīji tikai septiņas spēles. Kāds tam bija iemesls?

Viens no iemesliem noteikti bija tāds, ka tā laika "Oilers" komanda bija būvēta uz to, ka tā piekopa fizisku spēli. Ļoti vienkārši – iemet ripu zonā, skrien tai pakaļ un cīnies līdz pēdējam. Daudz spēka paņēmienu, daudz grūstīšanās, u.t.t. Tas nav mans spēles stils, tāpēc īsti neiederējos. Vienlaikus sastāvā bija tādi meistari Raeins Smits un Alešs Hemskijs, kā arī citi, kuri pildīja vārtu gūšanas funkciju, tāpēc man īsti vieta neparādījās, bet trešās vai ceturtās maiņas "čekeris" es nebiju. Nesakrita vairāki apstākļi. Bet reizēm tā notiek – vienkārši neiederējos spēles zīmējumā un viss. Pēc tam nonācu Ņujorkas "Islanders", kur sākumā arī pie liela spēles laika netiku – tās bija aptuveni piecas, sešas minūtes. Bet kad tiku pie lielākas teikšanas, tad arī biju rezultatīvs un varēju nodemonstrēt, uz ko patiesi esmu spējīgs. Metu arī "bullīšus" un spēlēju vairākumā.
Kāpēc neizdevās noturēties NHL?

Esmu daudz par to domājis, bet pie viena konkrēta iemesla, kāpēc tā notika, nenonācu. Tad ir jāskatās pagātnē. Piemēram, "Islanders" rindās, kad viss gāja labi, guvu muguras savainojumu. Vienlaikus viņiem bija vairāki draftētie jaunie hokejisti, kurus gribēja iespēlēt. Savukārt, kad tevi aizmaina uz citu komandu, kura tevi nav draftējusi, tā tevī nav praktiski neko ieguldījusi, tāpēc priekšroku dod sevis izvēlētajiem spēlētājiem. Tā tas NHL strādā!
Un tieši tas ar mani notika, kad tiku aizmanīts uz Atlantu ["Trashers"]. Bijām divi uz vienu pozīciju ar Džošu Beiliju, kurš tobrīd bija "jaunais", tāpēc biju "puzles gabals", ko viegli varēja pamainīt. Man skaidri pateica: "Piedod, bet mēs vēlamies dot spēles laiku Beilijam." Tiesa, arī Atlantā man negāja slikti. Jā, punktu varbūt nebija daudz [18 spēlēs 3+1 punkti – red.], bet tiku pie solīda spēles laika, spēlēju nevienādos sastāvos un treneru korpuss palika apmierināts ar manu sniegumu. Bet dzīvē notiek visādi, un esošie īpašnieki pēc sezonas klubu pārdeva, kā rezultātā viss apgriezās kājām gaisā – tika atlaisti treneri, menedžments un kopumā kluba iekšienē notika lielas strukturālas pārmaiņas. Un tā kā nebiju kluba draftēts spēlētājs, nebiju viena no viņu prioritātēm.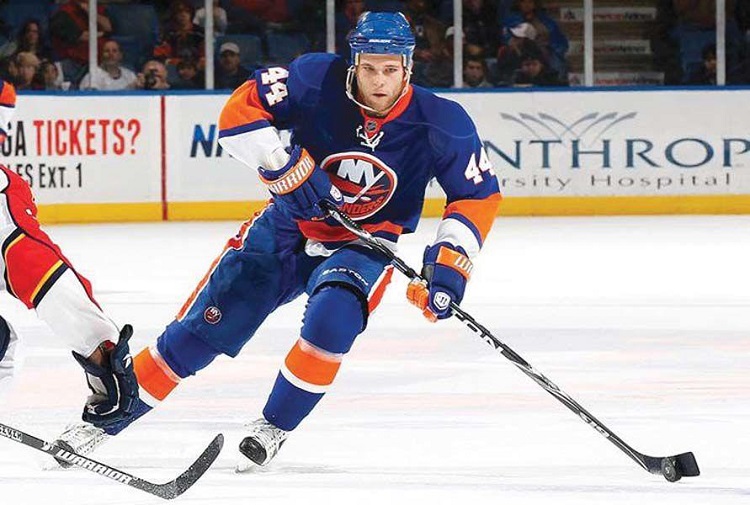 Pēdējās trīs NHL sezonās biju nomainījis trīs komandas, tāpēc nolēmu, ka kaut kas ir jāpamaina un devos uz Eiropu. Aizvadīju labu sezonu Zviedrijā, "Modo" rindās [55 spēlēs 19+22 punkti, "play-off" 6 spēlēs 1+5 punkti – red.] un šķita, ka būs iespējas atgriezties NHL, taču notika lokauts… Neveiksmīga apstākļu sakritība. Es to pieņemu un saprotu, ka NHL ir "skaitļu līga" (numbers league), un cik daudz puiši stāv rindā uz ierobežotu daudzumu vietu. Tur ir grūti nokļūt, bet vēl grūtāk noturēties. Bet, ja smagi strādā un dari pareizās lietas, agri vai vēlu kāda mazāka vai lielāka iespēja tev parādīsies. Es to uztveru kā daļu no savas pieredzes, kuru novērtēju. Protams, ir nedaudz grūti atcerēties lokauta gadu. Pēc sezonas Zviedrijā biju pārliecināts, ka spēšu pierādīt savu lietderību kādam NHL klubam. Trenējos ne tikai ar komandu, bet arī individuāli, arī vasarā. Bet visi plāni izjuka tādu apstākļu dēļ, kurus pats nevarēju ietekmēt. Vēlāk jau manas iespējas tur atgriezties mazinājās.
Kad izvēlējies Rīgas "Dinamo", kādi vēl Tev bija piedāvājumi?

Godīgi sakot, visu klubu vārdus, kuri par mani interesējās, nemaz nezinu. Es tādas lietas uzticu savam aģentam un procesā neiesaistos. Saņēmu ziņu par Rīgas piedāvājumu, paskatījos internetā informāciju par pilsētu, klubu, par KHL jau zināju pats, un piekritu. Pilsēta, kurā dzīvo, ir ļoti svarīgs aspekts, it īpaši ārzemniekam. Jo Zviedrijā, lai arī sportiskajā ziņā mani viss apmierināja, sadzīviski bija neliels šoks. Tā bija pilsēta, kas atrodas tālu valsts ziemeļos no tās centra, man bija grūti pierast.
Starp citu, pirms devos uz Zviedriju, man bija piedāvājums no Minskas "Dinamo", bet tomēr nolēmu doties uz Zviedriju, jo tur lielāku uzmanību jāpievērš slidošanas prasmēm, pie kurām man bija jāpiestrādā. Tā kā KHL varēju nonākt ātrāk.
2012./13. gada sezona Rīgas "Dinamo" iezīmējās kā viena no neizteiksmīgākajām kluba pastāvēšanas vēsturē. Vēlāk vairāki spēlētāji publiski izteicās, ka komandā nebija laba savstarpējā "ķīmija". Ko Tu atceries no pieredzes Rīgā?
Jāteic, ka diezgan precīzi noraksturoji situāciju komandas ģērbtuvē. Hokejs ir komandas spēle, tāpēc ir svarīgi, lai visiem būtu labas attiecības arī ārpus ledus. Protams, nav visu laiku jātiekas un jādraudzējas, bet jābūt kolektīvam. Un arī, kāpjot uz ledus, mums jādarbojas kā vienotam mehānismam un jāsaprot viens otru, jāspēlē vienam par otru. Ja to nedara, rezultāts ir skumjš, jo pretinieku komandas to dara. Un tā bija ar mums – nebija vienota kolektīva. Es saprotu, kad var spēlēt, ja motivācija ir parādīt pēc iespējas labāku individuālo sniegumu, lai nopelnītu ienesīgāku līgumu. Tomēr tas nevar izdoties, ja, pirmkārt, neesi komandas spēlētājs.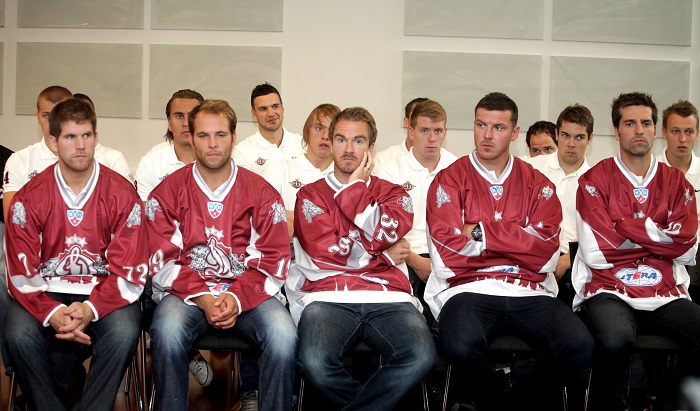 Kas bija tie sportiskie iemesli, kādēļ jau no pirmās spēles visiem zaudējāt?
Grūti pateikt. Bija ļoti smagi, jo sākām zaudēt uzreiz un visiem. Turklāt, regulāri ātri nonācām iedzinējos un daudzas reizes mums pat nebija īsti iespēju pacīnīties par uzvaru. Viens ir, ja visu mača laiku esi "spēlē", tad ielaid vārtus tuvāk beigām, bet vismaz cīnījies. Protams, tas arī ir psiholoģiski smagi, tomēr vēl smagāk ir tad, kad jau spēles pirmajās piecās minūtēs ielaid vārtus un visu laiku ir jāatspēlējas jau no paša sākuma. Tas visu padara vēl grūtāku. Pārliecību tā zaudēt var ļoti ātri. Kā tikt ārā no tādas situācijas? Saņemties un izkāpt no tādas bedres? Nezinu, ir jāmeklē ceļi. Mums toreiz, iespējams, vajadzēja kādu grūdienu, lai viss aizietu, tomēr tāds nesekoja. Un es nevaru ciest zaudēt! Es ienīstu zaudēt vairāk nekā mīlu uzvarēt.
Tiki nosūtīts arī uz fārmklubu Liepājā. Neoficiāli to sauc par tādu kā sodu, aizbraukt tur padzīvot.
Jā, arī es to izbaudīju. Nezinu, pat kā pastāstīt – tur bija citādāk. Bet nekā traka, vienkārši maza pilsēta. No citiem leģionāriem biju dzirdējis stāstus, ka reizēm tā var notikt, tāpēc lielā šokā nebiju. Bija sarunas ar kluba vadību, kura man piedāvāja līgumu lauzt vai braukt uz Liepāju, es izvēlējos otro variantu.
Biju vīlies un dusmīgs, jo uzskatīju, ka man netiek dotas pietiekami daudz iespējas KHL čempionātā, bet tagad mani tāpēc sūta uz fārmklubu. Ja man būtu dotas vairāk iespējas sevi pierādīt, bet es uzticību neattaisnotu – lūdzu, nav problēmu, tas ir "uz mani." Tomēr es nejutu, ka tā bija, tāpēc arī emocijas nebija tās labākās. Man nav nekas pret HK "Liepāju", bet es to uztvēru aizskaroši, ka mani no KHL nosūta uz daudz zemāka līmeņa čempionātu.
Nezinu kādas visiem bija līguma detaļas, bet pieņemu, ka saņēmu vienu no lielākajām algām komandām. Saprotu, ka sportiskie mērķi netika sasniegti, tāpēc bija jādomā par budžetu. Tikai man neliekas pieņemami, ka ar mani tā rīkojās, sūtot uz Liepāju, nevis atnākuši pie manis personīgi un pateikuši – "klau, situācija ir tāda, ka tu netiec pie pietiekama spēles laika, bet tev ir viena no lielākajām algām. Darām tā – atradīsim tev citu vietu, kur spēlēt, un abas puses būs apmierinātas." Taču nekas no tā nenotika. Tas lika vilties. Jo es neesmu stulbs – es saprotu situāciju. Es nevēlējos doties prom, gribēju vēl "atstrādāt" kontraktu un palīdzēt puišiem, cik varu, bet ja būtu iespēja doties tālāk, nokļūt komandā, kur aizvien varu spēlēt augstā līmenī, vienlaikus sakārtojot arī pārējās detaļas, es, apzinoties situācijas apstākļus, būtu ar mieru.
Savukārt Rīgā tika radīti tādi apstākļi, kad personīgi neko nesaka, bet rada apstākļus, lai tu pats gribētu aizbraukt. Ja paralēli komanda zaudē katrā mačā, un ir vēl šāda rīcība no vadības puses, ticiet man, tā nav vieglākā situācija, kurā spēlētājiem atrasties.
Vai Tev Rīgas "Dinamo" bija lielākā mēnešalga starp klubiem, kurus esi pārstāvējis Eiropā?
Jā! Tas savelkas kopā ar manis iepriekš minēto.
Zināms, ka Rīgā pavadītais laiks Tev nesis arī ko labu – te Tu iepazinies ar savu sievu.

Iepazināmies caur paziņām, bijām vienā restorānā saviesīgā pasākumā, viens otru ieraudzījām. Aprunājāmies, uzzinājām viens par otru ko vairāk un sākām pavadīt laiku kopā. Kad mans laiks Rīgā bija beidzies un pārcēlos uz Austriju, viņa pie manis vairākas reizes atbrauca ciemos un mēs turpinājām uzturēt regulāru kontaktu. Arī vasarā, kad biju ASV, tikāmies. Pēc tam pārcēlos uz Šveici, un tad nolēmām uzsākt kopdzīvi. Viņa vienmēr ir mani atbalstījusi un es to jūtu. Kaut vai par to, ka pēc gada AHL pārcēlāmies atpakaļ uz Eiropu, lai es varētu turpināt spēlēt. Ja atskatāmies uz pavadīto laiku Rīgas "Dinamo", tad, ja sportiski viss neizdevās kā vēlējos, tad katrai neveiksmīgai situācija ir sava zelta maliņa un tā bija mana sieva.
Vēlāk vēl uzspēlēji Šveices un atkal Zviedrijas augstākajās līgās. Kā tās atšķiras viena no otras?
Šveicē ir plašākas tradīcijas, traki fani, it īpaši Bernē vai Lozannā, un spēles stils ir vairāk atvērts un uzbrūkošs. Savukārt Zviedrijā, protams, arī bija vietas, kur bija fantastiski fani, kā Gēteborga un Stokholma, tomēr vidēji skatītāju nāk mazāk. Bet hokeja stils, manuprāt, bija tuvākais, kas ir pielīdzināms NHL – spēles uzbūve, taktika, nianses, spēlētāju fiziskā sagatavotība un hokeja IQ. Jā, arī Šveicei ir līdzības, tomēr Zviedrijā vairāk uzmanība tika pievērsta spēles zīmējumam un aizsardzībai.
Un pēc šīs pieredzes sezonu pavadīji AHL, Portlendā. Vai tas bija mēģinājums atgriezties NHL?
Ne gluži. Biju vairākus gadus bijis prom no mājām, kas ir ASV, tāpēc nolēmu atgriezties. Gribēju būt tuvāk ģimenei un restartēties. Protams, es vēlējos nokļūt atkal NHL, bet tajā dzīves posmā tā vairs nebija mana prioritāte. Vasarā slidoju kopā ar vienu Floridas "Panthers" spēlētāju, un vienā no treniņiem mani redzēja kluba ģenerālmenedžeris, kurš man piedāvāja spēlēt AHL, un es piekritu. Tāpat sanāca treniņspēles ar NHL komandu, bet viņiem sastāvā bija vairākas zvaigznes, tostarp, Jaromirs Jārgs.
Statistika AHL arī Portlendā tev nebija slikta – 44 punkti un komandas rezultatīvākais spēlētājs. Nebija iespējas, ka izsauks uz NHL?
Liela interese no NHL klubiem nebija, bet man spēkā bija AHL tipa līgums, nevis NHL divvirzienu, kas mani savā ziņā "saslēdza rokudzelžos". Bija runas no vadības, ka, ja labi spēlēšu, tikšu pasaukts "augšā", bet biju pietiekami pieredzējis, lai saprastu, ka īsti ar mani te nerēķinās kā ar NHL komandas spēlētāju. Un tas pierādījās dzīvē, jo sezonu iesāku labi – pirmajos 10 mačos guvu sešus vai septiņus vārtus, savukārt "Panthers" piemeklēja daudzi savainojumi, it īpaši uzbrucēju pozīcijā, jo no ierindas izkrita teju puse. Loģika teica priekšā, ka pirmajam rindā uz izsaukumu, būtu jābūt man, bet tas, protams, nenotika. Tas man atvēra acis un sapratu, ka esmu šeit tikai priekš AHL.

Pēc AHL tomēr atkal nonāci Šveicē, tad bija īsa pietura Vācijā, bet pēc tam jau Austrija, kur pēc gada pārtrauci karjeru. Kāpēc tā?
Nevēlos izplūst detaļās, neesmu no tiem, kurš vēlas celt gaismā pagātnes notikumus. Bet ļoti vīlos tajā, ko tur piedzīvoju. Visas sezonas laikā darīju visu komandas labā, upurēju savu laiku un enerģiju. Aizkļuvām līdz finālam, kur nedaudz pietrūka, lai izcīnītu zeltu. Darīju, ko varēju, bet nesaņēmu pietiekami daudz palīdzības no citiem. Tas man lika visu pārdomāt un nonākt pie secinājuma, ka visu mūžu esmu "atdevies" sportam un komandai, taču tagad ieraudzīju, ja tā var teikt, hokeja "melno" pusi. Sapratu, kāds "gaļas gabals" patiesībā esmu visā šajā "burbulī".
Tāpēc nospriedu, ka ir pienācis laiks izvirzīt sevi par prioritāti. Noiet no tā visa malā, savest kārtībā veselību un vairāk pavadīt laiku kopā ar ģimeni. Bija rūgts nobeigums hokejista karjerai, jo jutu, ka fiziski esmu gatavs to darīt vēl vismaz piecus gadus.
Ar ko Tu nodarbojies tos divus gadus, kad pārtrauci spēlēt hokeju?
Sākotnēji darbojos veselības produktu kompānijā, kas audzē un izplata CBD eļļu. Sāku to izmantot arī pats, un varu teikt, ka man tā ļoti palīdzēja. Ja iepriekš man bija problēmas ar miegu un nemitīgi neliels stress, tad ar šo eļļu es pārstāju lietot tradicionālos medikamentus un mans dzīves līmenis uzlabojās. Esmu arī līdzīpašnieks šai kompānijai, vienlaikus piesaistu jaunus klientus un palīdzu uzņēmuma darbībā. Varu piebilst, ka Ziemeļamerikā arī profesionāliem sportistiem šī viela ir atļauta.
Tāpat pērn uzsāku vēl vienu biznesu. Esmu izveidojis interneta platformu "44 Vision Hockey", kura palīdz spēlētājiem uzlabot individuālo sniegumu, darot to attālināti. Varu strādāt no jebkuras pasaules malas.
*par Šrempa projektu "44 Vision Hockey" vairāk varat lasīt ŠEIT.
Kā nonāci "Mogo"?
Parasti ar sievu mēs vienmēr vasarā apciemojam Latviju, taču šoreiz nolēmām, ņemot vērā pandēmijas radītos apstākļus, ka vēlamies pavadīt nedaudz vairāk laika Rīgā, kamēr tas viss norims. Sieva ir uzsākusi studijas, arī meitai jāsāk iet bērnudārzā. Tuvumā ir arī vecvecāki, tāpēc atgriezties Rīgā bija perfekts variants.
Sazinājos ar pāris paziņām, kuri man teica, ka Piņku ledus hallē rīko treniņus ar tiem, kuri vēl ir bez kluba, kā piemēram, Mārtiņu Karsumu, Andri Džeriņu, Oskaru Bārtuli un citiem. Parunāju nedaudz vairāk ar Bārtuli, kurš izteica tādu domu, vai es negribētu uzspēlēt "Mogo". Domāju – kāpēc ne? Pēc pāris dienām ar mani sazinājās jau kluba ģenerālmenedžeris un vienojāmies.
Kā Tu raksturotu Latvijas čempionāta līmeni?

Lai arī treniņi nav katru dienu, trīs, četri nedēļā, plus klāt nāk spēles, tāpēc uz ledus sanāk pavadīt pietiekami daudz laika. Šī gada čempionāts, cik esmu dzirdējis, ir pulcējis vairāk tādus spēlētājus, kuri ikdienā pelna naudu ārzemēs, bet pandēmijas dēļ šobrīd viņu iespējas kaut kur aizbraukt sarukušas. Tāpat tādiem puišiem kā Kārlis Čukste, kurš pēc tam dosies uz Ziemeļameriku un "sitīs" sev ceļu uz NHL, šī noteikti ir noderīga pieredze, jo sanāk spēlēt pret un kopā ar pieredzējušiem spēlētājiem. Līmenis ir labs – ir četras vadošās komandas, kas var uzvarēt viena otru, arī lejasdaļas komandas izrāda pretestību. Ir pietiekami interesanti. Tiesa, sākumā man bija grūti ieiet ritmā, jo tomēr nebiju spēlējis divas sezonas.
Vai šobrīd esi laimīgs? Ir lasīti daudz raksti par NHL spēlētājiem, kuriem ir depresija, morālas problēmas, u.t.t.?
Šis noteikti ir dziļš jautājums, uz kuru man nav viennozīmīgas atbildes. Hokejs, ja tiecies pēc augstākajiem mērķiem, aizpilda lielāko daļu tavas dzīves sākot jau no bērnības. Agrā vecumā nereti ir jāpamet mājas un jādodas spēlēt un dzīvot uz citu valsti vai pilsētu bez vecākiem, par visu jāatbild un jācīnās pašam. Tas pats turpinās, kad esi profesionālis. Hokejs atņem daudz laika ģimenei, ir, kuriem bieži jāpārceļas no valsts uz valsti, kā man – septiņos gados tikpat valstis nomainīju. To visu izdzīvot nav viegli. Un paralēli tam, no tevis prasa rezultātu un tu nedrīksti nevienu brīdi atslābt.
Tāpat ir grūti, kad noslēdz karjeru. Izjutu to uz savas ādas šos divus gadus. Sākumā it īpaši. Kad vairs neesi profesionāls hokejists, nav spēļu un katru dienu nav jāsamierinās ar zaudējumu, vai jāpriecājas par uzvaru. Notiek mazāk aktivitātes, ir vairāk brīvā laika, un tajos brīžos var nedaudz apmaldīties ar savām domām. Arī man bija ar sevi jāpastrādā, lai ar to tiktu galā.
Cik ilgi plāno uzturēties Rīgā?
Pagaidām nezinu, cik ilgi būšu Latvijā. Izbaudām brīdi, kas mums šobrīd dots. Šeit ir droši, dzīves līmenis ir apmierinošs, tāpēc vēl nekur neskatāmies.